Travel should be No. 1 on your dog's New Year's resolutions for 2020. Exploring new places together is a wonderful way to strengthen the bond between you and your best friend. To help you plan the "pawfect" trip, we've scoured the United States in search of some of the most pet-friendly cities and broken each trip down into treat-sized chunks. If you and your pup are ready for an adventure in the new year, take a look at these 10 pet-friendly travel destinations for 2020.
1. Nantucket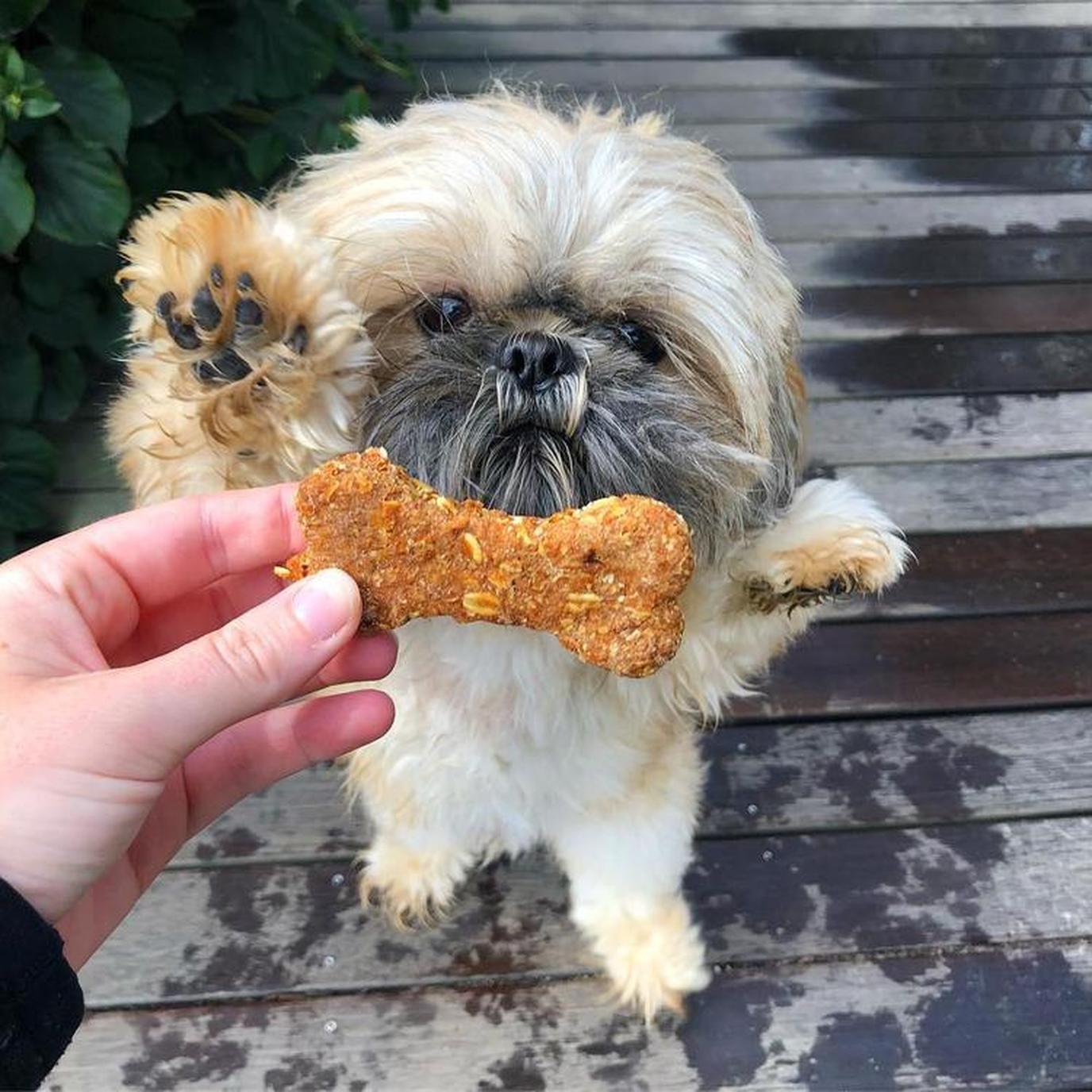 Reach for the stars. – Photo by @somethingnaturalack
Off the coast of Cape Cod, discover the enchanting island of Nantucket with your pooch. Make your way by plane with Cape Air, or by sea on Steamship Authority's high-speed ferry or on Hy-Line Cruises. When you arrive, visit Young's Bicycle Shop to rent a bike and a dog-friendly Burley Trailer. Take it for a spin to Sandbar at Jetties Beach for a beer with a view of the beach and Nantucket Sound. After your refreshments, drop the bike off and head to Tupancy Links by foot (and paw). This 73-acre grassland conservancy area with off-leash dirt and gravel trails is considered Nantucket's unofficial dog park.
Check in at one of The Cottages at Nantucket Boat Basin's pet-friendly "Woof Cottages." Pets are welcome from mid-April through October for an additional fee of $45 per night. Nightly rates start from $225.
Nantucket might be small, but there's so much more for your pup to see and do. Learn what else the island has to offer here.
2. San Jose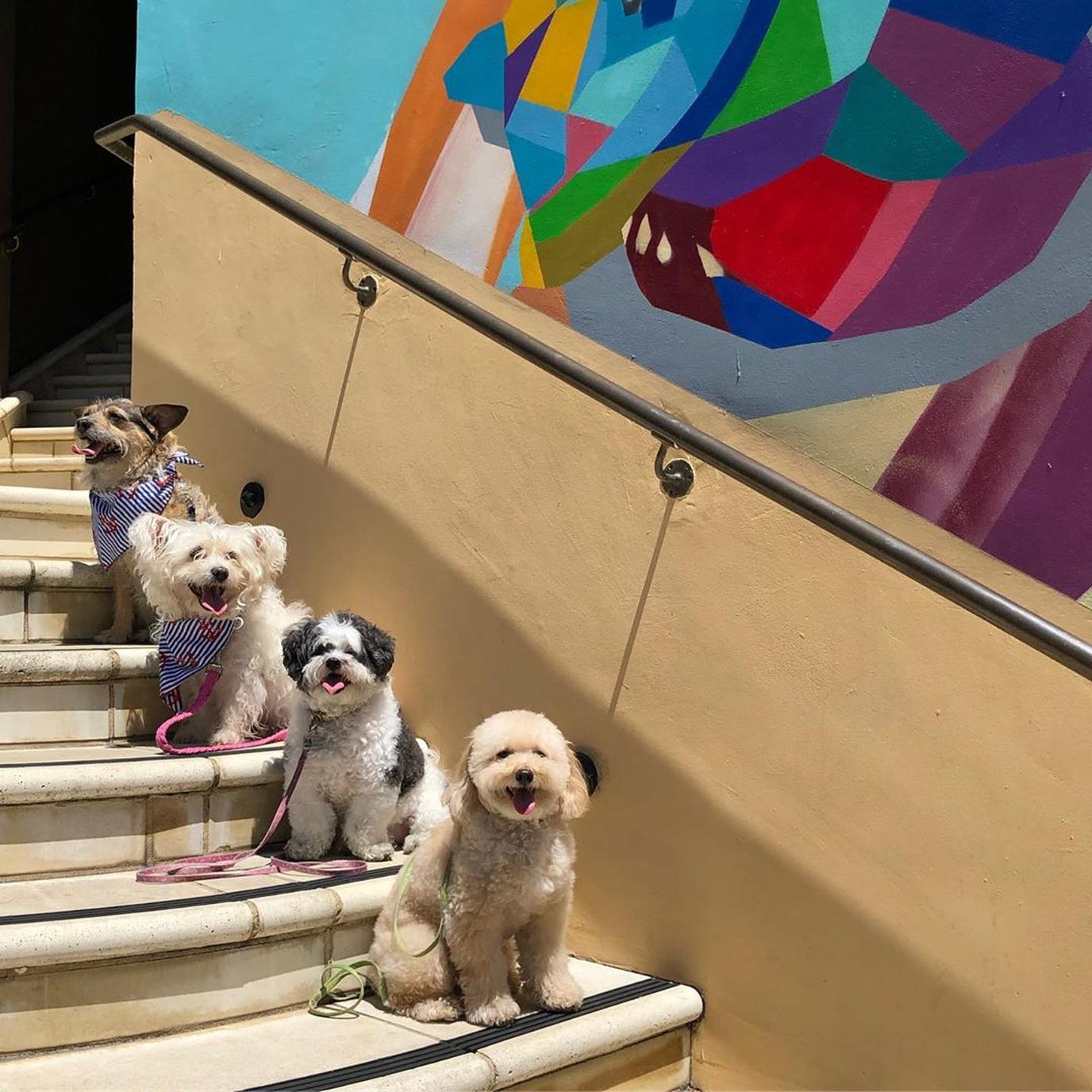 "Lots of time to stop and stair." – Photo by @simbathepomapooch
Home to more than 6,600 technology companies, San Jose is known as "The Capital of Silicon Valley." This city loves dogs almost as much as it loves tech. Every year, it hosts the nation's largest canine festival, Bark in the Park. With fun contests, astounding performances and more than 75 specialty vendors to explore, it's no wonder nearly 4,000 canines attend every September. If you're not around for the festival, there are still plenty of things to keep you busy year-round in the largest city in Northern California. Join a pet-friendly tour with San Jose Walks and Talks and learn how the city transformed from a sleepy Spanish pueblo to a global center of technology. Afterwards, sample sauerkraut at Ludwig's German Table and get a taste of San Jose's diverse food scene. Maybe the snazzy bandana they give him will distract Fido (momentarily) from your schnitzel.
Check in for your stay at The Westin San Jose, which welcomes dogs up to 45 lbs for no additional fee (larger pets might be allowed with prior approval). They'll even provide your pooch with a Heavenly Dog Bed and bowls to use during her stay. Nightly rates start at $349.
Read more about the hippest hangouts in San Jose and plan out a full weekend touring this pet-friendly city.
3. Minneapolis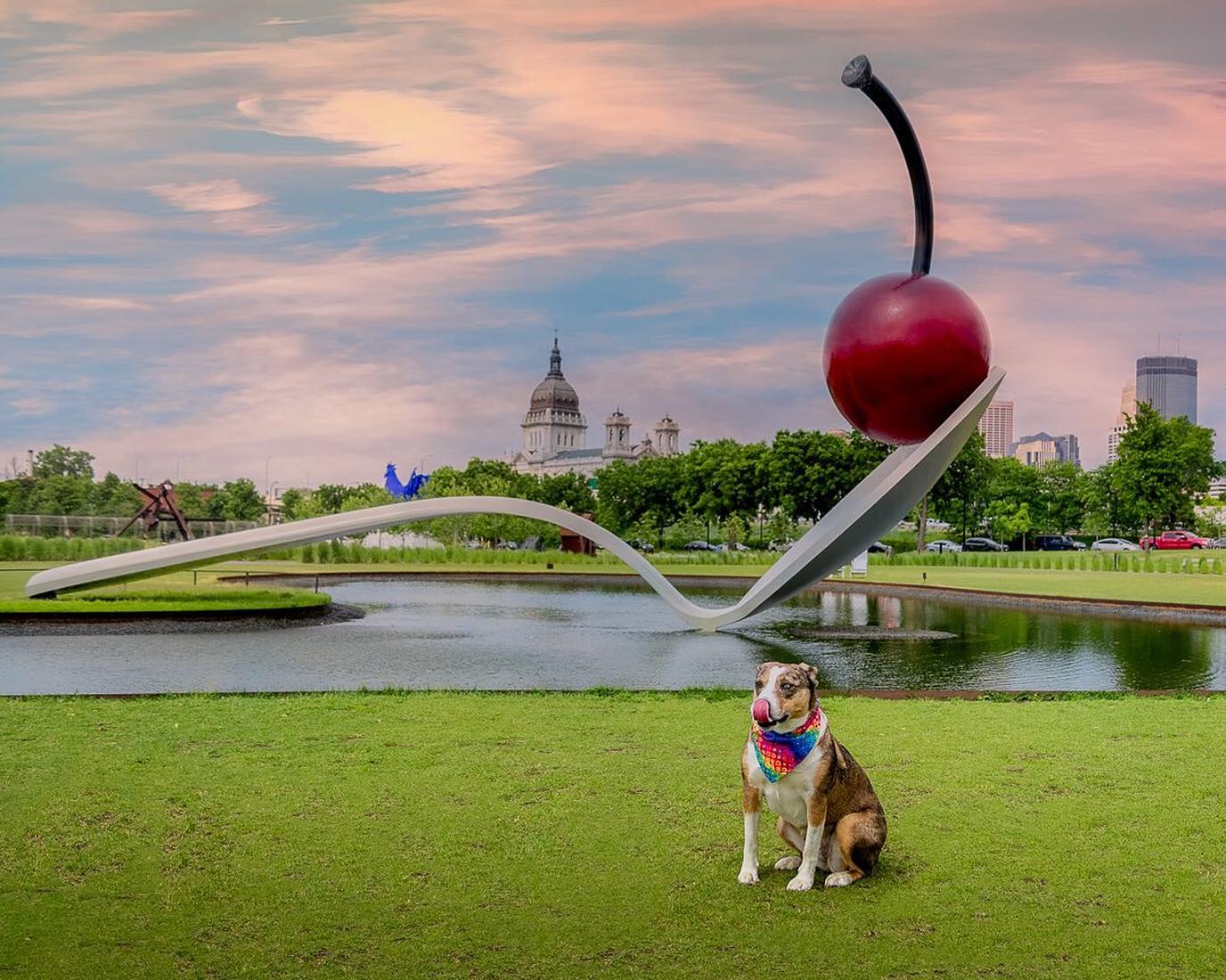 Say "Cherry!" – Photo by @lucyloutherescuedog
A diverse northeastern city with a big heart, Minneapolis' stunning riverfront skyline is a sight to behold. Start your trip off with a cultured tour of the Minneapolis Sculpture Garden. Snap Fido's new profile pic at the "Spoonbridge and Cherry" in the middle of this gorgeous 11-acre park. Pretending to understand the nuances of modern art should build your pup's appetite nicely. Fortunately, Pizzeria Lola has a pet-friendly patio and even dishes up some pizza-inspired dog treats. Don't miss out on pleasant walks around the Twin Cities' 13 lakes, and blow off some steam in the fun-filled dog parks.
Spend the night in comfort at Radisson RED Minneapolis and meet Baxter the Boston Terrier, the hotel's canine mascot. Baxter makes sure visiting canines receive complimentary bandanas, beds and bowls as part of the pet program. Radisson RED Minneapolis welcomes two pets up to 40 lbs for no additional fee. Nightly rates start at $145.
You'll struggle to fit every pet-friendly activity into a single trip to Minneapolis, but we've put together a weekend itinerary that will help you get the most of your time in this half of the Twin Cities.
4. Atlanta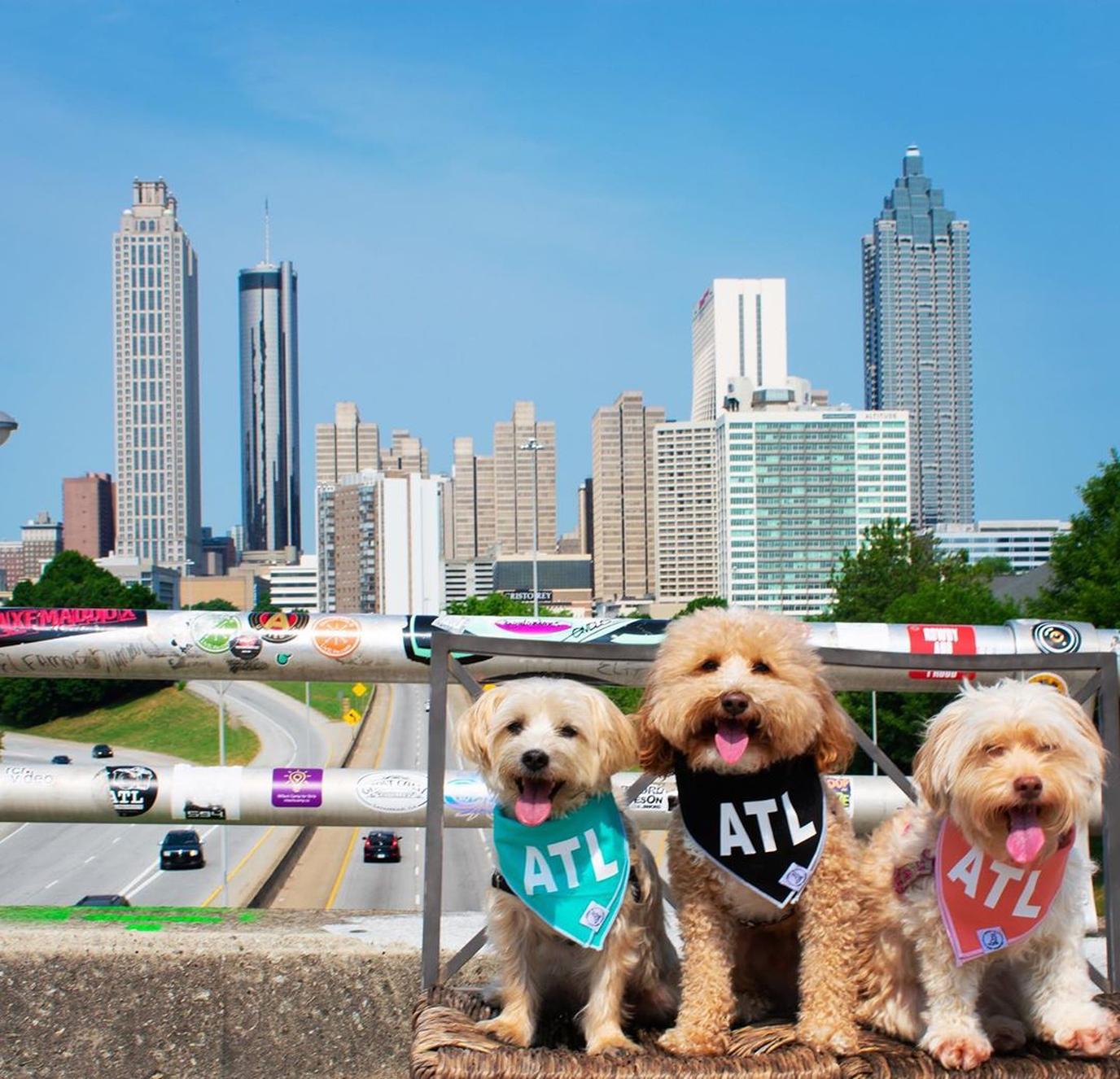 "Crashing the ATL this weekend." – Photo by @teddy.takesthecity
Start your trip to Hotlanta off with a self-guided tour of Centennial Olympic Park downloaded right to your smartphone. Take a dip in the park's Fountain of Rings, the world's largest interactive fountain featuring the Olympic Ring symbol. Next, take a hike on Atlanta's BeltLine, one of the largest, most wide-ranging urban redevelopment programs in the United States. The Fetch Park and Ice House dog park is located just off the trail. This unique park features a 1976 Airstream converted into a full-service bar with wash stations and on-site attendants (Bark Rangers) making sure all the dogs are playing nicely.
Spend the night at Hyatt House Atlanta Downtown near Centennial Olympic Park. Pets of any size are accepted for an additional fee of $75 per stay of one to six nights. Nightly rates start at $135.
Want to experience even more of this pet-friendly city? Follow our itinerary for a weekend in dog-friendly Atlanta.
5. Denver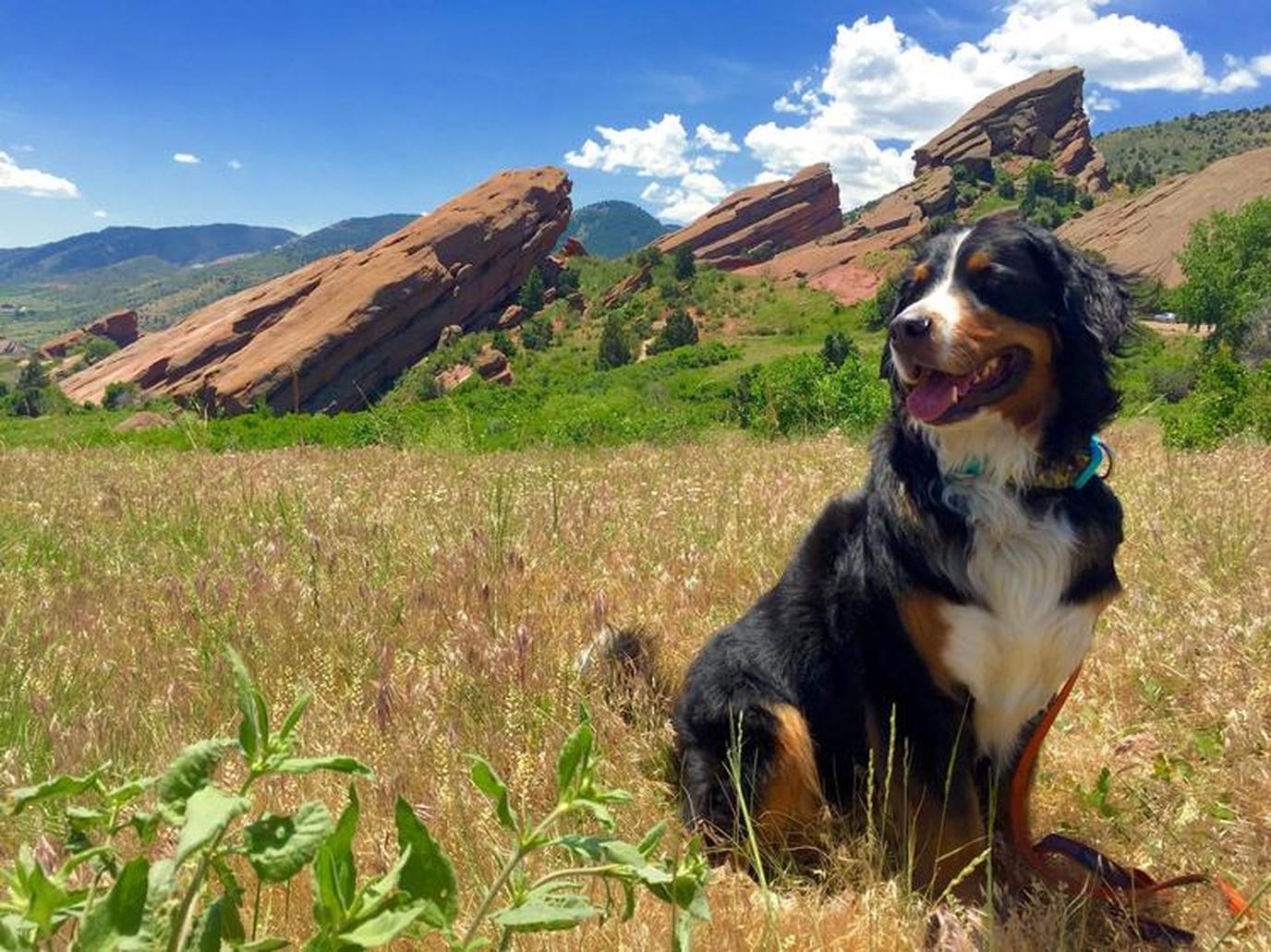 "Geology rocks!" – Photo by Facebook.com/RedRocksCO
Denver should be high on everybody's 2020 travel list. Start off with a big dose of Vitamin D(enver) on a free morning Denver Walking Tour with your pup. After this excellent introduction to the Mile High City, hop on a Denver B-Cycle and traverse the city by bike. On your two-wheeled adventure, take in a local brewery–there are 150, after all, and many of them welcome furry customers. Denver Beer Co. even serves up a dog "beerscuit!" to canine connoisseurs. Drop the B-Cycle off at one of the city stations and hop in your car to discover some of Colorado's vast and unblemished backcountry. Be sure to visit Red Rocks Amphitheatre & Park, named for its towering 300-foot sandstone rock formations.
The Kimpton Hotel Monaco Denver is a welcoming place to lay Fido's head. This boutique hotel pampers canine guests with loaner beds, bowls and mats in the room. Two pets of any size are welcome for no additional fee. Nightly rates start at $174.
Find out more reasons why Denver has made our list and round out your pet-friendly Denver to-do list here.
6. Nashville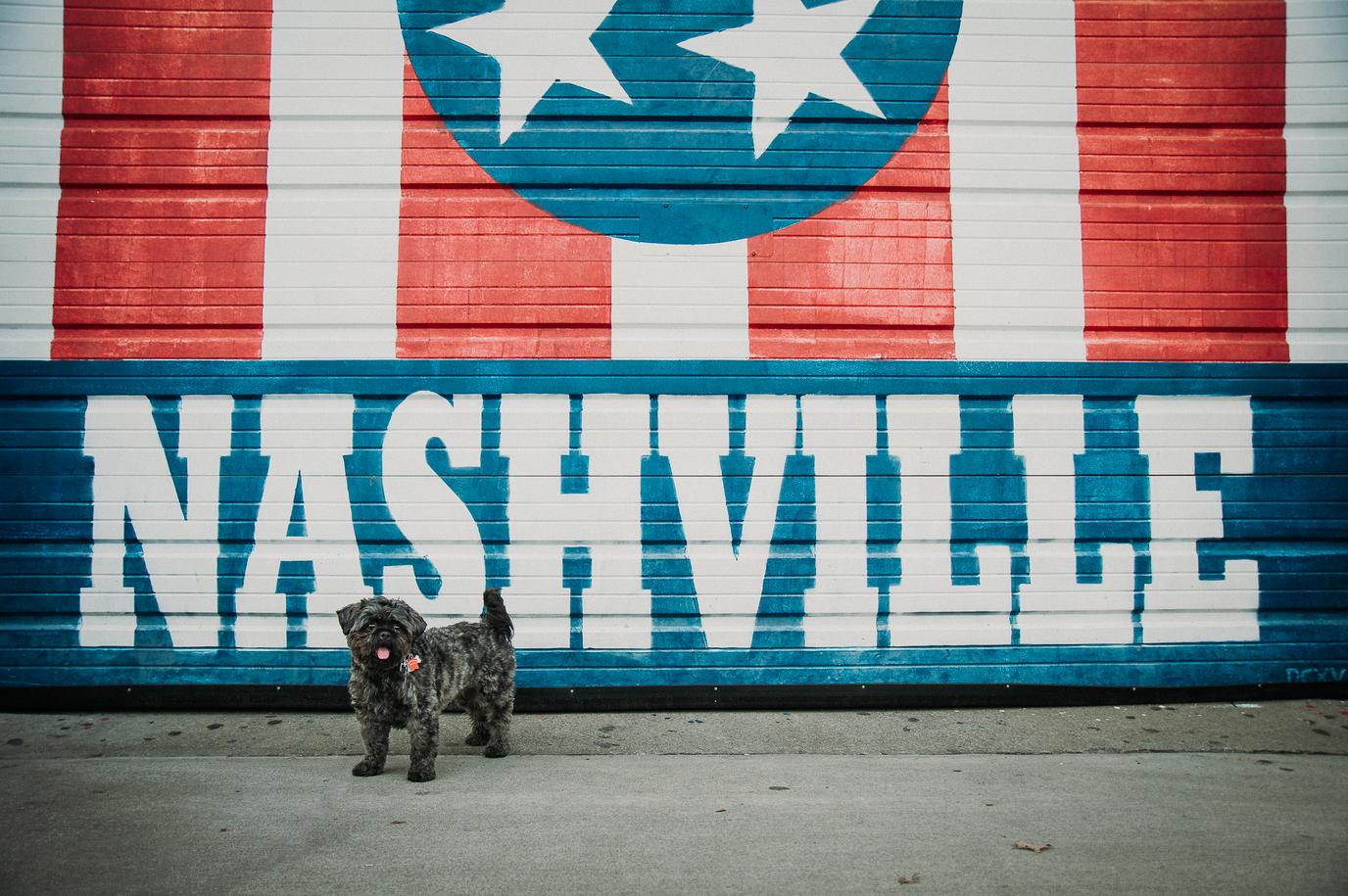 I believe in dog-friendly Nashville. – Photo by @wendyjophoto
Known for a vibrant country music scene and Southern hospitality, Nashville is a must-visit dog-loving destination for 2020. Mosey on down to the Riverfront Park Dog Park, a 13,000-square-foot fenced park with eco-friendly artificial turf and Wi-Fi to live-stream your pup's (mis)adventures. When playtime is over, lounge on the patio of the Cafe at Bobby and order Fido something off the hotel's "Dog-Friendly Haute Dogs Menu," featuring five chef-prepared meal options. A visit to Nashville wouldn't be complete without live music. Head over to Tennessee Brew Works for some tunes and a local brew on the outdoor patio.
Check in at the pet-friendly Bobby Hotel. You'll be greeted upon arrival by the hotel's resident pet ambassador, a shepherd mix named Sasha. Bobby Hotel welcomes pets of any size for an additional $50 per pet, per stay. Nightly rates start at $294.
Discover Nashville's other hidden pet-friendly gems, including where you can get some of that famous Nashville hot chicken with your hound dog.
7. Santa Fe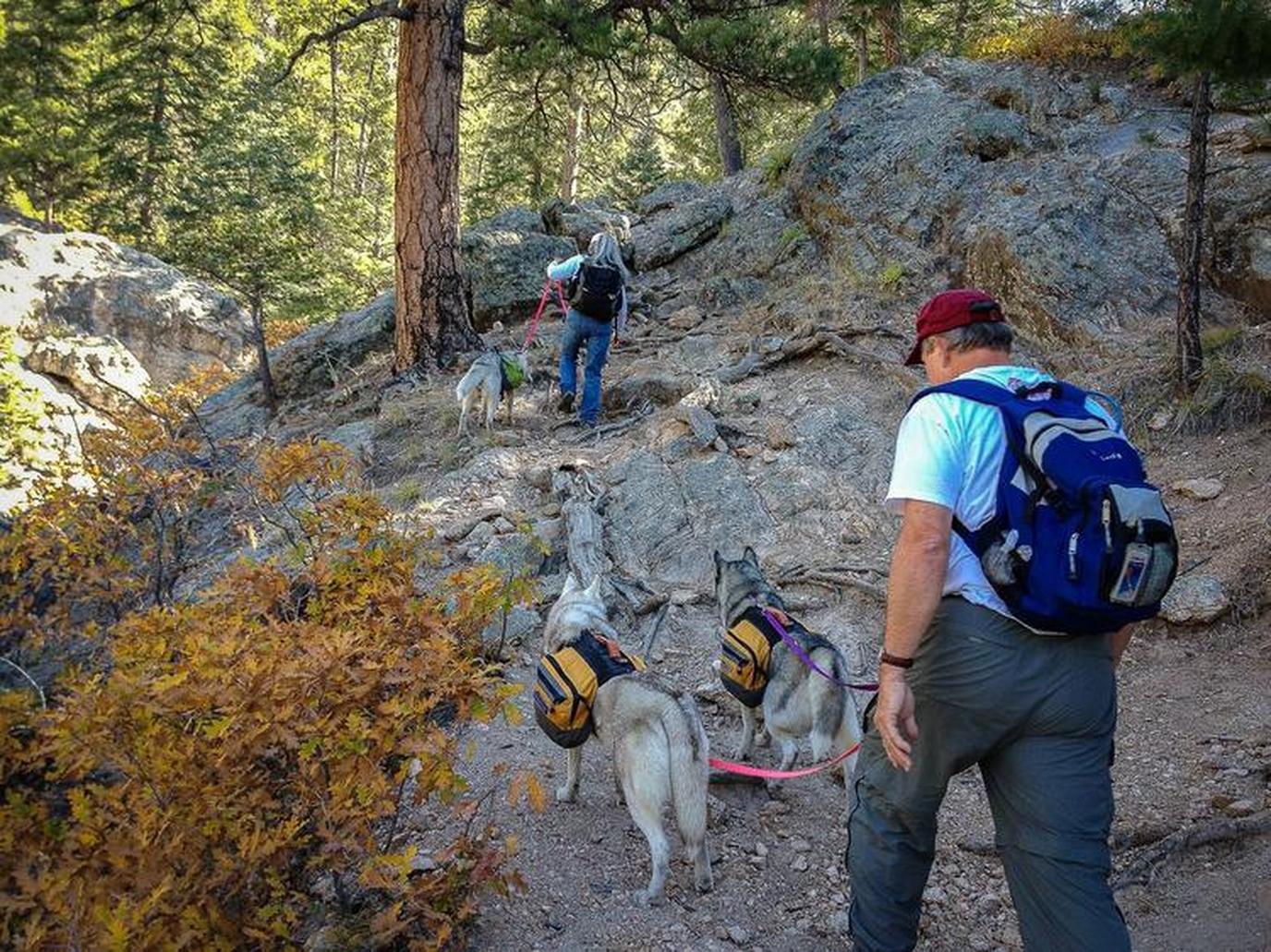 "You take the high ground, I'll take the low." – Photo by Santa Fe Mountain Adventures
America's second-oldest city (founded around 1607) is famous for its delicious wine, gorgeous natural scenery and traditional art, and you can experience it all with your pup by your side in 2020. Start your trip off with an Early Morning Ride & Hike Tour from Santa Fe Mountain Adventures. The pet-friendly adventure starts in an ATV and ends with a brisk walk along a creek in the New Mexico Mountains. It'll be 5 p.m somewhere by the time the tour finishes, which equals wine time. Noisy Water Winery's Santa Fe tasting room welcomes canines. The highest-awarded winery in New Mexico will teach you a few classic tasting techniques when you visit. You'll also want to get a taste for the city's artistic side. Consider taking a two-hour, guided painting class at Santa Fe Art Classes.
La Fonda on the Plaza offers a convenient and comfortable place to stay with your pooch on historic Santa Fe Plaza. Dogs receive a gift bag stuffed with liver treats and toys upon arrival. Two pups up to 45 lbs can stay at La Fonda on the Plaza for an additional fee of $50, with 20 percent of the pet fee benefiting Española Humane. Nightly rates start at $209.
Santa Fe is just a road trip away. Check out more of what the city has to offer here.
8. Chicago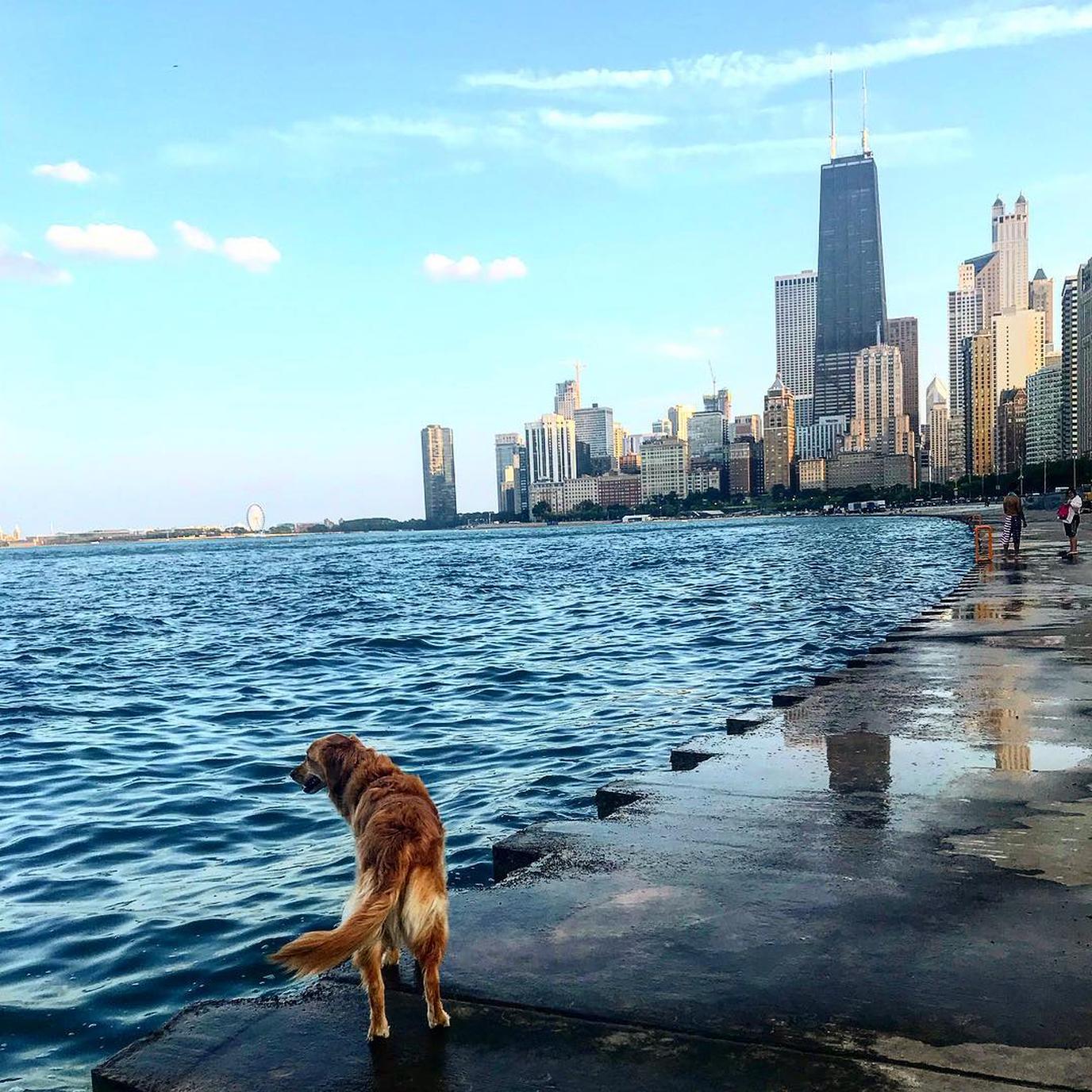 There's so much to see and do in Chicago. – Photo by @chicagodoglola
The Windy City welcomes mutts with open arms, making it the ideal destination for dog travelers in 2020. See what the city has to offer on the winding waterways with Mercury's Canine Cruises. While you learn about Chi-town, your dog can meet other tourists, grab a drink and even use the designated newspaper-lined restroom area on board. Tours are available on Saturday and Sunday from mid-July through early October. If you'd prefer to stay on dry land, enjoy some retail therapy instead. Chicago is home to three different pet-friendly shopping centers: Nordstrom, The Shops at North Bridge and The Magnificent Mile. Drop the swag off in your hotel room and head to Montrose Dog Beach to play in the sand and reflect on all the places you still need to see in 2020.
Virgin Hotels Chicago's pet-friendly rooms all have a porcelain watchdog standing guard outside. Pets of all sizes stay for free and are given treats, a loaner bed and a red Virgin Hotels bandana. Nightly rates start at $196.
Get a play-by-play of Chicago's most pet-friendly hangouts and plan your weekend getaway here.
9. Portland
"The Portland Head Light rocks!" – Photo by @lelathepeekapoo
Portland's six stunning lighthouses and fresh seafood restaurants are just a couple of reasons why you should visit Maine's largest city in 2020. While you're there, sniff out the best of the 20 dog-friendly breweries in town. Sample small-batch ales and pub grub at Gritty McDuff's Brew Pub (aka Gritty's), then enjoy a delicious beer paired with a sausage at The Thirsty Pig. That's right, Fido … sausage. Finish your day on the Sunset Run Cruise from Casco Bay Lines. This dog-friendly tour explores the islands of Casco Bay as the sun sets picturesquely in the background.
The Westin Portland Harborview welcomes canine guests with treats, waste bags and a signature Westin Heavenly Dog Bed to use during their stay. Two dogs up to 40 lbs are allowed for no additional fee. Nightly rates start at $245.
Dog-friendly Portland deserves at minimum a weekend of exploring. Check out more of Portland's finest and most pet-friendly attractions here.
10. Branson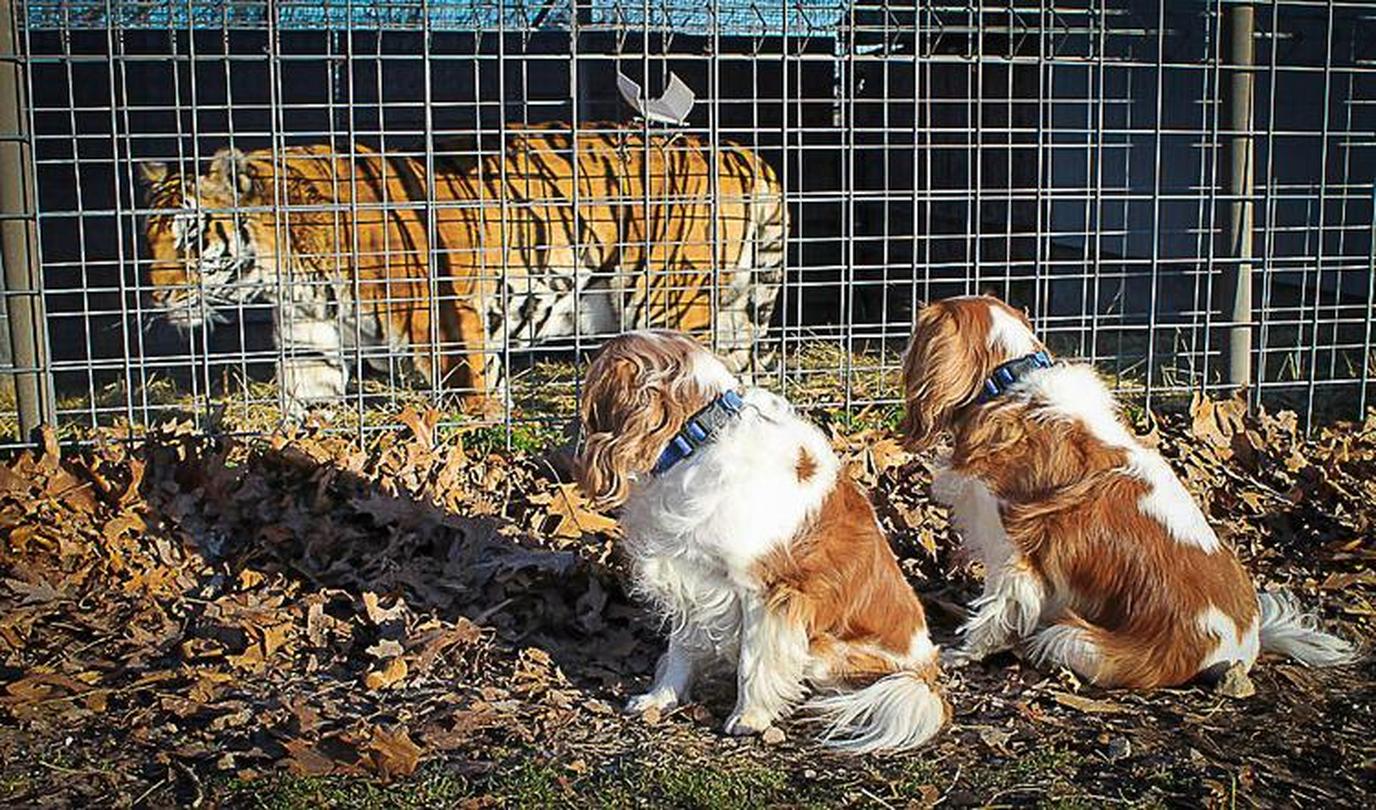 "I'm not chasing that thing, it's massive!" – Photo by National Tiger Sanctuary
The sleepy town of Branson became the country music capital of Missouri in the 90s. Musicians flocked to the small city to perform in front of appreciative crowds, and their legacies live on today. Branson is also perfectly situated amidst the Ozark Mountains, making it the optimum base for outdoor canine adventurers. Table Rock State Park is a beautiful natural area to explore. The many trails in the White River Trail System are mapped out by distance, so you can take on whichever challenge best suits you and your pooch. After a scenic hike, enjoy a unique experience at nearby National Tiger Sanctuary. All of the animals here have been rescued from abusive situations. Leashed pets are welcome throughout the sanctuary and can accompany their owners on multiple dog-friendly tours, including one where you can feed the tigers.
Reserve a room at the Hilton Promenade at Branson Landing. Your dog will be treated to a pet package of food, water and a bed to use during her stay. Two dogs up to 75 lbs are accepted for an additional fee of $50 per stay. Nightly rates start at $178.
Explore the best of dog-friendly Branson with this weekend itinerary.
This post from BringFido originally appeared as 10 Pet-Friendly Cities for a Weekend Getaway in 2020.