11 Excellent Events To Celebrate Fido On National Dog Day
Calling all dog lovers! Mark your calendars because August 26 is National Dog Day, the perfect day of the year to treat your best friend like canine royalty. At these National Dog Day events, you can celebrate your bond with food, parties, diamonds, and even possibly grow your family by four more paws. The hardest part of celebrating National Dog Day in 2019 will be choosing which of these pawties to attend. None of the events on our list work for Fido's schedule? Celebrate together doing one of these 10 activities instead.
1. Sip, Sniff & Shop 'Til You Drop at Sundial St. Pete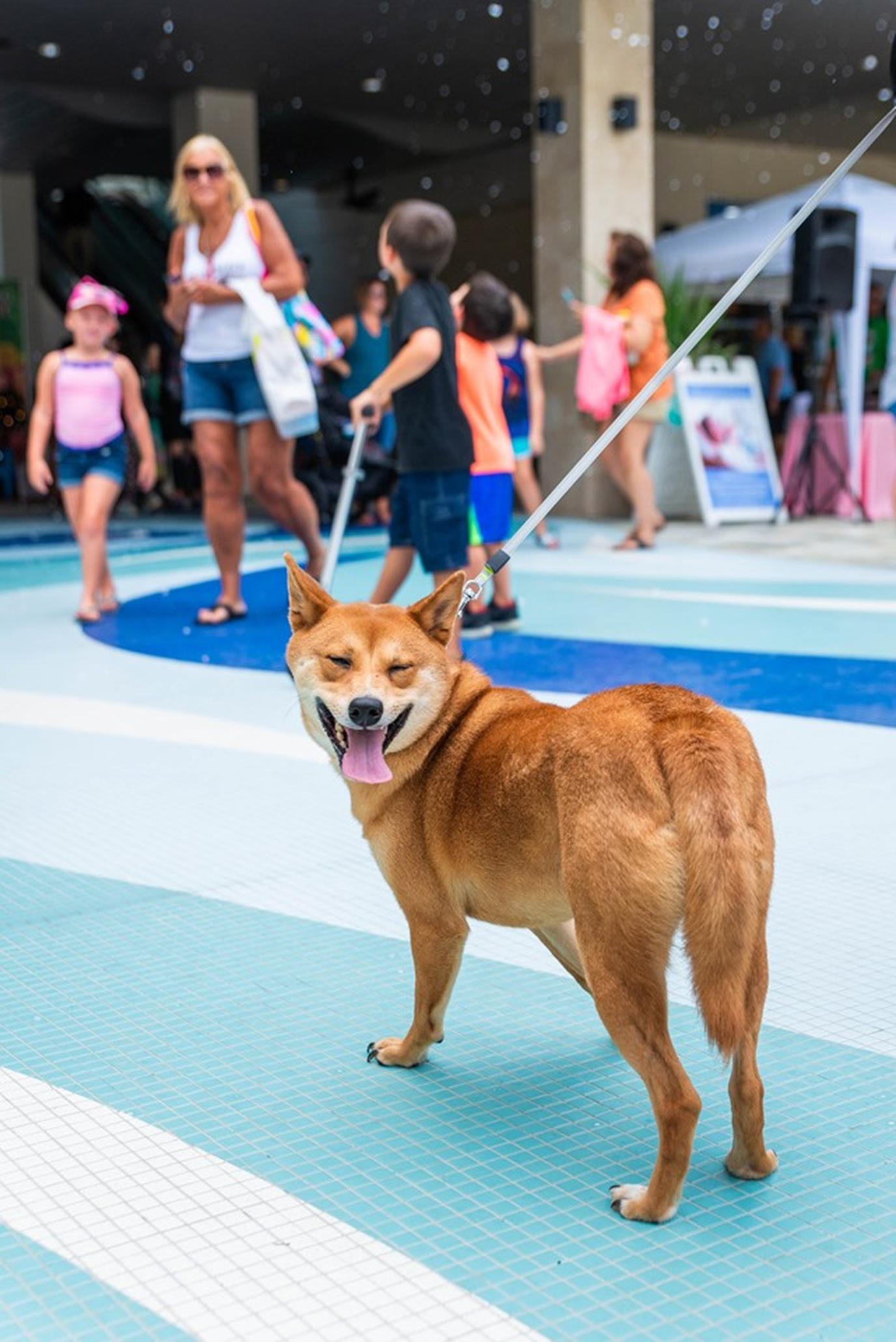 National Dog Day is a whole mood. – Photo by Facebook.com/SundialStPete
The shops at Sundial St. Pete will be hosting a National Dog Day event full of everything Fido could possibly desire, from dog beers and gourmet dog treat samples to 24-karat, gold-plated milk bones. Participating shops will be offering discounts and you can enjoy Yappy Hour on the pet-friendly patios of Locale Market, FarmTable Cucina, Ruth's Chris Steak House and Sea Salt. Pinellas Ale Works (PAW, how appropriate) will be set up at Locale Market's Courtyard Bar with free samples of their "doggone good" beers, koozies and stickers. There will also be a demonstration by the St. Petersburg Police Department K-9 Unit and live music to set the mood.
National Dog Day at Sundial will be held on Monday, August 26 from 5 p.m. to 8 p.m. at the Sundial St. Pete outdoor shopping center in Saint Petersburg, FL. Dogs must be leashed at all times. Admission is free.
2. Bid on a Luxurious Dog House for Charity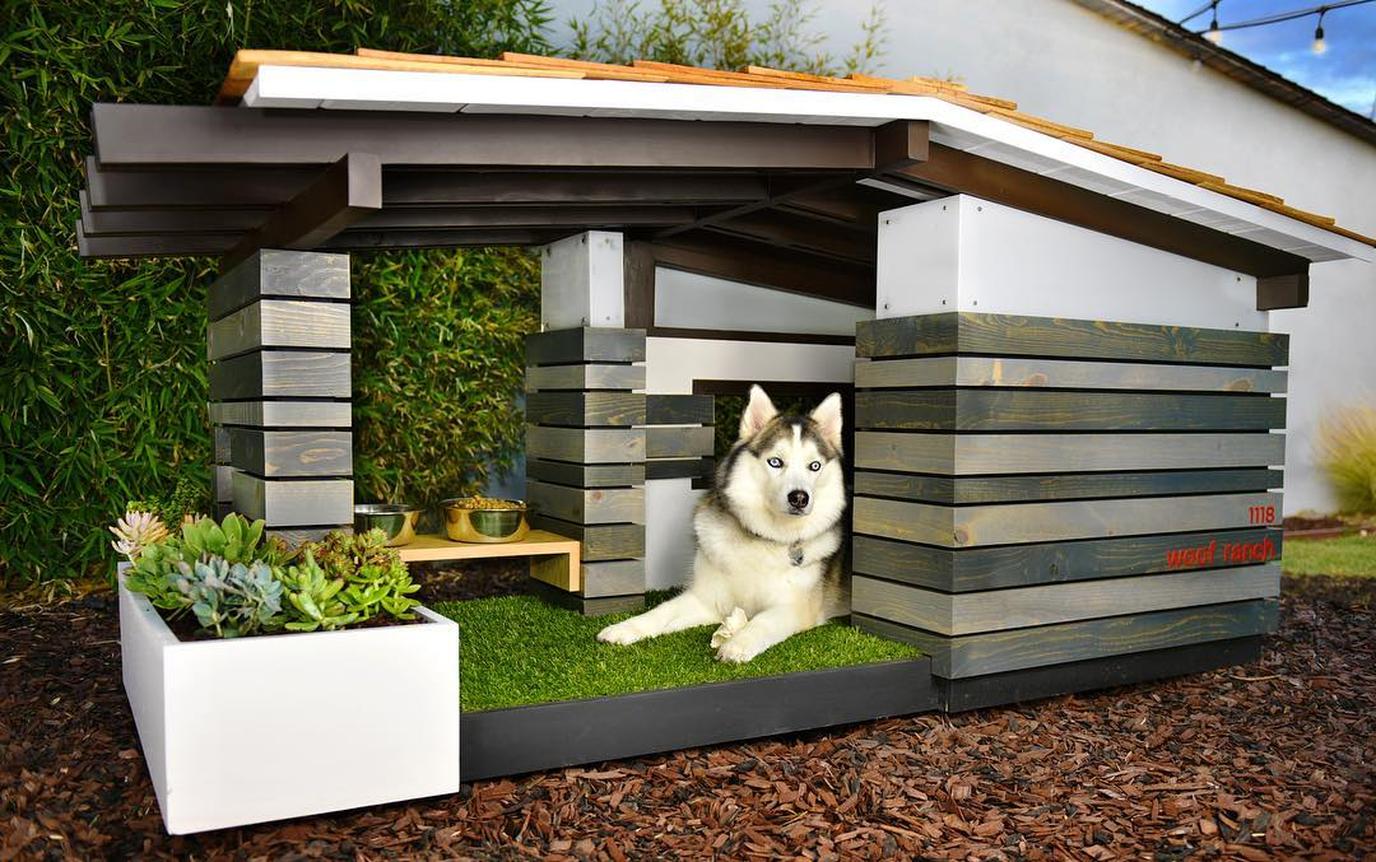 "I could get used to this." – Photo by @pijuandesignworkshop
Does Fido have champagne taste on a lemonade budget? Here's his chance to live in the Ferrari of doghouses! To celebrate National Dog Day, the Kilz Brand and Alison Victoria, host of HGTV's "Windy City Rehab," teamed up to create the Every Dog Is Worth It campaign. Alongside luxury builder Pijuan Design Workshop, they designed five unbelievably chic dog retreats that are up for auction right now. Auction proceeds and a $20,000 donation from the campaign will benefit the American Society for the Prevention of Cruelty to Animals (ASPCA®), the longest-standing animal welfare organization in the U.S. To check out the one-of-a-kind dog retreats and place your bid, visit Kilz.com/EveryDogIsWorthIt.
The Every Dog Is Worth It auction is hosted entirely online and is accepting bids until 11 p.m. PST on Monday, August 26. Get your bids in early and let us know if Fido will be moving into some fancy new digs!
3. Bark in the Ballpark at a Major League Baseball Game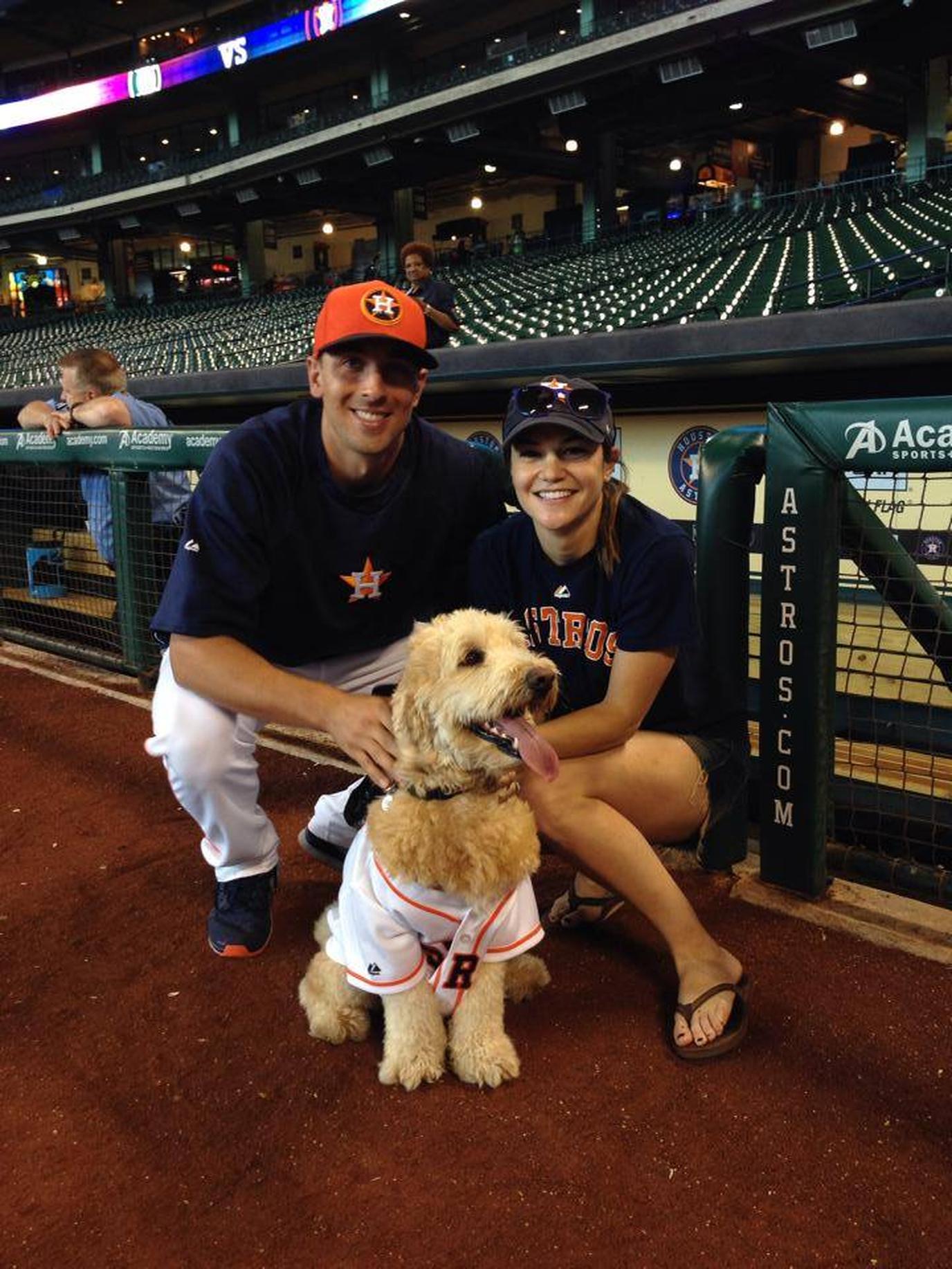 Welcome to the big leagues, Fido! – Photo by Facebook.com/Astros
Major League Baseball teams open up their parks to furry fans during special events throughout the season, but only one MLB team welcomes dogs on the eve of National Dog Day. Bring Fido to the Houston Astros' Dog Day at Minute Maid Park. Dress him up in his Astros jersey or favorite outfit and enjoy the roar of the crowd as he stars in the pregame costume contest and parade on the field. Dogs and their owners will also get special access to the "Barking Room Only" area in Home Run Alley and the Dog Zone on the Plaza.
Watch the Houston Astros take on the Los Angeles Angels on Sunday, August 25 starting at 1 p.m., giving Fido the chance to start his celebration a few hours before the other dogs in the neighborhood. Tickets for the game cost between $30 and $99.
If Fido is not quite ready to get called up to the majors, he can celebrate National Dog Day at Bark in the Park games with these minor league teams on August 26:
4. Enjoy Puppies and Prosecco at the Kimpton Hotel Monaco Denver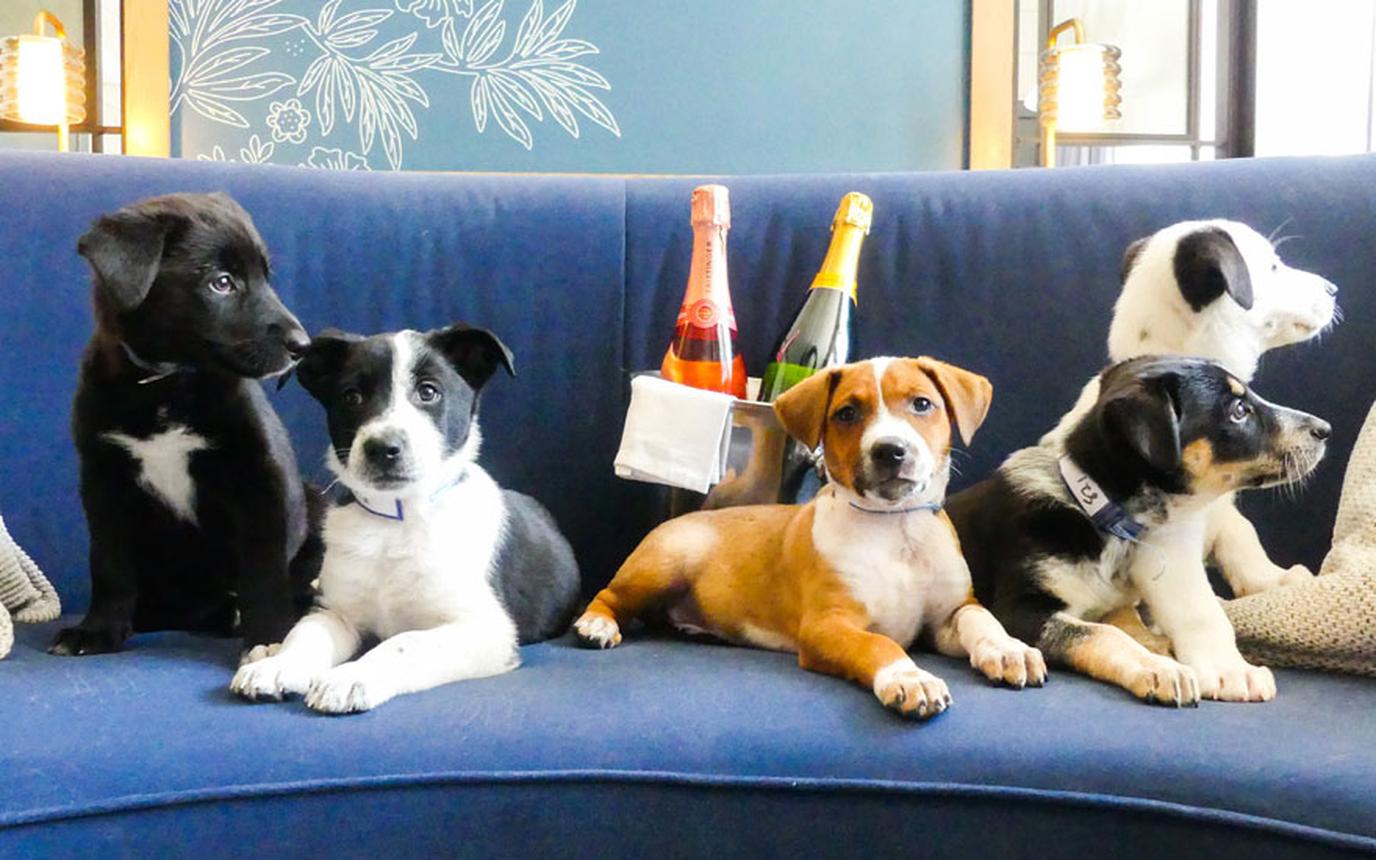 Cuteness overload. – Photo by Kimpton Hotel Monaco Denver
Treat yourself and your dog to new sights and smells this National Dog Day. The Kimpton Hotel Monaco Denver is offering an exclusive Puppies + Prosecco Package, which gives room service a whole new meaning. Start with prosecco and ciccheties, a delicious plate of Italian side dishes, delivered to your Luxury Suite. You'll also get a visit from a pack of adoptable pups from Lifeline Puppy Rescue. The furry friends are your guests and will eagerly shower you with puppy love during your stay. The price tag of $1,200 seems a lot more affordable when you consider that half of the cash goes to helping dogs at the no-kill shelter where the gang is staying.
The Puppies + Prosecco Package at the Kimpton Hotel Monaco Denver is available from August 23 to 26.
5. Pawty Together at Jackson 20
"'I'm tasting a hint of beef, with perhaps a bit of a chicken finish." – Photo by Facebook.com/Jackson20
Dog-loving Jackson 20 will be hosting a classy celebration of canines this National Dog Day. The restaurant will serve delectables off their new Proper Pups Patio Provisions menu for posh pooches, so tell Fido to come hungry. Considering a new family member? Project Second Chance will be there with adoptable dogs at the "Smooch a Pooch" kissing booth. Other party-goers include Olde Towne School for Dogs, who will be hosting a pop-up dog training session and local artist Elizabeth Graeber, whose watercolor pet portraits make for a beloved keepsake of your furry friend. With so much fun to be had and prizes sponsored by VCA Animal Hospital, this pawty will be one to remember.
National Dog Day at Jackson 20 is scheduled from 5:30 p.m. to 8:30 p.m. on Monday, August 26.
6. Treat Fido to a Diamond Ring (Dog Toy) at Zachary's Jewelers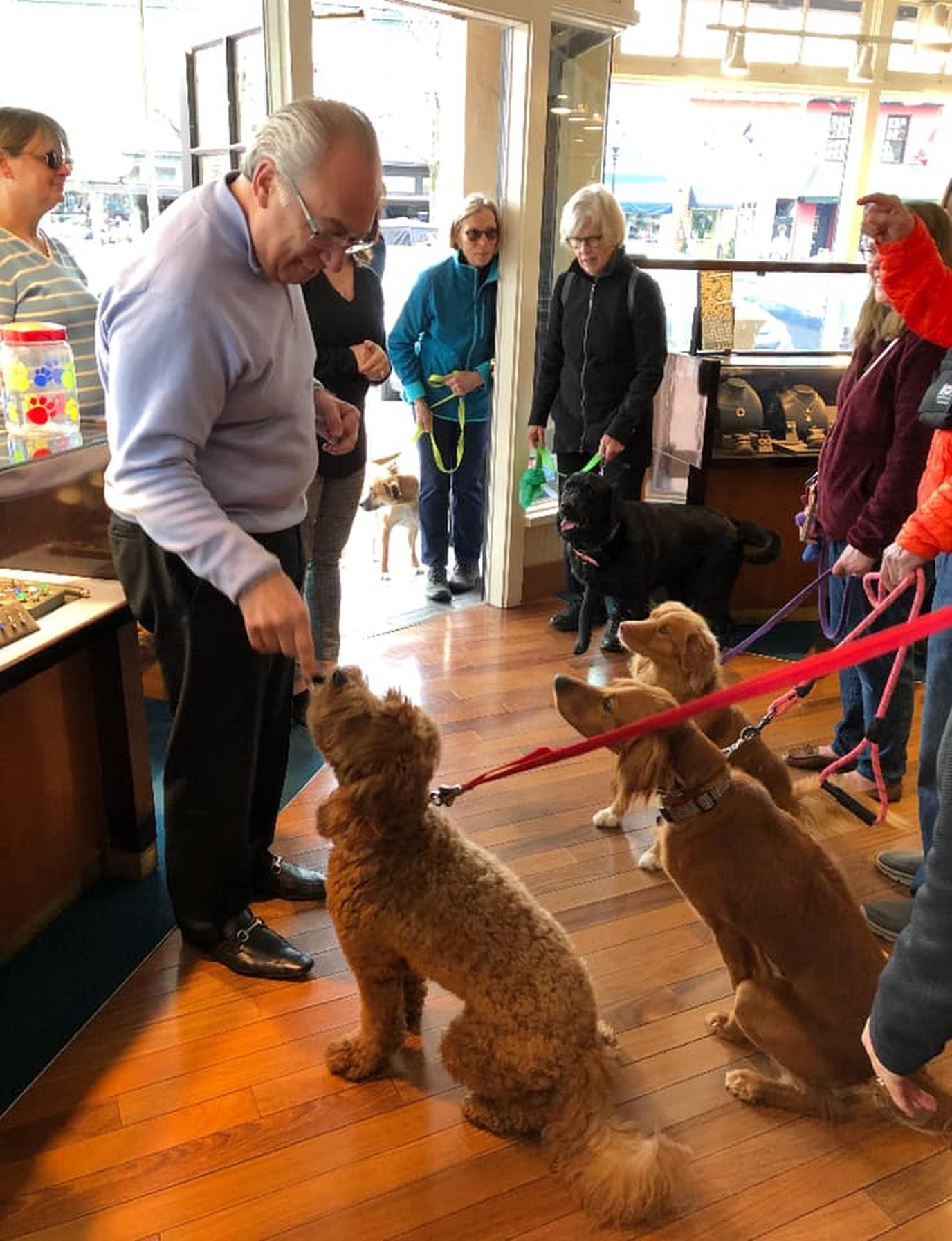 A diamond is furever. – Photo by Facebook.com/Zacharysjewelers
Diamonds are a dog's best friend, right? While pups may not typically be known to go gaga for jewelry, take your best friend to Zachary's Jewelers in downtown Annapolis on National Dog Day for some bling that she will truly cherish. On Monday, August 26, the first 24 dogs through the door will receive a free diamond ring dog toy! While you're out on the town to celebrate, head over to Davis' Pub and order your best gal something special off their dog menu, which includes special treats from Paws Pet Boutique.
The free gift is available to the first 24 dogs to stop by Zachary's Jewelers on Monday, August 26. The store is open from 10 a.m. until 5 p.m.
7. Get Moving with Day of the Dog Virtual Race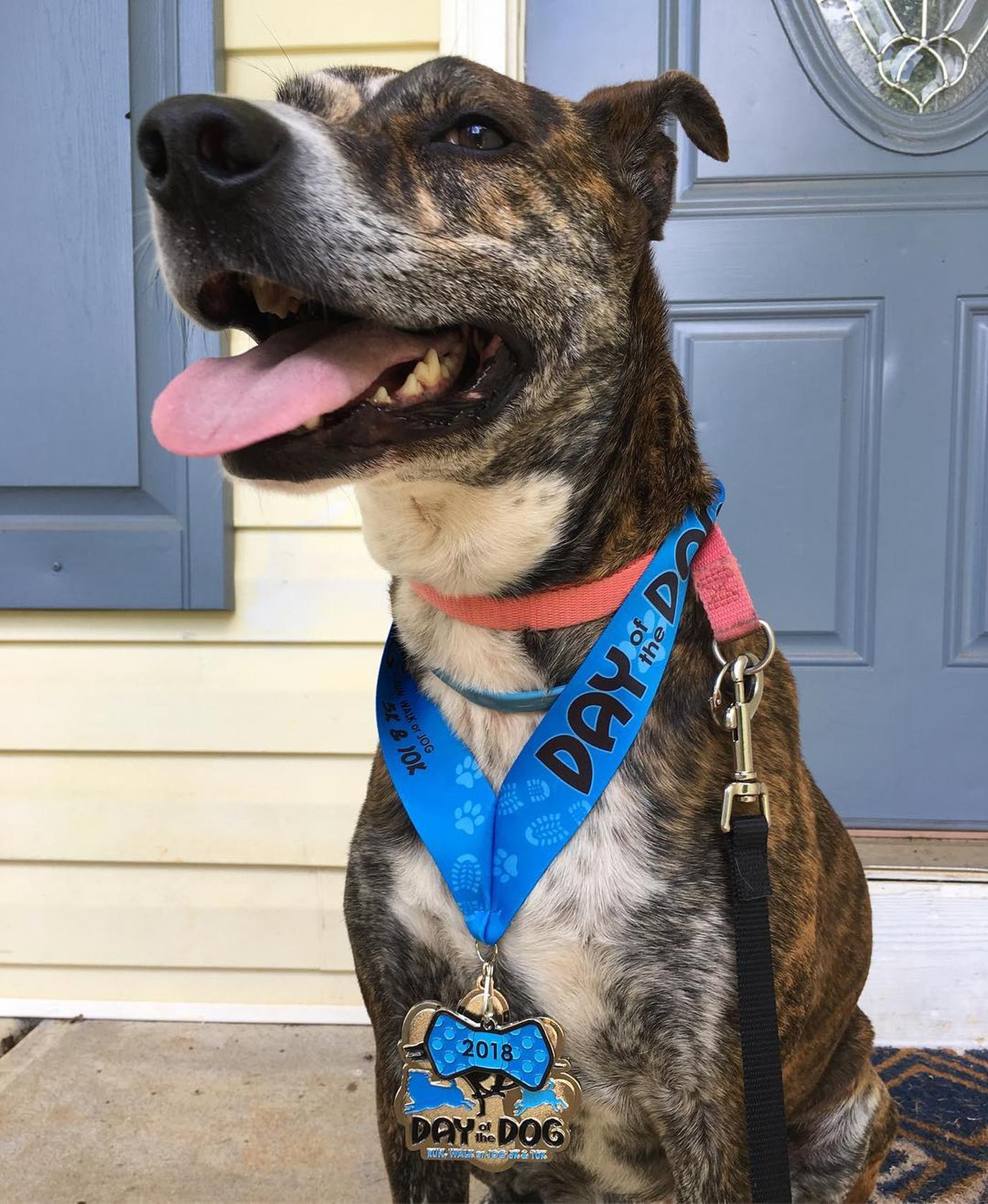 "We are the champions, my friend." – Photo by @moonjoggers
Is Fido a bit of a health nut? Run, walk or jog with your dog in the Day of the Dog Virtual Race hosted by Moon Joggers to raise funds for Freedom Service Dogs of America. This nonprofit organization rescues dogs and custom-trains them for individuals with disabilities. Clients include children, veterans and active-duty military, and other adults. The virtual race allows you to choose your own adventure: pick your distance (1 Mile, 5K, 10K, half marathon, or marathon), design your route (or hop on a treadmill), choose which day you want to run in August and report your finishing time.
Register online for Day of the Dog Virtual Race before the end of August and receive a Day of the Dog Medal and race bib, and a dog tag for your four-legged friend. Registration costs $22 with at least 15% of every entry fee donated to Freedom Service Dogs of America.
8. Attend Happy Hour at Orpheus Brewing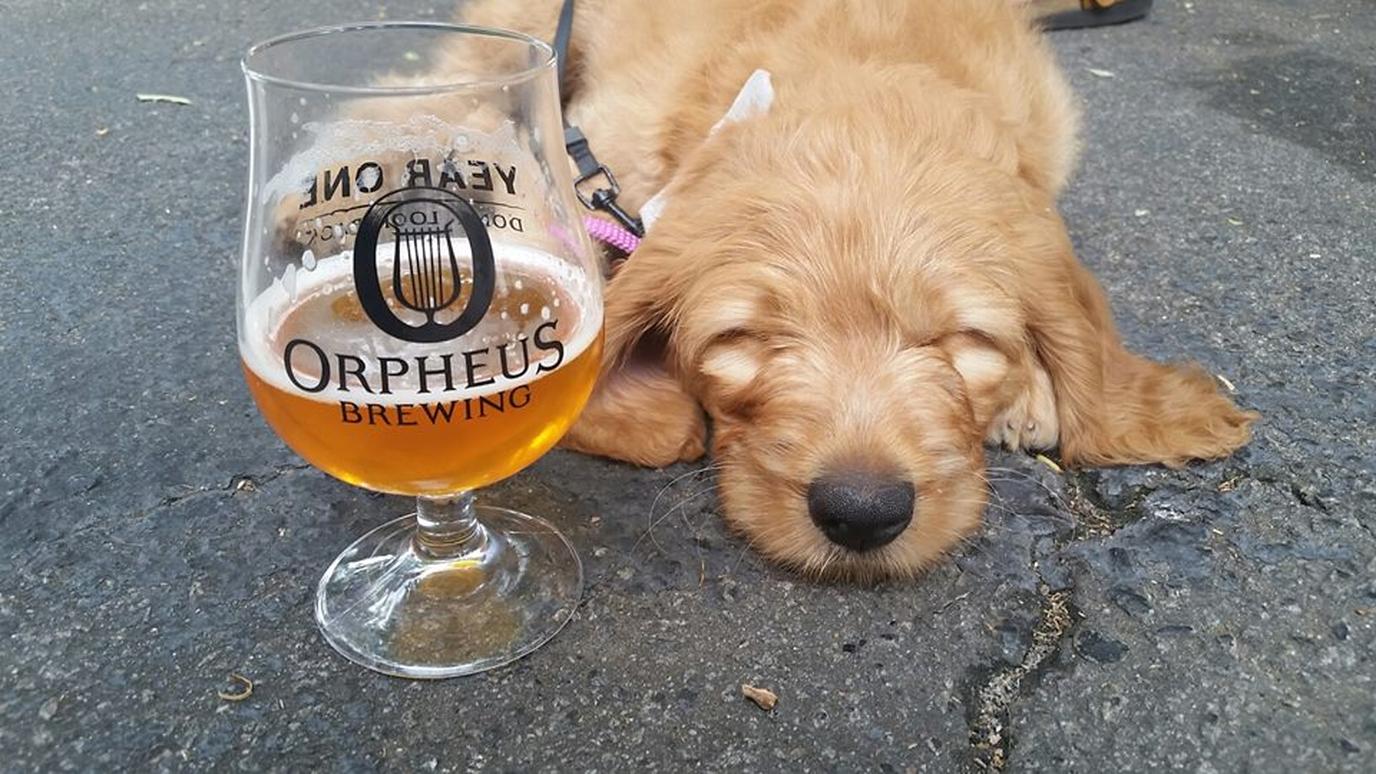 "Happiness is a warm puppy." – Charles Schulz – Photo by Facebook.com/orpheusbrewing
The always dog-friendly Orpheus Brewing is doing its part again this year to spread happiness with a National Dog Day Happy Hour benefiting the Atlanta Humane Society. The celebration will be on Sunday, August 25 to maximize attendants of the two- and four-legged varieties. There will be food trucks, vendors and live music. A portion of all beer sales will be donated to the Atlanta Humane Society, who will be there from 2 p.m. to 5 p.m. with adoptable dogs. Whether you're coming out to party with your current best bud or hoping to meet a new one, Orpheus Brewing is the place to be.
Happy Hour at Orpheus Brewing will be held on Sunday, August 25. Admission is free.
9. Sunday Brunch Together at Park & Field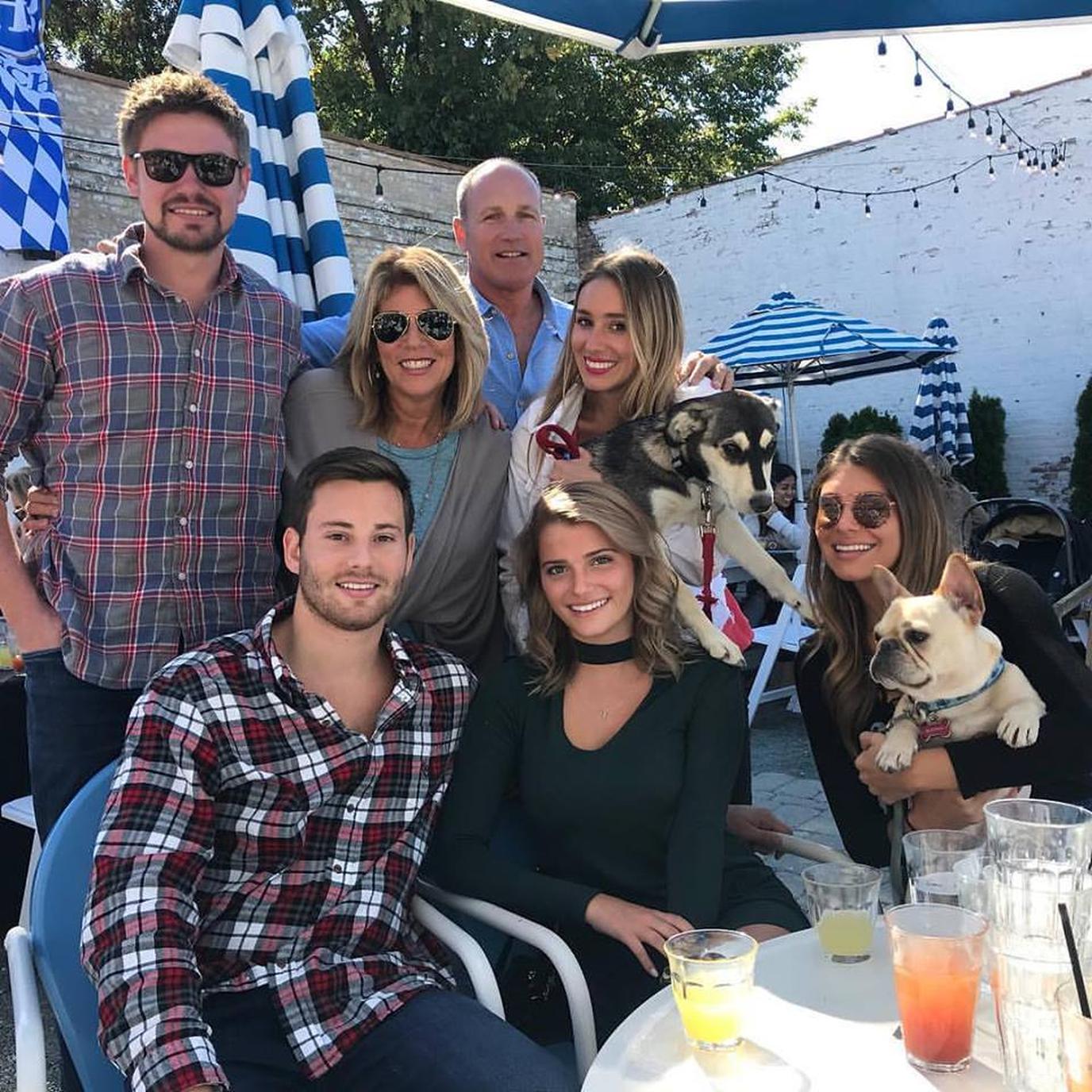 Brunching with besties on the patio at Park & Field. – Photo by Facebook.com/parkandfieldchicago
If you're a dog or a dog lover in the Chicago area, you're certainly a fan of Park & Field, a vintage sports club and restaurant in Logan Square with a sprawling 6,000 square-foot dog-friendly patio. It's easy to see why the Real Dog Moms of Chicago and Second City Canine Rescue chose this venue to host their National Dog Day Brunch. Order Fido something special off the dog menu, which features items like burger patties, chicken and more. Humans can enjoy a gourmet brunch buffet for $25 or spring for food and bottomless drinks for $40. Plus, you'll get the chance to meet some of Second City Canine Rescue's adoptable pups.
The National Dog Day Brunch will be Sunday, August 25 at 10 a.m. Reservations are required.
10. Enter the National Dog Day Photo Contest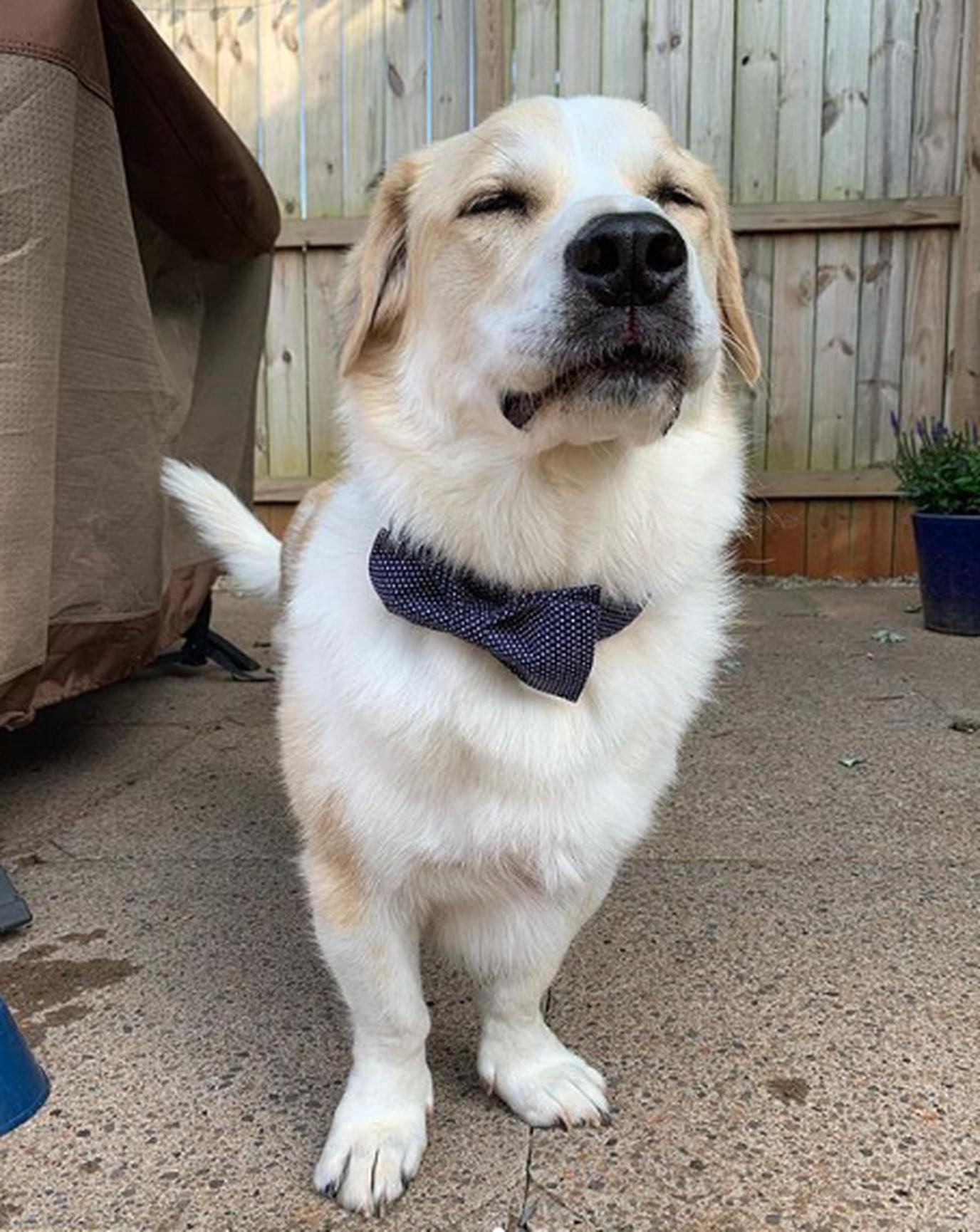 Hank, BringFido's office bassador-ambassador, is ready to compete. – Photo by Facebook.com/BringFido
Is your dog the cutest in the world? NationalDogDay.com is holding an online contest to find the Gerber Baby of dogs. National Dog Day was founded by Colleen Paige in 2004 to celebrate and honor dogs of all breeds, sizes and shapes, and to encourage pet adoption and rescue. The contest begins on August 20, and winners will receive bragging rights, a whole lot of attention on social media, and (TBA) prizes! Treat your pup like the star she is and spend the day together taking glamour shots.
Follow NationalDogDay.com's Facebook page for more details.
11. Attend the Boulton & Watt Dog Menu Rollout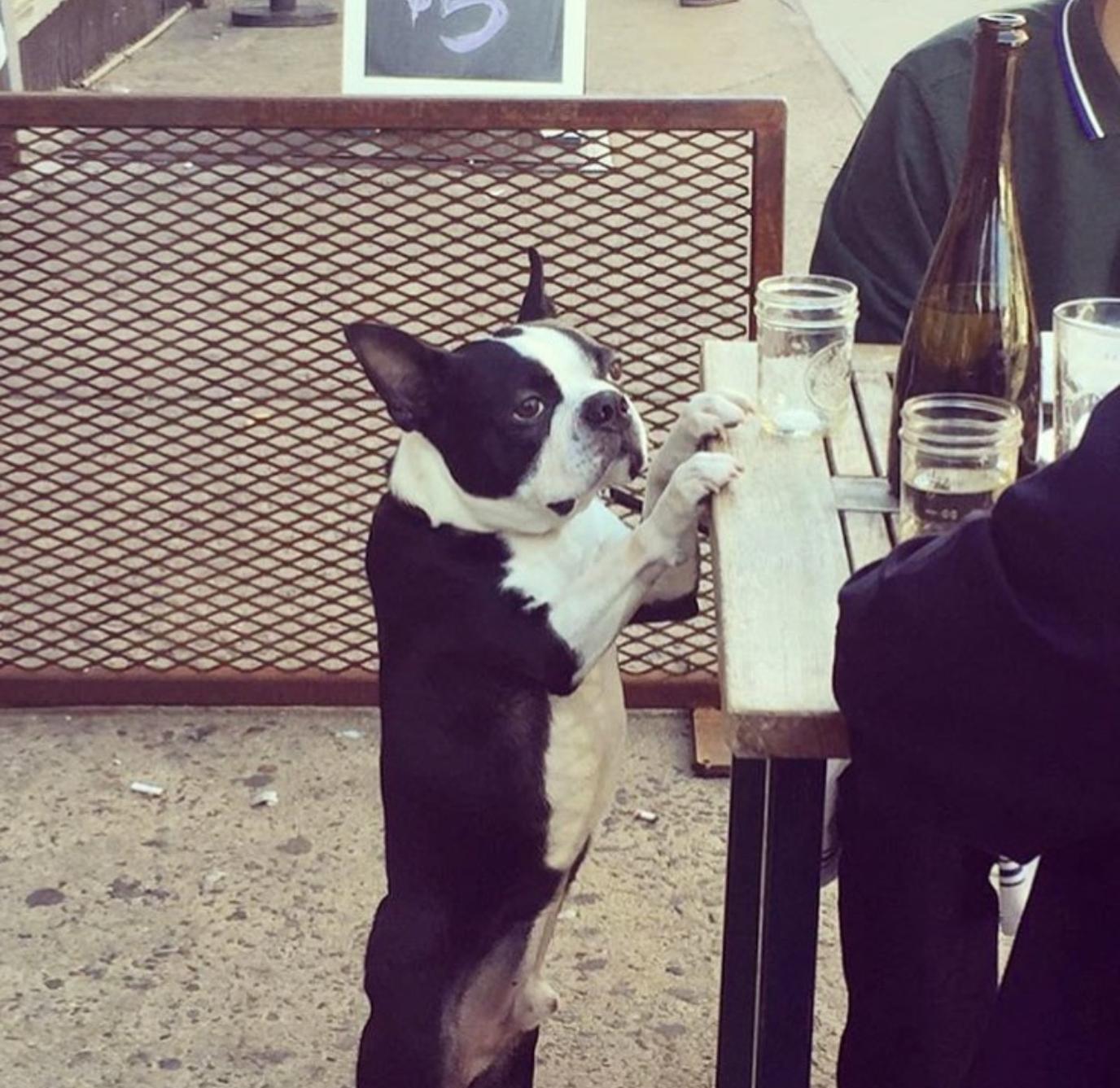 "Is my steak tartare here yet?" – Photo by @boultonandwatt
You and your pup are invited to celebrate National Dog Day at Boulton & Watt. The stylish NYC bar and eatery will be debuting its brand new dog menu adorably titled "Boulton & Woof." All dogs who visit Boulton & Watt on August 26 will receive a free bandana, which they will need when they see the truly drool-worthy new menu. Featured dog-pleasing dishes include steak tartare with milk bone crumble and fresh dill, sweet potato jerky marinated in chicken broth and a peanut butter-stuffed marrow bone. Woof.
Boulton & Watt is open on National Dog Day from 12 p.m. until 2 a.m. There are 10 dog-friendly outdoor tables, and reservations are suggested.
This post from BringFido originally appeared as 11 Excellent Events To Celebrate Fido On National Dog Day.