To all pet-friendly restaurants that make the effort to welcome Fido, we salute you. We know it can't be easy. There are hygiene standards to uphold, other diners who may want nothing to do with your dog no matter how adorable she is, and the general unpredictability of having animals around food. Of these noble eateries, there are a select few that take dining with your pet quite literally. They realize that four-legged foodies are just as deserving of a good meal as their human counterparts, and they've answered the call by creating specialized dog menus for hungry hounds. No mere dog biscuits here (although those are great, too!). These 12 fantastically dog-friendly restaurants around the world offer gourmet meals for your canine connoisseur to enjoy by your side.
1. Posana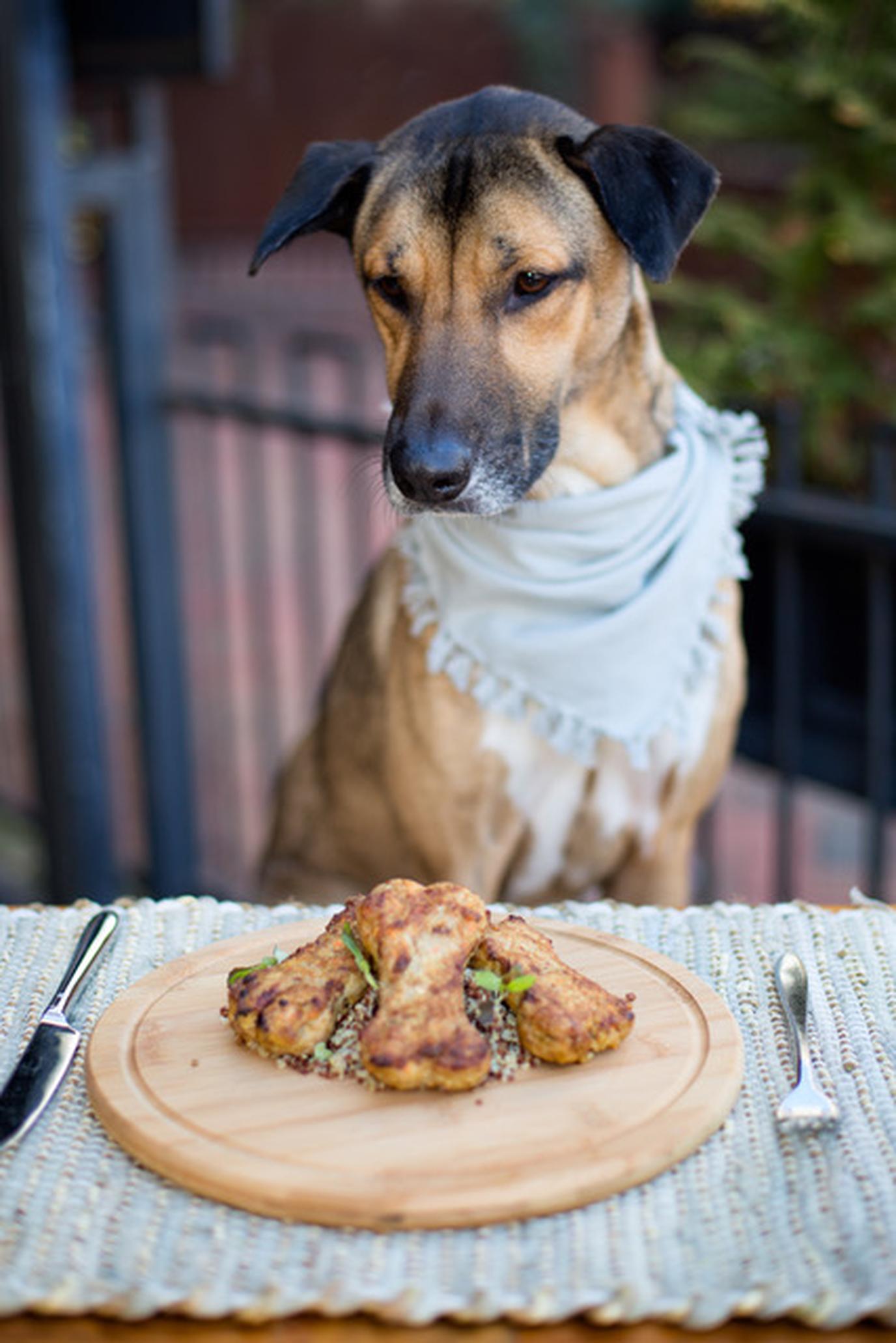 "My compliments to the chef!" – Photo by Posana
If you're looking for a five-star dining experience complete with five-bone goodies for your pup, head to Posana in downtown Asheville. The restaurant's contemporary American cuisine is based on locally sourced and sustainable ingredients, so their menu changes regularly. What doesn't change is the outstanding quality of their food, which includes some truly drool-worthy puppy chow. Your furry foodie can start her feast with two homemade biscuits. For the entree, she can choose between the grilled Carolina bison burger, grilled chicken breast or Doggie Beefloaf, all served over quinoa. The epic doggie meal ends with a scoop of bacon soy doggie ice cream.
2. Forge in the Forest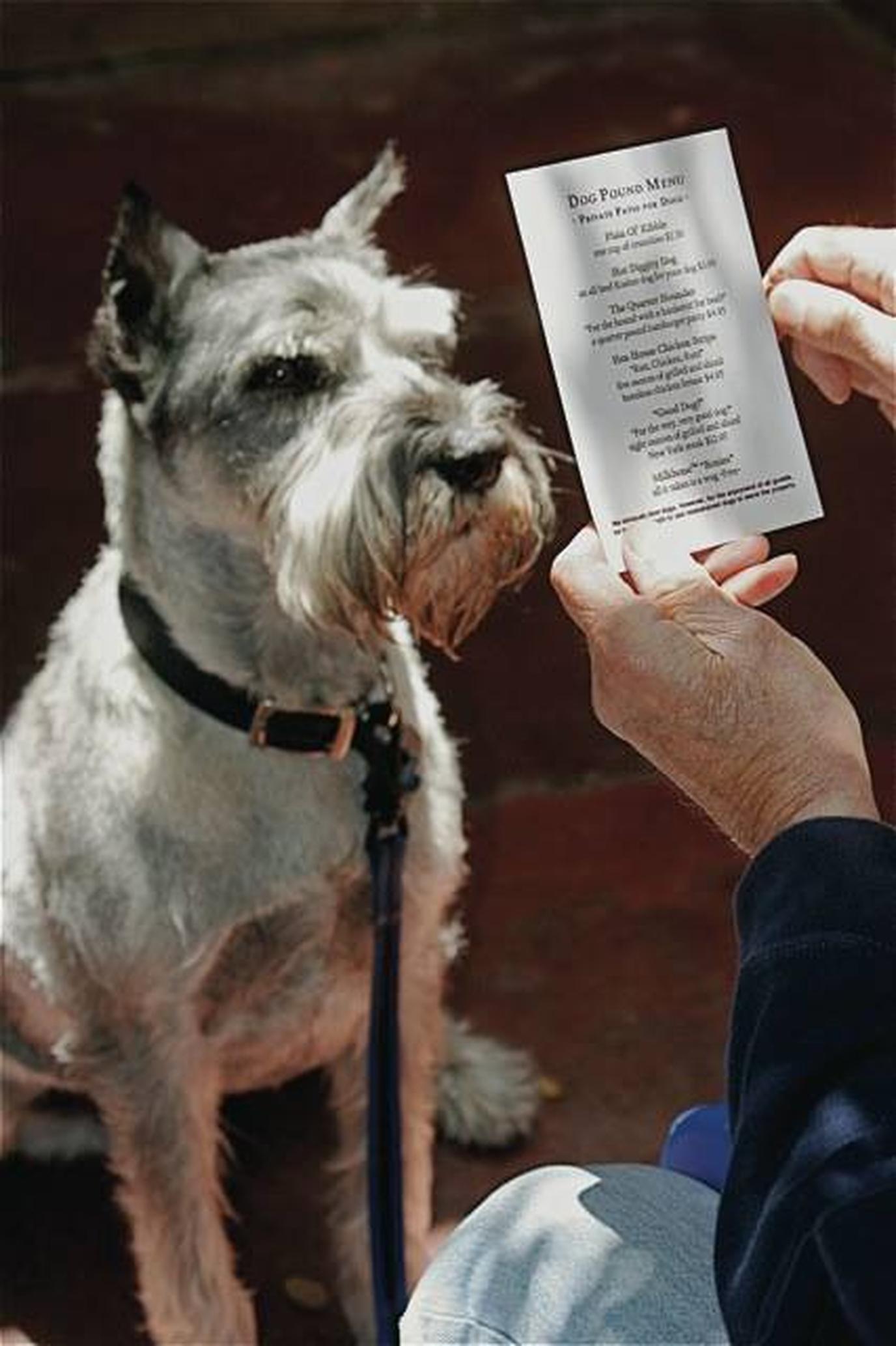 "Go ahead. I'm listening." – Photo by Facebook.com/TheForgeCarmel
For years, The Forge in the Forest has ranked among the most pet-friendly restaurants in the U.S. It's also consistently voted the best outdoor dining in Monterey thanks to the leafy outdoor patio, shaded courtyard and fireplace dining. However, canine customers will make straight for the Dog Pound Patio. While you enjoy eclectic international cuisine, your dog will appreciate the no-frills approach to his food. He can snack on Plain Ol' Kibble or the heartier Hot Diggity Dog, Quarter Hounder or chicken strips. If you really want to spoil him (and of course you do), treat him to a Good Dog grilled and sliced New York steak. While he waits to be served, tell your pup of the history of this acclaimed eatery. John Steinbeck's seminal American novel, "The Grapes of Wrath," was reportedly inspired here.
3. M Victoria Street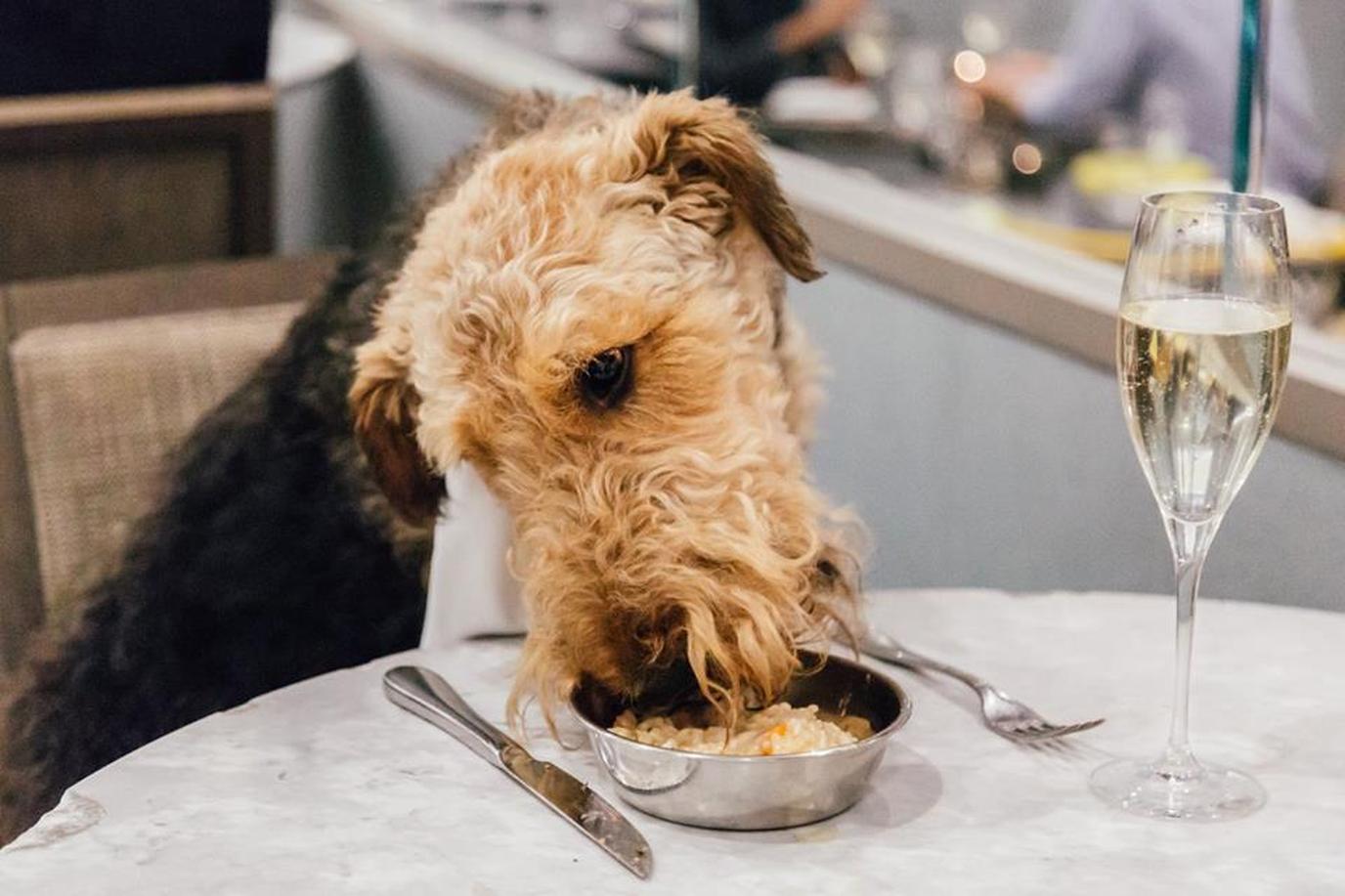 "The champagne is purely decorative, I promise." – Photo by Facebook.com/mvictoriastreet
Did you know your pup can eat at 2018's best restaurant in the UK? M Victoria Street earned that honor in the Blue Badge Awards. We're not sure if dogs were part of the judging, but we'd like to think they had a paw in the outcome. After all, if M's Saturday doggy brunch is anything to go by, this place must be a howling good time for London's canine community. The two-course, "6-legged menu" changes weekly, but past highlights have included bone marrow risotto and black pudding granola for Fido. Human foodies can try the buttermilk-fried chicken & waffles and chicken livers on toast. The doggy brunch is one of several pet-friendly events at M's, which also donates a portion of its dog-themed proceeds to local pet charities.
4. The Wilson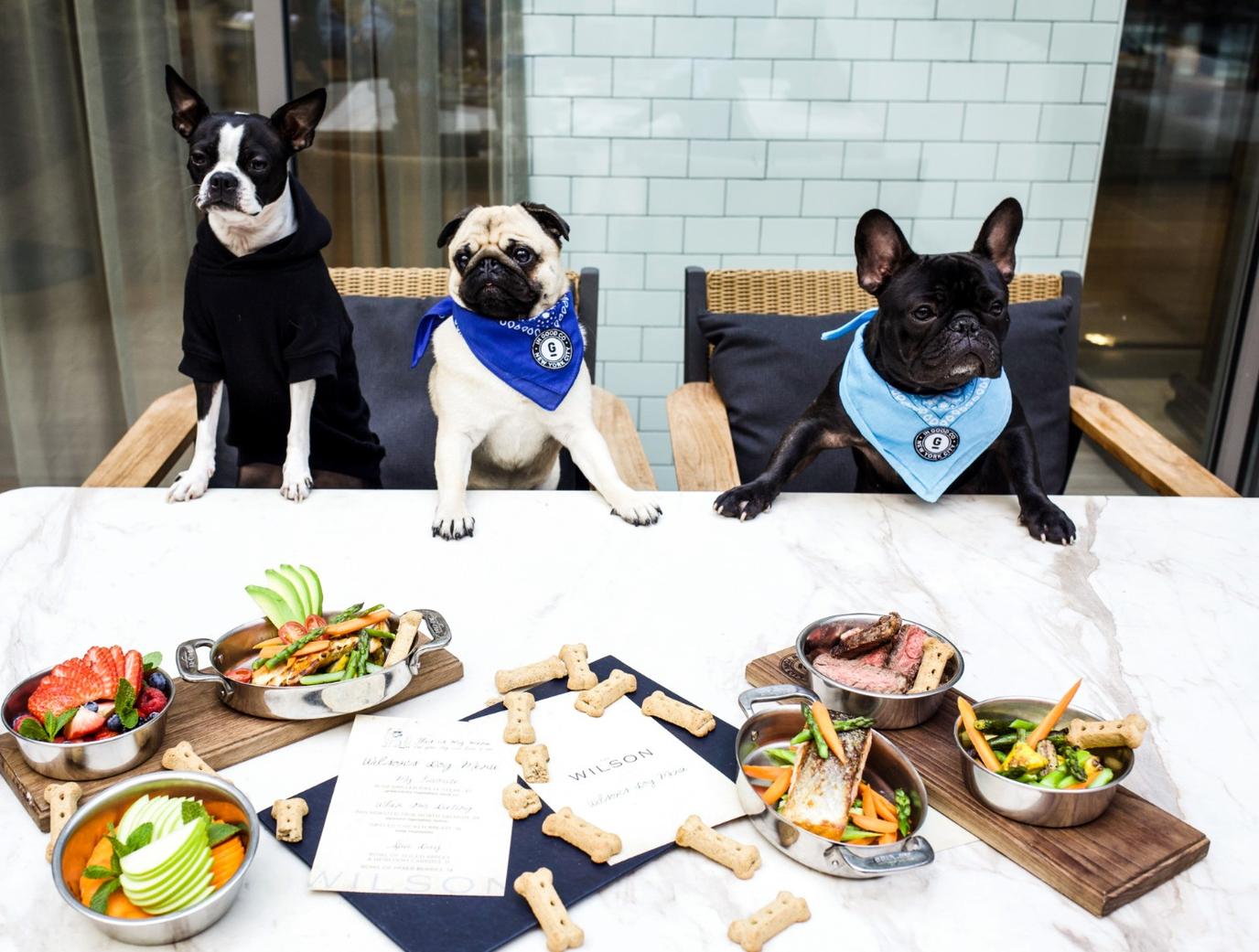 "Do we deserve this? Of course we do." – Photo by Jenna Murray/IGC Hospitality
Start spreading the news. Dogs are in for an absolute treat at The Wilson, which recently launched a dog menu that makes Fido's regular dog food look like… well, dog food. The menu was inspired by two Bulldogs: the restaurant's canine mascot and Stella, the four-legged best friend of its culinary director, Jeff Haskell. In classic New York fashion, your pup gets what you pay for at this swank Chelsea eatery located in the also dog-friendly INNSIDE by Meliá. The 16oz grilled ribeye steak with steak jus and grilled baby vegetables will set you back $42, but it's so good you could share it with your pup if you wanted to. The same can be said for the $28 pan-roasted true north salmon and the $16 grilled chicken breast. The menu has "Spa Day" canine options of sliced carrots and apples (for $11) and a bowl of mixed berries (for $14). A portion of the proceeds from all dog menu sales is donated to a different pet charity every month.
5. Art and Soul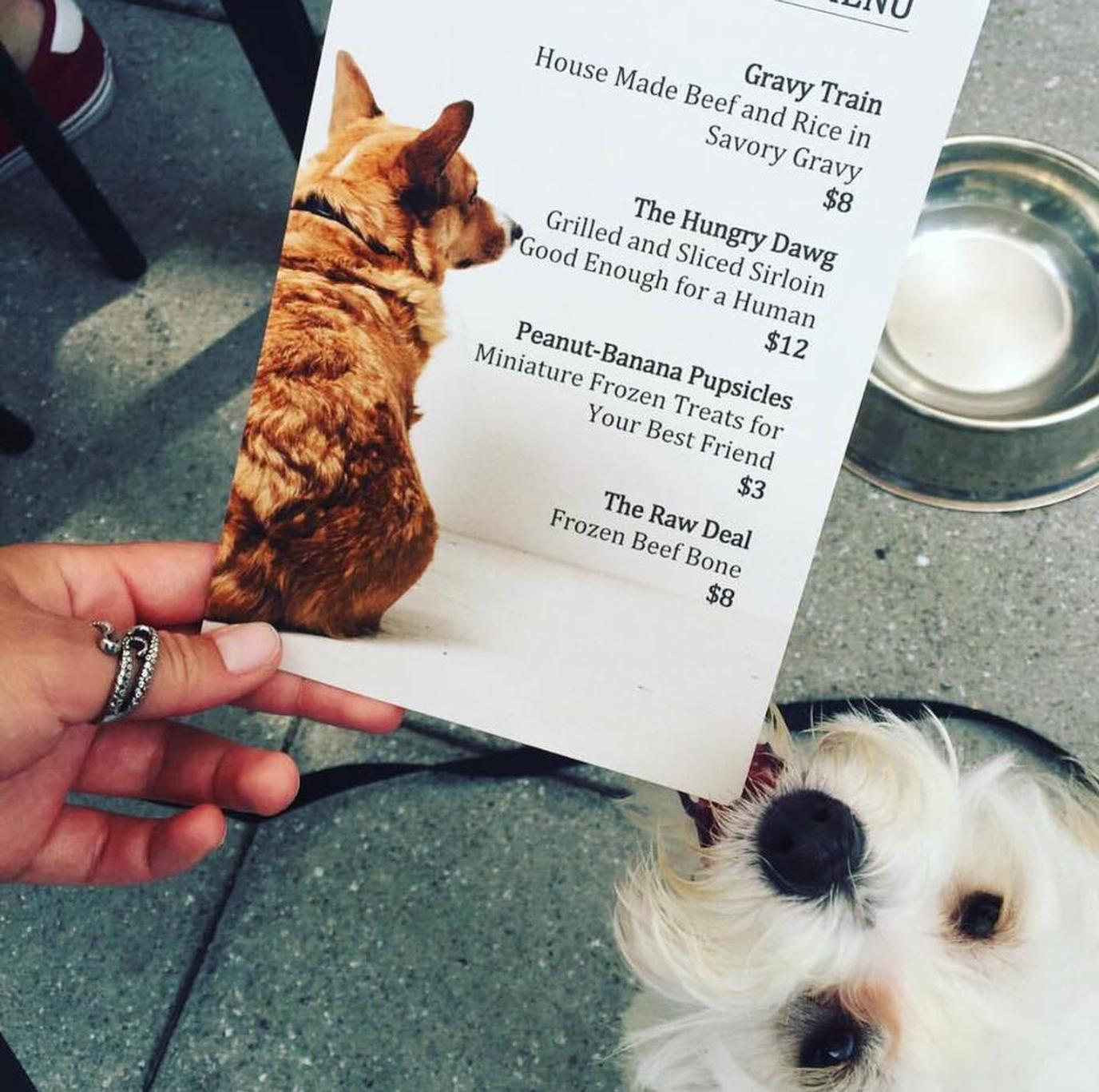 "I'll have one of everything." – Photo by Facebook.com/ArtandSoulDC
"Simple, honest food" is the mantra at Art and Soul, Chef Douglas Alexander's culinary tribute to the South in the nation's capital. Simple and honest typically translates to dry kibble for a hungry pooch, but nothing could be further from the menu here. This dog food is truly made with art and soul, and the results are sumptuous platters like the Gravy Train (house-made beef and rice in gravy), Hungry Dawg (grilled and sliced sirloin), and The Raw Deal (frozen beef bone). If your pup has a sweet tooth, she might prefer the peanut-banana pupsicles, and if she has a drinking problem, she'll opt for the Bowser Beer. It's a meal fit for a human (except for that frozen bone), but you'll be happy to leave it to the dogs while you sample dishes like Foie Gras mousse, crab deviled eggs, maple-brined pork loin and Moulard duck breast.
6. 360 Cookhouse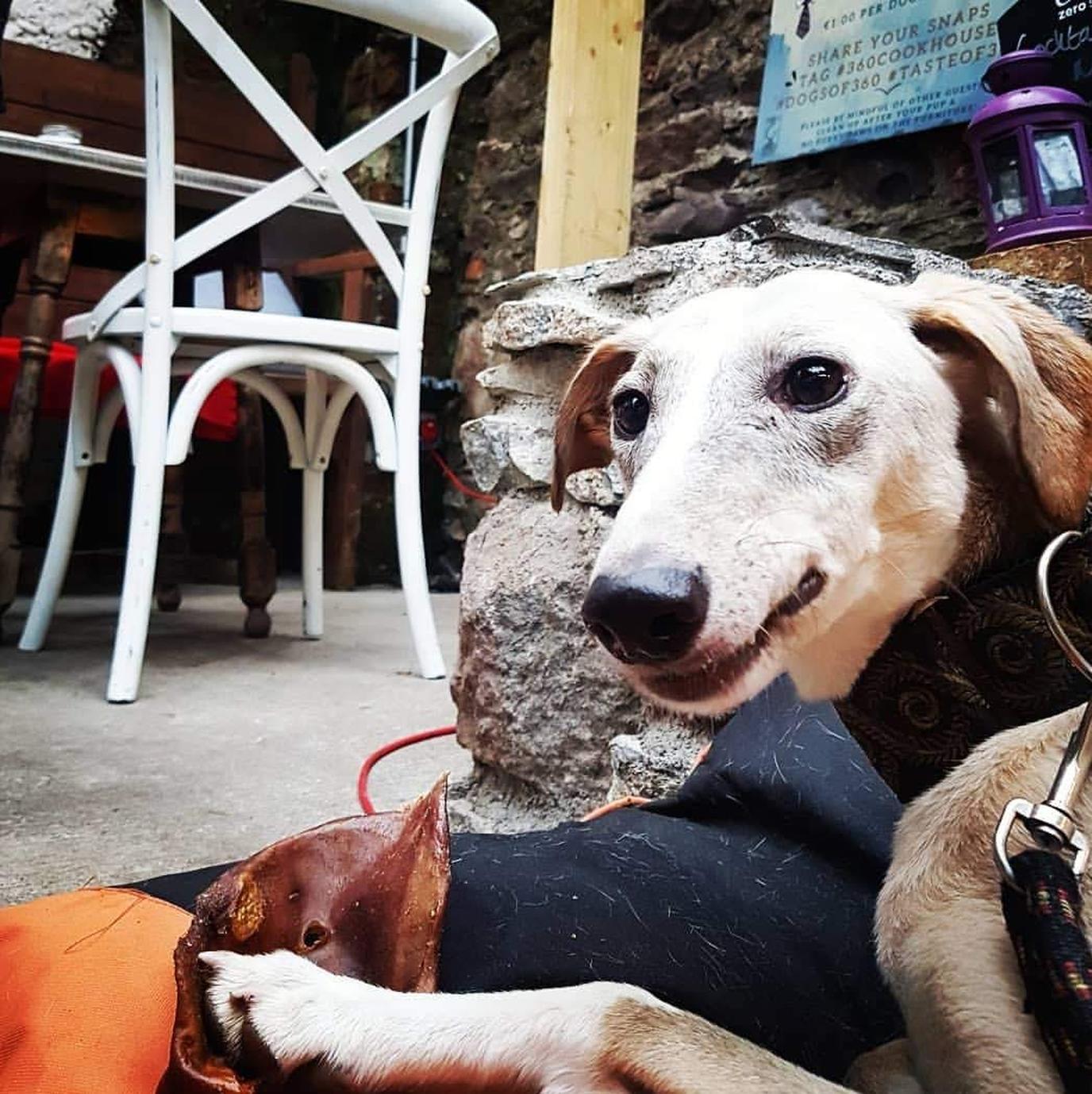 "Get your own pig ear." – Photo by 360 Cookhouse
360 Cookhouse is so good at being good to dogs that they've won awards for it. This popular restaurant was named Pet-Friendly Destination of the Year for 2019 by the Georgina Campbell Ireland Guide for its unbeatable welcome and attention to four-legged foodies. Pups can enjoy two heated outdoor areas at 360, and a truly gourmet and healthy canine menu. Where else can Fido snack on meat sticks, pig's ear, or veal-filled hoof, among other goodies? As delicious as the menu is, the good people at the Cookhouse are set to expand it to include ice lollies (raw meat cubes) and veggie bones. The restaurant also hosts frequent pet-friendly events, including an Adopt a Dog Awareness Day with a local animal shelter.
7. Sally's Fish House & Bar
These won't last long. – Photo by Sally's Fish House & Bar
Seafood-loving pet parents love Sally's Fish House & Bar. With dishes like wood-fire-grilled octopus, seared diver scallops and Provençal grilled swordfish, the menu is sure to please. The waterfront patio offers lovely views of the San Diego Bay. And your chowhound will be hooked after one bite of the seafood-themed Surf & T-Arf, an irresistible combination of salmon, grilled chicken, white rice and peas topped with bacon. If she's not feeling fishy, let her feast on Sally's Famous Pupcakes made with honey, peanut butter, coconut, Greek yogurt, bacon and carrots, or a Frozen Pawpsicle (a blend of frozen banana, peanut butter, Greek yogurt and honey on a pretzel stick). While any time is a good time to dine at Sally's, you and your pooch won't want to miss its quarterly Paws on the Patio events. In addition to drink and food specials, Fido will enjoy a fenced-in dog run, and 20% of the restaurant's proceeds benefits Rancho Coastal Humane Society.
8. Ushisuke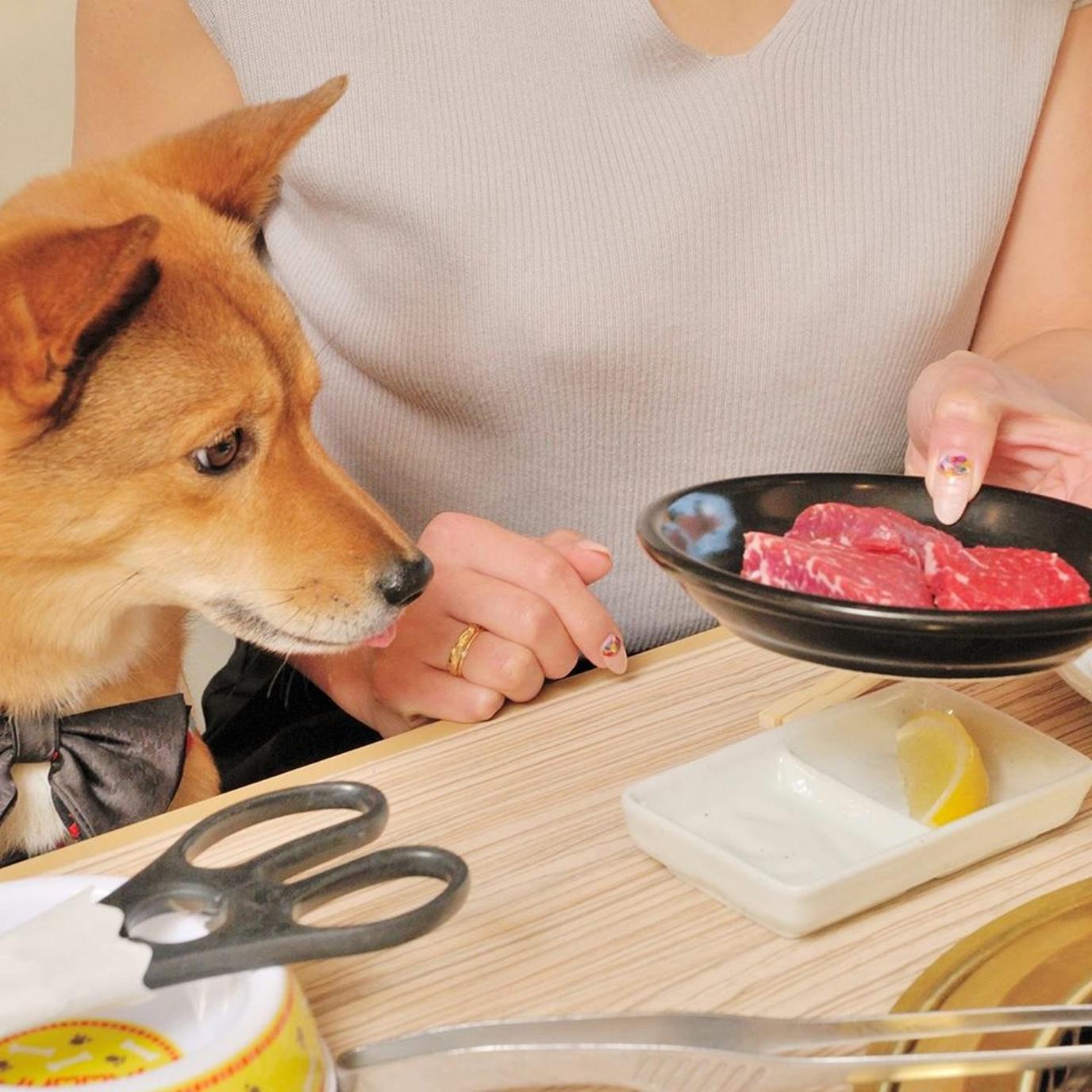 "Wait… is that for me??" – Photo by Facebook.com/ushisukegroup
Tokyo is truly a pet-lover's paradise. Not only are pets treasured members of the family, and in some cases national heroes (we bow to you, Hachiko), but they're also welcome at many businesses around town. And we're not just talking dogs and cats. Tokyo offers cafes where you can hang out with owls, snakes and even hedgehogs. Of the many dog-friendly eateries in the city, we chose Ushisuke for its tasty human- and canine-friendly menu. This mini-chain of yakiniku restaurants serves a smorgasbord of meats and veggies that you grill at your table. There's also a special menu of rice, veggies and meats for you to cook up for your pooch. One look at the restaurant's Instagram shows the many satisfied four-legged customers who have scarf…er, dined here.
9. Moss Beach Distillery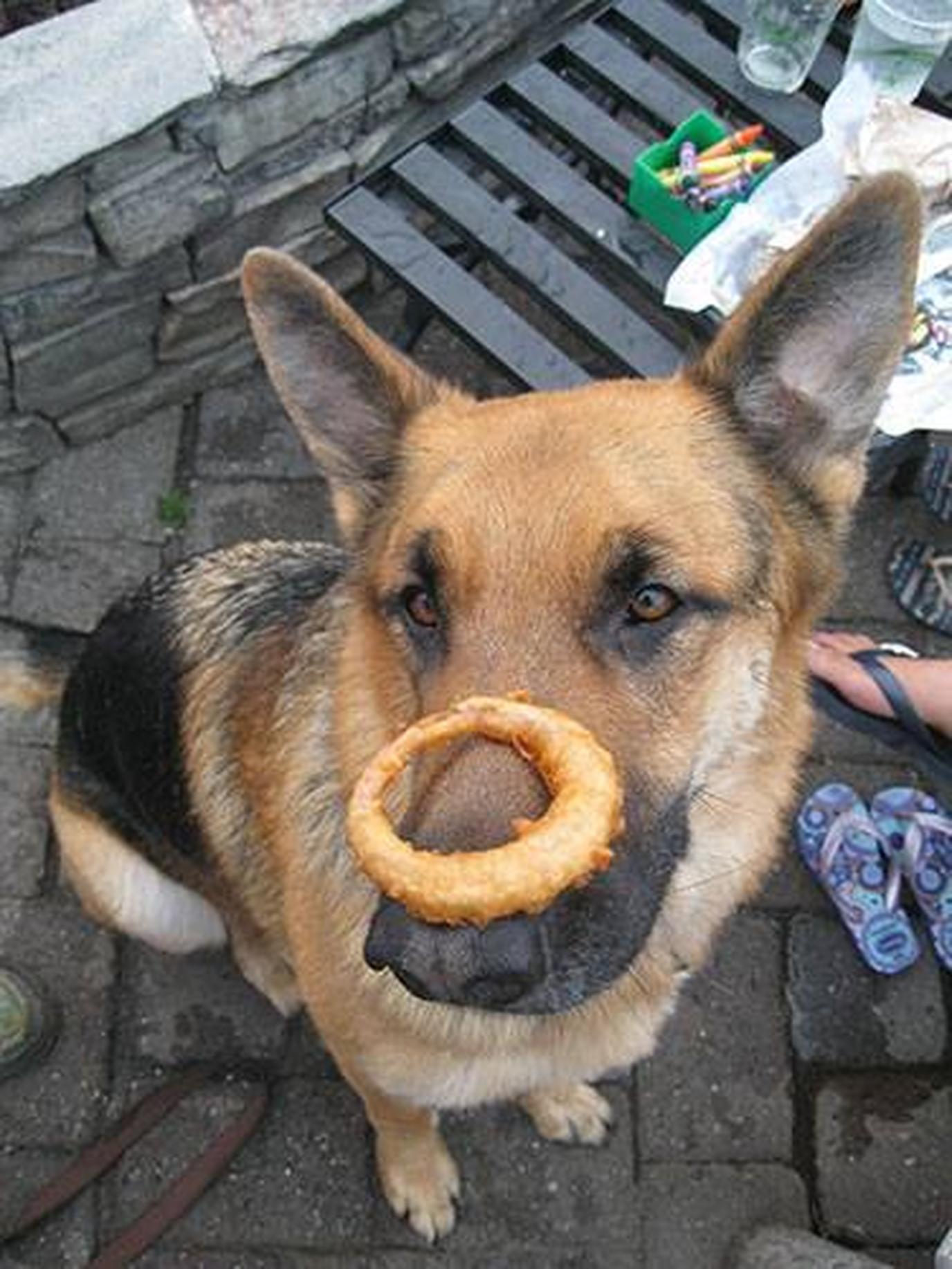 "I thought we weren't supposed to play with our food." – Photo by Facebook.com/mossbeachdistillery
Award-winning coastal cuisine tastes even better when your furry companion is there to enjoy it with you. Moss Beach Distillery's heated Seal Cove Patio is perched above the Pacific, where sunbathing seals, breaching whales and sweeping views are on the house. While you dine on wild-caught seafood, your pooch can choose from simple snacks like scrambled eggs, a bowl of kibble, and bacons slices, to more filling fare like grilled chicken breast and mini burger patties. If she's really been a good girl, treat her to the Good Dog Skirt Steak. At 16 "bones," it's more than double the cost of any other item, but we're sure she deserves it.
10. Grizzly Peak Brewing Company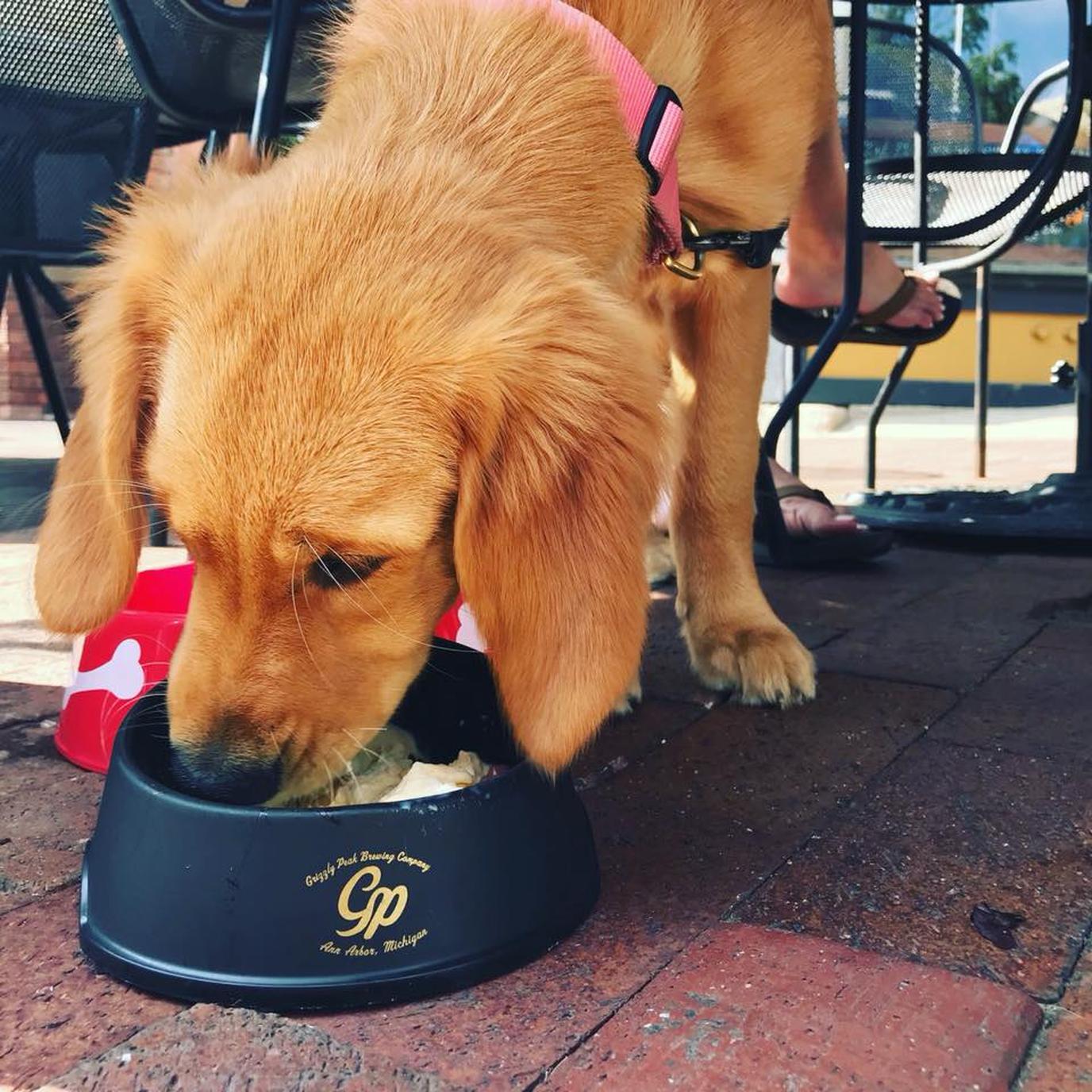 It tastes good AND it helps other dogs! – Photo by Facebook.com/miguel.rivero
It's not often that your pooch does a good deed while eating dinner, but Grizzly Peak Brewing Company's "Pups on the Patio" menu isn't just there to feed Fido. A portion of the proceeds from every doggie meal is donated to the Humane Society of Huron Valley. And we're not talking stale biscuits, here. The Pup Patty is a cheeseburger on a house bun, the PB Dog is a kielbasa with peanut butter, the Top Dog is a hanger steak over potatoes. If your pup is watching his weight, the Skinny Dog gives him a choice of salmon or chicken over rice, or if he's just feeling peckish, Grizzly Peak also has dog-sized bacon snacks. Of course, the meal wouldn't be complete without the Poochy Cream vanilla ice cream topped with peanut butter and a doggy treat. Each item on the menu comes with a complimentary Grizzly Peak dog dish. While your dog does his generous deed, you can enjoy craft beer, hearth-baked pizzas, signature burgers and more.
11. The Carrington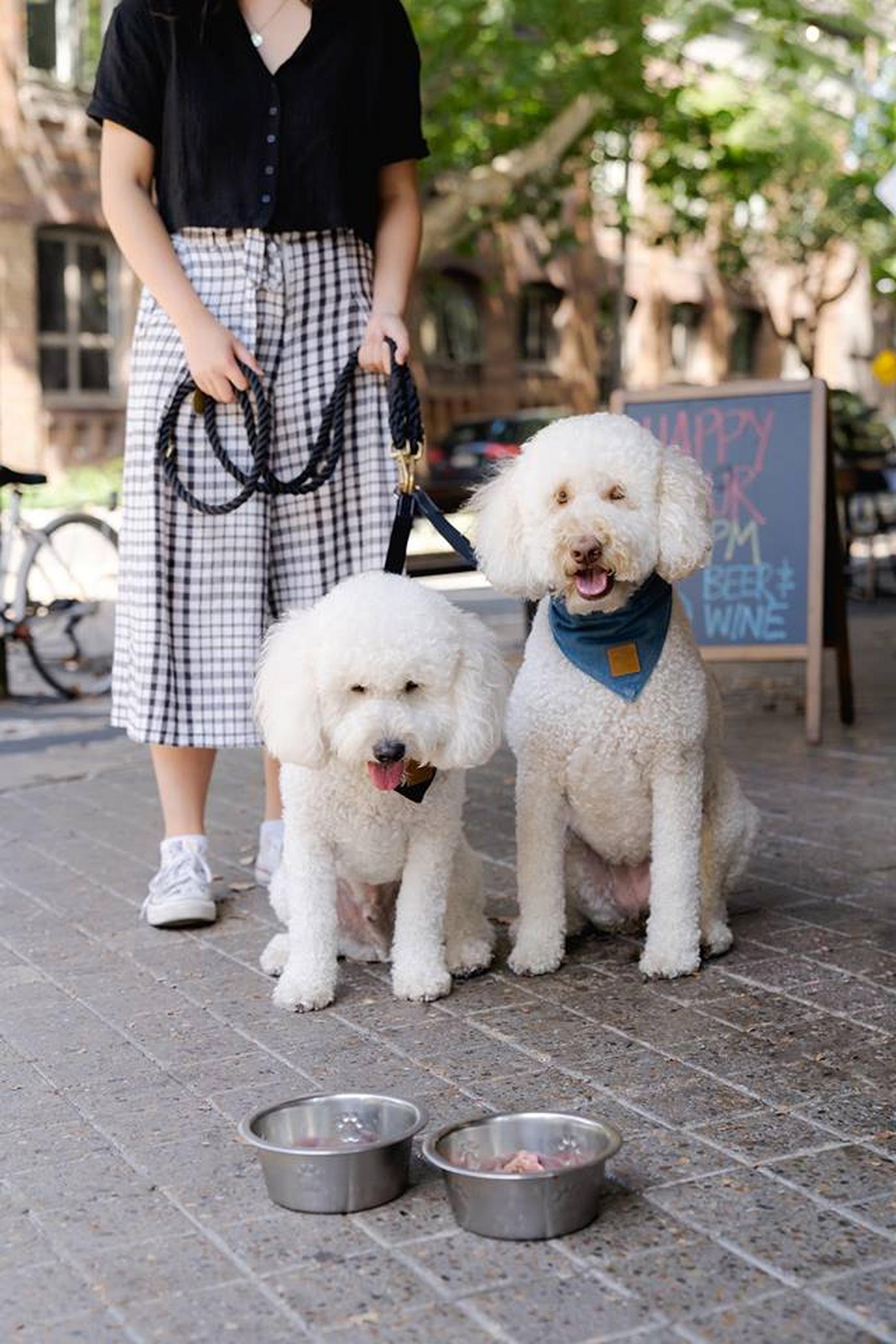 "Who got the beef tartare?" – Photo by The Carrington Sydney
This old-school pub is actually one of the oldest in Sydney's Surry Hill neighborhood, and we have to assume the secret to their longevity is the love they show to their puppy-eyed patrons. While humans dine on elevated pub fare like chicken schnitzel, buckwheat risotto, and even a fish & chip burger, four-legged Aussies only have two options to choose from. But boy are they good ones! The Doggo Meals at The Carrington consist of steak & veggies (always a crowd pleaser) or beef tartare (for more discerning pooches). Best of all, you and your mutt can enjoy your meal in the interior garden bar. The best time to take your canine companion to The Carrington is on Mother's Day, when all Doggo Meals are free.
12. The Cliff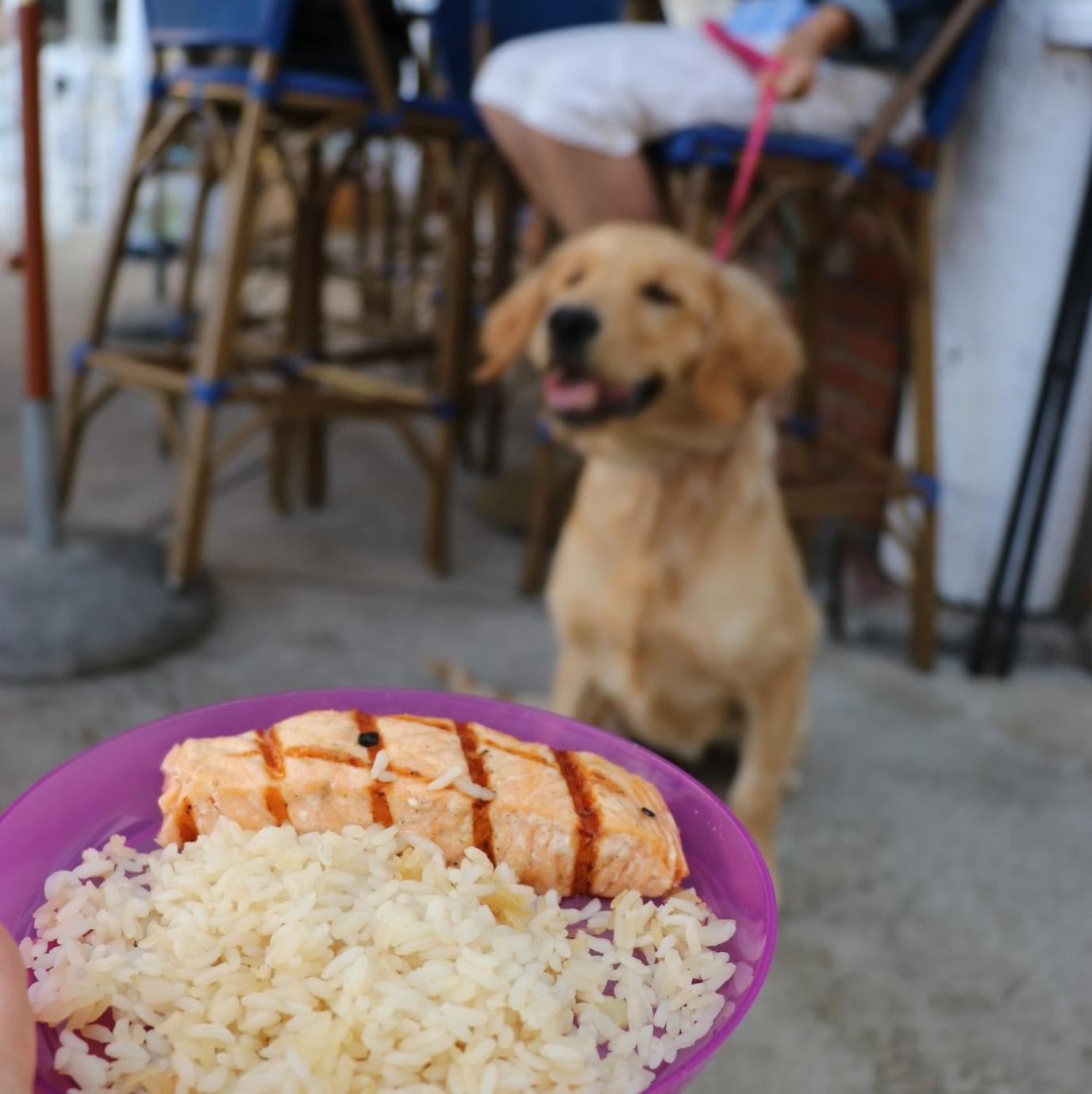 "Can't wait can't wait can't wait." – Photo by The Cliff Restaurant
The Cliff's open-air dining, panoramic whitewater views and expansive menu make it a popular choice in Laguna Beach for humans. Its scrumptious puppy menu makes it a must-visit restaurant for four-legged foodies. Precious's Puppy Plates, named after owner Sharon Haron's late Golden-Chow mix, includes oatmeal, chicken breast, beef patty, grilled salmon and prime rib. But it separates itself from the pack with its dog treats menu. For furry friends who prefer to snack and socialize, a four-ounce cup can be mixed with a selection of all-natural organic treats like salmon snacks, carrot molasses, liver bites, calamari, pumpkin paws and more. Good luck convincing your dog there are better treats waiting at home.
This post from BringFido originally appeared as 12 Restaurants Around the World With Gourmet Dog Menus.