Where to Get Fido's Bachelor of Barking
Beginning college is an exciting time for students. It also can be a difficult time, leaving behind home, family, friends and even Fido. Of course, many pet-friendly universities allow students to have fish tanks or small caged animals in on-campus housing. Even cats have been roaming designated dormitories at schools like Massachusetts Institute of Technology (MIT). But dogs in dorms?
Colleges have historically been reluctant to welcome pups on campus, but that could be changing. After all, there's nothing like returning home from a day of exams to a wagging tail and a wet snout! Having a "dogmate" can not only lower anxiety but also increase exercise, provide social interaction and teach responsibility. These seven colleges and universities have considered those benefits and have opened their doors to canine dormers.
Eckerd College
Graduating Magna "Crumb" Laude! – Photo by @daira_glynn
Dogs aren't just pets at Eckerd College, they're classmates! Each spring, the class of outgoing pets is honored with a graduation ceremony complete with a diploma presented by the college president. Eckerd College has been welcoming pets since 1973, and today boasts 14 pet residence halls. Furry friends are part of campus life. Good boys and girls might get their picture posted on the Eckerd Pets of Instagram page. And every October, the college hosts a blessing of the pets during the Feast of Saint Francis of Assisi, the patron saint of animals. Visiting pups also are permitted on campus as long as a Visiting Pet Registration Form is filled out a week in advance.
St. Petersburg is also home to Fort De Soto Dog Beach, one of BringFido's 10 Best Dog Beaches on the Gulf Coast, and many dog parks, including five-bone rated Lake Vista Dog Park. Fido will have plenty of space to run and play when he's not studying.
To attend Eckerd, dogs must be at least 1 year old and weigh no more than 40 pounds. They are required to have lived with the student or the student's family for at least 10 months prior to moving onto campus. All pets must be registered with the Pet Life Staff, and the cost to register is $150.
Lees-McRae College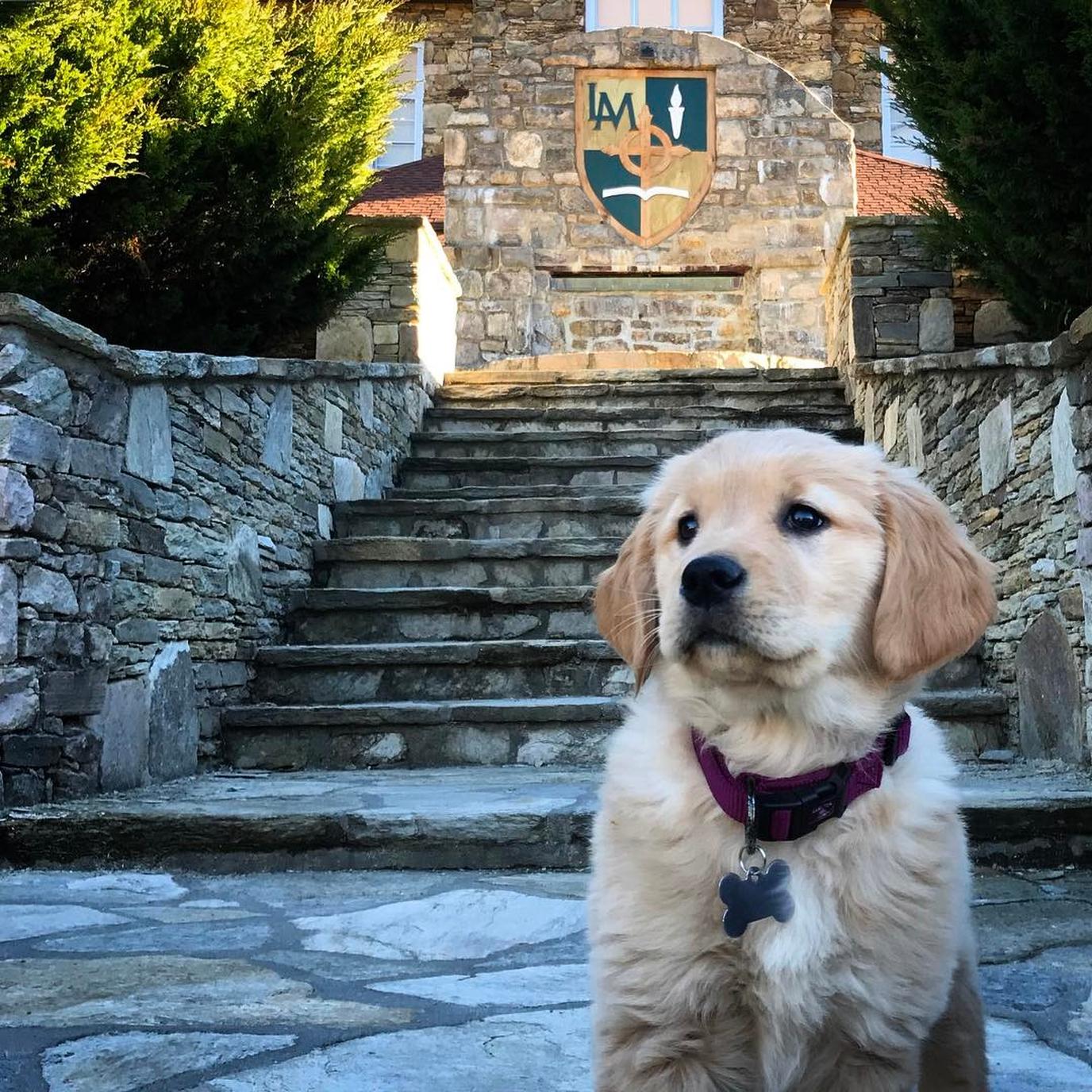 "When I grow up, I'm going to Lees-McRae College!" – Photo by @leesmcraecollege
Faculty and staff at Lees-McRae College are encouraged to bring their four-legged friends to work and students are permitted to have family pets in select on-campus residences. Many professors allow students to bring their furry friends to class as well. Before the academic year begins, the college holds an open house for students attending with pets. During the visit, Fido can pick up a Lees-McRae doggie T-shirt, collar or toy from the bookstore to show his school spirit.
The college is nestled in the middle of the Blue Ridge Mountains at an elevation of 4,000 feet, and is surrounded by many pet-friendly trails and places to explore with a dog. The location plays a large part in the college's mission to be a steward of the planet and all its animals. The May Wildlife Rehabilitation Center on campus admits more than 1,500 injured and orphaned wildlife species each year. Students work at the center to rehabilitate animals and return them to the wild.
Banner Elk is also home to many dog-friendly businesses. Students can bring Fido to study over a cup of coffee at Banner Elk Cafe or meet friends for dinner on the patio of Sorrento's Italian Bistro, both located on the edge of campus. Just a 20-minute drive south is Grandfather Mountain, home to 11 dog-friendly hiking trails and spectacular views.
Students in their second year or later are welcome to bring dogs up to 40 pounds. Aggressive breeds are not permitted. Students must apply to bring a pet through the Student Development Office. The Lees-McRae College Pet Council protects, maintains and regulates pets on campus.
Stephens College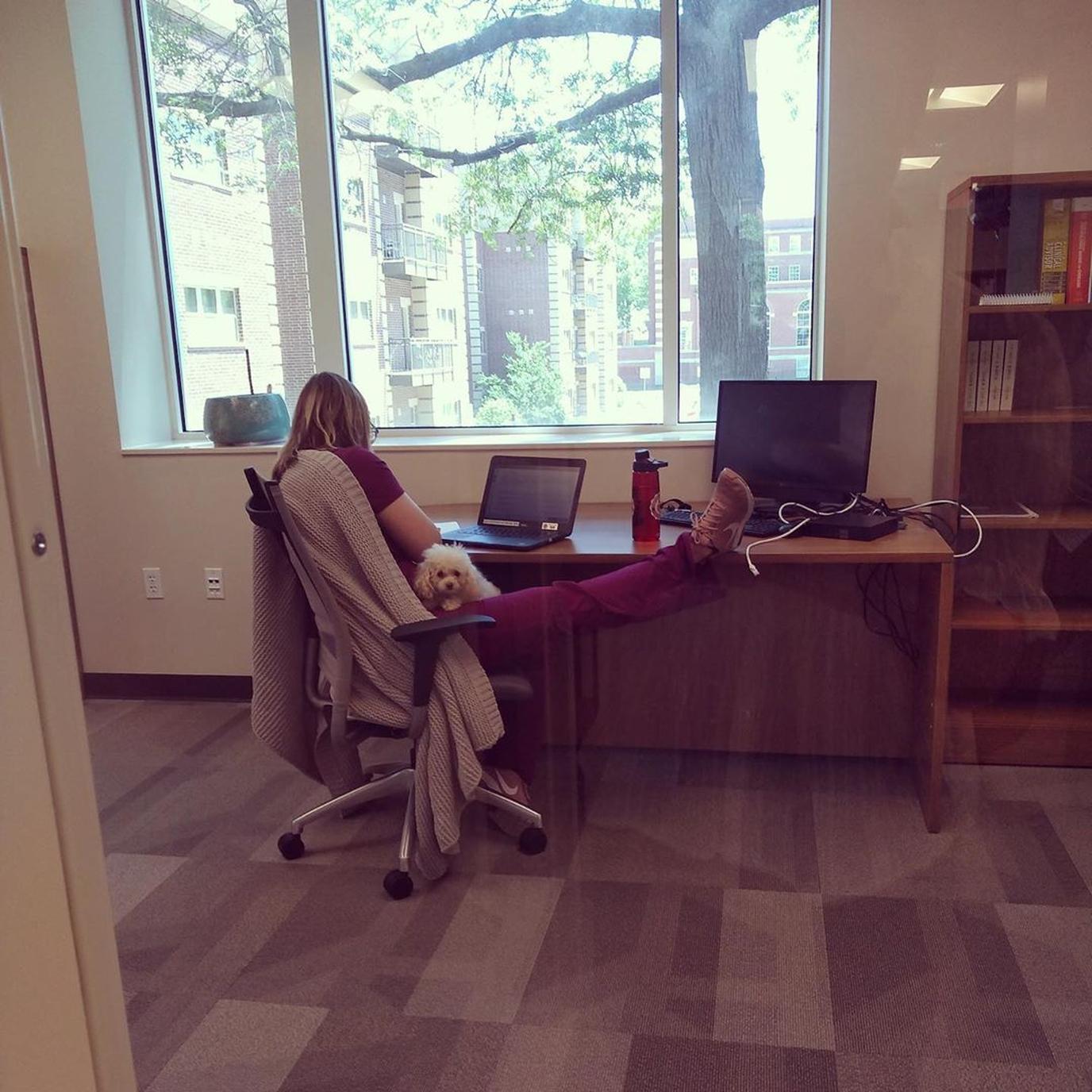 Every student needs a cuddly study companion. – Photo by @ drabrenda
Stop by the president's office at Stephens College and pick up a treat for Fido. The campus has been welcoming pets for more than 10 years and is so pet friendly they even provide doggy daycare services for students' pets. Throughout the year, the college holds several dog-friendly events, including a pet Halloween costume party and pet graduation.
If you don't already have a furry friend to bring from home, Stephens College has partnered with a local no-kill animal shelter to allow you to foster pets in dorms. In addition to the college's typical curriculum, students can pick up new skills by caring for, training and nurturing pets back to health so they can be adopted. There's even a chance for a scholarship award for their service, and those who foster may receive a free private room upgrade.
College-bound canines will love the town of Columbia as well. There are dog-friendly hiking trails and a beachside park at Stephens Lake, and an off-leash 200-acre park and hiking trails at Grindstone Nature Area. Restaurants like Shakespeare's Pizza Downtown and Main Squeeze provide dog-friendly patio seating for dinner with friends.
To attend Stephens College, dogs must be at least 6 months old and registered with the city of Columbia. They must be crated when left unattended in dorm rooms. The fee to have a pet on campus is $200 per pet, per year.
Stetson University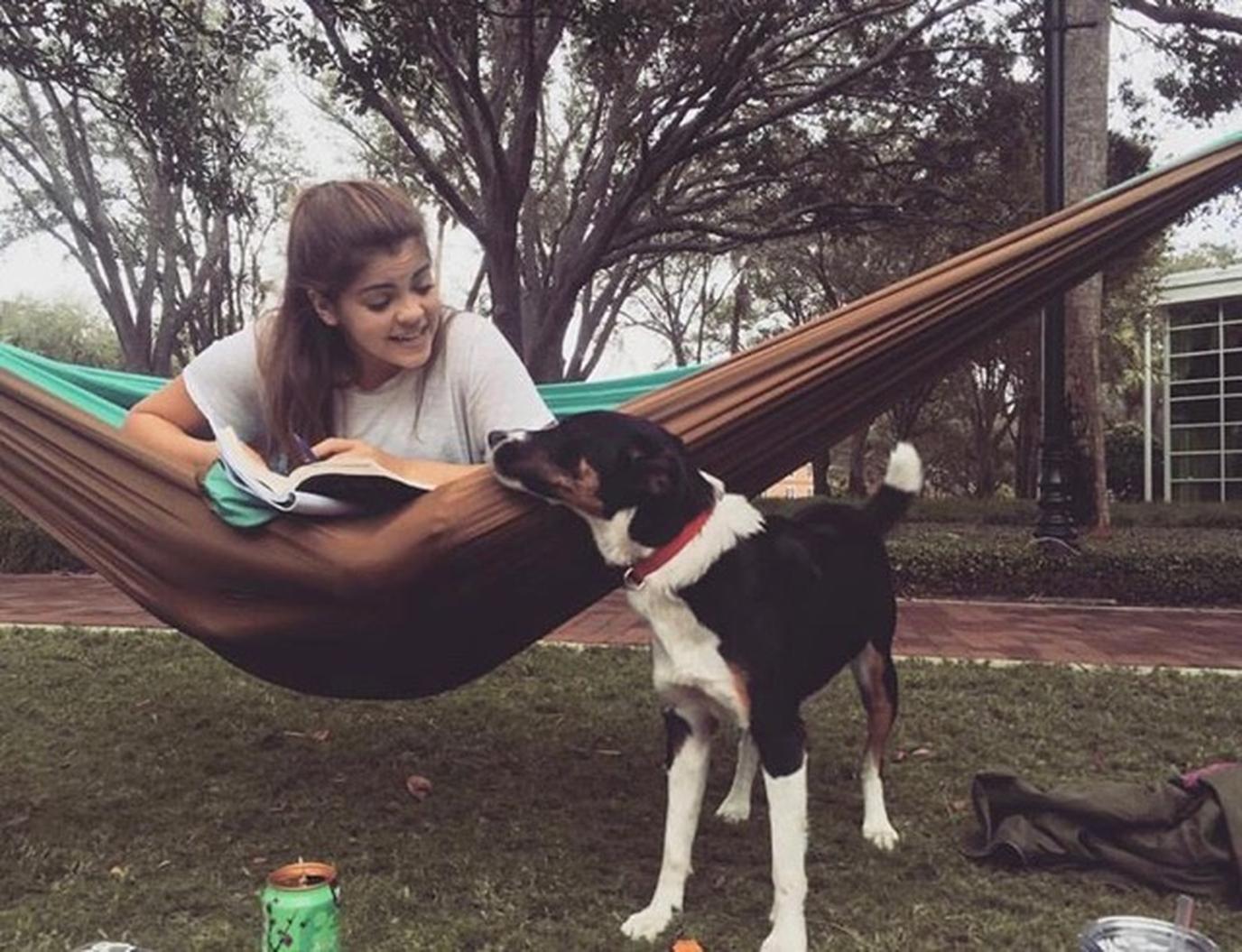 Relax on campus with your canine. – Photo by @fatima_ramis
Stetson University opened its doors to dogs in 2010, allowing them to reside in three on-campus residences. In 2017, a local Eagle Scout built Stetson Dog Park, adjacent to the pet-friendly University Village Apartments. The park, accessible only to students and faculty, provides plenty of grass and shade for dogs to run and play.
Dogs will feel at home in DeLand, which is just 30 minutes east of Daytona Beach. The town boasts many pet-friendly restaurant patios and pet boutiques like Woof Gang Bakery & Grooming and Gurrs & Purrs. Students who want to put down their books and get active with their pups should head to Hontoon Island State Park, a dog-friendly island accessed by ferry or private boat.
Dogs up to 50 pounds are welcome to live on campus, but aggressive breeds are not permitted. They must be at least 1 year old and have lived with the student or student's family for one year prior to move in. The registration fee for a dog is $50 per semester.
Washington & Jefferson College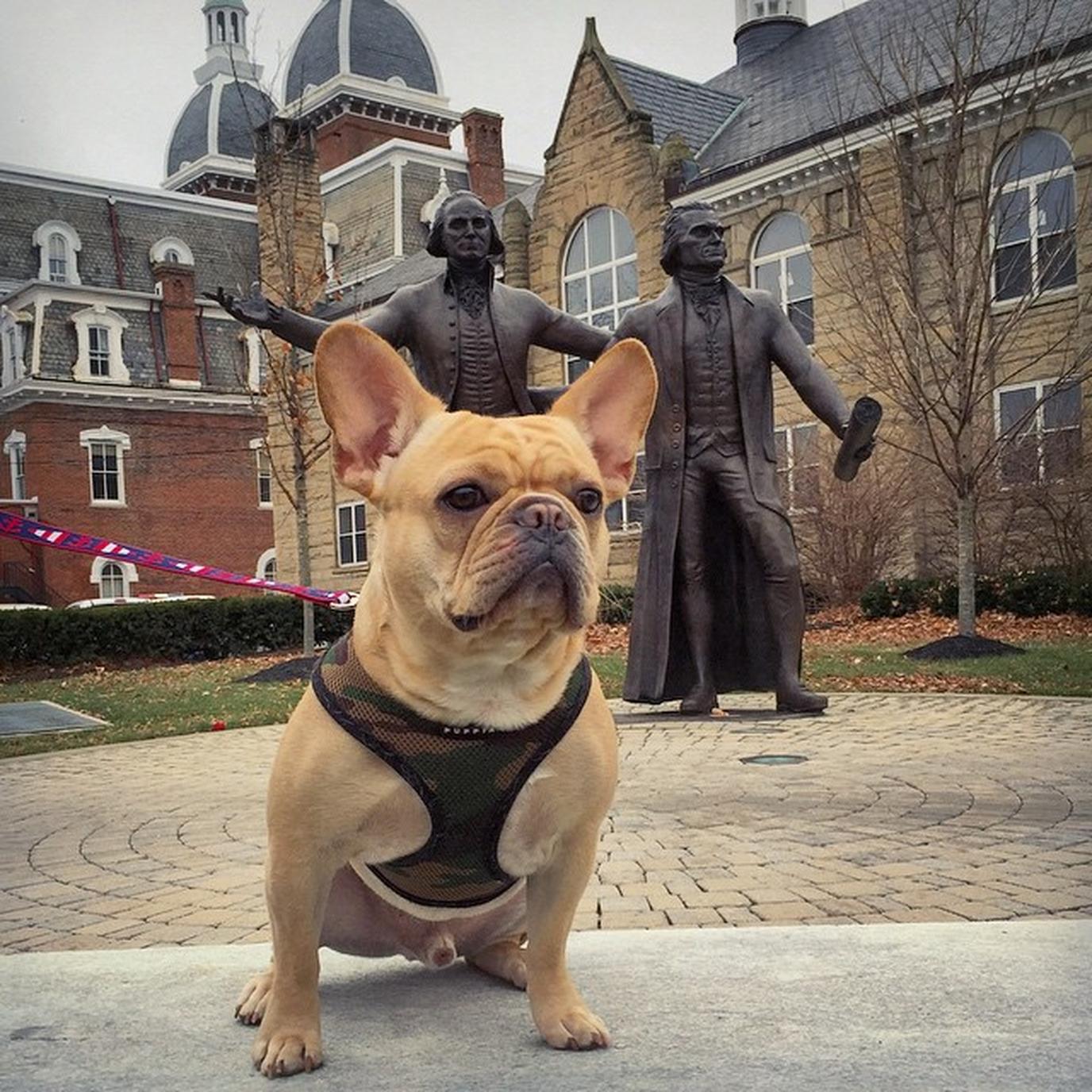 "Washington, Jefferson and Winston. I like it." – Photo by @winston_thefrenchie_plusfinn
Presidential pups are welcome at Washington & Jefferson College in Washington, PA. The college recently designated a second residence hall as pet-friendly, and also allows pets in the on-campus housing for live-in staff. Students won't have to venture far to walk Fido. A large green space with several waste bag dispensers is located right outside the pet-friendly residences.
During finals week at the end of each semester, the college's U. Grant Miller Library hosts "Paws for a Study Break." Canine "counselors" are brought in to relieve stress and lift spirits. The event has become a tradition for students and staff.
For an off-campus meal, students can take their furry friends to nearby Kopper Kettle or Buford's Kitchen before snagging a patio table at Sweet Frog Frozen Yogurt for dessert. Washington & Jefferson College is just 30 minutes south of Pittsburgh, home to many dog-friendly attractions like the Pittsburgh Botanic Garden and dog boutiques like One Haute Dog.
Dogs up to 40 pounds are welcome in Washington & Jefferson College's Pet House residences. Aggressive breeds are not permitted. Pets must be at least 1½ years old and have lived with the student at least six months prior to applying. The registration fee is $50 per pet.
Johnson & Wales University Providence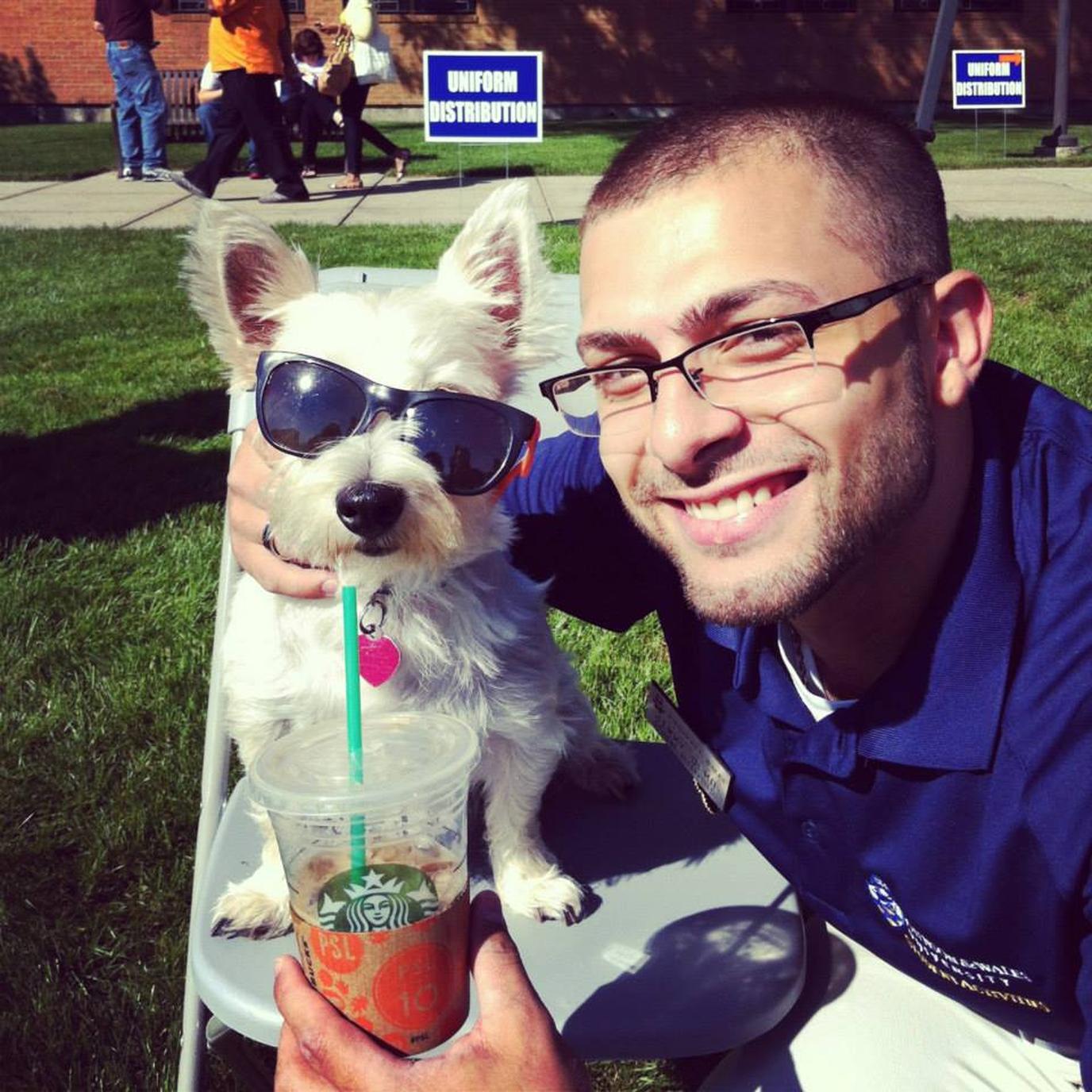 "I'm going to need a Pupuccino after that all-nighter." – Photo by Facebook.com/johnsonandwales
Johnson & Wales University Providence students might be known as the Wildcats, but felines aren't the only furry faces allowed on campus. Dogs are welcome on select floors of four residence halls, and each hall features a designated pet relief area with waste bag dispensers. For students who don't have a pup or are unable to bring the family pet to school, the university's "Paws to Destress" event allows students to interact with therapy dogs during finals week, so everyone has the chance to benefit from tail wags and puppy snuggles.
The capital city of Rhode Island is home to many pet-friendly restaurants and attractions. When students need a caffeine fix to get through exams, they can take their pups to Coffee Exchange for a cup of Joe. But if studying requires an all-nighter, The Bar at AS220 is open late for a midnight snack break on the pet-friendly patio. Of course, there are plenty of options for free time as well. Shop for new reading material with Fido at Books on the Square or catch a flick at Rustic Tri View Drive In, where dogs are always welcome.
Johnson & Wales University accepts dogs up to 40 pounds who are at least 1 year old. Aggressive breeds are not permitted. There is a required $250 cleaning fee per academic year.
Lyon College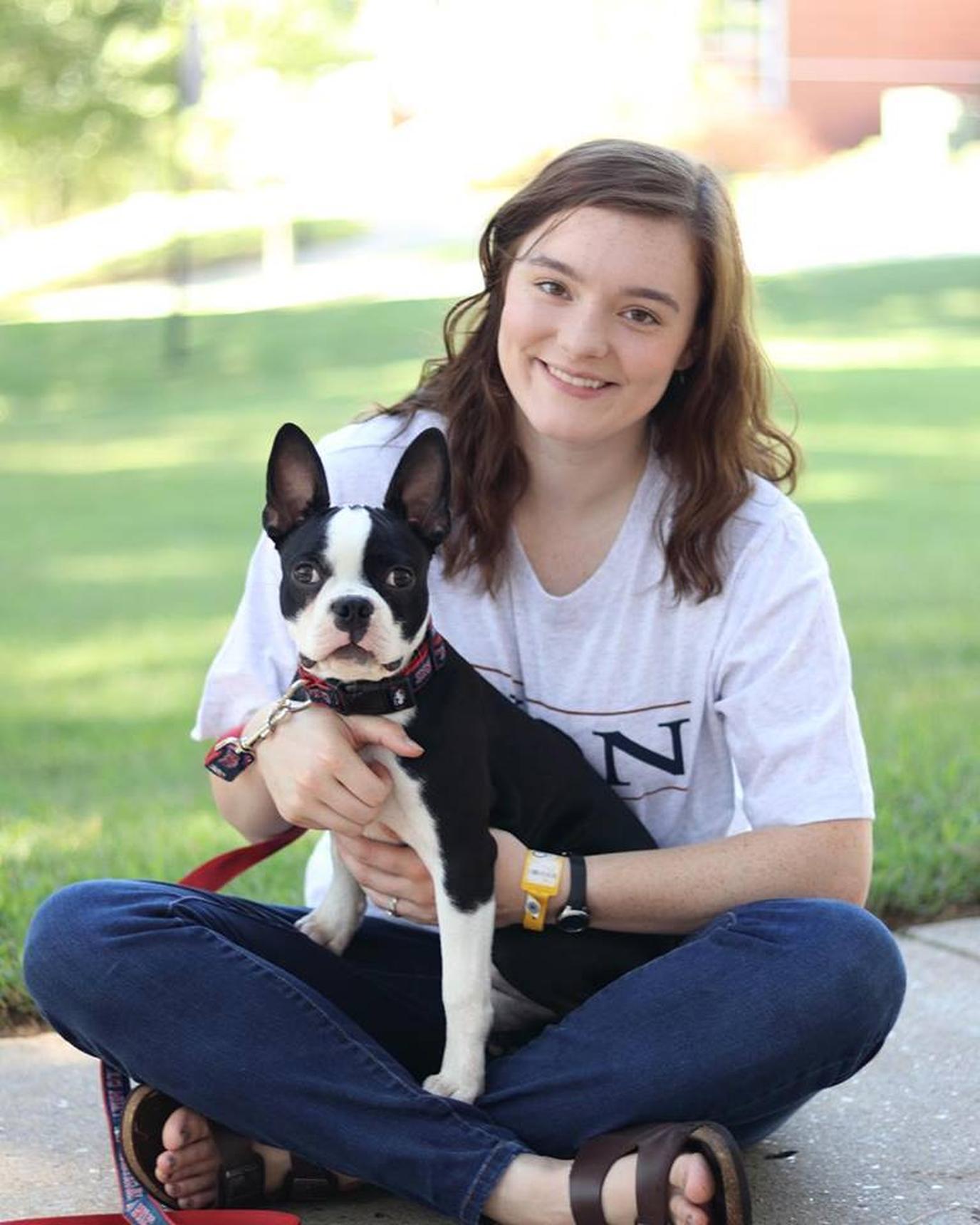 "I'm here for moral support… and treats." – Photo by Facebook.com/lyoncollege
Lyon College allows dogs in one designated pet-friendly residence hall that houses up to 20 students and their furry friends. Campus canines and their humans are welcomed with an encouraging letter from the college's Presidential Pet, Wendy, who also serves as the Dean of Pets and Director of Pet Life. Dogs can even get their own education at Pet Obedience Classes. Two- and four-legged scholars will have a great time at Schram Memorial Bark Park, centrally located on campus, and each October, the college hosts a Blessing of the Pets. Visiting pets are also allowed on campus and in the dog park, but not inside standard residence halls.
Batesville is located in the foothills of the Ozark Mountains and on the White River, providing opportunity for great outdoor experiences with Fido. Take a pet-friendly canoe trip down the White River with Oneal Outfitters. When it's time to hit the books, cram over a hand-crafted espresso on the dog-friendly patio of The Pinto Coffee and Comida.
Lyon College welcomes dogs up to 50 pounds who are at least 1 year old. Aggressive breeds are not permitted. Pups must have lived with the student or student's family for 10 months prior to move-in, and the fee for a pet on campus is $50 per semester.
Are You Ready to Bring Fido to College?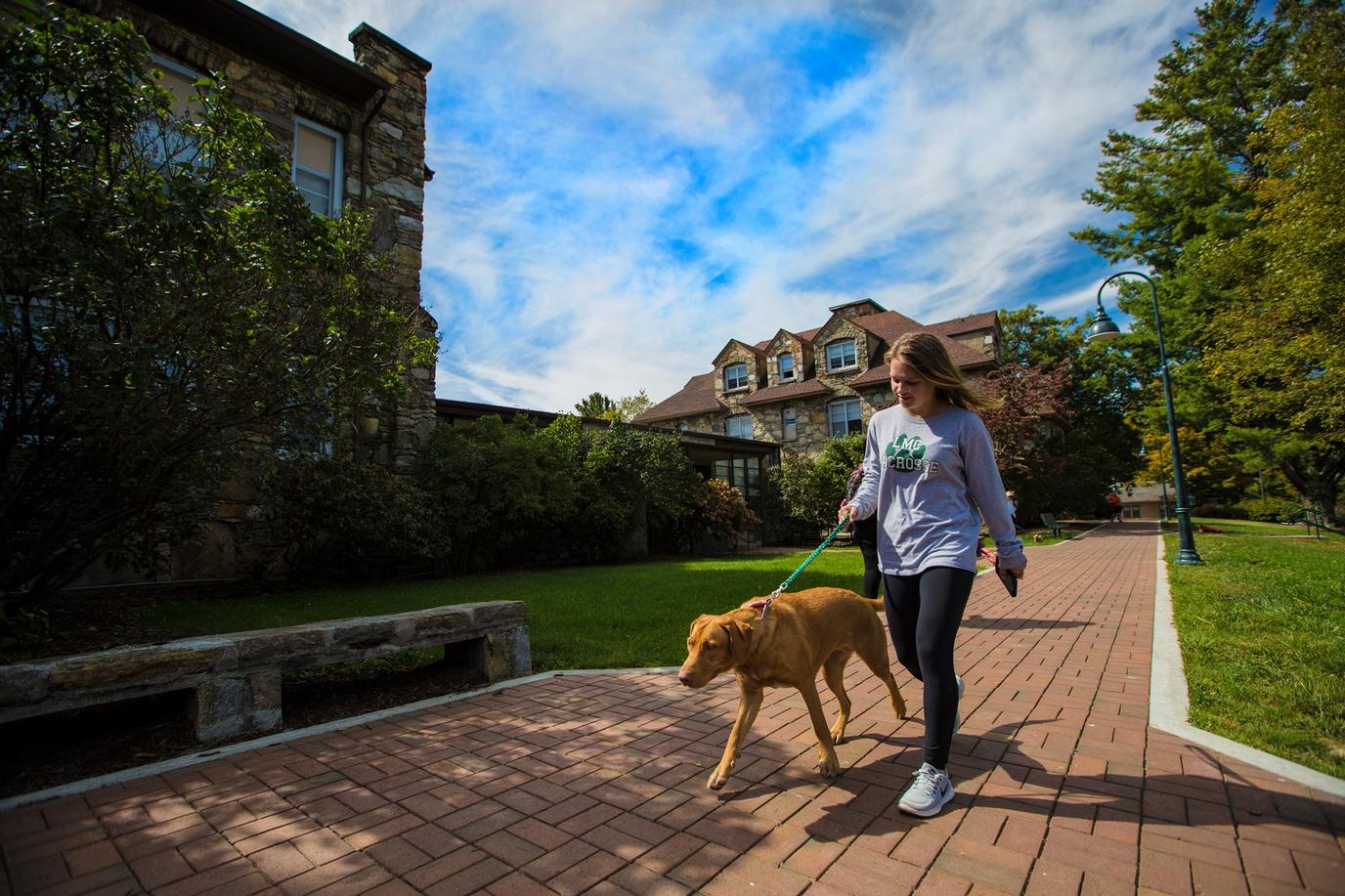 Living the pet-friendly college life. – Photo by Lees-McRae College
Before making the decision to bring a dog to college, students should consider the amount of free time they'll have, the cost of caring for a dog, and the age and activity level of the pet.
There are some overall rules to keep in mind, too. Make sure Fido is up to date on all vaccinations and spayed or neutered. Pups should be house-trained, quiet and well behaved around other people and canines, and always kept on leash when outside of dorm rooms. Of course, students should always pick up after their dogs on campus.
This post from BringFido originally appeared as 7 Pet-Friendly Colleges That Welcome Dogs in Dorms.