Christmas is celebrated all over the world, and there are many places to see twinkling lights and shop for gifts. But before you plan a trip to the big city, check out these eight small towns that are steeped in holiday cheer. Festivals, light displays and parades are just a few of the traditions that Fido is welcome to attend, and even a simple stroll through these decorated communities is enough to make the Grinchiest of dogs' hearts grow three sizes.
1. Solvang, CA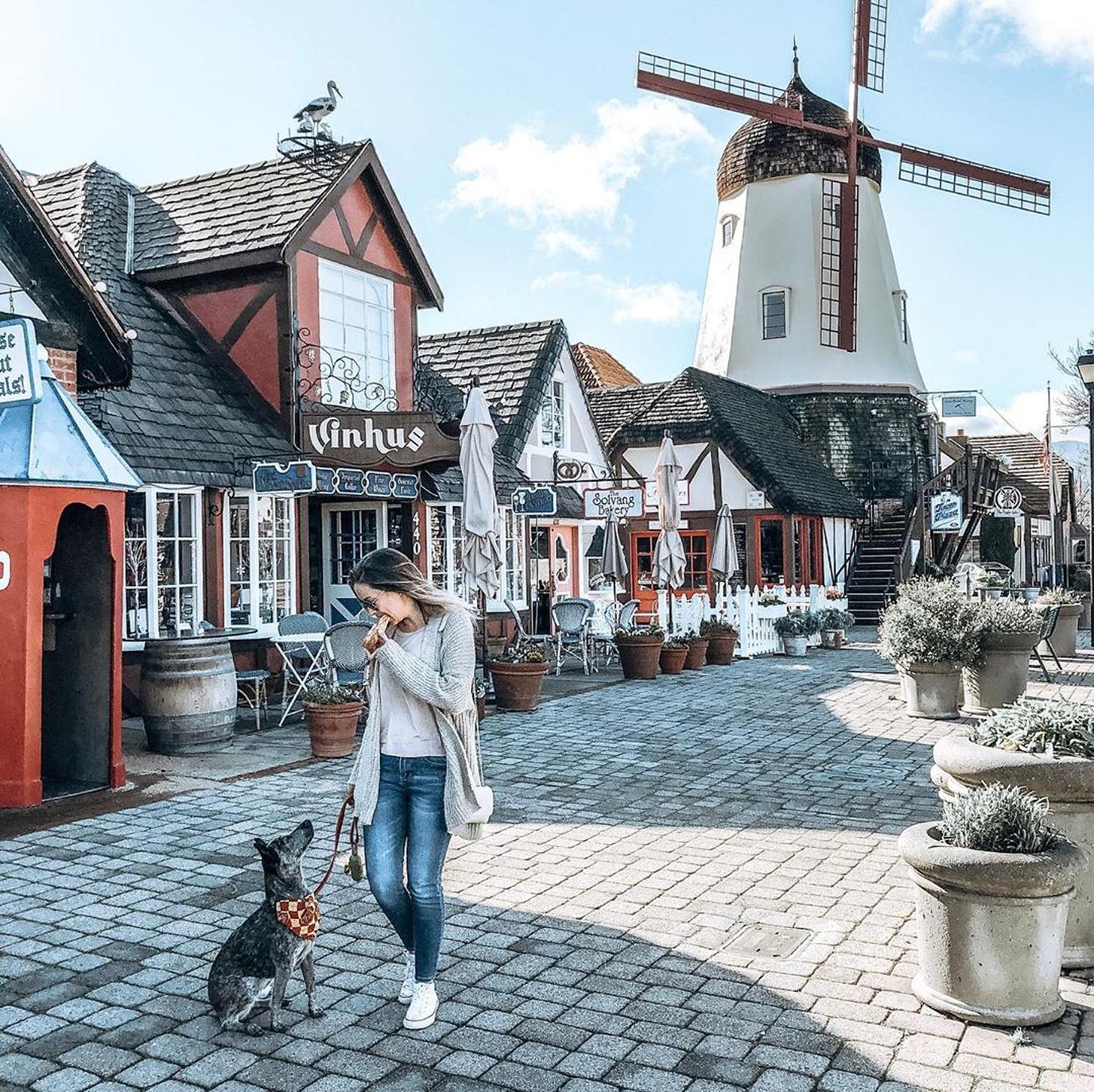 "Is that gingerbread?" – Photo by @hellohollidays
Experience the Danish charm of Solvang at Christmas. While this California town isn't likely to see snow or freezing temperatures, the spirit of the holiday season is enough to make you and your canine traveler feel like you're in Denmark. From December 1 through January 6, Solvang celebrates Julefest, a Christmas festival with parades, a tree lighting ceremony, candle-light walking tours, Christmas drone show and more. Your pup can even have his photo taken with Santa.
Wander down Copenhagen Drive, exploring the beautifully decorated shops along the way. Stop for a photo in front of the famous windmill at Hamlet Square. Then sit back and relax with your merry mutt on a narrated horse-drawn streetcar ride with Solvang Trolley & Carriage Co. Fido is also welcome to join you indoors at the Wandering Dog Wine Bar, where you can sample wine, beer or champagne to enjoy alongside cheese pairings, small bites or chocolate truffles. Purchase a bottle of their "No Leashes" series for the dog-lover in your life (or for yourself). The town of Solvang is even dotted with dog watering fountains to keep your pup hydrated.
Book your stay at Royal Copenhagen Inn, located in the heart of Solvang. This pet-friendly hotel is designed in the traditional style of Denmark villages and is surrounded by shops and restaurants, all decorated for the season. Two pets of any size are accepted for an additional fee of $20 per pet, per night. Nightly rates start at $86.
2. Nashville, IN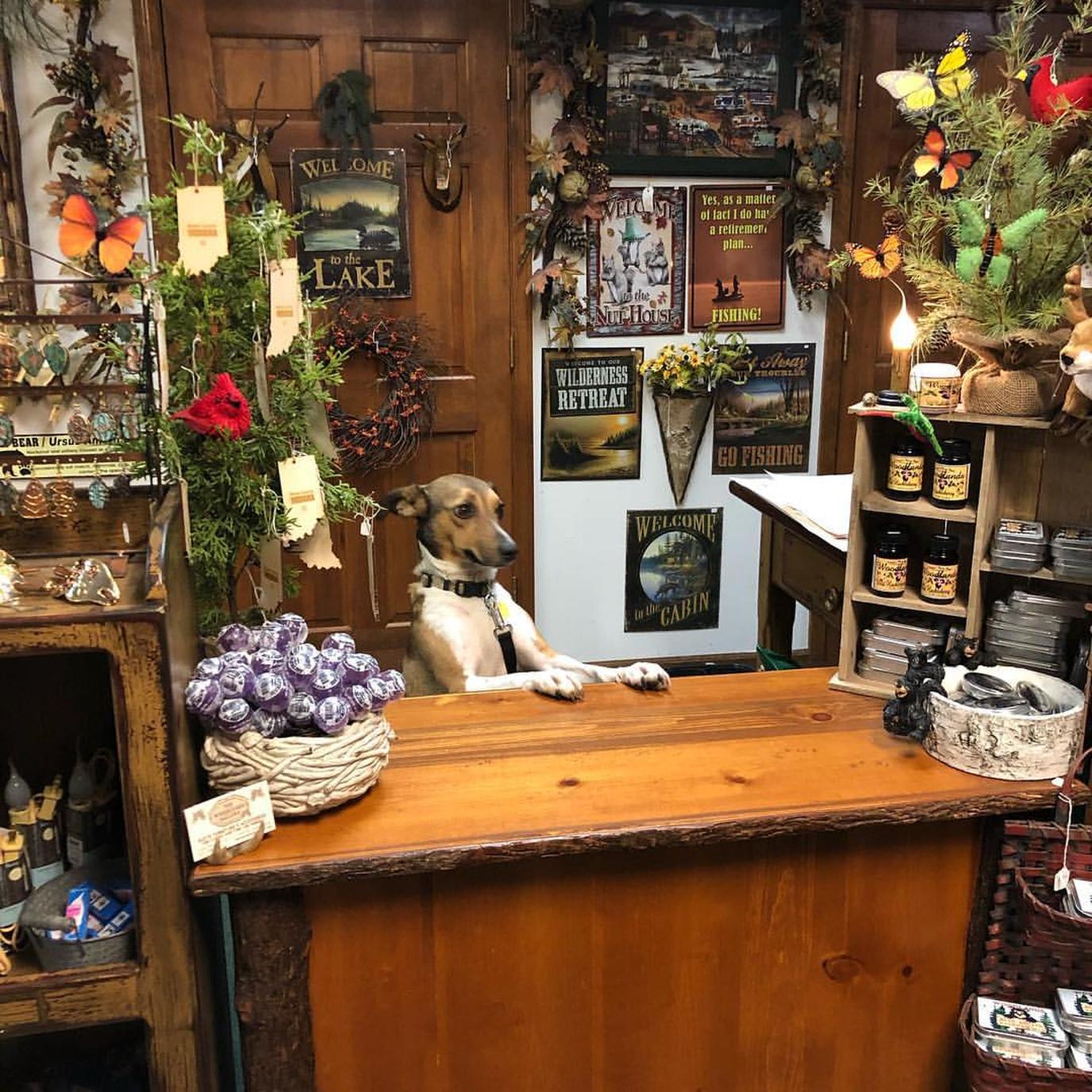 "Can I help who's next?" – Photo by @kks_moments
The charming community of Brown County, IN comes alive with the glow of lights at Christmas. Throughout the year, visitors come to Nashville to experience the art colony, beautiful fall foliage and live music. However, the holiday season brings new magic to this cozy midwestern town with cheerful window displays, decorated streets and sidewalks, and even possible Santa sightings. Fido is welcome to join you as you shop for Christmas gifts, sample holiday wines and take a guided winter hike through Brown County State Park.
Start your trip with some pet-friendly retail therapy on Van Buren Street. Pick up Life Is Good gifts like "We're all Mutts" t-shirts for your two-legged friends at JB Goods, then swing by Bone Appetit Bakery and buy festive treats for those on four. Brown County Winery will be all aglow with decorations and welcomes dogs in their tasting room. Try their spiced wine, a perfect pairing for the season.
On Saturday, December 21, bring your furry best friend on a Hike to Kelp Village to discover what the holiday season was like more than 100 years ago. Dogs are also allowed inside the Brown County Indiana Visitor Center, where you can find out what's happening in town during your visit. Your pup will be greeted with yummy treats.
Spend a cozy Indiana night at Lil Black Bear Inn. Two pets of any size are accepted for an additional fee of $30 per pet, per night. Nightly rates start at $99.
3. Nantucket, MA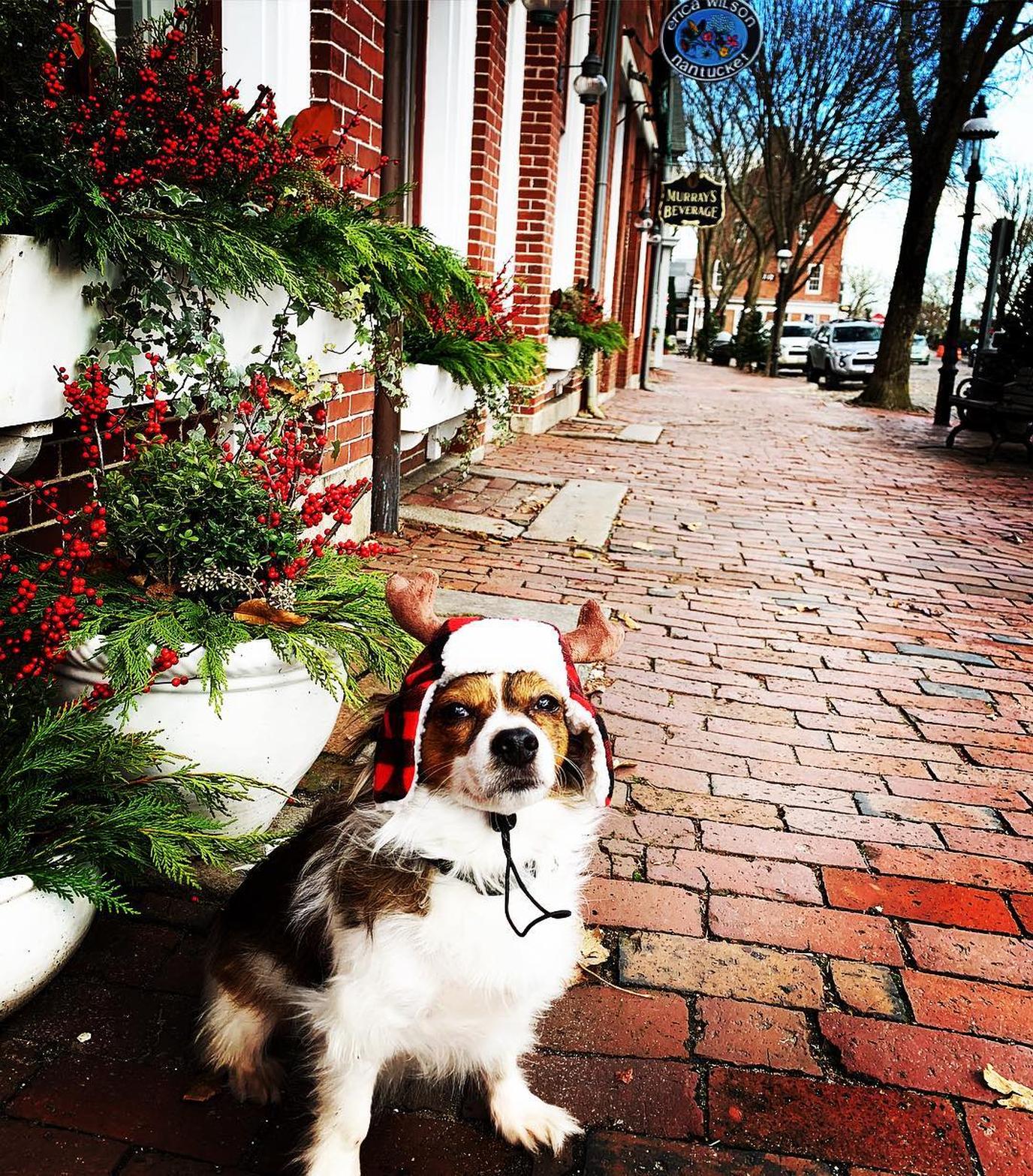 "Can't you tell I'm excited for Christmas?" – Photo by @ericawilsonnantucket
In 1973, merchants in Nantucket came up with a plan to keep islanders from escaping to Cape Cod to do their Christmas shopping. They hosted the first Nantucket Christmas Stroll, keeping their shops open late on the first Friday of December and offering goodies to visitors. Since then, it's become an island tradition that takes place on the first weekend of December.
Many stores in downtown welcome four-legged customers inside to join in the Christmas shopping. Start your browsing at The Black Dog General Store, Vineyard Vines or Cold Noses. Your pup may even receive tasty treats just for coming in. Dogs are allowed at all outdoor events, so stroll through the historic city center where hundreds of decorated Christmas trees line the streets, carolers sing holiday tunes, and storefronts compete in a decorating contest. Stop by one of the outdoor stages to see holiday performances, and don't miss the Town Crier ringing in the Christmas Stroll, followed by a walk to Straight Wharf to watch Santa arrive by boat with the U.S. Coast Guard.
Book a stay at Brass Lantern Inn, where Fido will be greeted with a pet bed and food and water bowls. Two pets up to 65 lbs are allowed for an additional fee of $25 per pet, per night. Nightly rates start at $185.
4. Frankenmuth, MI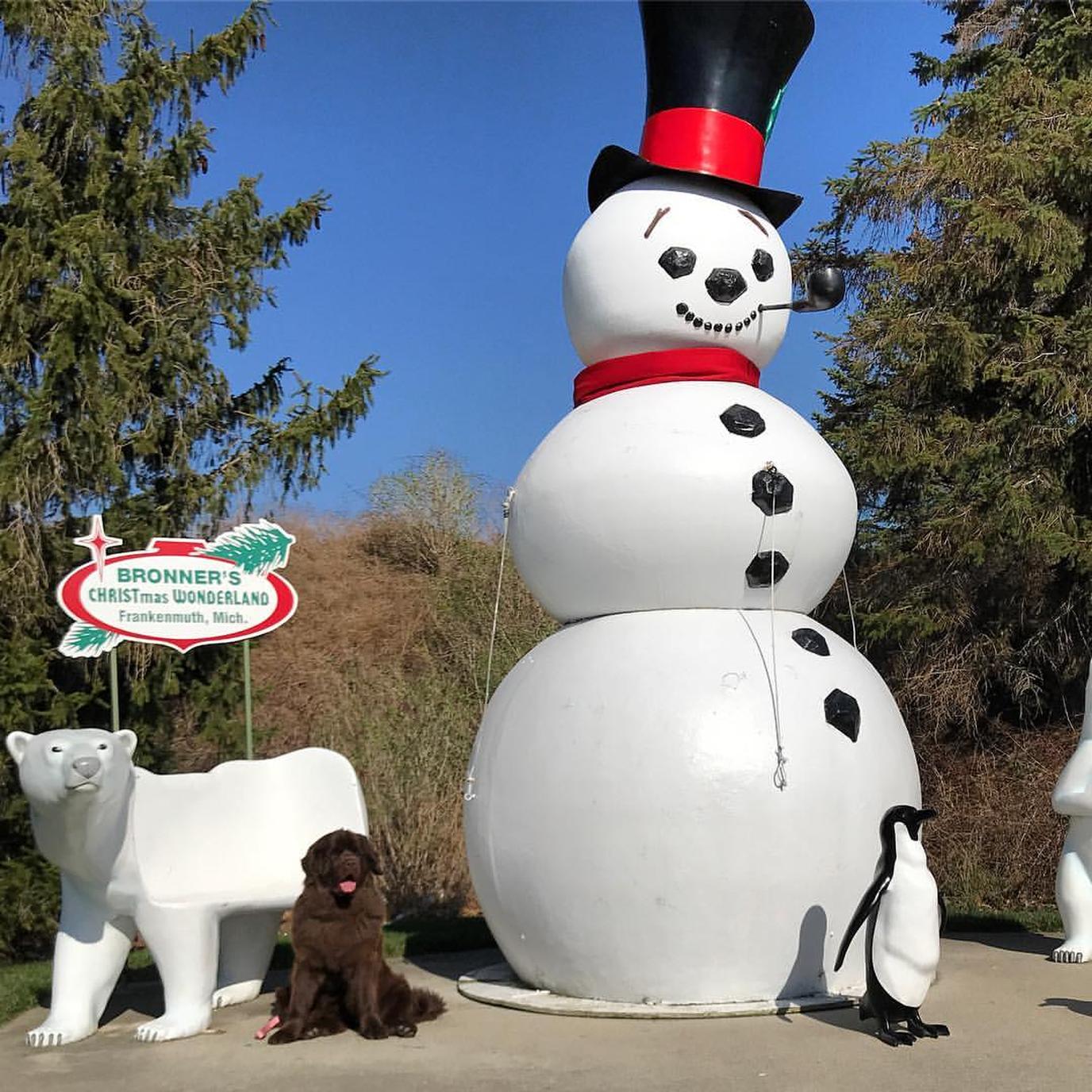 "I think he needs a dash of color. Yellow maybe?" – Photo by @maisiethenewfie
Dogs and their humans can experience true Bavarian hospitality in Frankenmuth, MI. German settlers landed in this small community in 1845, bringing with them many traditions of Bavarian culture which they have handed down for generations, especially when it comes to Christmas.
Begin your tour of Bavaria at Frankenmuth River Place Shops. Pick up a map of pet-friendly stores when you arrive and spend the day browsing for "pawfect" items for everyone on your list. Fido can find squeaky toys, collars and treats for his friends at Hello Cats and Dogs. After shopping, grab a sweet treat to go at Sugar High Bakery, which offers human goodies and special naughty or nice dog bones. Proceeds from dog treat purchases benefit local animal rescues.
Located just outside of downtown is Bronner's CHRISTmas Wonderland. Although pets are not allowed in the building, you can take a half-mile drive with your pup down Christmas Lane, adorned with more than 100,000 lights, animated decorations and nativity scenes. Snap a photo for your pooch's Instagram in front of the giant snowman or Santa Claus.
You'll need more than one day to experience all the holiday cheer in this small town, so book a night at Drury Inn & Suites Frankenmuth. Two pets with a combined weight of 80 lbs are accepted for an additional fee of $35 per night. Nightly rates start at $135.
5. Eureka Springs, AR
"Please bring me all the treats, Santa." – Photo by @sarah_kramps
One visit to the Victorian village of Eureka Springs at Christmas is enough to have jolly mutts howling the tune to Jingle Bells. Starting with Small Business Saturday and lasting through New Years Day, this small town is all a-bustle with holiday merriment.
On Thursdays through Sundays, November 26 through January 4, take your pup on a drive through The Great Passion Play's Christmas Tree Forest. More than 300 illuminated Christmas trees will be on display on the route to the Christ of the Ozarks statue.
If you're in town on December 6, catch the Krewe of Barkus in the Christmas Parade of Lights. You can watch from the sidelines or dress up your good boy for the season and walk the parade route with other festive pooches. On December 7, stop by Fire Fighters & Santa in the Park so Fido can meet Kris Kringle and write him a letter. Then, on December 14, head downtown for A Night of Merry Making with carolers, a Christmas market, street theater and more.
While you're in Eureka Springs, celebrate "Christmas at the Crescent" in a Victorian room at The 1886 Crescent Hotel and Spa. The hotel's East Lawn of nearly 15 acres is transformed into a Christmas tree forest with 30 decorated trees, and its Fountain Garden becomes a winter wonderland. Two pets of any size are allowed for an additional fee of $25 per pet, per night. Nightly rates start at $135.
6. Franklin, TN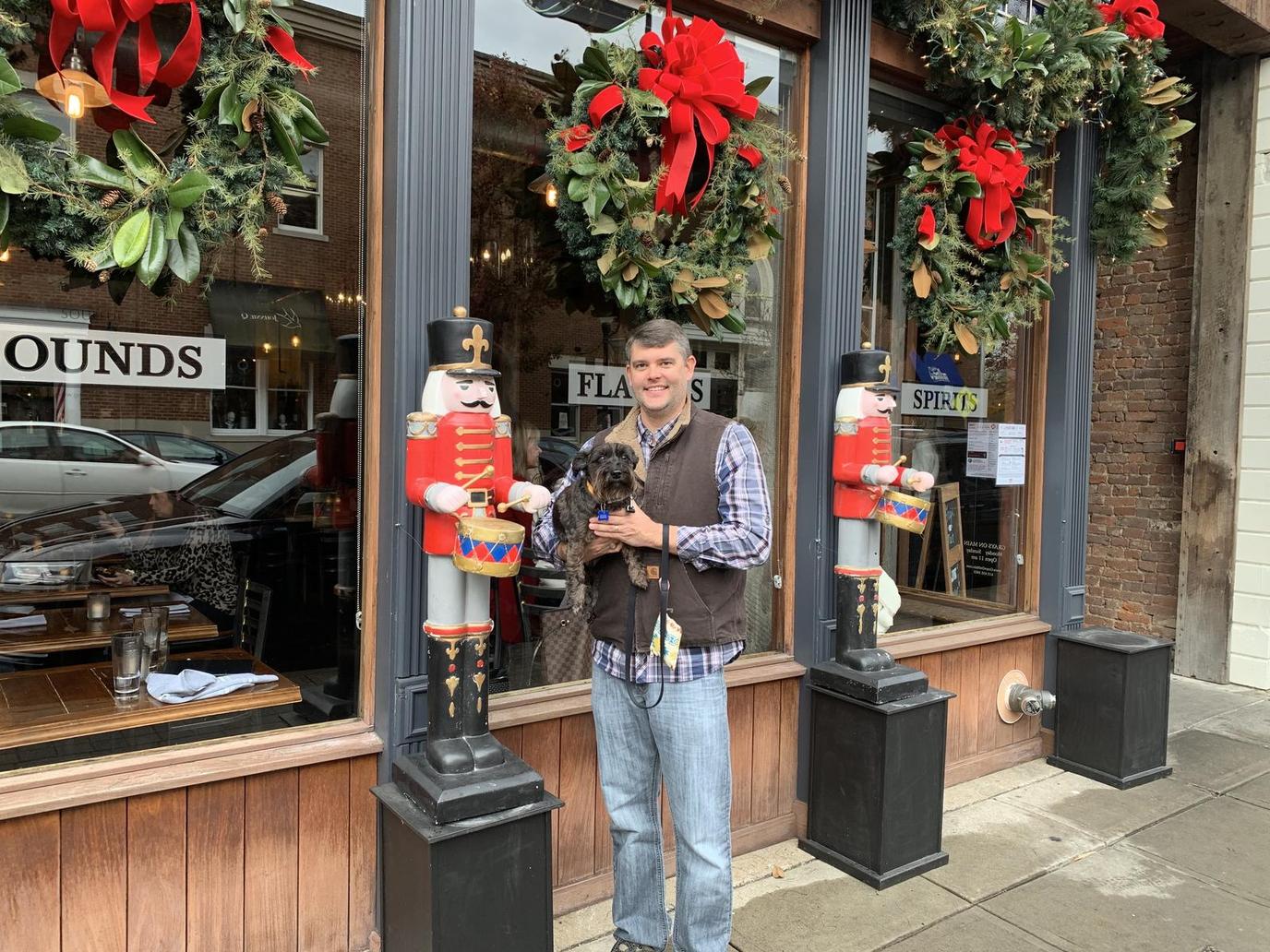 "I am a poor dog too, pa rum pum pum pum…" – Photo by @strangelolo
A quick walk down Main Street in Franklin will put you and Fido in the yuletide spirit. Just south of Nashville, this historic town prides itself on southern charm, and the holiday season is no different. Red bows and greenery, Christmas trees, and beautiful window displays are enough to draw anyone in, but the window stickers welcoming dogs and the bowls of fresh water on the sidewalks will have your furry friend leading the way.
Start your visit with a shopping spree. Find local handmade goods at Heart and Hands, gear for the outdoor enthusiast at Bink's Outfitters, Christmas home decor at The Iron Gate and treasures for anyone on your list at Tin Cottage and White's Mercantile. Once the sun sets, take your pooch to FrankTown Festival of Lights. The drive-through Christmas light show extends more than a mile and will bring a twinkle to your eyes.
On Saturday, December 14, head a few miles west of downtown to Leiper's Fork Christmas Parade. This yearly event is the definition of a country Christmas. Tractors, vintage cars and trucks, and decorated floats will cruise the street along with farm animals, horse-drawn wagons and, of course, Santa! It's one of our favorite pet-friendly Christmas parades.
Book a stay at dog-friendly White's Room and Board Sweeney Cottage. Fido will be welcomed with a Harry Barker pet bed, and he'll love a cozy evening in front of the fireplace. Pets of any size are welcome for an additional fee of $50 per stay. Nightly rates start at $250.
7. Telluride, CO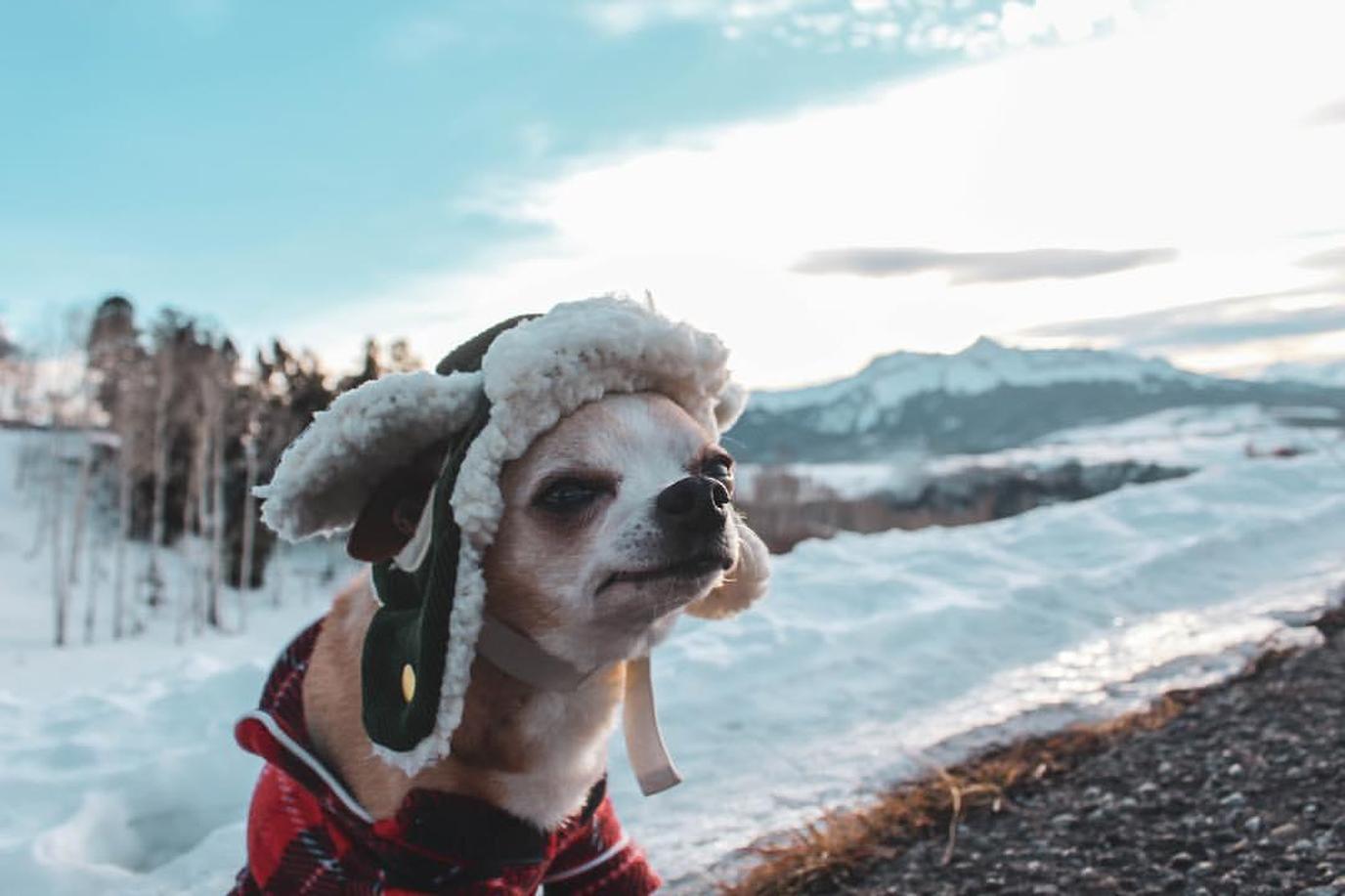 "Smells like Christmas is in the air." – Photo by @ryguyhan
If it's a white Christmas your canine wants, take him to Telluride. With 300 inches of annual snowfall, he might want to pack his boots. The fluffy white stuff adds to the magic of Christmastime in this small town in the Rocky Mountains.
Play in the snow with your pooch alongside the sledders at Firecracker Hill in Town Park, or ride to Mountain Village in one of the dog-friendly cabins of the Telluride Gondola. If he's feeling a little more adventurous, your canine companion can tag along as you ski or snowshoe on the Telluride Ski Resort Noric Trail System. But if being outside isn't his cup of chow, spend a day at the stores along Main Street, marking names off your gift list at dog-friendly retailers like The North Face and Patagonia.
On December 24, bundle up and bring your pup to the Telluride Christmas Eve Torchlight Parade. Telluride Ski Resort employees ski down the mountain with bright torches, lighting up the mountainside. The spectacle is viewable from downtown.
Stay at the pet-friendly Hotel Telluride, where Fido will be pampered with treats, bowls and a bed upon arrival. Two dogs of any size are accepted for an additional fee of $25 per pet, per night. Nightly rates start at $141.
8. Saint Augustine, FL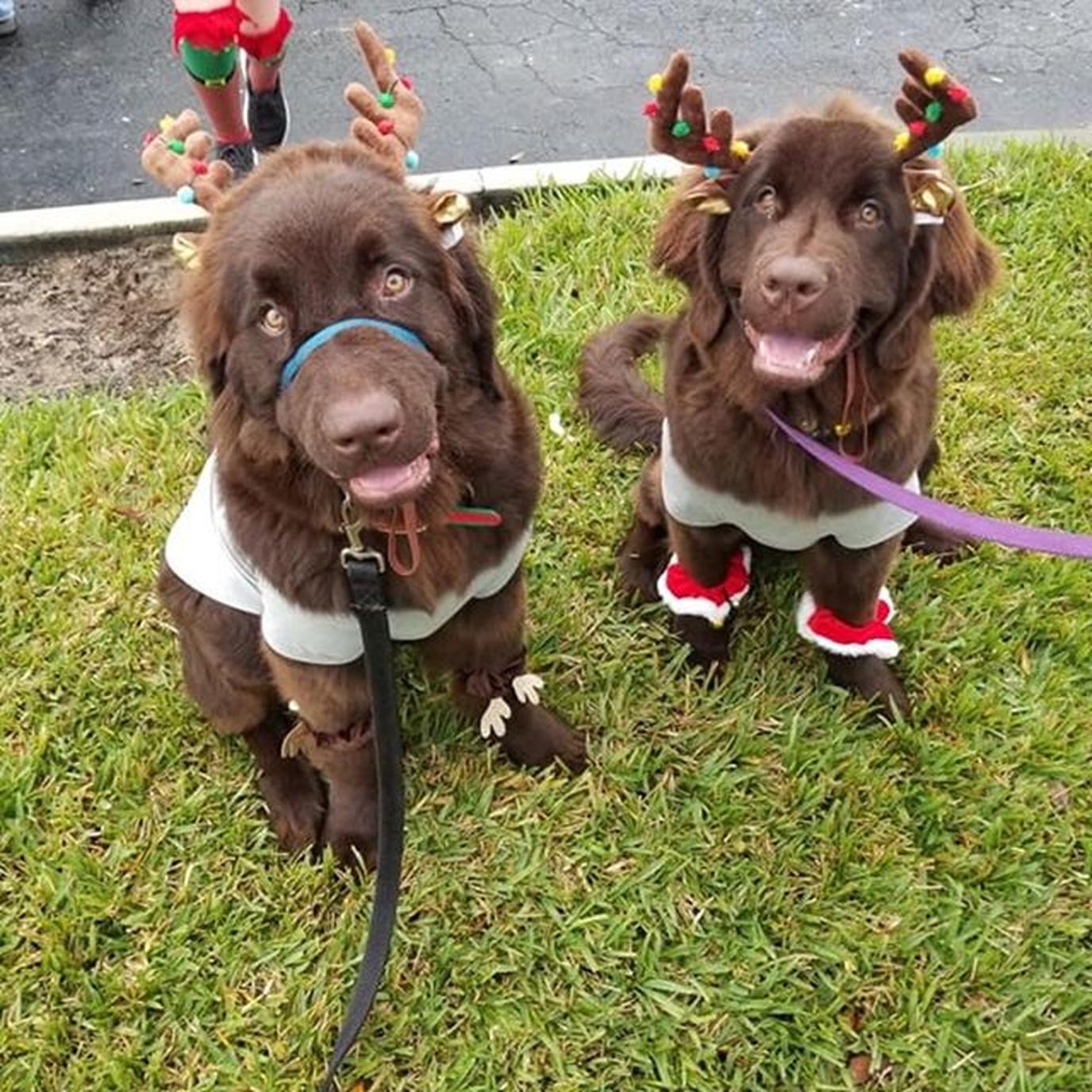 "Does this mean we can fly?" – Photo by @daisyandlouis_newfs
The oldest city in the U.S., St. Augustine was founded by a Spanish admiral in 1565. So it's only fitting that this 450 year-old town would celebrate the holidays by paying homage to its history. In traditional Spanish custom, white candles are placed in windows, symbolizing Mary and Joseph's search for shelter while they waited for the arrival of baby Jesus. Today, St. Augustine is brought to light each December and January to welcome in the same joy of the Christmas season.
At St. Augustine Nights of Lights, you and your best bud can marvel at the three million lights that decorate the historic district from dusk until dawn. Hop on a dog-friendly Red Train Trolley Tour or The Tasting Tours carriage ride to see the display, or walk with your hound across the Bridge of Lions to take in a spectacular view of the city all aglow. On December 7, take him to watch the annual St. Augustine Christmas Parade and on December 14, the Holiday Regatta of Lights on Matanzas Bay.
Bayfront Marin House, located in the heart of the bayfront historic district, will be decorated for the season. Two pets of any size are welcome for an additional fee of $35 per pet, per night. Nightly rates start at $229.
This post from BringFido originally appeared as 8 Small Towns to Visit for a Dog-Friendly Christmas.