Winter is here and snowbirds are beginning their annual migration to escape the arctic blast. There are plenty of warm regions in America to seek refuge from frigid temps, most notably cities like Miami, San Diego and Tucson. However, there are just as many lesser-known spots to wait out the cold months. If you and your snow dog are planning to head south this winter, these eight underrated destinations are great places to hibernate until spring has sprung.
1. Palm Springs, CA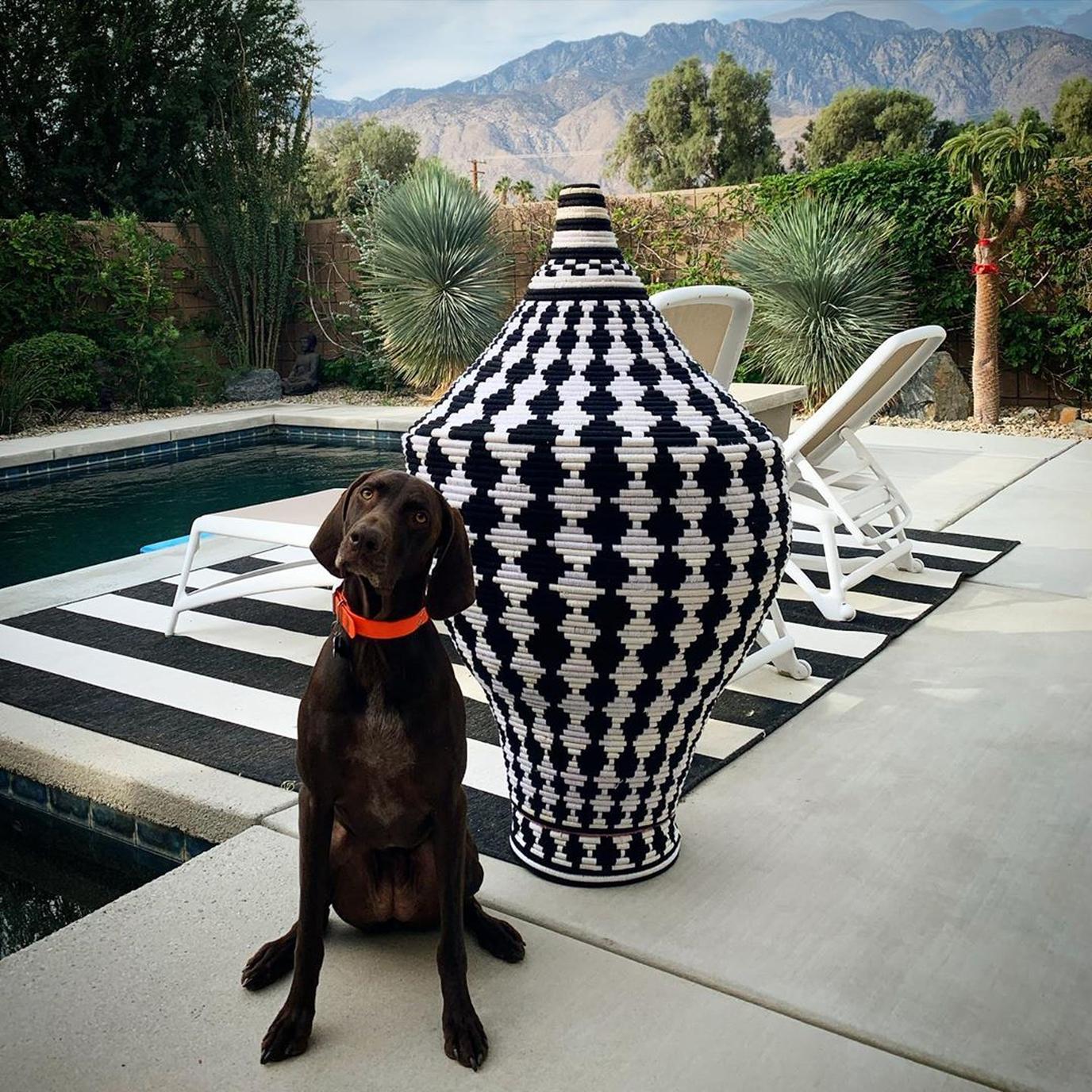 Pool season never ends. – Photo by @pure_atlas_palm_springs
A Southern Californian oasis rising from the Sonoran Desert, Palm Springs is known for soothing hot springs, professional-grade golf courses and pet-friendly activities. With daytime temperatures reaching the low- to mid-70s from January to March, there's no need to pack Fido's sweaters. You can choose from a variety of spacious homes and cozy condos to hang your hats for the winter, several of which feature heated swimming pools and gorgeous views of the surrounding mountains. There's also a bevy of eateries with dog-friendly patios and area attractions that permit pups.
Where to stay:
Harriet's Hideaway – This 3-bedroom, 2-bath secluded escape sleeps up to six people and welcomes pets of any size for no additional fee. Amenities include a fully equipped kitchen, heated pool with hot tub, washer/dryer and a private walled-in yard where snowdogs can soak up some sun.
Condo With Mountain Views – This modern 1-bedroom, 1-bath condo has space for four guests, and dogs of any size are accepted for no additional fee. The property is within walking distance of Smoketree Shopping Center and offers breathtaking views of the San Jacinto Mountains from its private patio.
Places to eat:
Spencer's – Nestled at the base of the San Jacinto Mountains, Spencer's serves upscale international cuisine morning to night. Four-legged patrons are allowed on the award-winning patio sheltered beneath a canopy of towering fig trees.
Bongo Johnny's Patio Bar & Grille – Wash down a hearty sandwich with a cold beer while Fido digs into the seven-item doggy menu that includes the Rover Easy (two scrambled eggs), Woof Surprise (kibble with ground beef) and the Cold Wet Nose (scoop of vanilla ice cream).
Things to do:
South Lykken Trail – Leashed dogs can traverse this 3.5-mile out-and-back trail that winds up and down hills with stunning views of Palm Springs and Coachella Valley. The trail will be shaded by mid-afternoon during the winter, but it's recommended to bring plenty of water to be safe.
Moorten Botanical Garden & Cactarium – Open since 1938, this arboretum hideaway showcases the natural beauty of desert plants native to the region. Leashed pups are welcome to view flora of all shapes and sizes, including rare cacti. Just make sure your four-legged botanist keeps his nose clear of the needles.
2. Mount Dora, FL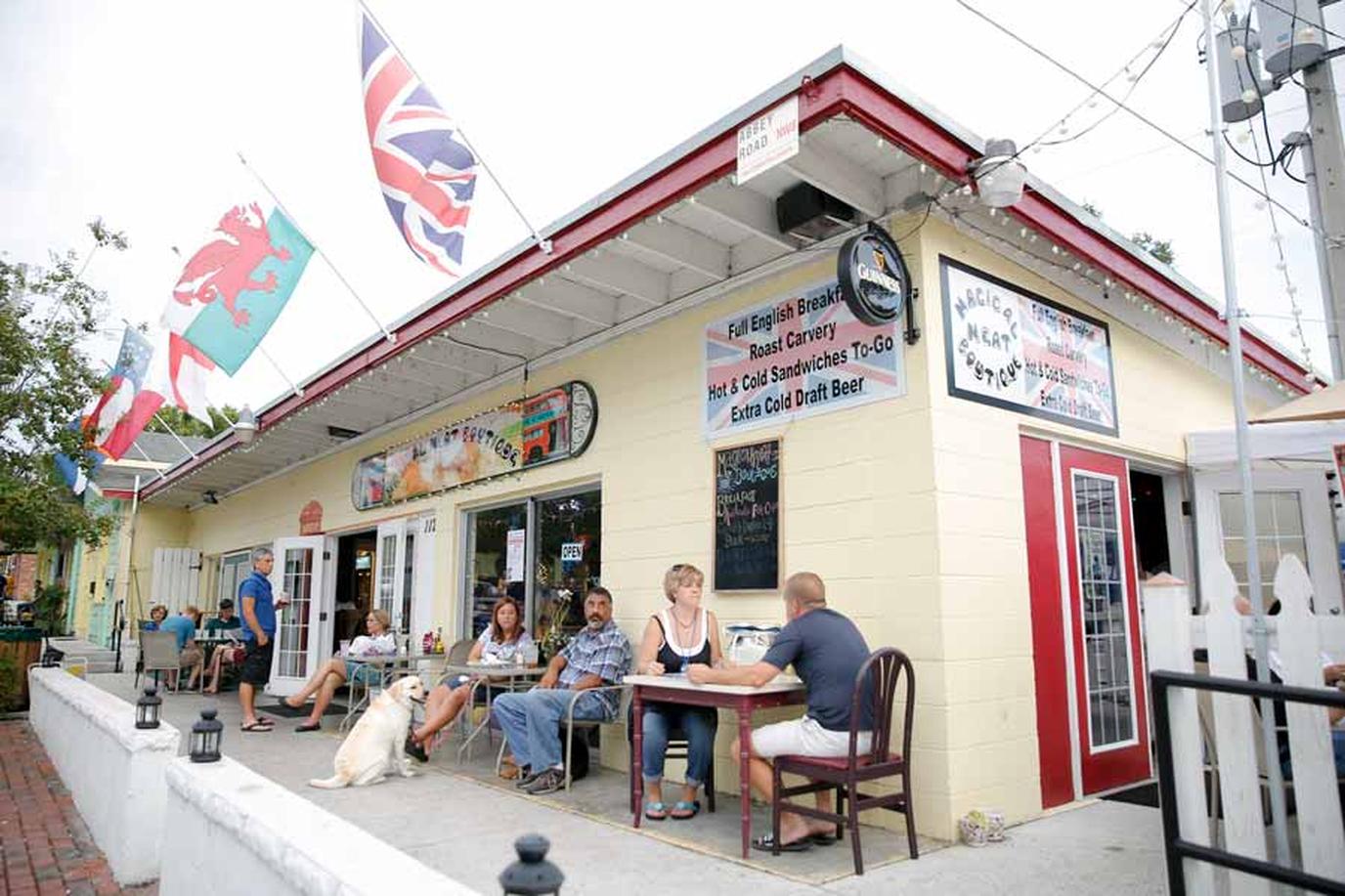 Unwinding in the Sunshine State. – Photo by Facebook.com/VisitMountDora
The charming central Florida town of Mount Dora is so dog friendly they elect an Honorary Canine Mayor every December. Temperatures hover around the 70s from January to March, making it one of the country's most pleasant cities to ride out the winter. It also provides northern visitors spectacular vacation rentals and a variety of dog-friendly dining choices and attractions.
Where to stay:
Nature Retreat – This cozy dog-friendly duplex unit accommodates up to four guests in two bedrooms and features a fully equipped kitchen and screened porch overlooking a spacious fenced yard.
Reindeer Lodge – Built in the 1880s, Reindeer Lodge is one of Mount Dora's most historic homes. This second-story 2-bedroom villa includes a full kitchen, private bathroom and a separate side yard where mutts can run and play.
Places to eat:
Copacabana Cuban Cafe – You won't find Barry Manilow here, but you will find authentic Cuban dishes such as arroz con pollo, masitas de puerco and fried plantains. Dogs are permitted on the covered patio.
Magical Meat Boutique – This British-themed gastropub offers traditional English eats like Scotch eggs, fish and chips, bangers and mash and ale braised lamb shank, plus a doggy menu featuring pup patties and pup parfaits.
Things to do:
Mount Dora Dog Park – With a massive fenced-in green space, three separate sections for dogs of all sizes, and water stations and splash pools, Mount Dora Dog Park is the central hub for four-legged fun.
The Cellar Door – Fido can belly up to the bar or snooze on the floor while you sample vino from across the globe or listen to live music at this comfy downtown wine bar.
3. Fredericksburg, TX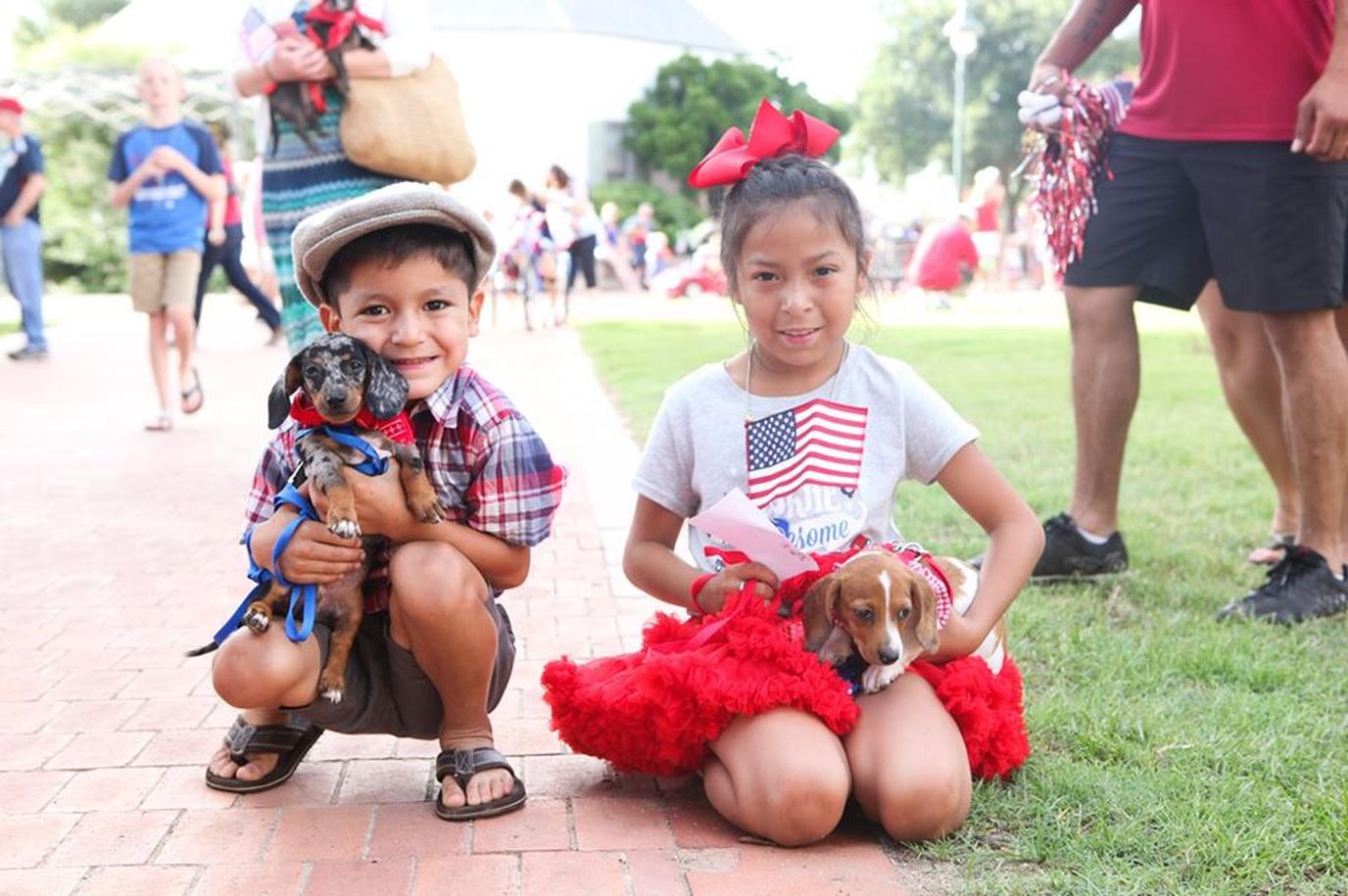 Texas is made for four-legged buckaroos. – Photo by Facebook.com/FredericksburgTX
Named after Prince Frederick of Prussia, the central Texas town of Fredericksburg fully embraces its German heritage as well as its fondness for four-legged tourists. Daytime temperatures range between the low 60s to low 70s from January to March, making this sleepy hamlet perfect for Fido as long as he brings along a light jacket for chilly evenings. Rural and downtown rental homes, cottages and cabins are available in the area, plus plenty of dog-friendly restaurants and activities.
Where to stay:
Dogologie Haus – Designed specifically for the dog lover, this 2-bedroom, 2-bath retreat pampers pooches with tasty treats, comfy beds, bowls, crates and a fenced yard with a full-sized kennel. Rentals include a $25 gift certificate to Dogologie pet store on Main Street, only four blocks away. Amenities include a full kitchen, free WiFi and a laundry room.
Moonrise Retreat – This secluded two-story country cabin overlooking Palo Alto Creek Valley features 3 bedrooms and 3 baths and sleeps up to nine people. Amenities include a remodeled kitchen, upstairs deck, cable TV and internet access. Guests can also gather around the backyard fire pit and gaze at the starlit sky or take a soothing soak in the outdoor hot tub.
Places to eat:
Auslander – Feast on authentic Bavarian eats like Reuben sandwiches, bratwurst and rouladen. Fido is permitted on the covered patio, where he can drink from a bowl of fresh water and if he's lucky, sneak a sausage snack.
West End Pizza Co. – Pizza, pasta and pups on the patio, West End Pizza has it all. Drop in to chat with the locals or watch a game on the heated bar patio while your furry buddy laps up a bowl of cool water.
Things to do:
Enchanted Rock State Natural Area – Discover the mystical wonders of this 425-foot rock dome jutting from the earth. Legend has it the Tonkawa Native American tribe named the formation "pink granite batholith" after a Spanish conquistador cast an enchantment on it, causing magical ghost fires to glow from its peak. Four-legged explorers are allowed in designated picnic areas, campgrounds and on the 4-mile Loop Trail.
Becker Vineyards – Fido can sniff the bouquet at this old-world style estate winery situated on 308 acres of land. Pups are permitted in outdoor areas, including the spacious lawns and veranda outside the tasting room.
4. Peoria, AZ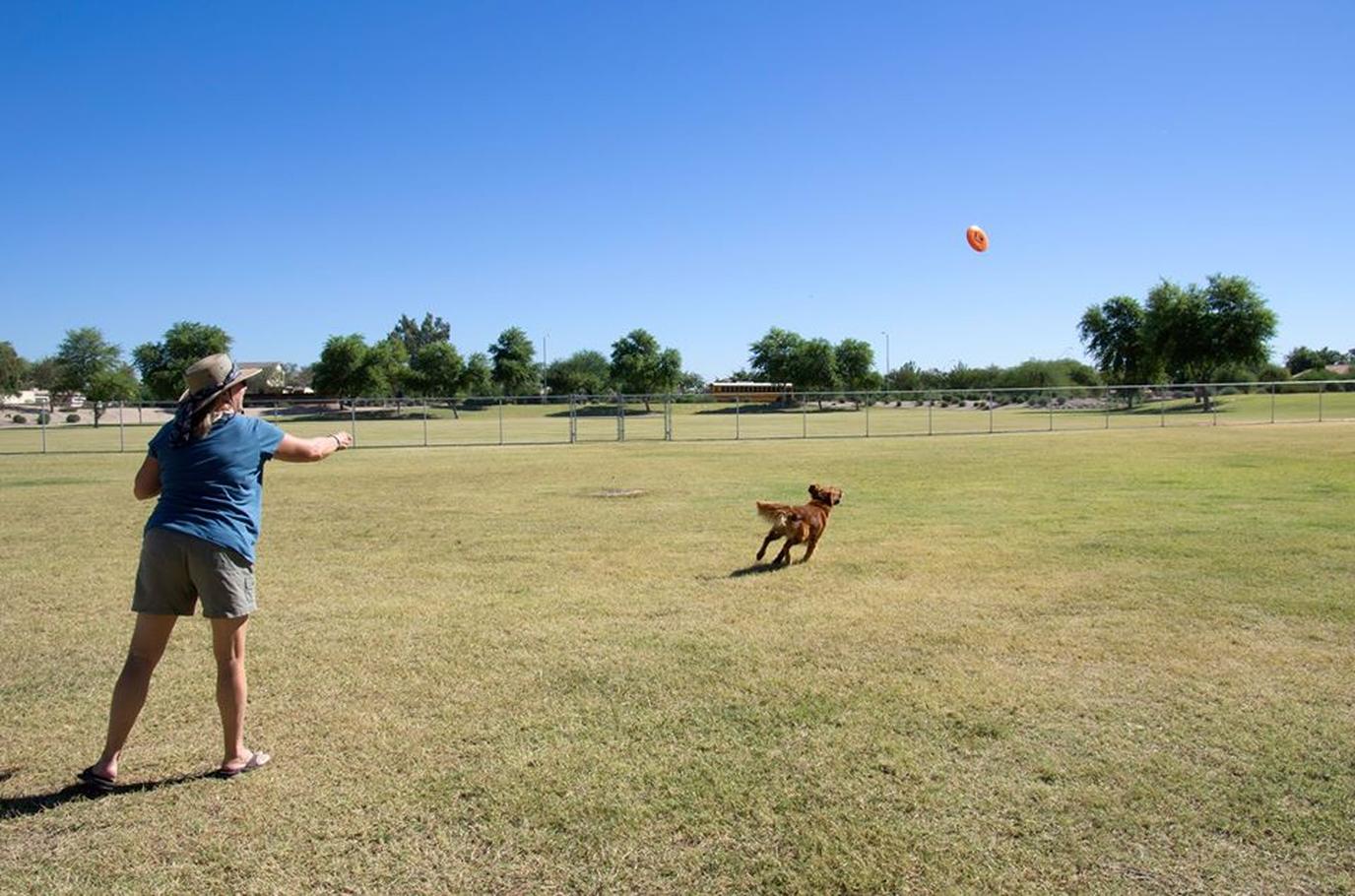 Perfect frisbee weather. – Photo by Facebook.com/peoriaazrec
Located just north of Phoenix, the bustling suburb of Peoria makes a great destination for northerners and their canines seeking pleasant climates during the winter. Daytime temperatures average between the mid-60s to upper 70s from January to March, creating perfect conditions before the sweltering summer heat takes grip. Choose from resort-style rental homes, a variety of dining options and parks and trails to explore in the area.
Where to stay:
Private Studio Guest Home – This 1-bedroom, 1-bath suburban studio guesthouse features a private entrance and access to the fireplace courtyard. Amenities include high-speed internet and a kitchenette with a small refrigerator, microwave and Keurig coffee maker.
NW Valley Spring Training Home Base – Located only 4 miles from the Peoria Sports Complex, this cozy guesthouse offers convenient access to Major League Baseball spring training practices. The open space includes a queen-size pullout sofa, private bathroom, kitchenette and a doggy door.
Places to eat:
Lakeside Bar & Grill – Pups can grab a seat on the fenced patio and order from the doggy menu at Lakeside Bar & Grill. Human favorites include handcrafted burgers, sizzling fajitas and brownie sundaes for dessert.
Heidi's Brooklyn Deli – Heidi's is an excellent spot for breakfast or lunch. Order a hearty sandwich and enjoy it in the outdoor seating area. There's no table service, but Fido is welcome to join you just in case a piece of cheese finds its way on the ground.
Things to do:
Peoria Sports Complex – Both the Seattle Mariners and San Diego Padres utilize the sports complex as a spring training facility every February and March. Leashed pups are allowed on the practice fields and are permitted in the stadium for a Dog Days night game.
Parkridge Park Dog Park – Your furry pal can run off leash in this spacious, fully fenced park featuring separate sections for small and large dogs.
5. Las Cruces, NM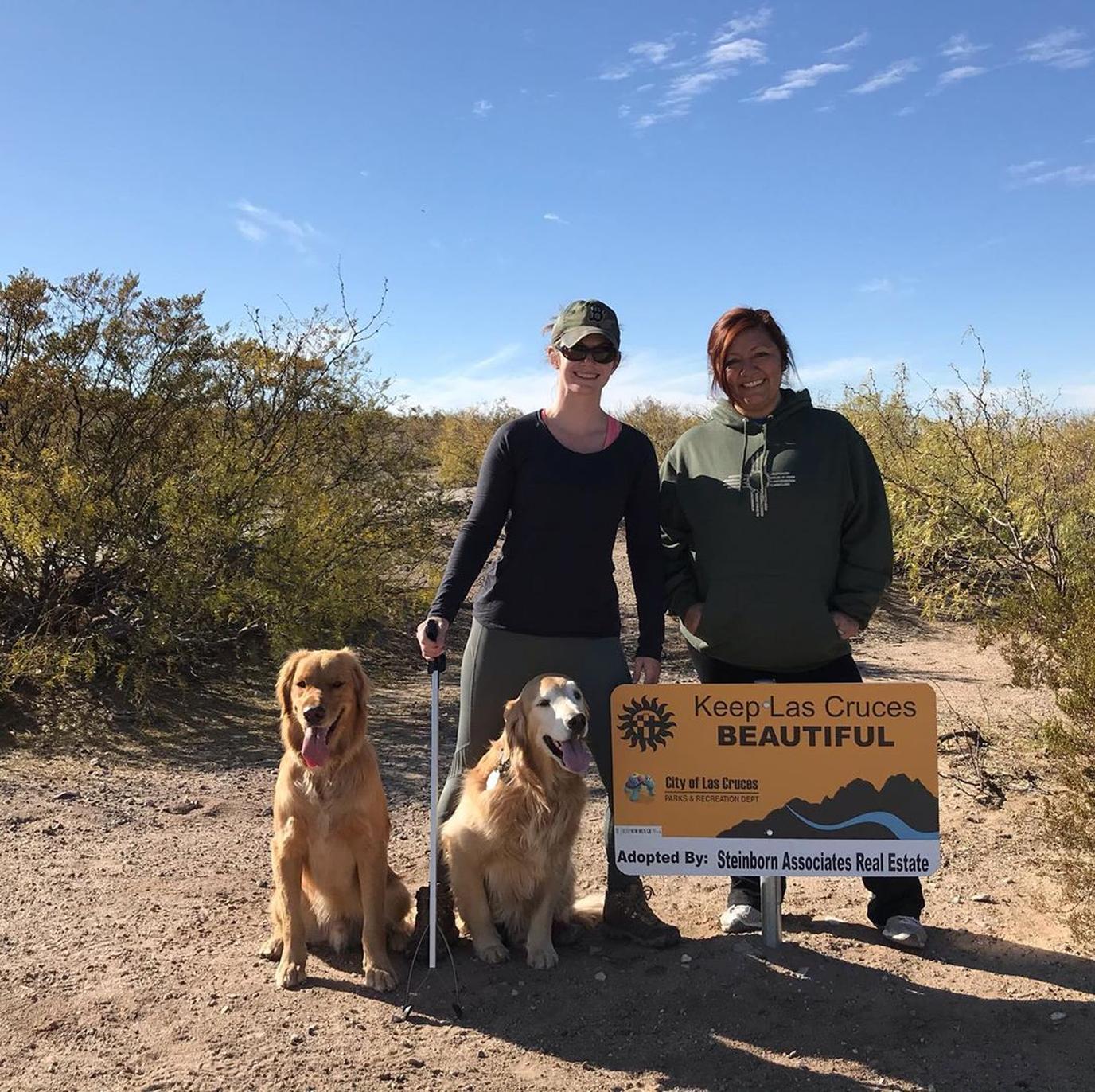 "Don't worry, it's a dry heat." – Photo by @laurenmartelrealtor
Las Cruces blends Mexican culture and American west ideals to form an eclectic community that welcomes two- and four-legged winter guests with open arms. Daytime temperatures usually range from the low 60s to low 70s from January to March, so heavy coats aren't required. Cozy casitas are available to rent for short- and long-term stays, and there are several dog-friendly restaurants and activities in and around the city.
Where to stay:
Casita De Universidad – This furnished 1-bedroom, 1-bath home is within walking distance of downtown Las Cruces. Amenities include free WiFi, fully equipped kitchen and a gated private yard suitable for visiting pooches.
Cozy Studio in Historic Downtown – Built in 1925, this pet-friendly 1-bedroom, 1-bath studio apartment includes a kitchenette, hardwood floors and WiFi access.
Places to eat:
D.H. Lescombes Winery & Bistro – Sample an array of fine wine while feasting on hearty dishes like southwest meatloaf and country pot roast. Leashed pups are permitted in the shaded outdoor seating area.
Farley's Food, Fun & Pub – Enjoy burgers, pizza, beer and other tasty eats at Farley's, a casual pub that welcomes dogs on the covered patio.
Things to do:
Soledad Canyon Loop – This 3.4-mile hike winds its way through a narrow canyon to a natural waterfall. Explore mountainous trails, marvel at towering rock formations and investigate mysterious ruins with Fido by your side.
Recycled Roadrunner Sculpture – Take a drive along Interstate 10 just outside Las Cruces to see the giant roadrunner. Measuring 20 feet tall by 40 feet long, this roadside wonder is made entirely from thrift store rejects and scrap metal salvaged from the city's recycling center. Visiting Wile E. Coyotes can stop by to get a photo with their nemesis.
6. Orange Beach, AL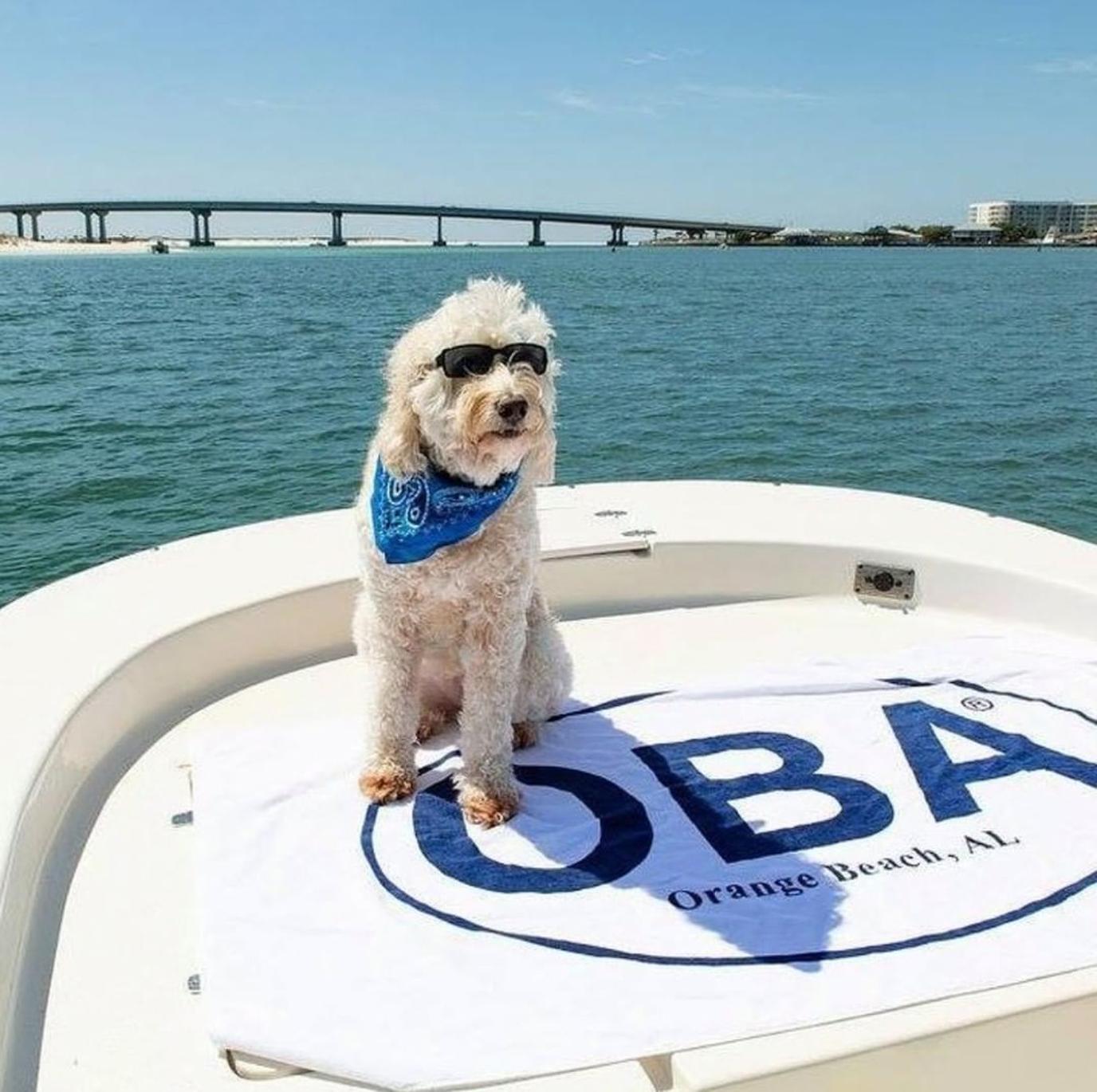 "I don't do winter." – Photo by @shopoba
The crown jewel of the Alabama Gulf Coast, Orange Beach boasts miles of sugar-white sand beaches, one of the country's largest artificial fishing reefs and Southern hospitality to spare. Daytime temperatures from January to March average between the low 60s to low 70s. Select from an array of waterfront villas and secluded hideaways, award-winning seafood restaurants and dog-friendly activities.
Where to stay:
Osprey Watch – This 3-bedroom, 2-bath quiet neighborhood home can accommodate up to six people. Amenities include a fully equipped kitchen, screened porch, covered deck and a fenced backyard.
Dock of the Bay – Nestled on tranquil Wolf Bay, this 4-bedroom peaceful getaway includes hardwood floors, a private dock and a screened porch with suspended swing. It's the perfect spot to take in picturesque sunset views.
Places to eat:
Cosmos Restaurant and Bar – Treat your tastebuds to New Orleans-style cuisine like shrimp po-boys, baked catfish with meuniere sauce and duck and andouille sausage gumbo. Fido is welcome on the open-air patio.
Luna's Eat & Drink – The festive sports bar atmosphere, menu of fresh seafood and Southern classics, and dog-friendly patio deck make Luna's one of Orange Beach's most popular dining destinations.
Things to do
Hugh S. Branyon Backcountry Trail – Leashed dogs are permitted to trek this trail that weaves through 15 miles of maritime forests, sand dunes and freshwater marshes. Always be on the lookout for resident reptiles.
The Elberta Sculptures – Located a few miles from Orange Beach in the tiny town of Elberta, you'll find a trio of forest oddities in Bamahenge, Dinosaurs in the Woods and Lady in the Lake. Fido can play Mulder to your Scully while investigating these strange structures.
7. Jekyll Island, GA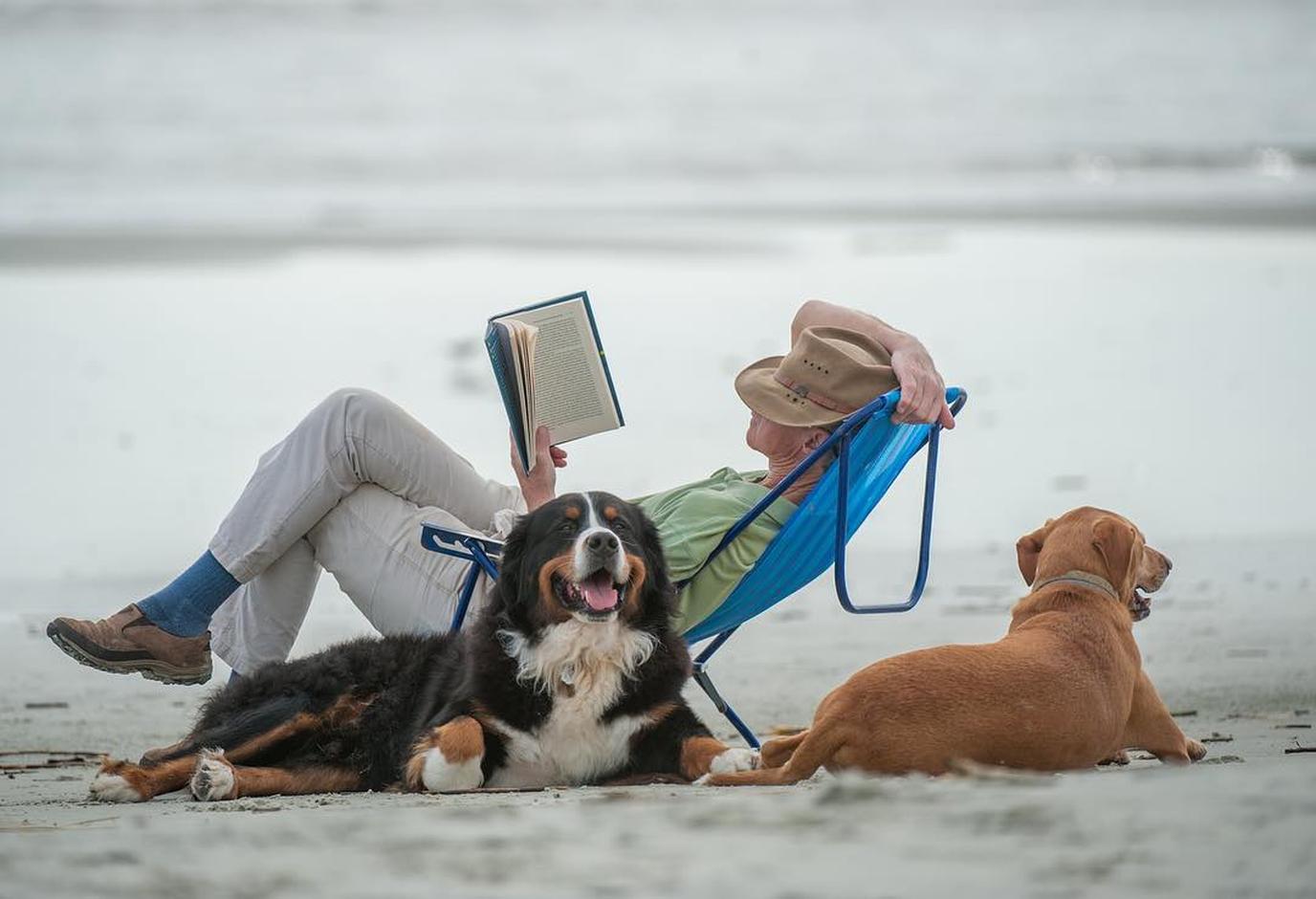 "Can we make this a permanent vacation?" – Photo by @jekyll_island
The southernmost island in Georgia's Golden Isles, Jekyll Island has been a popular vacation destination since British colonists landed on its shores in the early 1700s. With dog-friendly beaches and average winter temperatures in the 60s, there's a lot to love about Jekyll Island as a seasonal getaway. Migrating snowbirds can choose from a wide selection of pet-friendly rental properties as well as eateries and activities.
Where to stay:
Artists Alcove – This 3-bedroom, 2-bath serene retreat comes equipped with a full kitchen, washer/dryer and a screened porch. Dogs are welcome for no additional fee, and beach access is only steps away.
Pelican House – Pups can romp in the fenced backyard while you relax on the canopied patio at this 3-bedroom, 2-bath home within walking distance of the beach.
Places to eat:
Tortuga Jack's – Feed your appetite with delicious Mexican favorites like sizzling steak fajitas, pulled pork enchiladas and bangin' shrimp tacos. Leashed pooches are welcome at umbrella tables on the tiki patio.
Sunrise Grille – Open daily for breakfast, lunch and dinner, Sunrise Grille offers everything from egg and cheese biscuits to jumbo lump crab cakes. Fido can patiently wait for scraps in the front outdoor seating area.
Things to do:
Driftwood Beach – One of our favorite dog-friendly beaches on the east coast, Driftwood Beach permits leashed pooches to prance in the golden sand and frolic in the frothy surf.
Jekyll Island Dolphin Tours – Watch dolphins swim and sing on a sunset boat tour around Jekyll Island. Leashed pups are allowed on board as long as it's not overcrowded.
8. Laughlin, NV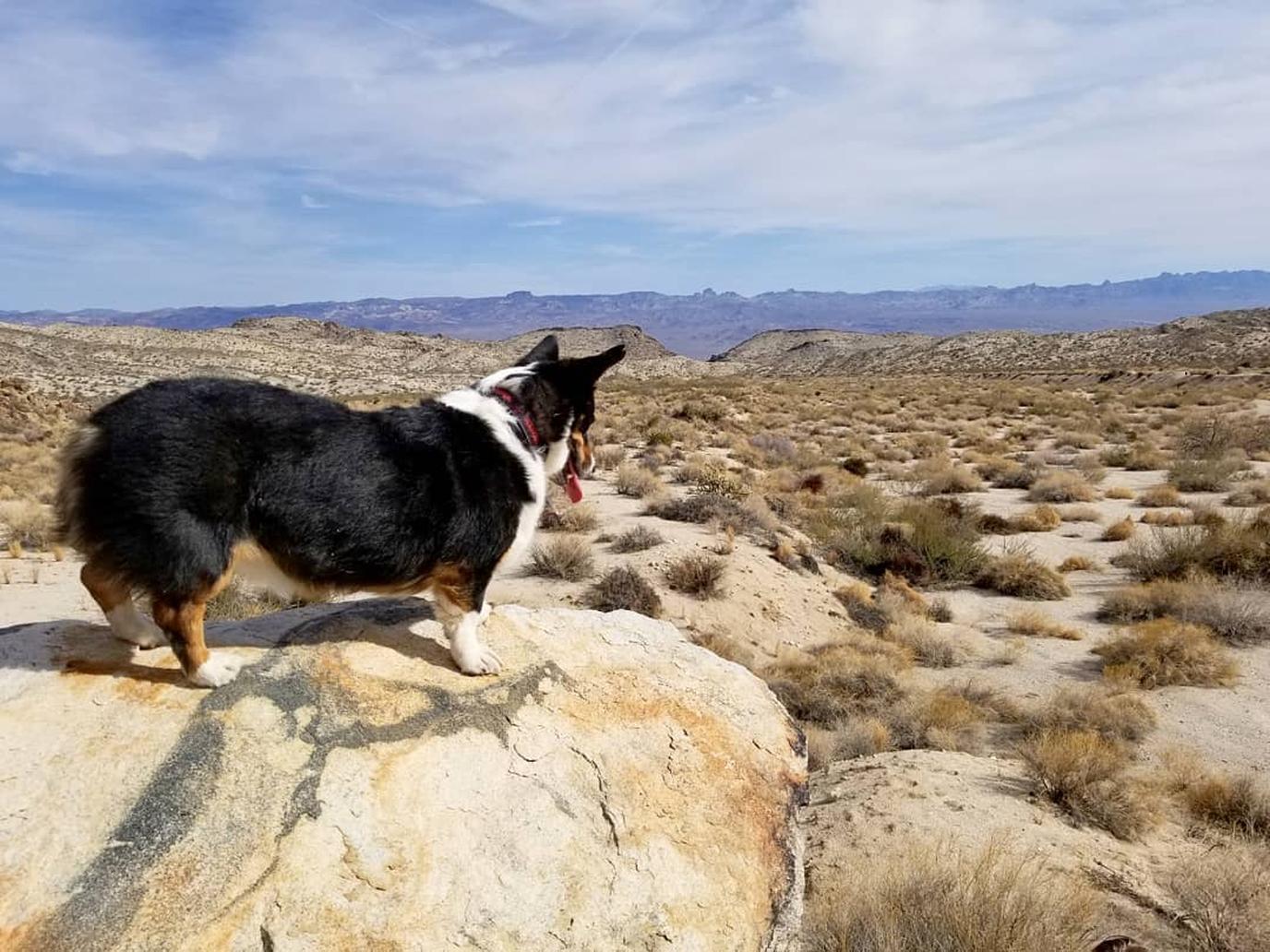 "When do we hit the casino?" – Photo by @cosplaycorgi
Nestled 90 miles south of Las Vegas on the banks of the Colorado River, Laughlin provides snowbirds a balmy desert retreat chock-full of casino resorts and outdoor adventure. Pack Fido's sunglasses and flip-flops because daytime temperatures range between the mid 60s to upper 70s from January to March. Laughlin and nearby Bullhead City and Mojave City offer excellent temporary residences, eateries and attractions.
Where to stay:
Laughlin Condo with Pool/Hot Tub – This modern condo in a gated community can accommodate up to six people in two bedrooms. Amenities include a fully equipped kitchen, free WiFi, private balcony and access to the on-site fitness center and swimming pool.
Riverfront Apartment with Dock Access – Fido can fish for dinner or practice diving from the private dock at this cozy 1-bedroom apartment on the Colorado River. There's a grocery store within walking distance and downtown Laughlin is only 4 miles away.
Places to eat:
In-N-Out Burger – Order a Double-Double with a creamy chocolate shake to savor at an outdoor umbrella table, and treat your furry friend to a Pup Patty (an unseasoned hamburger patty).
D'Angelo's Italian Restaurant – A menu of authentic Italian dishes includes meatballs with marinara, shrimp scampi and baked stuffed eggplant. Leashed dogs are welcome on the covered front patio.
Things to do:
Grapevine Canyon Trail – This 3.3-mile hike can be challenging due to steep inclines and boulder piles, but leashed pups are permitted on the trail. Along the way, you'll be able to view nearly 250 petroglyphs, some of which date as far back as 1100 AD, carved into rock formations throughout Grapevine Canyon.
Big Bend of the Colorado – Leashed dogs are allowed to frolic on the shoreline of this riverfront park and recreation area. A $10 daily entry fee is required.
Looking for more sunny destinations to escape the cold? Check out these Tropical Vacation Ideas for Warm-Blooded Hounds This Winter.
This post from BringFido originally appeared as 8 Underrated Destinations for Snowbirds and Snow Dogs.