Pack your pup's bags for a weekend trip to dog-friendly Minneapolis! Restaurants with their own dog menus, an outdoor sculpture gallery, and no less than 13 lakes and seven dog parks all await your furry companion in the Twin Cities. The late summer is the perfect time to visit as patios are open, the weather is mild, and signature events like the Minnesota State Fair and the dog-friendly Minnesota Renaissance Festival take place annually in August and September. Make the most of your trip with this pet-friendly weekend itinerary.
Friday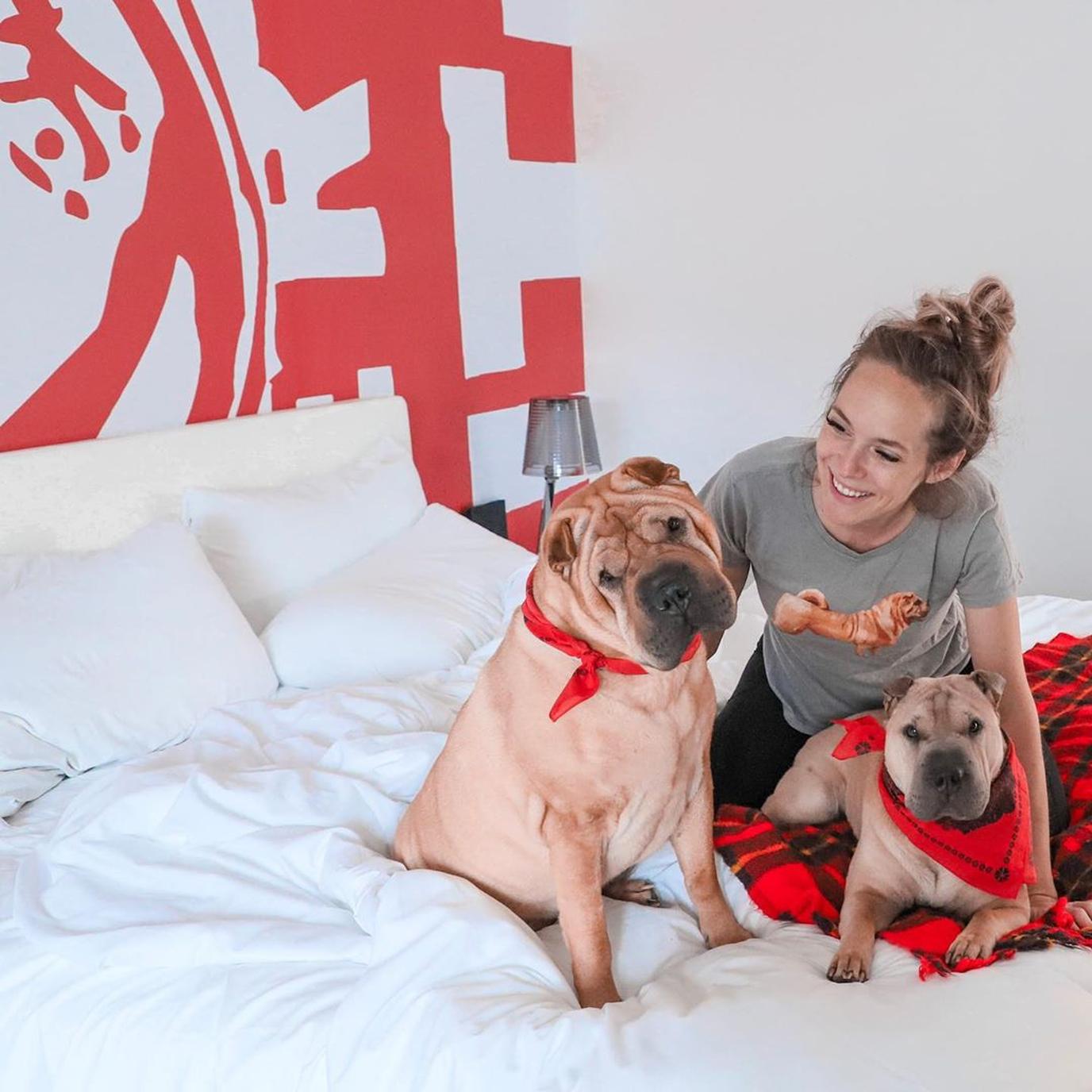 Your pup sure will look cute sporting his RED bandana. – Photo by @brittanyvoth
3 p.m. Radisson RED Minneapolis
Your pup will feel right at home when he meets Baxter the Boston Terrier at check-in at Radisson RED Minneapolis. The canine mascot lives on-site, regularly greets the four-legged guests and makes sure they receive their complimentary bandanas, beds and bowls as part of the pet program. Conveniently located downtown within walking distance to many pet-friendly activities and restaurants, the hotel makes for a comfy home away from home in Minneapolis. Radisson RED Minneapolis welcomes two pets up to 40 pounds for no additional fee. Nightly rates start at $145.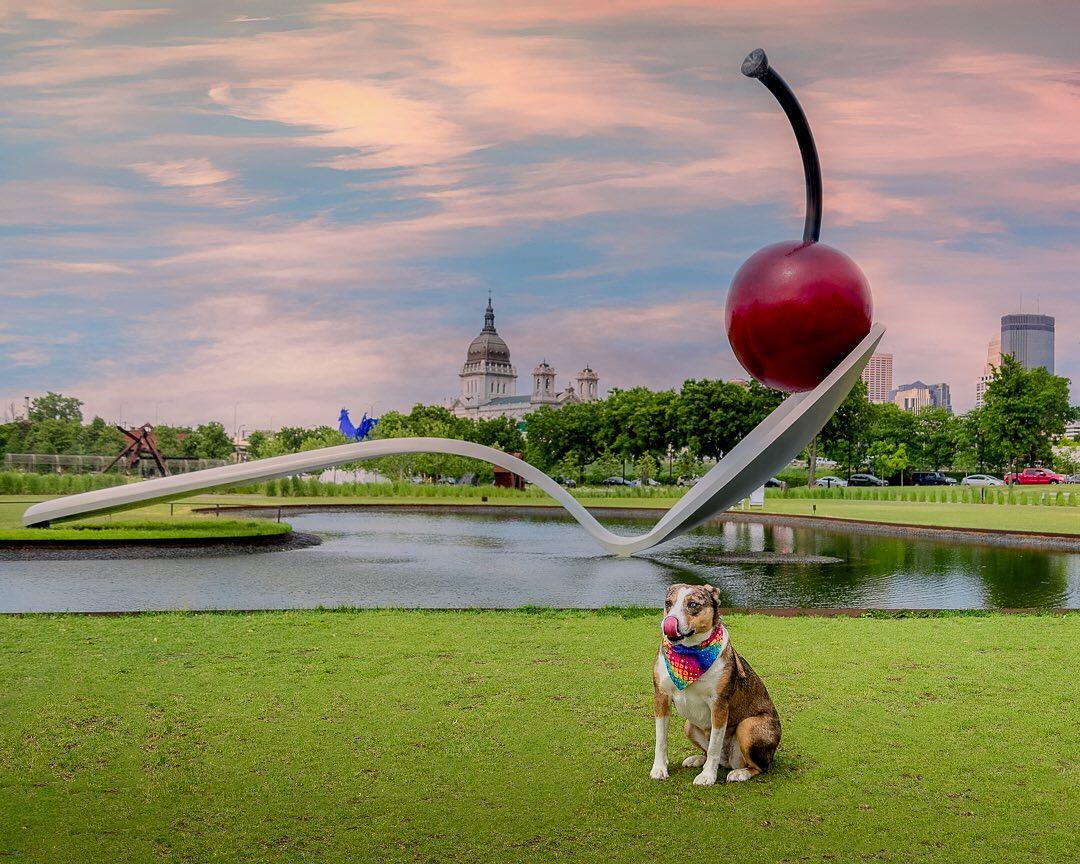 "This photo is the cherry on top of my vacation!"
5 p.m. Walker Art Center
Dogs are welcome to join their owners as they tour the Minneapolis Sculpture Garden, located in a lovely 11-acre park setting on the Walker Art Center campus. Take a snap of your dog by the iconic "Spoonbridge and Cherry" by artists Claes Oldenburg and his wife, Coosje van Bruggen. For a more enriching experience, download this free self-guided tour before you go.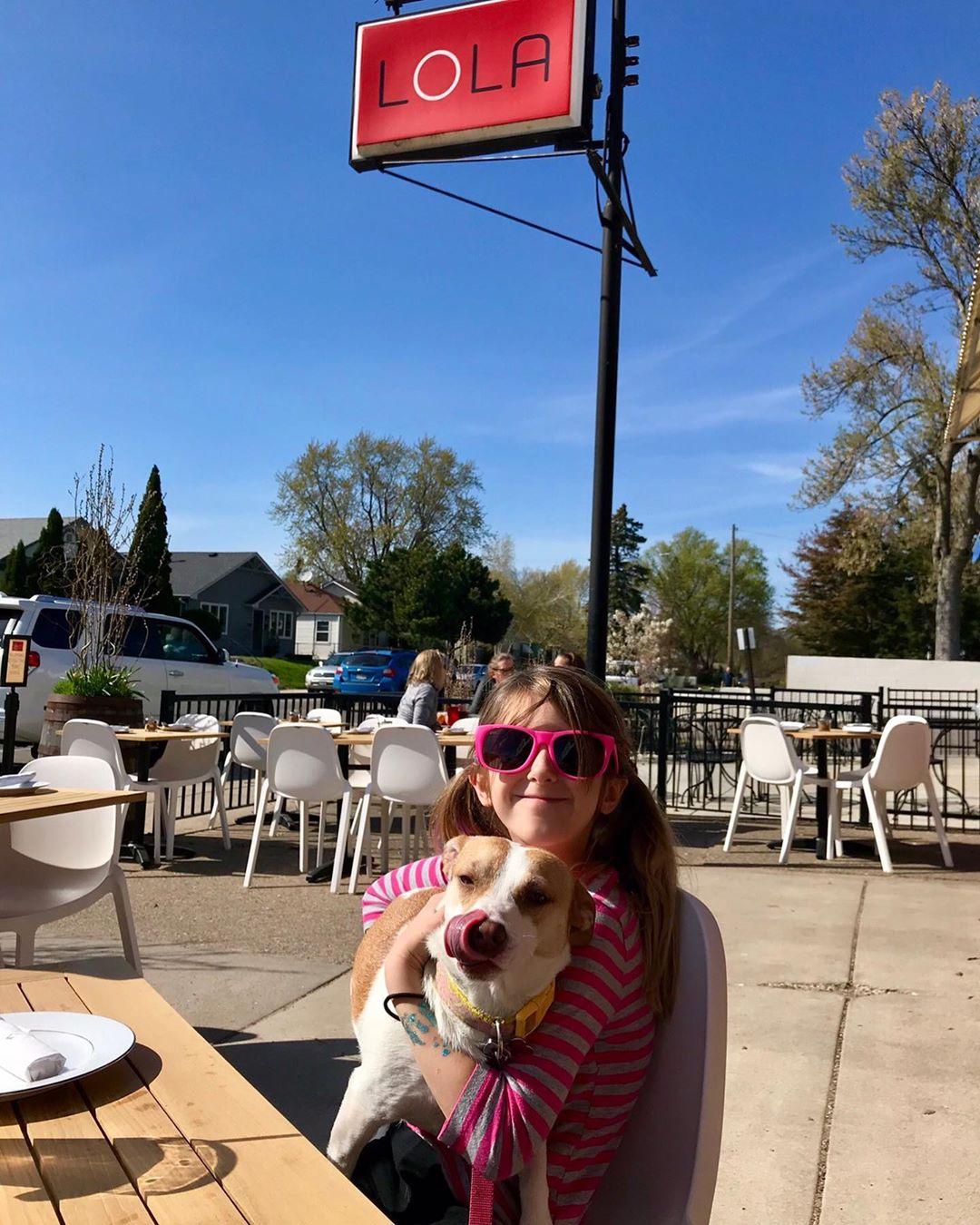 Pizza on the patio with your pet? Sign us up! Photo by @annie_bananie_the_princess
7 p.m. Dinner at Pizzeria Lola
Bring Fido to the patio at Pizzeria Lola, named after owner and James Beard Award-winning chef Ann Kim's beloved Weimaraner. Your pup will be treated to pizza-inspired dog treats while you dine on wood-fired pizza. Choose classic toppings like pepperoni or more daring combinations like the signature Korean BBQ pie topped with beef short ribs, mozzarella cheese, scallions, fresh arugula, sesame and a soy-chili vinaigrette.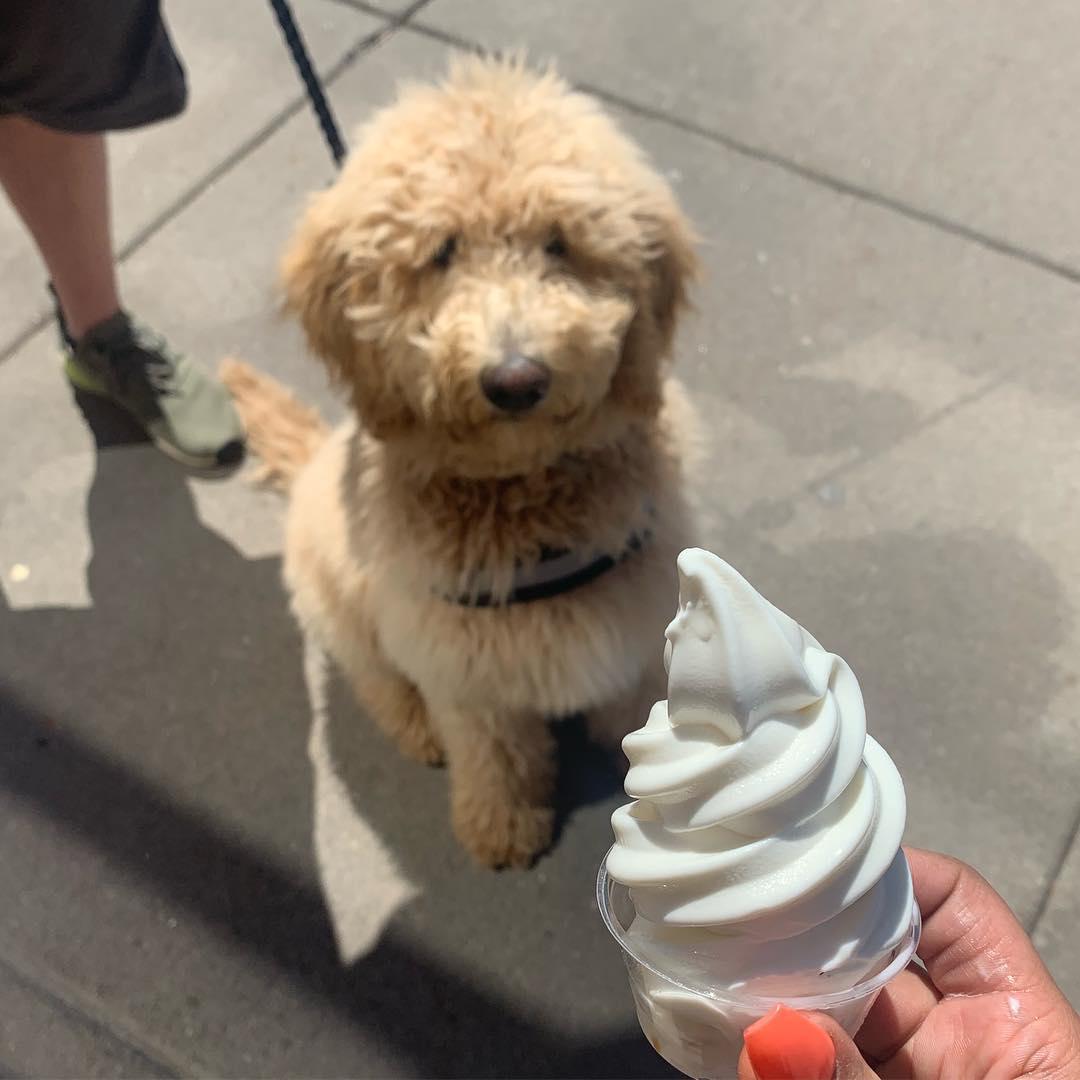 "Is that pup cup for me?" Photo by @max.and.molly.doods
9 p.m. Sweet Treats at MN Nice Cream
Before you call it a night, make your way to MN Nice Cream for a cool dessert on the patio. Get a pup cup of vanilla soft serve for your canine companion and a waffle cone or dish filled with regular or vegan ice cream for yourself. Choose from toppings like caramel, strawberries and even edible glitter! Or, opt for one of the shop's impressive specials like the Dirt 'N' Worms concoction of brownie, Oreos, fudge, gummy worms and sprinkles.
Saturday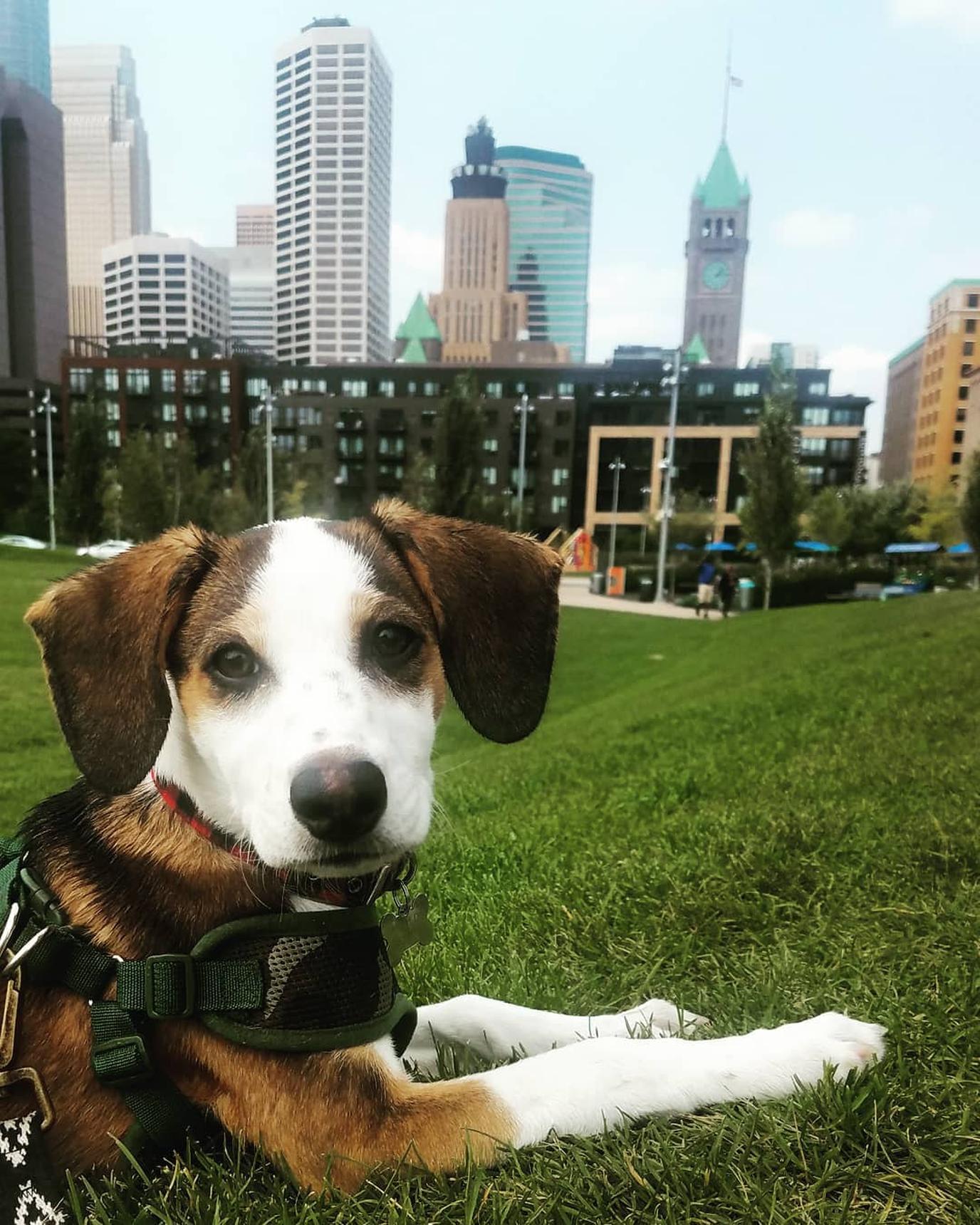 Take a break and enjoy the view. – Photo by @bdye12
7 a.m. A Walk in the Park
Located just a five-minute walk from the hotel, The Commons is a 4.2-acre urban oasis in the middle of the city. Let Fido stretch his legs along the paths or in the grass and take in the dramatic city skyline views and fresh, early morning air.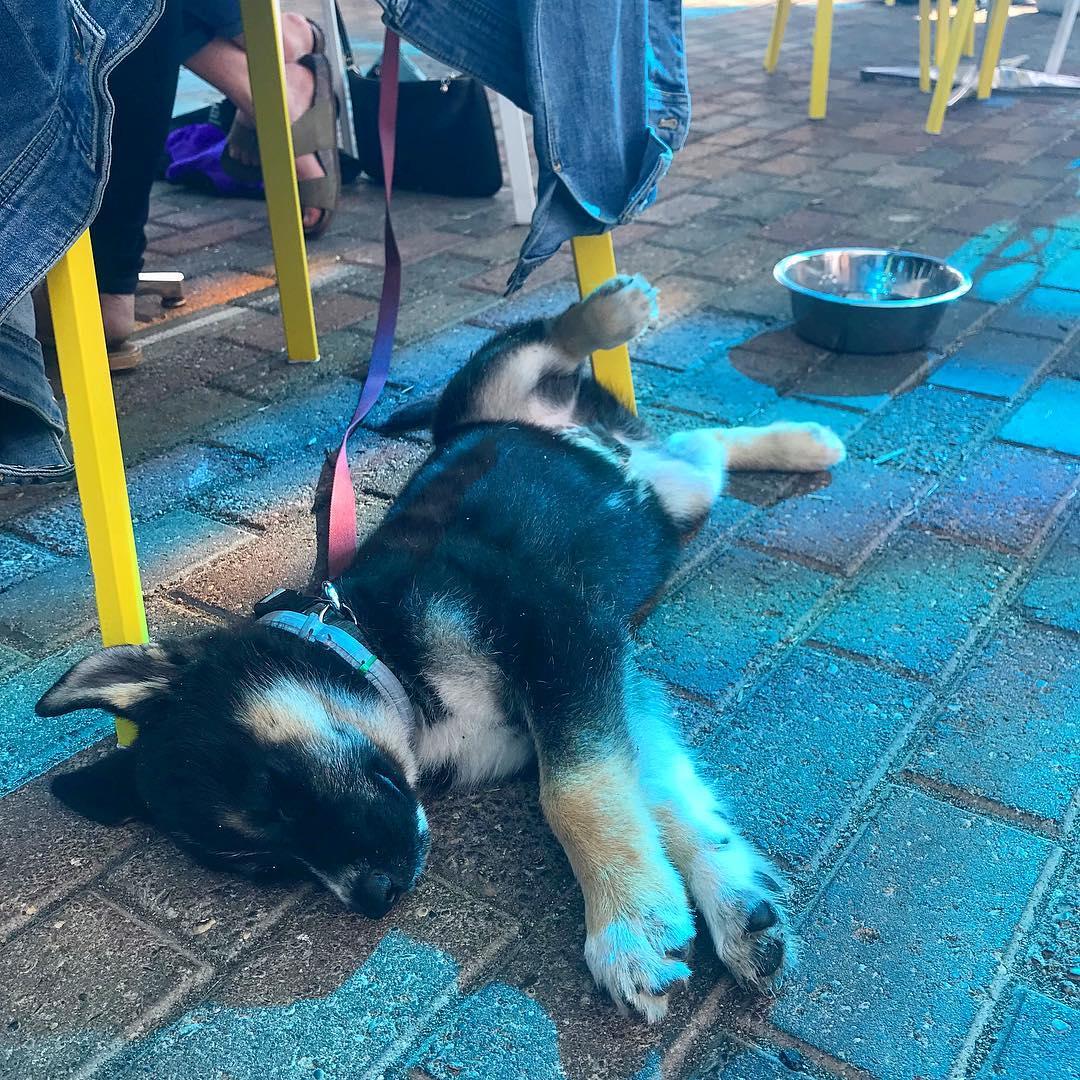 This small puppy passed out at Tiny Diner. Photo by @tinydiner
9 a.m. Breakfast at Tiny Diner
After you've worked up an appetite, head to Tiny Diner's dog-friendly patio for breakfast. While your dog relaxes (see pic), feast on dishes made with locally sourced ingredients like organic huevos rancheros and buttermilk biscuits with miso-mushroom gravy. A water bowl is provided free of charge, but you can splurge and buy your pup a bacon pancake for $4.50.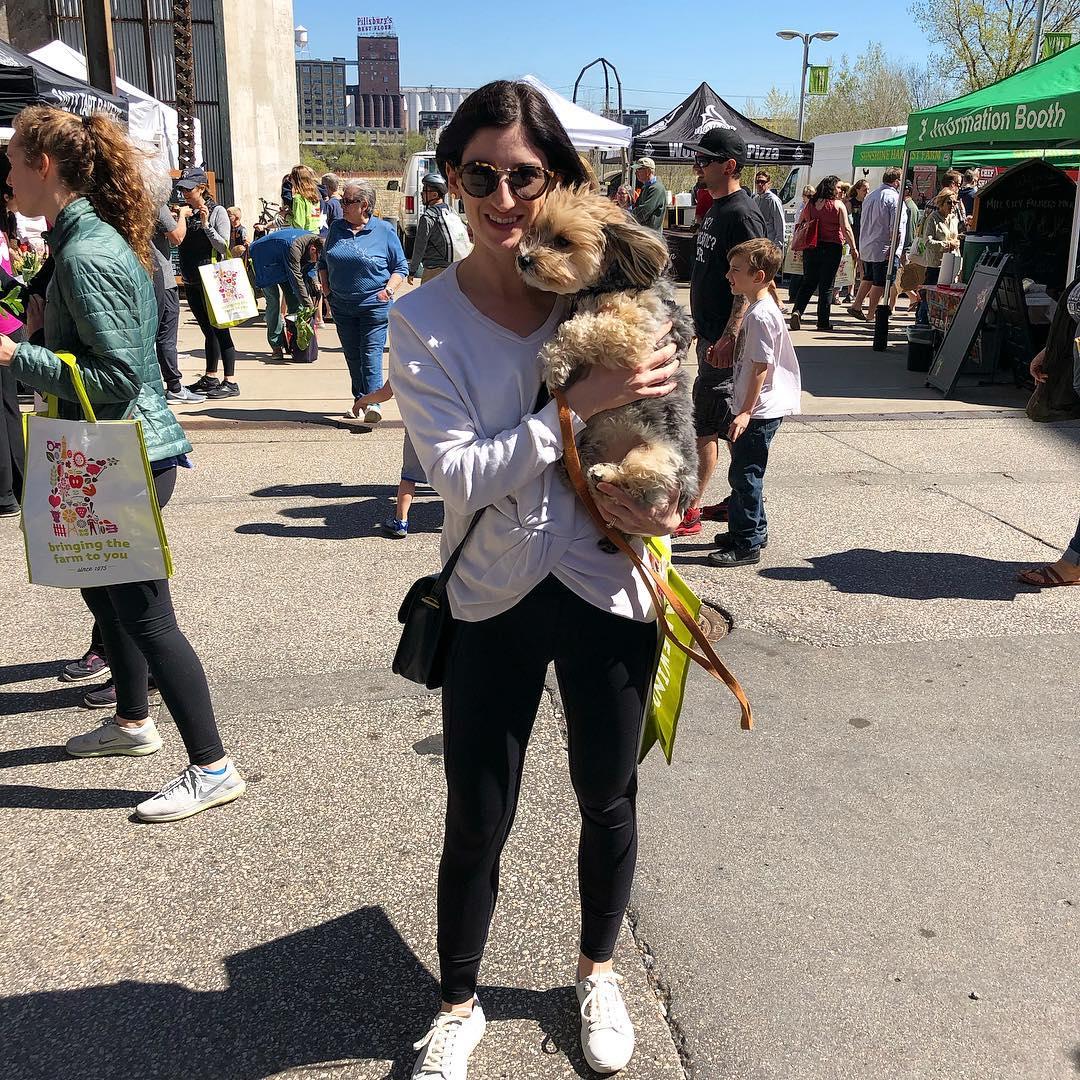 Shop 'til you drop with Fido. Photo by @thenuttypear
10 a.m. Mill City Farmers Market
Several farmers markets in Minneapolis are dog friendly, including the Mill City Farmers Market, which takes place every Saturday from 8 a.m. until 1 p.m. from May through October. Peruse the homemade dog treats, fresh flowers, local produce and arts and crafts like handmade ceramics, jewelry and baskets. Live music adds to the ambiance and there are live cooking demonstrations for kids and adults. Four-legged shoppers are welcome at the uncovered Chicago Mall area of the market and should be on a leash no longer than six feet long. Water is available for your pup at Barkley's Bistro and the market's information booth.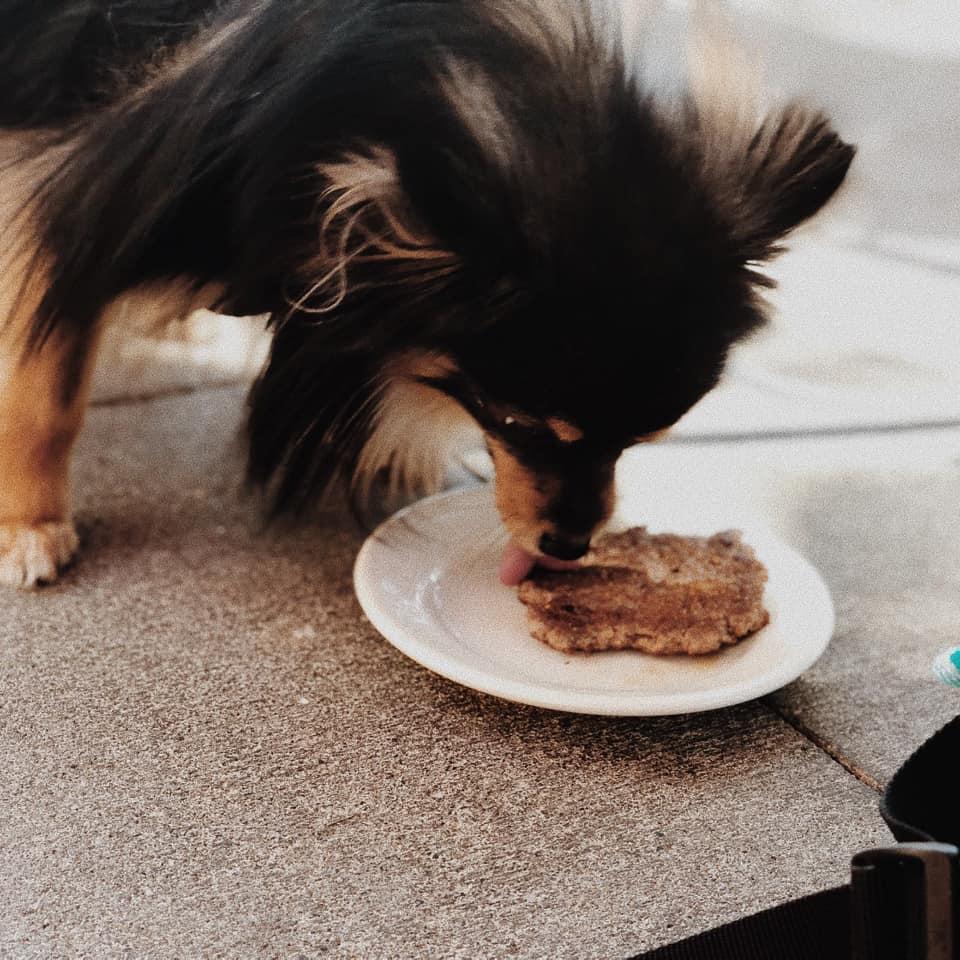 Order your pup a Junior Jones off the doggy menu. Photo by Facebook.com/burgerjonesminneapolis
1 p.m. Lunch at Burger Jones
Grab a bite at Burger Jones's outdoor patio in the Calhoun Village Shopping Center. Treat your pup to a bunless burger or dog sundae made with ice cream, apples and peanut butter from the Barker Jones Doggy Menu. Humans can order one of the joint's famous gourmet burgers, consistently ranked the best in the Twin Cities.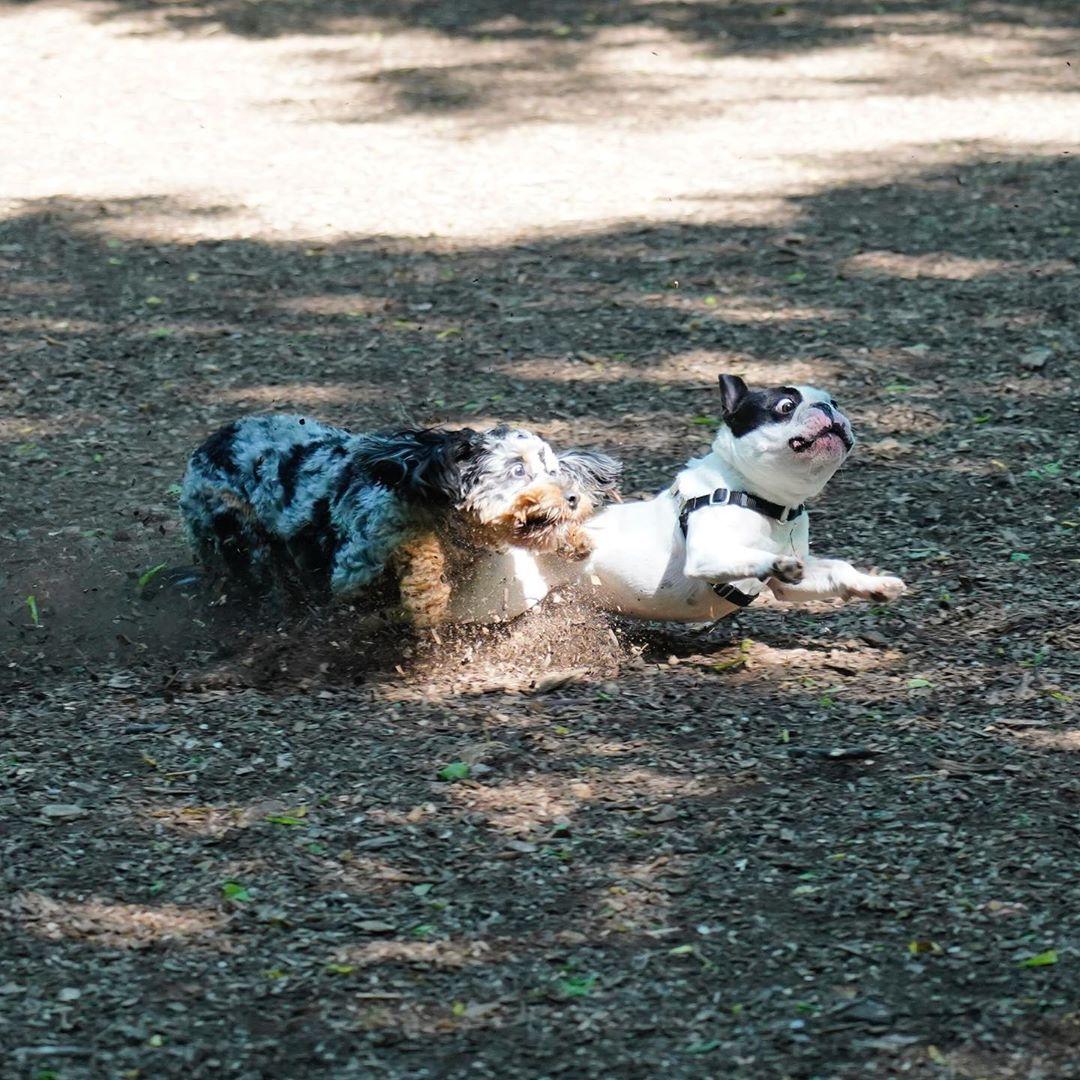 Let Fido come down from his dog sundae sugar high with playtime at the dog park. Photo by @tobithecow
2 p.m. A Dog Park and a Catnap
Take your dog to nearby Lake of the Isles Dog Park to burn some calories. Fido will be able to run off leash in the completely fenced dog park. A daily permit will be required and is available for $5.
After all of the day's activities, allow Fido to rest his weary paws while you relax back at the hotel.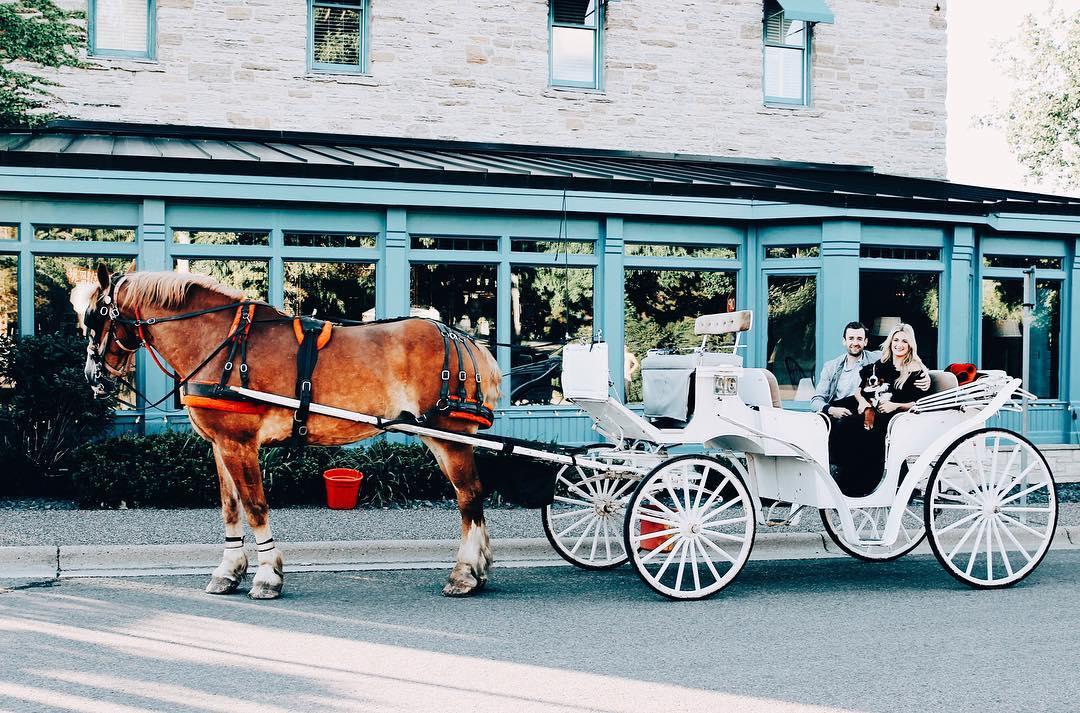 "This is how we roll." Photo by @L3xielarson
5:30 p.m. Mississippi River Carriage Tour
Fido's carriage awaits on lovely Nicollet Island. Choose either a 30-minute or one-hour tour in a horse-drawn carriage with The Hitching Company down cobblestone streets and along the Mississippi River. The driver will narrate as you pass by local landmarks with the downtown Minneapolis skyline as a backdrop. Tours start at $72 for up to four people, and dogs are welcome for no additional fee.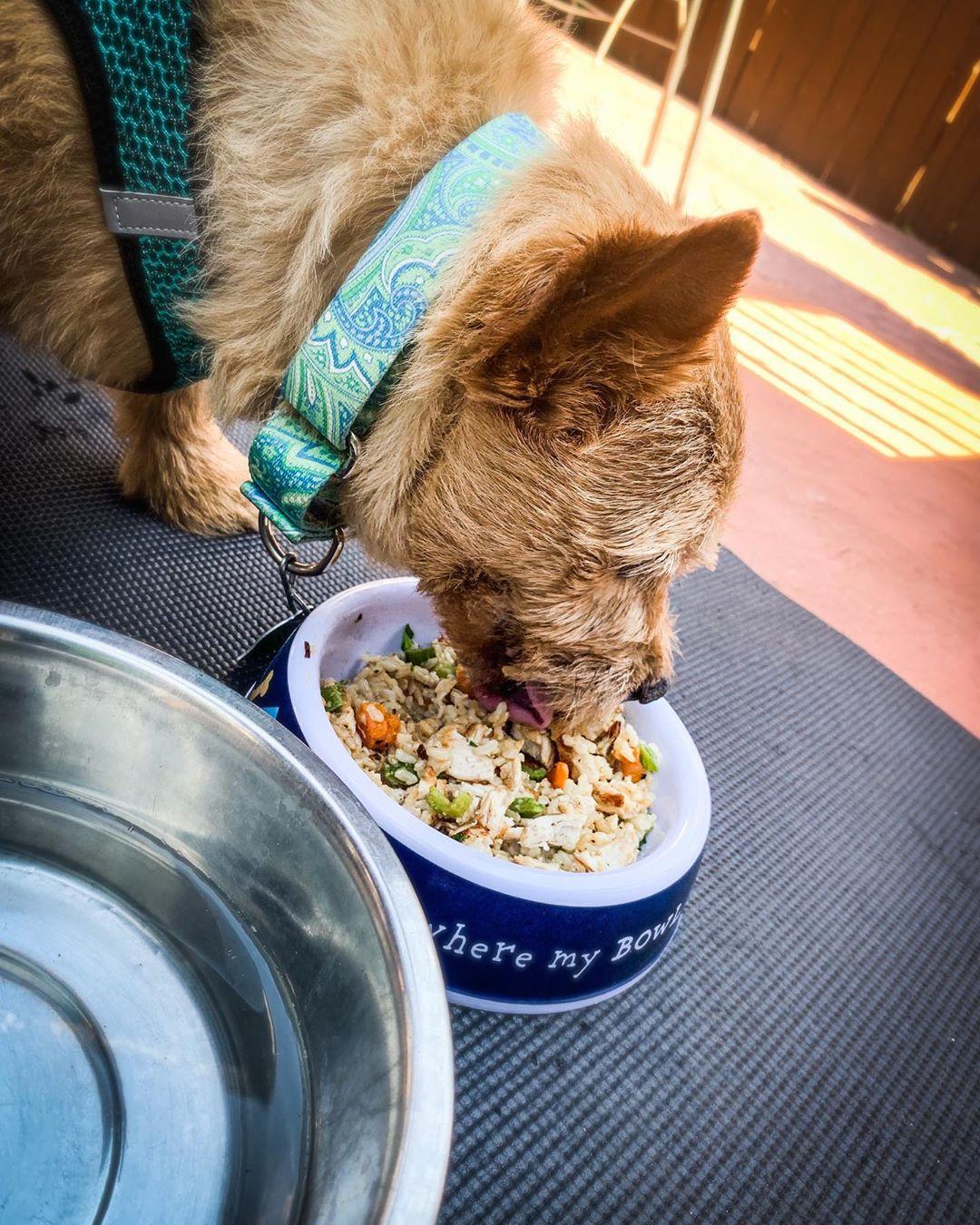 Chicken and rice and veggies nom nom nom. Photo by @mfrazier89
7 p.m. Dinner at Stanley's Northeast Bar Room
Your dog will be begging to return to Stanley's Northeast Bar Room's year-round paw-tio after he eats the three-course meal from the restaurant's dog menu. Pups are always greeted with a complimentary vanilla woof-er and water. Then, dogs can choose an appetizer of a frozen beef marrow bone or smoked pig's ear. For the main course he can try muttloaf, salmon cakes, ⅓ pound burger, grilled chicken, or a poached egg all served with brown rice, veggies and sweet potatoes. If he has room for dessert, treat him to a non-dairy coconut ice cream sundae with peanut butter and bananas. For humans, expect good pub grub like fish and chips, burgers, chicken wings and nachos.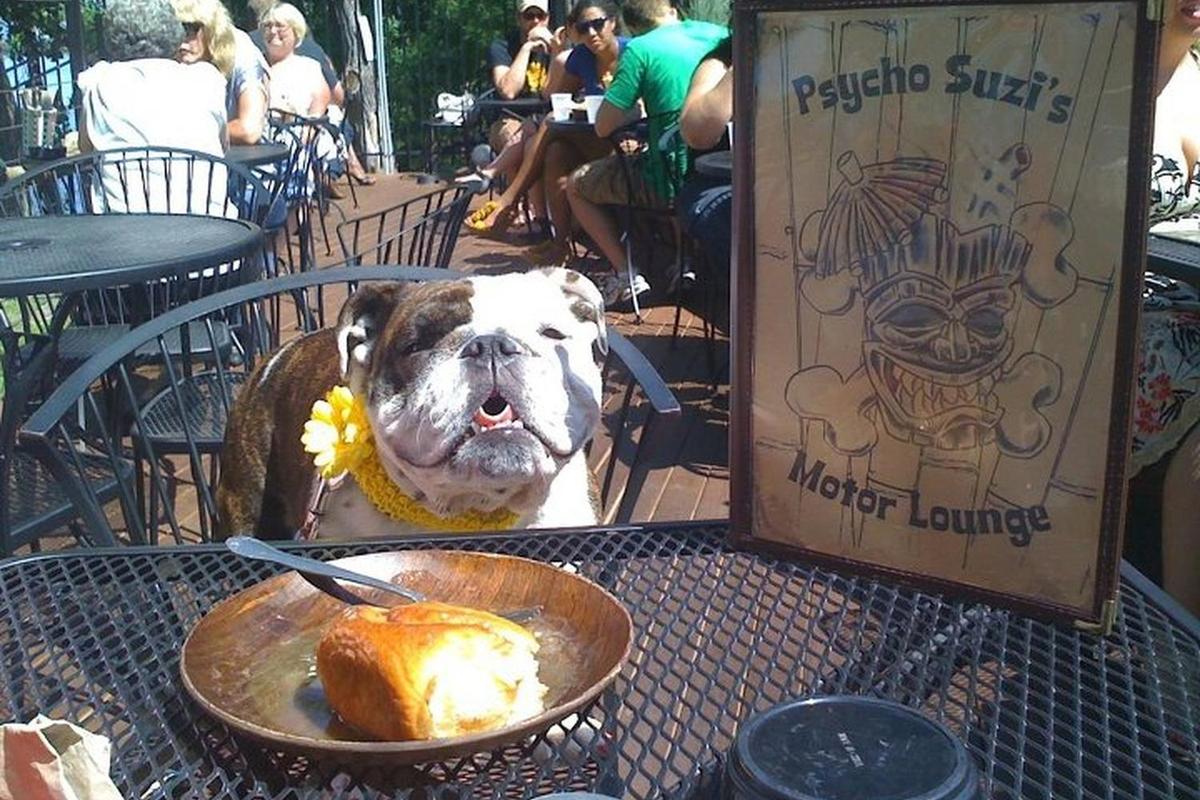 Sit, stay, and lei at a tiki bar with Fido.
9 p.m. Cocktails at a Tiki Lounge
If you're not ready to turn in, head to Psycho Suzi's Motor Lounge with your pup in tow. This kitschy tiki lounge's dog-friendly patio will feel like a trip to the islands. Sample a stellar tropical cocktail or mocktail with names like Evil Headhunter and Paralyzed Polynesian while Fido laps up the fun atmosphere and some fresh water.
Sunday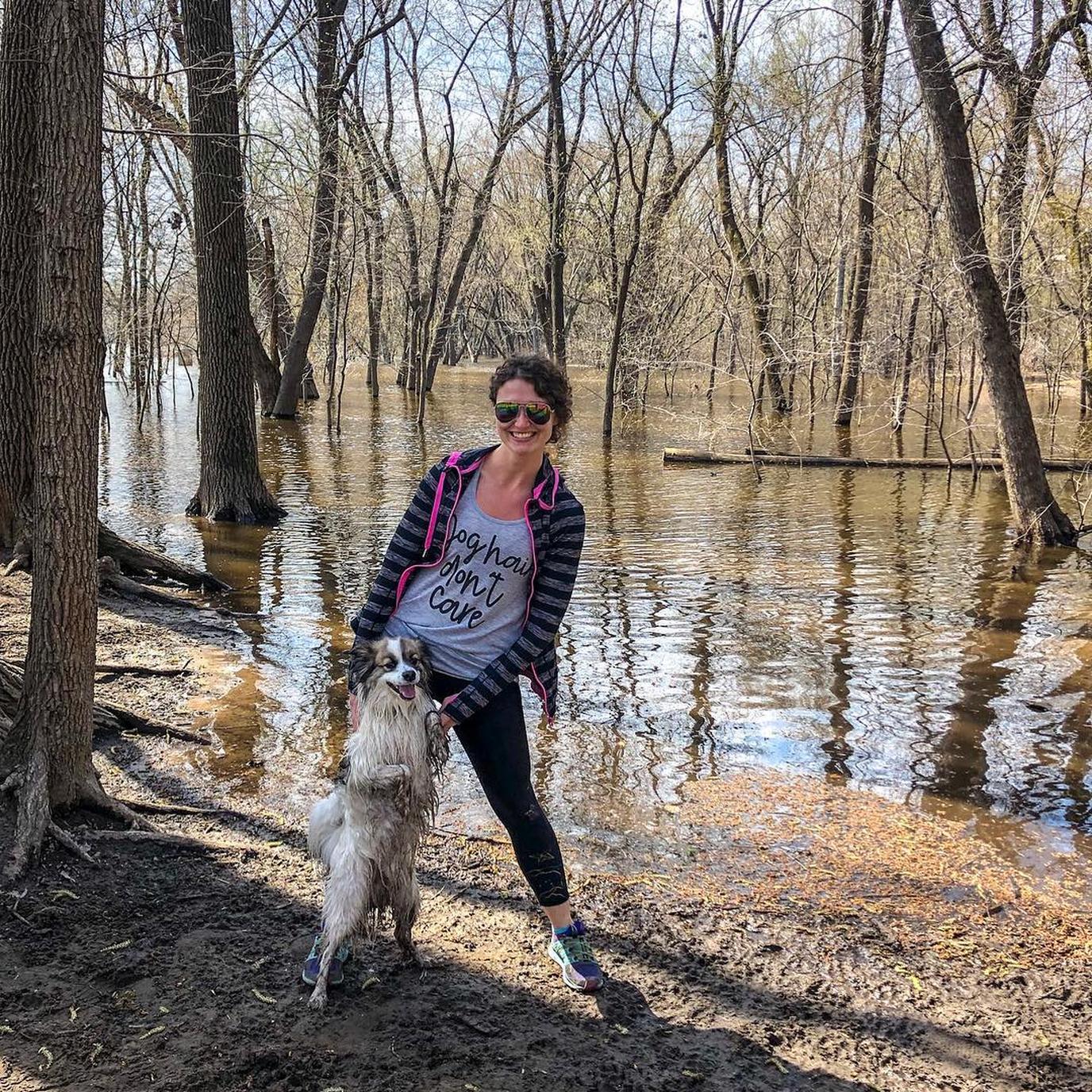 Let Fido get muddy and go for a swim. – Photo by @neellocha
7 a.m. Minnehaha Dog Park
Wake up early to explore Minnehaha Dog Park with your furry friend. Located on the south side of Minnehaha Park, this off-leash area spans over six acres and features lots of wooded trails and even a beach along the Mississippi where Fido can go for a morning swim. An off-leash permit is required and costs $5 for a daily pass.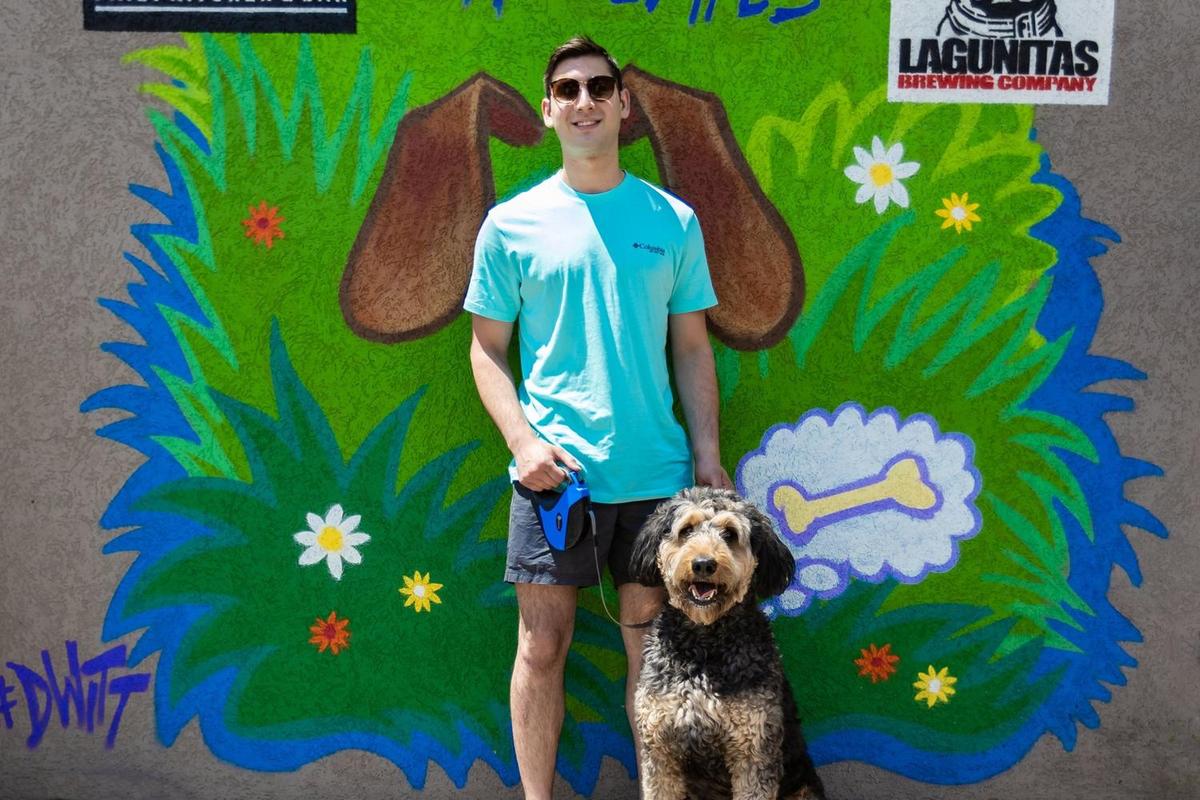 Bring your dog to breakfast at The Howe.
9 a.m. Breakfast at The Howe Daily Kitchen & Bar
After the park, eat at The Howe Daily Kitchen & Bar, a popular spot for dog owners because of its year-round heated patio and dog menu. The Howe is a part of the same restaurant group as Stanley's, so your pup will get a second crack at the delicious dog menu. While Fido enjoys his treat, chow down on cinnamon French toast, a breakfast burrito or a vegan chorizo bowl.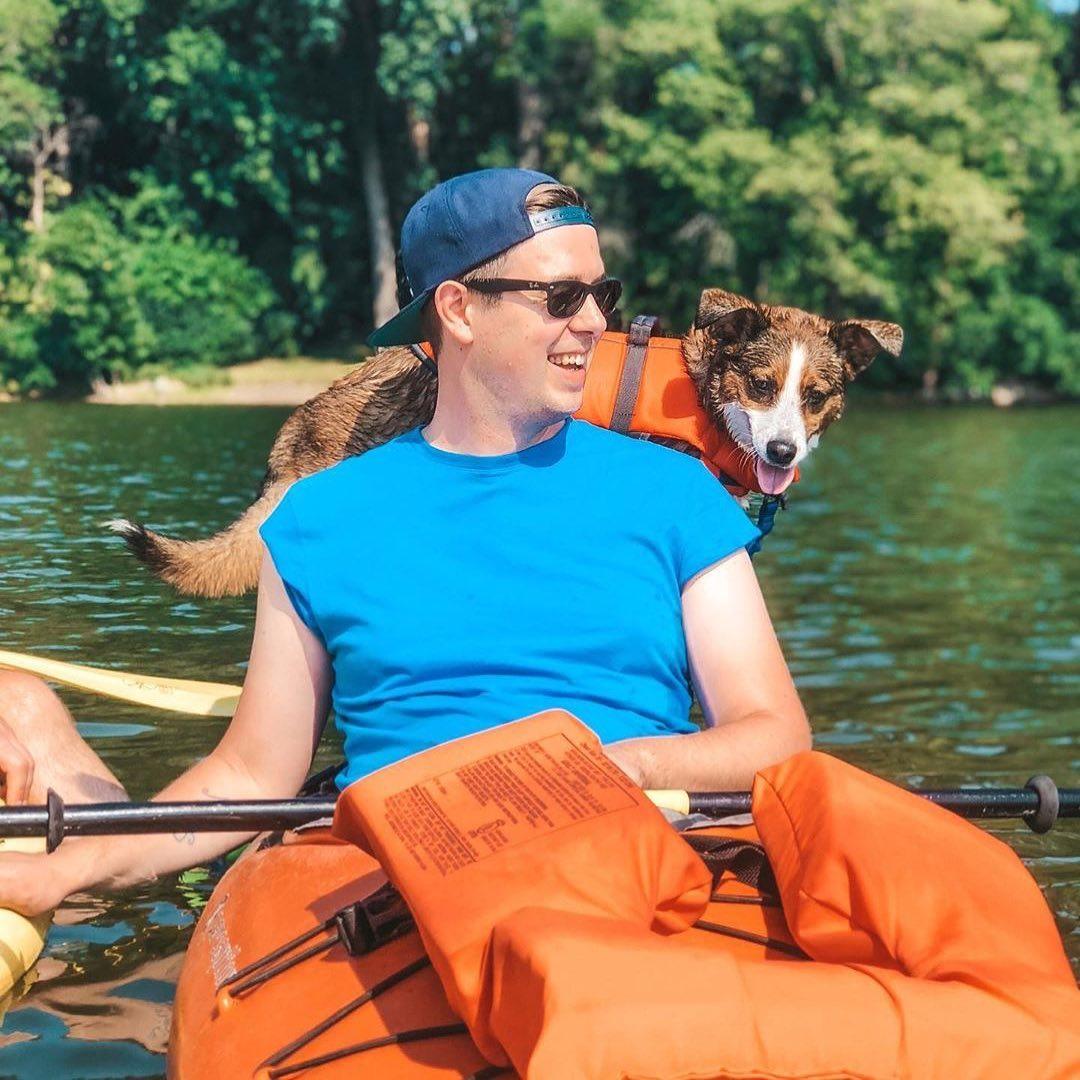 Kayak with your dog on Lake Harriet. Photo by @wfrminnesota
10 a.m. Watersports on Lake Harriet
As Minnesota is the "Land of 10,000 Lakes," no trip to Minneapolis would be complete without a lake adventure. Rent a dog-friendly stand up paddleboard or kayak from Wheel Fun Rentals to explore Lake Harriet.
"I'll have the duck, please." Photo by @tonyoliveri_realtor
1 p.m. Lunch at Bread & Pickle
Order lunch from the window at Bread & Pickle, an upscale concession stand on Lake Harriet that serves locally farmed, sustainable picnic foods. Their tasty sandwich menu includes options like egg salad on sourdough, lobster and shrimp roll, seared walleye and bratwurst with kraut. Enjoy lunch with a view at one of the dog-friendly outdoor tables overlooking the lake.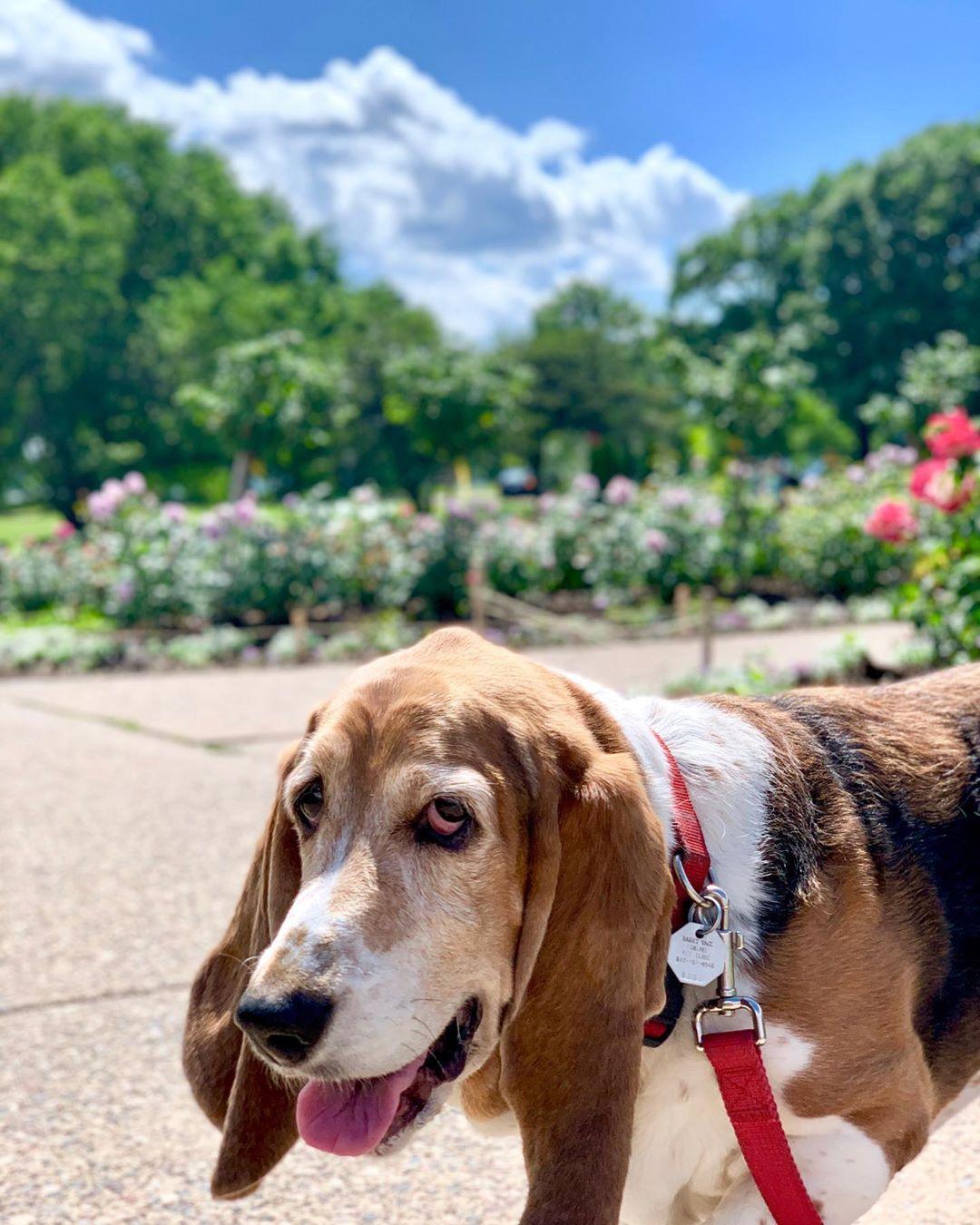 "This was a great trip but I'm pooped." Photo by @maggietheestallion
2 p.m. Stop and Smell the Roses Before Departing With a Dog-Tired Fido
Before you leave Minneapolis, make one last stop at nearby Lake Harriet Rose Garden. Stroll around with your dog and reflect on your weekend in dog-friendly Minneapolis. With so much pet-friendly fun still to be had, you can depart with a dog-tired Fido knowing that you'll return to the Twin Cities soon.
This post from BringFido originally appeared as A Weekend in Dog-Friendly Minneapolis.