A Weekend in Dog-Friendly New Orleans
Plan your next weekend getaway in dog-friendly New Orleans! The city is known for its Cajun food, which reflects a melting pot of African, French and American cuisines and cultures, Zydeco and jazz music, and a round-the-clock party scene. And of course, we can't forget Mardi Gras! But it's also got plenty of attractions for four-legged tourists to explore. Your party animal can even participate in the festivities leading up to Fat Tuesday during the annual Mystic Krewe of Barkus Parade. So, what are you waiting for? Pack your pooch's most festive leash for your trip to "The Big Easy."
Friday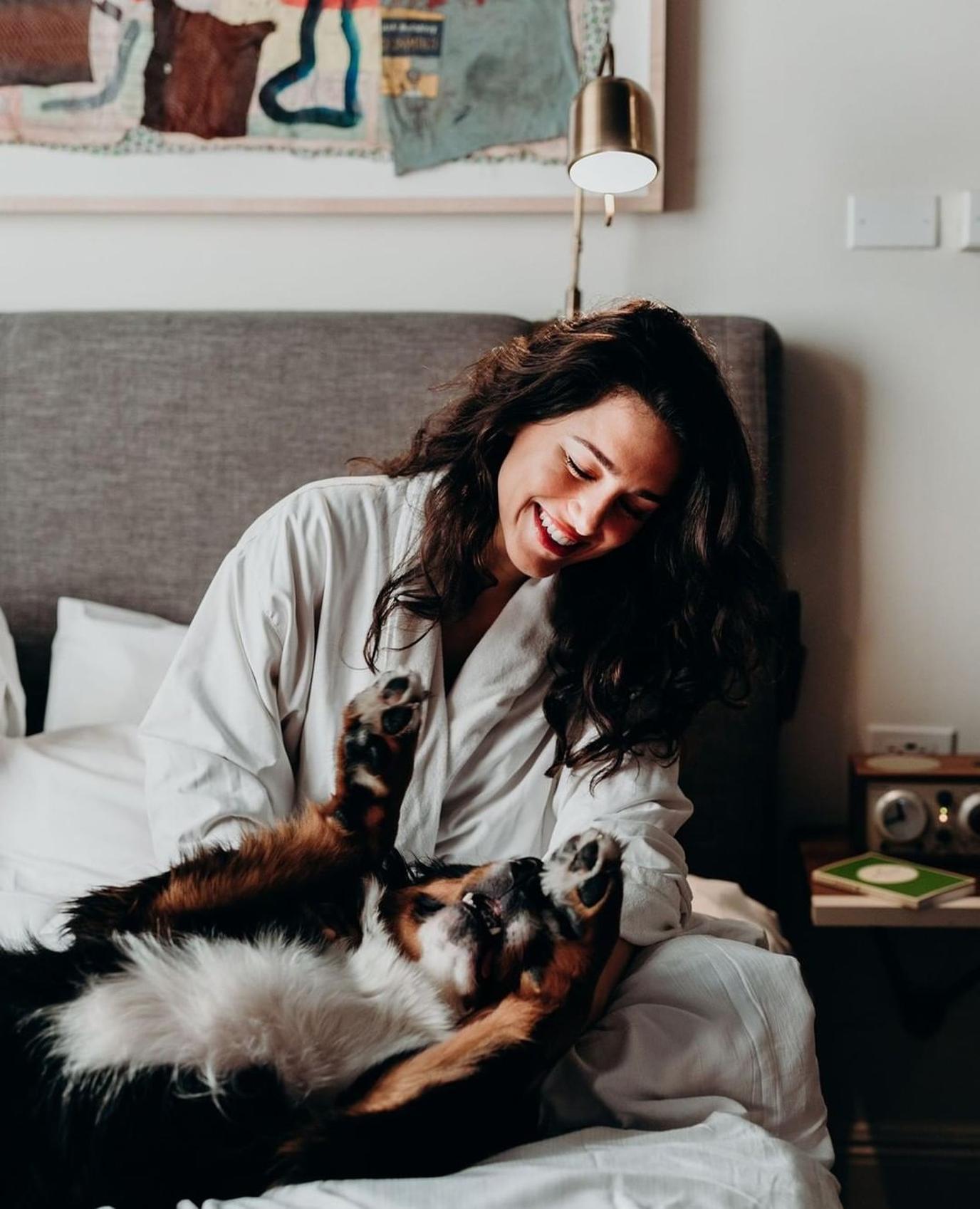 Dog beds are provided, but Fido may opt to sleep with you instead. – Photo by @old77_hotel
4 p.m. The Old No. 77 Hotel & Chandlery
When you check in at The Old No. 77 Hotel & Chandlery, a boutique pet-friendly hotel located just a few blocks from The French Quarter, Fido will be treated like the VIP (very important pet) that he is. He'll be greeted with a pet bed, bowls, ID tags with contact information, and treats for use during your stay. When it's time to walk the dog, Lafayette Square is close by. The hotel is also conveniently located in the revitalized Arts, Warehouse and Museum District in the heart of downtown New Orleans, so most places are walkable or a short Uber ride away. The Old No. 77 Hotel & Chandlery welcomes three pets of any size for an additional fee of $60 per stay. Nightly rates start at $85.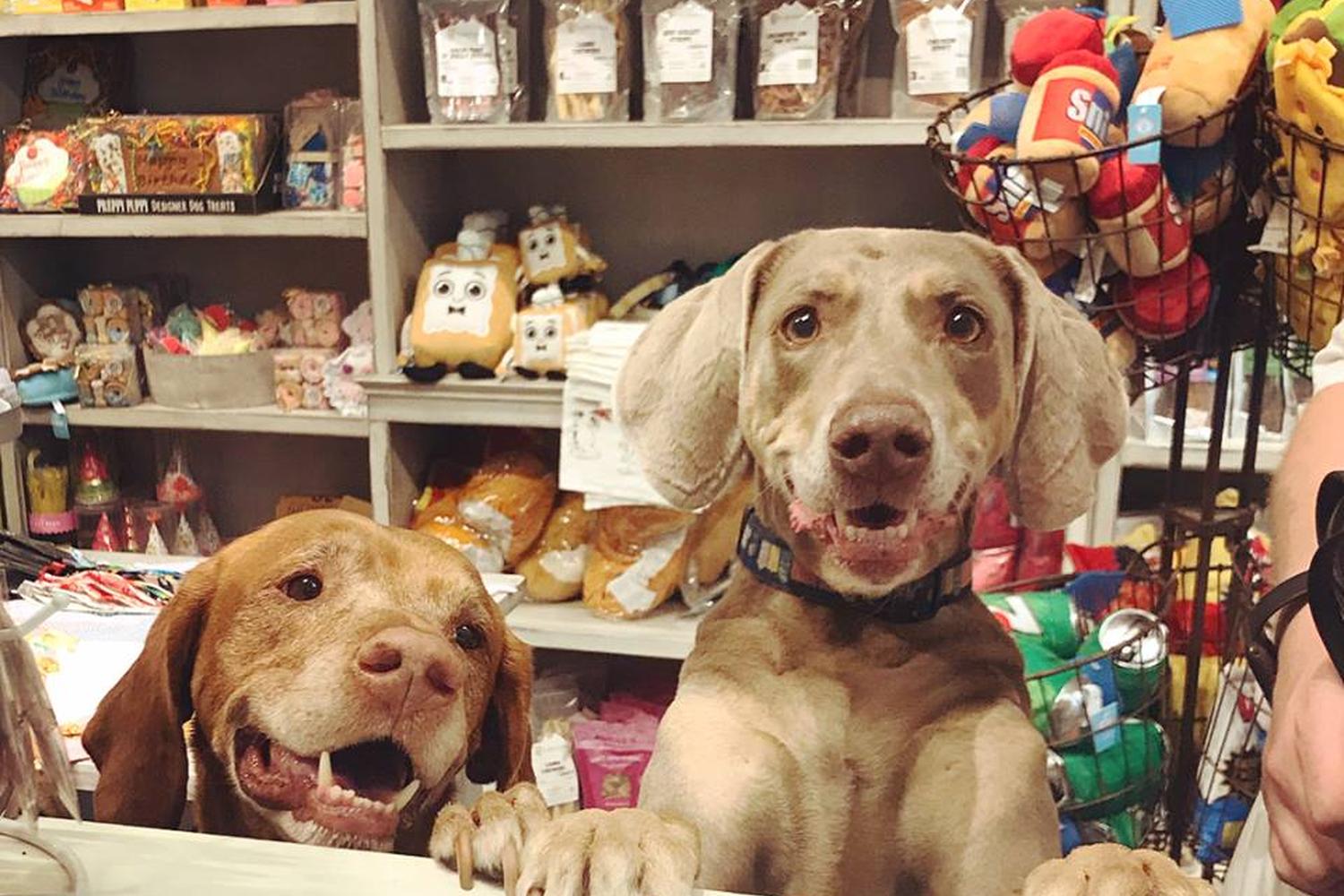 "Do you have any free samples?"Photo by Facebook.com/shopsouthernpaws
5 p.m. Southern Paws
Start off the weekend by spoiling your furry friend at this locally owned bakery and pet boutique on Toulouse Street in the French Quarter. Stock up on freshly made treats for the weekend and pick out a souvenir for your pup at Southern Paws. The store has a large selection of New Orleans Saints collars and gear, Mardi Gras-themed outfits and all kinds of toys that would make a great keepsake from your NOLA getaway.
Your pooch can slurp water while you chow down at Cafe Amelie.Photo by @scooby_in_bermuda
6 p.m. Cafe Amelie
Make a reservation for an early dinner on the lush, 150-year-old courtyard at Cafe Amelie. Located on Royal Street in the French Quarter, this romantic, dog-friendly spot serves up Louisiana Creole cuisine made with local produce. Start with Chef Jerry's Shrimp and Grits, followed by the Blackened des Allemandes Catfish Sandwich, or Chicken and Andouille Jambalaya Pasta. Pair your meal with one of the bar's inventive cocktails, and be sure to save room for the Cherry Almond Bread Pudding.
Bring your Voodoo dog along for this informative and fun tour.Photo by NoPro Photo
7:30 p.m. New Orleans Voodoo Tour With Haunted History Tours
The Crescent City is positively brimming with history, but of all its tours and sites, those that have something to do with Voodoo are the most popular. Voodoo has been a part of the city's history since the 1700s, when African slaves were brought to the area by the colonial French. Over the centuries, visitors' curiosity about Voodoo has only grown, and now there are numerous tours around town that explore the religion's influence in New Orleans. After dinner, make your way to Reverend Zombie's House Of Voodoo at 723 St. Peter Street to join the New Orleans Voodoo Tour from Haunted History Tours. This educational walking tour aims to dispel the "myths and stigma surrounding one of the most misunderstood and feared religions in the world." The two-hour adventure costs $25 for adults and $18 for seniors, students and military members. Your dog is welcome to join you for no additional charge.
"I'll have toilet water on the rocks."Photo by @dead_prairie_dawns
9:30 p.m. The Voodoo Lounge
If you worked up a thirst during the tour, keep the theme going with drinks at The Voodoo Lounge. This dog-friendly French Quarter dive bar is open 24/7 and allows good pups inside. You might even meet the bar's "guard dog," Copa, a sweet mutt.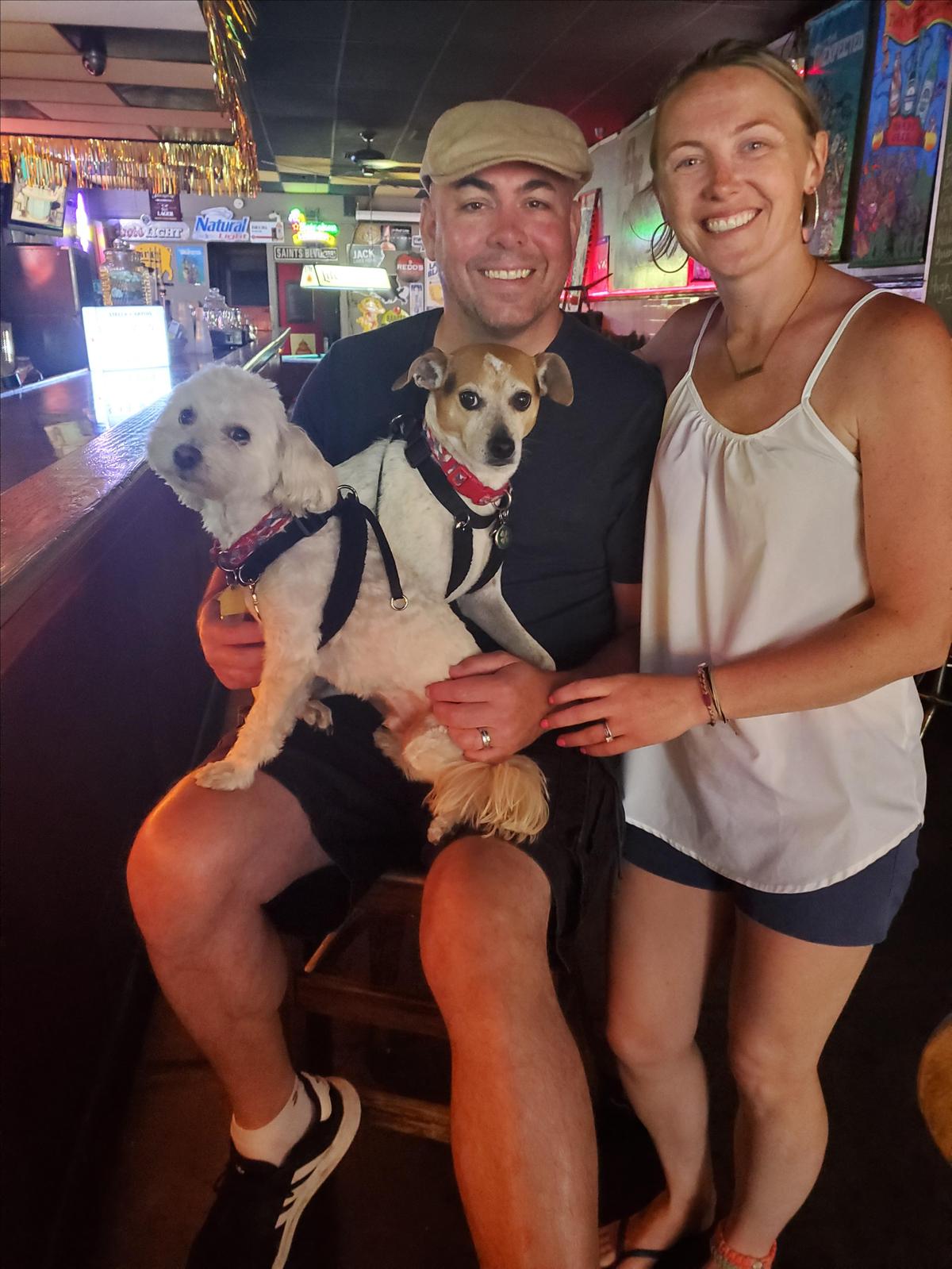 Party animals.Photo by Michelle
10:30 p.m. Bar Hopping and Beignets With Fido
You've got to experience Bourbon Street when in the Big Easy. Enjoy awesome views of life on Bourbon with your canine companion from one of the balcony tables at Cafe Lafitte in Exile, the city's oldest continuously operating gay bar. Another popular dog-friendly bar in the French Quarter is Claire's Pour House, where you can sit and sip inside or get a "travel" cocktail to go. Before heading back to the hotel, stop by Cafe du Monde for beignets on the pup-friendly patio. You can satisfy your sweet tooth even if you decide to pull an all-nighter because the famous restaurant is open 24/7.
Saturday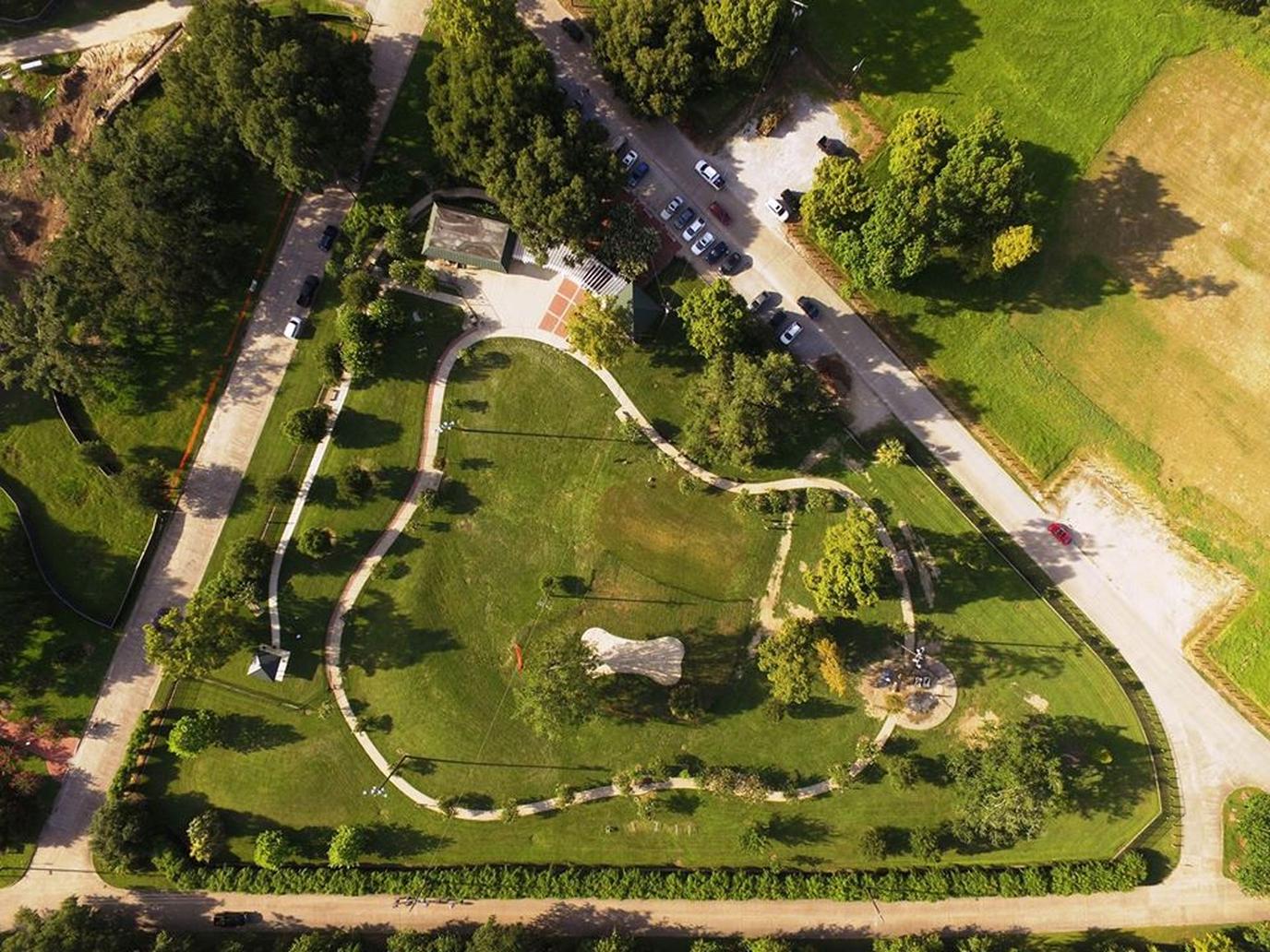 All this could be yours, Fido. – Photo by Facebook.com/NolaCityBark
9 a.m. NOLA City Bark
Begin your day with some off-leash fun at NOLA City Bark. This dog park has 4.6 landscaped acres with separate areas for pups big and small. It's located in beautiful City Park and features double entrance gates, water fountains for dogs and humans, shade pavilions, an event lawn, Mutt Mitts for clean-up, on-site restrooms and a .25-mile walking trail. Temporary tourist permits are required and can be obtained for $10 for one week or $15 for two weeks from the City Park Administration Building at 1 Palm Drive or online.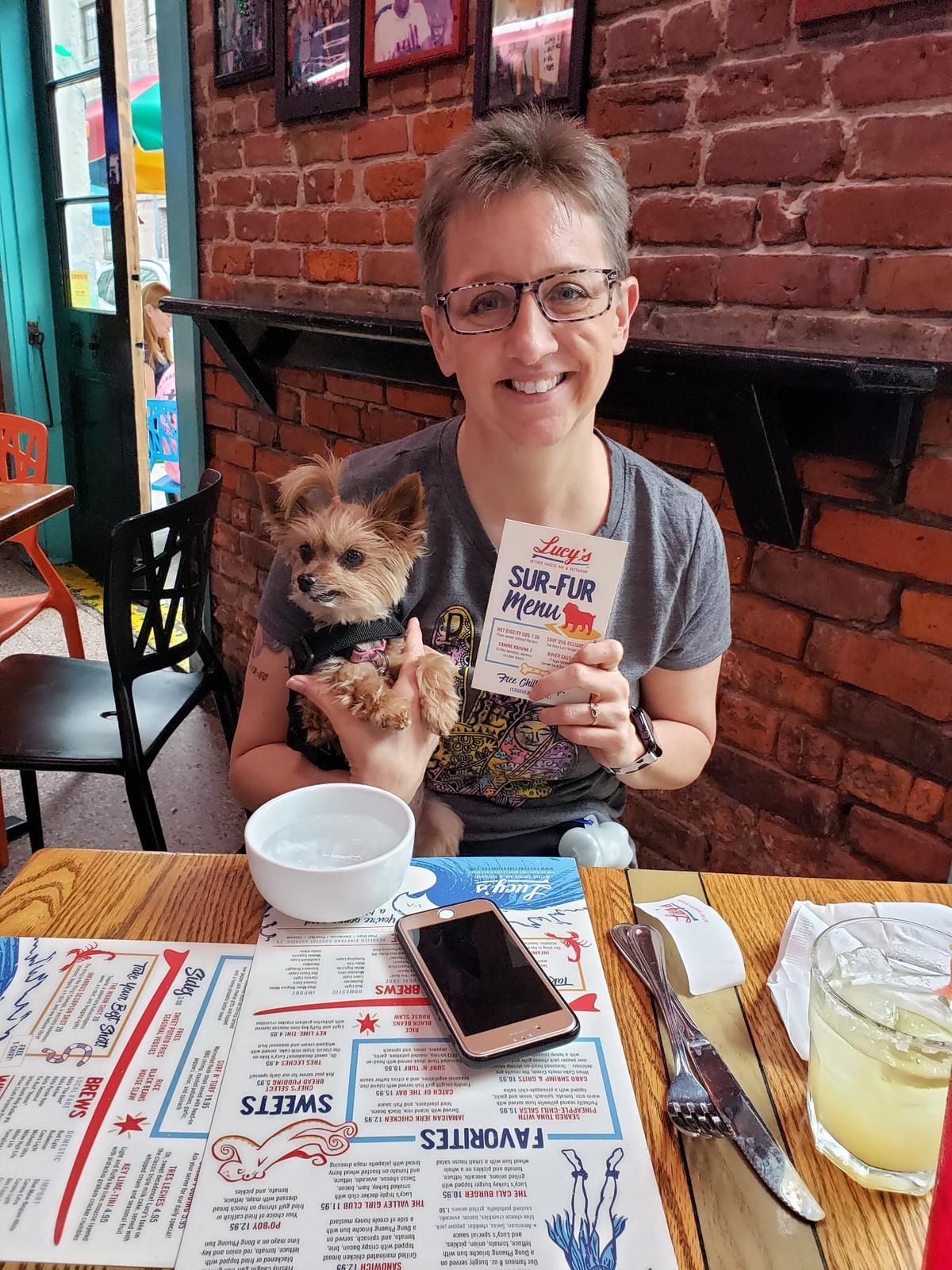 Feed Fido at Lucy's.Photo by Gabrielle
11 a.m. Lucy's Retired Surfers Bar & Restaurant
Lucy's Retired Surfers Bar & Restaurant is easily among the most pet-friendly restaurants in the city. The extra attention given to Fido includes a Sur-Fur Menu with options like hot dogs, burgers and chicken breast for canine customers. They're also the only restaurant in N'awlins with a brunch option just for pups: the Rover Easy (two scrambled eggs), served only on weekends. Best of all, it won't break the bank, as nothing on the doggy menu costs more than $2. For humans, brunch choices range from loaded salads to breakfast burgers to the Serious Brunchos, a heaping hangover helper of nachos smothered in black beans, scrambled eggs, bacon, sausage, ham, shredded cheese, sour cream, guacamole and queso. Wash it down with bottomless hair-of-the-dog mimosas or bloody marys.
Meet new friends in the park.Photo by @billy.corgi
1 p.m. Woldenberg Riverfront Park
Burn off some calories on a walk with your leashed four-legged friend along the Mighty Mississippi at Woldenberg Riverfront Park. Watch as ships float by and stop to appreciate the sculptures located in the park, like the New Orleans Holocaust Memorial. Enjoy walking along the wide brick walkways with public art and the New Orleans skyline as the backdrop.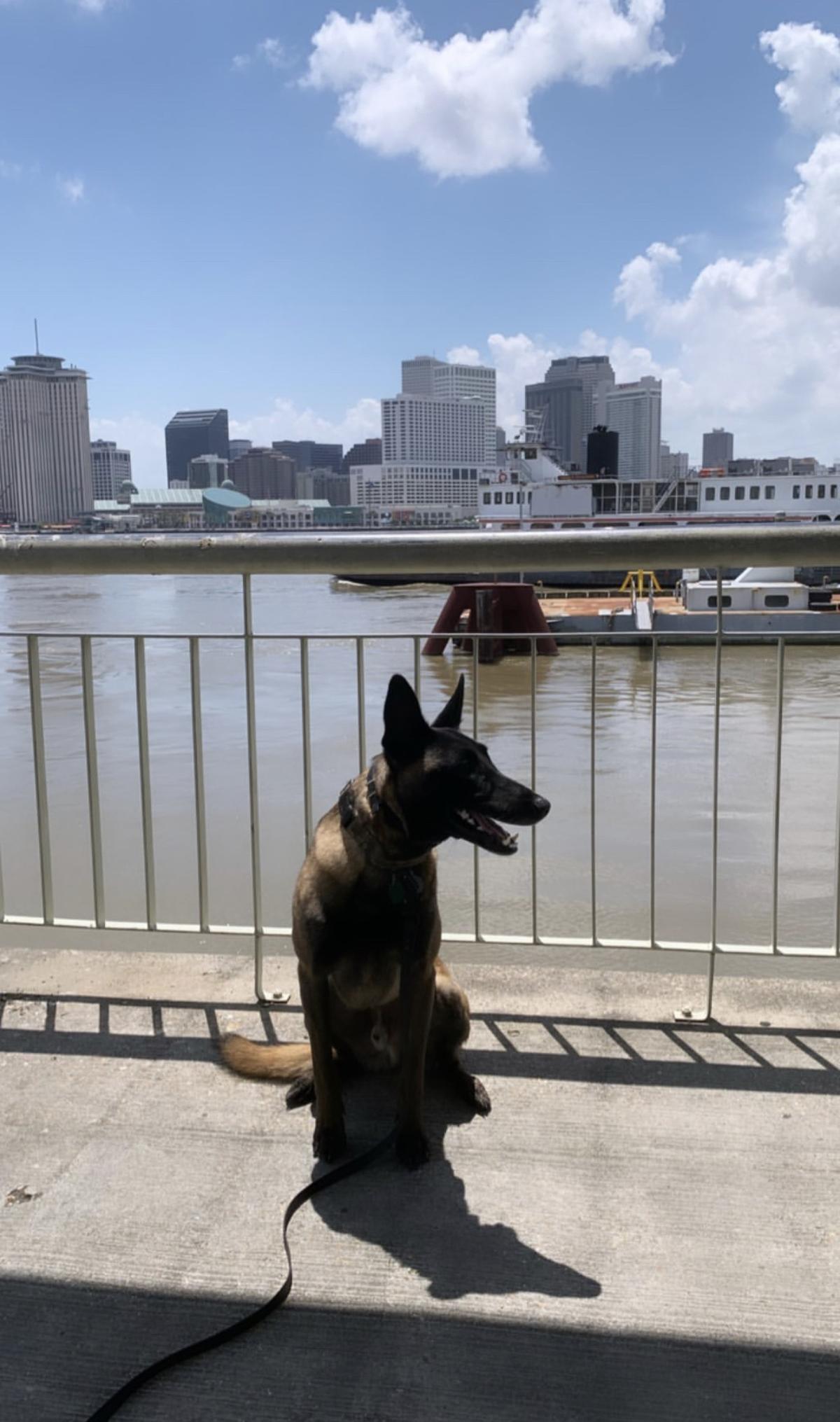 Don't let the ferry pass on bayou.Photo by Lynda
2 p.m. Algiers Ferry
From the Canal Street Ferry Terminal, take the dog-friendly Algiers Ferry across the Mississippi. Fido will enjoy feeling the wind in his fur as he is transported to the Algiers Point neighborhood. The ferry departs Canal Street every 30 minutes. Admission for pedestrians on two legs is $2 and free for those on four.
"I'll have another shot of water. Make it a double!"Photo by Facebook.com/CrownandAnchorEnglishPub
3 p.m. The Crown and Anchor
During your exploration of Algiers Point, stop in for a pint and a snack at The Crown and Anchor. This pub welcomes pups inside and out, so Fido can hang out while you sip on an Abita Select Amber and nosh on some imported English crisps.
Who dat pretty pup in the park?Photo by @snow.the.maltipoo
5 p.m. Lafayette Square
On your way back to the hotel to relax before dinner, stop by Lafayette Square to walk the dog. Take in the natural beauty of New Orleans right in the heart of the Central Business District as Fido does his business. If you're lucky, there might be a live music event going on during your visit.
"I can haz crawfish bread?!"Photo by Facebook.com/ChartresHouse
7 p.m. Chartres House
Your pup will be treated like a special guest at Chartres House during dinner. The staff will happily bring a water bowl for your furry friend while you dine on local Cajun cuisine. How about some chargrilled oysters, fried alligator or Natchitoches meat pies as an appetizer? For your main course, will it be Creole Red Beans and Rice, Blackened Redfish, Crawfish Étouffée or Blackened Gulf Shrimp and Cajun Jambalaya? Whatever you choose, you're sure to get a bite of bayou flavor.
Let the good times roll (over)!Photo by Facebook.com/BulldogMidCity
9 p.m. Laissez Les Bons Temps "Rover"
Have a drink before you call it a night at dog-friendly nightlife spots like The Bulldog or Miel Brewery and Taproom, both of which welcome your pup outside. If you're in the mood for a local craft beer, Miel Brewery and Taproom serves pilsners, saisons, stouts, cream ales and hoppy IPAs. The Bulldog is also known for its craft brew selection and has more than 40 beers on tap.
Sunday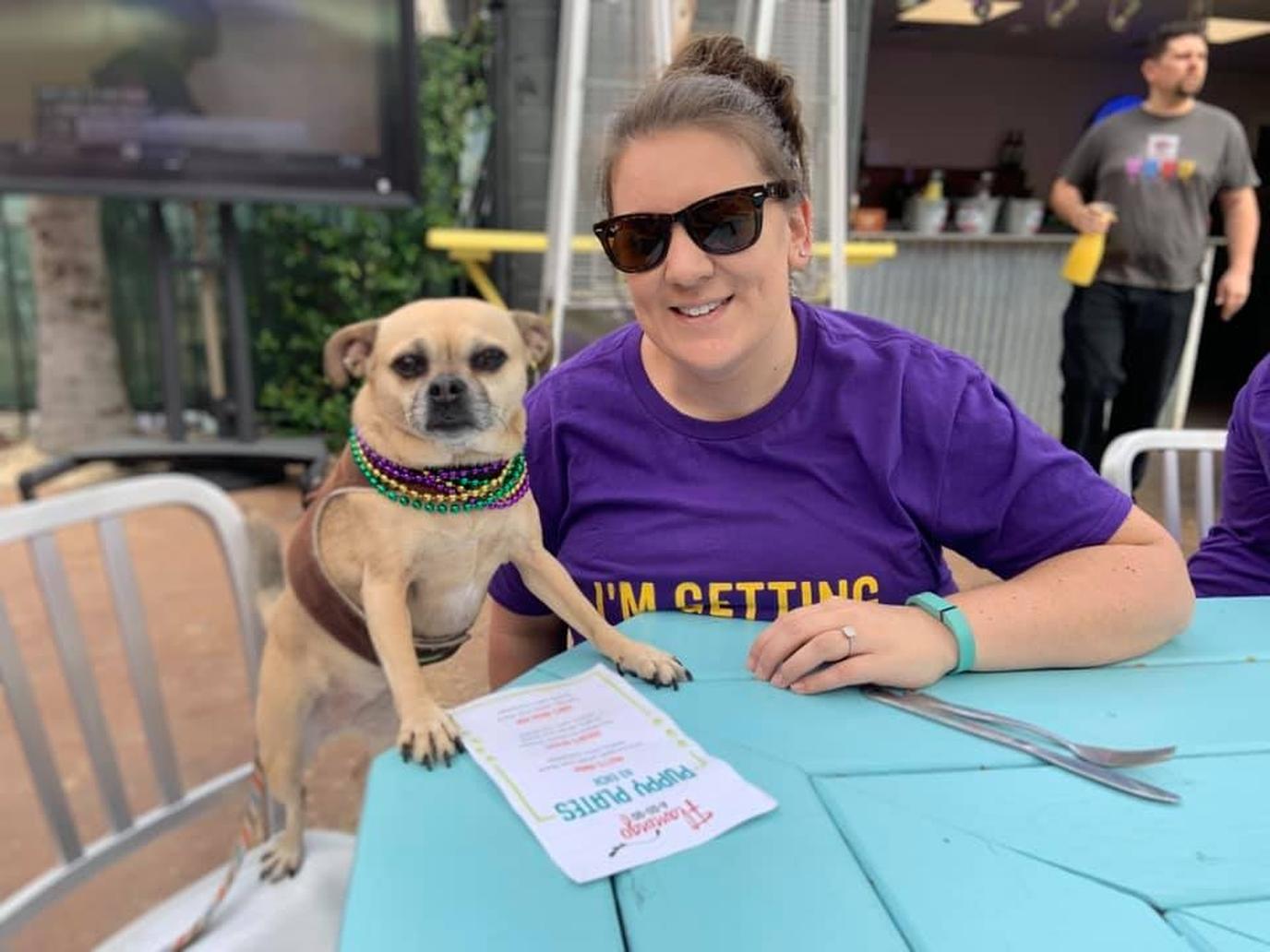 Get your Chug a puppy plate on the patio. – Photo by Melissa Halliburton
10 a.m. Flamingo A-Go-Go
Dogs are welcome in the courtyard and have a menu dedicated just for them at Flamingo A-Go-Go. Treat your canine companion to Mutt's Mash, Doggie's Delight or Fido's Fresh Fish for just $3. The human menu has selections like Bacon, Egg and Cheddar Flatbread, Very Berry Waffles, Guacamole Toast and the All-American Breakfast Burger. Bottomless sparkling rosé and mimosas are on offer for $12.
Don't be blue, dog.Photo by Rodrique Studio
12 p.m. Gallery Rinard and Rodrique Studio New Orleans
Visit two pet-friendly art galleries in the French Quarter. Check out the whimsical paintings of dogs and cats alongside vibrant abstract art at Gallery Rinard. At Rodrique Studio New Orleans, view the artwork of George Rodrique, the late Cajun artist best known for his ubiquitous Blue Dog Series.
"Two burgers, one water and one beer, please!"Photo by Facebook.com/cosimosbar
2 p.m. Cosimo's Bar
Grab a quick and affordable lunch at Cosimo's Bar before leaving the French Quarter. This dive bar welcomes four-legged guests inside while their owners have a drink and a bite to eat. The small menu features surprisingly good pub grub, like chicken wings, cheese fries and pizza, that pairs well with an ice-cold beer or spicy bloody mary. Try one of Cosimo's popular burgers with an order of onion rings. If you can resist the temptation to scarf it all down, save a bite for your good boy. Or, split an order of "healthy" fried green beans with him.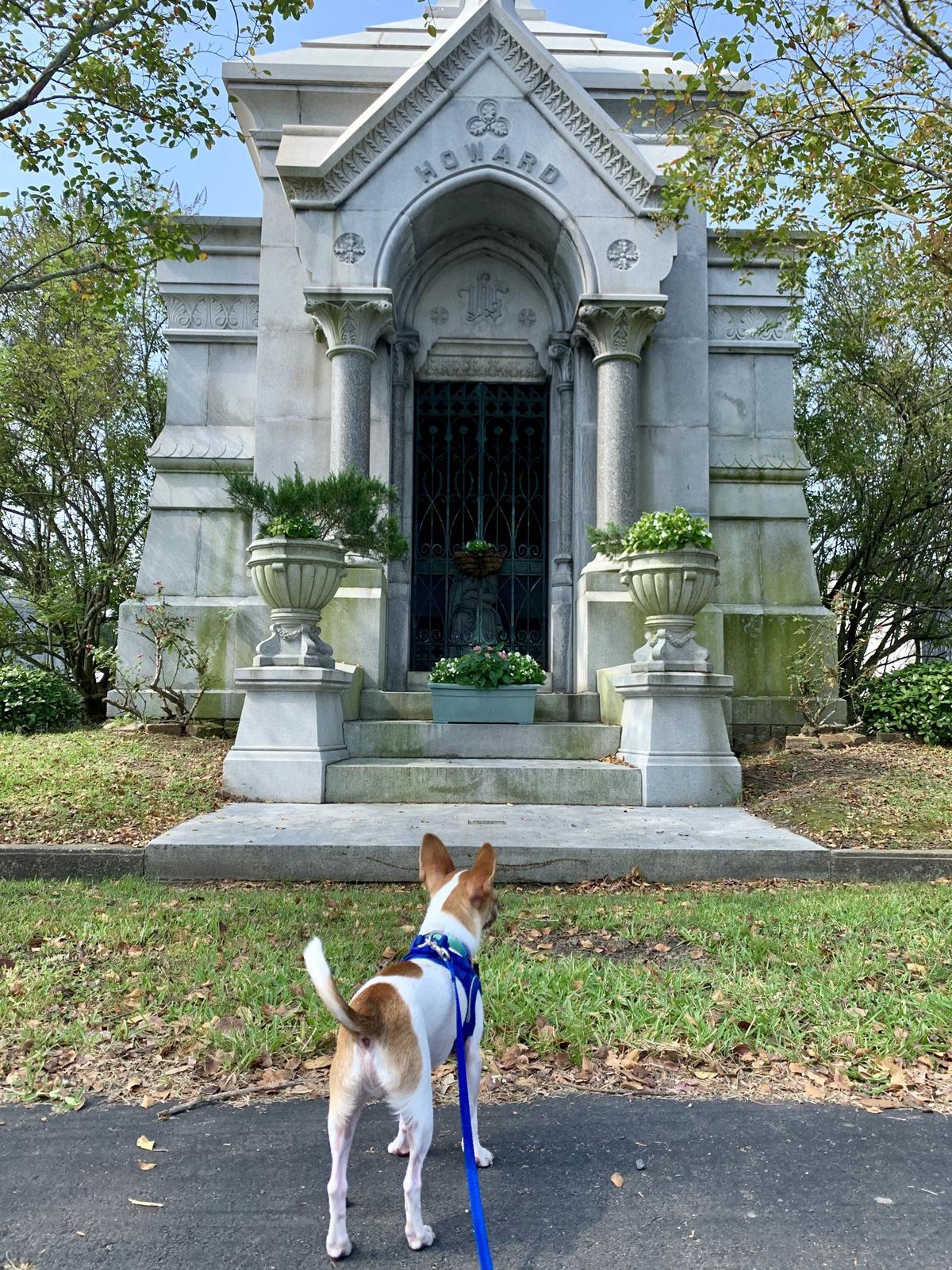 Let Fido stretch his legs at this cemetery.Photo by Jennifer
2 p.m. Metairie Cemetery and Depart New Orleans With a Dead-Tired Fido
Make one last stop before you leave New Orleans at Metairie Cemetery, which contains 9,000 tombs dating as far back as the 1800s. Explore the ample grounds with your leashed dog so he can get plenty of exercise and be ready to rest and dream of your return to dog-friendly NOLA.
This post from BringFido originally appeared as A Weekend in Dog-Friendly New Orleans.