As pet owners, it's our responsibility to find activities that we can enjoy with our furry friends. Just like us, dogs dread the heat, too. Instead of leaving them at home or hiring a dog sitter, help your favorite canine companion cool down in this heat by bringing them to dog-friendly beaches even on a trip. Nothing beats playing with your pup along the seashore (maybe with a ball, a bone, or a frisbee?) and enjoying nonstop dog-friendly dates all day!
The Land Down Under has established a distinct identity over the years that sets it apart from other countries. When we think of Australia, we always think of its natural wonders, its diverse selection of flora and fauna, and its sprawling city landscapes. Maybe you're a fan of seeing wallabies and kangaroos, or you're the type to visit iconic Australian landmarks like the Sydney Opera House, the Sydney Harbour Bridge, and even the Great Barrier Reef! There are just so many things to do in this wonderful country that you would want to get lost while exploring its beautiful tourist attractions!
But did you know that local Aussies are also extremely proud of their idyllic, dog-friendly beach destinations? When we think of beaches, we often think of many euphoric destinations worldwide — but nothing beats the fine weather and sands of Australia.
TALLOW BEACH (Byron Bay, NSW)
Located near Byron Bay, Tyron Beach is an excellent and large location to soak up the sun with your pooch and do fun activities like bird/whale watching, swimming, and surfing. As the sand stretches for 6 km, you will not run out of space to relax or play fetch — even during the summer. As such, if you live relatively near the area and enjoy white sand, you should most definitely consider Tallow Beach.
Tallow Beach is not only a haven for your pooch to play, it can also be a place for it to meet other dogs! The beach will likely have lots of doggies who are strolling along or playing with their pawrents!
SIRIUS COVE BEACH (Mosman, NSW)
How can we even begin to describe Sirius Cove Beach?
This secluded paradise is located in the Northern Cape of Sydney Harbour, and it's sure to provide absolute bliss for your canines. This dog-friendly beach welcomes off-leash pooches to play for hours with their owners, so you have to be prepared when your pooch comes racing at you! Sirius Cove Beach also boasts tons of grassy land behind the rolling surfs, so your pups can play around with their toys while you relax with your family in the picnic area!
PEASHOLM STREET DOG BEACH (Scarborough, WA)
Many local Aussies say that Peasholm Street Dog Beach is a crowd favorite amongst their pups. Located just south of Scarborough in Western Australia, this dog-friendly paradise is praised for its clear waters and fine sands. As soon as your pooch arrives and glances through the open stretches of the ocean, it will immediately wag its tail when it sees other dogs enjoying the waters!
Peasholm Street Dog Beach is a fine choice for any dog personality — and if your dog goes thirsty, you can just walk over to North Floreat Beach where he can enjoy potable freshwater! Simply put, Peasholm Street Dog Beach is a gem for a vacation with your pooch.
CULBURRA BEACH (Culburra, NSW)
Located 185 kilometers south of Sydney, Culburra Beach is another renowned dog-friendly beach destination in the New South Wales region. It is situated on a peninsula and surrounded by a river, lake, and ocean, which makes it a unique place to be during the summer! The majestic Culburra coastline not only features the finest sand dunes and crystal clear waters, but offers an abundance of outdoor water activities. You can go surfing, kayaking, or paddle boating, among others!
Do note that the Culburra beach staff only allows pooches to roam the beach without a leash from 4 pm to 8 pm, so plan accordingly! These are the best hours for a game of fetch with your pet while savoring the white Culburra sands!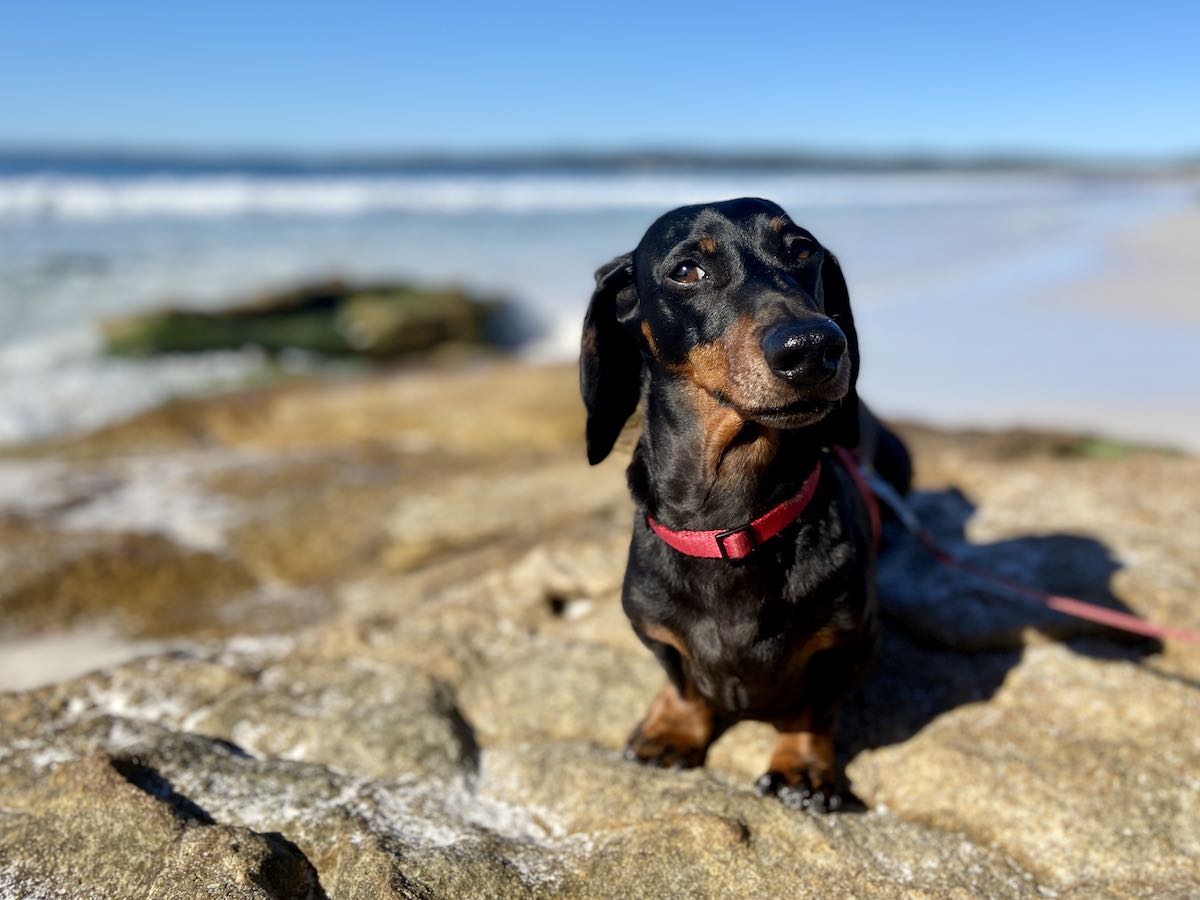 HYAMS BEACH (Jervis Bay, NSW)
Hyams Beach is a gem located on the shores of Jervis Bay, less than 3 hours away from Sydney. It's definitely a tourist hub, especially for those visiting Australia for the first time because it boasts having the "whitest sand on earth". A wide array of activities can be enjoyed much like other beaches, including whale and dolphin watching.
As this beach gets crowded with different kinds of tourists, dogs are allowed but must be on a leash at all times. Not to worry because there still are many activities your pup can enjoy on a leash. Nonetheless, there are also nearby beaches that allow off-leash dogs like Nelsons Beach, less than a minute drive from Hyams Beach.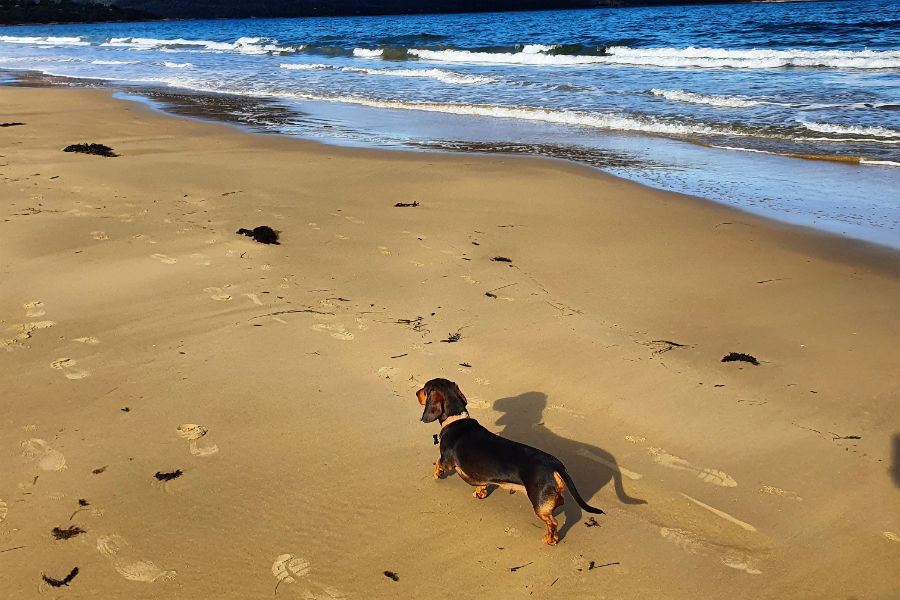 MUIRS BEACH (Coles Bay, TAS)
Having the "cleanest air in the world" is one of the main reasons why Tasmania is an iconic Australian location, but this fun fact doesn't even begin to define the true  beauty of the Apple Isle. If you are fortunate enough to visit the Tasmanian coastlines on a summer vacation, we recommend that you check Muirs Beach in Coles Bay. It features excellent sand patches and a long coastline that makes it the perfect place for a walk!
Muirs Beach proudly accepts your four-legged friends at any time of the day, but you can also enjoy the windsurfing and boogie boarding activities there!
ALTONA DOG BEACH (Melbourne, VIC)
Melbourne might be known for being the cultural capital of Australia (the music, art centers, and museums are awesome!), but it also has its fair share of beaches that are perfect for your dog to have the ultimutt summer experience!
If you happen to be in Melbourne and you're dying for a relaxing vacay by the beach with your pooch, look no further: Altona's Dog Beach is your place! This beach was specifically made with our canine companions in mind because the entire beach is a completely off-leash area! Altona is certainly the best place for your pet to socialize with other dogs and dabble around the beach's fine sand patches and sparkling blue waters!
For dog owners, a bunch of sports activities also await! The beach is located near the Altona Sports Club if you fancy playing a round of indoor bowling, cricket, or bocce. If you're craving for a little adventure off the beach, you can also explore the Bay Trail West shared path or the mouth of the Kororoit Creek, where you can find beautiful mangroves!
PALM BEACH (Gold Coast, QLD)
Palm Beach is a stunning 24-hour beach, ideal for pet parents without much time in their hands. Locals and tourists agree that Palm Beach is one of the best dog-friendly places because the off-leash rule stretches until Currumbin Creek, another popular destination. The whole area has signs which indicate leash rules, so being mindful would help. Assess your dog's personality, if they can wander off-leash.
Among owners, water activities are the most popular in this area — whether dog paddle or surfing. A trip to the Golden Coast is the perfect opportunity to do dog-friendly dates, combining family time without compromising your pet's needs. You can also check out these dog-friendly beaches in Europe and the United States.