Halloween is coming around the corner! If you like celebrating Halloween, then you probably already have a few costume ideas for your dog. The world is filled to the brim with unique characters, iconic myths, and even simple inanimate objects that you can use for some of the most creative costumes to wear. If you're looking to step up your costuming game from last year or looking for some inspiration for this year's costume then you've come to the right place! Check out these great costume ideas for Halloween in 2021.
Quick side note, not every dog enjoys dressing up. Some dogs have no problem wearing funny outfits and costumes. But some dogs might not respond well to wearing something they're not used to wearing. Just make sure that your dogs are comfortable wearing costumes and that it doesn't cause them any stress or discomfort.
1. Superhero Costumes
Marvel, DC, Image comics you name it! Superheroes are all over the place nowadays and that's not a surprise. Superhero movies have dominated the Box Office every year for the past decade and with each new release, superheroes get more and more renowned. With the popularity of the recent Marvel T.V. shows, the choice of costumes has become wide. With that in mind, you're sure to catch the attention of visitors when you choose to dress up your pooch as Captain America, Batman, the Hulk, or even Rocket Racoon. You can even match with your dog by choosing a dynamic duo like Batman and Robin, Green Arrow and Speedy, or Superman and Krypto; with so many characters to choose from you'll never run out of ideas.
2. Other Animals
If you're wearing costumes only once a year you might as well make the most of it, right? Dressing up your dogs in other costumes is always cute and funny. It also lets you pretend you have your other favorite animals as pets. The world is full of adorable and unique creatures, so feel free to run wild with funny ideas when it comes to dressing up your dog like other animals. Maybe turn them into ferocious animals like bears or sharks, maybe give them a mane and start calling them Simba, and if you think you're really funny you can dress them up as cats for Halloween.
3. Unorthodox Costumes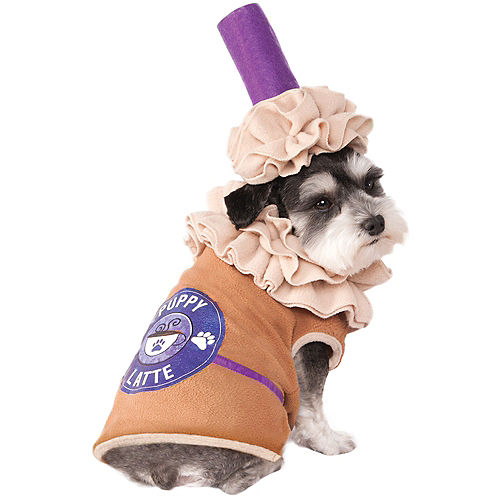 From scary monsters to cute fairies, Halloween is a great time to dress up as anything you want. But when it comes to doing something hilarious it might be funnier to wear something out of the ordinary. Go all out when making or buying a costume for your furry friend. Make a milk carton that says missing at the top, a Starbucks Frappuccino (or rather Puppuccino), a red fire hydrant, a salt & pepper shaker for those who own two dogs, or even the tried-and-true hot "dog" costume.
4. Video Game Characters
The average gamer has seen their fair share of dogs in video games ever since the medium rose to popularity. There are many beloved dogs in video games like the canine-headed Nasus from League of Legends, the stylish Amaterasu from Okami, or the talented K.K. slider from Animal Crossing. But using costumes from characters that are already dogs might be too easy for you. If you want to have a bigger creative challenge, many iconic video game characters are easily recognizable in 2021. You can be Ash and Pikachu from Pokemon, Master Chief from Halo, Doom guy from Doom, or any of your favorite video game characters if you're an avid gamer yourself.
5. Myths and Legends
Dressing up as new characters from movies, games, T.V., or comics might not be up your alley. But if that's the case, then why not go back to the classics? There are plenty of dogs in mythologies and legends like Anubis, Fenrir, Inugami, and of course Cerberus. There are plenty of funny and creative Cerberus costumes out there that you might like to see your dog wear. But why stop at dogs in myths and legends when you can dress them up as other fictional creatures? Dress them up as dragons, sea creatures, or even great unknowable eldritch creatures just for the fun of it.
6. Iconic Monsters
Admittedly, it's not the most original costume idea, but that doesn't mean you can't spice things up. There have been many different interpretations, variations, and designs for many classic horror icons like Jason Voorhees, Michael Myers, Freddy Kruger, etc. so pick your poison. But if you're not into old slasher movie characters you can always try some newer monsters. 2021 is filled with a boatload of scary monsters to choose from like the Demogorgon dogs in Stranger Things, Annabelle from the Conjuring franchise, or one of the scary killers from the latest Fier Street movies.
7. Kids Show Characters
What if you don't want to do anything scary this year, maybe you want to try out something more kid-friendly? Children's shows are great for costumes and keeping things PG in the house if you're worried about that. There are plenty of classic kid's show characters that can be a great dog costume idea. With characters like Blue from Blue's Clues, Clifford the big red dog, members of the Sesame cast, or maybe you can be Dora and your dog can be Boots from Dora the Explorer. There are also newer shows like the Trolls from Trollhunter or Zym from The Dragon Prince. There are plenty of characters to try whether you're buying costumes or making them yourself.
 8. Quick DIY Costumes
This one's for the crafty ones out there, there are plenty of ways to make a comfortable costume at home with the right equipment. You don't even need to buy any expensive fabric, if you have a couple of boxes laying around you can make a few fun costumes with cardboard boxes or other household items you won't miss. With enough creativity, you can turn a cardboard box into any costume possible. Here's a dog costume idea: make a school bus, a spaceship, or even an Autobot or Decepticon from Transformers. Making quick DIY dog Halloween costumes can be great for your creative outlet while keeping costs way down.