Hollywood may be home to the biggest movie and TV stars we have ever seen. From the likes of Tom Hanks, Meryl Streep, and Leonardo DiCaprio, Hollywood has been the definition of the glitz and glam of celebrity spotlight. However, we will be talking about a different group of Hollywood stars today— famous celebrity dogs!
These adorable pooches have stolen our hearts both on the big screen and TV, and we cannot help but list our favorites down for you guys! Warning: cute dog and puppy post ahead!
1. Beethoven
Beethoven is a movie about a Saint Bernard who barrels his way into the Newton family's home and eventually their hearts. He is huge, clumsy, and makes a mess of everything he touches, but ultimately he earns his place. Kris, the dog actor who played the titular Beethoven, was just as big and klutzy as his character. The lovable 200-pound softy starred in the first two films of the franchise before living out the rest of his days with his trainer's father.
2. Air Bud
Buddy The Wonder Dog is most known for playing the basketball-scoring family dog in the movie Air Bud. But many people don't know that this famous Golden Retriever also had guest spots on The Late Show with David Letterman and in TV shows like Full House. Buddy had a long stellar career but was diagnosed with cancer after "Air Bud" wrapped shooting. Hollywood insiders say Disney kept the diagnosis a secret to avoid upsetting kids. Buddy the Wonder Dog passed away in February 1998, survived by nine puppies.
3. Lassie
Did you know that Pal, the iconic Rough Collie who played Lassie, was initially rejected because the director wanted a female dog? He was cast as a stunt dog, but the producers changed their minds once they saw his star potential. Pal ended up signing a contract even bigger than his co-star Elizabeth Taylor's. He went on to star in six more Lassie movies and two TV pilots.
4. Benji
Before landing the role of Benji, Higgins the Mutt already starred in six seasons of Petticoat Junction and cameos in Green Acres and Beverly Hillbillies with the help of his trainer Frank Inn. The two were incredibly close. Frank wrote poems for Higgins and had the pup cremated after its passing in 1975.  Upon Inn's request, when he died 27 years later, Higgins' ashes were put in his coffin.
5. Petey from The Little Rascals
Remember Petey the pit bull with the circle around one eye on the original Little Rascals TV Show? He was played by Pal the Wonder Dog. Here's a trivia you probably hadn't heard before: Petey actually had a partial circle on his right eye. Instead of covering it up, the producers used dye to complete it. He also had a son named Pete who took his place on the show when he finally retired. They also had to draw a circle on his eye that continued in every future remake of the franchise.
6. Old Yeller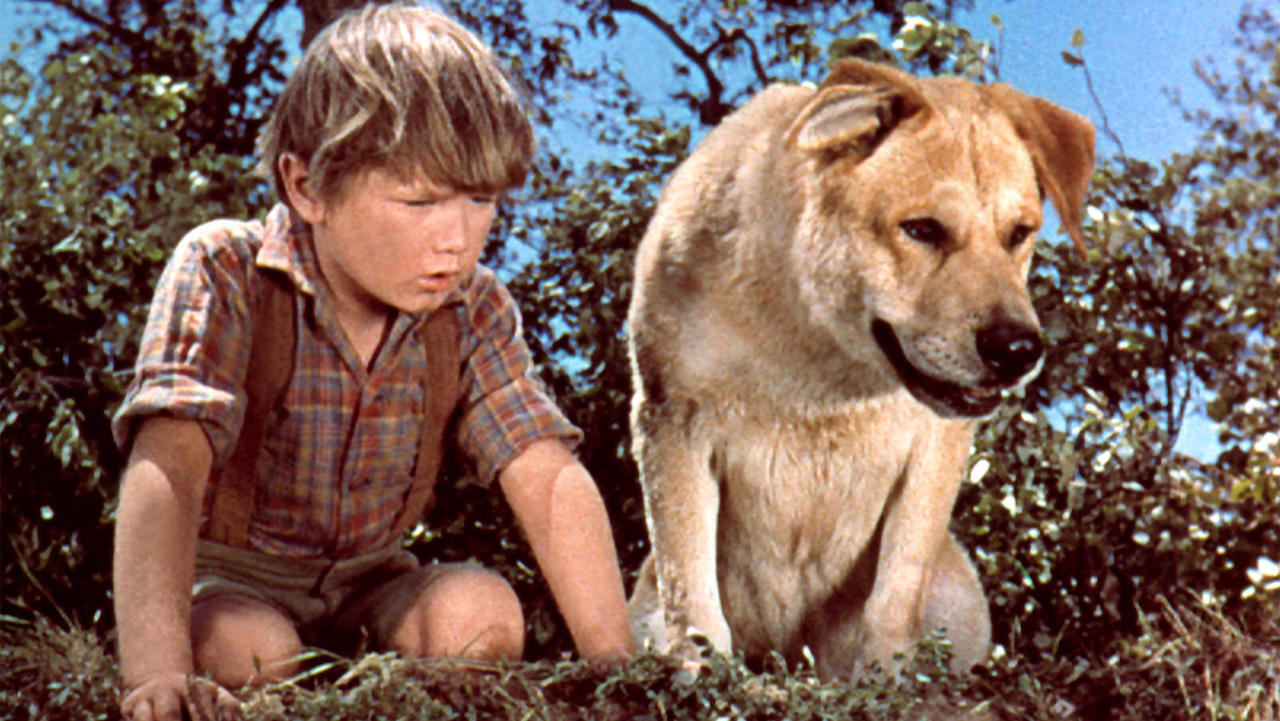 Old Yeller was played by a lab/mastiff named Spike who was trained by the famous Weatherfax family of trainers. An interesting thing happened during his audition: Spike's gentle and loving demeanor got in the way of his character's vicious nature. Thank goodness the producers gave him another shot and that was the catalyst for his long career in Hollywood. Rumor has it that he was buried at sea after he died.
7. Rin Tin Tin
Rin Tin Tin is arguably the most famous movie dog of his time, considering his impossible beginnings. The German Shepherd was found by an American soldier named Lee Duncan in an abandoned and destroyed kennel in World War 1-era France. Historian Susan Orlean argued that Rinty's massive success was thanks in part to the fact that he acted in the era of silent movies. That meant his human co-stars couldn't use their words to upstage him. Rinty appeared in 27 Hollywood movies in his lifetime. Read more about Rin Tin Tin here.
8. Toto from The Wizard of Oz
Cairn terrier Terry had a career that most human actors die with envy. Her first feature film was Bright Eyes alongside Shirley Temple. But we remember her most in the role of Toto in the iconic American film, The Wizard of Oz, with Judy Garland. A life-size sculpture of Terry can be found at the Hollywood Forever cemetery today.
9. The Taco Bell Dog
If you were around in the 90's you should know who Gidget the Chihuahua is. This dog became wildly famous after appearing in Taco Bell ads. Her catchphrase of "Yo Quiero Taco Bell!" gave her the privilege of flying first-class and opening the New York Stock Exchange. When the campaign ended, Gidget found acting roles in Hollywood movies too.
10. Marley from Marley in Me
Clyde, the mischievous yellow Labrador Clyde in Marley and Me is a "method actor". He didn't have to stretch his acting skill to create all the chaos shown in the movie, because he is a natural troublemaker. In fact, one of the funniest and memorable parts of the movie was improvised: Clyde began peeing all over a coffee table. Instead of getting mad, the director decided to include that moment in the final cut of the movie.
11. Uggie from The Artist
Jack a.k.a Uggie is the Jack Russell terrier who starred in the 2012 Best Picture "The Artist". As a puppy, he was pound bound before a successful animal trainer adopted him. A decade later, he would become the first dog to join the Hollywood Walk of Fame. He did such a great job in the movie that fans launched a "Consider Uggie" campaign to try and urge Hollywood to nominate him for an acting award. He didn't get nominated, but he eventually wound up onstage at the Oscars when his co-star Jean Dujardin accepted his own best actor award.
12. Bruiser from Legally Blonde
Moonie played Reese Witherspoon's pet chihuahua Bruiser in Legally Blonde. He was so famous that he got to attend exclusive A-list events, like the unveiling of Witherspoon's star on the Hollywood Walk of Fame. He lived to the age of 18. Talk about a life well-lived!
13. Scooby-Doo
Scooby-Doo was first introduced by writers Joe Ruby and Ken Spears in 1969, and since then, he has been one of the most popular dogs to ever grace the TV and big screen. The TV series "Scooby-Doo, Where Are You!" has been hailed as a classic for its mix of comedy, adventure, and horror, and this success will not be possible without the Great Dane Detective himself! While Scooby-Doo can't exactly communicate, his iconic partnership with Shaggy and the rest of the Mystery Machine gang will forever go down in history as one of the best of all time.
14. Pluto
Since his debut in 1930, Pluto has had many cartoon variations and has been in countless films and comics. This lovable, loyal, and famous celebrity dog was based on the dogs that a young Walt Disney met while growing up in Marceline, Missouri.
There are many other famous celebrity dogs who are worthy of making this list, but these adorable pooches surely take the cake for us! Even famous celebrity dog owners can't argue that dogs can become as big a star as them.