The world is slowly opening up and travel is allowed again, we're sure that you are more than ready to dust off those suitcases and hit the road! Whether you got a new dog in the last couple of months or have always had one, we know that not being able to bring them out as much hasn't been fun.
Now, you're probably wondering how to travel with a dog and what to put in your pet travel kit.  Most especially with the new protocols and travel restrictions in place making it harder to fly with dogs, we recommend going on road trips instead. It's a lot of preparation, but don't worry, we've got you covered!
If you're a driver, you would always be reminded to keep your seatbelt on during the entirety of your trip, or deploy safety airbags should there be an accident about to happen, but what about our dogs? Car manufacturers haven't exactly thought about keeping our loyal companions safe inside the vehicle, so let's take a quick look at these dog training tips for car safety and traveling with your dog.
A survey conducted by the American Automobile Association recently concluded that a whopping 84% of Americans travel with their pets in the car, but only 16% have been using the proper safety constraints for them. With the average number of car accidents in the US at 6 million per year, there is a very high possibility that pets (specifically canines) have either been killed, injured, or left in a state of shock for long periods. It is for this reason that many dog rescue groups and charities have been urging citizens to invest in crash-tested car safety products for their furry companions.
If you ever want to bring your pooch to your next road trip, some basic dog training tips can be implemented to keep them well-behaved in the car. As an owner, your priority is always your dog's safety in the vehicle. Remember, a good boi is always a safe boi!
Make space for a car divider or purchase a back seat barrier
A surefire way to keep your dog safe is by assigning a dedicated space for him in the car. Station wagons or SUVs with dividers between the back seats and the trunk are perfect for road trips with your doggies to keep them contained at all times. You can even install a back seat barrier if you have a large pooch that struggles to maintain its cool when restrained in the vehicle.
Let's face it: not all dogs can keep themselves behaved for the entire duration of your drive. Some get random panic attacks, while others experience some form of carsickness. Because of these issues, a good back seat carrier can definitely help make traveling a little easier (and a lot safer!) for your pet. Back seat barriers typically have three major types: a net barrier, a cage barrier, and a hammock. While slightly different in material, all three types offer the same benefits for your pooch's safety. You simply have to ensure that your back seat barrier is appropriate for your dog's size and general temperament!
Pro dog training guide: Ensure that the back seat barrier is properly installed before you start your drive.
Purchase a handy doggy crate
If you know your dog has a calm and confident demeanor, you can even take it up a notch by purchasing a comfortable dog crate! These comfortable doggie crates are perfect for any size, as long as you can determine the right fit for your pooch. Purchasing the appropriate crate for your doggie will ensure he is safe and warm during the car ride. After all, the dog crate will be your pooch's den of tranquility and relaxation in the vehicle.
There are several ways to determine the perfect doggy crate for your canine, but dog size, the potential for growth, and behavior inside the vehicle are good questions to ask for starters! Most newbie owners would look at wire dog crates for their initial purchase, primarily because these crates can house almost any dog regardless of size and personality. However, we recommend that you take a peek at furniture-style crates or soft crates, especially if your dog is a miniature type! Finally, you can consider investing in a heavy-duty dog crate if your dogs are big bois! Rottweilers, American Bulldogs, and Akitas are just some examples of doggos that need a strong crate to keep them intact during the entire drive, so make sure you install a durable one!
It is your responsibility as an owner to make sure that your pooch would fit right in its doggy crate, but it can be a daunting task. If you ask yourself the right questions and purchase the perfect crate for your pooch, you won't have to worry about anything and you can just focus on your drive. If you're a new owner, you might want to check out these gift items you might need for training and traveling with your pup.
Install a doggy harness
A harness seat belt for dogs can be a good idea…or it can be an absolute disaster. This predicament is the exact reason why dog harnesses exist in the 21st century. Harnesses work wonders when your dog has a naturally calm attitude or has significant training experience, because there is a possibility that they might get tangled and struggle to breathe with the harness wrapped around them.
Doggy harnesses are a genuinely smart idea to help protect your pooch in case of a rare car collision. Most high-quality harnesses have undergone strict crash testing and include seat belt attachments for easy installment. For newbie dog owners, finding the appropriate harness can be a chore that requires some level of canine expertise. While a portion of that is true, you can opt to simplify things and ask yourself the following questions: (1) What is my dog's height and weight?; (2) What is my dog's usual behavior when placed on the back seat of a car?, and (3) What are some breed-specific tendencies that I need to take note of?
Asking these questions early on can help you avoid purchasing the wrong harness, which can subsequently cause neck and rib injuries caused by choking. If you want your pooch to have the best driving experience, the perfect doggy harness will keep it safe and warm.  Your dog will feel surely comfortable for the entirety of the drive!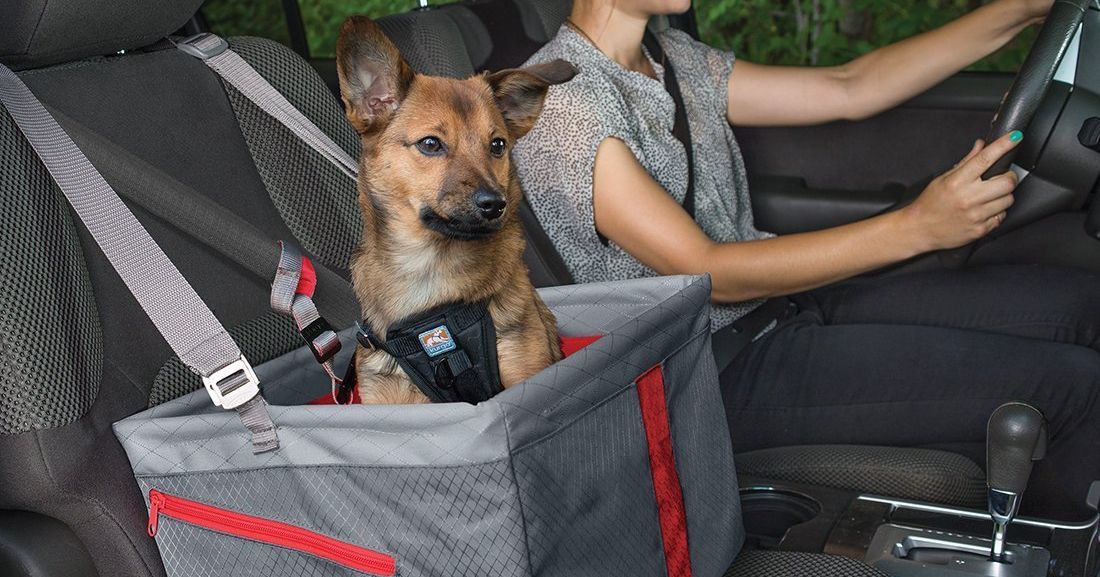 Purchase a plush Carry Box
As a complement to doggy harnesses, purchasing a plush carry box is likewise a superb addition to your vehicle if you want to take your pooch in the car with you all day. This cute vehicle accessory allows your pooch to enjoy an elevated view where it can see its owners and surroundings. As such, it certainly is ideal if you have a small-sized doggo that tends to be anxious during car rides!
Installing a plush carry box at the back of your car is quite easy: simply place the item on the back seat, put your dog in its harness, and then proceed to attach the harness to the carry box. If you're looking for a vehicle accessory that will keep your pooch ten times safer, plush carry boxes are surely for you!
Pro dog training tip: If you want a high-quality plush carry box for your furry friend, we recommend investing in a waterproof, thick carpeted box with anti-rust rings and mesh covers!
Let's face it: dogs are just as susceptible to severe injuries in car accidents. If we can follow this basic dog training guide and do what we can to protect our canines from harm in the car, we're surely in for a fun road trip.
Before you ride off into the sunset, here are a few things you need to consider :
Plan ahead of time and make sure that you have the proper documents for travel. It is also important to make sure that the destination you're planning on visiting is dog-friendly.
Bring your dog to the veterinarian for a checkup before going on an extended trip. Make sure all his vaccinations are up-to-date; take shot records with you. Health certifications are required for airline travel
Be prepared for an emergency, it's better than panicking. Find the number of the nearest 24-hour veterinary emergency hospital in the area of your travel. You might want to ask for your personal vet's emergency contact as well.
Create a checklist for your pet travel kit, so you no longer have to buy along the way.
If you do decide to fly instead of going on a road trip, the airlines that allow dogs, include Aegean Airlines, Air Canada, Air Europa, Air France, Alaska Air, American Airlines, Delta, JetBlue, Lufthansa, Southwest, United Airlines, & Vueling.
Prices and requirements vary for each airline. Please check before booking.
Traveling with your pet is the perfect opportunity for you to also take a breather.  We hope this guide on how to travel with a dog will make your future adventure with your doggo a lot less stressful! Check our other list of travel kit essentials for your doggo on the go.