BringFido's Guide to Spring Cleaning
8 Steps to a "Fur-esh" Home
Whether it's a ritual you eagerly anticipate or a chore you dread, it's the time of year to grab the mops and restock the supplies for a good old-fashioned spring cleaning. Before you dust off your duster, keep in mind that many of the products we use in our homes can end up getting into the mouths and onto the skin of our pets. Every time Fido grooms himself, licks his paws or snuggles up on the freshly laundered towels, he could be ingesting trace chemicals that may be toxic with repeat exposure. But don't throw in the towel just yet! To make the annual deep clean a breeze, we put together an eight-step spring cleaning plan using only pet-friendly cleaning products that are safe and non-toxic for your pup.
Step 1: Start With a Clean Fido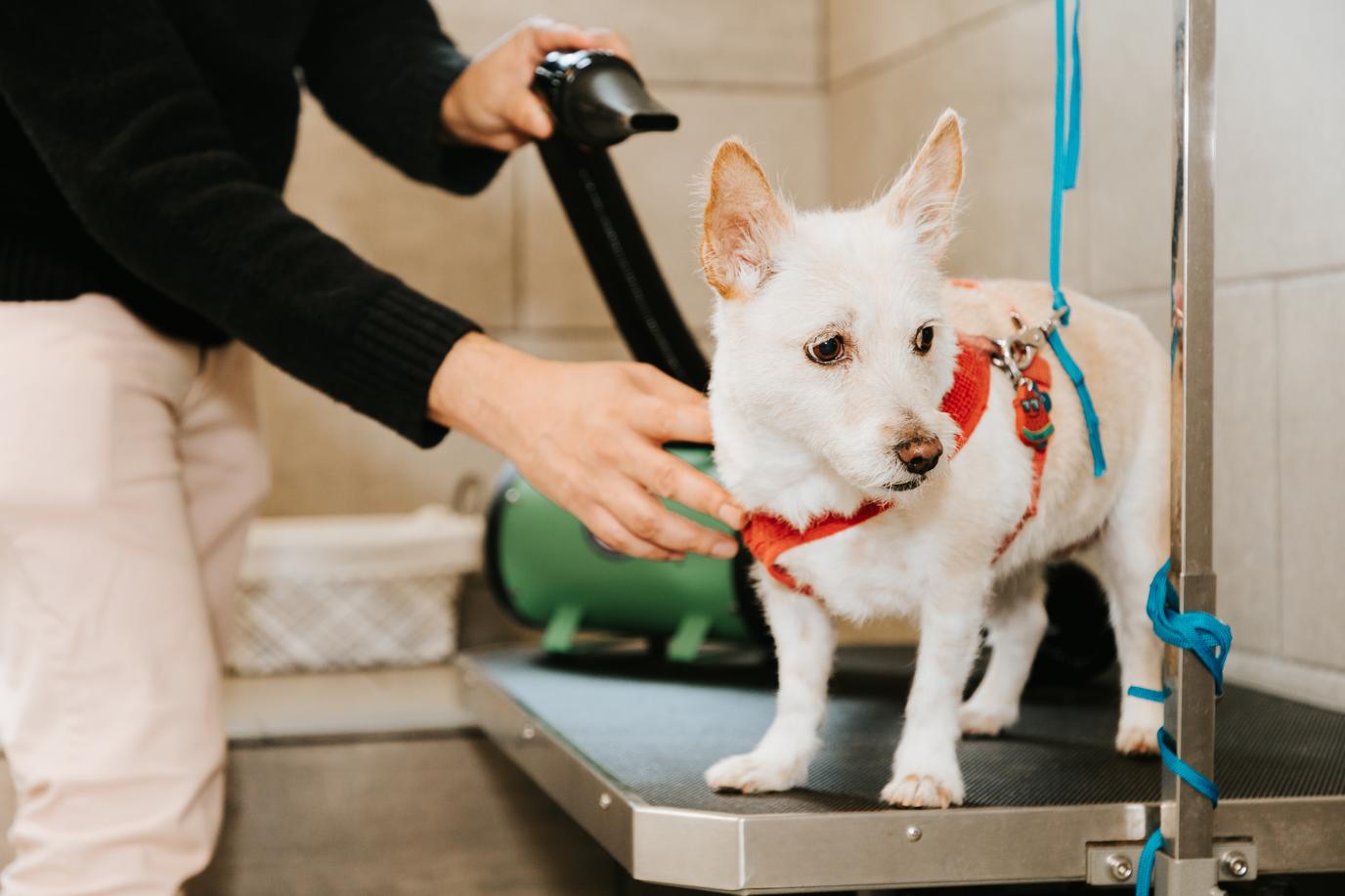 "You didn't tell me there would be a bath involved." – Photo by Beth Shoemaker Photography
After the doggone cold days of winter have cleared out, it's time for a spring cleaning for Fido. Wash away the winter blues with a soothing shampoo and conditioner that uses natural ingredients, like this Oatmeal and Aloe Vera Combo Pack. Get those toes ready for spring break vacations with a nail trim, and pick up a fresh toothbrush/toothpaste kit to keep his oral hygiene in peak health.
Alongside regular bathing and grooming, adding a dietary supplement with omega-3 fatty acids to his daily intake can also combat spring allergy symptoms, like dry skin, eye irritation and itchiness, from the inside out. Try these Super Pure Omega 3 Bite Size Chews from PetMeds.
Everything you need to provide a spring cleaning for your pup in the comfort of your home, from nail trimmers and brushes to dietary supplements for pets, can be found at PetMeds.com.
Step 2: Use a Top-Down Approach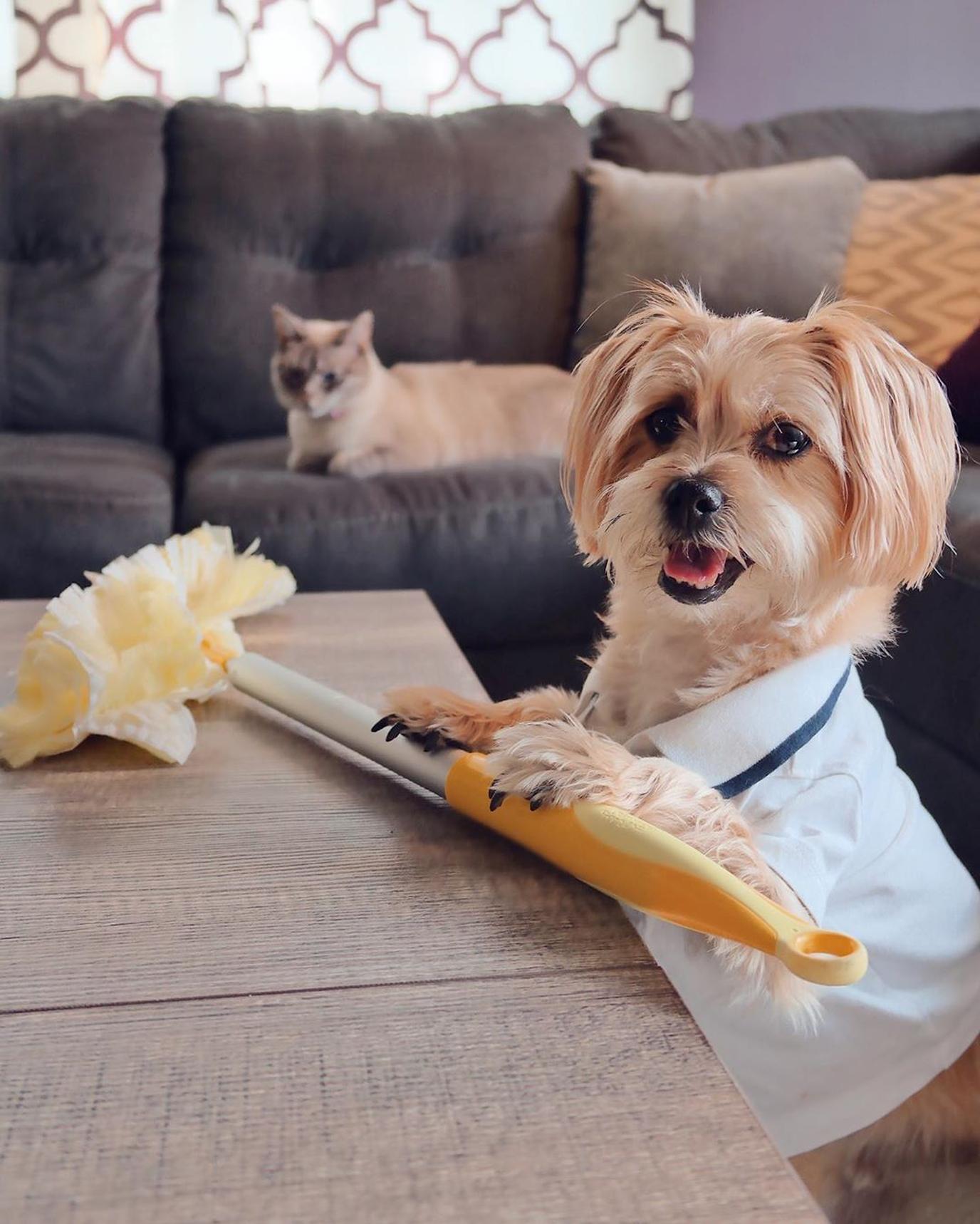 "Maybe this will earn me extra treats." – Photo by @rambothepuppy
We all know when you have a dog, pet happens. Spots, stains, dust, dander, fluff and fur can all gather inside, especially during cold months when Fido may be spending more time indoors. Start at the top and wipe down the vents, ceiling fans and walls using Swiffer Pet Dusters to trap and remove irritants.
Next, spot-clean your upholstery using the revolutionary BARKBATH 2-in-1 Portable Dog Bath and Carpet & Upholstery Cleaner from Bissell. This system can be used to bathe your pup with virtually no mess (replacing the need for a trip to the groomer or dog wash) and then easily converted to a carpet and upholstery cleaner. It's the tool pet-friendly spring cleaning dreams are made of!
Swiffer Pet Dusters Fresh 360 Kits are available for $10.99 at Petco, and the BISSELL® BARKBATH™ Dual Use 2-in-1 Portable Dog Bath and Carpet & Upholstery Cleaner is $199.99 on Amazon.
Step 3: Let in the Sunshine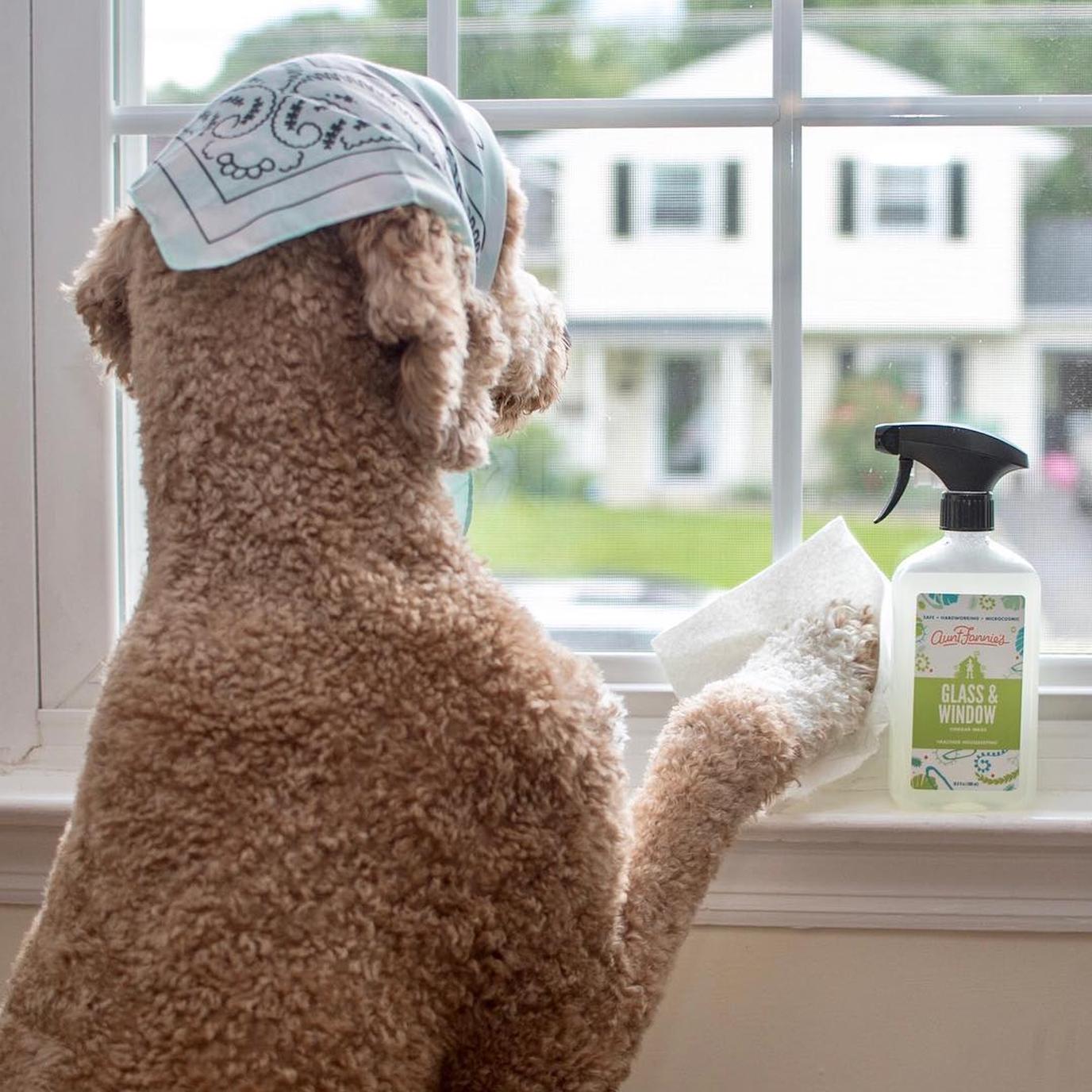 "Now I can really keep an eye out for those pesky squirrels." – Photo by @twodapperdoods
One of the simplest things you can do to kick off spring cleaning is to air things out and let in the sun, so start by getting your windows and glass doors spic and span. Aunt Fannie's Glass & Window Cleaning Vinegar Wash removes smudges left by noses and paws on windows, glass doors, mirrors, stainless steel and anywhere else your pup manages to leave them. The all-natural, pet-safe window cleaner was awarded the highest health & safety rating for cleaning products by the Environmental Working Group. Made with essential oils and white vinegar for a streak-free clean without the use of dangerous chemicals, it smells bright and fresh without expelling irritating fumes.
A 16-ounce spray bottle of Aunt Fannie's Glass & Window Cleaning Vinegar Wash is $8.49 on Amazon.
Step 4: Clean Counters, Tabletops and Surfaces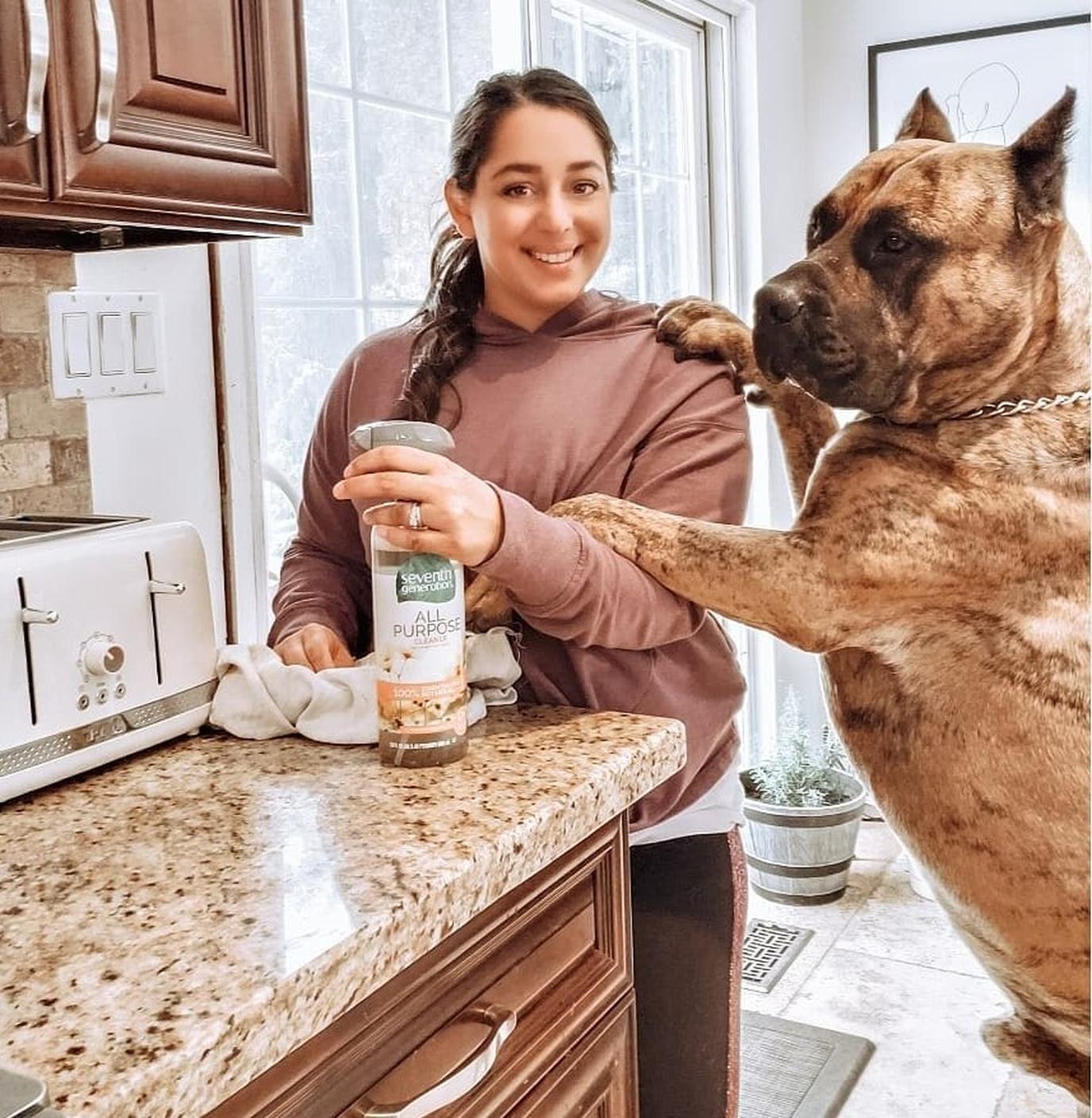 "Wait! Let me get those crumbs first." – Photo by @jasmine.ancona
If Fido's sniffer is known to seek out crumbs on countertops and tables, be sure to tackle surface grime with a pet-safe degreaser like Seventh Generation All-Purpose Cleaner. Seventh Gen makes non-toxic cleaning products for pets that are gentle enough to keep your pooch's snoot safe, and they won't leave chemical residue behind. The brand has also been approved by Leaping Bunny, a non-profit which connects consumers to companies whose products are free from animal testing – a total win-win!
A 23-ounce spray bottle of Seventh Generation All-Purpose Cleaner is $9.09 on Amazon.
Step 5: Take Care of the Potty Stuff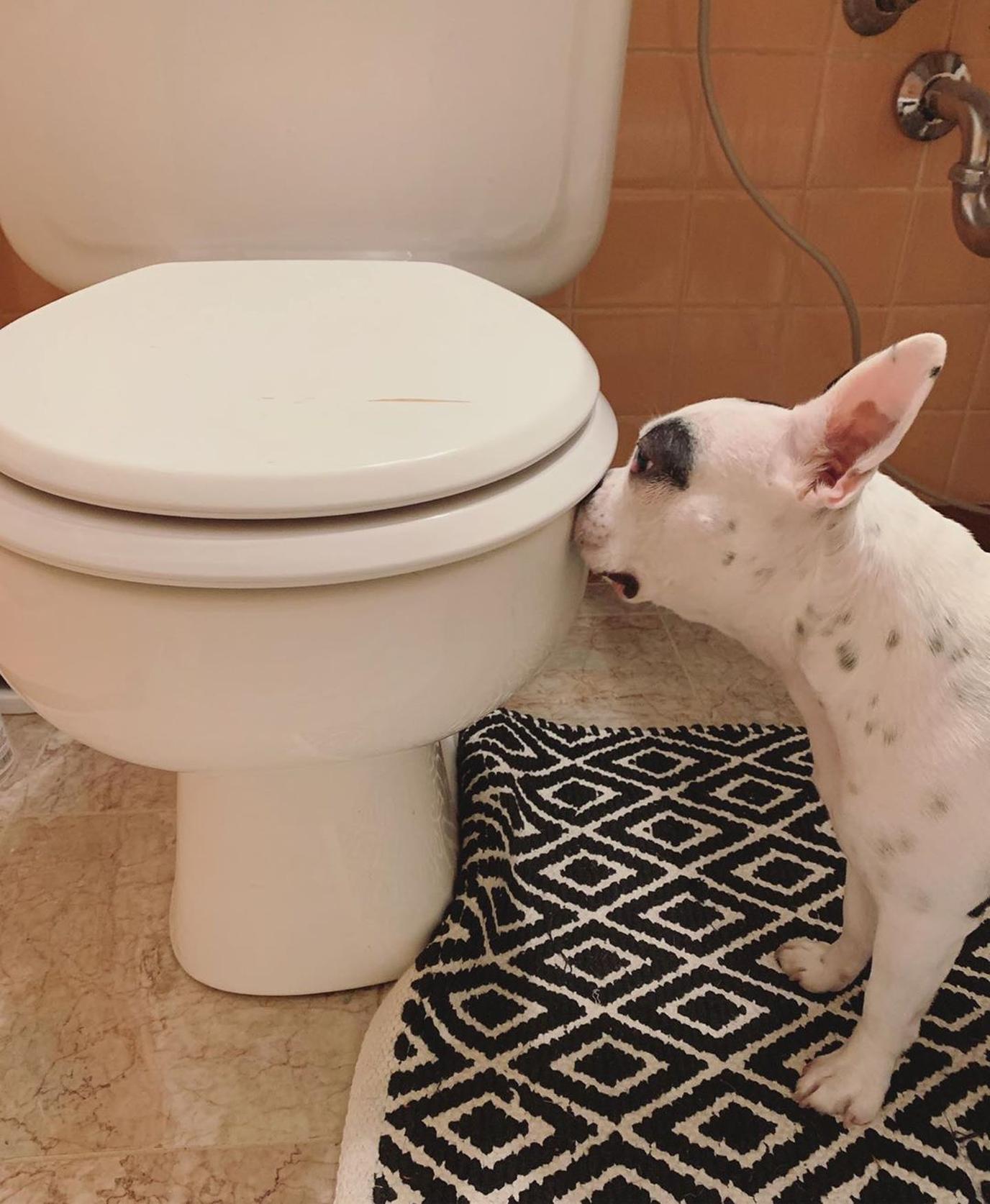 "Just a routine inspection, Ma'am." – Photo by @opalofgreatmischief
Does your dog ever drink out of the toilet bowl? Better skip the bleach and harsh bathroom cleaners and stick with a strong but pet-safe option. The biobased Ecover Toilet Bowl Cleaner leaves out harmful chemicals like chlorine and ammonia. Also, remember that if you used antifreeze in your pipes during the winter to prevent freezing, be sure to keep your toilet lids down and bathroom doors shut, as ingesting even a small amount can be lethal for dogs and cats.
A 25-ounce bottle of Ecover Toilet Bowl Cleaner is $3.55 on Amazon.
Step 6: Scrub Fido's Toys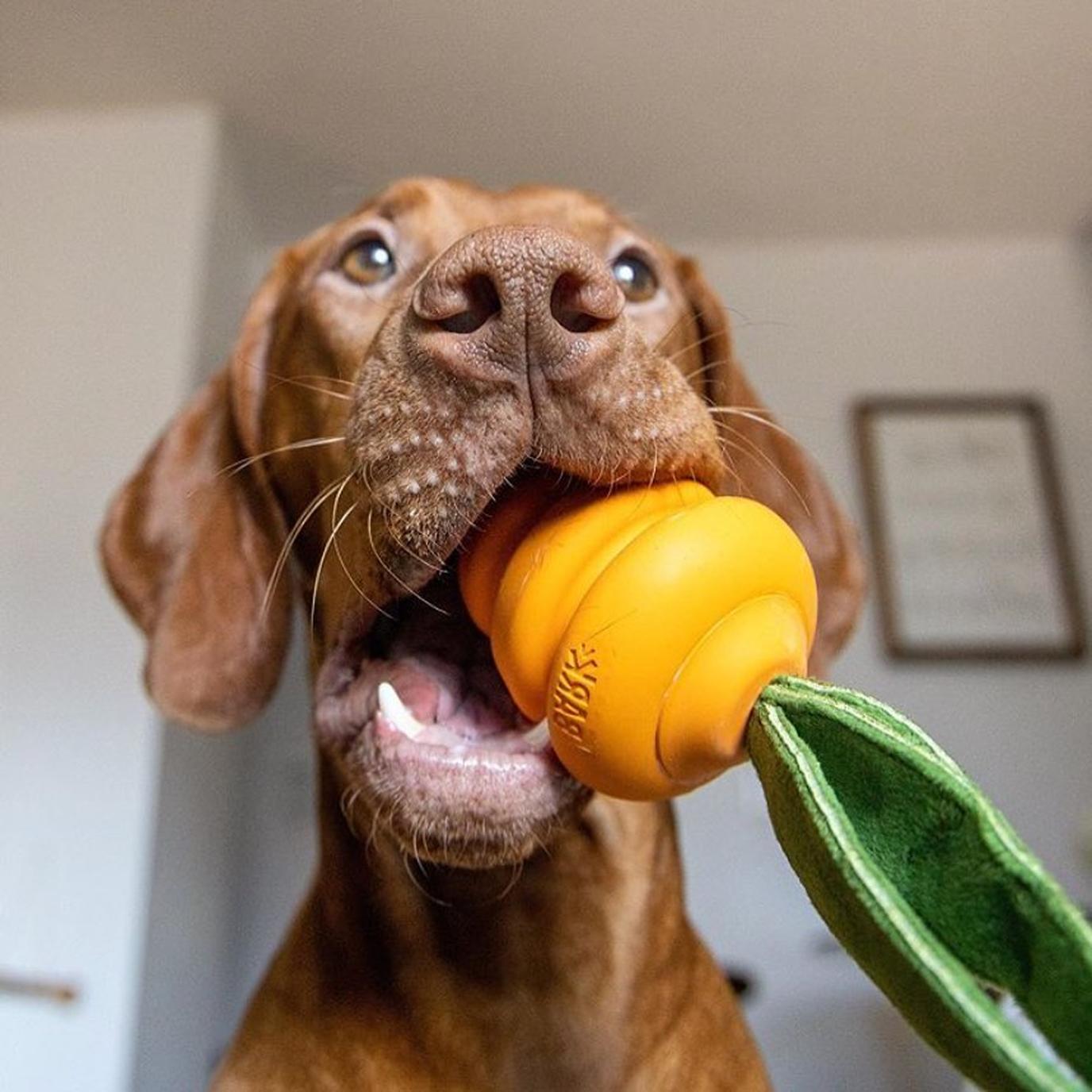 "I gotta start putting my flavor back in it now." – Photo by @tuckervizsla
Your beloved best boy or gal likely has some favorite toys to chew and drag around, which over time can become a breeding ground for bacteria. In addition to frequently checking them for signs that they need replacing, make sanitizing your pup's toys part of your regular cleaning routine. Rubber, plastic or nylon chew toys can be washed in the sink using warm water and unscented dish soap, followed by a cycle in the top rack of your dishwasher with white vinegar in place of dishwashing detergent.
Soft dog toys and rope toys can be sprinkled with baking soda and washed in the washing machine using a few capfuls of white vinegar and a mesh laundry bag. Squeeze any excess water from each toy and allow it to air dry before giving it back to your pup.
A pack of two 25-ounce Free & Clear ECOS Dishmate Hypoallergenic Dish Soap bottles is $5.58 on Amazon.
Step 7: Laundry Day!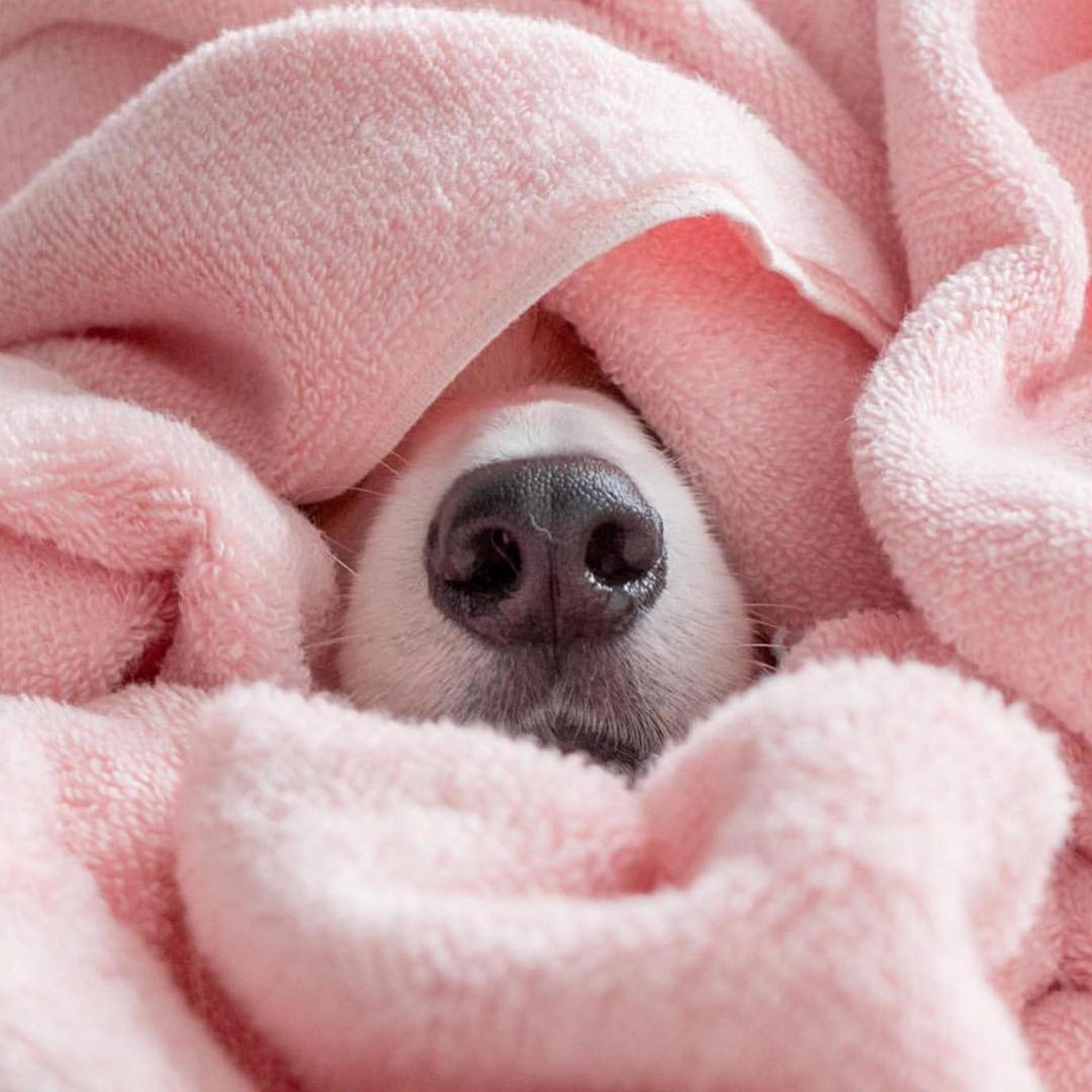 "I'm never coming out." – Photo by @paulthecorgi
Wash all of Fido's bedding, blankets and pillows with a dog-safe laundry detergent like Common Good Pet-Safe Laundry Detergent. The gentle biodegradable and hypoallergenic formula uses plant-based enzymes to break down stains and flush out smells, without any harmful fragrances or unnecessary chemicals. Beds that are too large to fit in the machine can be washed by hand in the bathtub. Just be sure all the detergent is completely rinsed and excess water is squeezed out of the bed before air drying.
A 32-ounce bottle of Common Good Pet-Safe Laundry Detergent lasts for 48 loads and is $39.21 on Amazon.
Step 8: Finish on the Floors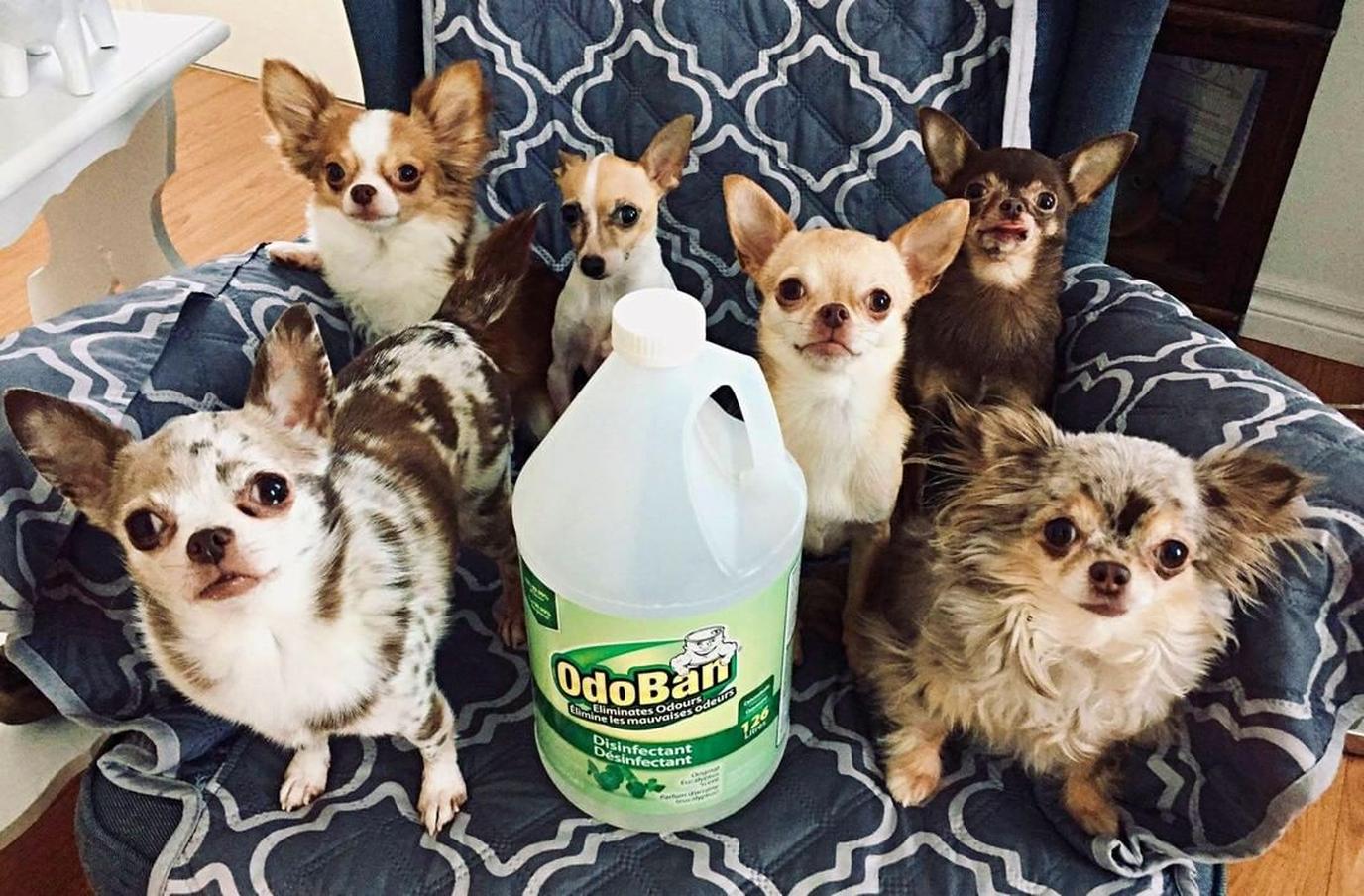 "Odo? What Odo?" – Photo by @tinydogtailor
Hardwoods, Tile and Laminates:
Grab the mop and bucket and finish spring cleaning with a good old fashioned floor scrub. For areas that need a little extra TLC, use a pet-safe floor cleaner like OdoBan Floor Cleaner. It smells fresh and erases pet stains and odors effectively without using harmful chemicals or damaging your floors. For a simple deep clean, you may just need the right tools for the job. The Bissell PowerFresh Steam Mop scrubs and disinfects hard floors like wood, stone and linoleum without using any soaps or detergents.
One gallon of OdoBan No Rinse Neutral pH Floor Cleaner is $16.15 at Chewy. The Bissell PowerFresh Steam Mop is $89.99 on Amazon.
Carpets and Area Rugs:
The flowers might thrive in the rainy days of spring but unfortunately, the increased humidity also brings out set-in odors and stains in carpet fibers. To remove pet stains and smells, rather than just cover them up, you'll need an enzyme-based, pet-safe carpet cleaner. Clean+Green Professional Strength Pet Odor Eliminator and Stain Remover can be used to spot-treat area rugs, carpet, cushions, fabric and mattresses. It has no toxins or additives, and it won't negatively impact rivers, streams, or oceans if it goes down your drain.
A two-pack of 14-ounce Clean+Green Professional Strength Pet Odor Eliminator and Stain Remover is $24.97 on Amazon.
This post from BringFido originally appeared as BringFido's Guide to Spring Cleaning.