Can't Miss Dog-Friendly Events in February
February may be the shortest month of the year (even with an extra day in 2020!), but it's still packed full of exciting events to enjoy with Fido. From Puppy Bowl parties and Mardis Paws to dinner and dessert with your furry Valentine, there is something for everyone.
Unleashed: Dinner with Your Dog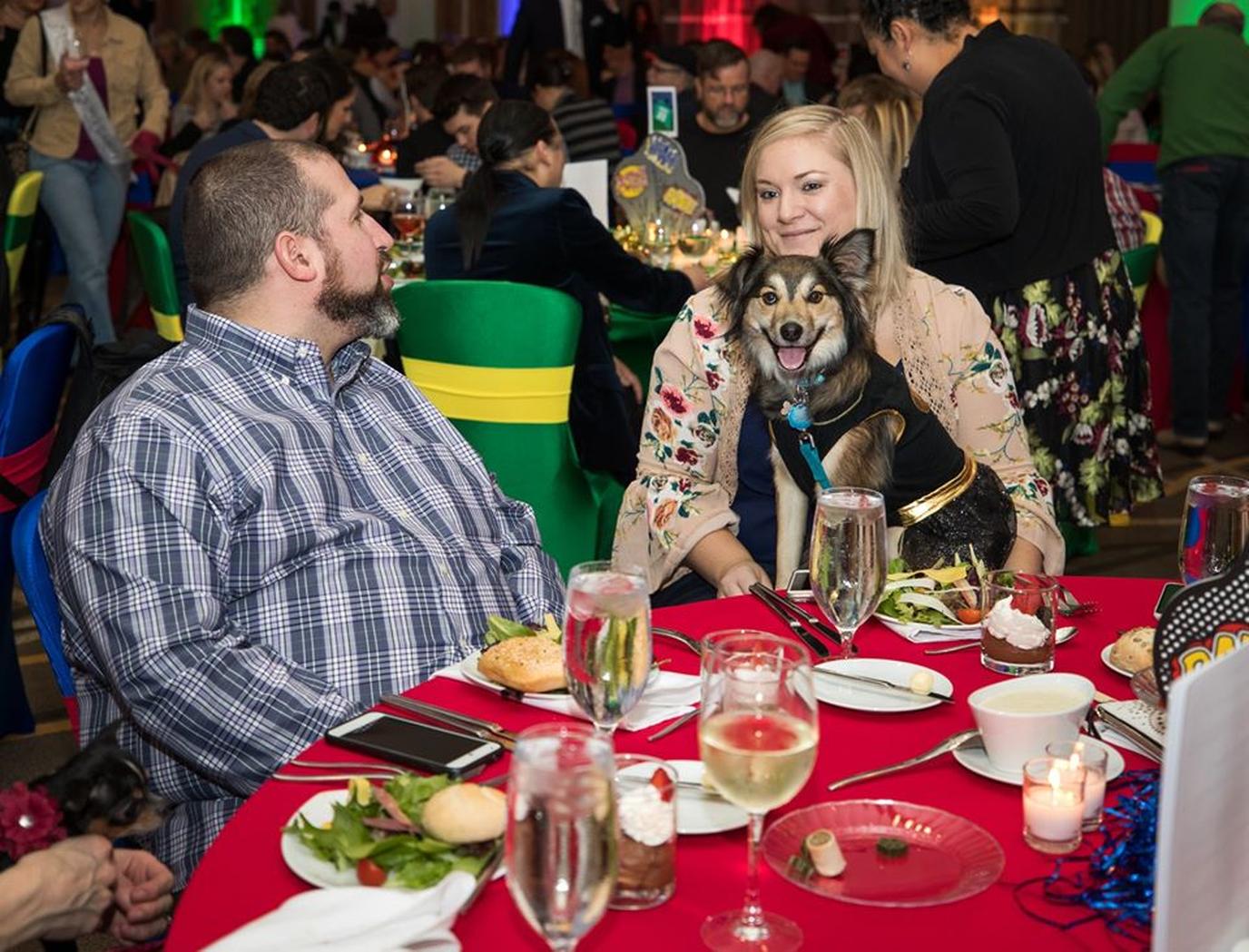 Lifestyles of the "Ruff" and "Furrmous." – Photo by Facebook.com/NashvilleHumaneAssociation
Put on your grass skirt and dress Fido in his Hawaiian collar for a luau at Unleashed: Dinner With Your Dog. Local celebrities will lead a dog walk of shelter pups looking for new homes while you're served delicious cocktails, dinner and dessert. The event, which celebrates its 10th anniversary in 2020, will be hosted by WWE superstar Sheamus. A silent and live auction will also be held, featuring some of the finest Nashville-themed gifts and services. Furry family members aren't required to attend but are definitely encouraged.
Unleashed: Dinner with Your Dog will take place on February 1 from 6:30 to 9:30 p.m. at Loews Vanderbilt Nashville. Admission is $125-$200. Proceeds will help the Nashville Humane Association.
Sunriver Brewing Company K-9 Keg Pull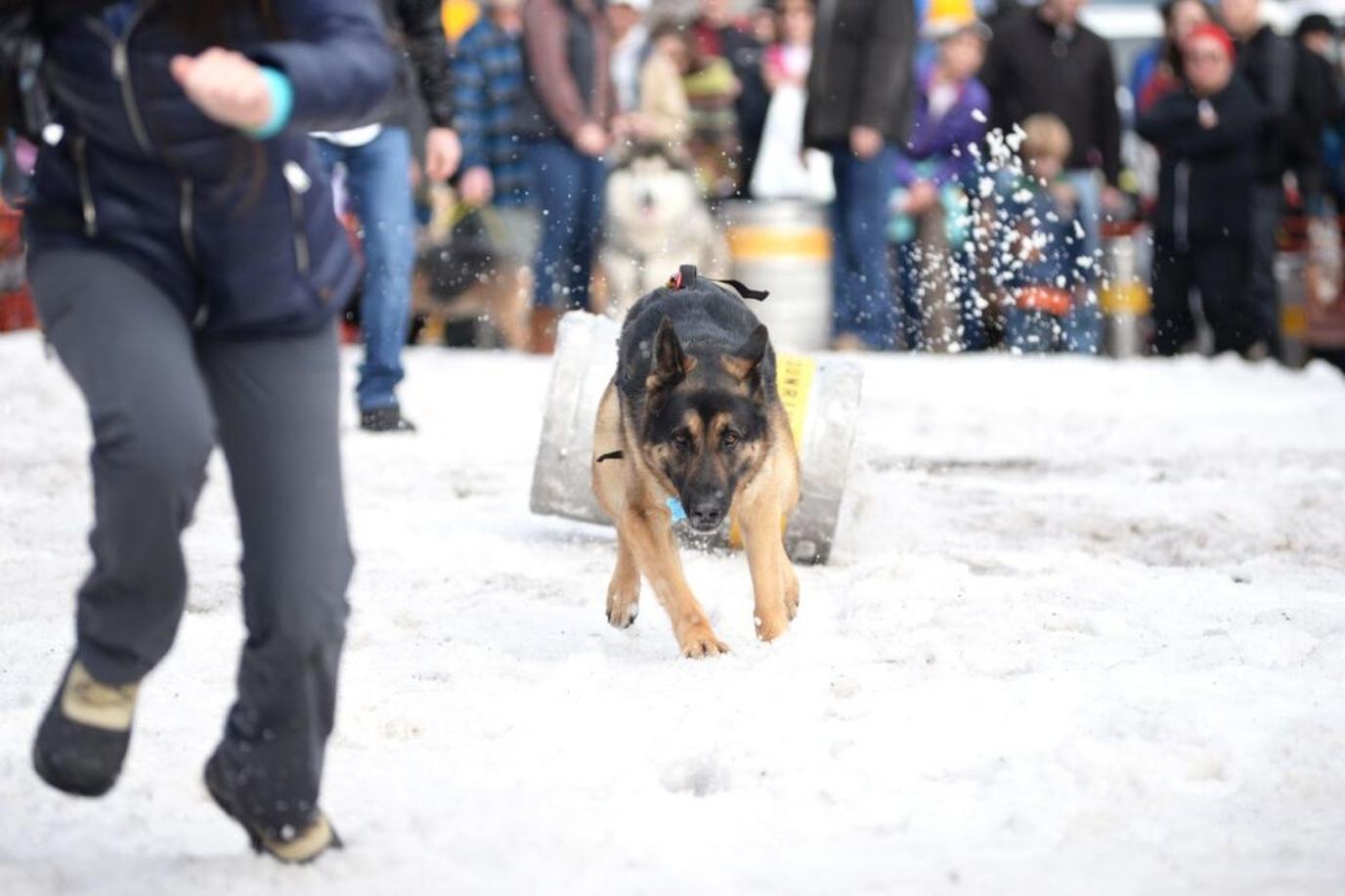 "I am Lightning. I am Speed. Kachow!" – Photo by Sunriver Brewing Company
A 150-foot snow runway sets the stage for Sunriver's premier winter event, the Sunriver Brewing Company K-9 Keg Pull. Bring Fido to watch, cheer or participate in this canine Olympic event. Each contestant's keg size is determined by his weight. Owners will encourage their furry friends down the length of the court and judges will keep time. Prizes will be awarded to the "Fast as Lightning Fidos" in each weight category. While you're attending the event, check out both human and pet vendors and enter to win great prizes.
Sunriver Brewing Company K-9 Keg Pull will take place on February 1 from noon to 3 p.m. in the Village at Sunriver Courtyard, next to the Pavillion. The Keg Pull entry fee is $15 per dog if pre-registering, and $20 per dog at the event. All proceeds from the Keg Pull will benefit the Ronald McDonald House Charities of Oregon and SW Washington. Participants and spectators are encouraged to bring dog food, which will be donated to the Humane Society of Central Oregon.
Annual Puppy Bowl at Yard Bar
Photo by Facebook.com/austinhumanesociety
Cheer on the MVPs (Most Valuable Puppies) at the Annual Puppy Bowl at Yard Bar. Kick off the day at the Adoption Event and Tailgate Party at the Austin Humane Society. If you'd like to add a puppy to your team, furry receivers and fluffy quarterbacks will be looking for homes. Then head to Yard Bar for the big game. Bring your current four-legged family member to cheer from the stands, or if she's under 30 lbs, sign her up to play in one of six quarter match-ups. Celebrity "Ruffarees" will be calling penalties like "Illegal Watering", "Unpuppy-like Behavior" and "Ruffing the Passer." At halftime, adoptable puppies will take the field. Don't be surprised to see flags thrown for "Unnecessary Cuteness."
The Adoption and Tailgate Party will take place from 11 a.m. to 2 p.m. on February 1 at the Austin Humane Society, followed by kick-off for the Big Game at 2 p.m. at Yard Bar. Spectators can cheer for free. VIP (Very Important Puppy fan) tickets, which include one free drink, t-shirt and five-visit park pass, are $35, and the cost to play is $35. "Pawticipants" will receive a custom pup player card, team bandana for your dog and one free drink ticket. Proceeds will benefit the Austin Humane Society.
Puppy Bowl Watch Parties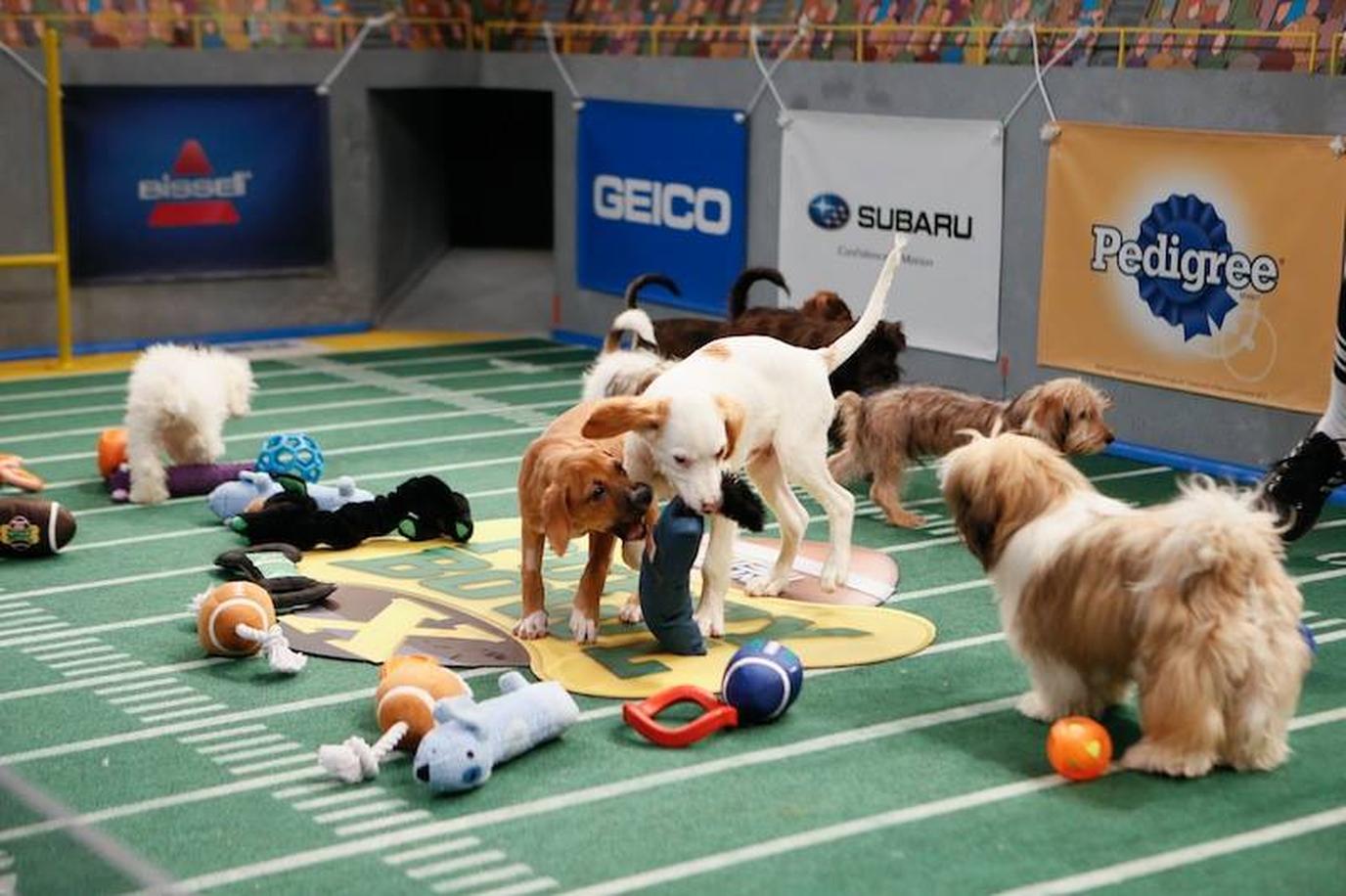 Photo by Facebook.com/PuppyBowl
It doesn't matter if you're Team Ruff or Team Fluff, everyone at Animal Planet's Puppy Bowl XVI is a winner! Grab your friends and your "wide retriever" and head to one of the viewing parties around the country to cheer for your favorite adoptable players.
The Puppy Bowl XVI will air on Animal Planet on February 2 at 3 p.m. ET. Stop by the Viewing Party at Wag & Brew in Alexandria, VA, have a Puppy Bowl Puptail at OGs in Chicago, or purchase a commemorative Pup Cup with a pint of beer at Black Flag Brewing Company in Columbia, MD. Don't leave at half-time, though. You won't want to miss when the kittens take to the field in a show-stopping performance.
There's another game with two-legged players after this one. It sounds kind of boring, but you can make it exciting with delicious treats from our "Supper Bowl" menu for dogs. Invite your pals over for great food and fun.
Lake George Dog's Got Talent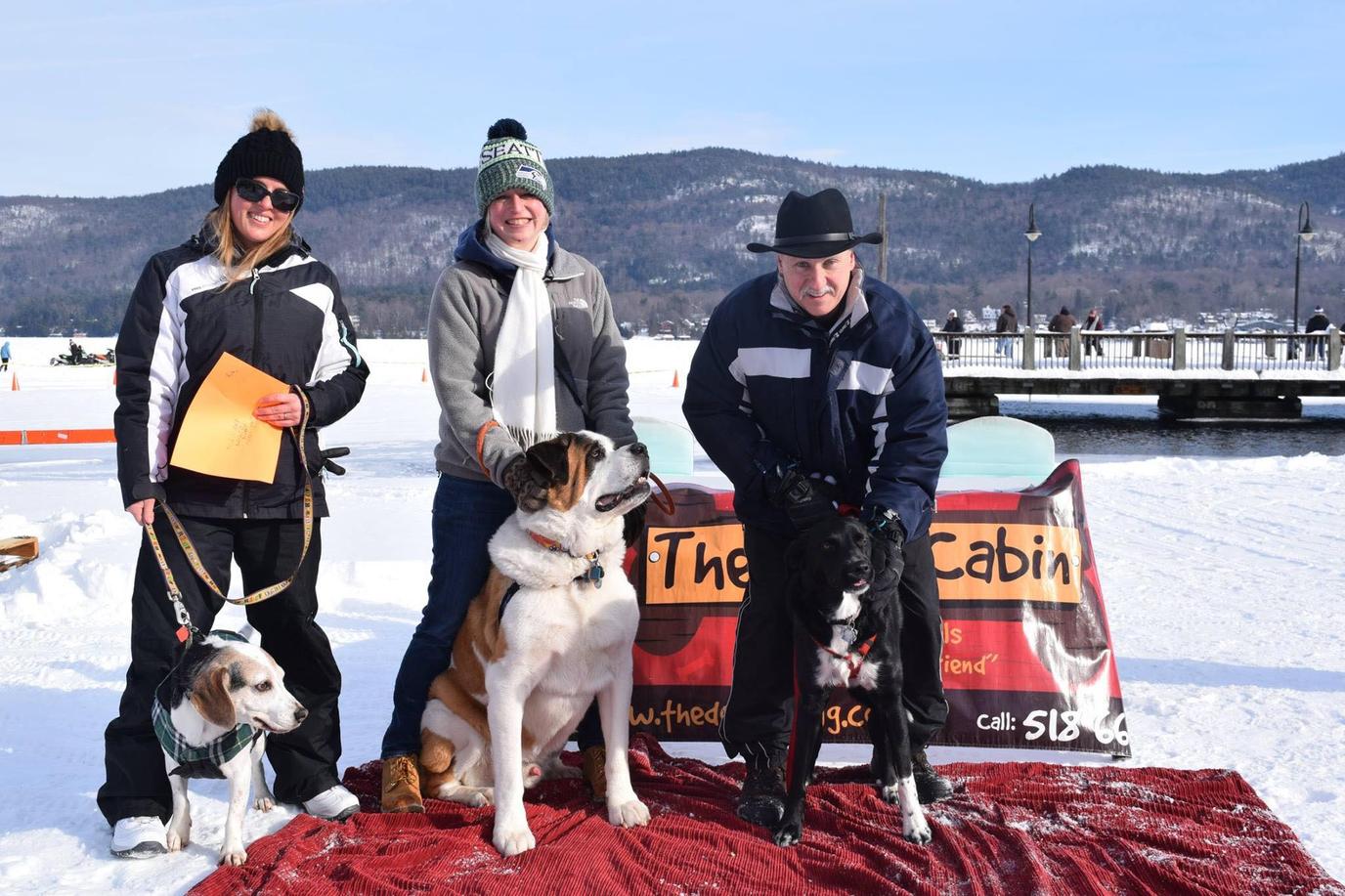 Photo by Facebook.com/TheDogCabin
Amaze the judges with special tricks, talents and even looks at Lake George Dog's Got Talent. Does your dog know how to fetch, roll over or play dead? Maybe she can dance or give high fives. No matter their forte, all dogs are invited to compete in this entertaining event during the 59th annual Lake George Winter Carnival. Even if your pup doesn't take home top prize, all canine "pawticipants" will receive a special gift and 10% off purchases at The Dog Cabin.
Lake George Dog's Got Talent will be held every Saturday and Sunday in February from 2 p.m. to 3 p.m. at Shepard's Park Beach. Admission is free for contestants and spectators.
New York Pet Fashion Show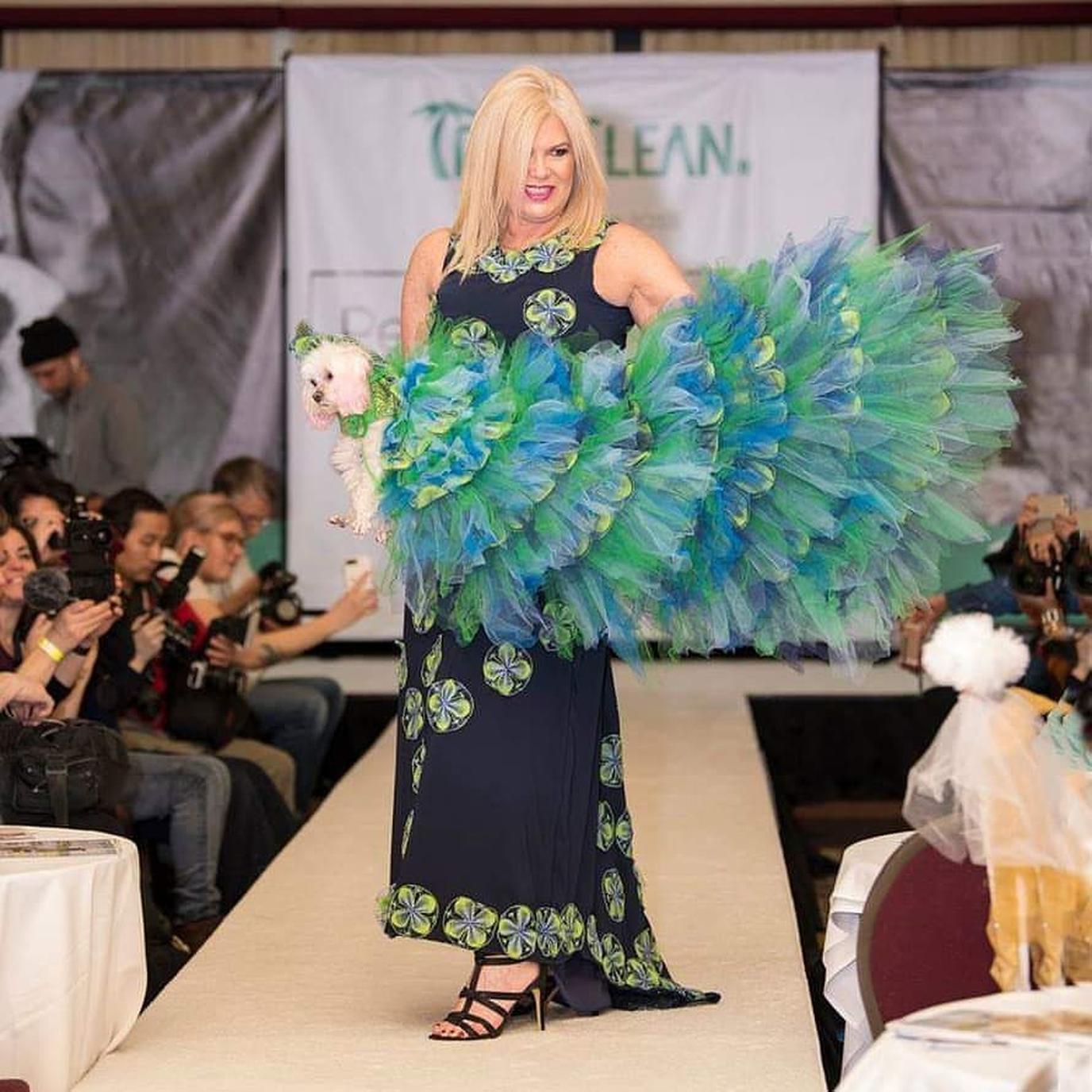 "Catwalk? Oh no, honey. I work it on the DOGwalk!" – Photo by @nypetfashionshow
Grab your tickets for the 17th annual New York Pet Fashion Show, the world's largest pet fashion and animal rescue benefit. The hottest hounds in the city will take the runway for a night of glitz and glamor. This year's theme is "World Couture for Animal Rescue" and will feature three runway shows. Top contenders will compete for the Gold Paw Awards. If your dog has what it takes to win, be sure to purchase a "Best in Show" ticket, but if your fashion-forward pooch would rather observe from the stands, all well-behaved canines are encouraged to attend.
The New York Pet Fashion Show begins at 7 p.m. on February 6 on the 18th floor of Hotel Pennsylvania. The red carpet rolls out at 6 p.m. General Admission tickets are $50, and Best in Show entries are $95. Tables may also be reserved for large groups. Proceeds will benefit Mayor's Alliance for NYC's Animals.
Pawparazzi "Oscar PAWTY" Photo Shoot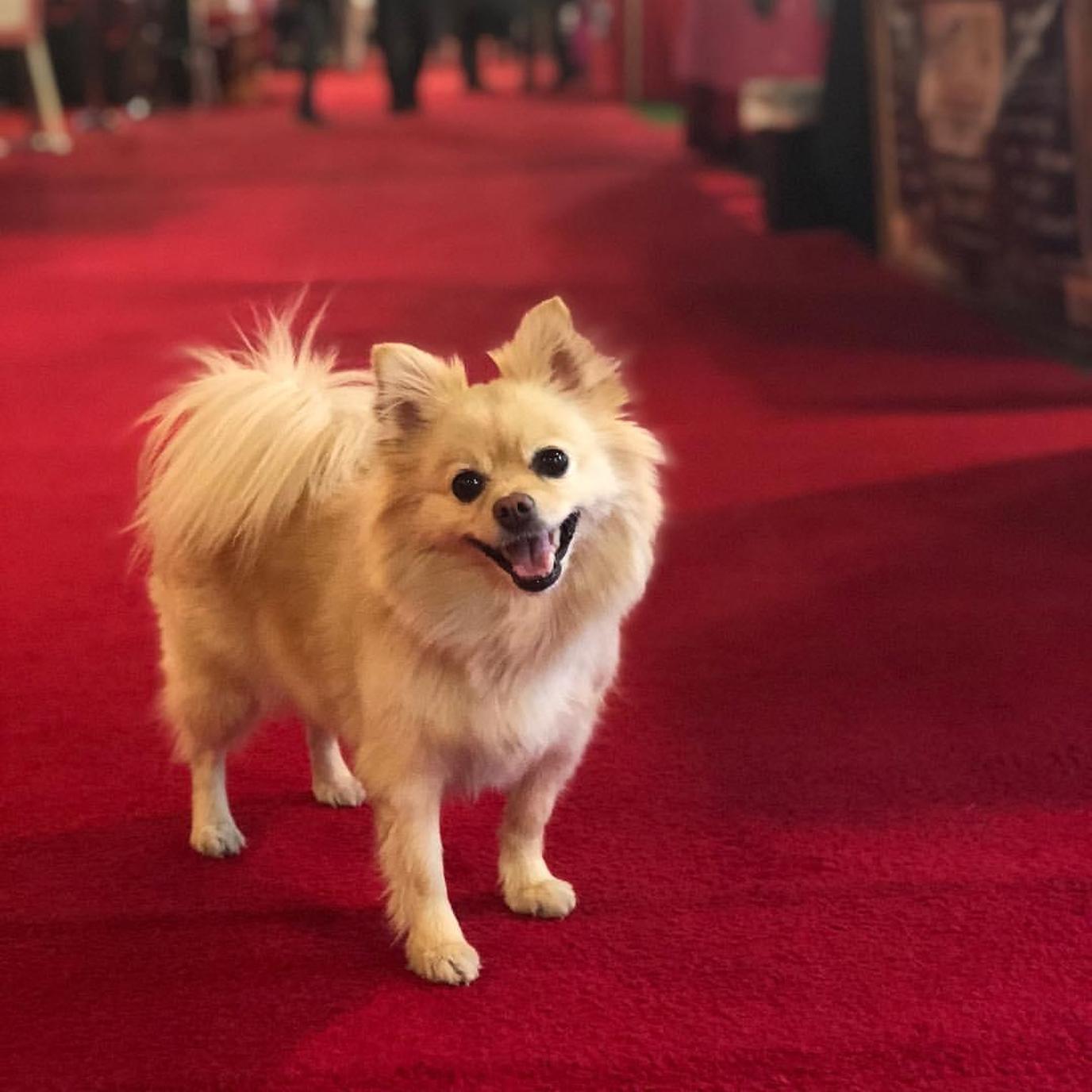 "Don't just stand there, let's get to it. Strike a pose there's nothing to it." – Photo by @sukeethepom
Your "pawsh" pup can strike a pose on the red carpet at the Pawparazzi "Oscar PAWTY" Photo Shoot. He'll be able to grab props and dress up before a professional photographer begins snapping his glamor shots. Just don't let all this attention go to his head. He may not take home an Academy Award, but a 4×6 copy of his best shot to frame on the mantel might actually be better.
The Pawparazzi "Oscar PAWTY" Photo Shoot will be held from 11 a.m. to 3 p.m. on February 8 at Auntie Jeannie's Barkery. A $10 donation is requested. Proceeds will benefit Pit Bull advocates.
Small Dog Tea Party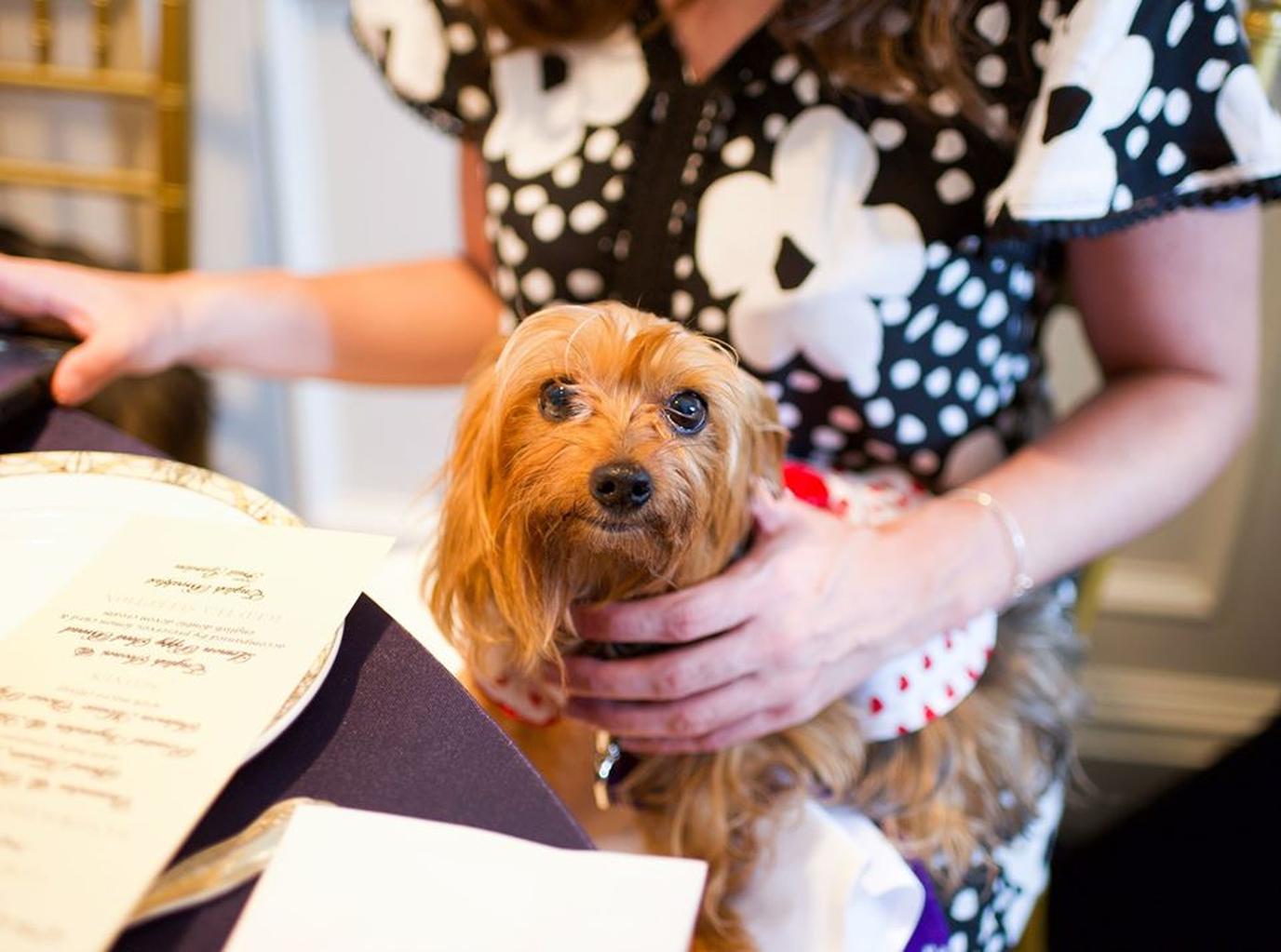 "I'll take decaf, please." – Photo by Facebook.com/realdogmomsofchicago
Dress up your dapper Dachshund, fancy Frenchie, or "schnazzy" Schnauzer for afternoon tea in Chicago's Magnificent Mile. Real Dog Moms of Chicago are hosting a Small Dog Tea Party with a Valentine's Day twist. Dogs up to 20 lbs are invited to attend this elegant event with their "pawrents". Vegan tea and sandwich options are available for humans, and every canine in attendance will receive a personalized pupcake.
The Small Dog Tea Party will be held from 1 p.m. to 3 p.m. on February 9 in the Camellia Room of The Drake, a Hilton Hotel. Tickets are $75 for adults, $40 for children and $35 for dogs. Human and dog combo tickets and table packages are also available. Proceeds will benefit the Hinsdale Humane Society.
Fido Fest – My Furry Valentine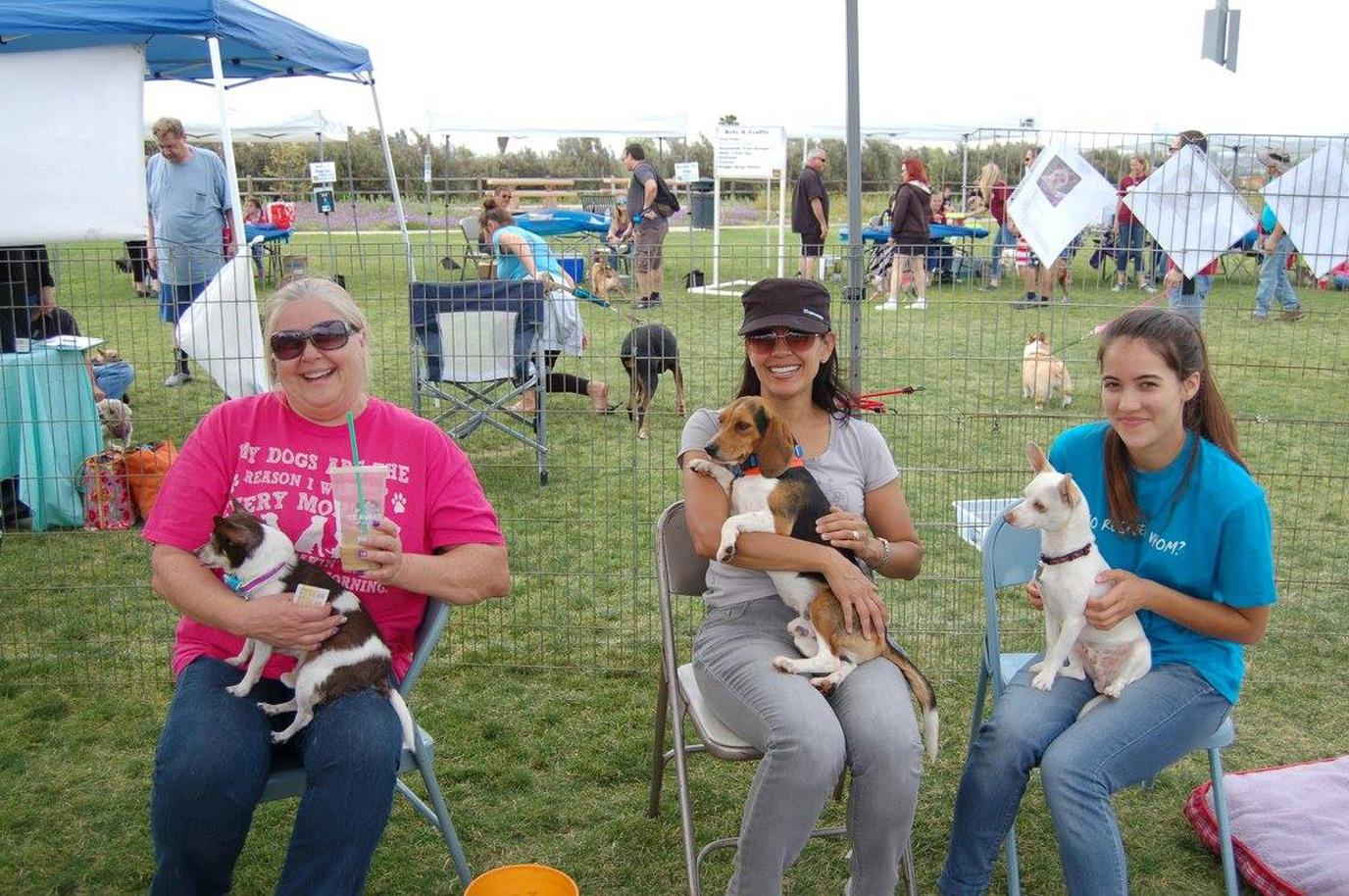 You just might take home a new furry Valentine. – Photo by Facebook.com/CityofSantee
Valentine's Day is about much more than four-course dinners, diamond rings and boxes of chocolate. It's about spending time with the one who makes your heart skip a beat, who keeps you warm at night and who greets you with kisses the moment you walk in the door. This year, take your pup to Fido Fest • My Furry Valentine for a day of giveaways, live entertainment, Fly Ball demonstrations and more. Stop by one of the many vendors and maybe bring home a new four-legged family member from a local rescue group.
Fido Fest – My Furry Valentine will be held from noon to 4 p.m. on February 15 at Town Center Community Park East. Admission is free, but there will be a blanket and food drive for local rescues, so donations are welcome. Proceeds from the silent auction will benefit Dogs on Deployment.
Mystic Krewe of Barkus Pawty in the Park and Parade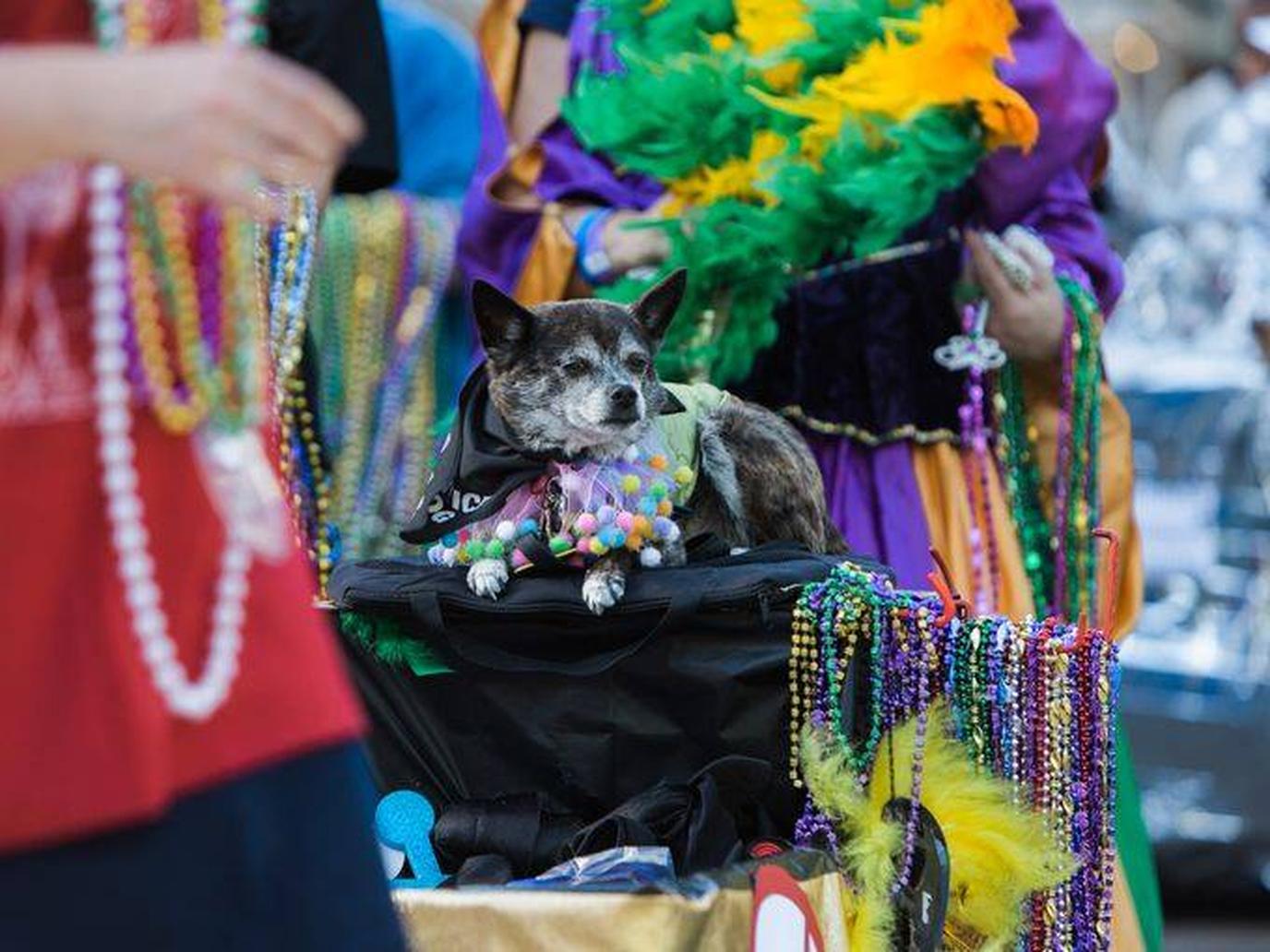 "I am King Maximilian and I am Duke of this Barkus Parade." – Photo by Facebook.com/barkusno
The Big Easy kicks off Mardis Gras with a bang at the Mystic Krewe of Barkus Pawty in the Park and Parade. Grab a bite to eat and an ice-cold drink while you browse through vendors and listen to live entertainment. Everywhere you turn you'll see canines of all breeds and sizes. If your pooch is dressed to impress, join the costume promenade or mingle with other four-legged partiers and pick your favorite ensemble. When it's time for the parade, find a spot to watch, or if your pup is partaking, let him strut his stuff for the crowd in the French Quarter.
The Mystic Krewe of Barkus Pawty in the Park will be held from 10:30 a.m. to 5 p.m. on February 16 at Louis Armstrong Park. Admission is free. The Mystic Krewe of Barkus Parade will begin at 2 p.m. Participants must register, and package rates start at $60.
Methow Valley Doggie Dash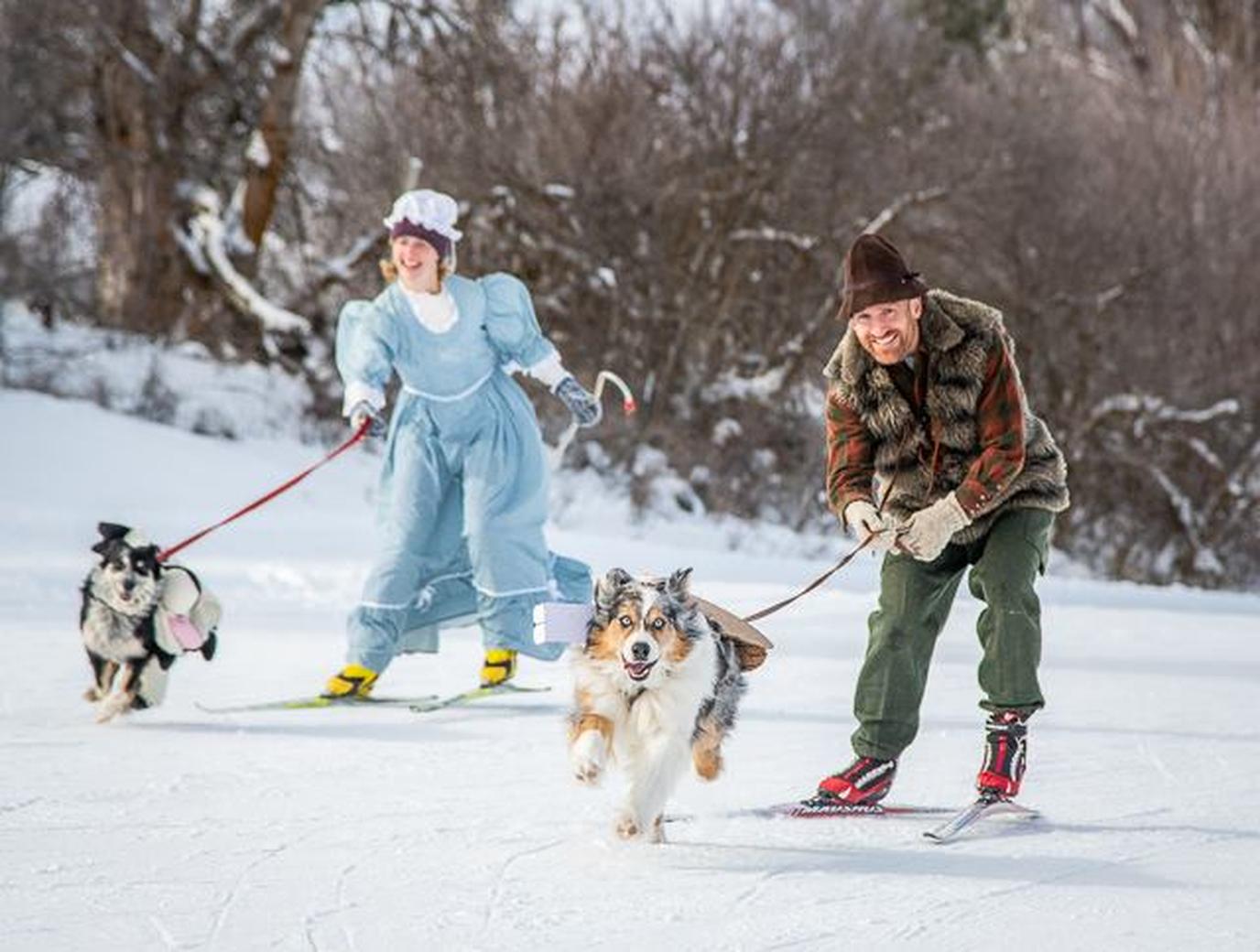 "I'm dashing to get away from that costume." – Photo by Methow Valley Doggie Dash
On your mark. Get set. Dash! Human and dog duos will compete for the coveted Golden Poodle Trophy at the Methow Valley Doggie Dash. Humans will ski in short heats while their canine counterparts, attached by a leash, can run beside them. You and your pup don't have to be fast to win. A panel of expert judges will select the Best in Show Costume to take home the top prize, so get creative. Other prizes include 2020-2021 Methow Trails Dog Passes and fabulous goodies from local businesses.
Methow Valley Doggie Dash will be held from 9 a.m. to noon on February 16 at Winthrop Town Trailhead. The costume contest begins at 10 a.m., followed by the first heat at 10:10 a.m. Admission is by donation and will benefit dog trail maintenance on Methow Valley Sports Trails.
Vegas Pug Party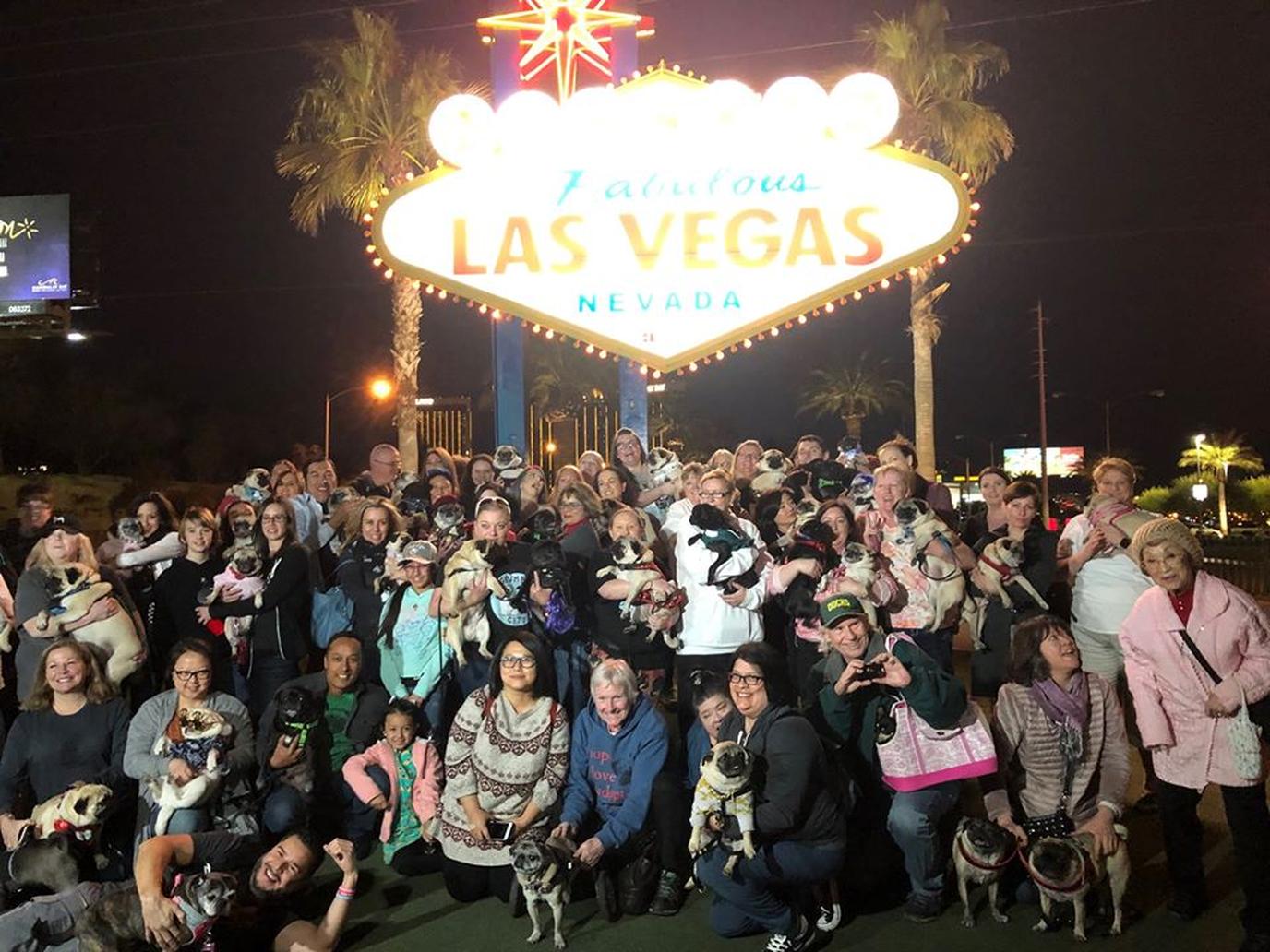 "Everyone say Pugzzz!" – Photo by Facebook.com/VegasPugParty
Pack your Pug's PJ and Pearls! Vegas Pug Party is a fun-filled, three-day event. Things will kick off with a party at The Artisan Hotel on Thursday evening, followed by a Welcome Brunch on Friday morning. Dr. Nell Ostermeier, who specializes in veterinary acupuncture and traditional Chinese medicine, will share her knowledge over a delicious meal. In the afternoon, mix and mingle with other snub-noses at the Pug Social and put on Fido's flannel for the Pajama Party that evening. On Saturday, speakers, vendors, raffles and more will take place during the Pug Convention, and the day will end with an 80's themed Pug Prom. Bring the weekend to a close with new friends during Sunday morning's Farewell Brunch.
The Vegas Pug Party will be held from February 20-23 at The Platinum Hotel & Spa. Passes may be purchased for the full weekend, all day Friday, all day Saturday, or for individual events. Prices range from $30 to $299 per person.
Bullympics
"Suck it in, suck it in." – Photo by @gremlyn13
Does your Bulldog have what it takes to bring home the gold? Find out at Bullympics, where English and French Bulldogs run a course of appropriately-sized agility obstacles to see who's the fastest or most coordinated. Your Bully isn't fast or coordinated? No worries. Awards will also be given in other categories like "Owner-Bully Look Alike," "Best Trick," and "Best Dressed." You and your dog can also win cool raffle prizes, bid in a silent auction, eat tasty food and take part in other "bulldoggery."
Bullympics will be held from 10 a.m. to 2 p.m. on February 22 at T.Y. Park. There is a $1.50 park entry fee, but the event is free for spectators. All breeds are welcome to watch. The entry fee for contests is $20 for one Bulldog and $25 for two or more. Proceeds will benefit Buddies Thru Bullies, Inc.
Psycho Wycho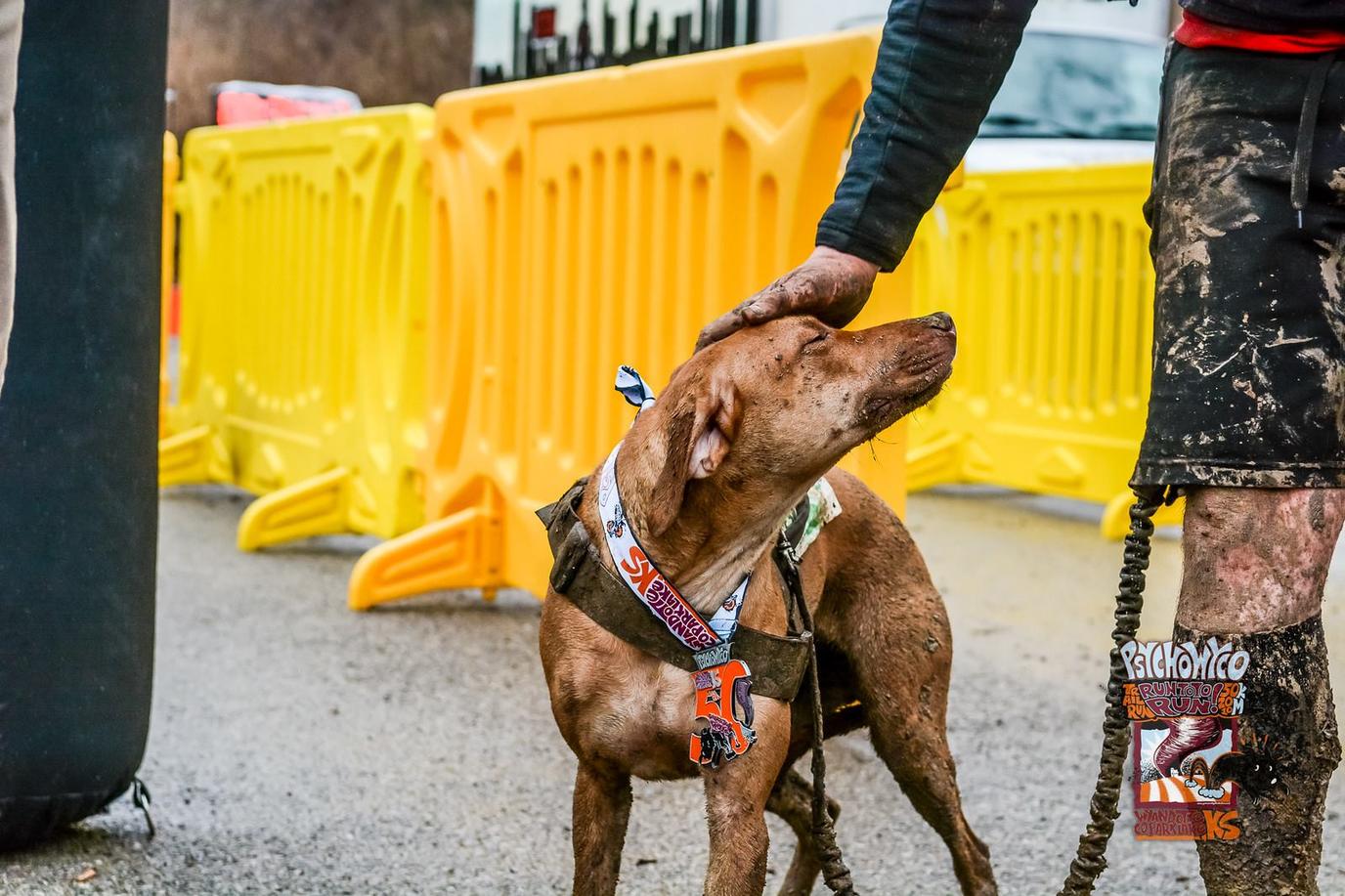 "I'm gonna need a bath and a nap after that!" – Photo by Facebook.com/PsychoWycoRunTotoRun
If your dog is suffering from cabin fever this winter, sign her up for Psycho Wycho! Choose from a 10-mile, 20-mile or 50-kilometer race with your high-energy hound. The contest takes place at 1,300 feet in elevation and occasionally covers muddy or frozen ground. As overwhelming as it might sound, you'll have plenty of motivation from the crowd, DJ and party atmosphere. Craft beer and regular and vegan chili await you at the finish line, and there are cash prizes for the top three finishers.
Psycho Wycho will be held February 22 at Wyandotte County Lake Park in Kansas City. Admission varies based on registration, but the fee for dogs to run is $10.
This post from BringFido originally appeared as Can't Miss Dog-Friendly Events in February.