Santa's writing his list early this year, Fido. If you promise to be on your best behavior for the next five months, an unforgettable vacation to one of America's winter wonderlands is in the Christmas cards. These cool properties deck the halls and transport guests to the North Pole (literally, in one case), which is why they are booked so far in advance. Don't be left with a lump of coal in your stocking and the taste of sour eggnog this year. Plan your Christmas in July and reserve a pet-friendly hotel or rental for Fido's dream yuletide vacation!
Wilburton Inn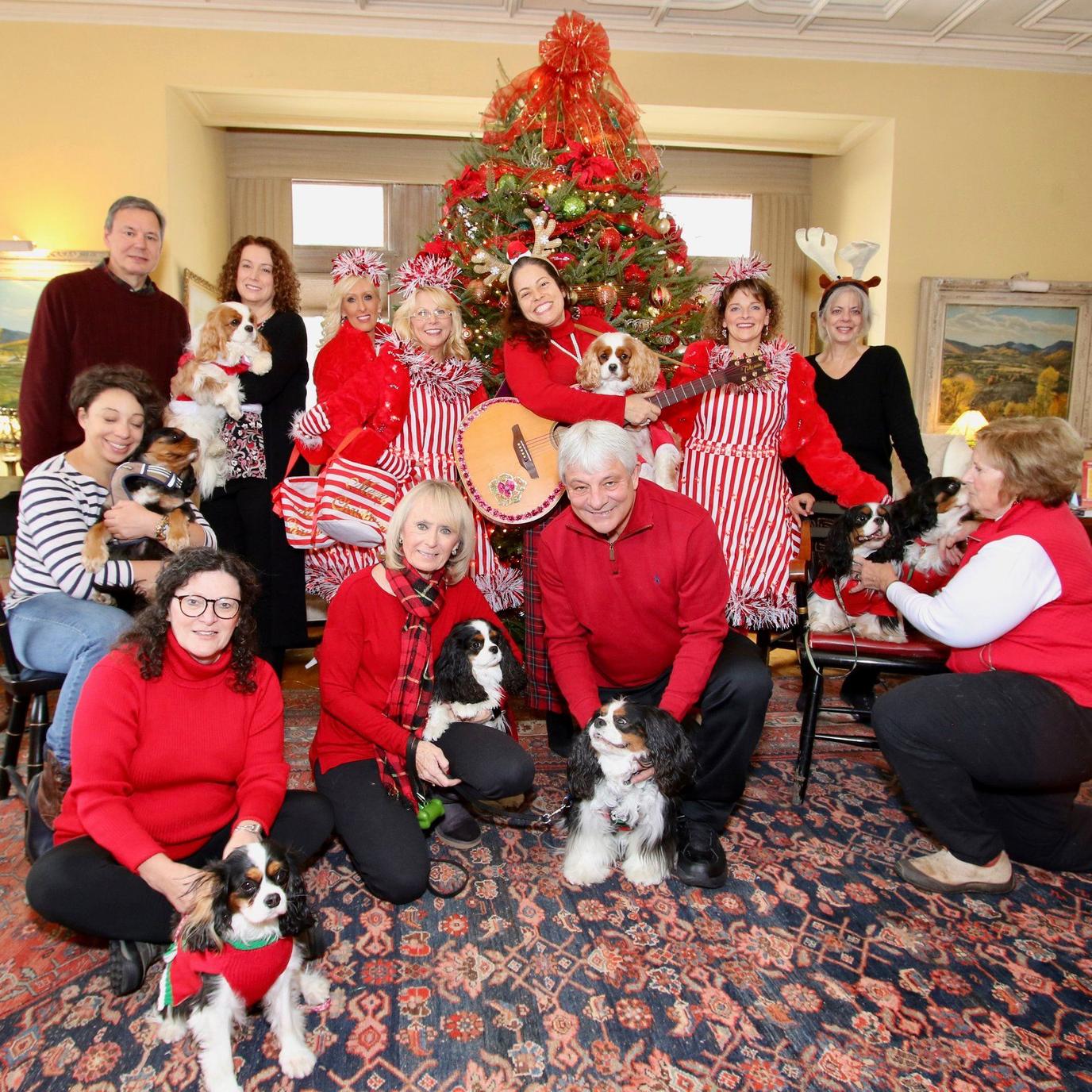 "I think these people might have a type." – Photo by Facebook.com/WilburtonInn
Guaranteed annual snowfall in Vermont makes it a desirable destination for log-fire lovers and Santa Claus chasers. Nowhere encapsulates the Christmas spirit of The Green Mountain State better than Wilburton Inn. Jetson, the hotel's very own canine concierge, loves welcoming fellow four-legged friends to his 30-acre "paw-radise," especially during December when the hotel is decorated with a tree and twinkling lights. Explore the grounds together and discover new and unique sculptures every day on your walks. Every pooch receives a special organic doggie treat at check-in, and pups are even welcome for breakfast. Furry elves stay for free  during "Canine Christmas" and, thanks to Jetson, Cavalier King Charles Spaniels never have to pay.
Nightly rates during the season start at $206.
Eskimo Kisses Cabin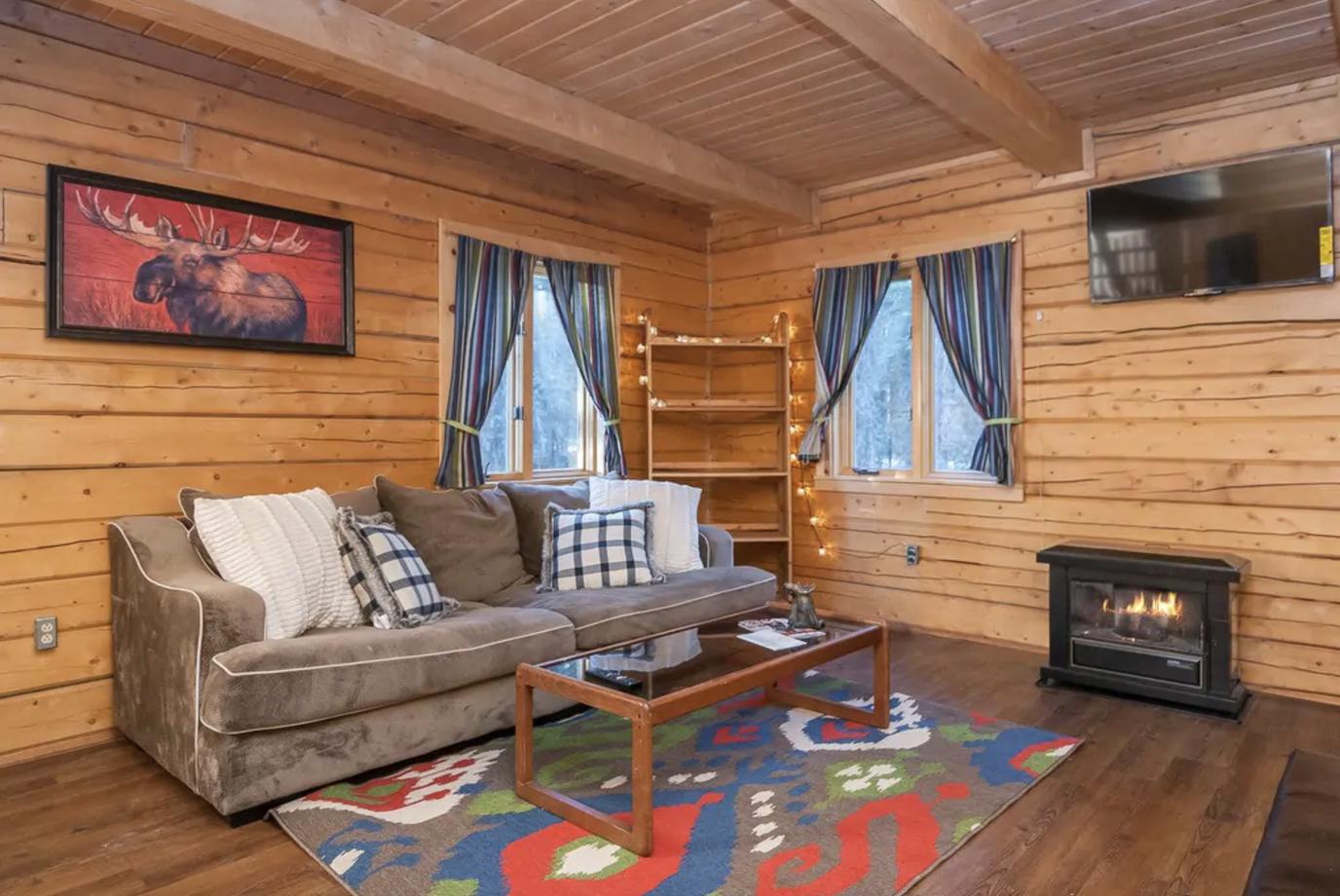 Snuggle up near Santa. – Photo by Airbnb
There's nothing better than eskimo kisses with your best friend. Eskimo Kisses Cabin is a well-loved log cabin in the woods with a roaring fire and sauna to warm those weary bones on winter nights. The cabin is located just 20 minutes from the holiday-themed town of North Pole, home of the World's Largest Santa.
Nightly rates during Christmas start at $68.
Lansdowne Resort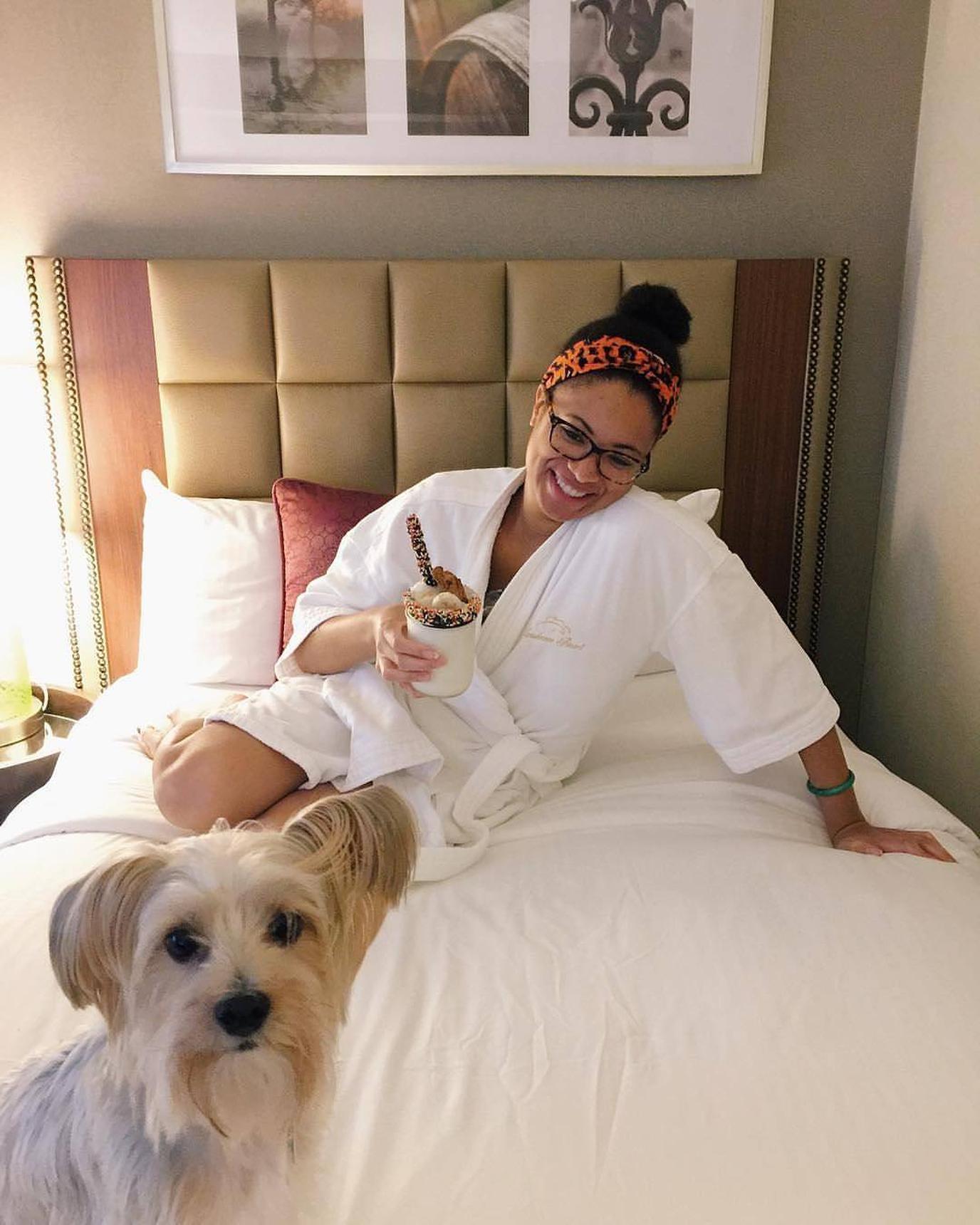 "Where's my milkshake?" – Photo by Facebook.com/LansdowneResortandSpa
Located half an hour away from annual Xmas celebrations in Middleburg, Lansdowne Resort is the ideal warmup act (literally, you and your pooch can warm your paws by the roaring log fire together). From the holiday train that makes its way around the track above the lobby to the twinkling trees, "rein-dogs" will love this cozy hotel in Leesburg. As an added bonus, there's a private dog park on the premises.
Nightly rates over the holidays start at $141.
The Edgewater Madison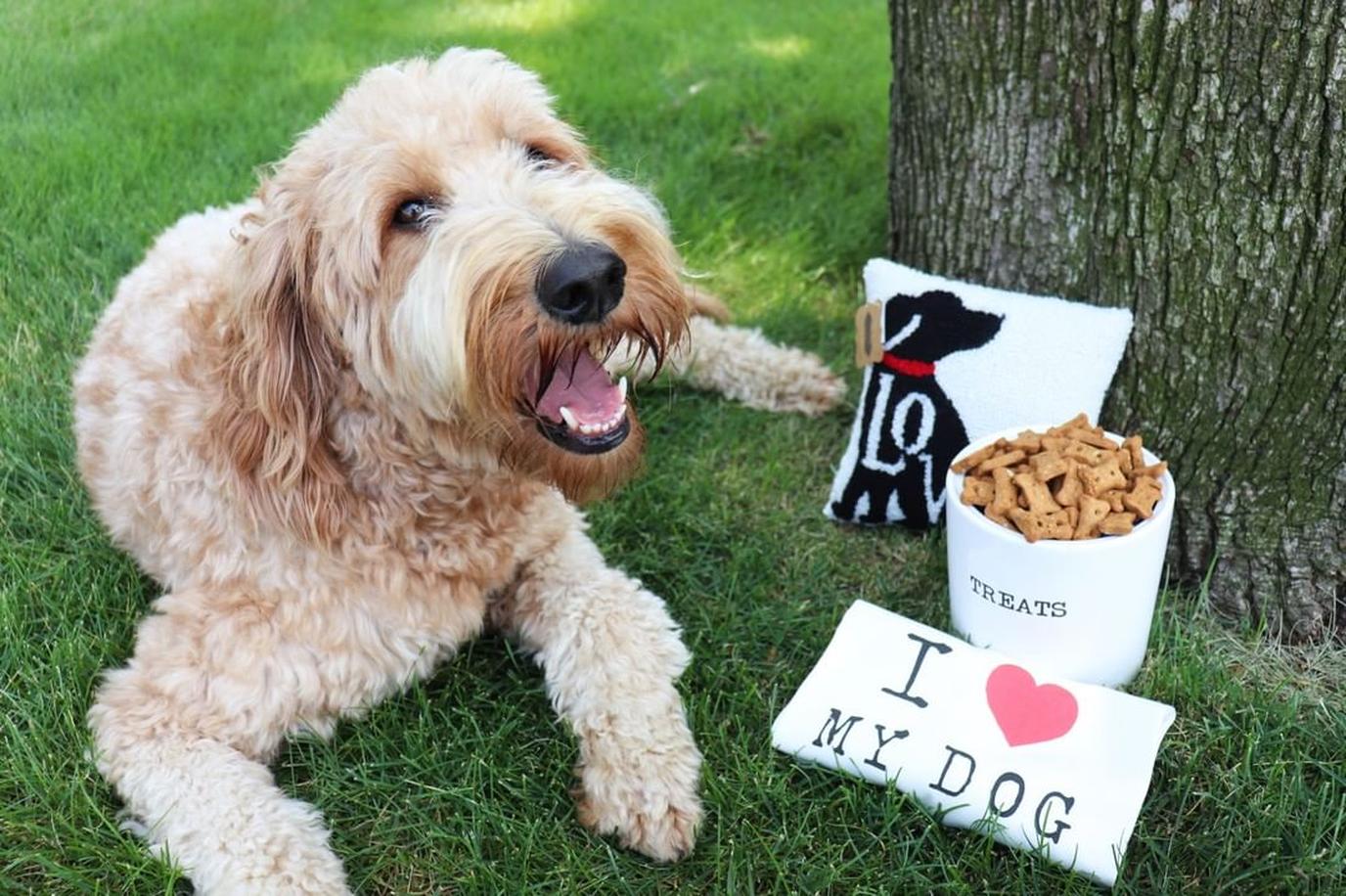 "On the Edgewater of glory." – Photo by @Theedgeh2o
Spend the holidays on Lake Mendota in Wisconsin this year, where The Edgewater Madison goes all out to spread Christmas cheer. "Santa Paws" is coming to town and he's bringing an enchanting ice rink along with him. Join him and the elves for festive music and fun at the official lighting ceremony before taking a stroll to nearby Quann Dog Park for off-leash fun. In the evening, drink and be merry at BarleyPop Tap and Shop.
Nightly rates over the holidays start at $122.
Wishing Tree Cabin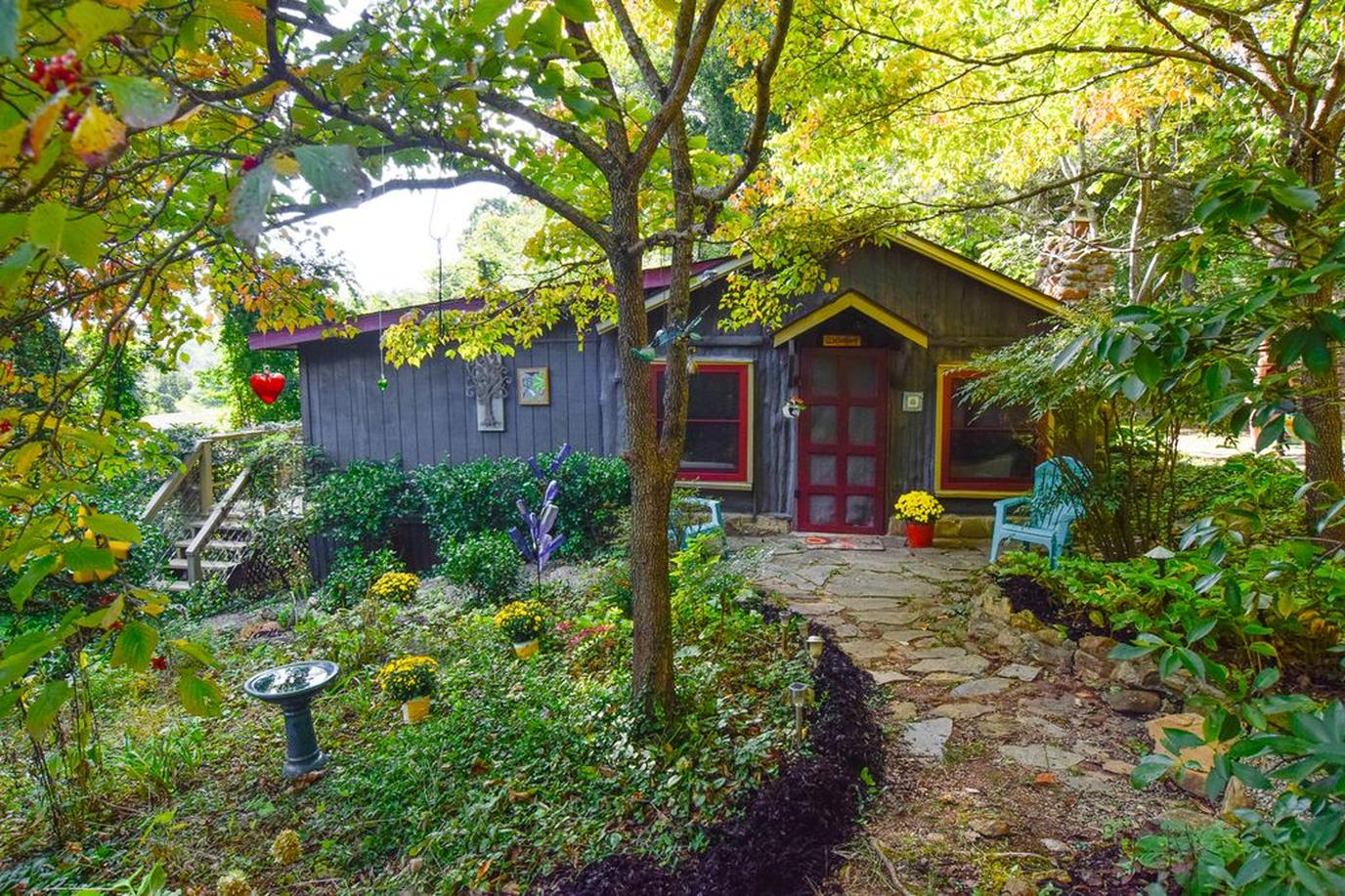 This is one sweet retreat. – Photo by VRBO
Asheville has carved out its spot as one of the best destinations in the nation to celebrate Christmas. Visitors can enjoy the show at Biltmore Estate, which is decorated for the holidays with 55 twinkling trees and thousands of feet of garland. For more merrymaking, bring Fido to the light show at North Carolina Arboretum. Your pup can count down the sleeps until the big day at Wishing Tree Cabin. This historic home is 10 minutes from downtown and 15 minutes from the Biltmore.
Nightly rates during the season start at $135.
Barnsley Resort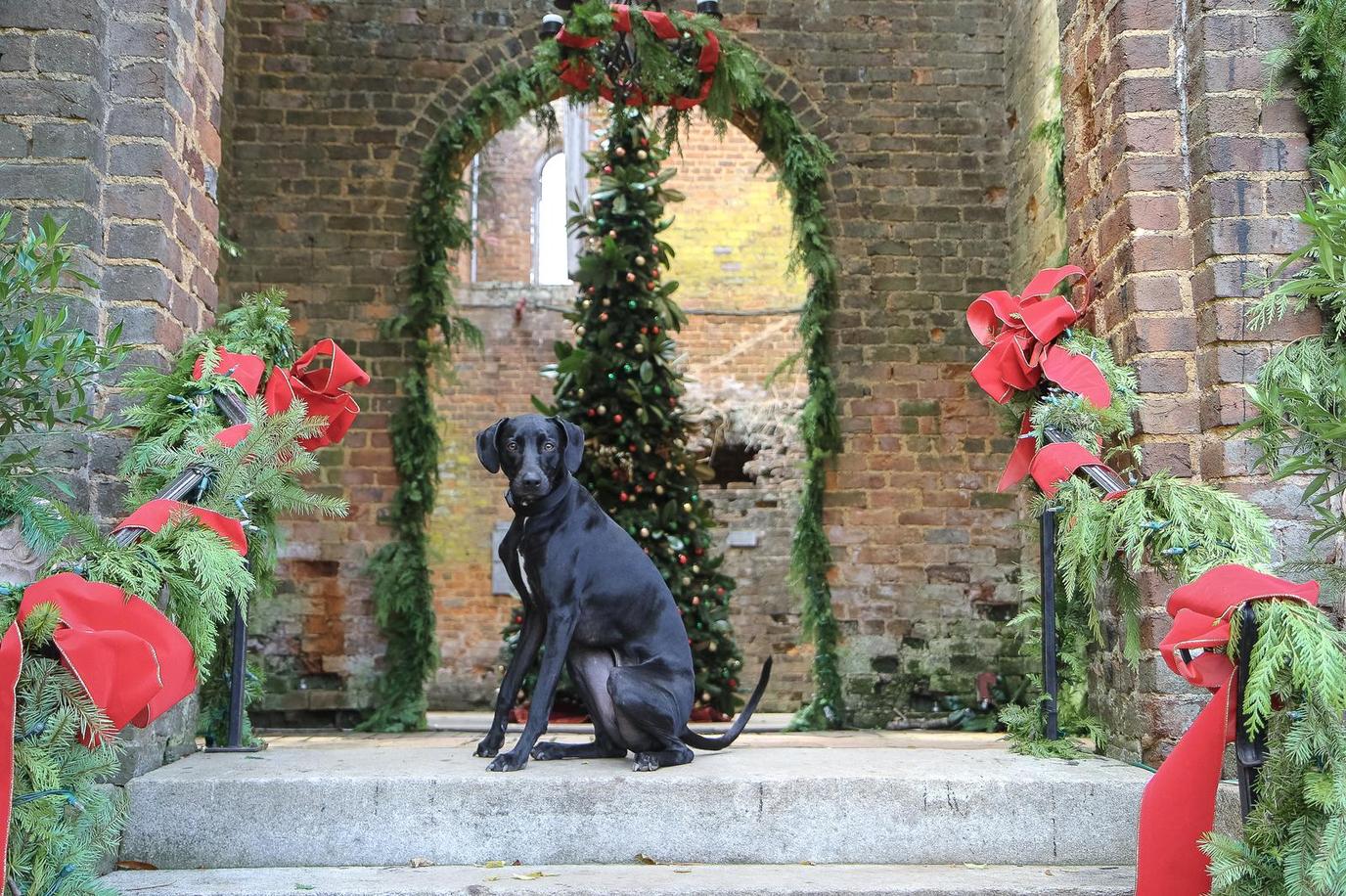 "Classy, sophisticated and stylish, much like me!" – Photo by BringFido
Hosts of one of our favorite festive light displays, the Manor House Ruins, gardens and buildings at Barnsley Resort transform into a sparkling fairyland every year. When the lights are off during the day, work off unwanted stuffing on more than 10 miles of pet-friendly hiking trails and manicured gardens throughout the property. At night, cuddle up by the fire together in your own cottage and soak in the gleaming display outside.
Nightly rates over the holidays start at $220.
The Broadmoor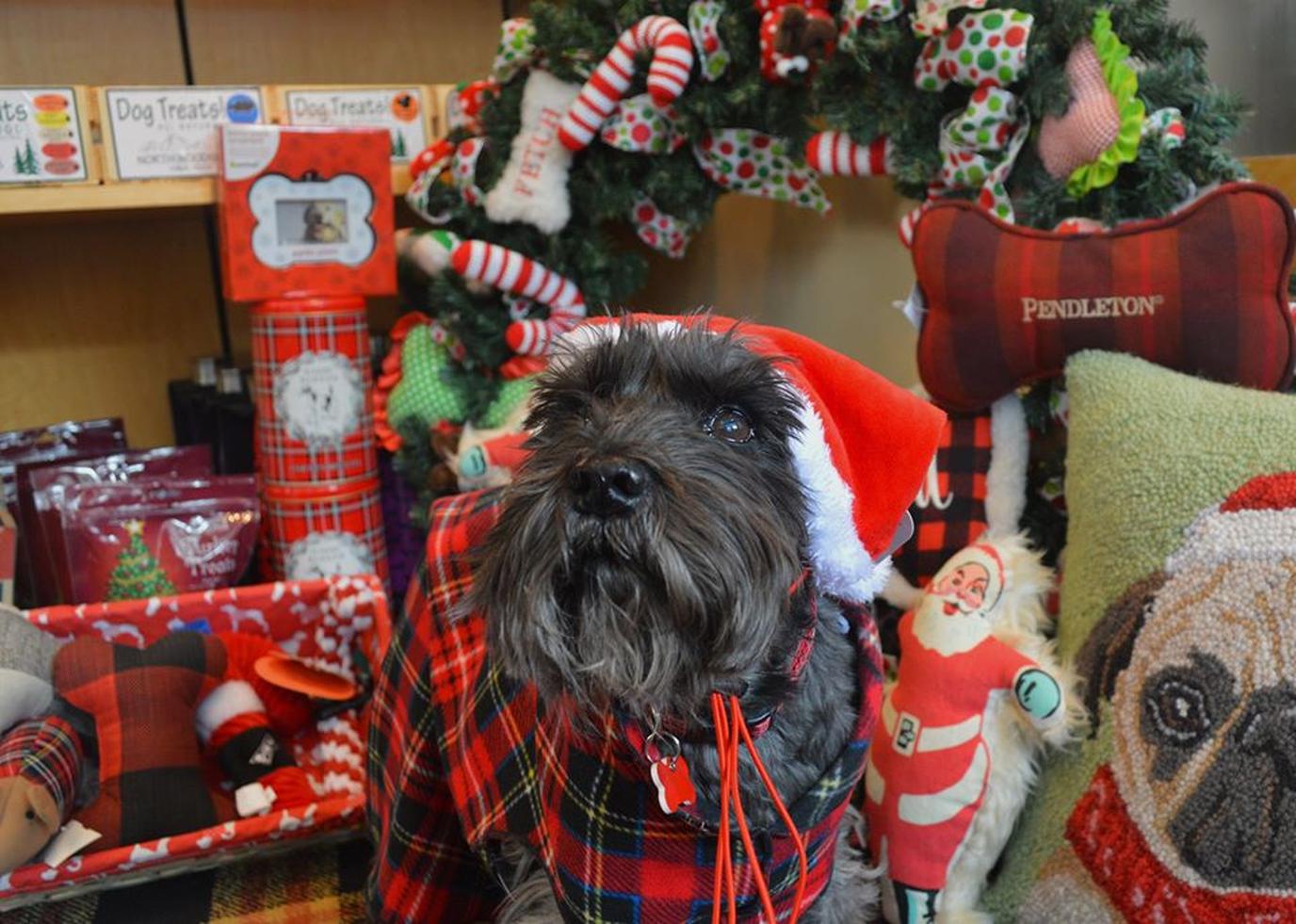 "Christmas? Yeah, I guess it's okay." – Photo by Facebook.com/TheBroadmoor
When you see the big tree at The Broadmoor going up, you'll know it's nearly time for Santa's arrival. As well as dazzling lights outside, the interior of the hotel is decked out just like the jolly man's very own toy factory. Located in Colorado Springs, one of the 12 most pet-friendly cities in the U.S., there's a world of activities and amenities to explore during your stay. Give Fido an early Christmas gift with a trip to nearby Pub Dog Colorado. If you don't feel like venturing out,
four-legged guests receive treats, bowls and a pet bed at check-in.
Nightly rates during Christmas start at $310.
The Plaza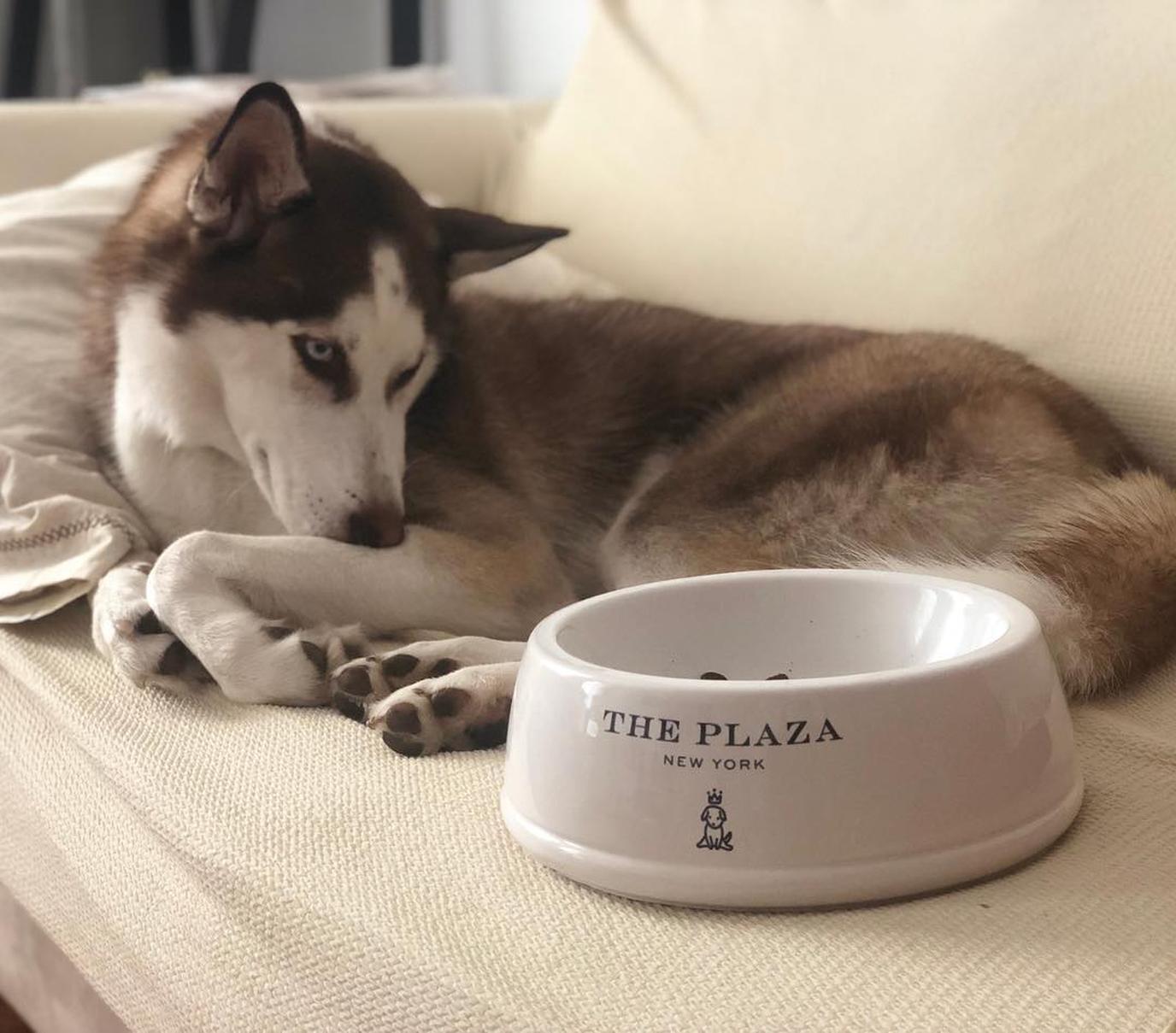 "I'm bowled away by this place!" – Photo by @Oceanofcompassion
Are there any movies that get you in the Christmas spirit more than "Home Alone?" Retrace the steps of Kevin McCallister at The Plaza, the setting for a classic scene in the sequel between Culkin's character and Donald Trump. Speaking of presidential treatment, sign Fido up for the Canine Companions package during his stay, which includes a branded bowl and bed. New York's breathtaking display of lights are on The Plaza's doorstep. Wrap up warm and walk through Central Park or check out the world-famous festive shop windows on 5th Avenue.
Nightly rates at Christmas start at $717.
Charming Orlando Home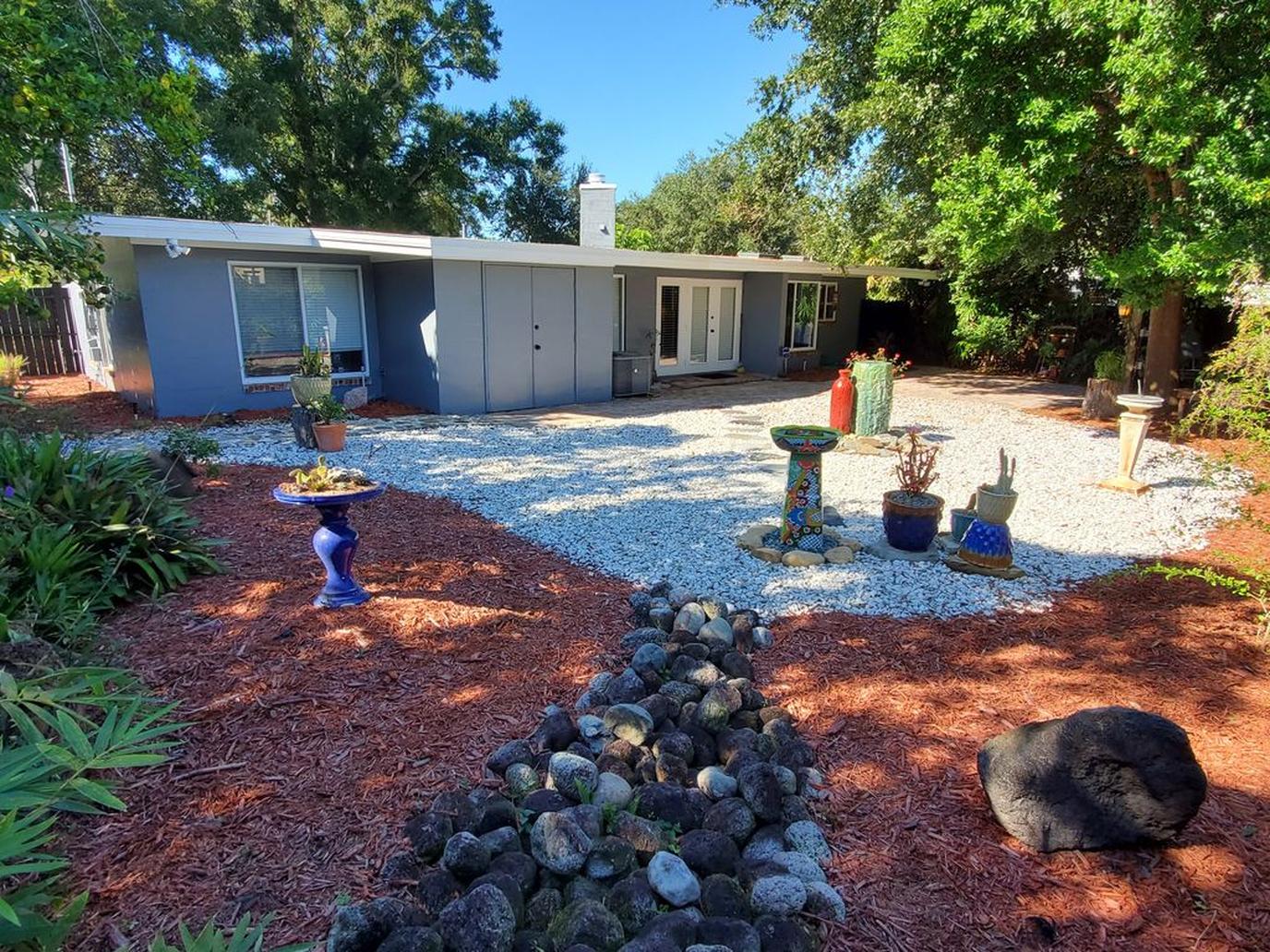 Release the hound in the spacious backyard. – Photo by VRBO
Orlando's warm climate, stretches of beach and fun-filled parks keep it buzzing year-round, and December is no different. Snowbirds and holidaymakers everywhere flock to the city to celebrate a magical Christmas, and Fido can join in the revelry with a stay at this charming Orlando home. He can play off-leash in the backyard or run free at Dr. Phillips Dog Park down the road. You can also take a walk around downtown Celebration together. It "snows" every year in this charming town, and Santa makes frequent appearances.
Nightly rates in December start at $179.
Harraseeket Inn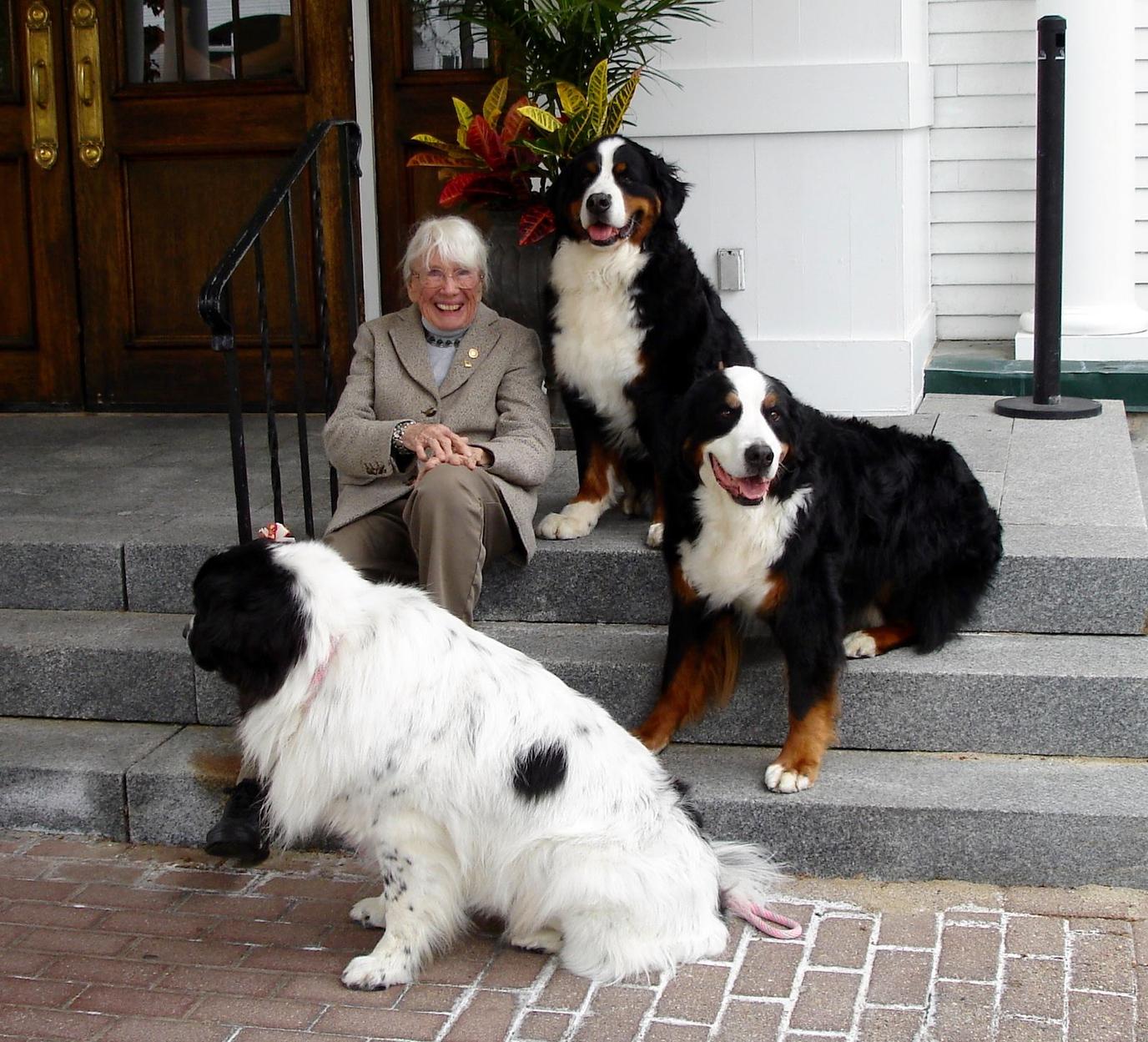 "We're the perfect antidote for a cold winter day." – Photo by Facebook.com/harraseeketinn
Make your way to magnificent Maine for "howl-idays" at Harraseeket Inn. The historic hotel's huge tree is known across the city of Freeport, almost as much as their prime shopping opportunities. Although dogs aren't allowed to enter the flagship L.L. Bean Store, your pooch can join you for last-minute Christmas shopping at the outlet store. After picking out Dad's ugly Christmas sweater, invite your furry friend to join the regulars for a feast of hearty seasonal dishes at the inn's on-site eatery, Broad Arrow Tavern.
Nightly rates for the holidays start at $257.
Cabin on the River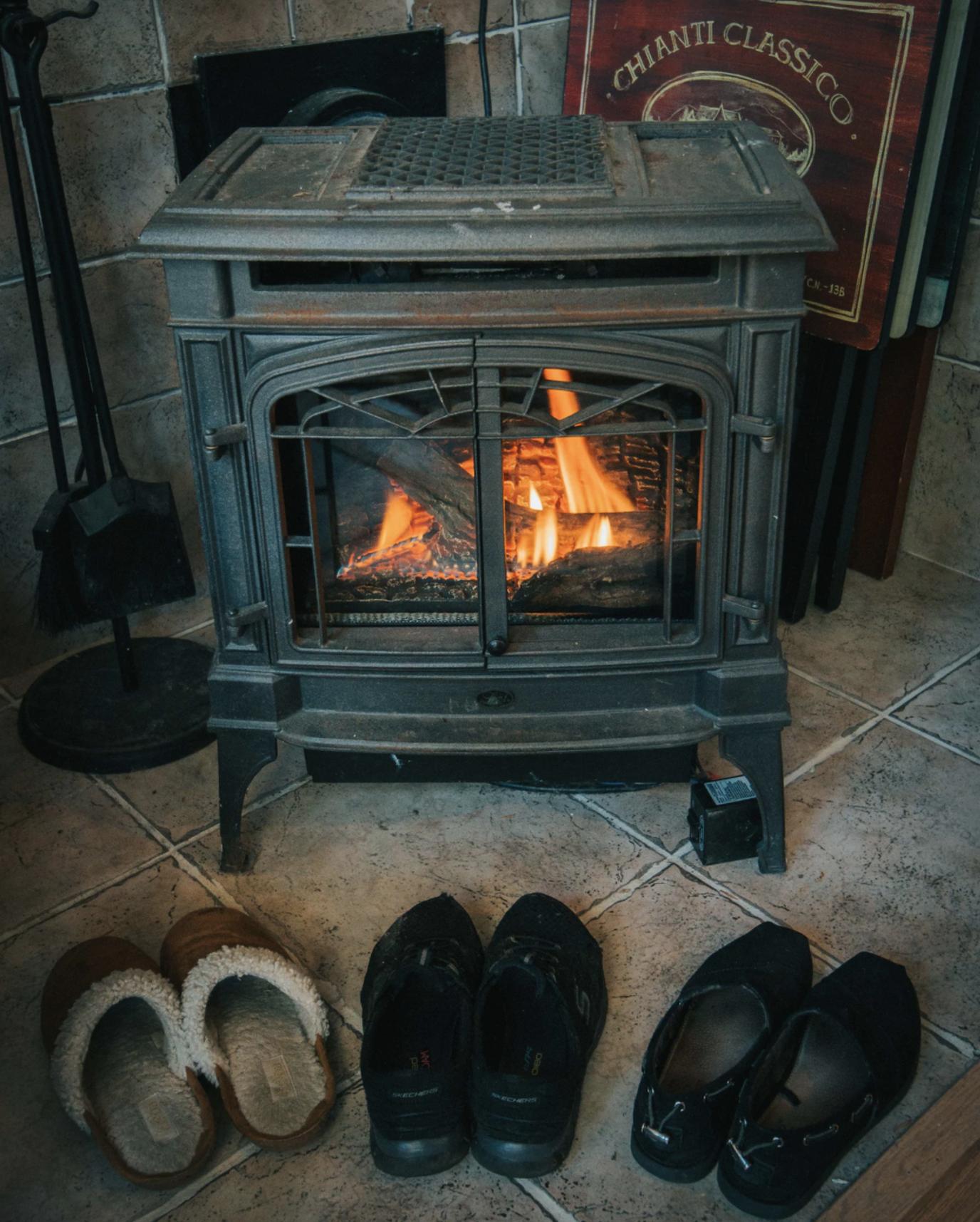 Slippers are not for chewing, Fido! – Photo by Airbnb
Curl up by the log fire at this cozy cabin on the river, the perfect place to enjoy snowshoeing, "Monopaw-ly" in your pajamas and reminding yourselves what Christmas is really all about – family. While you're in the area, take a trip to nearby Leavenworth. This Bavarian-styled village in the Cascade Mountains goes all out for Christmas, delivering a delightful downtown and a spellbinding selection of shimmering lights.
Nightly rates during the season start at $86.
This post from BringFido originally appeared as Christmas in July? Pet-Friendly Holiday Stays to Book Now For Winter Break.