Fear the Walking Fido On These Pet-Friendly Ghost Tours
If you and your pup share a love of all things eerie and mysterious, a pet-friendly ghost tour in one of America's most haunted cities might be right up your dark alley! Leave the scaredy cats at home and bring Fido on one of these unlucky 13 guided adventures for a howling good time.
1. A Ghostly Encounter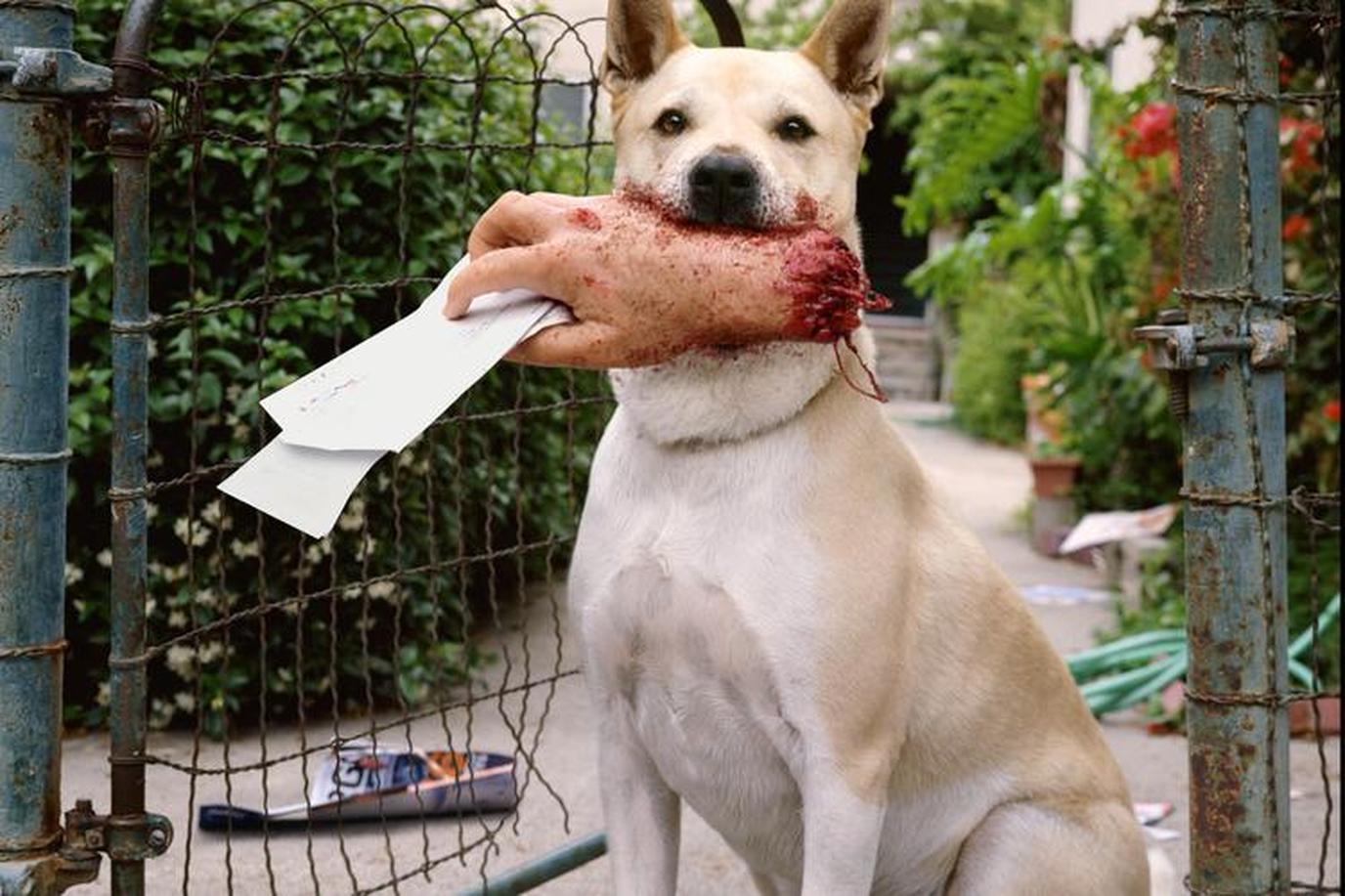 "Let me give you a hand."
If you love haunted happenings rooted in history, you and your canine companion are in for a treat in Saint Augustine. The oldest city in the nation has a sordid past, and A Ghostly Encounter is only too happy to share the gory details with you. The tour has been operating for more than 20 years and incorporates visits to some of the most paranormally active sites in the city, including two cemeteries.
Before you leave this historic city, step back in time with your pup at the old Spanish Military Hospital Museum, wander around the "Old Fort," Castillo de San Marcos National Monument, and spend a night or two at the haunted Casablanca Inn on the Bay Bed and Breakfast.
2. Ghost City Tours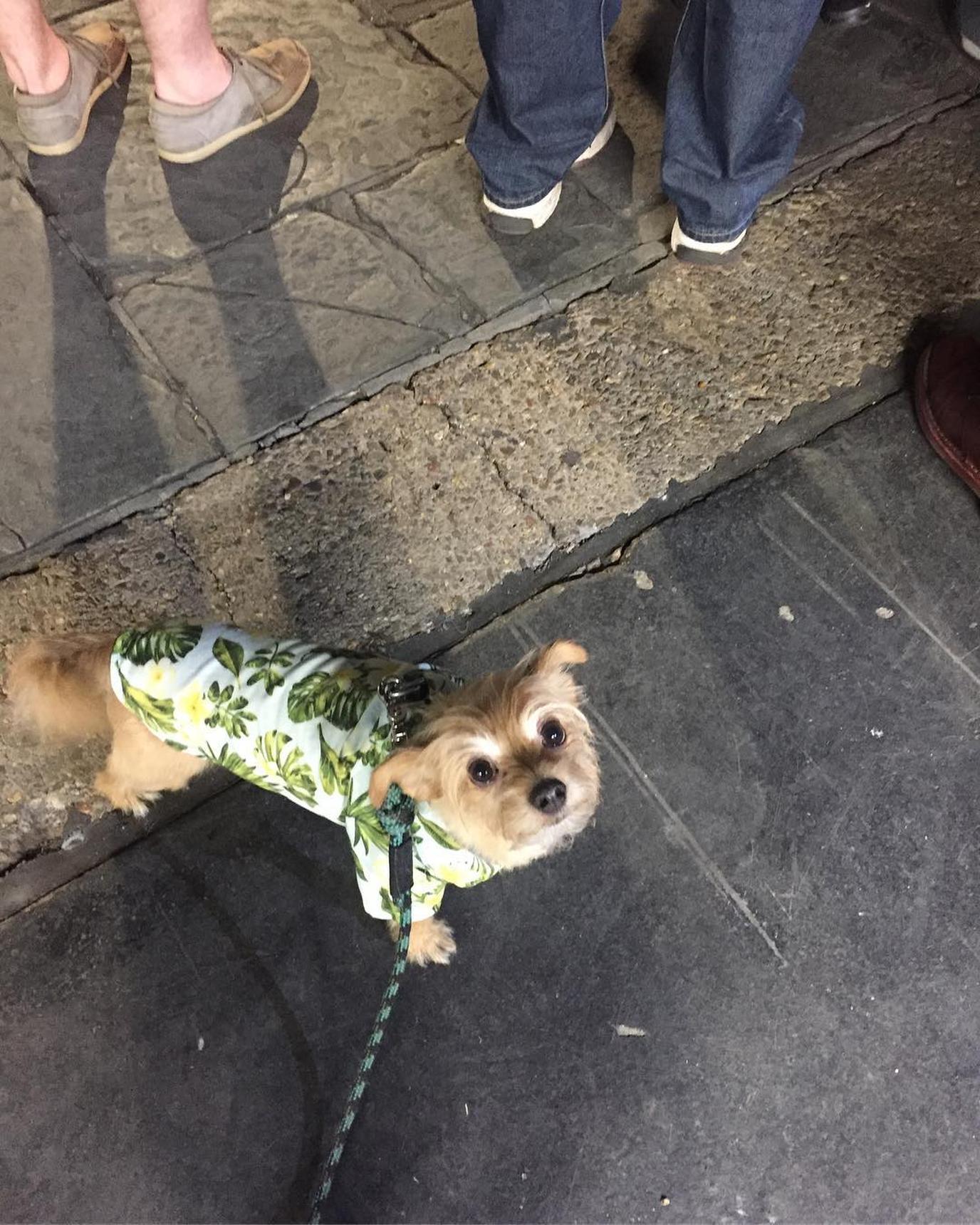 "Did he just say voodoo?" – Photo by @waffles_the_wonder_dog
After an evening with Ghost City Tours, you and your four-legged thrill-seeker will understand why New Orleans has earned a reputation as one of the most haunted cities in the world. Choose from three pet-friendly walking tours: Ghosts of New Orleans, Killers and Thrillers and Bad Bitches. Each one takes you to some of the creepiest locations in NOLA while diving deep into the history of ghosts, voodoo and true crime that still haunts the French Quarter.
The tours cover 1.5 miles and lasts 90 minutes. Guides recommend bringing water for both furry and human guests during warm weather. If you're still itching for a spectral sighting after your adventure, check in to the pet-friendly Omni Royal Orleans, which is rumored to harbor numerous spirits. Well-behaved pets and apparitions may be left unattended in the room.
3. Old Bisbee Ghost Tour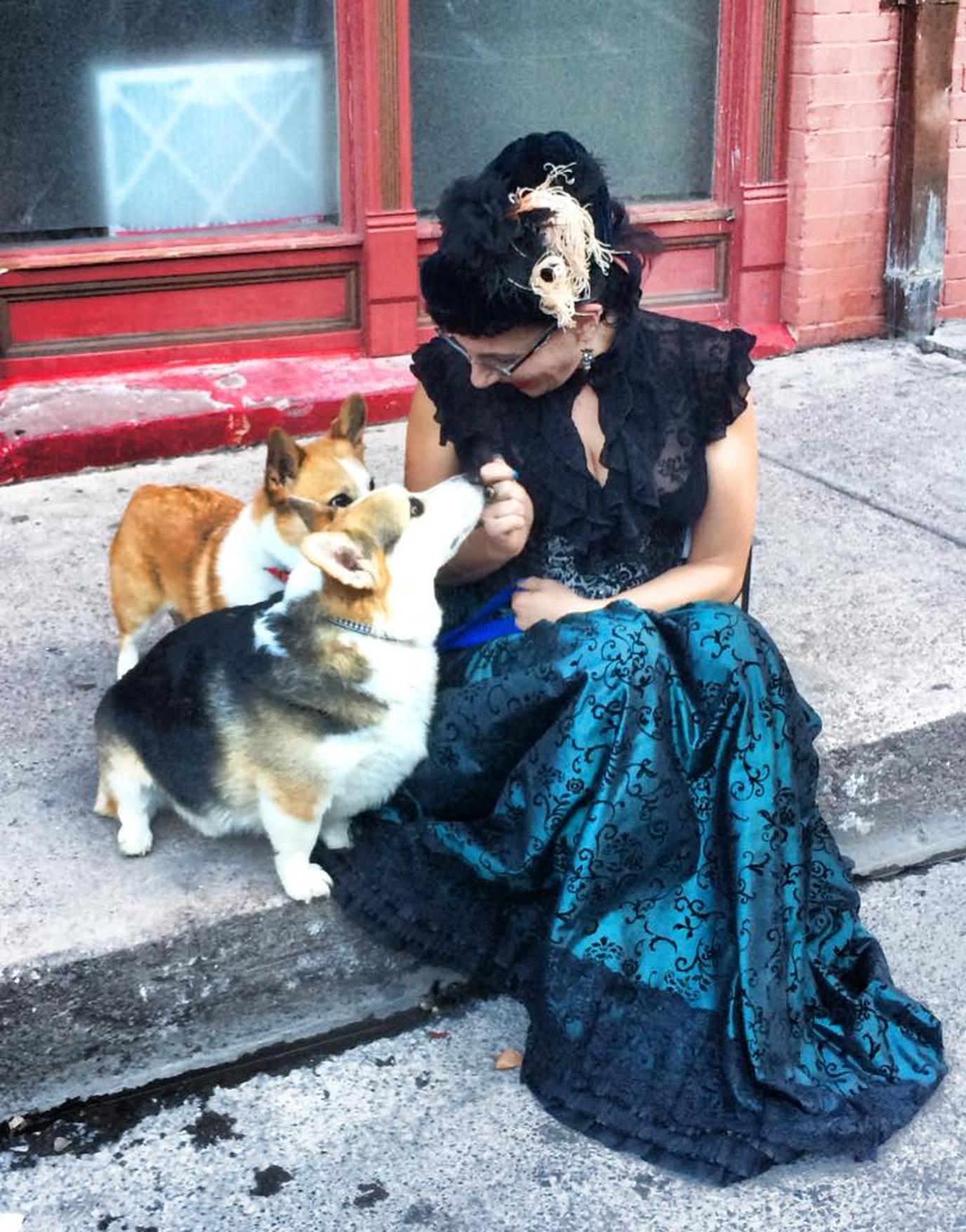 No need to beg. You're guaranteed to have a fetching good time. – Photo by The Old Bisbee Ghost Tour
The Wild West. Gold mining. Border skirmishes. This 130-year-old mining town has enough haunted history to give Fido a real fright. The Old Bisbee Ghost Tour has been voted best attraction in Bisbee and the best ghost tour in Arizona. Guests are encouraged to bring their pets along on the adults-only Old Bisbee Ghost Tour, a mile-long nighttime guided walk, or the family-friendly Haunted Ghost Walk, which takes place before the sun sets and only covers half a mile. Leashed or carried dogs, cats and even pet pigs have been known to join the tour group.
After your paranormal power walk, settle into a pet-friendly and possibly ghost-free vacation rental in Bisbee, like the Gingerbread House Getaway.
4. Haunted Broadway Theatres Ghost Walking Tour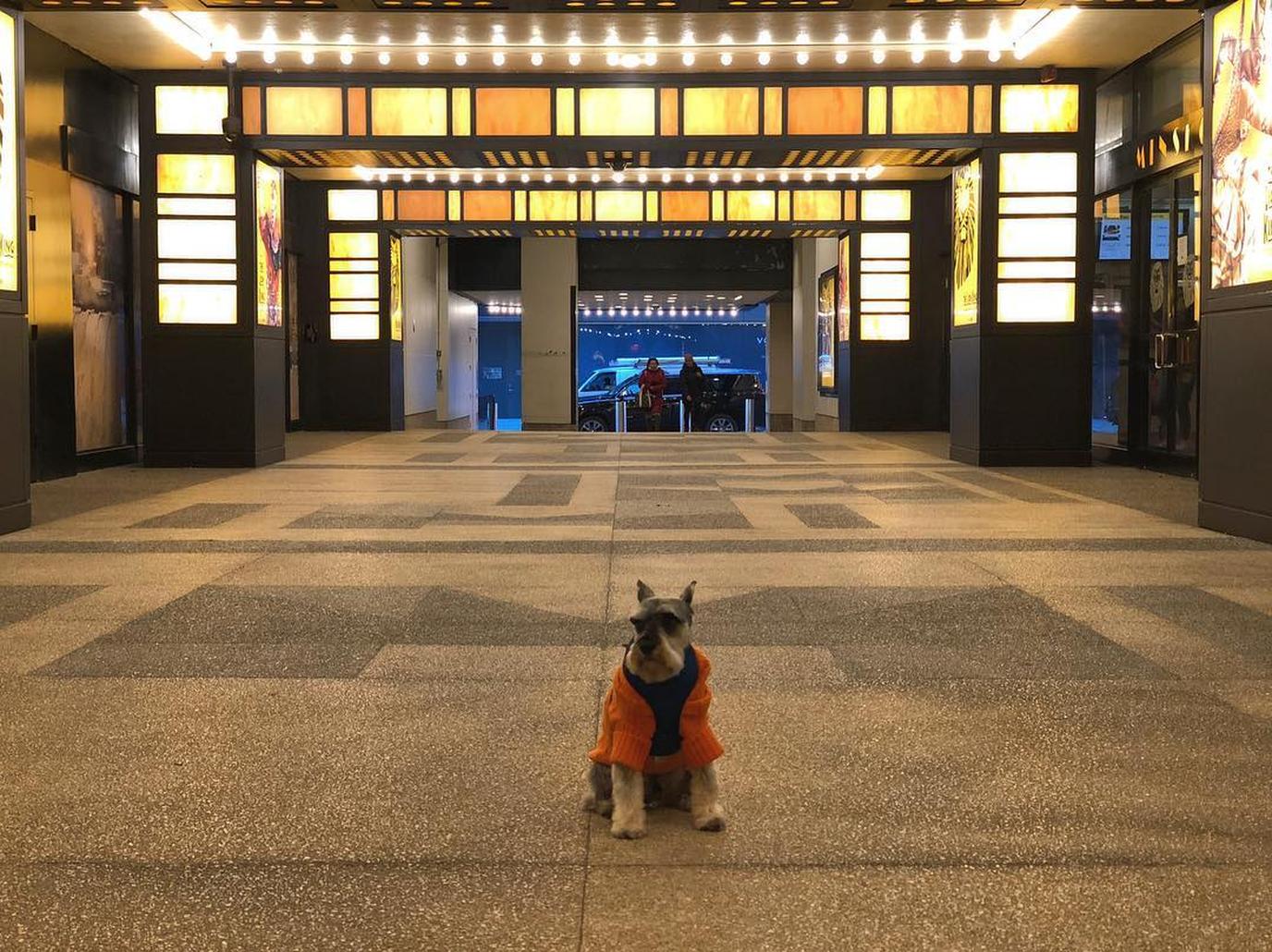 Memories! All alone in the moonlight …. – Photo by @che2be
Musical fan and paranormal enthusiast? The Haunted Broadway Theatres Ghost Walking Tour might be the best of both worlds for you and Fido. This unique ghost tour blends the spooky history and true crime of Broadway's theaters to the tune of some of the most famous musicals from the avenue. You and your pup will learn Micheal Jackson's "Thriller" dance, do the "Time Warp," and sing along to numbers from "Jekyll and Hyde," "Sweeney Todd," "Little Shop of Horrors," "Phantom Of The Opera" and more. Although you won't be able to enter the theaters, you'll hear about the mysteries still haunting your favorite playhouses and productions.
Many of Times Square's pet-friendly hotels only allow small dogs, but if your hefty hound is just too solid to be mistaken for an apparition, book a room at the Hilton Times Square, where two pets up to 75 lbs are welcome.
5. Old Charleston Ghost Tours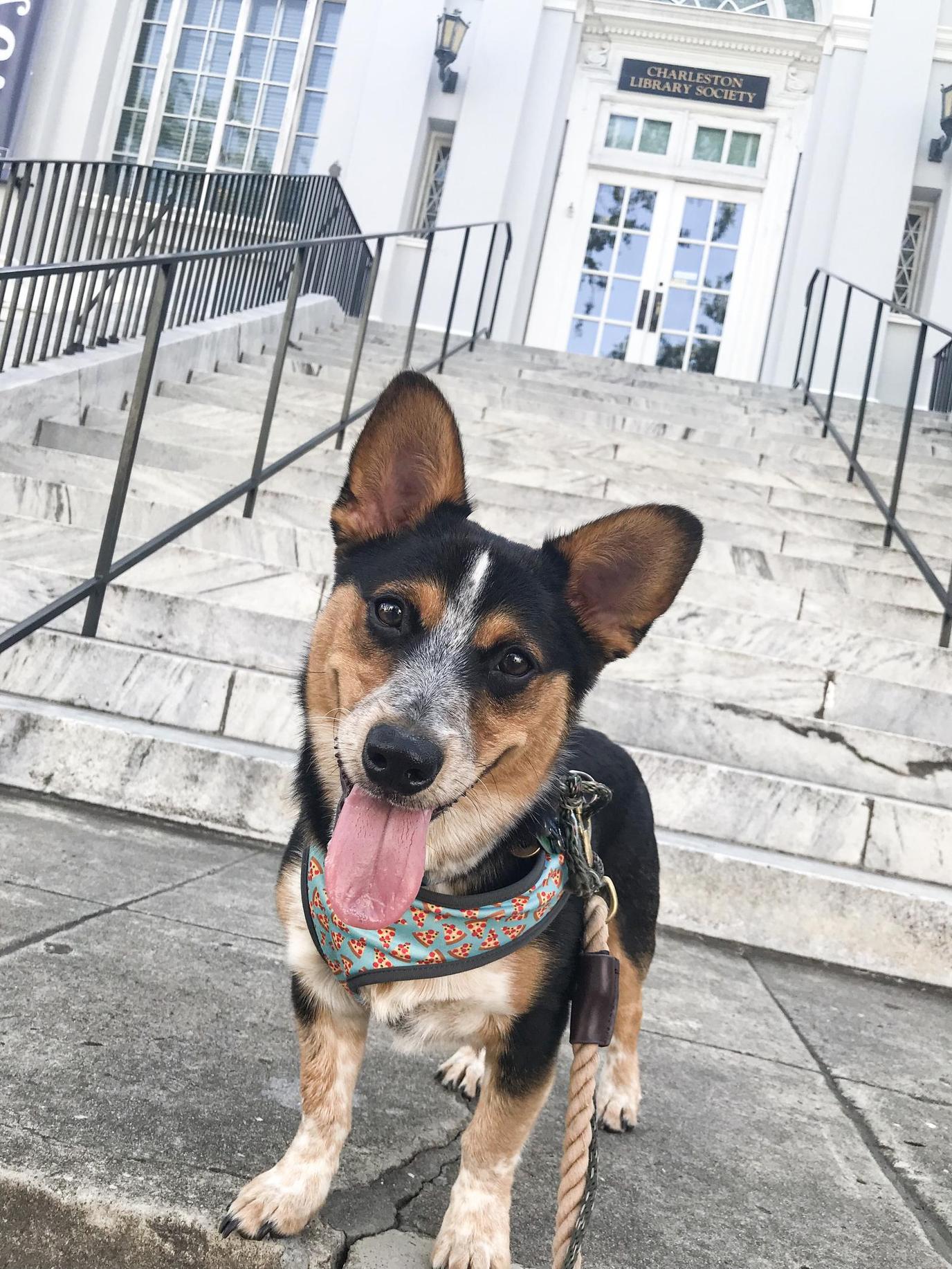 "Exorcise? I thought you meant we were going on a walk!" – Photo by Kirsten
Even if you don't see any ghosts, you'll be glad you visited boo-tiful Charleston, South Carolina. Site of both the Revolutionary and Civil Wars, this city has no shortage of supernatural occurrences. Once night falls, take a spooky stroll with Old Charleston Ghost Tours and bring your pup along to chase away the bad spirits. The tour lasts around 90 minutes and usually includes the tale of Poogan, a ghost dog who still roams the streets of Charleston.
Keep the scary fun going with dinner at Poogan's Porch, named after the long-dead hound who still makes appearances at the joint. Afterwards, check in at the pet-friendly and rumored-to-be-haunted Barksdale House Inn.
6. Sisters Grimm Ghost Tours
Get ready to em-bark on a spooktacular adventure. – Photo by Sisters Grimm Ghost Tours
Is your mutt willing to brave the spirits still defending the Alamo? Sisters Grimm Ghost Tours takes human and canine visitors to the three oldest parts of San Antonio–Alamo Plaza, Main Plaza and Military Plaza–on its Haunted History Walk. Obi, The Sisters Grimm's Border Collie, used to join every tour but is now retired. In his place, your leashed pup is welcome to join the ghoul-hunting party.
The Haunted History Walk covers more than a mile and takes roughly two hours to complete. One of the stops is outside The Menger Hotel, one of our favorite dog-friendly haunted hotels.
7. Baltimore Ghost Tours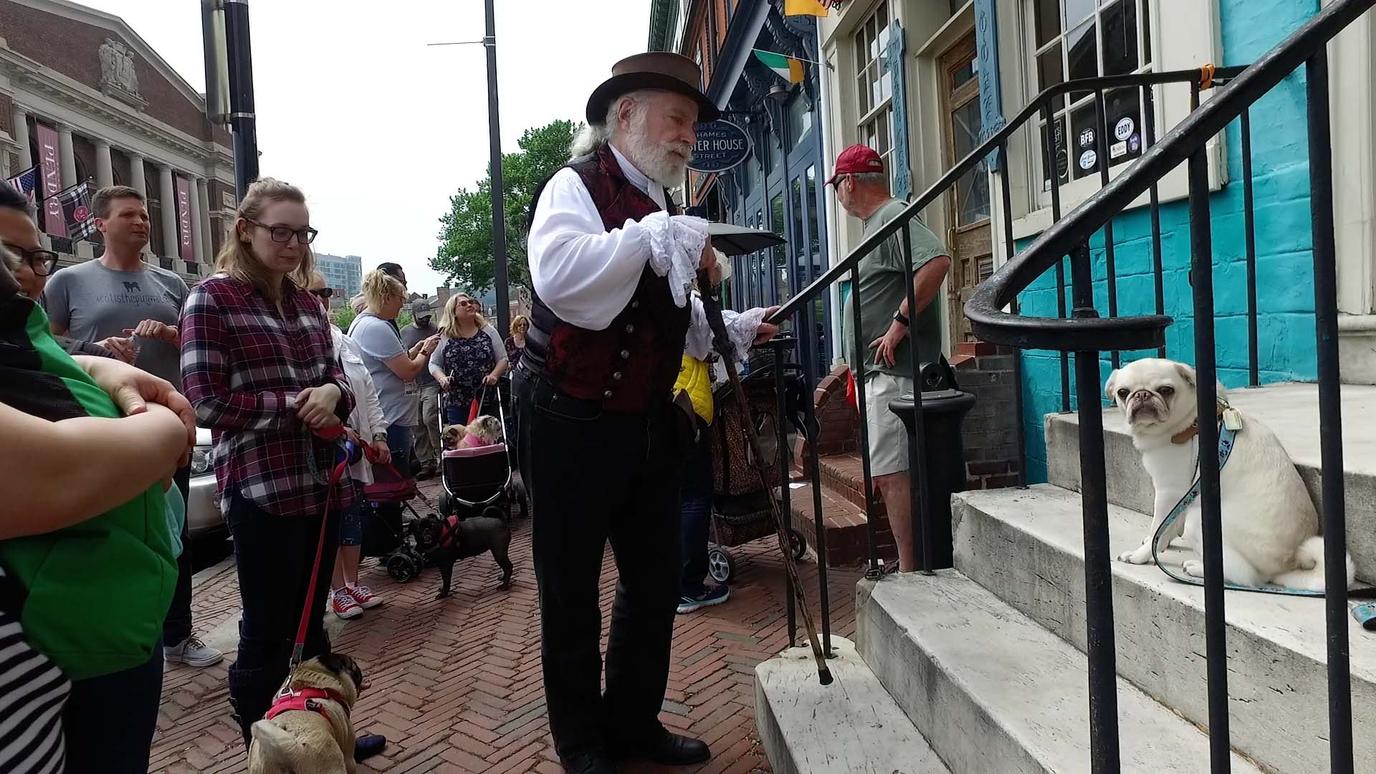 "Do I smell a ghost? Nope, just a cat." – Photo by Baltimore Ghost Tours
According to Baltimore Ghost Tours, industry, immigrants and ghosts have cultivated a rich haunted history for you to discover in Edgar Allan Poe's hometown. The company's Original Fells Point Ghost Walk doesn't disappoint, with several locations that will delight human and canine students of the occult. The tour is entirely outdoors and covers about 3/4 of a mile, with frequent stops for eerie tales.
The tour's starting point is one block from the pet-friendly Admiral Fell Inn, believed by some to be one of the most haunted hotels in America.
8. Chattanooga Ghost Tours, Inc.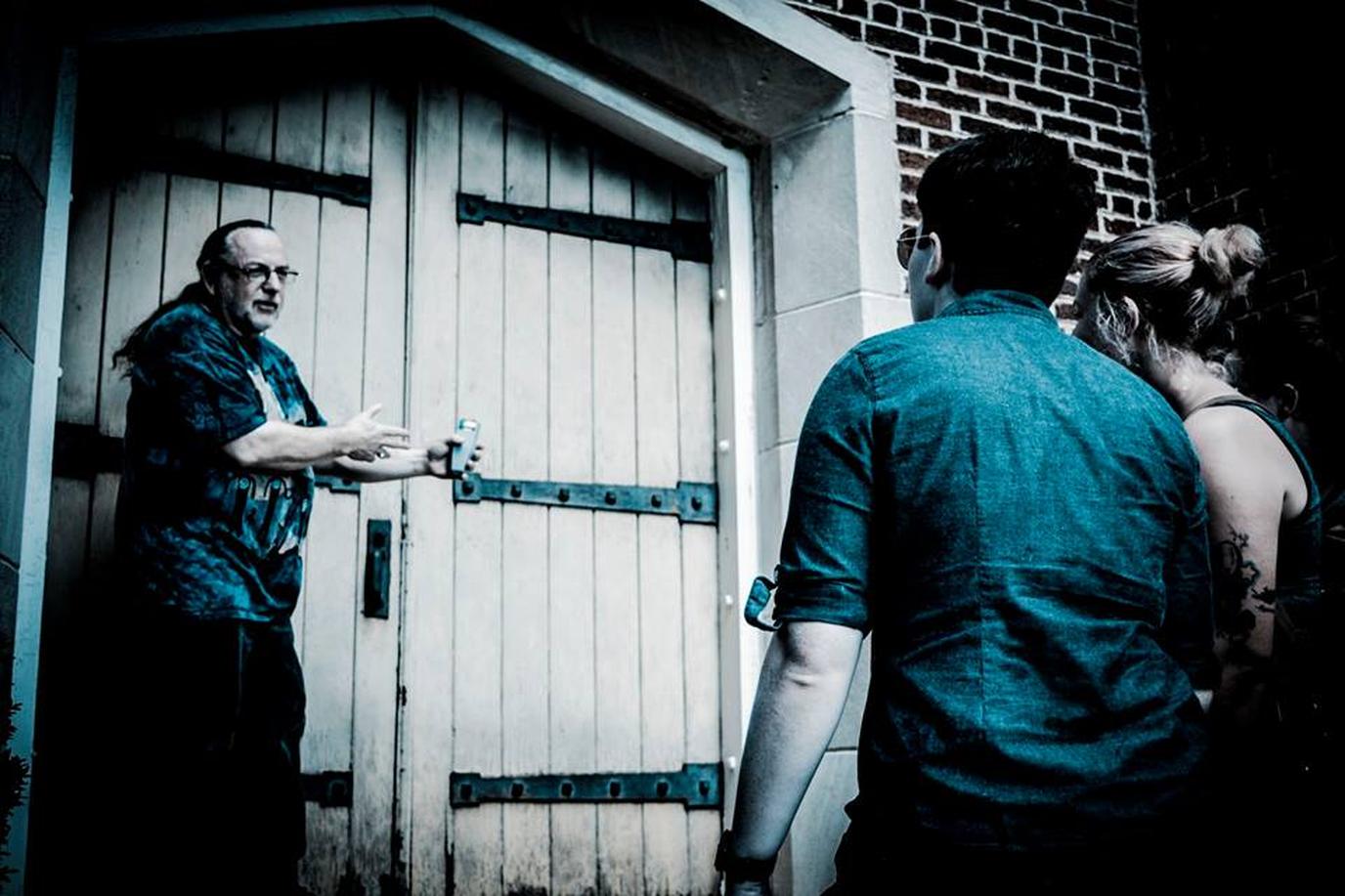 Right this way, Fido. – Photo by Facebook.com/ChattanoogaGhostTours
Ready to sniff out some other-worldly spirits? The award-winning storytellers at Chattanooga Ghost Tours, Inc. will lead you and Fido through a journey into this town's darkest history, which is steeped in Civil War battles and the tragedy of The Trail of Tears. The town's past inhabitants must be active in the present, since this has been named one of the top 10 ghost tours in the country by TripAdvisor and USA Today. Well-behaved pets are welcome on the Original Chattanooga Ghost Tour and the Murder & Mayhem Tour.
With its paved Riverwalk, myriad outdoor activities and thriving arts scene, Chattanooga is worth a few days' exploration. Whether you and your furry friend prefer a downtown apartment or a mountain retreat, you'll find several pet-friendly vacation rentals close to all that this city has to offer.
9. Spooks and Legends Haunted Tour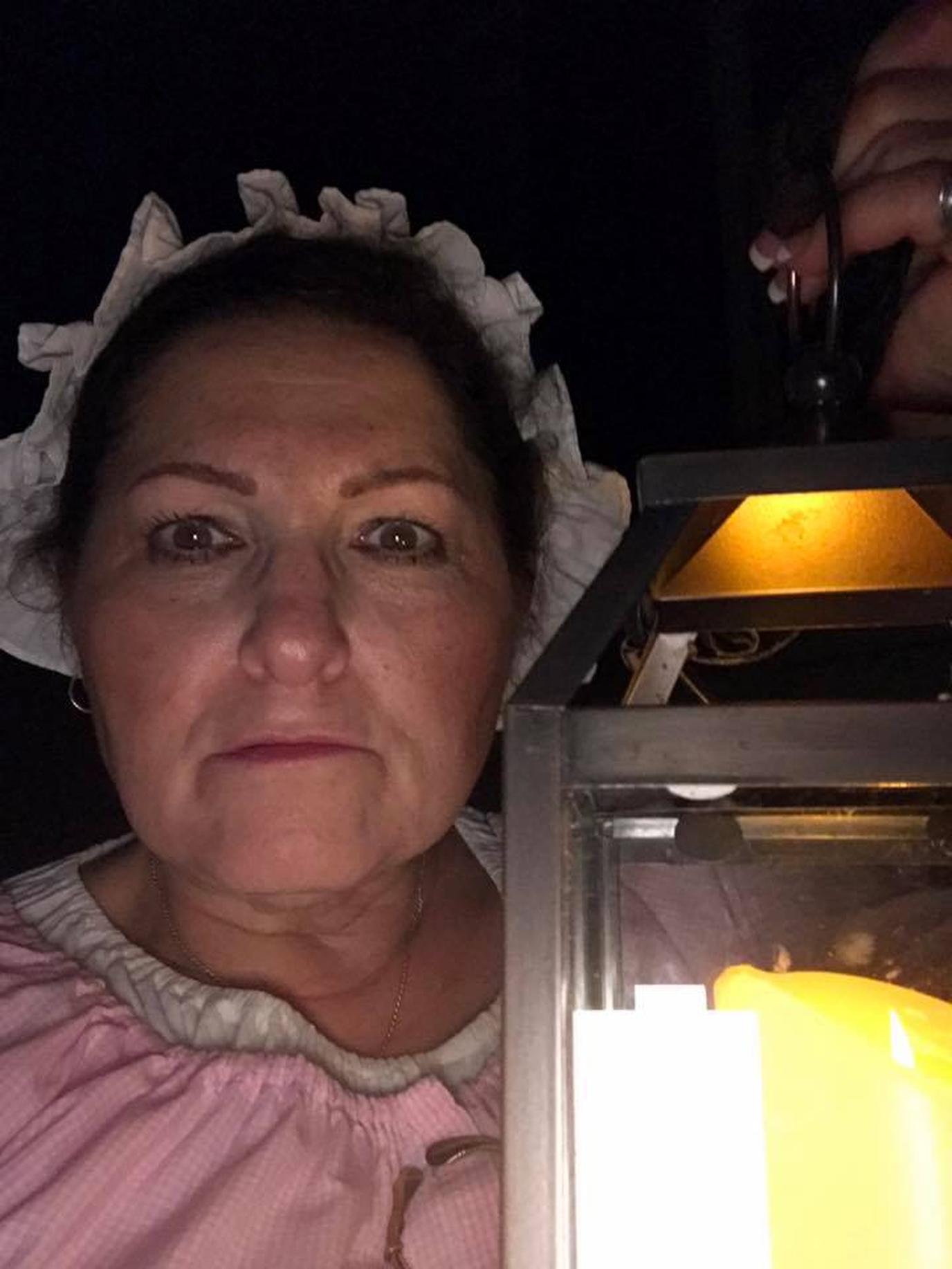 Who put a bone in her bonnet? – Photo by Facebook.com/spooksandlegends
History is best learned firsthand from those who lived it and, in Williamsburg, some of the town's original inhabitants never left. Two- and four-legged adventurers will have revolutionary fun trying to spot apparitions from America's past at this living museum. Just reserve your spot with Spooks and Legends Haunted Tour, which focuses on the true stories and paranormal experiences that have taken place in town.
All the tours are pet-friendly and are conducted by a guide attired in colonial costume. For a truly unique experience, sign up for the Dead of Night Ghost Tour, the only one narrated in first person by a guide playing the part of a long-dead spirit. If the almost-supernatural encounter is too much for Fido, choose the Witches & Pirates Tour or the Colonial Conspiracy Tour instead.
Stay in the colonial era with a few nights at the pet-friendly Williamsburg Inn. You'll love the old-world opulence of this grand property, while your best friend will appreciate the treats at the front desk.
10. Blue Orb Ghost Tours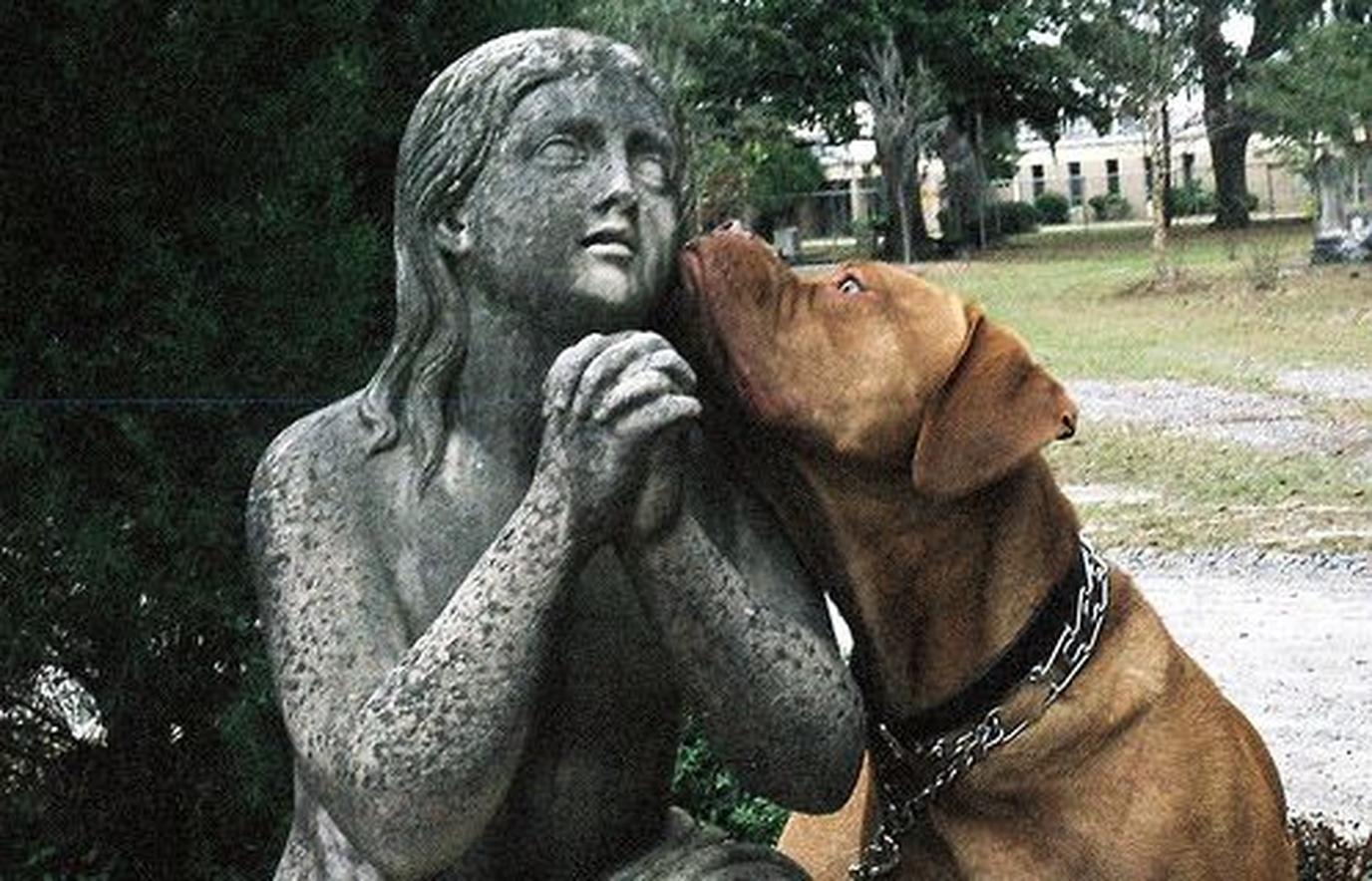 "Are you my mummy?"
History buff? Ghost hunter? Dog lover? Pet-friendly Savannah has it all. Much of this city's haunted history dates to the Civil War. Once the sun sets, you and your best bud can walk the streets in search of a few frights with Blue Orb Ghost Tours. Their three walking ghost tours are pet friendly and combine a mix of history and eyewitness accounts that are sure to spook even the most courageous canine. Blue Orb also offers pet-friendly Bonaventure Cemetery Tours that include round-trip transportation in climate-controlled shuttles, photo ops and graveside narration. The 160-acre cemetery is one of the most beautiful in the country.
Stay near River Street at East Bay Inn and enjoy long walks through Savannah's historic and often haunted squares. Just warn Fido not to bark at Charlie, the Inn's resident ghost.
11. The Haunted Walk of Toronto
Hey there, boo-tiful.
Some say a dog's keen senses can detect spirits. Put your pup's supernatural skills to the test on The Haunted Walk of Toronto. You'll get to see the city by lantern-light and learn the stories that never made it into the history books. Well-behaved, leashed pets are welcome on the majority of the tours, except for the Haunted Walk Experience at Black Creek Pioneer Village and tours that enter independently owned buildings.
Guests must contact The Haunted Walk of Toronto before booking to let them know of any canine companions. For a scary good time in Canada's largest city, check in with your pooch at the infamously haunted Fairmont Royal York.
12. Haunted Haight Walking Tour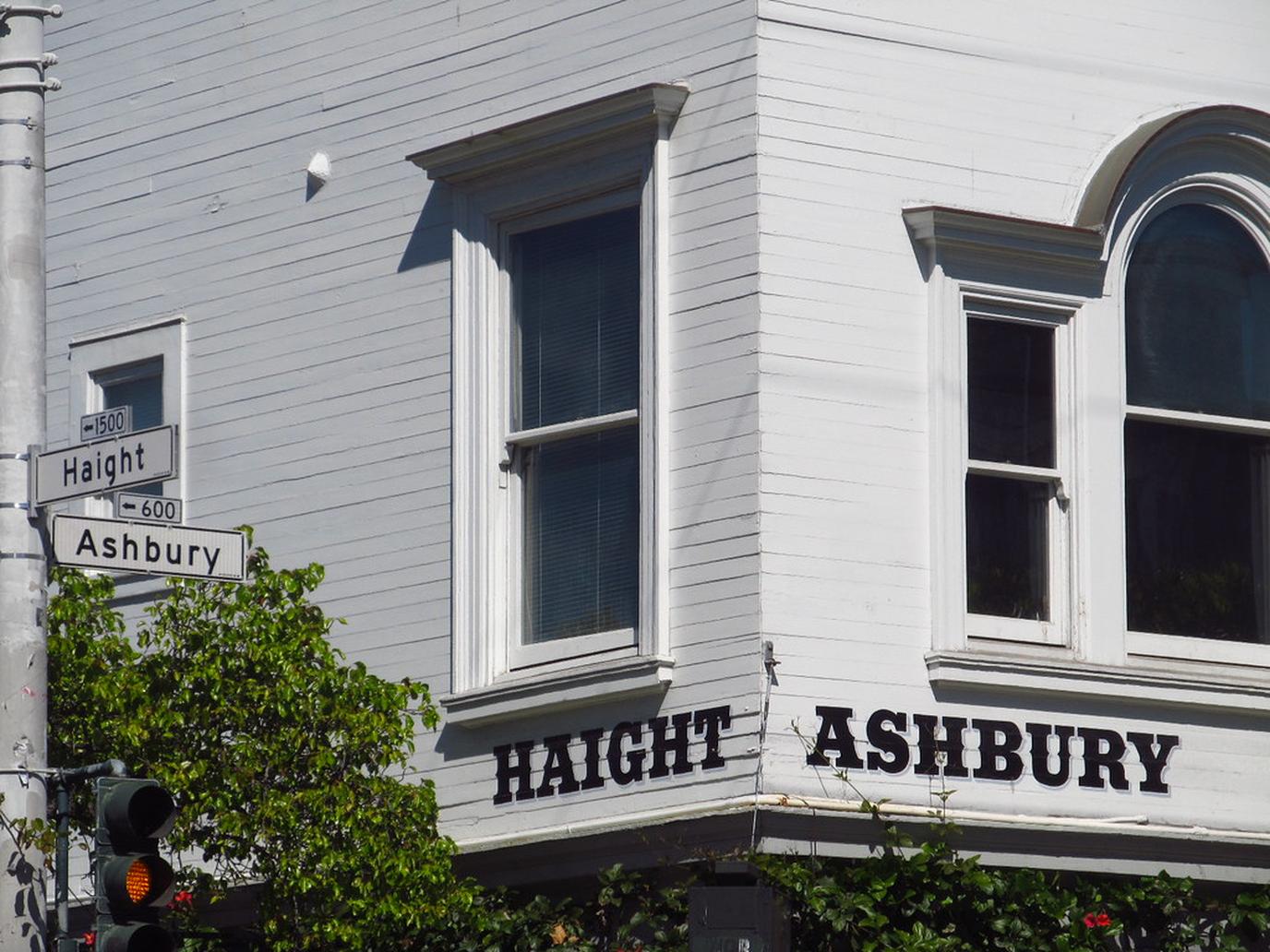 Getting frightened in Haight. – Photo by flickr.com/Willis Lam
San Francisco's grim and ghoulish past promises a howling good time for you and Fido. During the day, scout out Golden Gate Park together and try to find the spectral "Lady in White," who is said to haunt the park. When the sun sets, bring your pooch along on the spine-tingling Haunted Haight Walking Tour. Your tour is guided by the founder and president of the San Francisco Ghost Society, who knows his fair share about the most chilling hangouts in this city.
Not only is Haunted Haight Walking Tour one of the only pet-friendly ghost tours in San Francisco, it also has the rare advantage of avoiding any of the city's famously steep hills during its entire two-hour, 16-block trek! After your adventure, stick around in the funky, bohemian neighborhood of Haight-Ashbury with a few nights' stay in a pet-friendly vacation rental.
13. Salem Haunted Footsteps Ghost Tours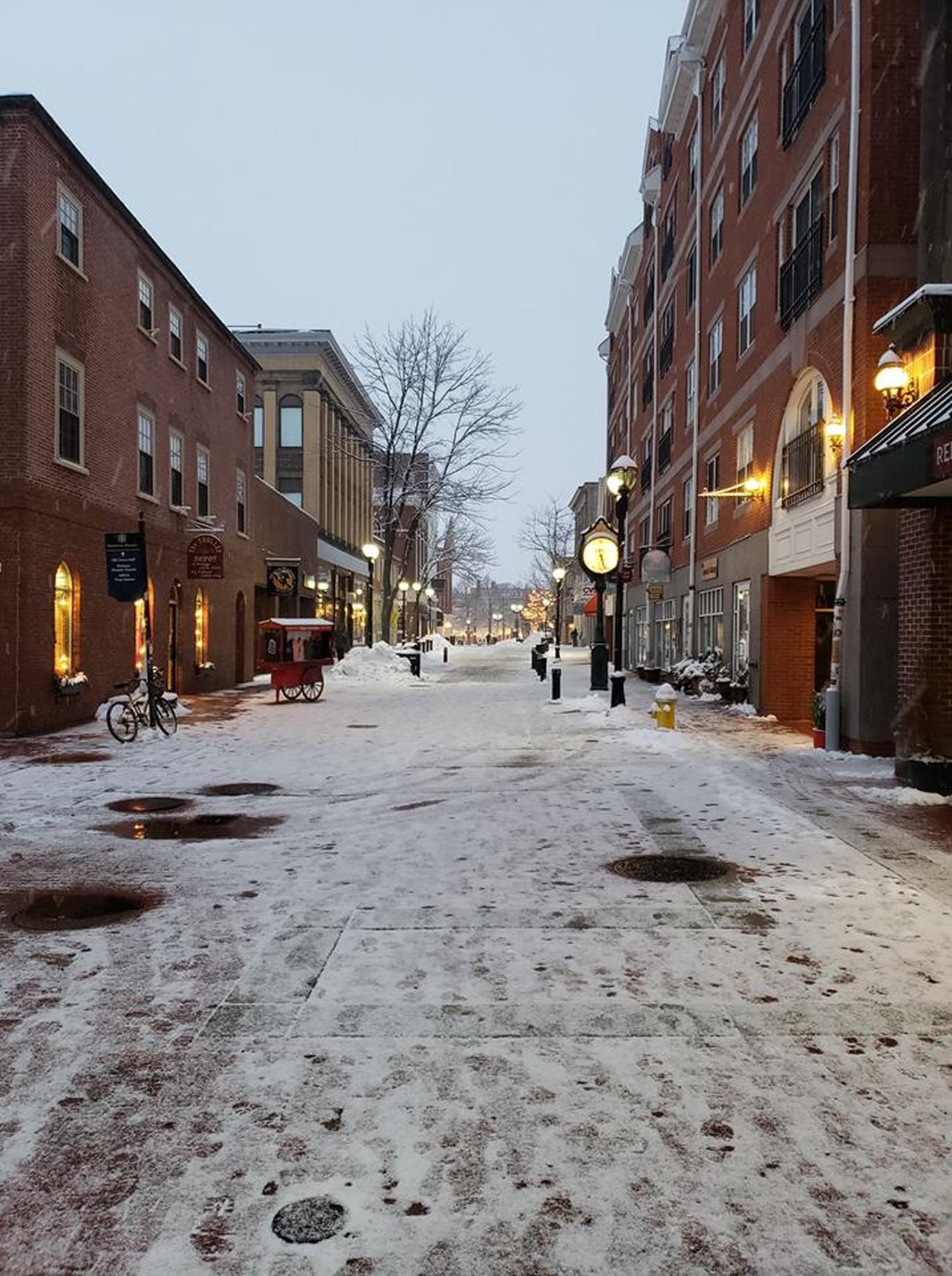 What could possibly be lurking here? – Photo by Facebook.com/salemhistoricaltours
Is your furry ghostbuster ready to tackle the witches, spirits and all-around macabre vibe of Salem? There's no better place to start than the city's original ghost tour. Salem Haunted Footsteps Ghost Tours by Salem Historical Tours gives you an authentic look at this quaint New England town, made infamous by its witch trials in 1692. Your lantern-lit walk takes you to many of the "Witch City's" most popular haunts, including the cemetery. While leashed dogs are typically not allowed inside, you may hold your pooch during this portion of the tour.
If the spirits don't make an appearance on your walk, try your bad luck with a stay at the pet-friendly Salem Inn or Hawthorne Hotel, two of the most supernaturally active sites in the city. Before you leave, be sure to stop by New England Dog Biscuit Company to grab a bag of Salem-themed dog cookies.
This post from BringFido originally appeared as Fear the Walking Fido On These Pet-Friendly Ghost Tours.