Feast With Fido: 9 Spots Where You Can Enjoy Thanksgiving Dinner with Your Dog
The task of planning and preparing a bountiful Thanksgiving dinner can be daunting. Spending hours confined to a messy kitchen knee-deep in dishes of mac and cheese, trays of green bean casserole, sauce pans bubbling with gravy, pots filled with mashed potatoes and a hot oven stuffed with a baking bird isn't everyone's idea of fun. Thankfully, there are restaurants, hotels and even state parks that do all the work for you, and even allow your dog to join the culinary celebration on Thanksgiving Day. Here are nine places where you can enjoy a dog-friendly Thanksgiving dinner.
1. Kentucky State Resort Parks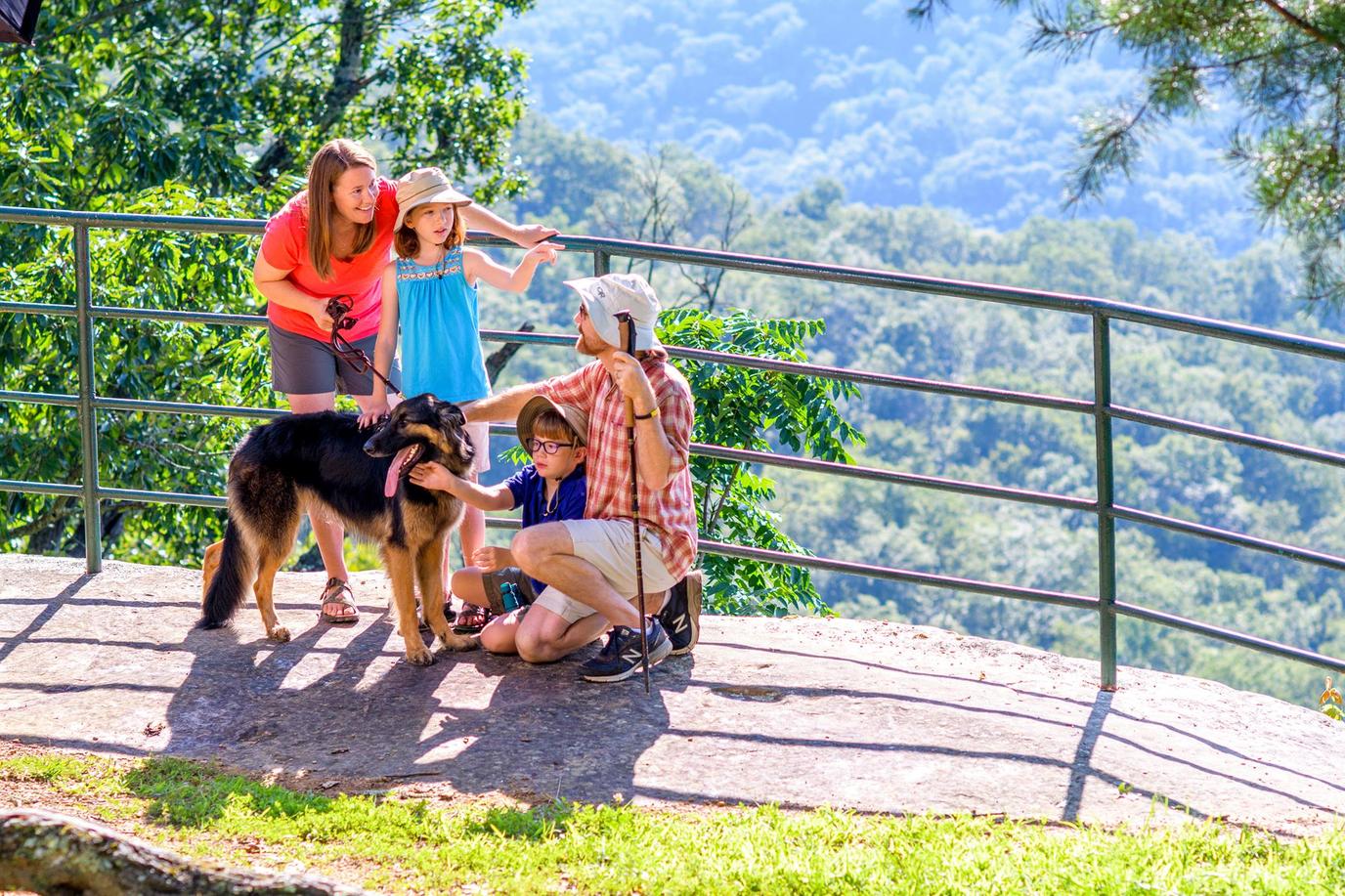 "Hiking is fun and all, but when's dinner?" – Photo by Facebook.com/kystateparks
If you live in the Bluegrass State and are looking for a different kind of Thanksgiving outing, Kentucky State Resort Parks are rolling out a full menu of traditional favorites beginning at noon. Whet your appetite with a bowl of hot soup and a fresh salad before digging into a main course of roasted round beef, turkey and dressing or baked ham. Save room for a hearty slice of pumpkin or pecan pie.
Should the weather cooperate, you and your hungry hound can dine at an outdoor picnic table, or rent an on-site lodge or cottage in parks that offer overnight accommodations. Leashed dogs are welcome in designated areas inside the parks, but there is an additional pet fee of $30 per stay in lodges and $50 per stay in cottages.
This fantastic feast is available at all Kentucky State Resort Parks except Kenlake, and Buckhorn Lake will only serve a limited menu. The cost is $19.99 for adults, $9.99 for children ages 6-12 and free for kids under 5.
2. McMenamins Edgefield at Blackberry Hall
Dressed to feast. – Photo by Facebook.com/McMenaminsEdgefield
A turn-of-the-century era resort, winery and wedding venue, McMenamins Edgefield will host a Turkey Day buffet at Blackberry Hall from noon to 6 p.m. A menu of classic favorites includes warm buttered rolls, garlic green beans, Yukon Gold mashed potatoes, herb-roasted turkey with gravy and brandied pumpkin pie. They also offer a vegan option featuring a Field Roast of roasted roots and green beans, cranberry relish and apple empanadas.
Dogs are not permitted in the banquet room, but they can join you in the outdoor area attached to Blackberry Hall. If you're staying in the main lodge, you can also get your meal to go and dine in a pet-friendly room. Prices for the buffet are $39 for adults, $24 for children ages 5 to 12 and free for kids 4 and under.
After strapping on the feed bag, you and Fido can get an early jump on those New Year's Resolutions by hiking the network of on- and off-leash trails at Sandy River Delta Park, located less than 2 miles from McMenamins Edgefield.
3. Moxie Kitchen & Cocktails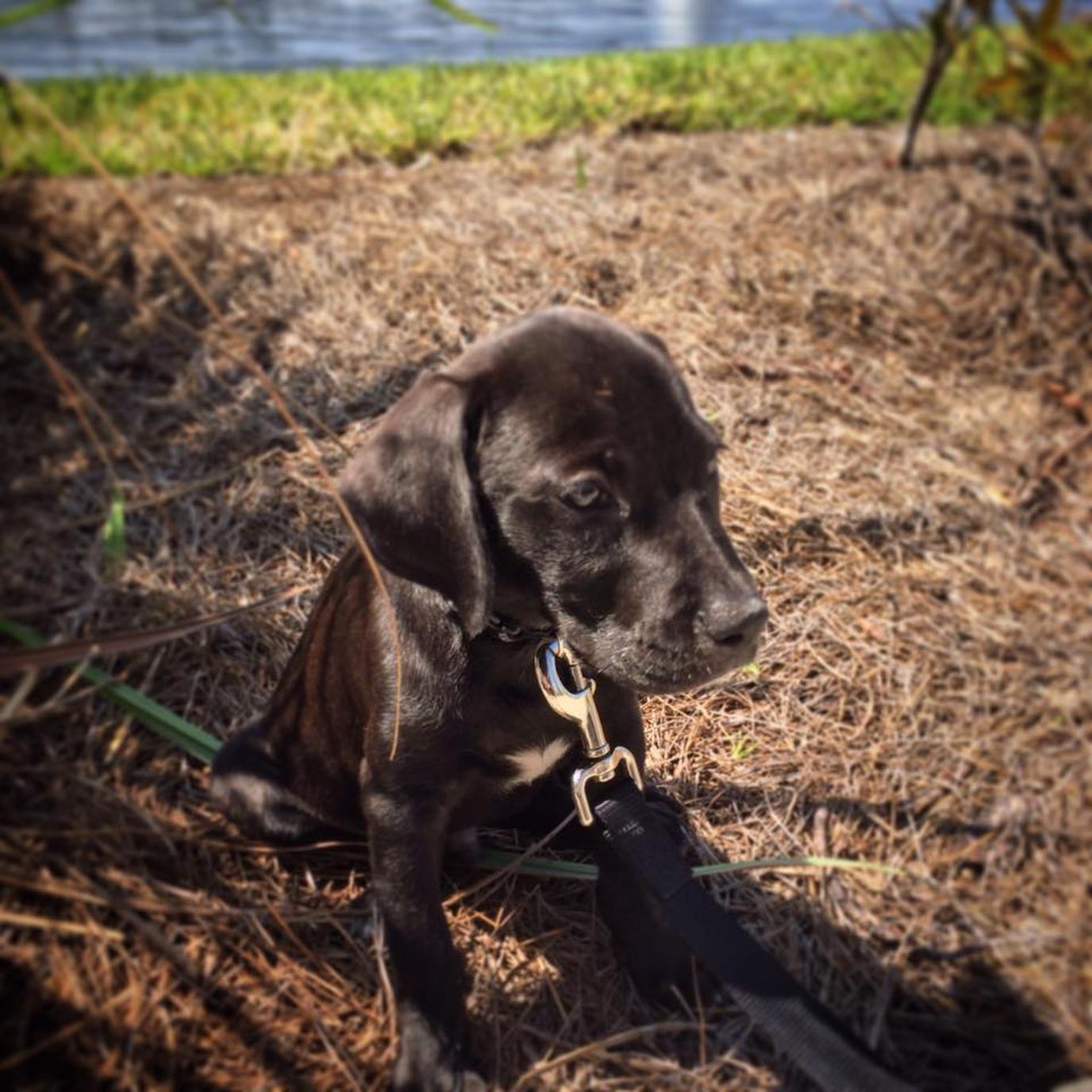 "Is there room for me at the table?" – Photo by Facebook.com/MoxieKitchenandCocktails
The vibe and decor at Moxie Kitchen & Cocktails may be modern industrial, but the chef-prepared Thanksgiving spread will be old-fashioned to the letter. Stop by from 11 a.m. to 8 p.m. and fill your belly with a buffet of house-made yeast rolls, all-natural roasted turkey, applewood-smoked ham, creamy collard greens, whipped potatoes, mac and cheese, cranberry sauce and assorted pies fresh from the oven. Vegan, vegetarian and gluten-free options are also available. The downstairs outdoor seating area overlooking the adjacent pond welcomes leashed dogs to attend the festivities. Prices for this family-style dinner are $39 for adults and $15 for children. Call ahead or make reservations online.
Sleep off the meal at the pet-friendly Hotel Indigo Jacksonville Deerwood Park, located only 2 miles from the restaurant. After awakening from your post-feast coma, you and your plumped pooch can explore Kathryn Abbey Hanna Park, which is a 15-minute drive from the hotel. Dogs are allowed on designated walking trails and the beach as long as they remain leashed.
4. Crystelle Creek Restaurant & Grill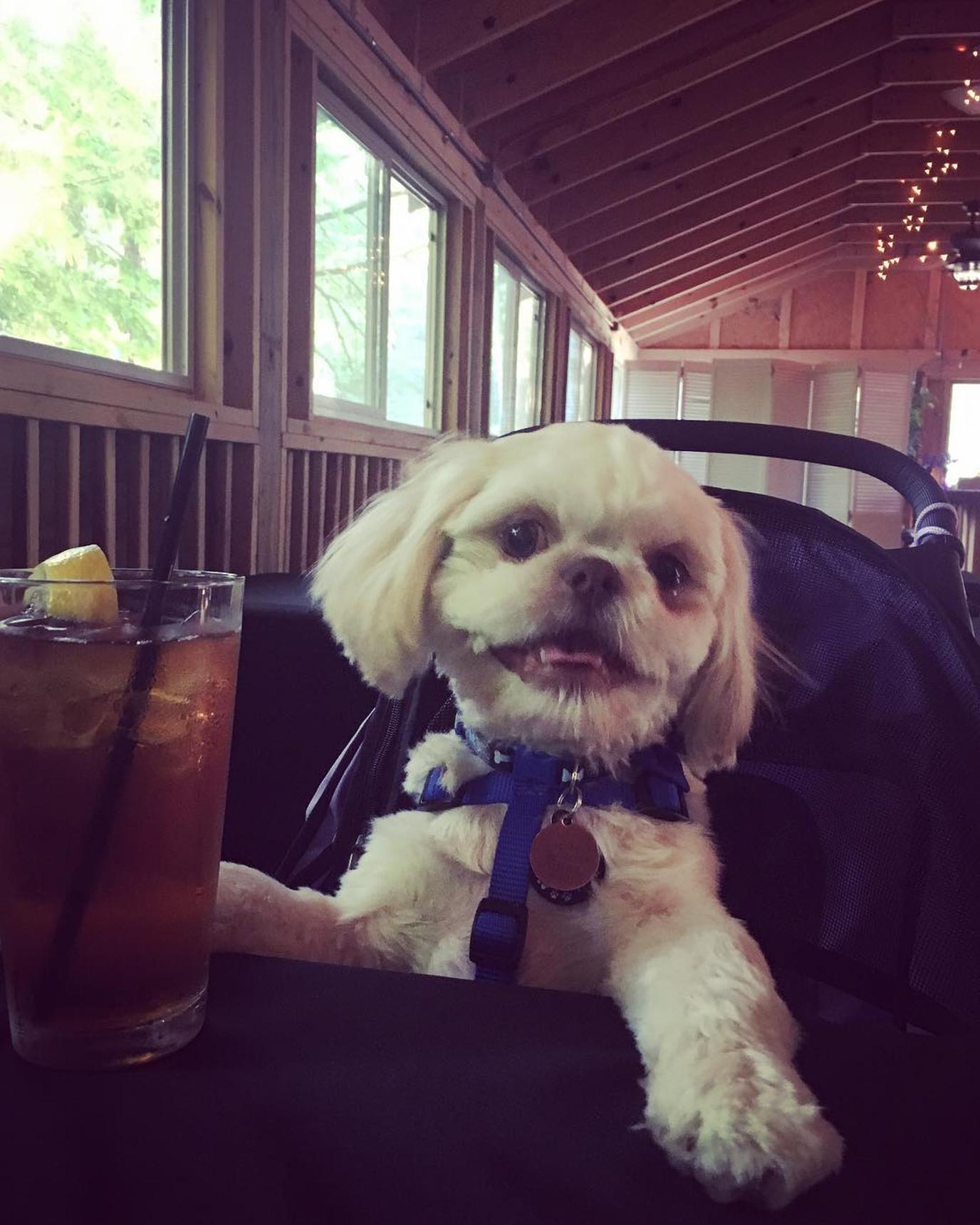 "Let's talk turkey." – Photo by @exazim
Crystelle Creek Restaurant & Grill will be putting their homemade comfort food cooking skills on display this Thanksgiving with a traditional spread just like the one grandma used to make. Load up on heaping helpings of turkey, ham, mashed potatoes, stuffing and an assortment of fresh baked pies and other yummy desserts. Pups are welcome on the heated, screened porch overlooking Dudley Creek on the edge of Great Smoky Mountains National Park. Reservations for parties of six or more are accepted.
If you're spending the holiday weekend in the area, stay in a luxury safari-style tent at Under Canvas Smoky Mountains for a unique camping under the stars experience. Fido is welcome to watch you attempt to drink 100-proof moonshine and whiskey in the tasting room/store at Ole Smoky Moonshine in downtown Gatlinburg, only 4 miles from Under Canvas and Crystelle Creek Restaurant & Grill.
5. Lazy Dog Restaurant & Bar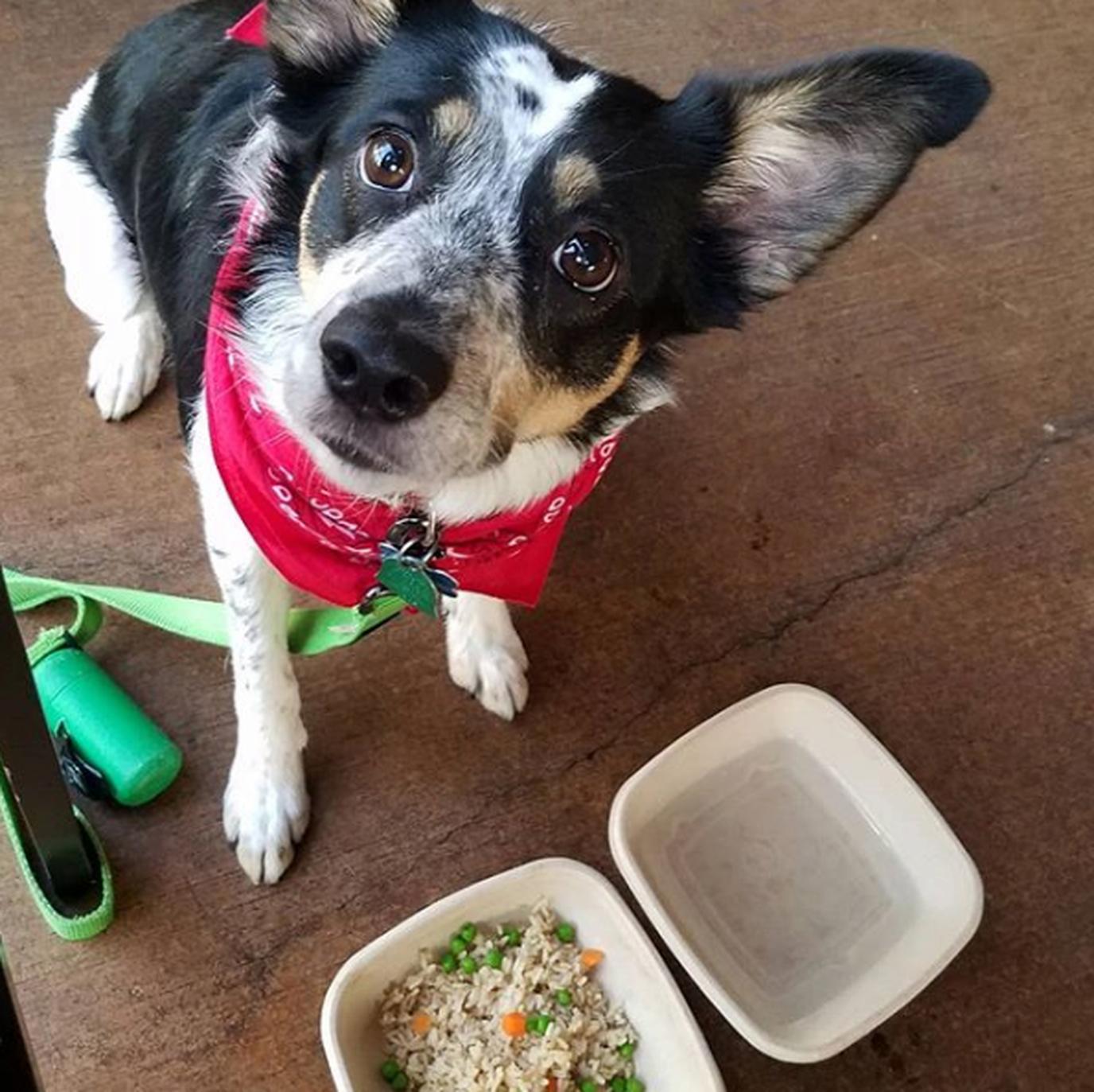 "I'm ready for dessert." – Photo by @elphie_selfie
Considered one of the country's most pet-friendly chain of eateries, Lazy Dog Restaurant & Bar not only allows pups in their outdoor seating areas, but they also provide a personal doggy menu that features grilled hamburger patties, grilled chicken breast, brown rice and a bowl of water to wash down the goodness. You can book a hosted Thanksgiving gathering for your family and friends at any Lazy Dog location as part of their Houses for the Holidays program. Choose from menus chock-full of mouthwatering dishes like mac and cheese, wild boar chili, chicken pot pie, BBQ bison meatloaf, flat iron steak, ginger soy salmon and apple-huckleberry open face pie. The cost for the private event is $30 per person or $40 per person for parties of 8 or more, and every guest in your party receives a gingerbread house to build. The proceeds from gingerbread houses sold benefit Habitat for Humanity to help construct homes for those in need.
6. The Iron Horse Hotel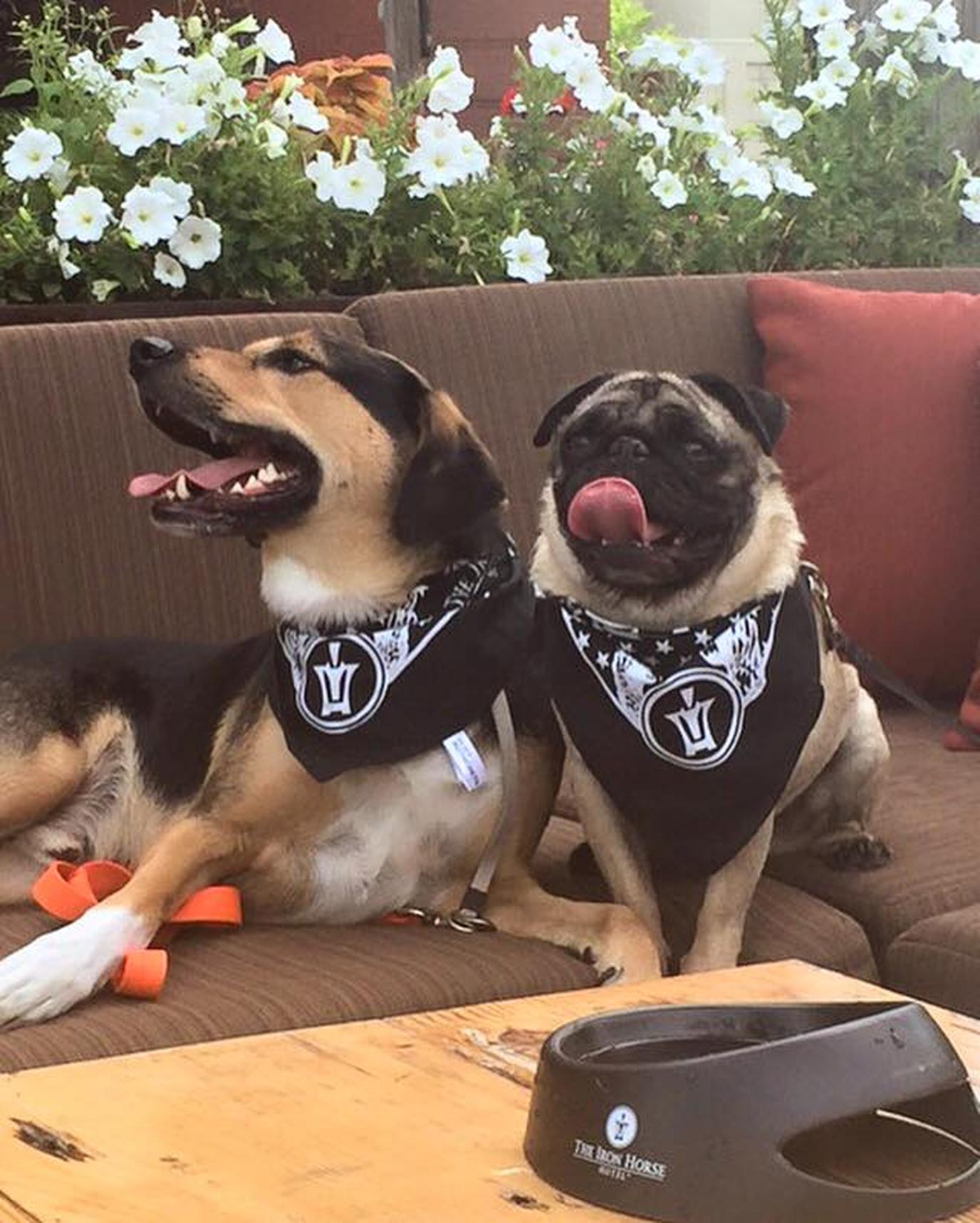 "Bring out the bird!" – Photo by Facebook.com/ironhorsehotel
A 100-year-old warehouse turned luxury downtown hotel, The Iron Horse will be throwing a Thanksgiving Day Buffet at their on-site restaurant, Ash, from 10 a.m. to 4 p.m. Indulge in traditional dishes, brunch favorites, autumn classics and seasonal desserts. Fido can witness your gluttony on the spacious outdoor bar patio, in the hotel lobby lounge (where you can eat your meal with him by your side), or in his comfy pet-friendly room if you're staying the night. The buffet is $65 per adult and $25 for children 12 and under. Call ahead for reservations.
Escape the Black Friday crowds and drive to nearby Granville Dog Park, described by visitors as "Disneyland for Dogs." The 10-acre park features open fields to run, grassy hills to climb, wooded trails to explore and the Menomonee River to fish. Pups are permitted off leash but must be kept under voice control at all times.
7. Casanova Restaurant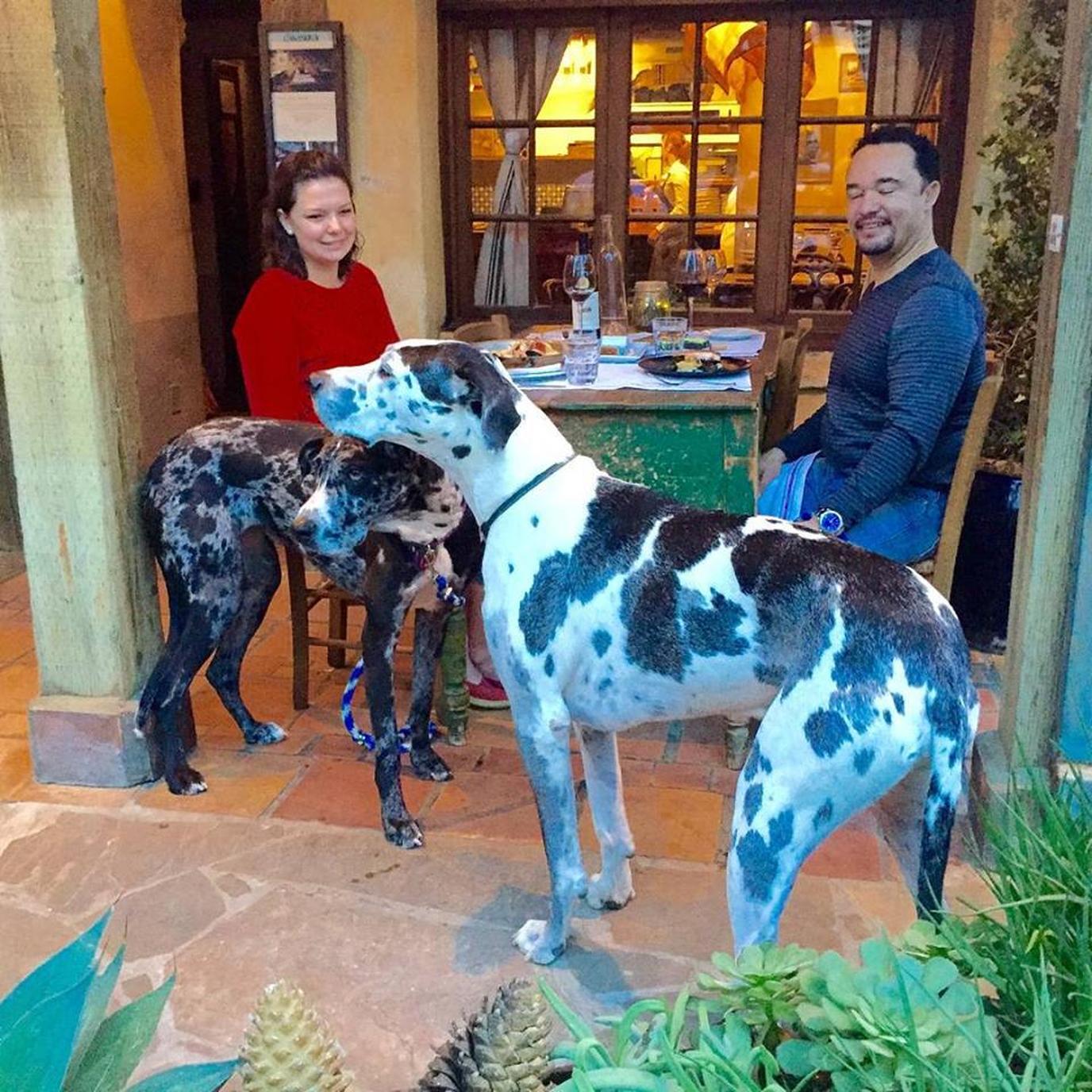 "We're thankful you didn't leave us at home." – Photo by Facebook.com/CasanovaRestaurantCarmel
Fall in love with the Thanksgiving spread at Casanova, located in the picturesque oceanside town of Carmel. In addition to a turkey dinner with all the tasty fixins', Casanova's chef will also prepare a separate menu of seasonal dishes with an Italian flair to complement the bevy of traditional offerings. Leashed dogs are welcome to join the festivities on the charming front patio. Call ahead for reservations.
Fido can work off part of the meal by splashing off leash in the surf at Carmel Beach. To experience more of Carmel's quaint downtown ambiance, book a room at the pet-friendly Carmel Country Inn, a cozy lodge with first-rate amenities within walking distance of Casanova.
8. Trace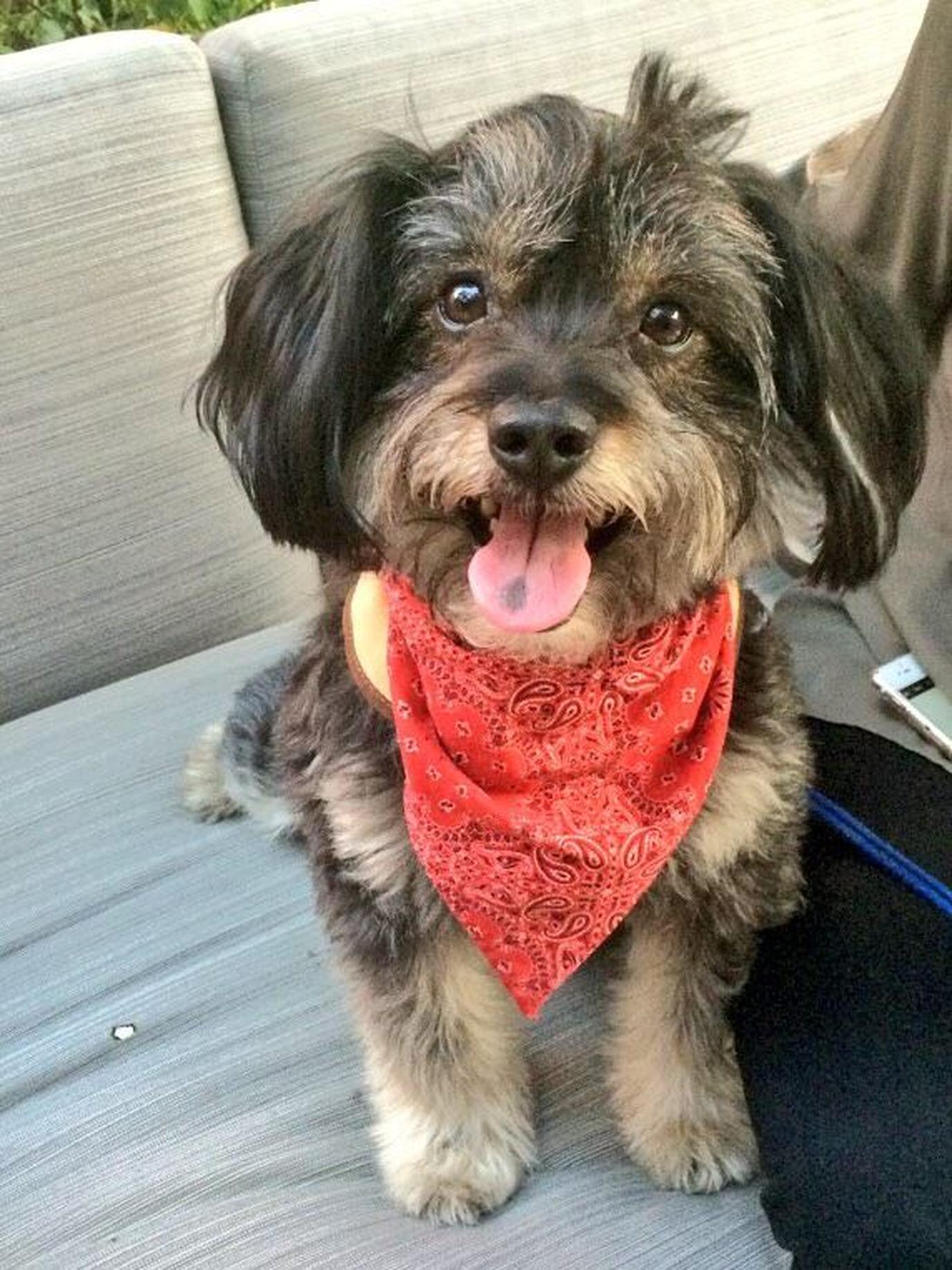 Small body, big appetite. – Photo by Facebook.com/traceatx
Housed in the pet-friendly W Austin in the heart of downtown Austin, the upscale yet casual Trace will be hosting a four-course Texas-sized holiday banquet throughout the day on Thanksgiving. Savor delicacies such as French Cauliflower Soup, Frisee Salad, Duck Confit Risotto, Turkey Breast Stuffed with Turkey Leg Confit and, for dessert, Pumpkin Cream Cake and Candied Sweet Potato Pot de Creme. Dogs are welcome on the spacious outdoor patio where pup cups are available for well-behaved four-legged patrons. The cost for Thanksgiving dinner is $65 per person. Call ahead for reservations.
The West Austin Dog Park is only 1 mile from Trace and offers a fenced off-leash area where Fido can get in a turkey trot either before or after dinner.
9. Passerelle Bistro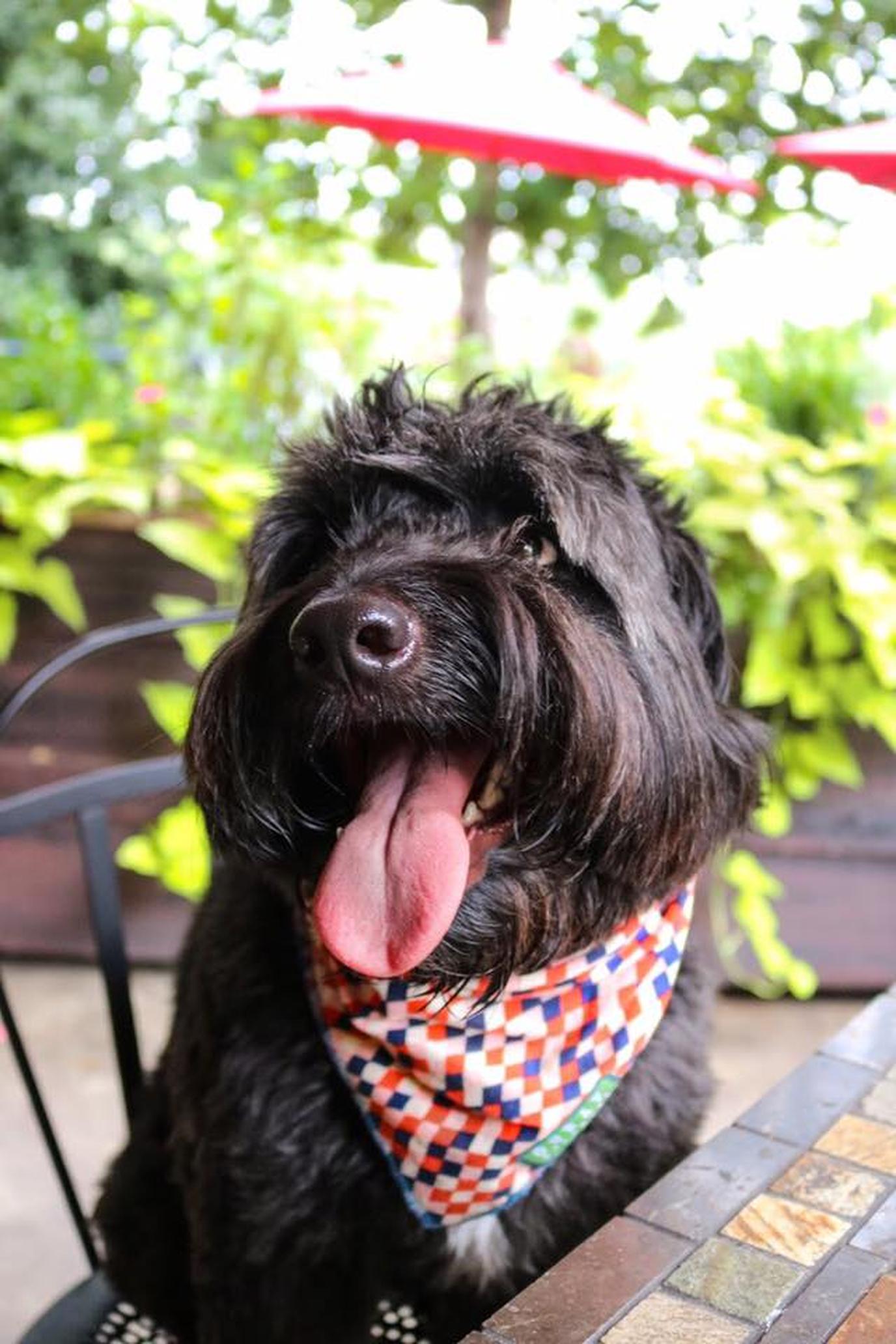 "I'll have one of everything." – Photo by Facebook.com/passerellebistro
Nestled in the beautiful Falls Park on the Reedy in downtown Greenville, SC, Passerelle Bistro will be serving a full Thanksgiving meal from 11 a.m. to 3 p.m. Stack your plate with roasted turkey, baked ham and all your favorite sides, or sample the special seasonal menu consisting of lunch and dinner dishes infused with their signature French influences. Leashed dogs are welcome on the cozy patio overlooking the park, weather permitting. Call ahead for reservations.
Stay in town for the weekend and embrace the hospitality and charm of downtown Greenville. The Westin Poinsett Greenville provides luxury accommodations and is only three blocks from Falls Park. Fido can also help sniff out Black Friday deals at the pet-friendly Mast General Store on Main Street.
For more ways to dine with Fido, check out these 18 hotels with dog room service menus.
This post from BringFido originally appeared as Feast With Fido: 9 Spots Where You Can Enjoy Thanksgiving Dinner with Your Dog.