A culinary road trip is a wonderful way to get first-hand insight into the heart, soul and cultural heritage of a place. These barbecue trails present the perfect opportunity for you to eat your way through some of the most unique, delicious, and authentically American eateries with Fido by your side. Although the smoky, saucy cuisine will certainly be the highlight of your trip, you'll also get the chance to explore some of the coolest towns in the American South on these dog-friendly adventures.
A Big Texas BBQ Trail for Pups with Big Appetites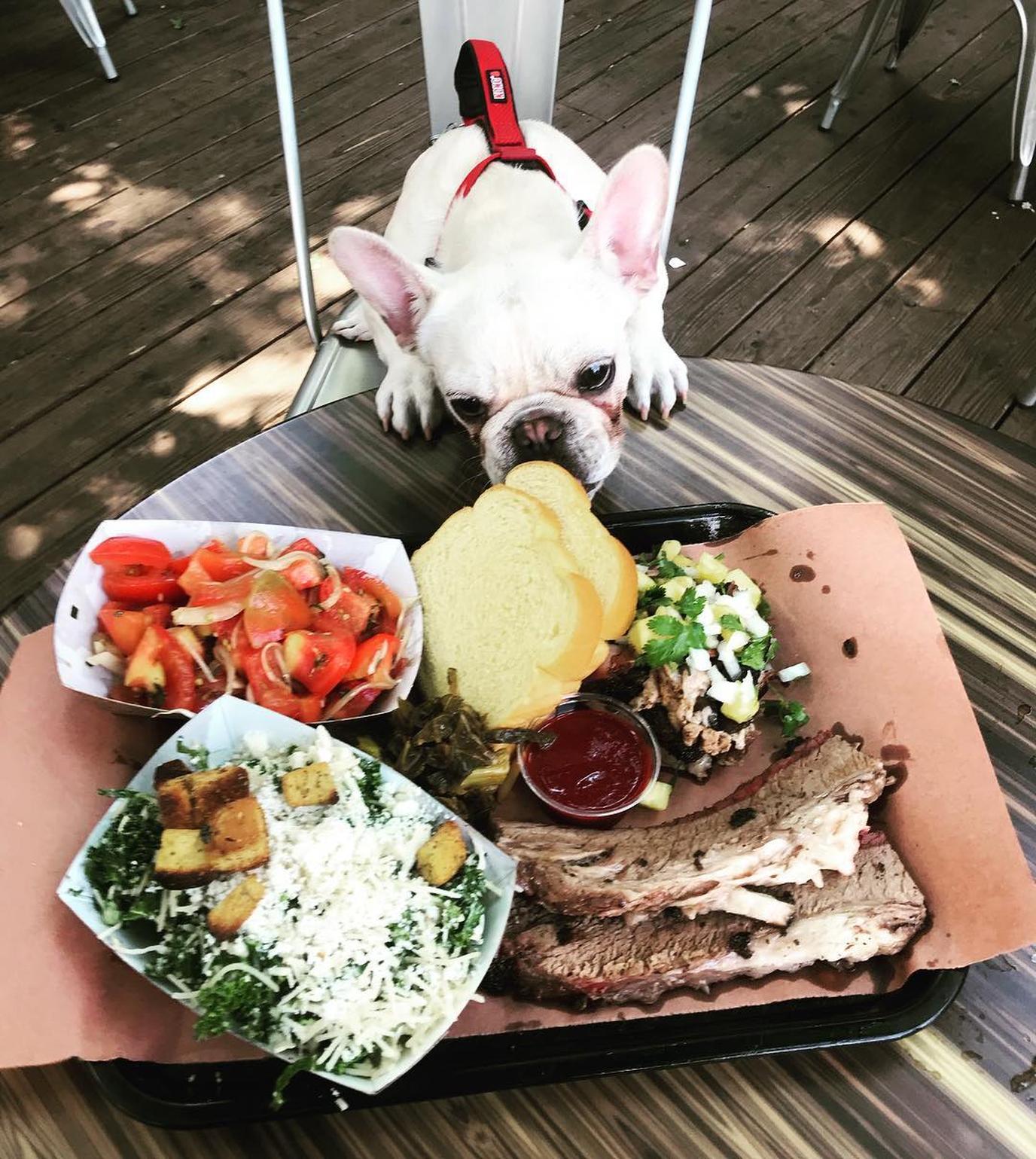 "Meat me in Texas!" – Photo by @the_brisket_frenchie
Everything is bigger in Texas, and that includes the brisket. Beef brisket, pork ribs and sausage are among the most commonly barbecued meats in the state, and methods and flavors of serving Texas barbecue vary regionally and culturally.
Total Route Distance: 320 miles
A Carolina BBQ Trail for Four-Legged Foodies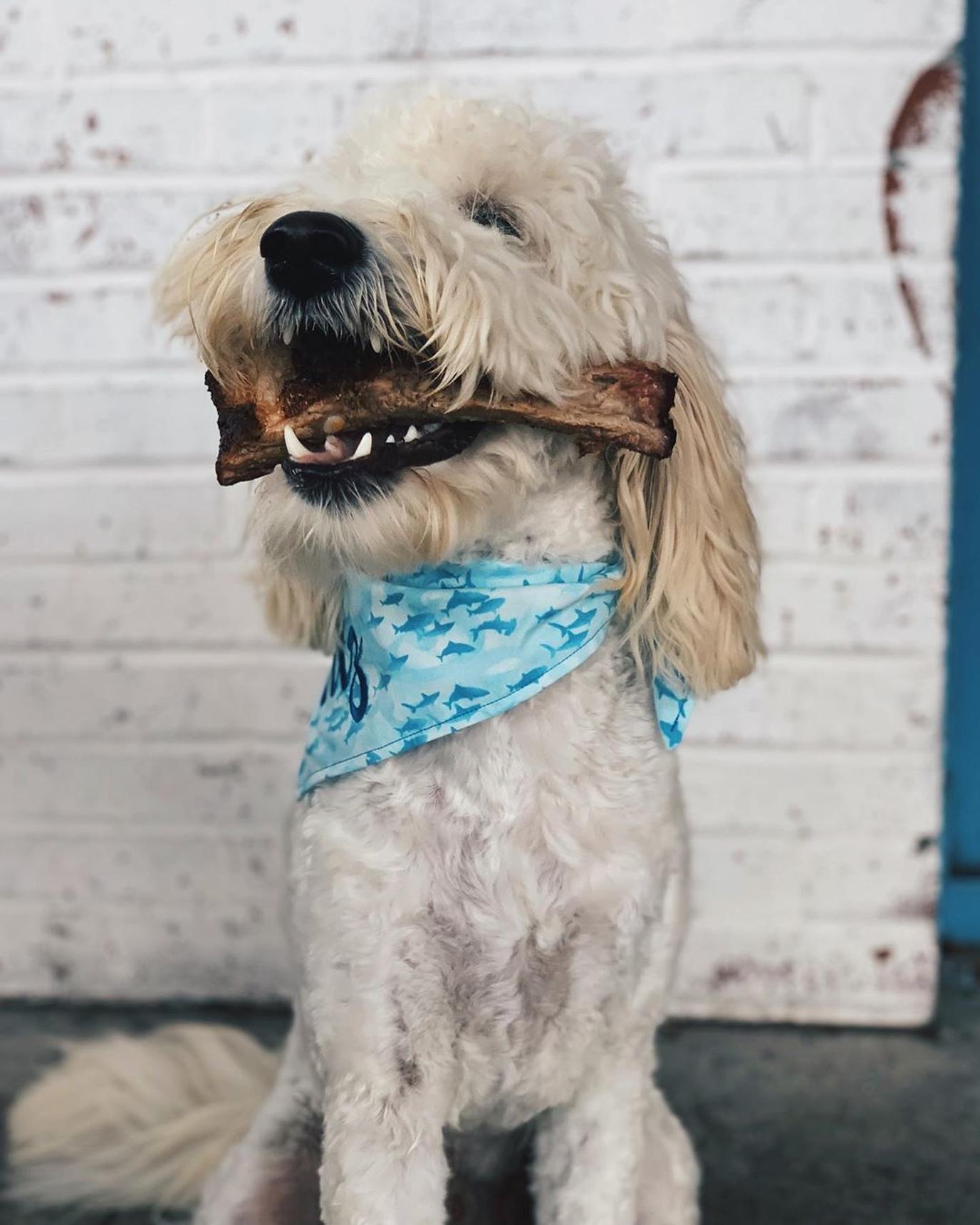 "Carolina barbecue's the best, no bones about it." – Photo by @allaboutfitz
In North and South Carolina, "barbecue" means pork. It can be pulled from a whole hog or chopped from a slow-smoked shoulder or ham, but always derives from somewhere on the pig. The Carolinas are home to hundreds of barbecue restaurants, dozens of professional pitmasters and four distinct regional styles. This pet-friendly BBQ trail gives you and your pup the opportunity to sample all of them, plus one spot that offers a unique Korean-fusion twist on the dish.
Total Route Distance: 540 miles
Memphis to Mississippi – A Pet-Friendly BBQ & Blues Trail
Goodest boys get goodest 'que. – Photo by @rexthenoladoodle
Blues and BBQ go together like macaroni and cheese, and the best spots to enjoy this dynamic duo can be found between Memphis and the gulf coast of Mississippi.
Total Route Distance: 400 miles
Central BBQ – Memphis, TN
Start your BBQ journey at one of the best dog-friendly BBQ restaurants around at Central BBQ. Partaking of this tangy and spicy 'cue will make you truly appreciate the virtues of a cracking dry rub. There's no sauce used in the pit here; pitmasters instead rely on a secret combo of spices and smoke to tenderize and flavor the meat. Bring Fido to chill on the covered patio where you can listen to live music while you sample the variety of sauces and local beer on tap.

Memphis has no shortage of pet-friendly accommodations, but this one-bedroom Duplex is walking distance from the restaurant and Overton Bark dog park.

Abe's Bar-B-Q – Clarksdale, MS
Just across the state line in Mississippi is a nearly century-old establishment where you'll find barbecue known to be so good, it might be from the devil himself. Abe's Bar-B-Q sits at The Crossroads, the landmark spot at Highways 49 and 61 in Clarksdale where legend has it that blues king Robert Johnson sold his soul and the blues was born. Abe's famous sauce, The Come Back Sauce, is said to have the power to make anyone, even Old Nick, returning for more. And while Abe's Bar-B-Q might be ungodly, it's not un-dog-ly. Fido is welcome to join you at a pet-friendly outdoor bench.

The Shed BBQ & Blues Joint – Ocean Springs, MS
Your barbecue and blues trip culminates at the coast with famous baby back ribs, pulled pork, beef brisket, baked beans, mac 'n' cheese, nanner puddin' and good times at The Shed. You and your pup will find no shortage of southern hospitality and great live music while seated at one of the many outdoor tables.

Ocean Springs Beach is on the list of best dog-friendly beaches on the Gulf Coast, so take advantage and include a trip to dip Fido's toes in the sand. Stay at this pet-friendly vacation rental on the Best Street In Downtown Ocean Springs.
Fido's Favorite Missouri Barbecue Trail Loop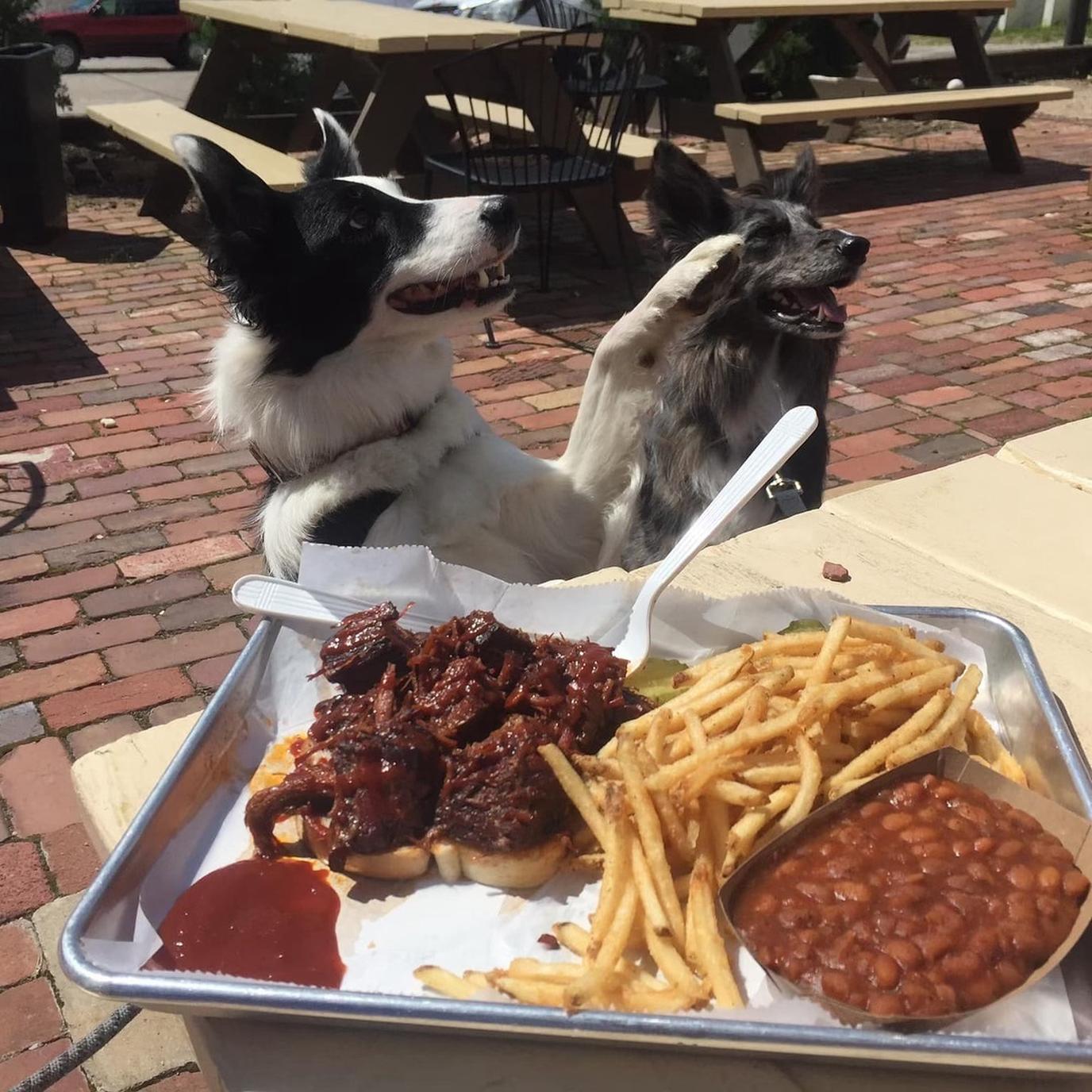 "Wait, you forgot my plate!" – Photo by @woodyardbbq
There are so many barbecue joints in Missouri that it can be hard to narrow it down into a bite-sized trip. This Missouri barbecue trail loop starts and finishes in Kansas City, the self-proclaimed King of BBQ, and will satisfy any hankering you have for the state's favorite cuisine.
Total Route Distance: 550 miles
Historic Georgia BBQ Trail for Dogs and Dawgs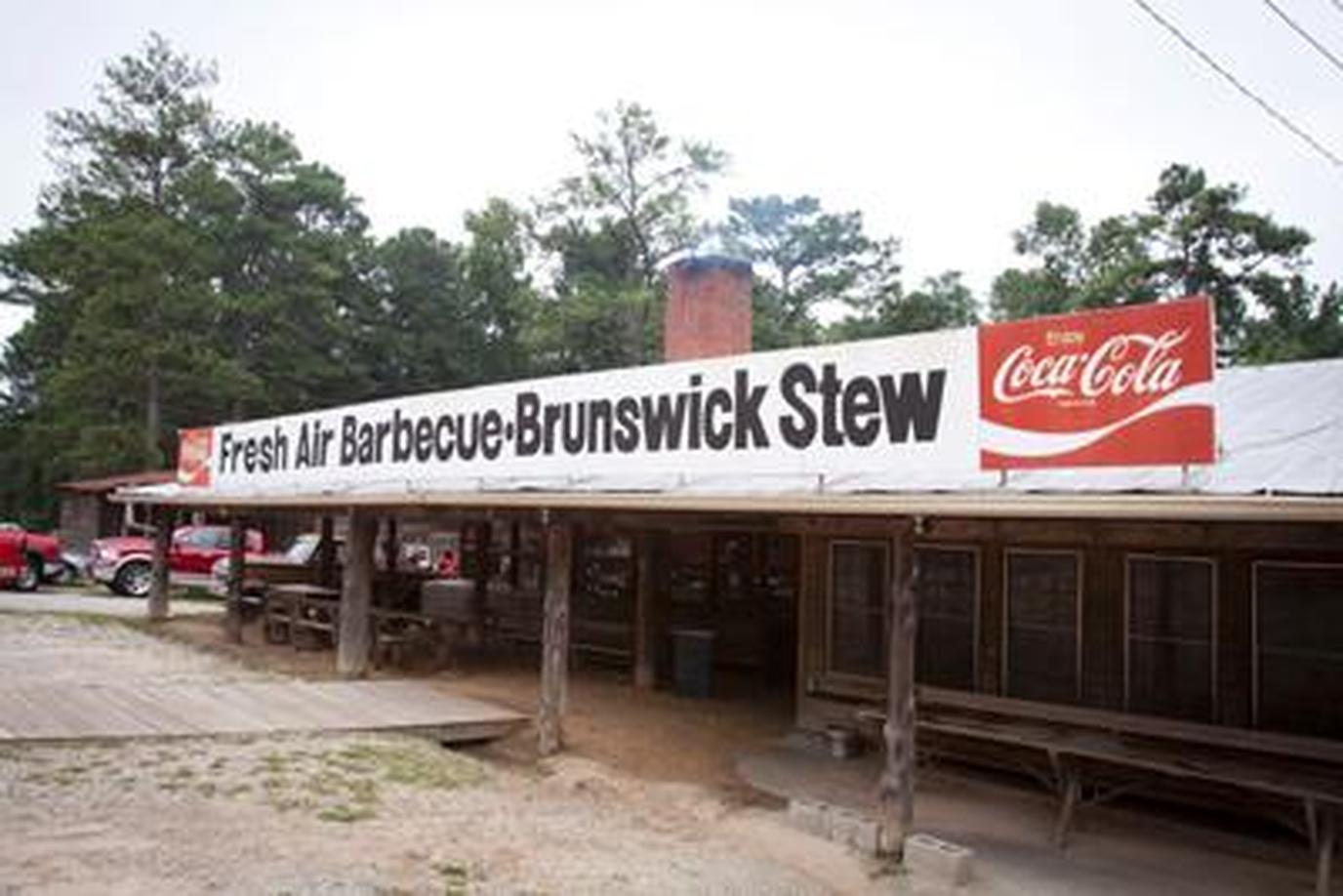 Pull up a picnic table with your pup. – Photo by Fresh Air Barbeque
Along with football and Coca-Cola, BBQ is a topic that Georgians have strong opinions on. Each of these establishments has relied on original methods and recipes to serve a historic taste of Georgia barbecue to customers for more than 40 years.
Total Route Distance: 200 miles
Old Brick Pit Barbeque – Atlanta, GA
Start the Peach State BBQ journey in the ATL, where Old Brick Pit Barbeque has been keeping the region's cooking traditions alive for over four decades. This true blue Georgia 'cue is cooked in the original brick pit over hickory wood. Be sure to try Brunswick Stew, made from an original recipe passed down through the decades. Grab a seat with your dog at one of the eight outdoor tables.

Each of the stops on this pet-friendly historic Georgia barbecue route are within an hour and a half from Atlanta, so this Beautiful Grand Old 1908 House is a perfect place to call home during your trip.

Fincher's BBQ – Columbus, GA
Fincher's has been in business since 1935, and the Pig Special Sandwich (pulled pork topped with slaw and tomatoes on toast) and award-winning sauce are two of the reasons why this establishment is a must-visit on any Historic Georgia Barbecue trail. This 'cue was even served on NASA Space Mission STS-33 in 1969! Fido can join you for this out-of-this-world culinary experience at one of four pet-friendly outdoor tables.

Fresh Air Barbeque – Jackson, GA
At Fresh Air Barbeque, the old-fashioned wood-burning pit used daily was designed by restaurant founder Toots Caston in the 1940s and remains unchanged to this day. Three long picnic tables on the covered front porch of the restaurant invite you and your hungry hound to enjoy award-winning, tangy tomato and vinegar style barbecue on a bun with a large glass of sweet tea.
This post from BringFido originally appeared as Great American BBQ Trails to Explore with Fido.