Health & Wellness Goals for Your Dog in 2020
Diet, exercise and good habits all contribute to furry family members living a long and fulfilled life. To help Fido feel his best in 2020, we've asked the experts at Petco to identify seven key health and wellness goals for dogs of all shapes and sizes. In May 2019, Petco became the first and only major retailer of pet food to remove dog and cat food and treats with artificial ingredients* from their store shelves. Along with providing high-quality nourishment, the retailer is dedicated to helping your pet achieve his goals for a happy and healthy new year. Check out these nose-to-tail recommendations for your pup.
1. Make 2020 Nutritious and Delicious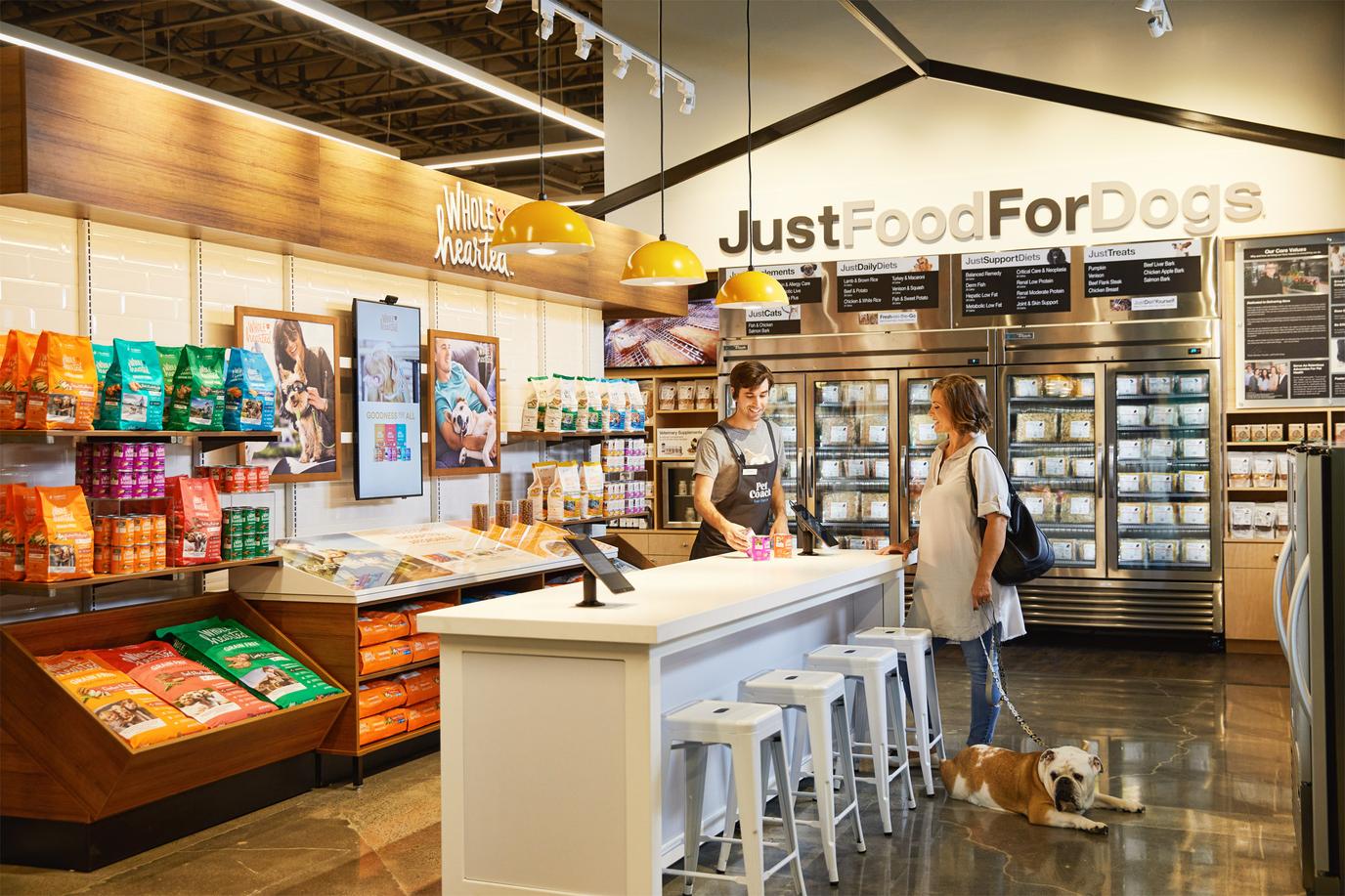 "Enough with the questions. Let's get to the samples." – Photo by Petco
Canine and human nutritionists agree that diet is the best way to improve health, and Petco is at the forefront of the better food movement. However, with so many products to choose from, it can be hard to tell the difference between fad and fantastic. Petco's employees are trained to assist customers on the benefits of different diets.
Food
What your pooch eats every day is critical. From human-grade foods to weight-loss formulas, you can find a diet to fit Fido's needs. WholeHearted is Petco's in-house brand of food and treats. Packed full of real animal protein, its products are free of grain, corn, soy and wheat (with wholesome grain options) and are specialized for all ages, breeds and sizes. WholeHearted foods also have Omega-3 and Omega-6 fatty acids, which promote healthy skin and coats. JustFoodForDogs has a focus on fresh. Every recipe is made by hand in open kitchens and delivered to local stores to maintain freshness. The chefs use 100% human-grade ingredients and add zero preservatives to make nutrient-dense, minimally processed meals. If your dog has special dietary needs or conditions, or you need breed-specific nutrition, Royal Canin offers a variety of vet-recommended food designed to maintain weight and digestive health, aid with kidney care, food sensitivities and more.
Treats
Treats are handy for training and pampering your best bud. They can be used to reward good behavior or just as a snack between meals. Just like daily food, matching your dog's lifestyle to the right treats is necessary for optimal health, but Petco recommends they only make up 10 percent of his diet. Even when it comes to indulging your pup, you can make smart choices. For example, WholeHearted Grain Free Blueberry/Yogurt Dog Treats are made with real blueberries, which contain antioxidants, vitamins and fiber. Merrick Power Bites Real Dog Treats are grain-free and poultry-free and feature real, deboned beef as the prime ingredient. And Natural Balance Mini Rewards Chicken Dog Treats (also available in other flavors) have less than five calories each, so you can motivate your dog without overdoing it. Remember, you can spoil Fido without spoiling his diet.
Dog Food Toppers
Toppers can add an extra scoop of nutrition in your dog's daily routine. WholeHearted Chicken Recipe in Gravy can be mixed into regular dry food to transform a bland bowl into a delectable dish. Merrick Backcountry Freeze-Dried Raw is a beef-packed topper for dogs with a poultry intolerance. Instinct Freeze Dried Raw Boost Mixers is a raw alternative full of fiber and natural probiotics to maintain digestive health.
2. Prevention Is Better Than the Cure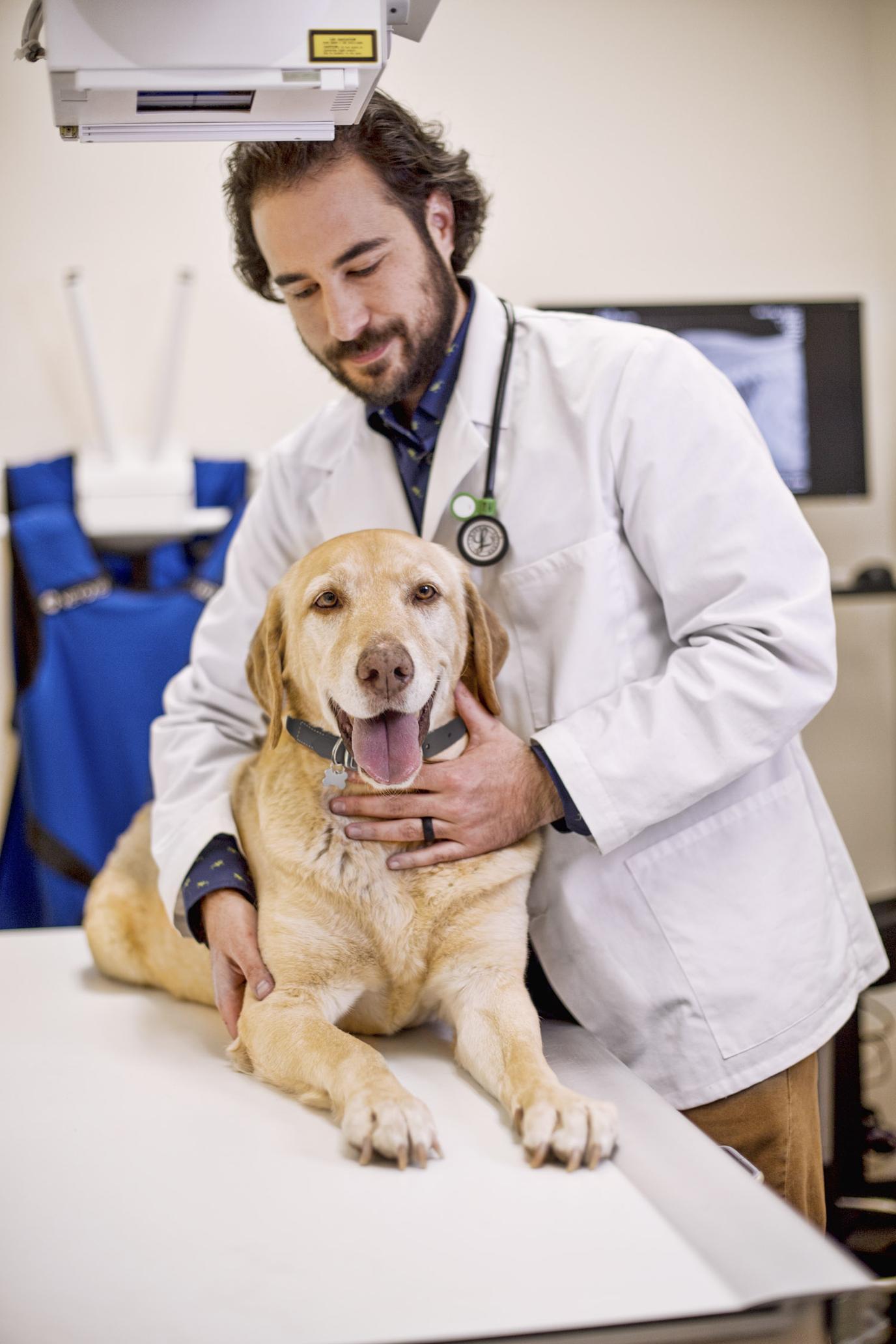 "And I'm feeeeling good!" – Photo by Petco
After addressing your pooch's needs in the kitchen, it's time to ensure she's protected from the dangers of the big wide world. One way of combating illness is by visiting your veterinarian on a regular basis. Book an appointment at a Petco Vet Hospital in advance, so you never miss an important checkup. If your local Petco doesn't have a full hospital facility, ask about a Vetco Vaccination Clinic, which will keep your dog's immunizations up to date and doesn't require an appointment.
Trips to the doc are important, but a little at-home maintenance can also go a long way. In addition to keeping them healthy with the right food and supplements, consider making preventative care part of your best friend's routine in 2020. And with flea and tick season right around the corner, the time to act is now. Your pet's fur is a penthouse apartment for these and other critters which, if left untreated, can cause serious health problems. Fortunately, there are many over-the-counter remedies that can help, all of which are available at Petco. Chewables like Advantus Flea Soft Chews are fast-acting and start to kill fleas within an hour. Sprays can be used to ward off infestation. Vet's Best Flea & Tick Dog & Home Spray is an all-natural blend used to kill fleas on beds and carpets. And collars can be used in place of pills or droplets. Seresto Flea and Tick Collars kill and repel fleas for eight continuous months and prevent tick infestation.
3. Get Active in 2020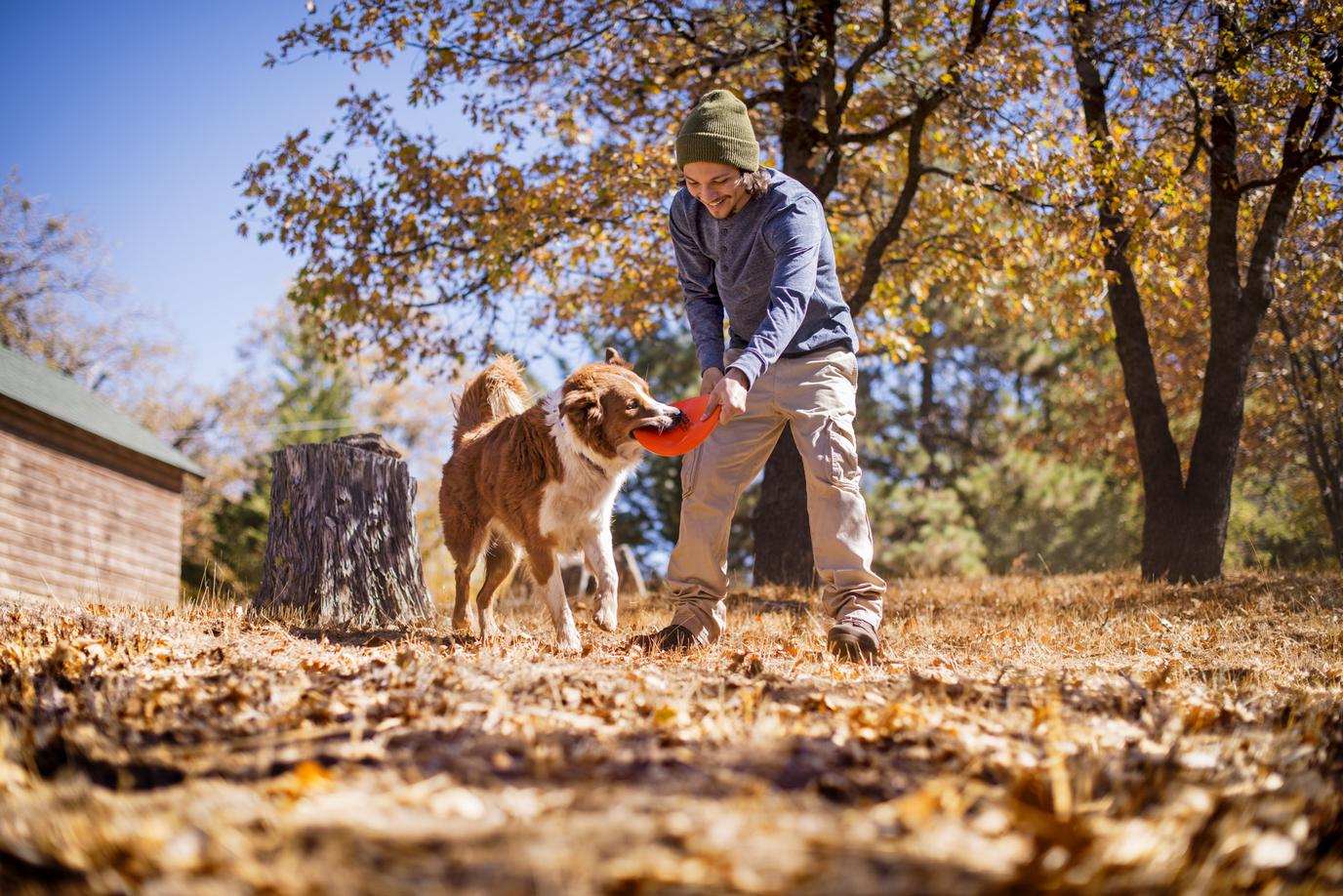 "Get your own Frisbee!" – Photo by Petco
It's not just a new year, it's a new decade! Kickstart the '20s by getting active with your pup. Exercise can help maintain ideal weight, prevent heart disease and give dogs and their owners time to bond. Getting fit with Fido can mean anything from tossing a Frisbee to slaloming through the woods on a bicycle with your best friend sprinting by your side.
Before you embark on any new activity with your canine, book a vet checkup to make sure he's up to the task. You might also want to invest in suitable gear for your four-legged fitness buddy. Ask a trained Petco employee to check that Fido's new workout clothes fit correctly. You'll find a Good2Go harness, leash or collar for every occasion, including an auto harness for traveling to your destination, a sturdy harness for use on the trail and this retractable leash with flashlight for nighttime adventures. And NERF doesn't just make fun toys for kids; this tennis ball launcher fires balls high in the sky for a canine HIIT workout.
4. Learn Something New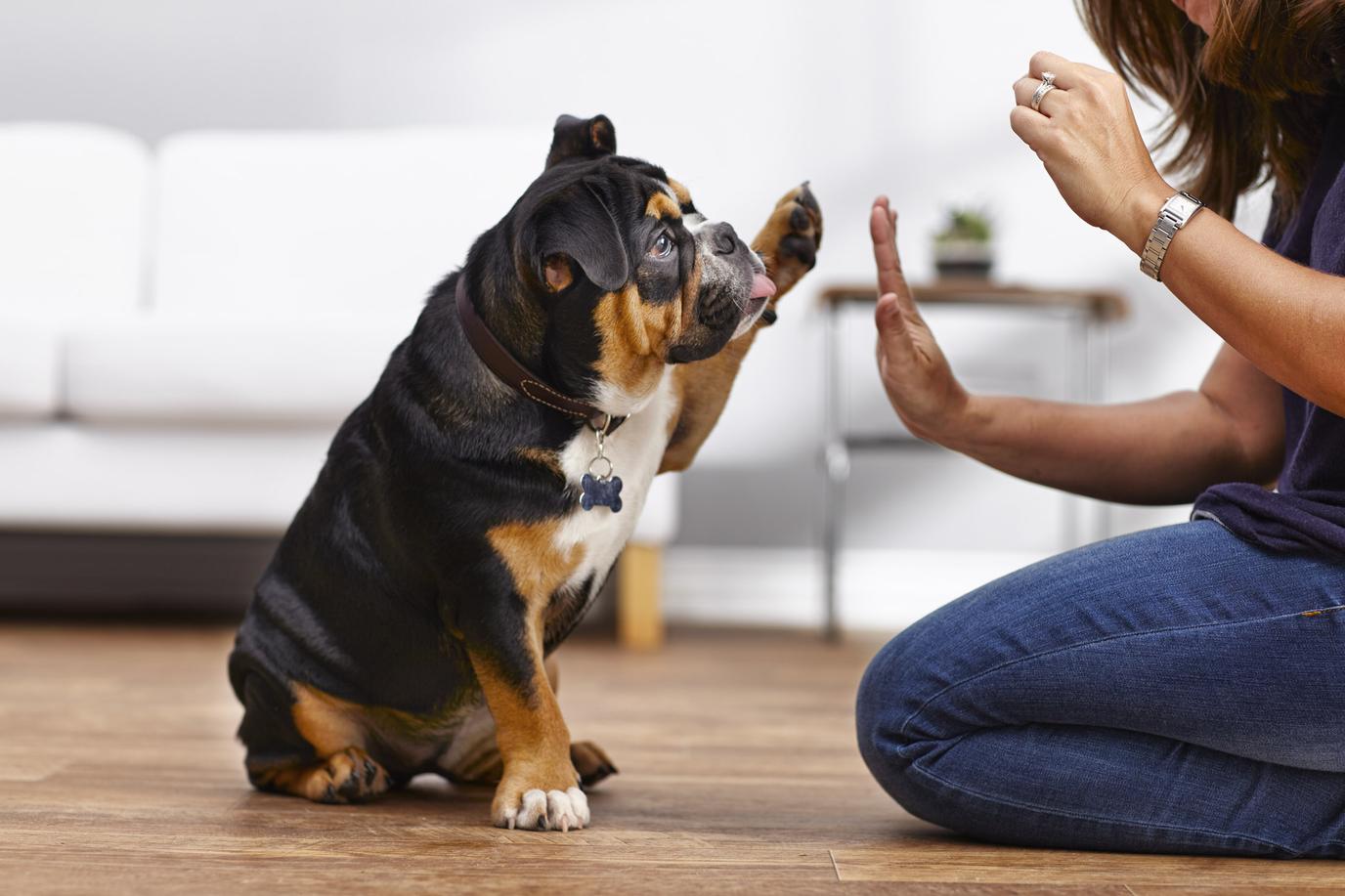 "High five!" – Photo by Petco
Let's not forget about mental fitness. Teaching your old (or young) dog new tricks is a great way to keep her mind sharp. How about a game of "Name That Toy?" Start off with her favorite, say its name and let her retrieve it. Reward her for bringing it back to you. Then, add her next favorite toy and repeat. Watching your pooch distinguish between her playthings is fun for humans, too!
If you need a little help with training, join like-minded dog lovers at a pet-friendly summer camp or sign up for some training courses. Petco's in-house classes for puppies and adults teach everything from behavior basics to loose leash techniques.
5. Protect the Skin and Coat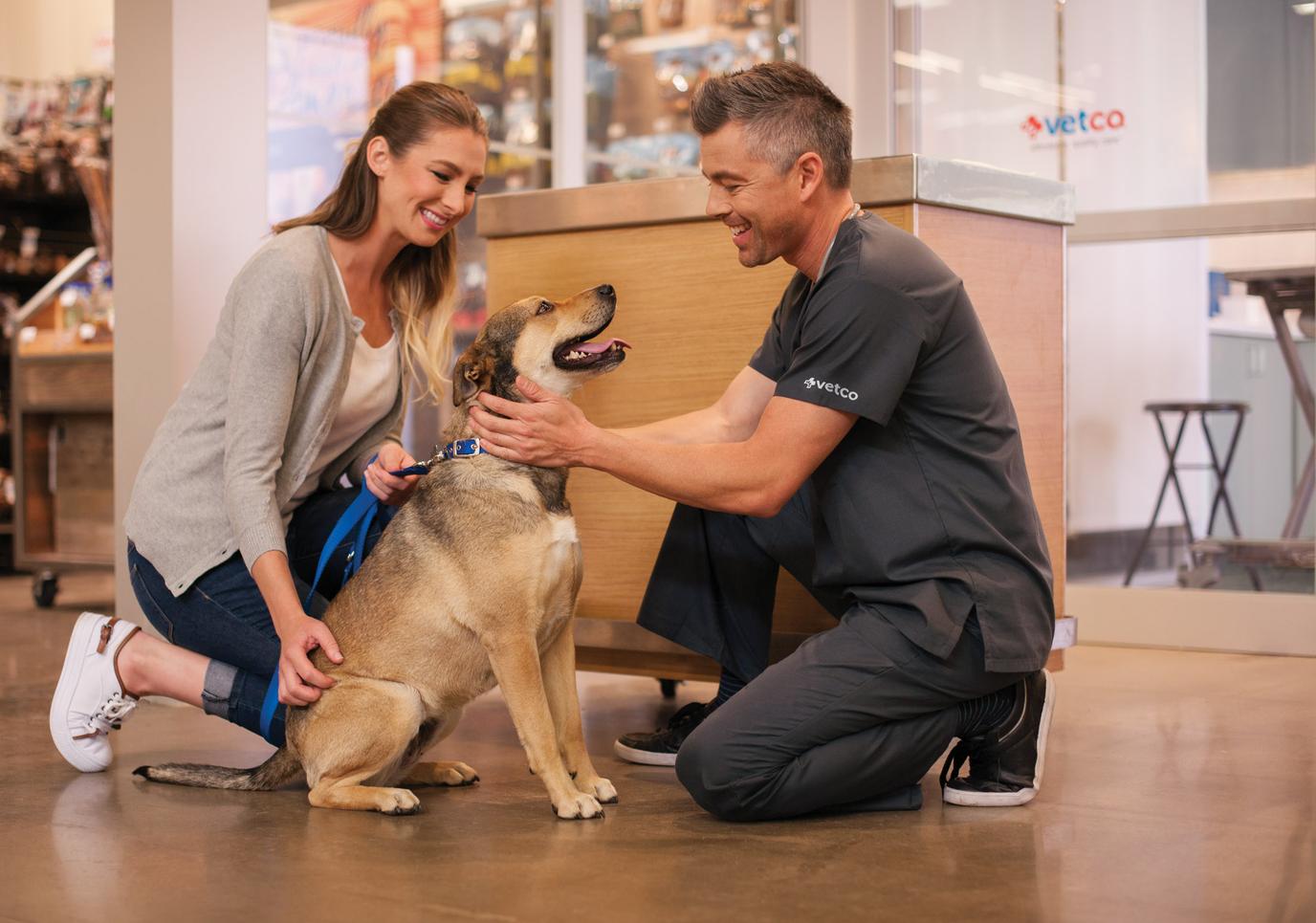 "This place is fur-real the best." – Photo by Petco
If your pooch is exhibiting "telltail" signs of allergies, like itchiness, inflamed skin and sneezing, then it's time to find a product to relieve the symptoms. You'll also want to get Fido checked with a vet if the symptoms are ongoing, so you can rule out more serious medical issues. Wild Alaskan Salmon Oil can be added to a dog's diet to strengthen the skin and create a barrier against allergies; Well & Good Skin & Coat Omega-3 Dog Capsules decreases inflammation and benefits organ function; and Hill's Science Diet offers foods designed to support a healthy skin and coat.
Keeping long hair soft is a whole different ball game. Yes, Fido's lustrous locks make him stand out from the crowd, but his "ruff-les" can also tangle easily and become matted. This can be extremely painful and in some cases cut off blood circulation. Regular grooming is the recommended antidote. At Petco's grooming salons, each visit starts with a seven-point check from nose to tail. Then, Petco stylists bathe, cut and snip to meet breed standards. Purchase a Spa Club Membership for discounts and deals.
There are also solutions for the modern dog who has no time for a salon visit. In addition to supplements for healthy skin, Well & Good offers a range of grooming products. Detangle fur with a Self-Cleaning Slicker Dog Brush and tackle stubborn mats with a Mat Breaker. Burt's Bees line of dog shampoos, conditioners and sprays can relieve symptoms at bath time. Its Care Plus Hydrating Coconut Oil Coat Protection Dog Foam moisturizes the skin, while the Itch Soothing Shampoo is made with calming honeysuckle. If symptoms don't subside or worsen, visit a Petco Vet Hospital for a checkup.
6. New Decade, New Dental Regime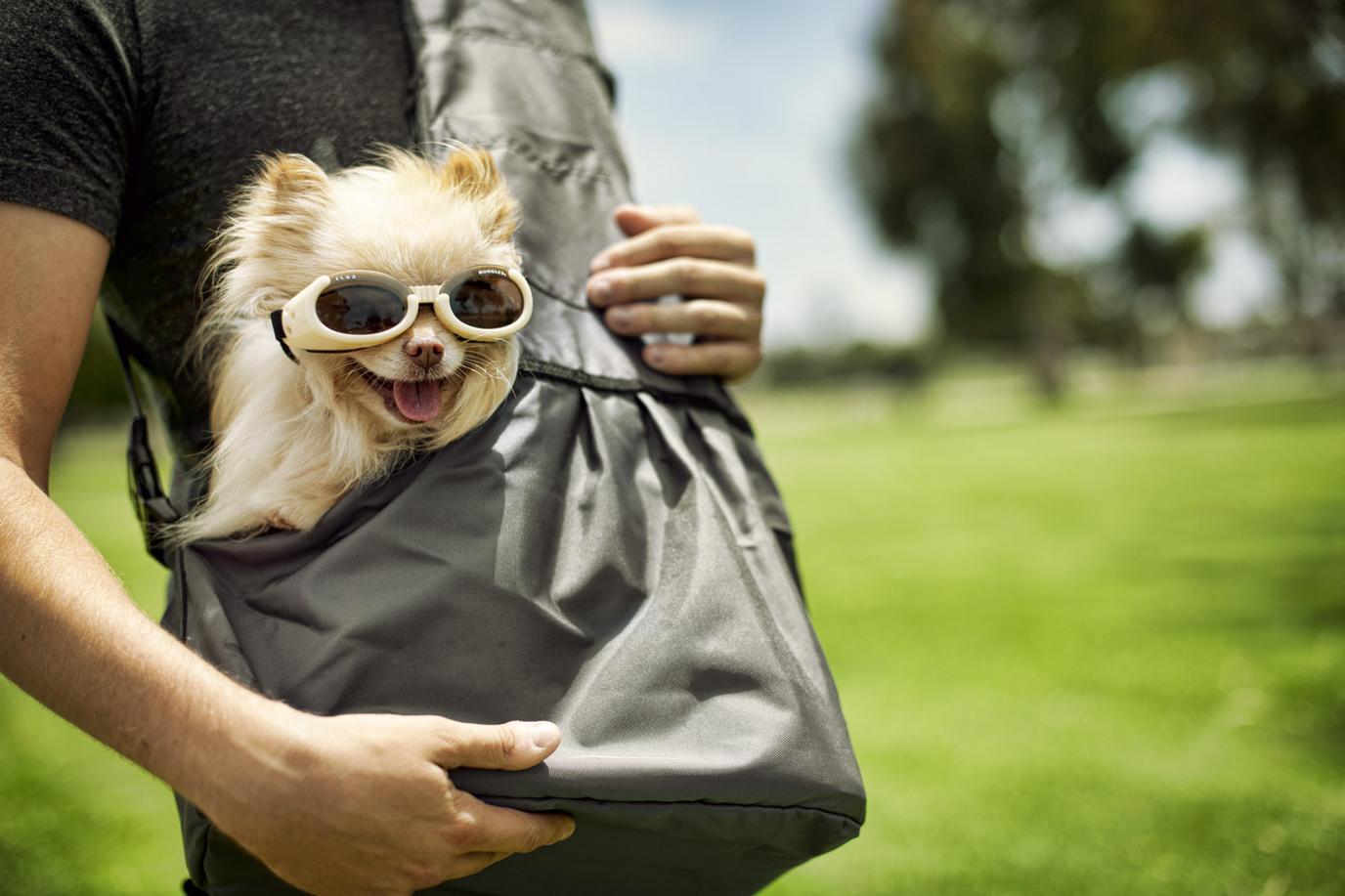 "Say cheese!" – Photo by Petco
February is National Pet Dental Health Month. The aim of this event is to raise awareness about an often overlooked area of pet health, which goes far beyond obvious issues like oral pain. Bacteria can spread from the mouth to organs around the body. Petco Grooming Salons offer teeth cleaning and breath refreshing treatments for $12 each. If you can't make it to the salon, you can still stock up on a range of dental treats and products. Dogs love to chew, so why not get them something good for their teeth, too? Nylabone Dental Dinosaur Chew is covered in raised dental tips that clean teeth and massage gums. Wholehearted Smart Smiles are specially formulated to reduce plaque and tartar. And Well & Good Tartar Control Toothpaste for Dogs is a chicken-flavored toothpaste (yum) that helps maintain healthy teeth and gums.
7. Spend Quality Time Together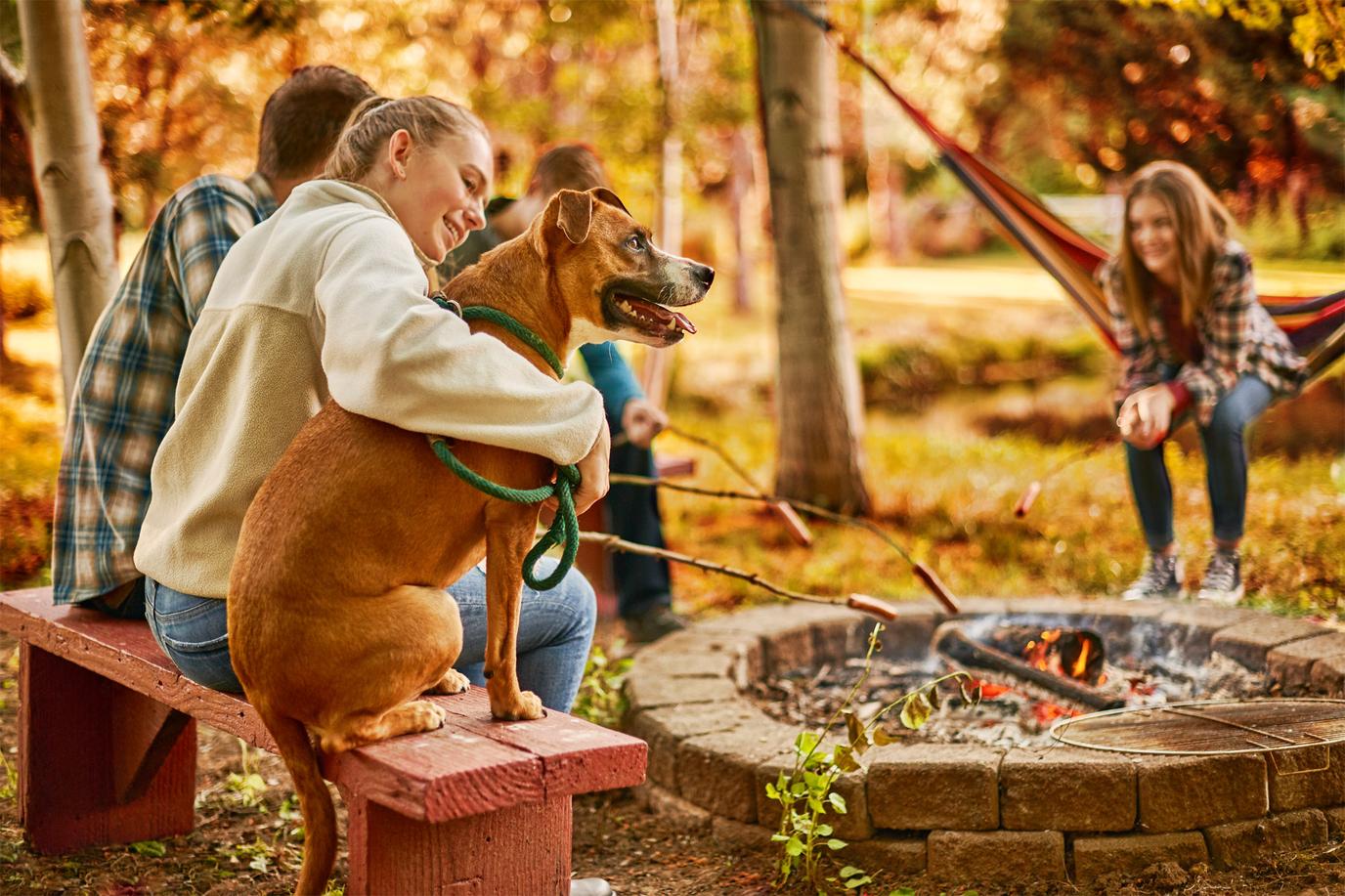 "Hot dogs all around!" – Photo by Petco
Pups are happiest when they're by your side. That's our motto at BringFido, and Petco shares the sentiment. Upgrade Fido's dog house if you're having a lazy day at home together, or invest in some quality outdoor dog gear before your next big adventure.
---
As it is for humans, canine health and wellness is the key to Fido leading a long and happy life. And it doesn't have to break the bank. Petco Pals allows loyal shoppers to redeem rewards online and in-store, and all products come with a money-back guarantee. But, like all habits, it does require discipline. Once you get your furry buddy started on his new routine, Petco can help you stay on course. With convenient options like regular home delivery (with no additional fees or shipping charges!) that keeps you stocked up on repeat orders and in-store pickup for online purchases, as well as advance reservations for grooming, training and vet services, it's giving pet owners a lending paw when it comes to keeping furry friends healthy in 2020.
*See how Petco defines artificial ingredients.
Disclaimer: This post has been sponsored by Petco.
This post from BringFido originally appeared as Health & Wellness Goals for Your Dog in 2020.