To paraphrase a famous saying, "When the going gets 'ruff,' the 'ruff' get going." As the world comes together to combat the global pandemic, these pups and canine enthusiasts are stepping up to the challenge and helping out in all kinds of ways. From encouraging social distancing by delivering groceries and wine to providing free temporary housing, these dogs and dog lovers are making a huge difference in their communities.
RVs 4 MDs and RVshare Offer Free Temporary Housing For Healthcare Workers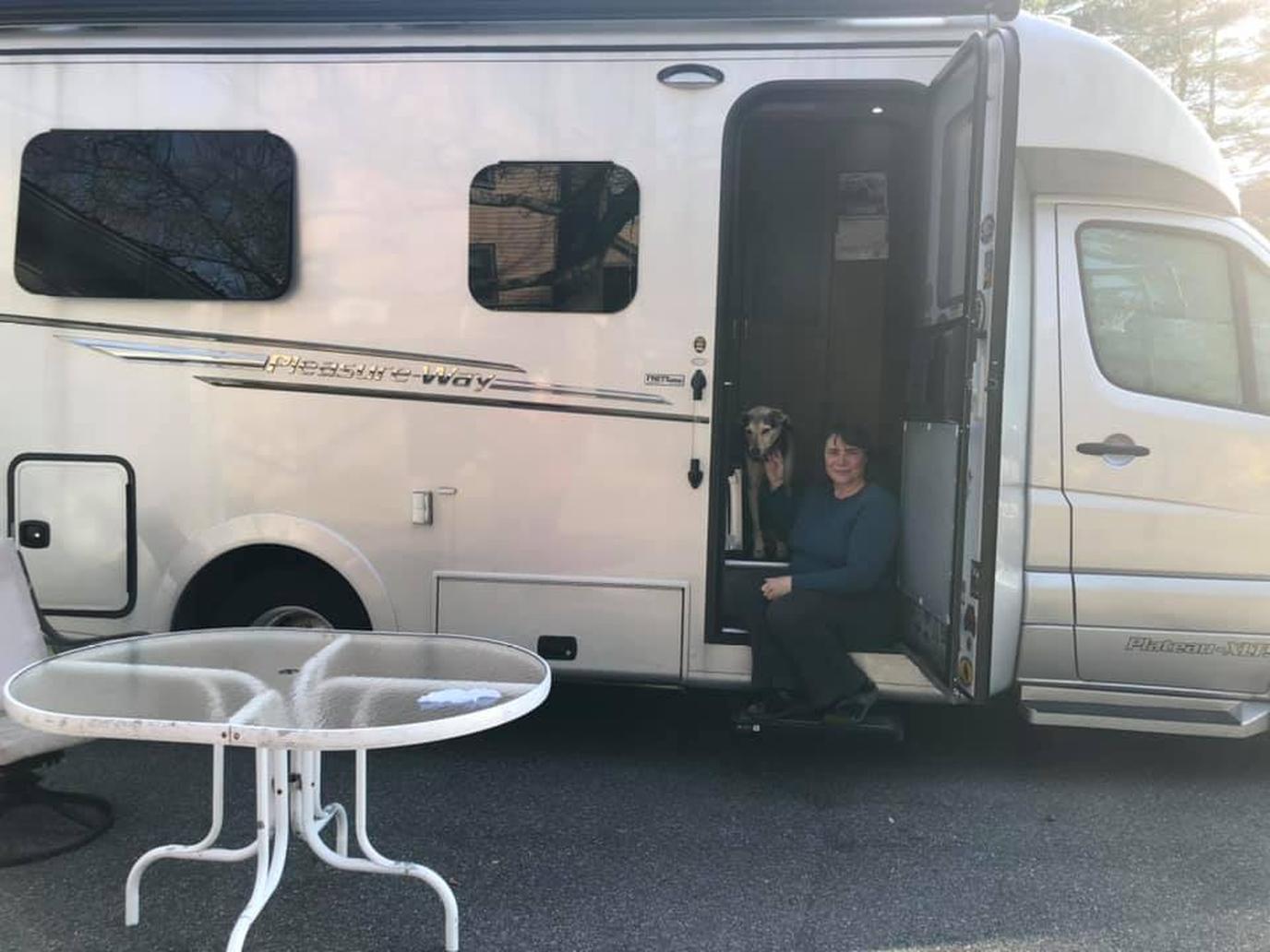 This healthcare worker is sheltering with her dog in a donated RV. – Photo by Facebook.com/lwrinn
A Facebook group called RVs 4 MDs has connected RV and camper owners with nurses, doctors and staff members across the nation who have been exposed to COVID-19. By providing them with a safe place to stay while isolating, the group has allowed healthcare workers on the front lines to move from spending their nights in tents outside to sleeping comfortably in an RV. RVs 4 MDs is working with the dog-friendly company, RVshare, who has waived all of its fees for the group's participants in an effort to recruit more RV owners. RVshare also has an RV Relief Program, in which owners can offer their motorhomes to those in need. It's a unique and crucial way to support healthcare professionals who are working tirelessly to care for coronavirus patients. And they don't have to leave their furry friends behind.
Sundance the Grocery-Delivering Golden Retriever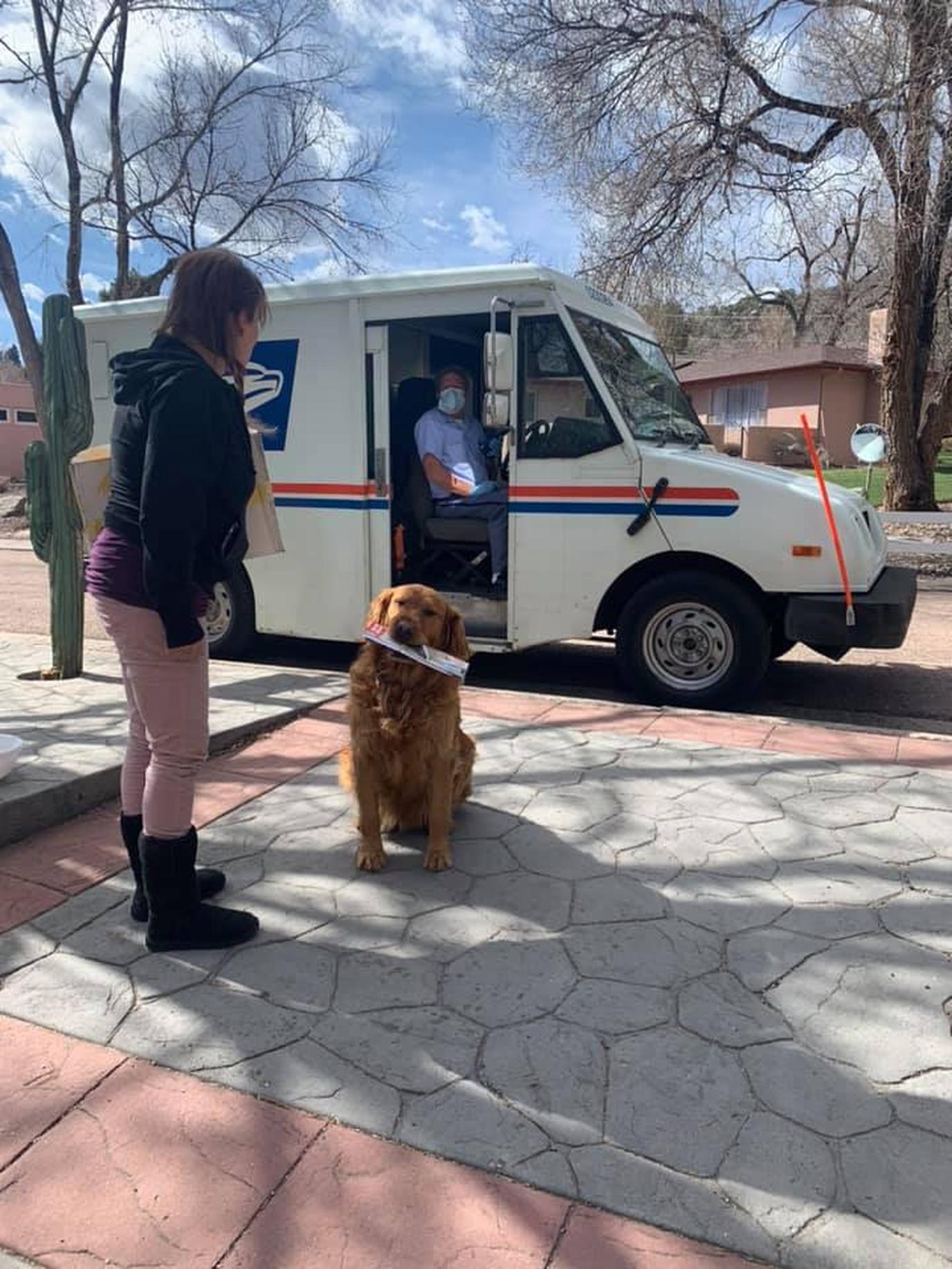 Sundance also delivers mail to his mom. – Photo by Facebook.com/sundancethegoldenretriever
A Golden Retriever named Sundance has been delivering groceries to his 71-year-old neighbor, Renee Hellman, who is self-quarantining in Manitou Springs, CO. Hellman is especially vulnerable to COVID-19, since she suffers from chronic pulmonary disease. Her longtime neighbor, Karen Eveleth, wanted to help out and trained Sundance to come to her aid. Sundance's friendly nature (and a few duck jerky treats) motivates him to be a good samaritan and go fetch Ms. Hellman's shopping list, and then retrieve her groceries and cooked meals.
Medical Detection Dogs Hope to Sniff Out COVID-19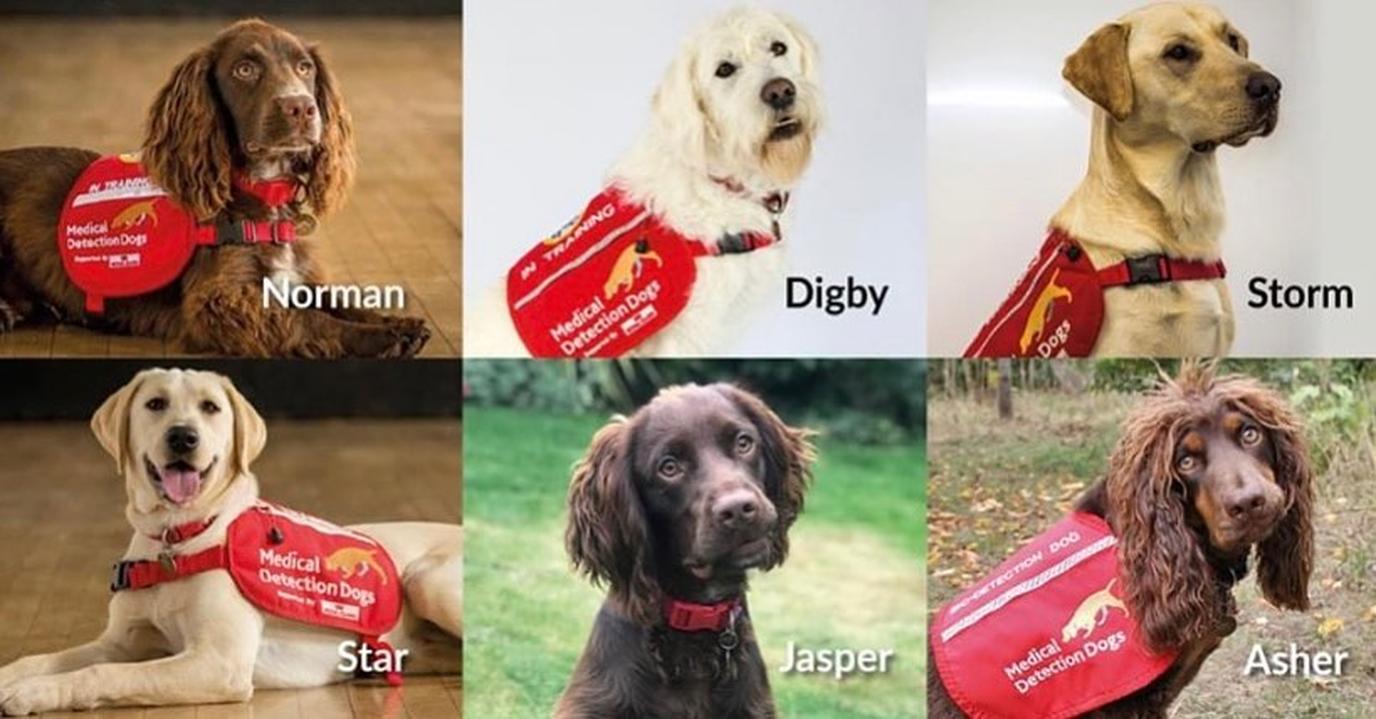 These four-legged heroes could potentially save thousands of lives. – Photo by @medicaldetectiondogs
Trainers at Medical Detection Dogs in the United Kingdom believe COVID-19's effects on the human immune system will produce a unique scent that dogs will be able to detect. The pups might also be able to single out individuals with fevers as a result of the novel coronavirus. And have no fear, the furry heroes will not be exposed to any infected people or materials. Once the dogs are trained, they will be able to detect the smell of ill individuals without having any physical contact. Although the research is still in its earliest phase, if these disease-sniffing canines are successfully trained to detect COVID-19 infection in individuals, they could be placed in airports to screen travelers and help slow the spread of the virus.
Rescuing Pups of COVID-19 Patients in NYC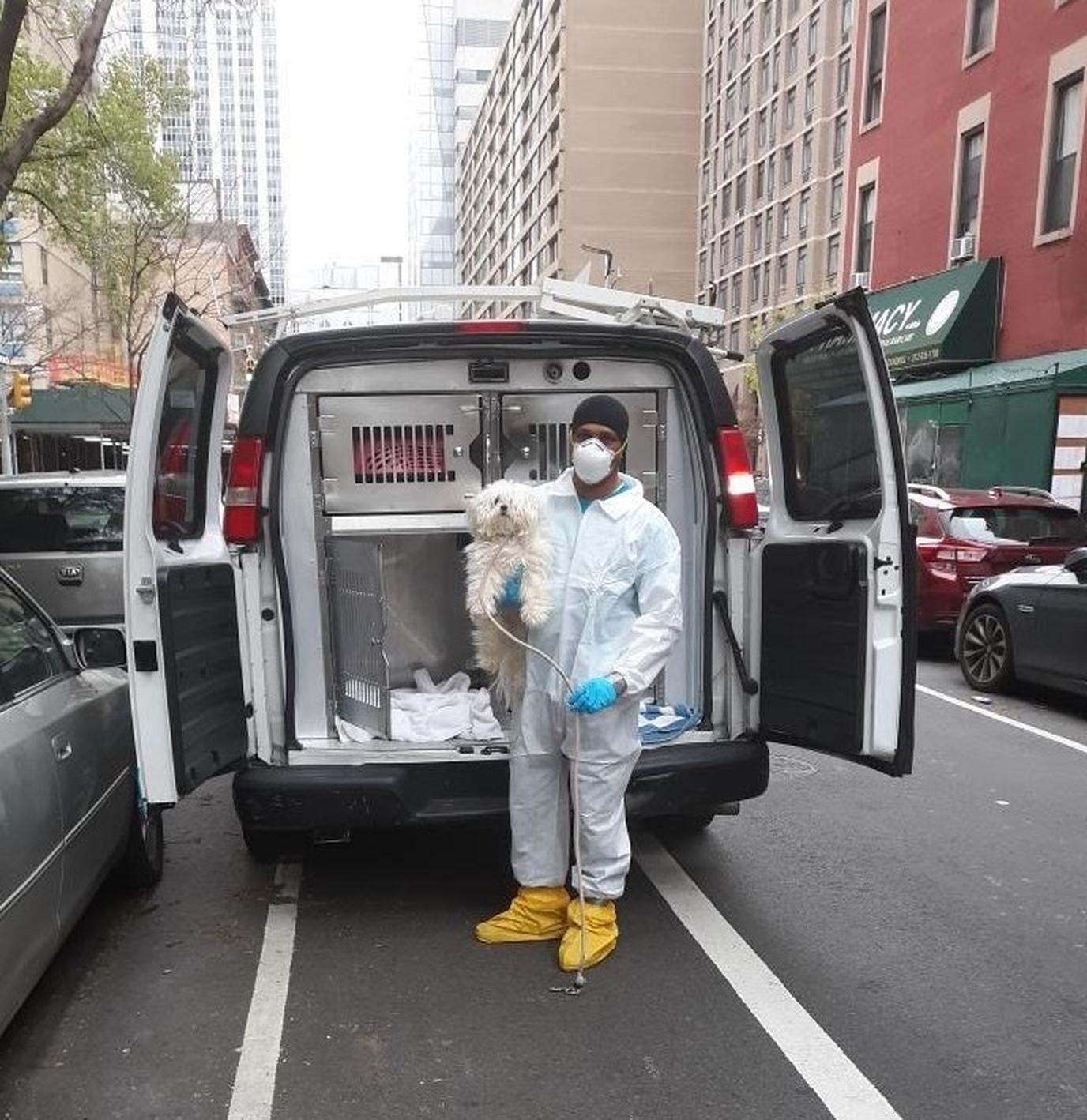 Just one of New York's real-life masked superheroes. – Photo by Facebook.com/NYCACC
Animal Care Centers of NYC's officers have saved several pets' lives whose owners were sick with the novel coronavirus. One poor pup was left home alone when her owner was admitted to the hospital for suspected COVID-19. The woman was so worried about her pet that she was threatening to leave the hospital until Animal Rescue Specialist Feraz was on the case. Wearing full personal protective equipment (PPE), Feraz went and retrieved apartment keys from the concerned pet parent and immediately went to get the unattended canine. He then transferred her to ASPCA for boarding while her dog mom focuses on recovering. The Animal Care Centers of NYC urges pet owners to have a plan for your pets in case you get sick.
If you're in New York City and have a virus-related pet issue, call the NYC COVID-19 Pet Hotline at (877) 204-8821.
Distance Healing and "Paws On Learning" from Surf Dog Ricochet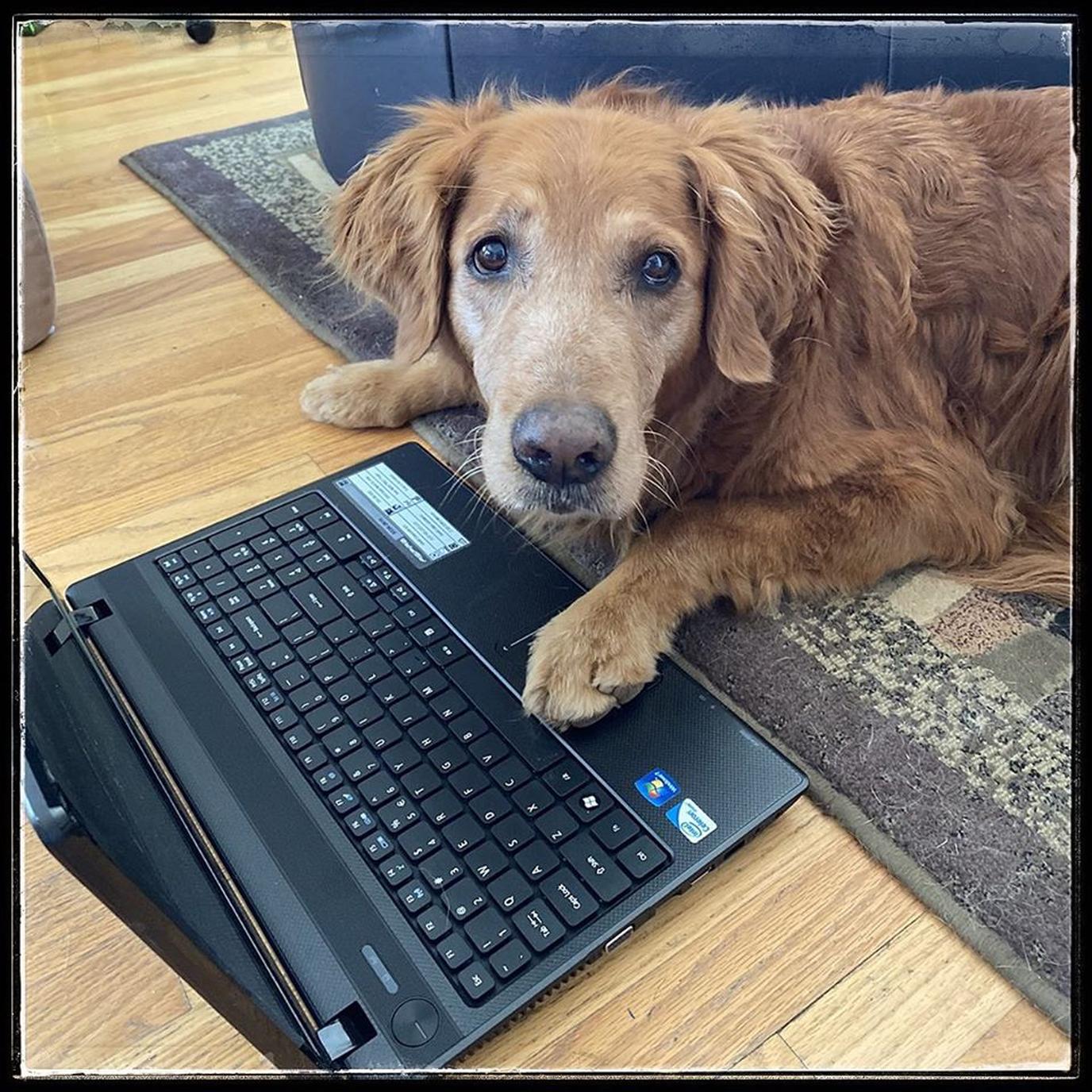 "I'm virtually irresistible!" – Photo by Facebook.com/SurfDogRicochet
Surf Dog Ricochet is a bona fide hero. This gnarly canine not only surfs, but is also a licensed therapy dog who has helped kids with special needs, people with disabilities, wounded warriors and veterans with PTSD learn to surf as a form of therapy, assistance, healing and empowerment​.
These days, Ricochet is taking her incredible powers online. Anyone struggling, depressed, scared or overwhelmed by the pandemic can reach out via FaceTime or videoconferencing for virtual canine therapy or distance healing. And to help kids stay entertained in a fun and educational way while they're at home, Ricochet has introduced "paws on learning." The free one-on-one sessions include video chats, virtual surfing, reading, dog tricks and more. You can browse and download an activity book and other fun materials here.
Soda Pup the Wine Delivery Dog
Boxer wine. – Photo by Facebook.com/Stone-House-Urban-Winery
In Hagerstown, MD, the owners of Stone House Urban Winery enlisted the help of their 11-year-old brindle Boxer, Soda Pup, to deliver wine to customers and encourage social distancing during the pandemic. He's been on the scene at the winery for a while, entertaining guests during wine tastings. But now, wearing a special harness backpack, Soda's dedicated to the important task of wine delivery. Treats as tips are accepted. Oh, and if it's raining, you may want to delay your pickup. Soda Pup refuses to leave the front porch during wet weather.
Watch Soda in action here:
Divine Canines and Bailey the Therapy Hound Offer Virtual Therapy Visits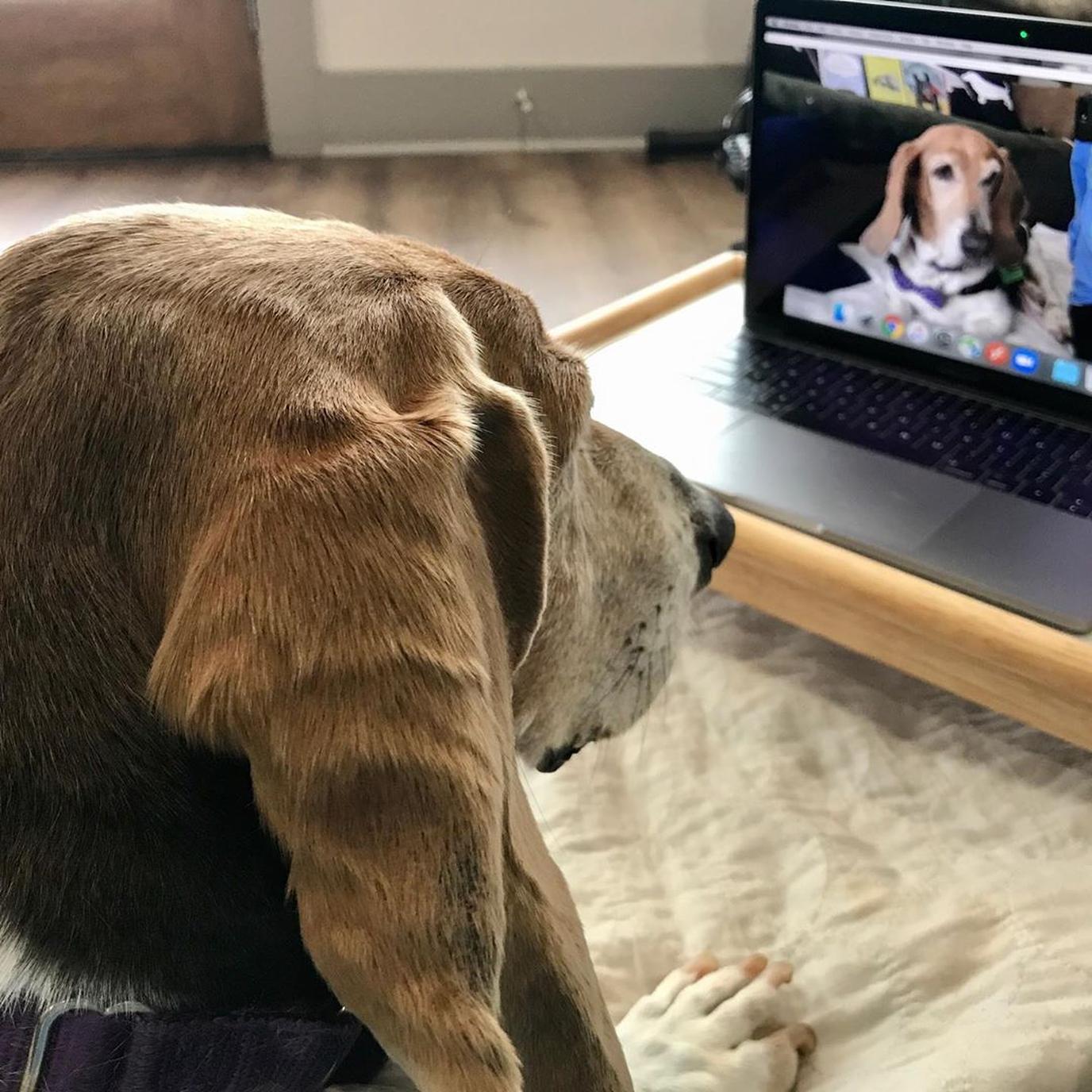 Somebody is looking her best for her therapy dog e-visits! – Photo by @baileythetherapyhound
In Austin, TX, one therapy dog organization is now offering virtual visits during the pandemic. Divine Canines is a Central Texas volunteer group with more than a dozen canines who've experimented with teletherapy. Bailey the Therapy Hound, a paralyzed Bassett Hound living with IVDD, is one of those pup volunteers taking time to meet with clients via web conferencing. People can schedule their appointments online if they just want to see Bailey, or she can even read them their favorite story. The service has been especially helpful for people who are feeling lonely during this time and for kids who love dogs and need a welcome distraction. Divine Canines believes that live video conferencing will remain in their portfolio of therapy options even after the pandemic, so dogs can continue help anyone who is in need of a little happiness.
This post from BringFido originally appeared as How Dogs (and Dog Lovers) Are Helping Out During the COVID-19 Pandemic.