Murals add color and interest to building walls and streets that would otherwise go unnoticed, drawing the eyes of locals and travelers alike. These photo-worthy outdoor works of art across the U.S. will give Fido a chance to stretch his legs during a road trip and pose for some truly fabulous photos for his scrapbook or Instagram account.
"Harboring Beauty"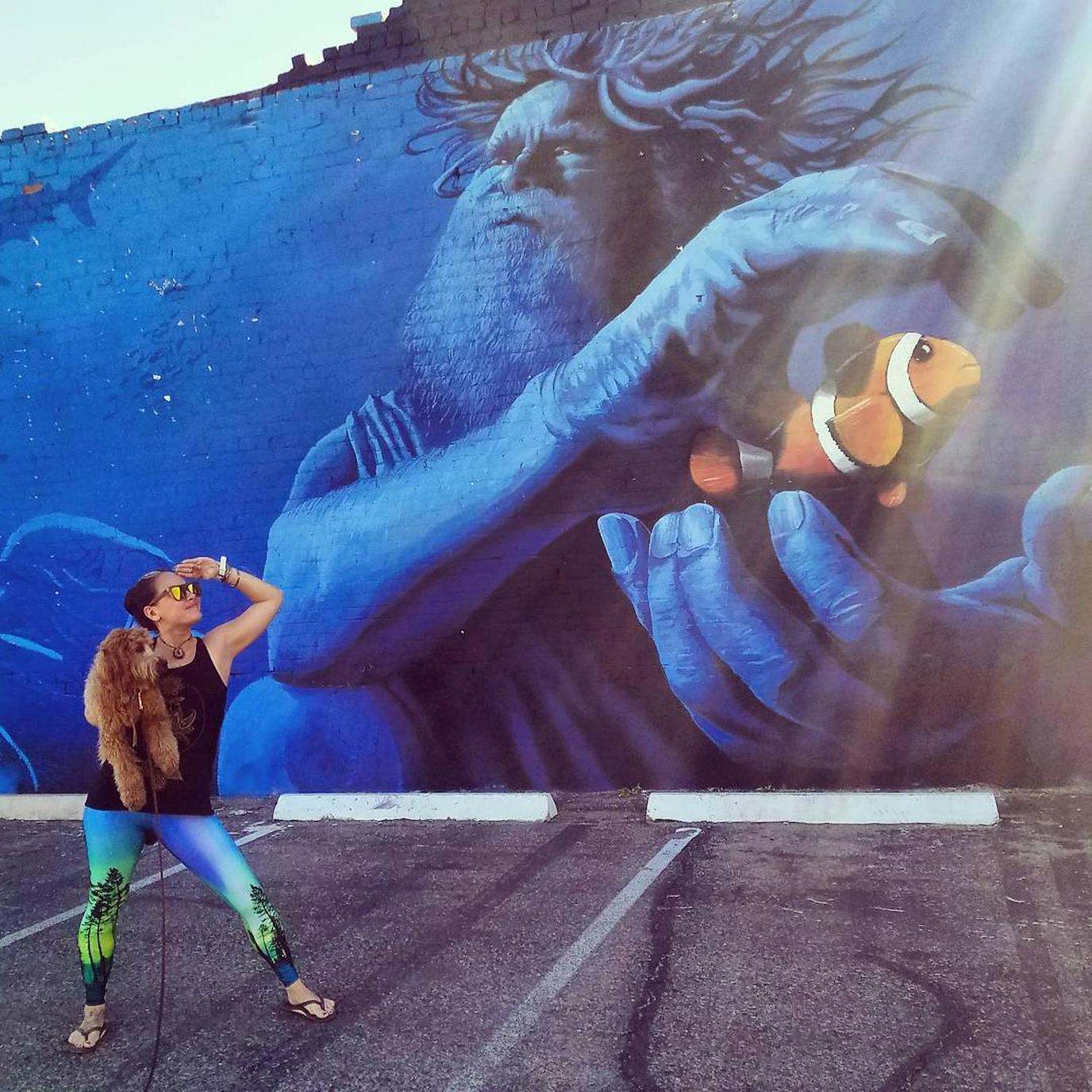 "Found Nemo." – Photo by @pilyapearl
Bienvenidos a Arizona! The Grand Canyon State is a destination for those looking to see art on a large scale and the city of Tucson, in particular, is brimming with fantastic, powerful murals that reflect the culture and values of the community. The sprawling 2017 creation, "Harboring Beauty," is also known around town as the "Finding Nemo" mural. Artist Joe Pagac hired three local Tucsonians without housing to model as the sea gods for this mural, and each guards a Nemo-like fish against the shadowy sharks. It's lauded for being incredibly detailed and realistic, especially considering its size.
Artist: Joe Pagac
Where to find it: This mural takes up about half of the entire east-facing wall at 191 Toole, a small Tucson music venue.
Atlanta BeltLine
"Where are we again?" – Photo by @sharonandteddytakethecity
The city of Atlanta has more than a thousand murals, and many of them can be found along the pet-friendly Atlanta BeltLine. The multi-use trail connects all the best corners of the ATL and is one of the largest, most wide-ranging urban revitalization programs in the U.S. One of the biggest draws to the urban trail for locals and tourists is BeltLine Walls, which displays the work of hundreds of muralists and spans roughly 12 miles of the 22-mile pet-friendly corridor.
Artist: Yoyo Ferro
Where to find it: Art on the BeltLine has created an interactive map to provide details about each art piece along the trail.
"Chromatic Cascade Mural"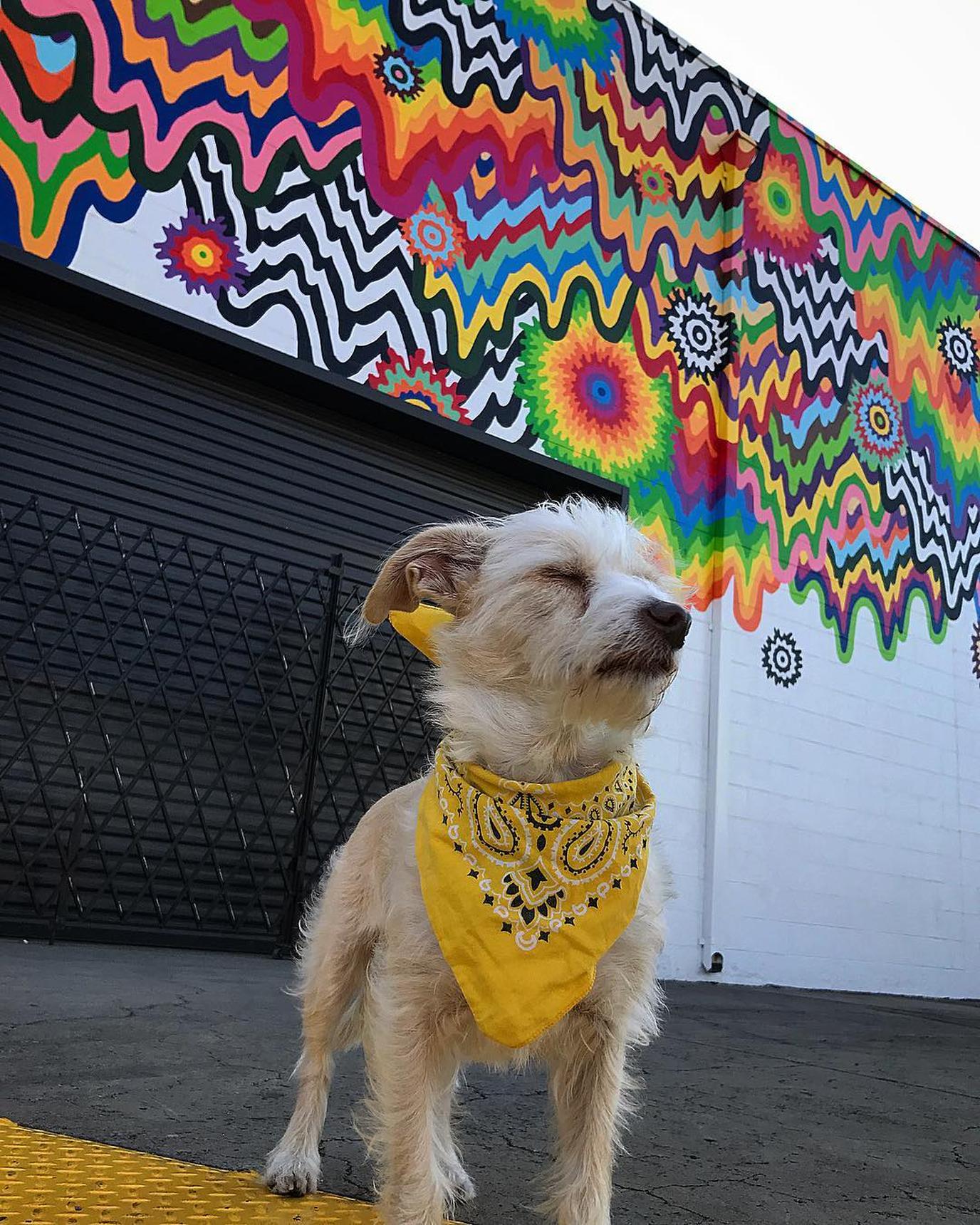 "I'm vibing with this psychedelic wall mural." – Photo by @cali_562
Los Angeles's downtown arts district is barking with creativity, and the city "pawsitively" vibrates with unique murals. Jen Stark, the artist behind this psychedelic display, uses vivid splashes of color and wild geometric patterns to mesmerize viewers. The work seemingly drapes from the roof of a warehouse, leaving plenty of room for Fido to pose without covering up any of the masterpiece.
Artist: Jen Stark
Where to find it: On the side of a warehouse in the downtown LA Arts District at 1828 Conway Place.
Wynwood Walls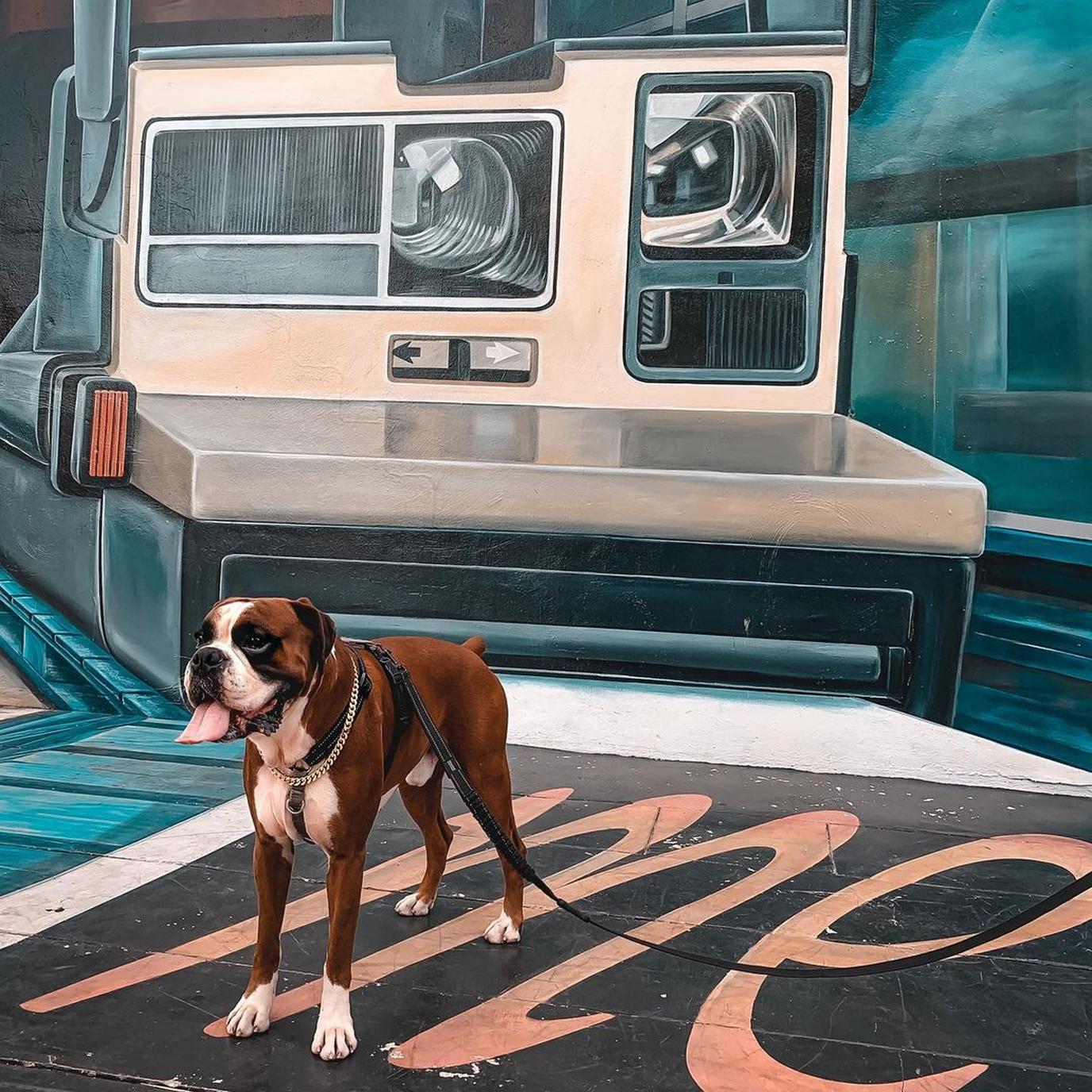 "Shake it like a Polaroid picture." – Photo by @stitchroxx
Wynwood Walls is an outdoor museum that has drawn the world's greatest graffiti and street artists to this neighborhood just minutes from downtown Miami. This epic attraction invites visitors from all over to walk the streets and explore the many original murals and sculptures. Since its inception in 2009, the Wynwood Walls program has seen over 50 artists representing 16 countries and covering over 80,000 square feet of walls.
Artist: Leon Keer
Where to find: This "picture perfect" mural of a Polaroid camera can be found in Wynwood on the corner of NW 25th Street and NW 2nd Avenue.
"Wings of Avondale"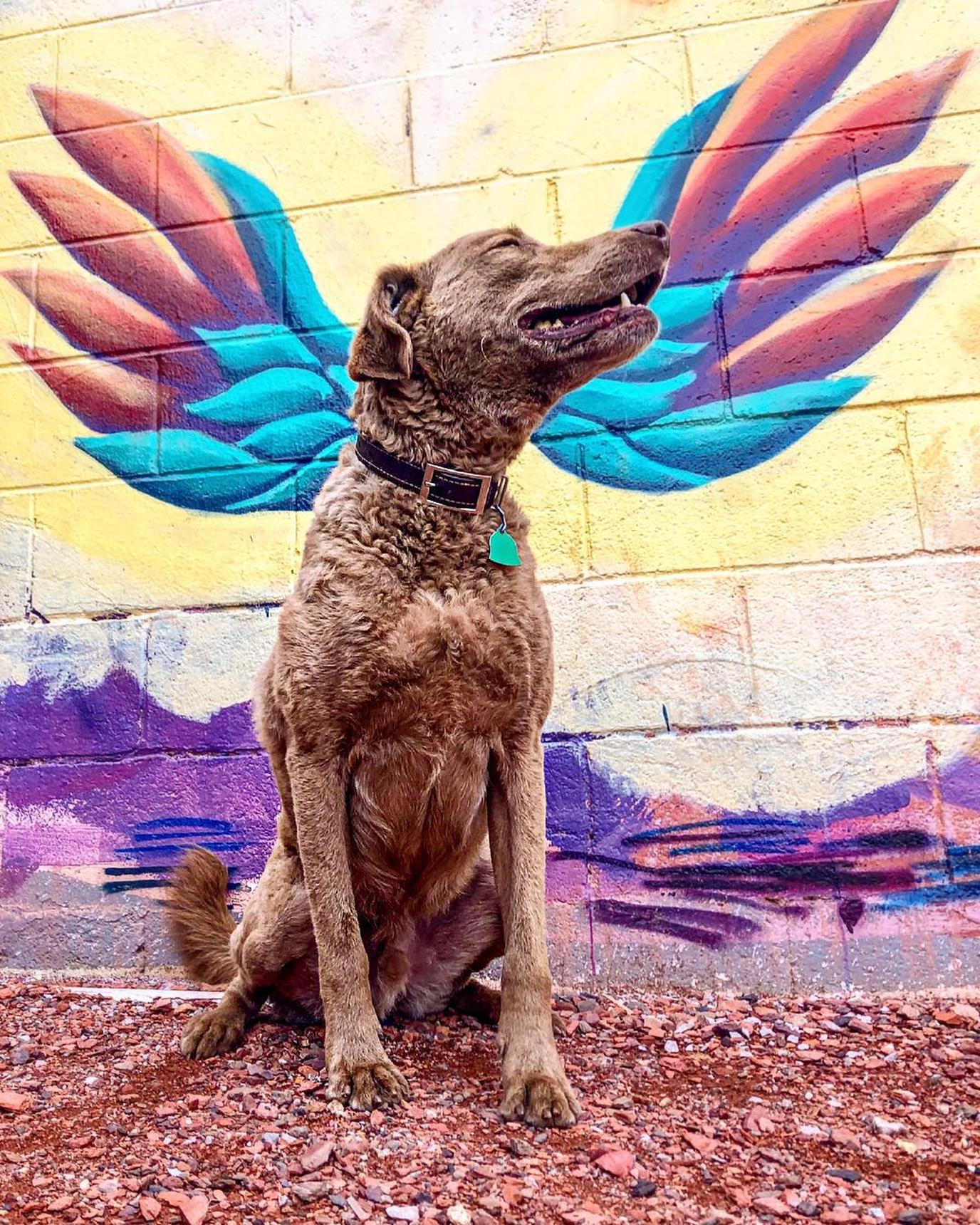 "I've never felt so free!" – Photo by @browndogreddirt
If you and your pooch have spent any time in Birmingham, you've probably visited the pet-friendly patio of MELT for its famous cheese-centered menu. Outside the restaurant is the fabulous "Wings of Avondale" mural. When the original artwork was vandalized in 2018, the community rallied to raise money for Blank Space Birmingham and muralist Marcus Fetch to recreate this interactive and tremendously popular mural.
Artist: Marcus Fetch
Where to find it: MELT is located at 4105 4th Ave S in Birmingham.
Wild West Mural Fest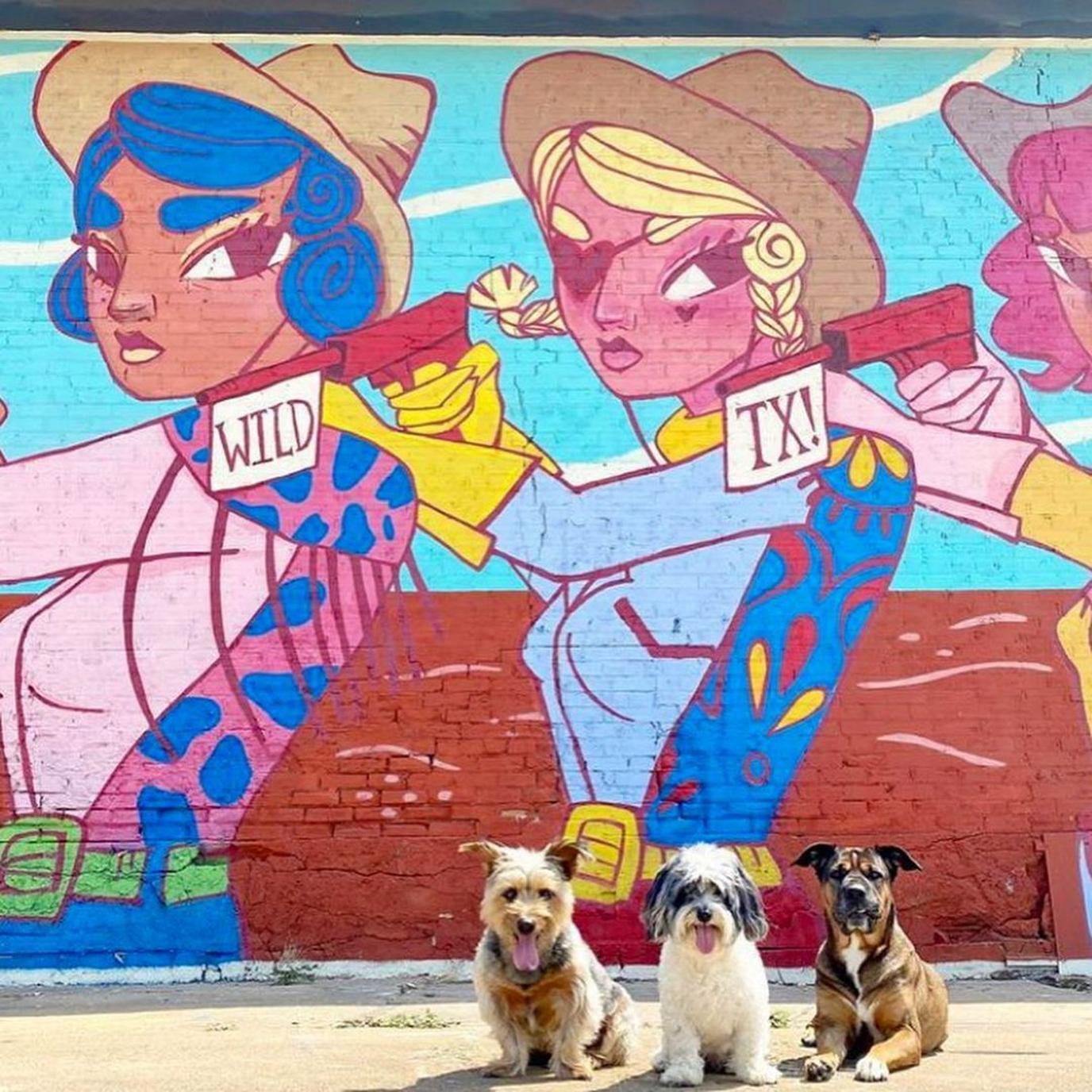 "Deep in the heart of Texas!" – Photo by @wildwestmuralfest
Wild West Mural Fest began as an extension to Art Walk West in 2018, an event organized by local artist Will Heron. The initiative aims to bring new public mural works to the West Dallas community from both DFW-based and national artists, who are asked to interpret 'The Wild West' in their art. Bring Fido to visit the 16 new murals that went up in October of 2020, and check out the new installations at the ever-evolving art park.
Artist: SM Sanz
Where to find it: This mural and many more can be found in the Fabrication Yard, a free art park in West Dallas.
"The Abstract Dogs of Oviedo, FL"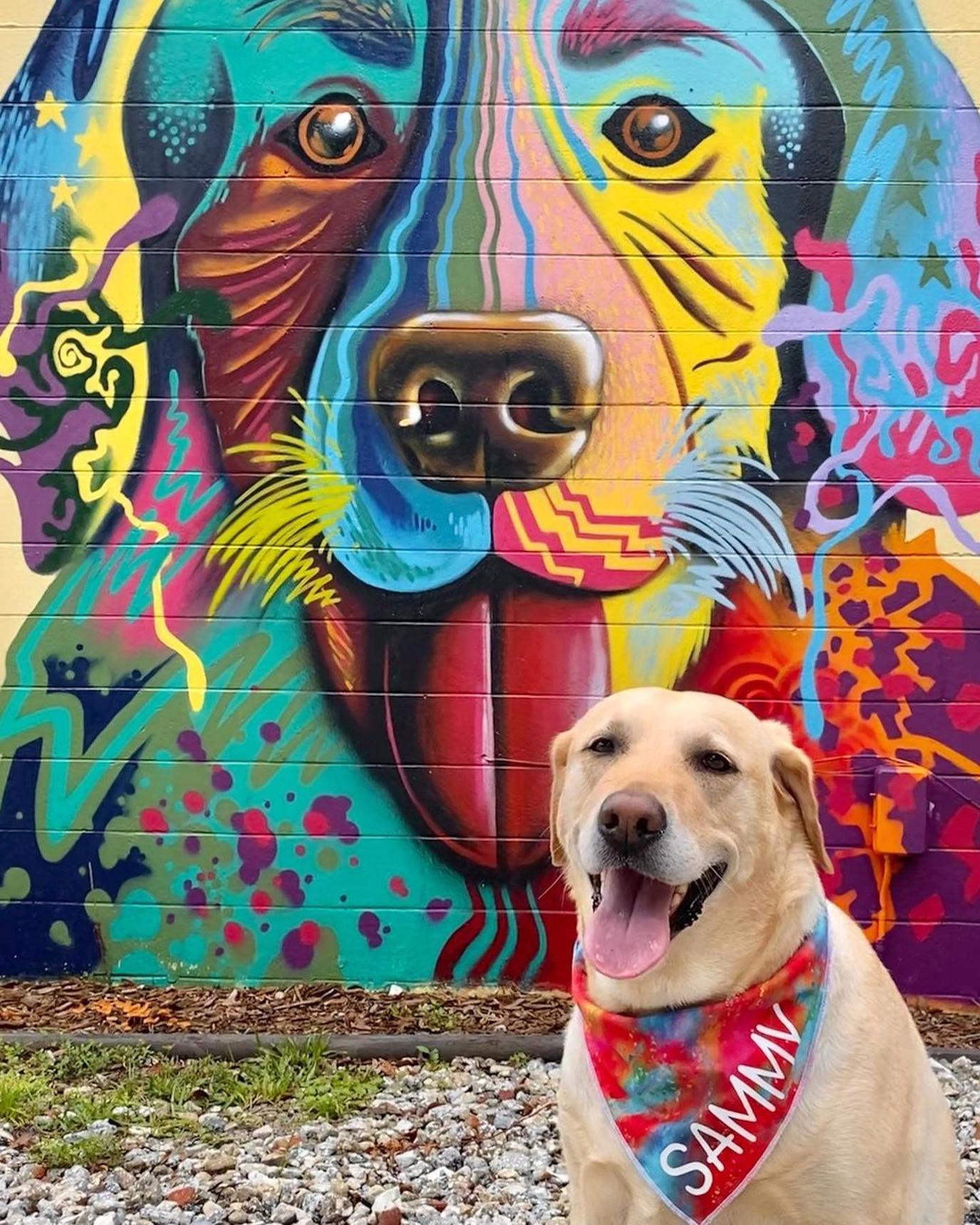 Twinsies! – Photo by @yellowlab_sam_sutt
On the walls outside The Pet Bow-Tique / Plantation Pet Resort in Oviedo, Florida, pups and people are greeted by three fabulous abstract dog portraits, painted with custom spray paint cans. This fun, lively grooming boutique and retail store located on 11 acres of oak tree-covered property also offers boarding services. The on-site indoor and outdoor runs offer plenty of playtime where dogs can socialize.
Artist: Works of Stark Murals and Design
Where to find it: The Pet Bow-Tique / Plantation Pet Resort at 47 S. Central Ave. in Oviedo, FL.
"Love Our Community"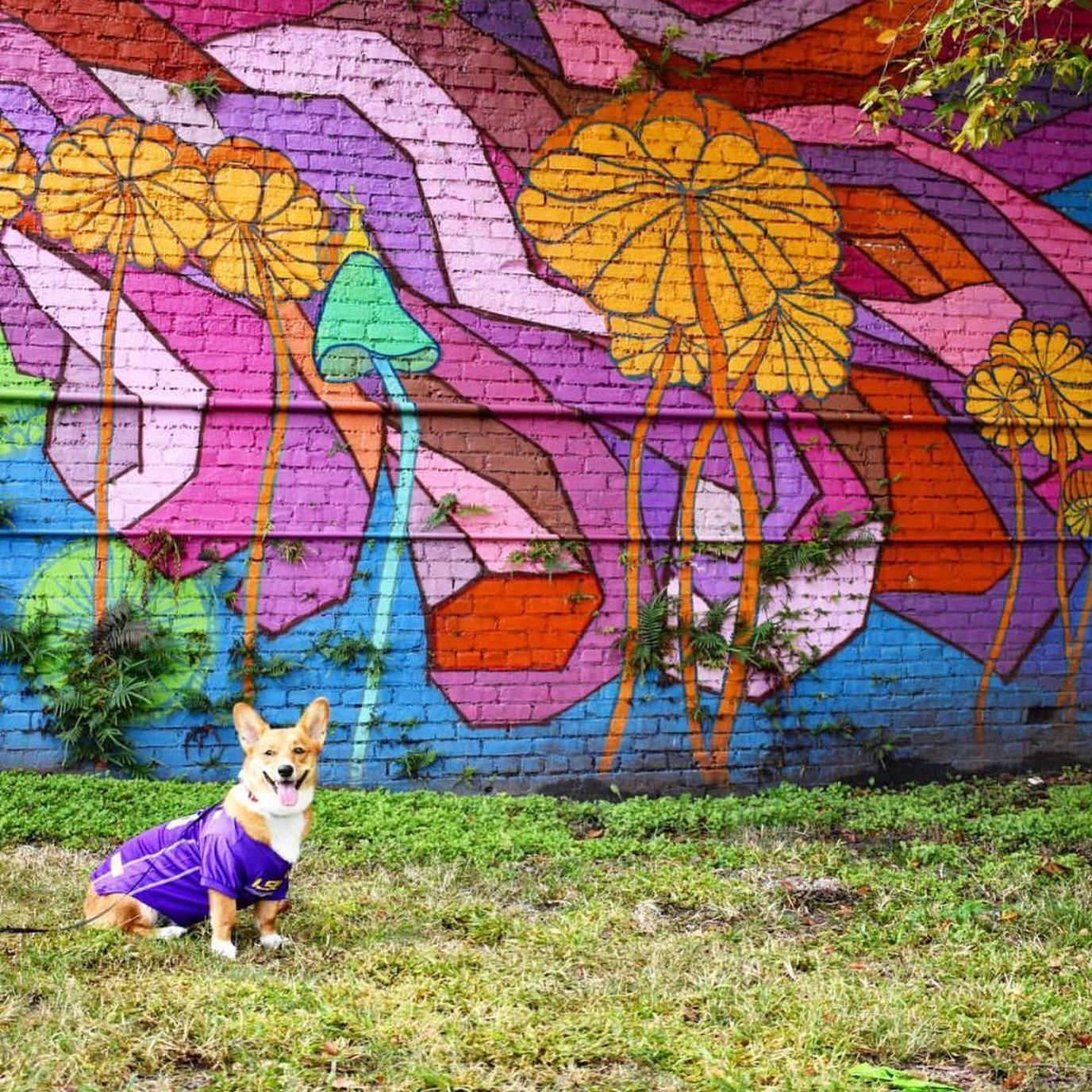 Everything about this exudes happiness. – Photo by @wallsproject
The Walls Project was designed to bring together local artists and businesses in hopes of fostering the creative arts economy and to inspire urban and rural beautification in the Baton Rouge community. Established in 2012, the nonprofit has been responsible for more than 100 color-clad buildings and art installations across the city.
Artist: Raina Wirta, TJ Black, Love Our Community Summer Youth Employment Program
Where to find it: In the "Spanish Moon" district of Baton Rouge at 1109 Highland Rd.
River Arts District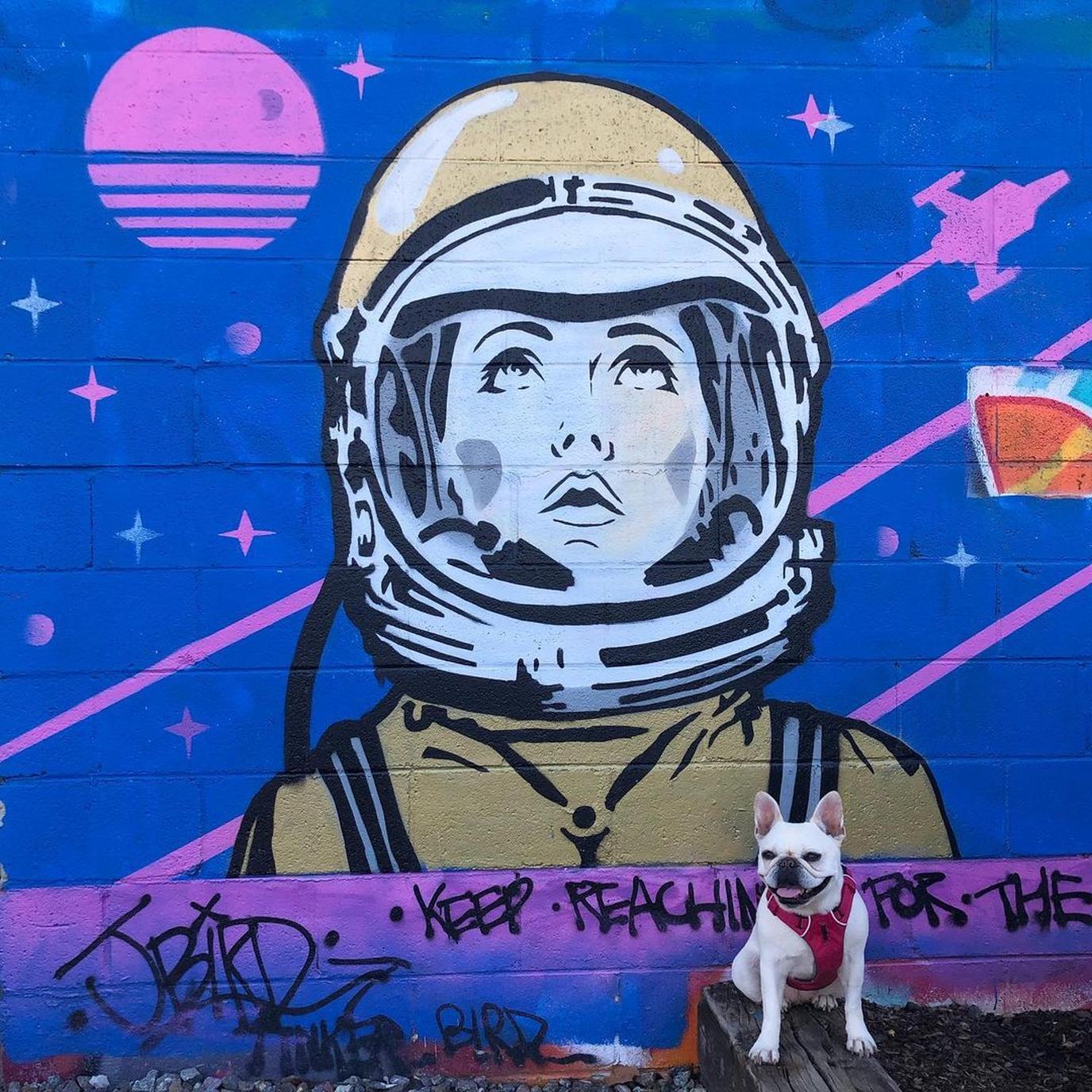 "To infinity, and beyond!" – Photo by @avirginiapeanut
If you're visiting pet-friendly Asheville, be sure to squeeze in a stroll to see local street art while you're at it. The best place to get a taste of everything this eclectic mountain town has to offer is the River Arts District (RAD), a membership community of over 250 artists working in studios and galleries along the French Broad River. Here you'll find numerous pet-friendly art studios, restaurants, events and awe-inspiring art installations. Be sure to take a walk around the Foundation Walls, where graffiti artists are encouraged to paint the exteriors of old warehouses. These huge murals with ever-changing designs are spread over 13 acres.
Artist: Jason Lee Parker
Where to find it: The River Arts District is located in converted warehouses and industrial buildings along the French Broad River, just a few miles from downtown Asheville.
"What Lifts You"
"Don't forget #WhatLiftsYou and #BringFido!" – Photo by @tagrealestate
The Gulch is a hip mixed-use neighborhood in Nashville where visitors and locals on two legs and four gather to enjoy a vibrant urban environment with retail, restaurants, entertainment and, of course, art. Check out the "What Lifts You" mural, which includes a 20-foot high image of wings for humans and a second perfectly pup-sized pair where your pooch can pose. Fido will also beg you to take him to Gulch Dog Park, where he can get the zoomies out after all that modeling, before visiting Bark Public House for a bath, some treats and happy hour.
Artist: Kelsey Montague
Where to find it: Find this mural at 302 11th Ave S in The Gulch.
This post from BringFido originally appeared as Insta-Famous Murals Across the U.S. to Visit With Your Dog.