Who's ready to swim, splash, sail and SUP with their pup? It's time for a fun and relaxing pet-friendly getaway on the water, and we know just where you can go to get your paws wet. Grab Fido's life jacket and check out these eight dog-friendly vacations by the lake.
Mirror Lake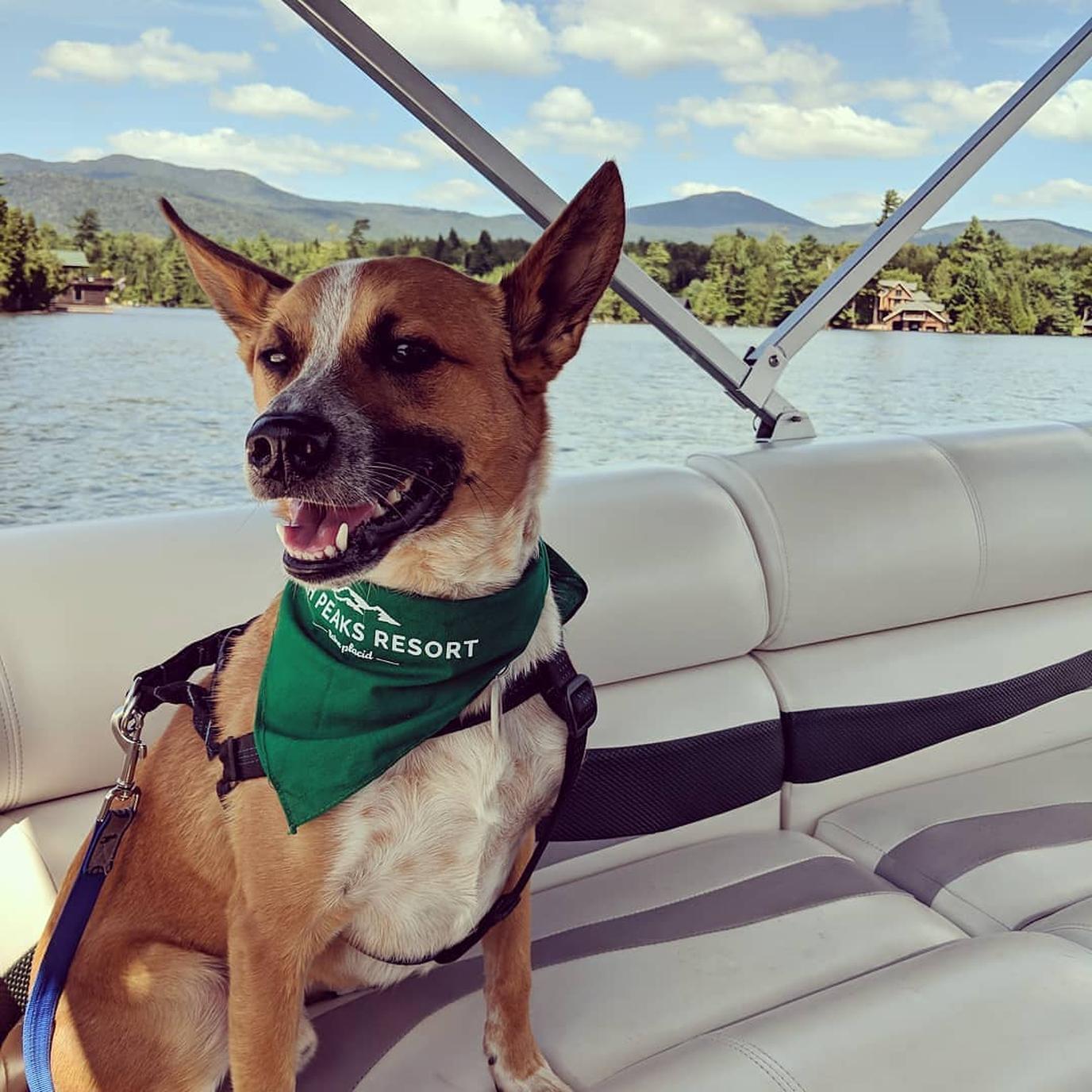 "Does this bandana make my ears look big?" – Photo by @blink182dude720
From the moment you check in to High Peaks Resort in the heart of the Adirondack Mountains, Fido will feel welcome. A comfy dog bed, food and water bowls, and a bone-shaped mat will be waiting in his guest room. He'll look like a true lake dog in his complimentary High Peaks Resort bandana and he might even meet Denver, the hotel's Chief Morale Officer and furry hotel mascot.
During warm months, experienced pups are welcome to ride along for an adventure on the resort's kayaks and paddle boards or cruise the lake with Captain Marney's Boat Rental. You can also take your pup for a swim at the dog beach at Mirror Lake or on a leashed walk along the 2.7-mile trail surrounding it. Take a stroll down Main Street where you can stop at pet-friendly shops like Bear Essentials, dine on the pet-friendly patio of Great Adirondack, and grab a frozen treat for you and your pup at Emma's Lake Placid Creamery. Winter in Lake Placid can be fun, too! A frozen Mirror Lake is the "pawfect" spot for a game of fetch.
High Peaks Resort is located at 2384 Saranac Avenue in Lake Placid, NY. Rates start at $143 a night. The resort welcomes two dogs up to 75 lbs for an additional fee of $25 per pet, per night. A portion of every pet fee goes to The Joshua Fund, a local nonprofit that supports rescue, care and adoption of animals.
Sturgeon Bay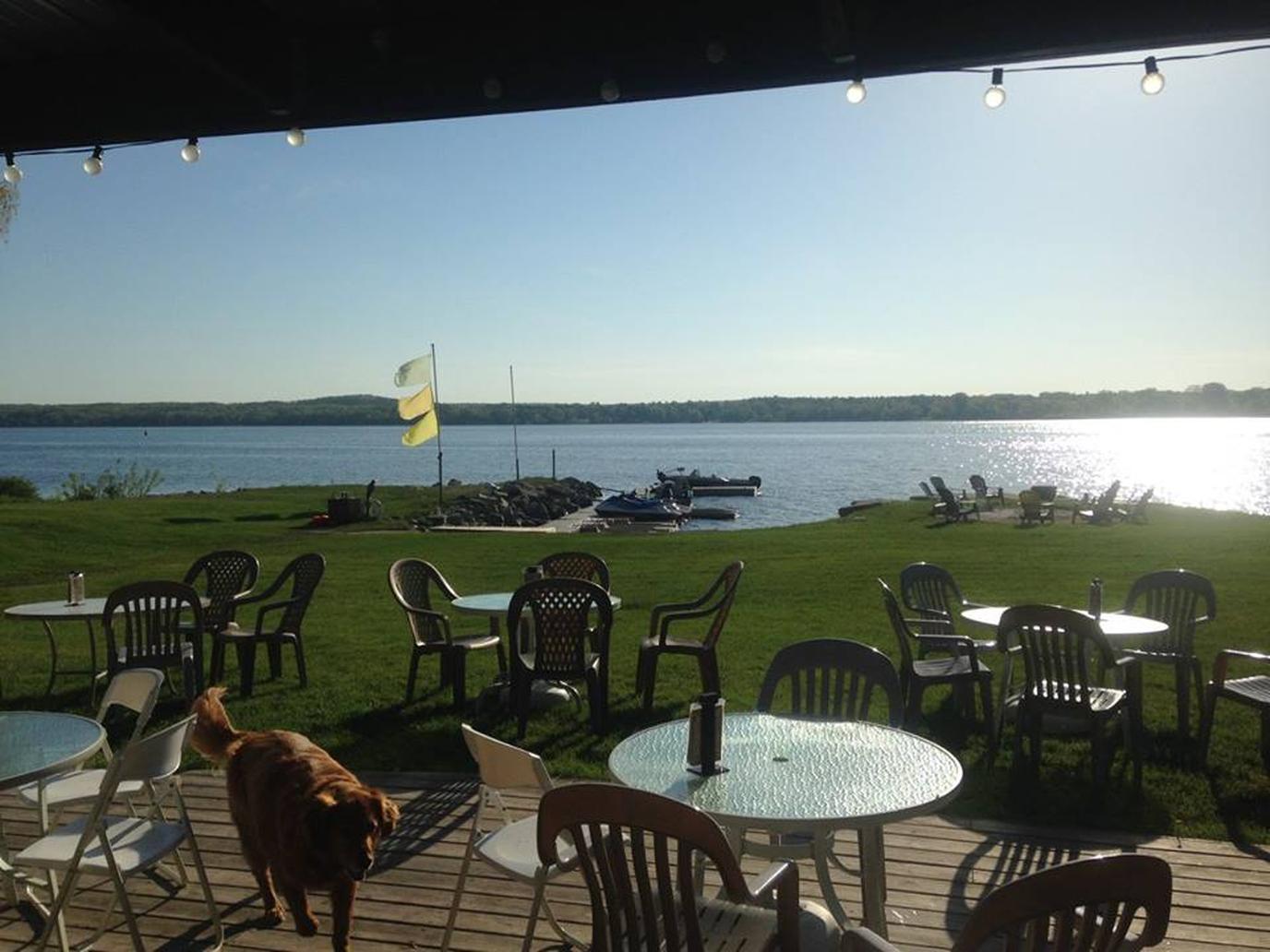 Dine on the pet-friendly patio of Waterfront Mary's. – Photo by Facebook.com/BeachHarborResort
The Great Lakes provide an array of recreational opportunities for humans and their furry friends. Located in Sturgeon Bay on the western side of Lake Michigan, Beach Harbor Resort is a dog's paradise. Lounge in the sun while Fido digs his paws in the sand, swim together in Sturgeon Bay or take a hike in Potowatomi State Park, which borders the resort. Adventurous pups can join you on one of the resort's kayaks or stand up paddle boards, both free for guests to use. Dogs are also welcome to spend the day out on the water in a Door County Boat Rental pontoon or fishing boat. When it's time to eat, grab lunch or dinner on the pet-friendly patio of the resort restaurant, Waterfront Mary's, where you can hear live music every Friday and Saturday night. Wind down the evening making new friends around the fire pit overlooking Sturgeon Bay.
Beach Harbor Resort is located at 3662 N. Duluth Avenue in Sturgeon Bay, WI. Rates start at $109 per night during the summer months, with a three-night minimum if Saturday is included. Two dogs of any size are welcome for an additional fee of $10 per pet, per night.
Lake Champlain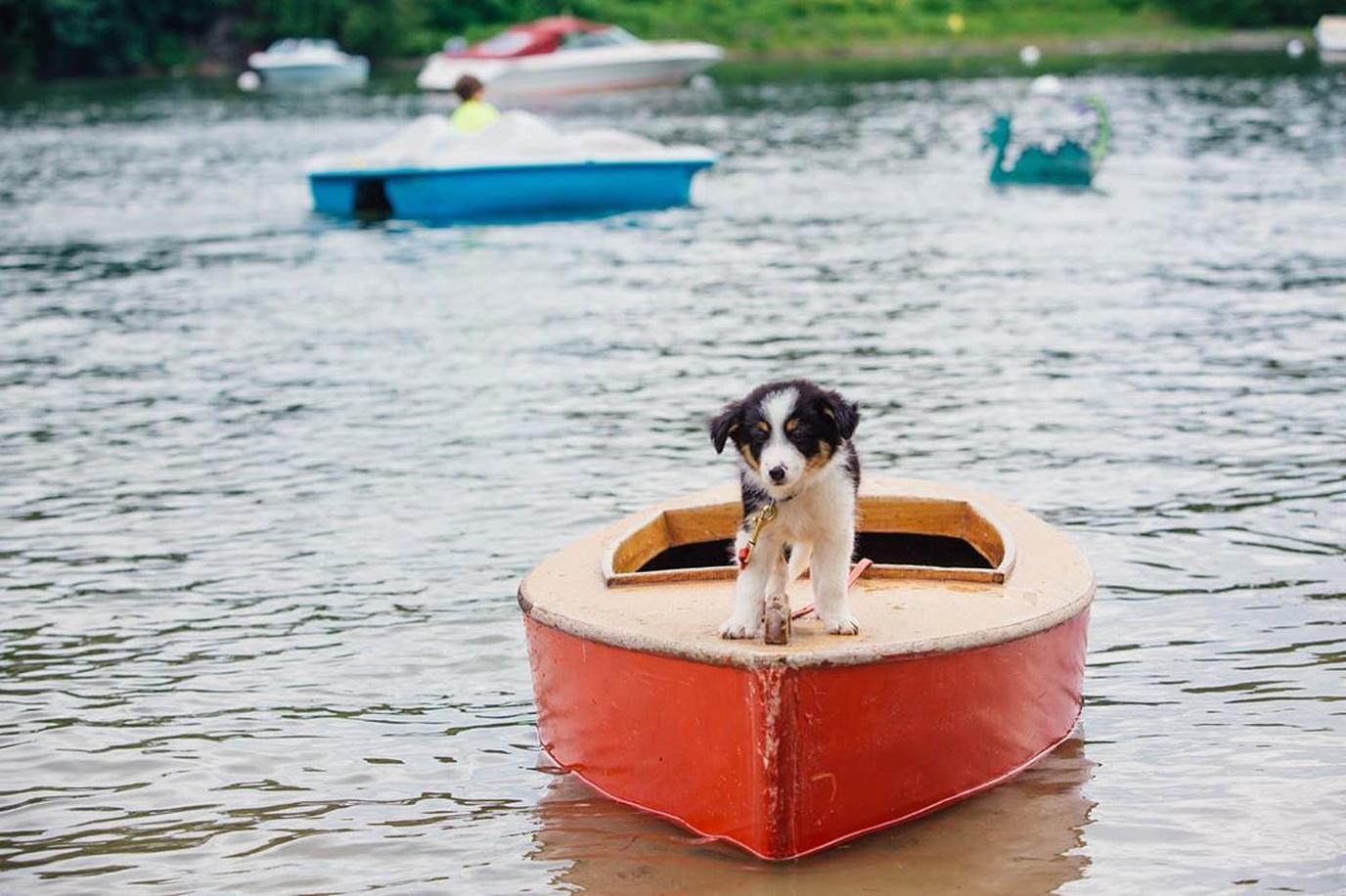 "Who's ready to dog paddle?" – Photo by @basinharbor
In the valley between New York's Adirondack Mountains and the Green Mountains of Vermont lies Lake Champlain. This summer vacation destination is ideal for two- and four-legged travelers who seek a fun yet relaxing lakefront getaway. Start by booking a pet-friendly cottage at Basin Harbor Club in Vergennes. Fido can take a dip at the hotel's private designated swimming area for dogs, Fanny's Beach, or join you for a scenic tour of Lake Champlain on a stand up paddle board or kayak. If your pup prefers land over water, you can explore more than 50 hiking trails in the region together. Treat your pooch to an afternoon Creemee (that's Vermont lingo for ice cream) at the hotel's Harbor Store. Should you need to venture out without your companion, dog-walking and dog-sitting services are available through the concierge.
Basin Harbor Club is located at 4800 Basin Harbor Road in Vergennes, VT. Rates start at $178 per night, and two pets of any size are welcome for an additional fee of $15 per pet, per night.
Lake Las Vegas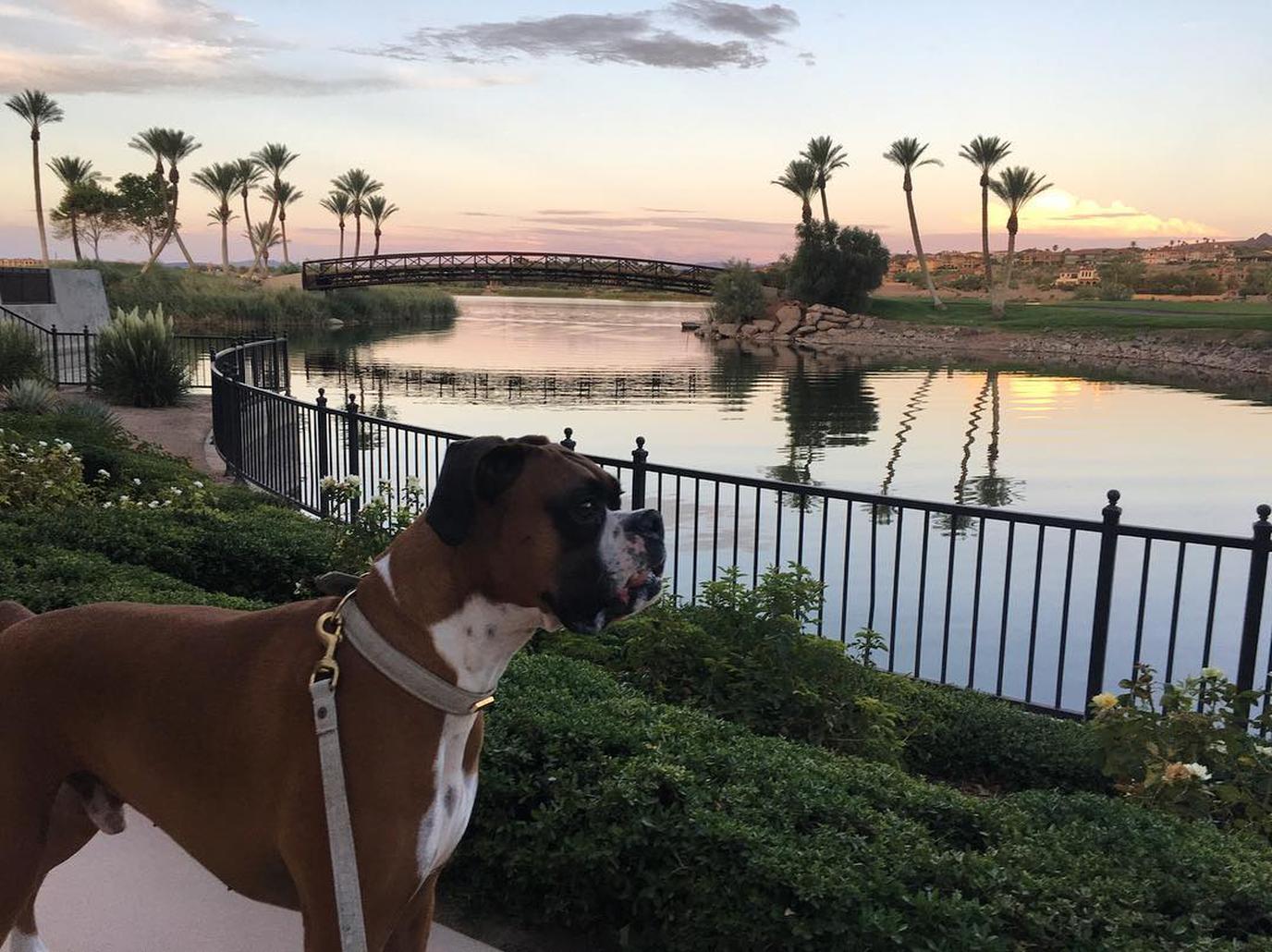 "This sure beats gambling." – Photo by @mannypawquiao
Viva Lake Las Vegas! Forget the excitement of the Strip and make your escape with Fido to Westin Lake Las Vegas Resort & Spa in Henderson. Trade in the bright lights and slot machines for beautiful mountain views and a SUP with your pup. Dogs are welcome to join their owners on kayaks and stand up paddleboards from Lake Las Vegas Water Sports, but if your pooch would rather enjoy the views, take him on a scenic hike along the River Mountains Loop Trail. Furry friends are also allowed at the resort's family game zone, which features cornhole, ping pong tables and a giant chess board. After a full day, four-legged guests will get a good night's rest on a complimentary Westin Heavenly Dog Bed.
Westin Lake Las Vegas Resort & Spa is located at 101 Montelago Boulevard in Henderson, NV. Rates start at $101 per night, and two dogs up to 45 lbs are welcome for an additional fee of $50 per stay.
Lake Powell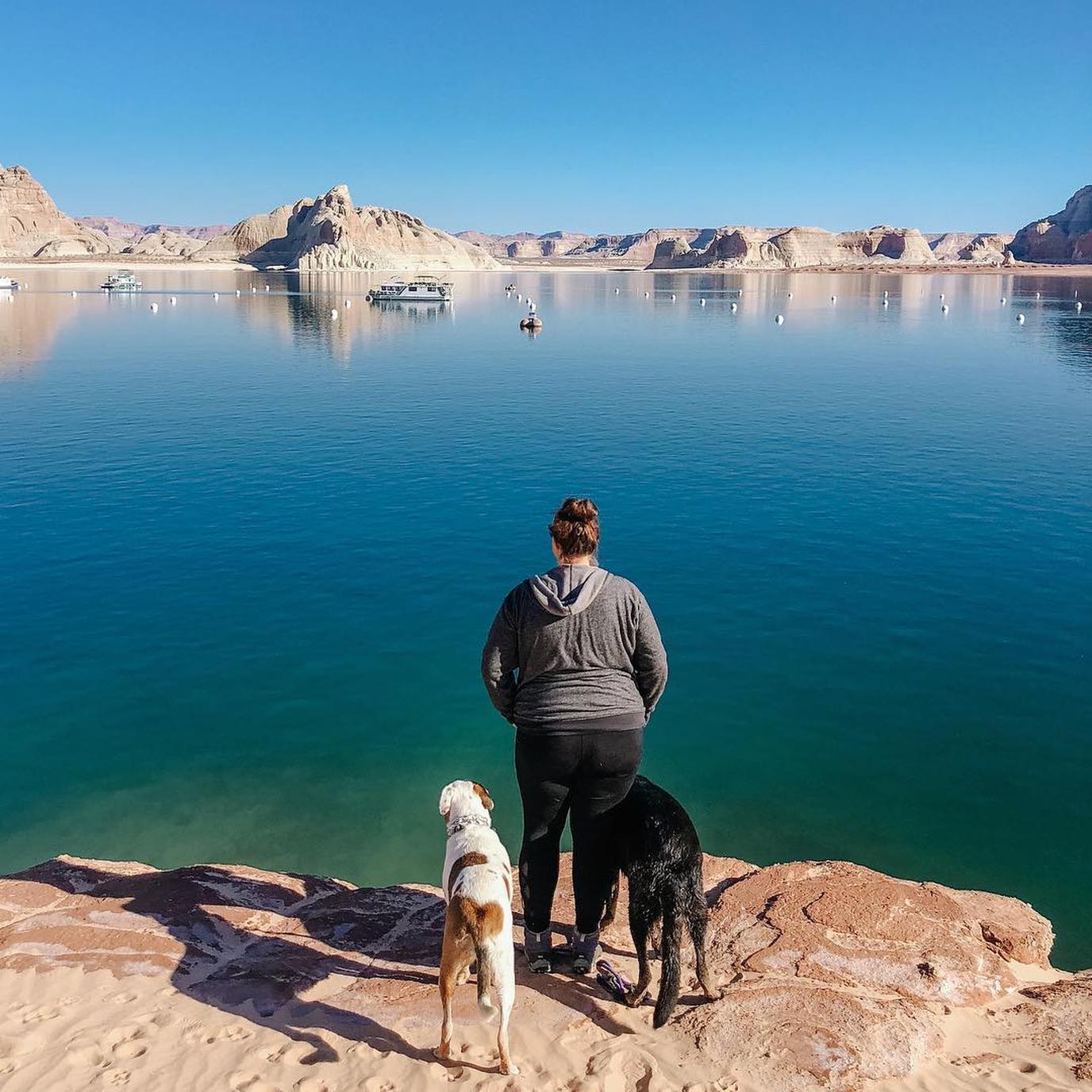 "I double-dog dare you to jump." – Photo by @roamingrescues
Stay lakeside or spend the night on the water at Lake Powell Resort and Marina & Houseboats in Page. Dogs are welcome at the resort, the lodge and on select houseboats. Cruise Lake Powell on a pontoon or power boat and your pup can ride along for no extra fee. Paddle him around the sparkling blue water on a stand up paddle board from Lake Powell Paddleboards or let him do his own doggy paddling in the lake. Once you've worked up an appetite, your pooch can join you for dinner on the pet-friendly patio at the on-site Wahweap Grille.
Lake Powell Resort is located at 100 Lakeshore Drive in Page, AZ. Nightly rates start at $169. Two pets of any size are welcome in Traditional Rooms at the resort and at Defiance House Lodge for an additional fee of $20 per pet, per night. Dogs are permitted in pet-friendly houseboats for an additional fee that varies by houseboat. The resort lies within the Glen Canyon National Recreation Area, which charges an additional $30 entrance fee.
Lake Oswego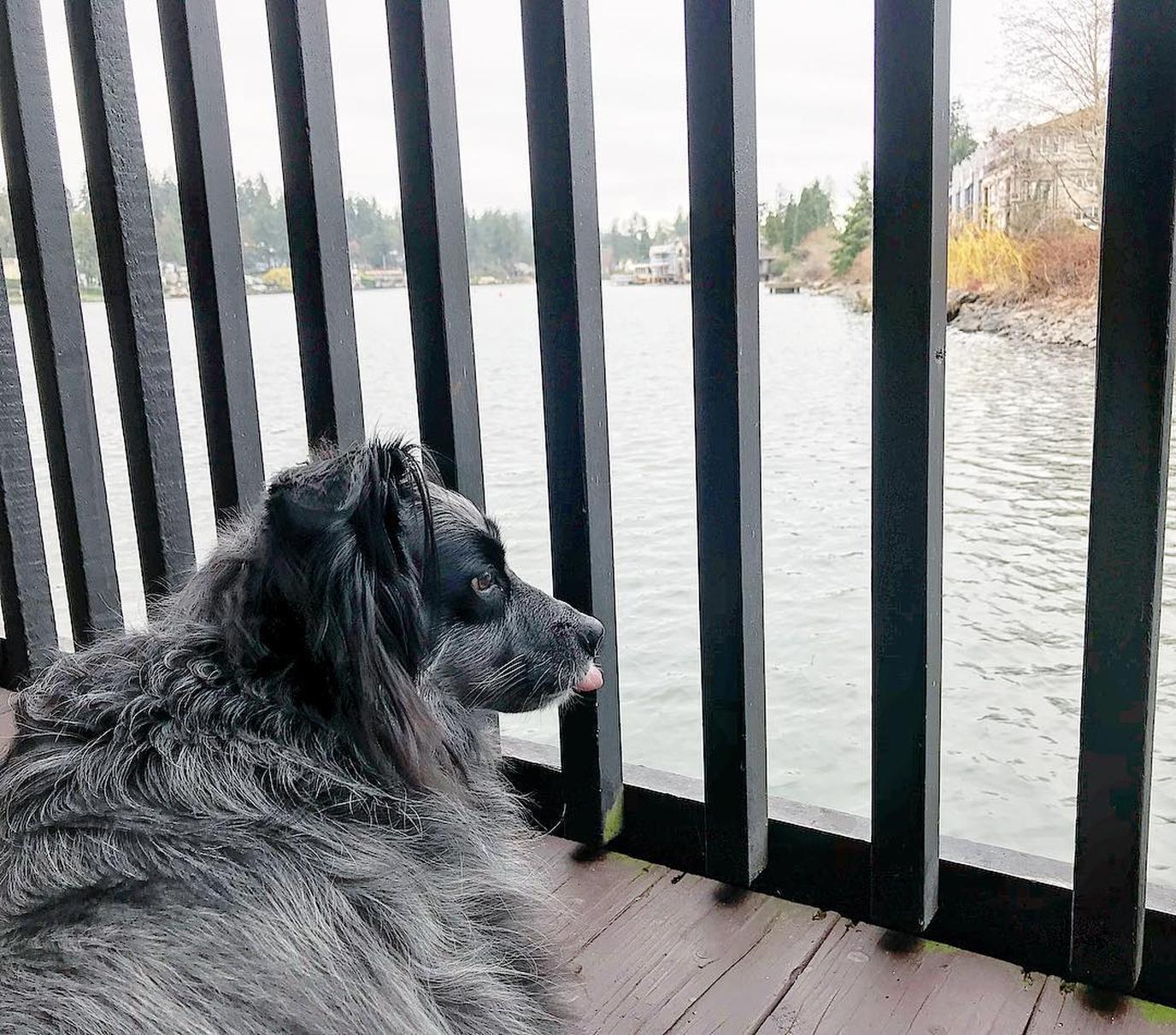 Just keeping an eye on the ducks. – Photo by @tomahawkuma
Lakeshore Inn is located just south of Portland on the banks of Lake Oswego. Upon check-in, your furry traveler will receive a basket of goodies including treats, pet towels, food and water bowls, sheets to cover furniture, and waste bags. But Fido won't want to linger in the room with all there is to do outside. The lake encompasses 405 acres in the downtown area, making it the perfect spot for both adventuring in the outdoors and exploring city life. Take your pup for a walk around the town's paved pathways, including a seven-mile loop around the lake. Stop for lunch and a cold beer on the pet-friendly patio of Stickman Brewery and Skewery, let your furry fashionista shop for new duds at LexiDog Boutique and Social Club, and don't forget dessert at Lake Oswego Ice Creamery. Wind down after a busy day relaxing on your room's balcony overlooking the lake.
Lakeshore Inn is located at 210 N. State Street in Lake Oswego, OR. Rates start at $169 per night, and two dogs of any size are welcome for an additional fee of $15 per pet, per night.
Twin Lakes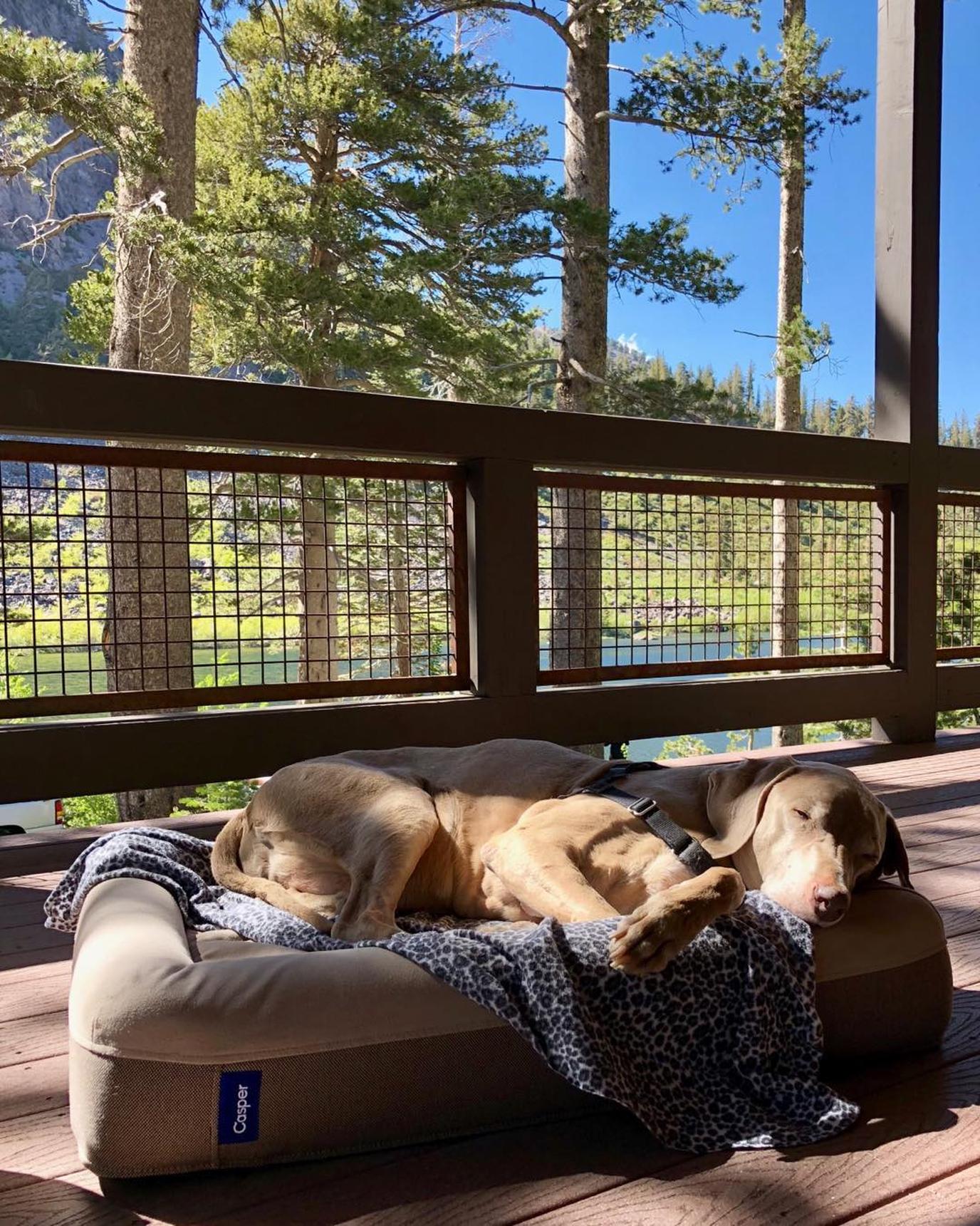 Get your beauty rest at Tamarack Lodge Resort. – Photo by thescoobylife.com
The pet-friendly cabins at Tamarack Lodge Resort are a summer oasis for dogs and their owners. The lodge sits on the shore of Twin Lakes, offering stunning views of forest wilderness and glassy waters. Take your pup for a ride up Mammoth Mountain Gondola for panoramic vistas of the surrounding area. Once you're at the top, explore the hiking trails of Inyo National Forest. When it's time for lunch, stop by one of the many pet-friendly restaurant patios in Mammoth Lakes, like Gomez's Restaurant & Tequileria. End your day with a "bear can" at Mammoth Brewing Company's dog-friendly outdoor beer garden.
Tamarack Lodge Resort is located at 163 Twin Lakes Road in Mammoth Lakes, CA. Dogs are only allowed in Cabins. Rates start at $229 per night. Two dogs up to 100 lbs are welcome for an additional fee of $30 per pet, per night plus a $200 refundable deposit.
Lake Winnipesaukee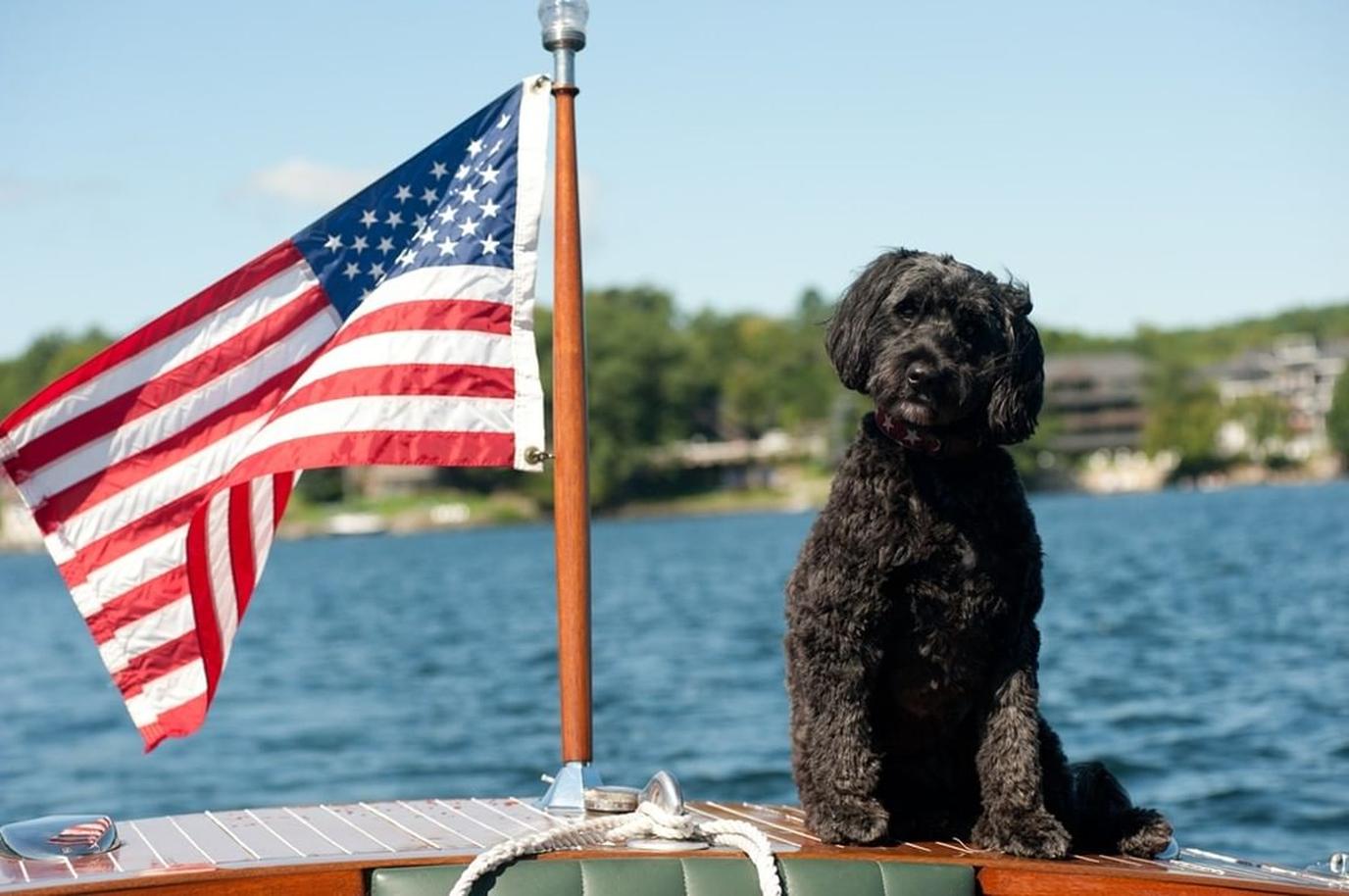 Just living the American dream. – Photo by @millfalls
Fido's name will be on a welcome sign when he arrives at Mill Falls at the Lake in Meredith. He'll also get a toy, treats, plush dog bed, food and water bowls, and his own throw blanket for the couch. The resort is located in a tranquil spot that invites you to settle into an Adirondack chair overlooking the lake with a glass of wine or lounge by the fireplace and take in the view from your guest room. For more adventurous fun, hike the nearby trails and go for a swim in the lake with your pooch or rent a dog-friendly kayak, canoe or pontoon from EKAL Activity Center. When it's mealtime, make your way to Giuseppes Pizzeria & Ristorante or Town Docks, where furry friends are allowed on the pet-friendly patios. And if you're ready to tie the knot and want your pup by your side, Mill Falls is the perfect place for a romantic lakefront wedding. Fido is sure to look dapper as your Best Dog!
Mill Falls at the Lake is located at 312 Daniel Webster Highway in Meredith, NH. Rates start at $160 per night. Two pets of any size are welcome for an additional fee of $25 per pet, per stay plus a $100 refundable deposit. The hotel donates $10 of each pet fee to the New Hampshire Humane Society.
This post from BringFido originally appeared as On the Water: Lakefront Vacations With Fido.