Pucks and Paws: 8 Dog-Friendly Minor League Hockey Games to Attend
If your pup loves slapshots and crosschecks, now is the time to break out his favorite jersey and head to the rink. Several minor league hockey teams across the country will open their arenas to furry fans between now and April. Here are eight games to attend this winter with your four-legged Wayne Gretzky.
1. Hartford Wolf Pack – Pucks & Paws Night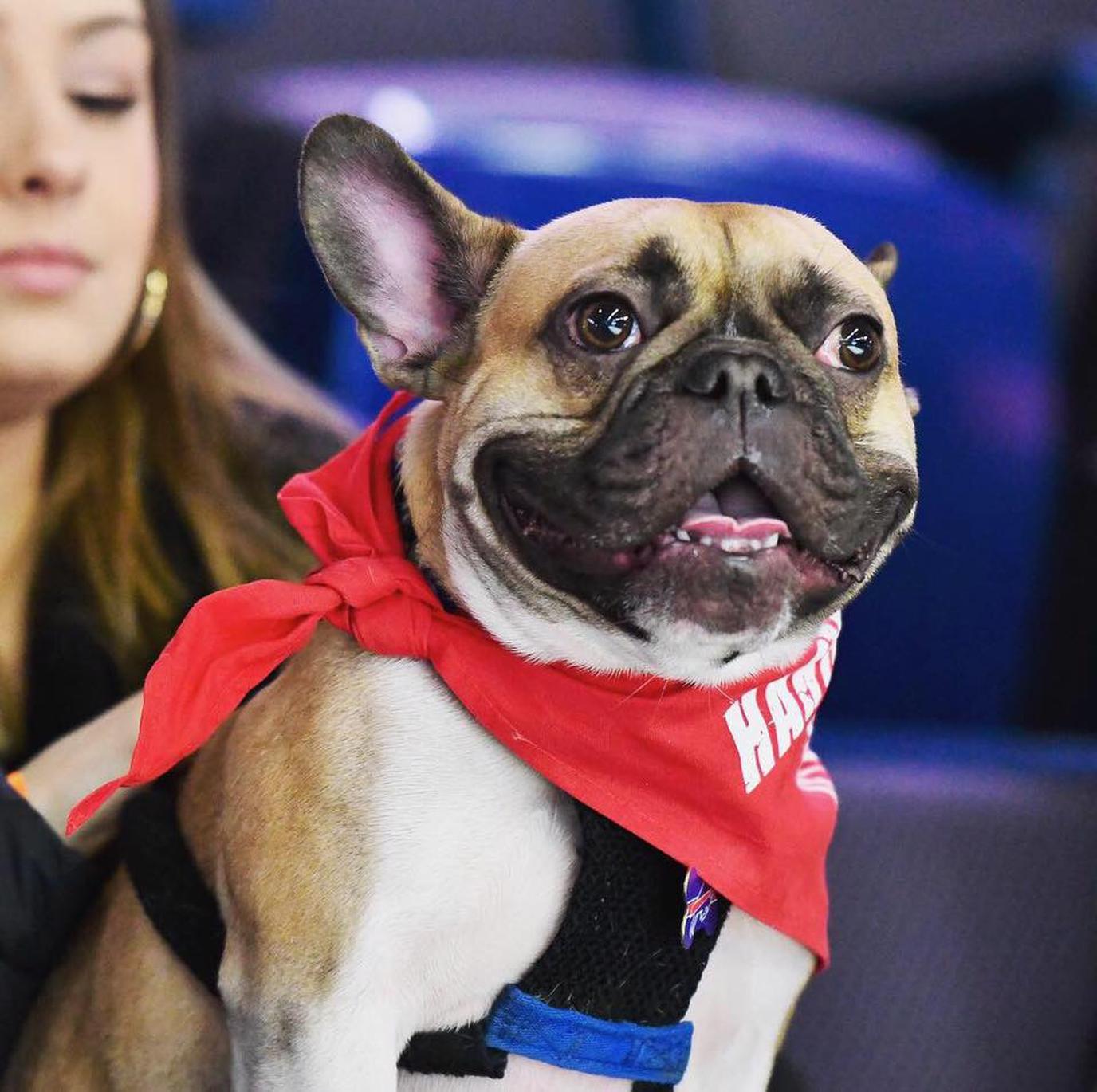 More like Pucks & Pugs. – Photo by Facebook.com/HartfordWolfPack
Bring your wolfhound to Pucks & Paws Night on January 24, when the Hartford Wolf Pack and Bridgeport Sound Tigers drop the puck. Fido can catch the action from the designated pet seating area, then help pick out a new brother or sister at the on-site Pet Adoption Expo. Several adoptable pups eager to find loving homes will be on hand. Pucks & Paws Night ticket packages are available for $60. Each package includes game tickets, dog tickets and a collapsible bowl. A pet waiver must be signed to gain entrance.
The Sheraton Hartford South Hotel provides a nearby home away from home and welcomes two pets of any size for no additional fee.
2. Pucks 'n Paws Night With Madison Capitols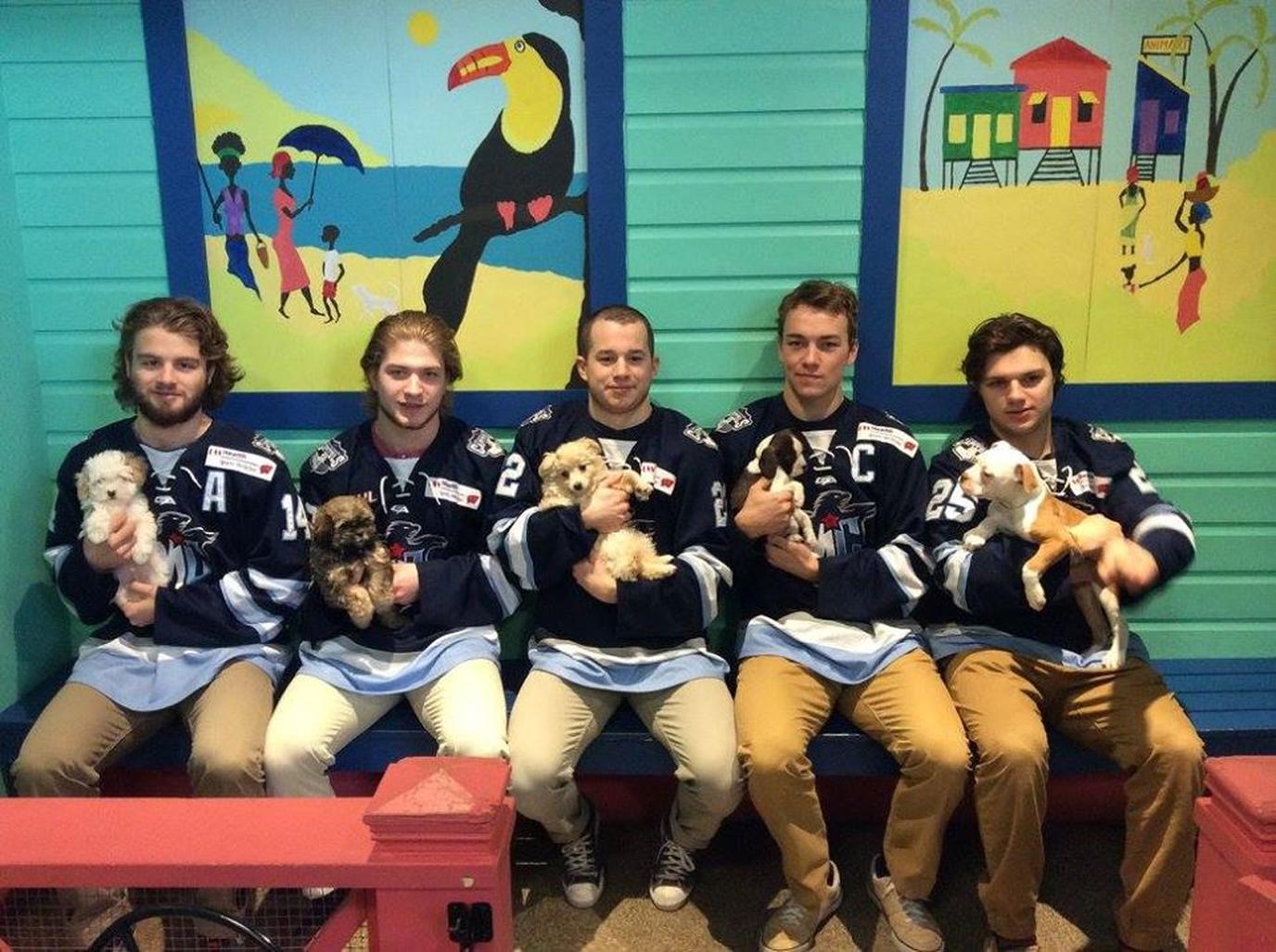 Don't mess with us. – Photo by Facebook.com/madcapshockey
The "icedog" cometh for Pucks 'n Paws Night on Saturday, January 25, when the Madison Capitols face the Sioux Falls Stampede. The first 500 pups will receive a free bandana to help spice up their game-night ensemble. In addition to the swag, there will be an on-ice doggy parade where mutts can dress in Capitols' colors and put their fandom on full display. Prizes will be awarded. Tickets are available starting at $15 per person.
The nearby Staybridge Suites Middleton Madison West will welcome your furry fanatic with a smile and spoil you with first-rate amenities that include an indoor heated pool and complimentary breakfast buffet.
3. Knoxville Ice Bears – Wiener Dog Races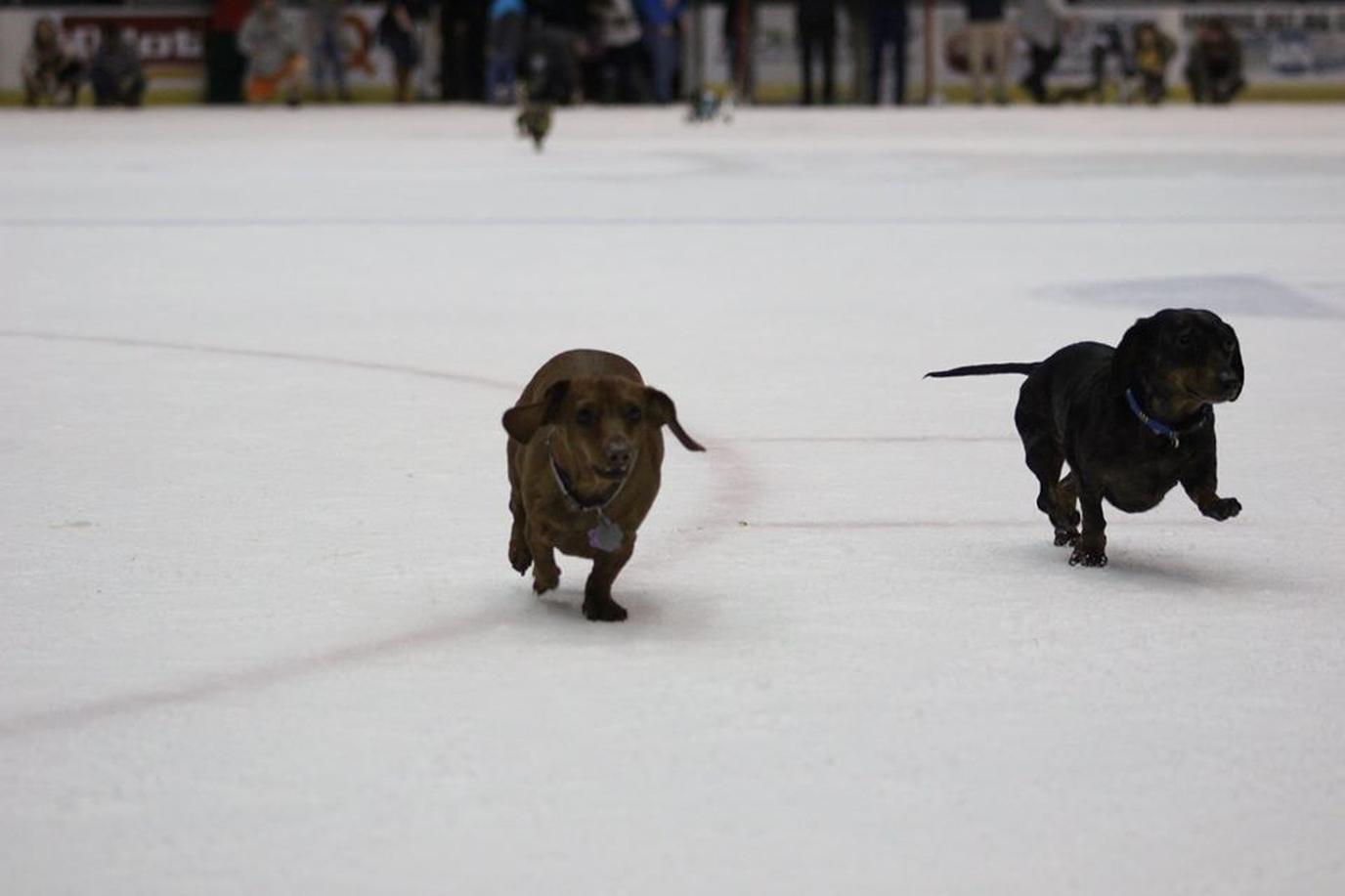 Hot dog! – Photo by Facebook.com/KnoxvilleIceBears
Fido can enjoy some hockey and place his bets at the Wiener Dog Races on Saturday, February 8, when the Knoxville Ice Bears battle the Peoria Rivermen. There will be one race in each of the first two intermissions, and all canine sprinters will receive stylish bandanas prior to the competition. Local pet vendors will also be at the auditorium selling a variety of pet-related merchandise.
After you and your winning wiener finish signing autographs after the game, take a short drive to the Hilton Knoxville for a relaxing stay in the heart of downtown.
4. Quad City Storm – Pucks & Paws Day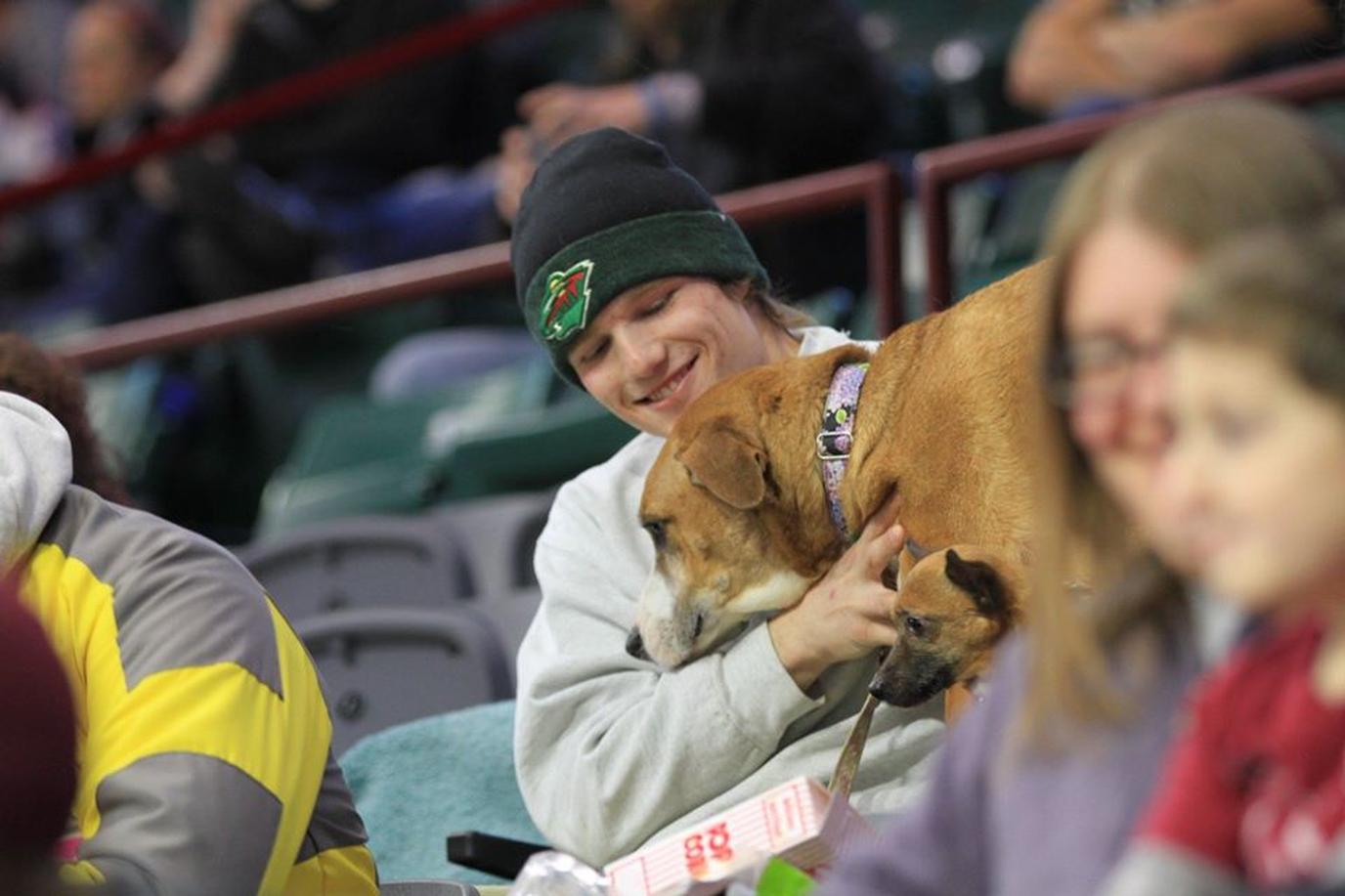 "Must have more popcorn!" – Photo by Facebook.com/QuadCityStorm
Furry spectators will storm the arena for Pucks & Paws Day on Saturday, February 16, for a game between the Quad City Storm and the Fayetteville Marksmen. Pooches are allowed to heckle the opposing goalie and bark at refs for an afternoon of fun at the rink. For a cost of $20, hardcore fans can join the Storm Dog Club, which includes three $5 doggy tickets for Sunday games, a Quad City Storm pet bandana and a photo op with team mascot Radar the Fox or a Storm player. Fido can also join kids under 12 to slip and slide on the ice after the game. Dog tickets are $5 per hockey-loving hound, and a portion of the sales will be donated to a local animal shelter.
The stylish Element Moline is across the street from the arena and accepts pups up to 40 lbs for no additional fee.
5. Cincinnati Cyclones – Pucks N Pups + Wiener Dog Races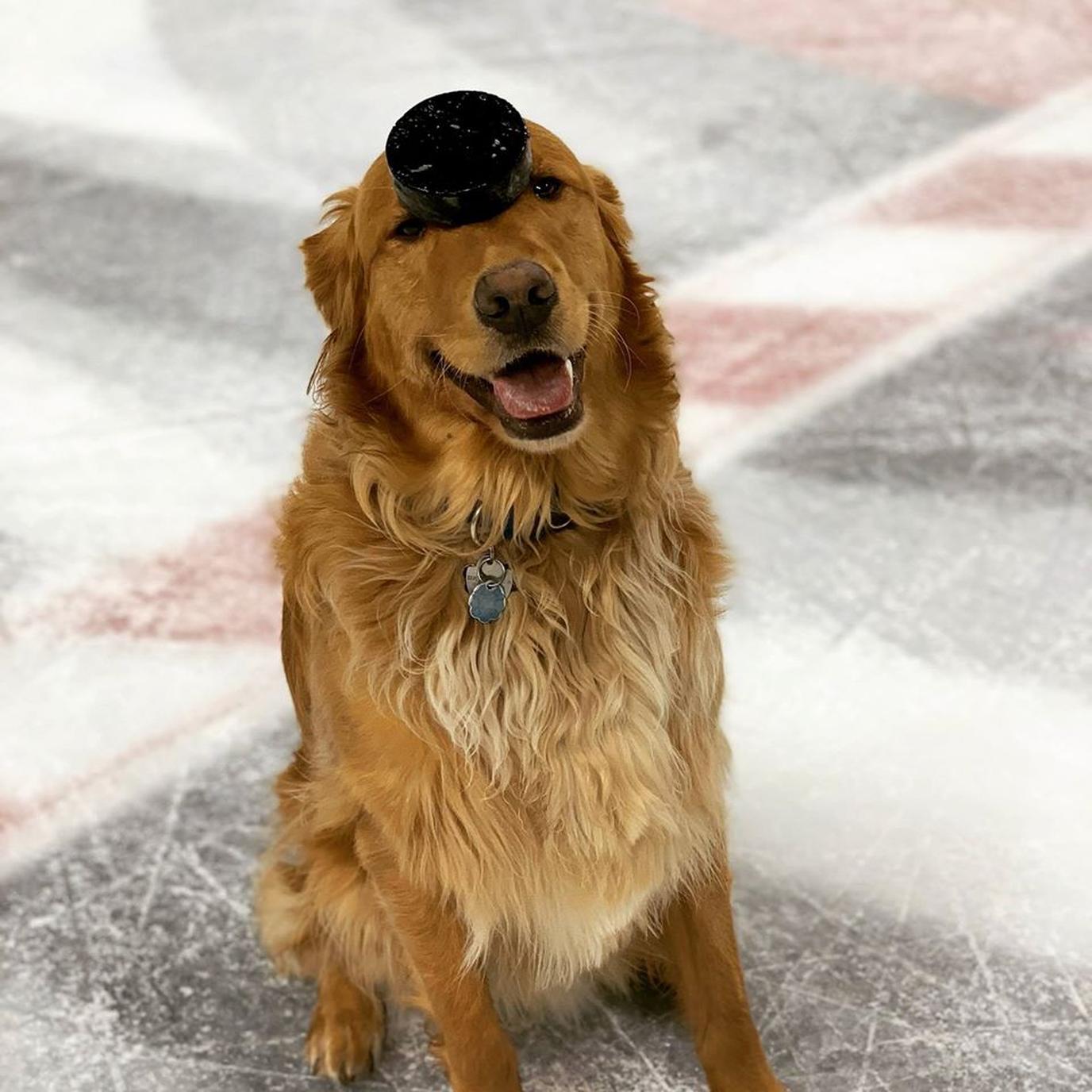 Meet the Cyclones' new goalie. – Photo by Facebook.com/cincinnaticyclones
Your pooch will feel like a queen in "The Queen City" during Pucks N Pups + Wiener Dog Races on Saturday, March 7. Leashed dogs can boo and cheer from the designated pet-friendly seating section when the hometown Cincinnati Cyclones face off against the visiting Toledo Walleye. Stick around for the intermissions between periods to watch dashing Dachshunds compete for fastest Fido on ice in the Wiener Dog Races. You can also chow down on $1 hot dogs throughout the evening. The Pucks N Pups ticket package costs $15 per person and $5 per dog. All owners must bring a signed pet waiver to gain entrance to the game.
The pup can drop off to sleep at Residence Inn Cincinnati Downtown/The Phelps, which offers luxury pet-friendly accommodations within walking distance of the hockey stadium.
6. Iowa Wild – Pucks & Paws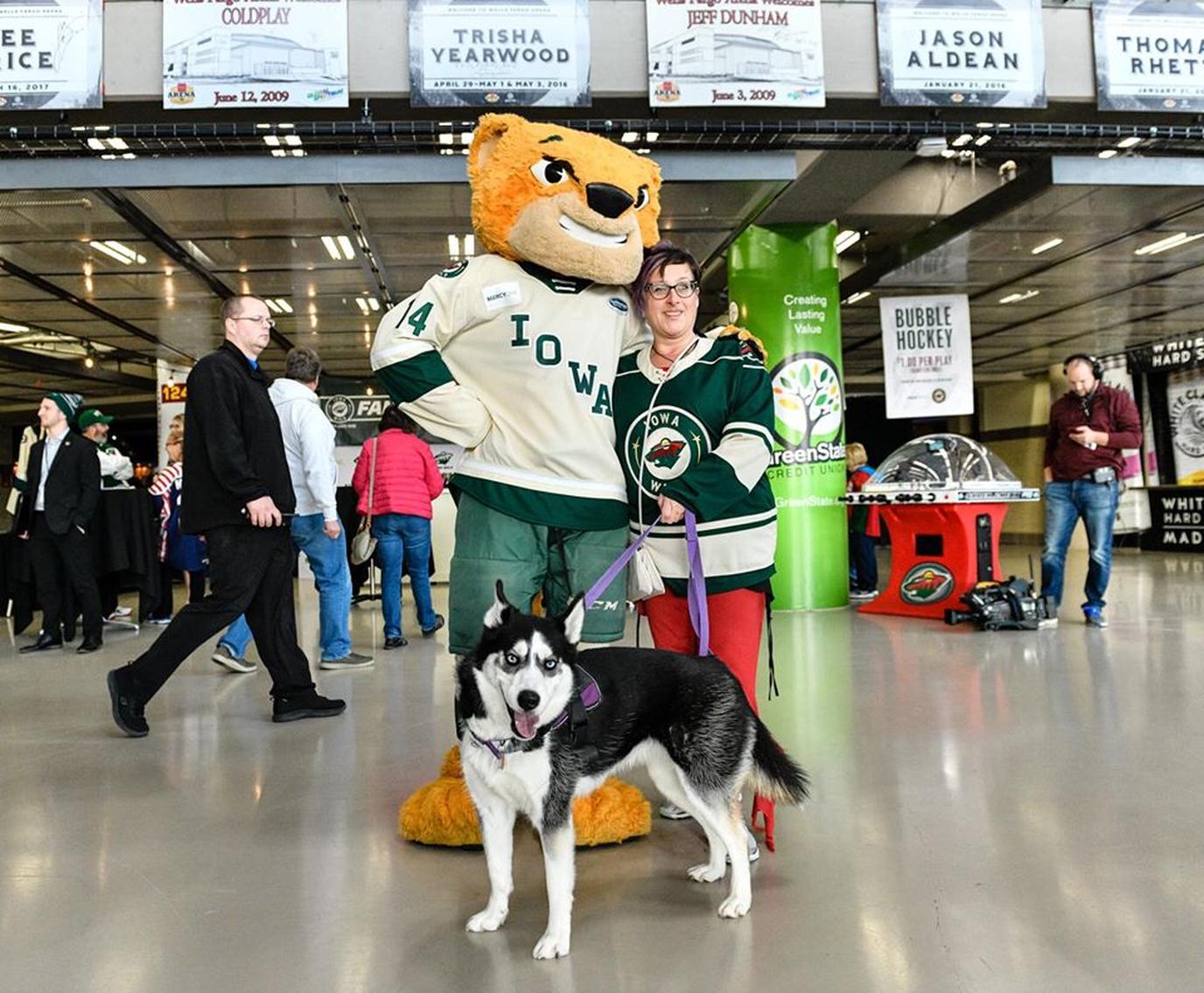 There's a new mascot in town. – Photo by Facebook.com/IAWild
Rather than beware the Ides of March, dogs can celebrate at Pucks & Paws on Sunday, March 15, when the Iowa Wild host their conference rivals, the San Antonio Rampage. The first 400 pooches to enter the arena will receive an official green and gold Iowa Wild bandana and be granted access to the designated canine section. As an added bonus, dog moms and dads can enjoy $3 off Jim Beam Peach and Lemonade drinks. Ticket prices vary depending on seat location.
Keep the "pawty" going at the Comfort Inn & Suites Event Center. The pet-friendly hotel offers affordable lodging one block from the stadium.
7. Toledo Walleye – Paws & Pucks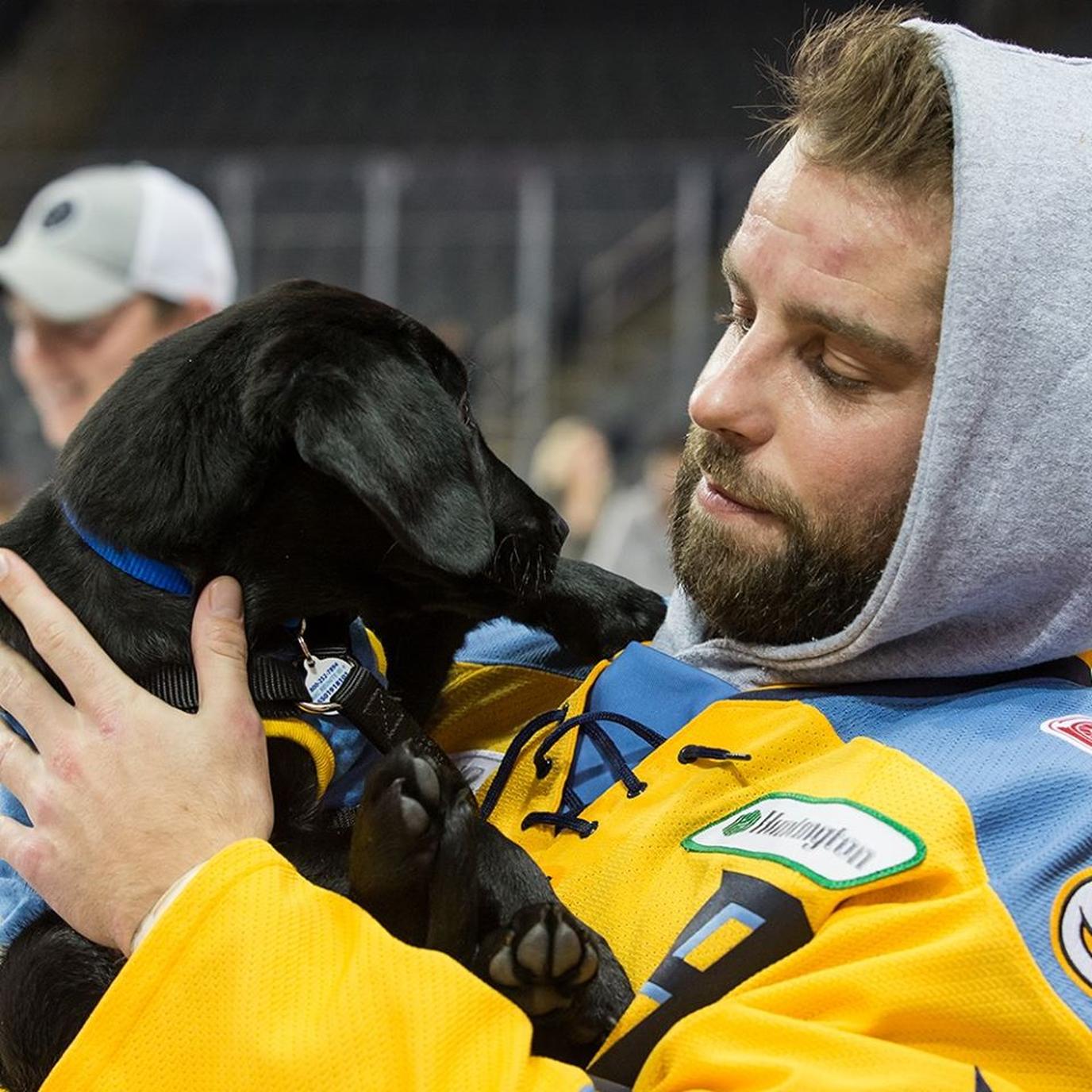 "These refs stink." – Photo by Facebook.com/walleye
Furry puck heads are welcome to watch the Toledo Walleye host the Wheeling Nailers at Paws & Pucks on Sunday, March 29. Rows H and higher in sections 110-112 are reserved for leashed pups, and water stations and designated pet relief areas will be positioned nearby. Visiting pooches receive a doggy door prize upon arrival. The Walleye will also refrain from sounding the goal horn during the game to save Fido's sensitive ears. Paws & Pucks ticket packages are $17 per person and $8 for one dog. All proceeds from canine tickets will be donated to the Toledo Area Humane Society. A signed pet waiver is required at the gate.
After an evening on the ice, you'll find a warm bed and even warmer hospitality at the Cheery Room vacation rental, located 5 miles from the rink in the quiet village neighborhood of Ottawa Hills.
8. Syracuse Crunch – Pucks for Paws Night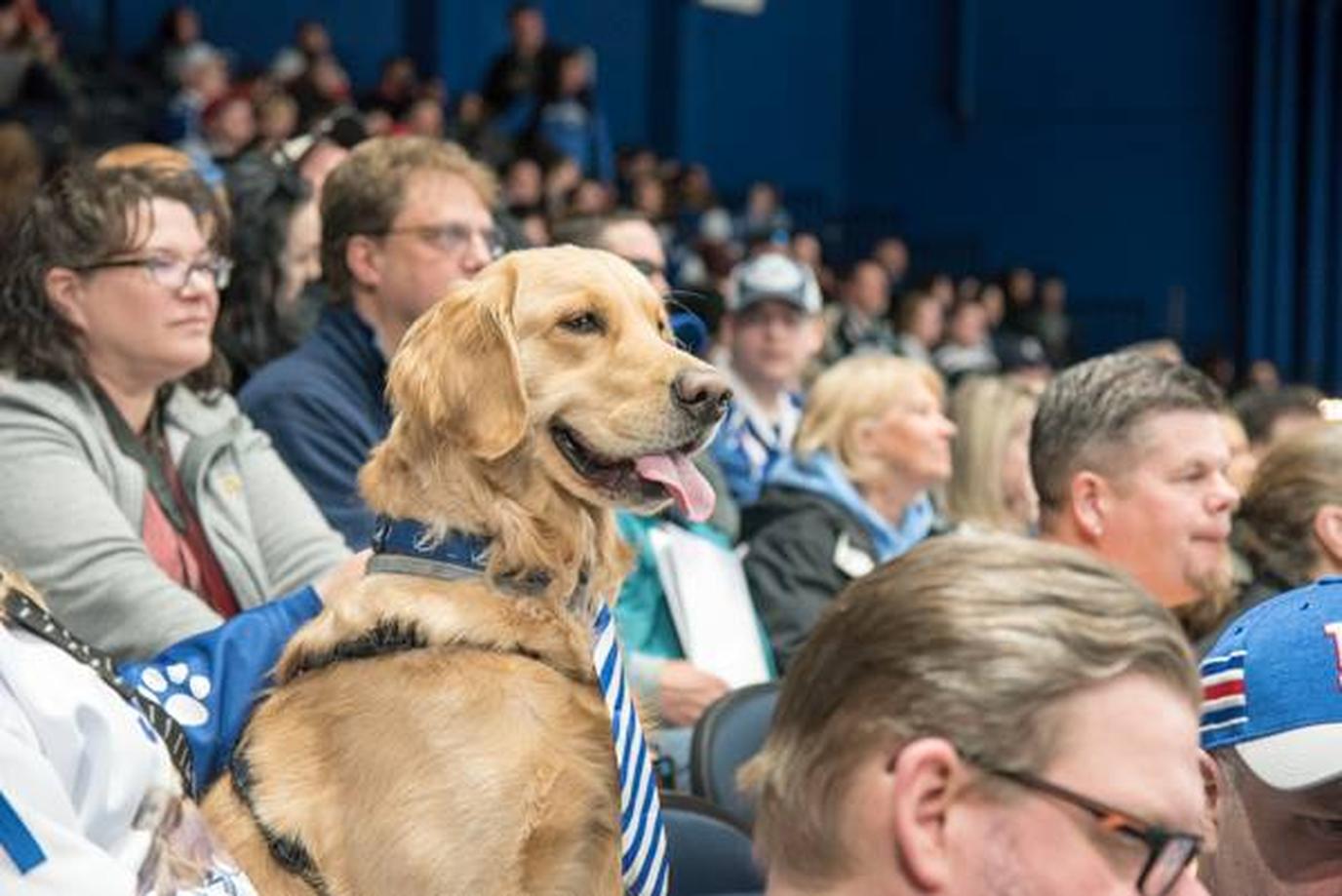 Best seat in the house. – Photo by Facebook.com/syracusecrunch
Spring will have sprung, but the ice will still be frozen on Pucks for Paws Night on Saturday, April 4, when the Syracuse Crunch take on the Rochester Americans. Pups can jeer the visiting team from their prime seats in the dog-friendly section. Local animal shelters and pet organizations will set up in the concourse to accept donations and greet two- and four-legged fans with adorable rescue dogs. Tickets start at $16 per person, and a portion of the sales will benefit the Priscilla Mahar Animal Welfare Foundation.
Wind down after the game at the Aloft Syracuse Inner Harbor. The hip, modern hotel is less than 2 miles from the arena and accepts two pets of any size for no additional fee.
This post from BringFido originally appeared as Pucks and Paws: 8 Dog-Friendly Minor League Hockey Games to Attend.