Stay and Play at America's Finest Indoor Dog Parks
Outdoor dog parks are an excellent way for urban pups to make new friends and stretch their legs. Unfortunately, many of them are at the mercy of Mother Nature. Fido's freshly cleaned coat won't last two seconds in the mud if the weather doesn't cooperate. The solution is to take the "pawty" inside. These 11 indoor dog parks are protected from the elements and promise a mud-free romp with fellow furry friends. Don't forget you'll need up-to-date vaccination records to gain entry.
1. Dogwood Play Park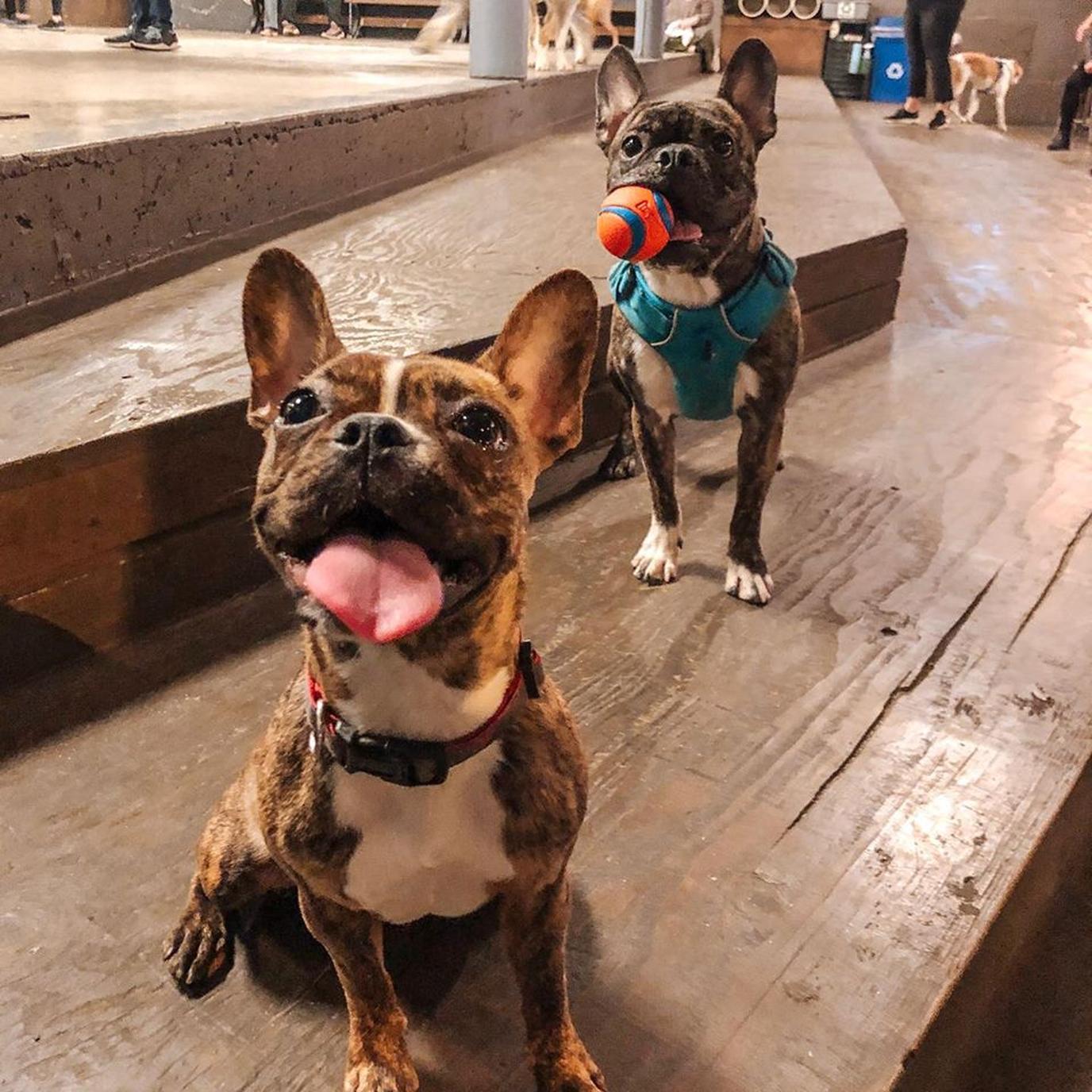 "We're having a ball!" – Photo by Facebook.com/DogwoodPlayPark
Dogwood Play Park offers a welcome respite from the rain in North Seattle. The indoor space is divided into separate areas for active and gentle play, covering an expansive 8,000 square feet in total. While your pup leaps and bounds, grab a brew from the bar serving coffee, beer and snacks. As an added "bone-us", the Seattle Barkery operates a "Treat Bar" inside the park. Good boys and girls are rewarded with gourmet snacks created for canine palettes. Single entry is $12.
No dog would pass up the chance for a repeat visit to Dogwood! Extend your stay with a room at the pet-friendly Hotel Nexus, BW Signature Collection, where four-legged guests receive a treat upon arrival. Nightly rates start at $119.
2. Paws 4 Fun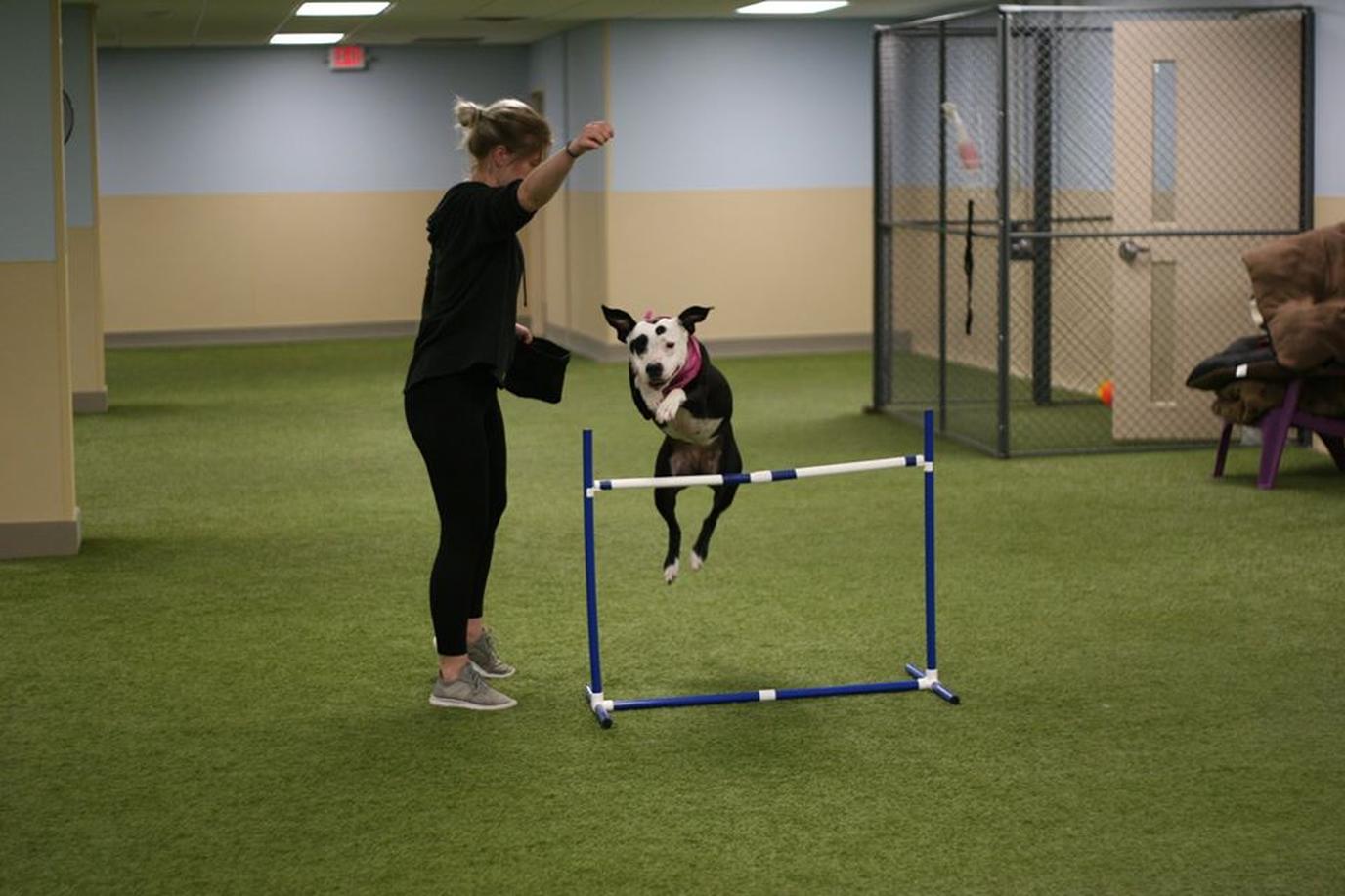 "One giant leap for dog-kind!" – Photo by Facebook.com/paws4funlincoln
Paws 4 Fun is Nebraska's first indoor dog park. The 12,000-square-foot recreation area is divided into two large and two small areas, so your pup doesn't have to hang out with her nemesis. Every park is decked out with drainage systems, turf designed specifically for canines, playground equipment, toys and tunnels. The complex also houses a pool. Owners can grab a complimentary coffee and work remotely on the free Wi-Fi in the lounge. Daily passes are available for $10.
Between visits, "paws" for the night at the pet-friendly Residence Inn by Marriott Lincoln South. Nightly rates start at $139.
3. Kanine Social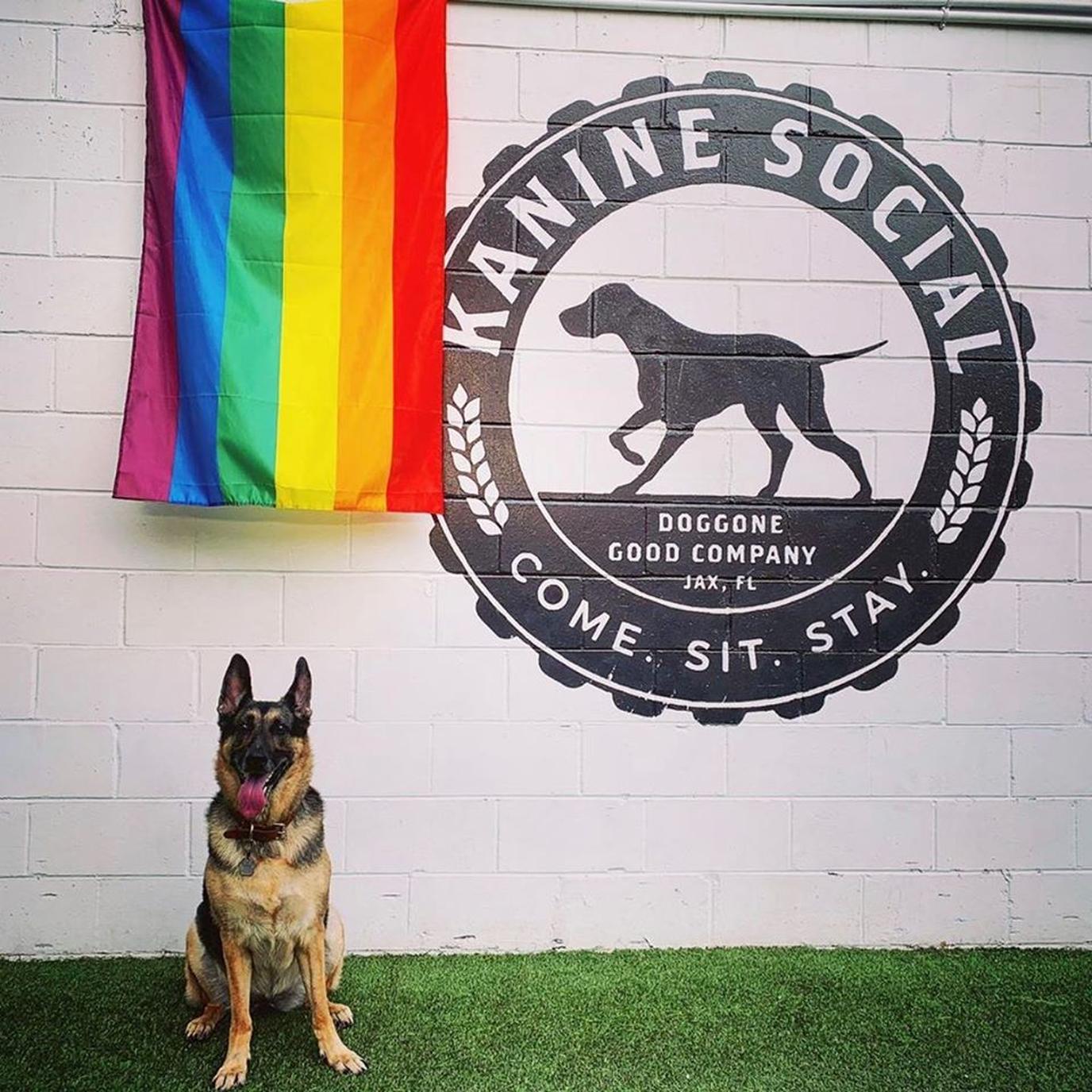 "I'm pretty fly for a canine." – Photo by Facebook.com/KanineSocial
Kanine Social is Jacksonville's only indoor/outdoor dog park. The 5,000-square-foot interior section includes separate areas for small and large dogs, fit for every personality. Humans can sample a craft beer or coffee from the bar, sit back and watch the mutts mingle. When it comes time to drag your pooch home, wash her off in one of three self-wash bathing stations. Visitors can become Kanine Social members, enjoy monthly or annual discounted membership, or spend the day for $10 on weekdays and $15 on weekends.
After a day at the park, relax and enjoy views of St. Johns River from your pet-friendly room at Hyatt Regency Jacksonville Riverfront. Nightly rates start at $199.
4. Wag 'N Paddle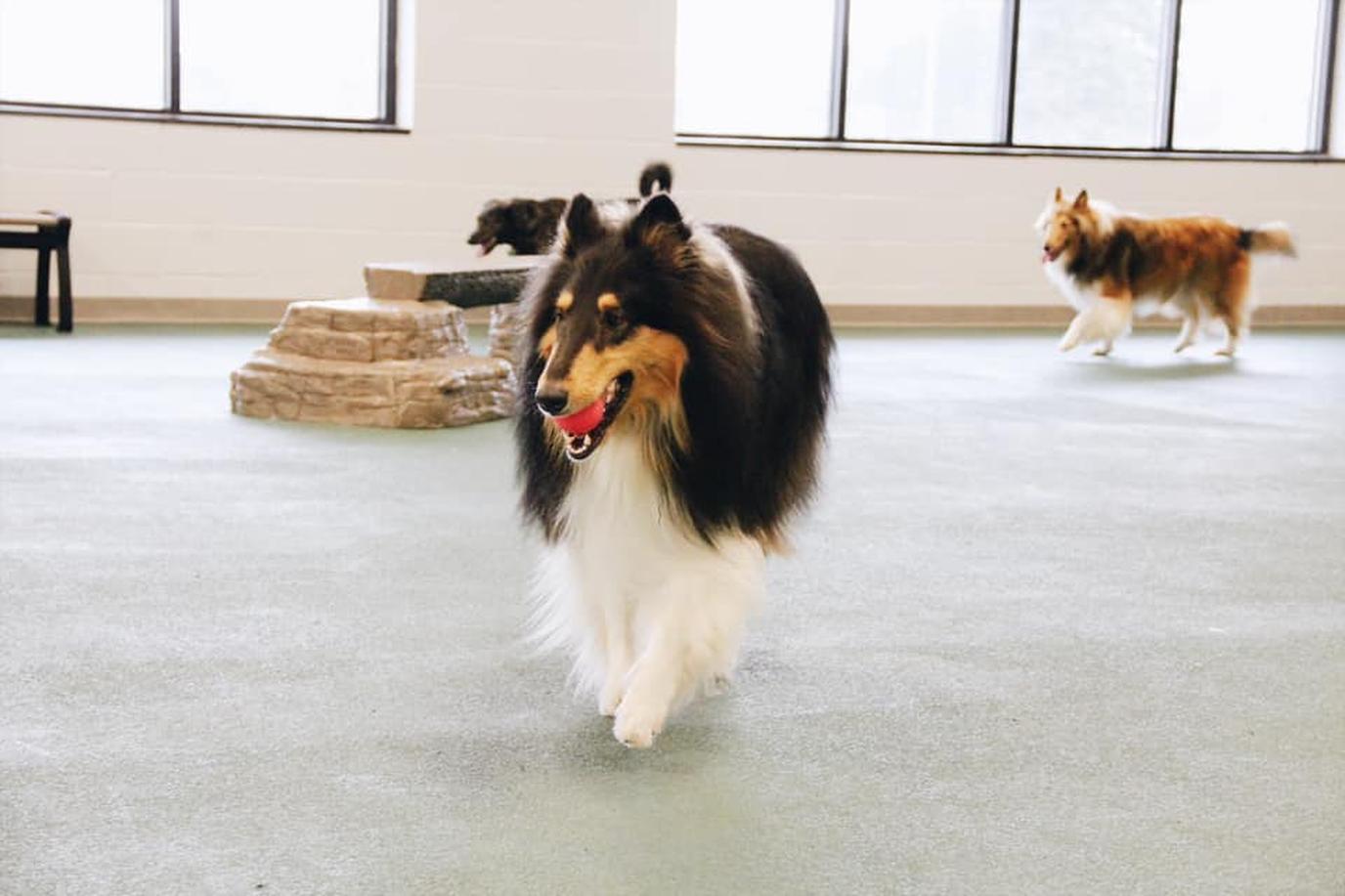 "My coat is Dog-che and Grrrbana." – Photo by Facebook.com/wagnpaddle
Let Fido loose on a variety of fun obstacles at the 9,000-square-foot Wag 'N Paddle. Dog owners needn't worry about "ruff housing" here. All new members are evaluated by staff to make sure they're the right fit for the pack. Wag 'N Paddle is also home to a pool, where you can sign your furry friend up for a 30-minute, one-on-one swim lesson with a trained coach. Visitors can also book a single swim session for $45 or a one-hour park pass for $15.
Let your pooped pooch sleep it off at Homewood Suites by Hilton Aurora Naperville. Nightly rates start at $124.
5. Bow Chika Wow Town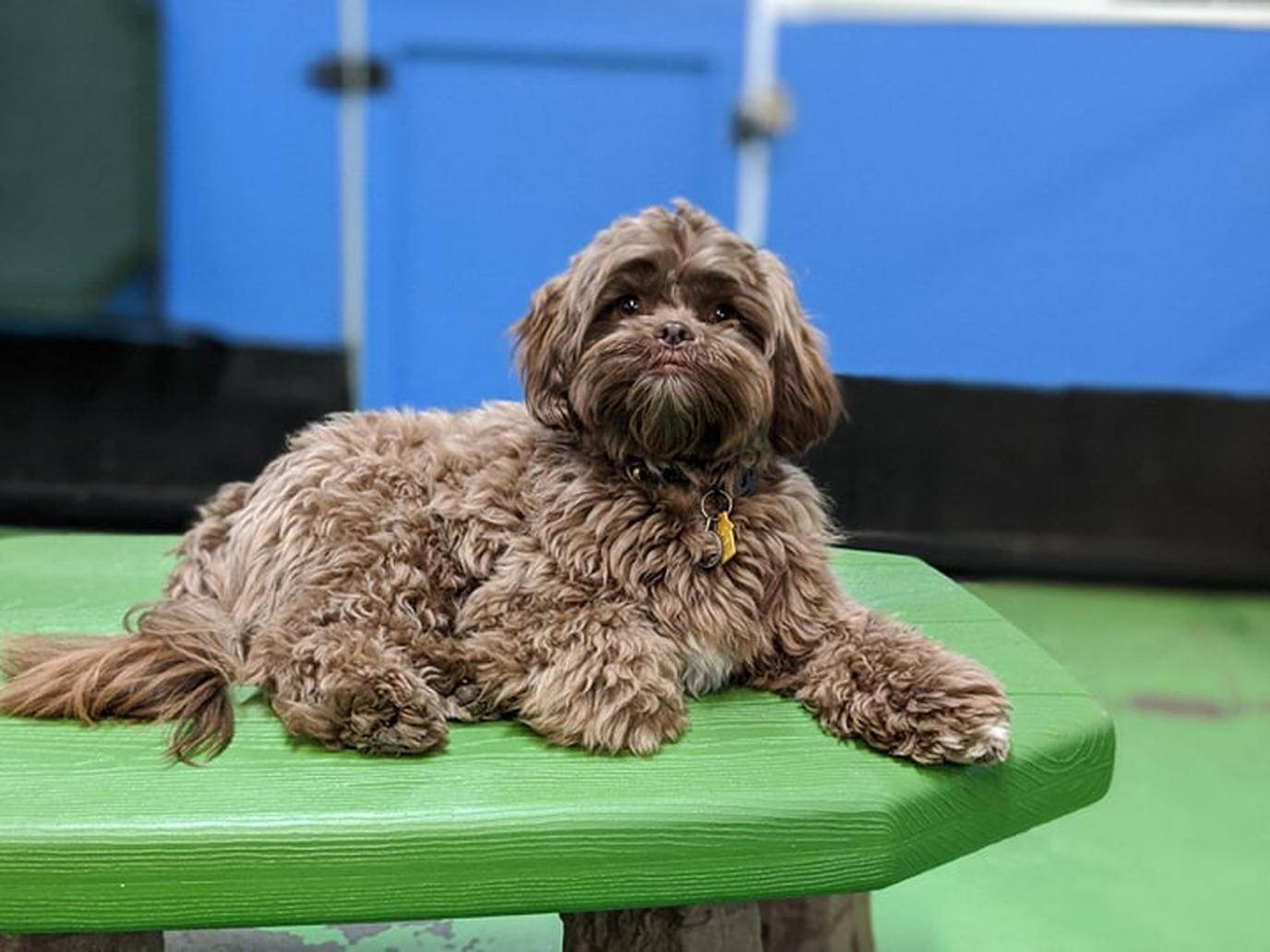 "Home? This is my home now." – Photo by Facebook.com/BowChikaWowTown
Bow chika Wow Town is Rhode Island's first and only indoor dog park. Updated regularly, the 13,000-square-foot space is the biggest on our list. Leave your mutt's toys at home and let him enjoy the in-house play structures and tennis balls provided instead. He can hop through hoops, climb over agility equipment and frolic all day. The canine town also has separate areas for large and small dogs. After Fido's had his fill, clean him up at one of the self-wash stations. Daily passes are $10.
One visit to Bow chika Wow Town probably won't be enough for your four-legged friend. Reserve a room at the nearby Wyndham Providence Airport and come back for another day of fun. Nightly rates start at $84.
6. The Barking Deck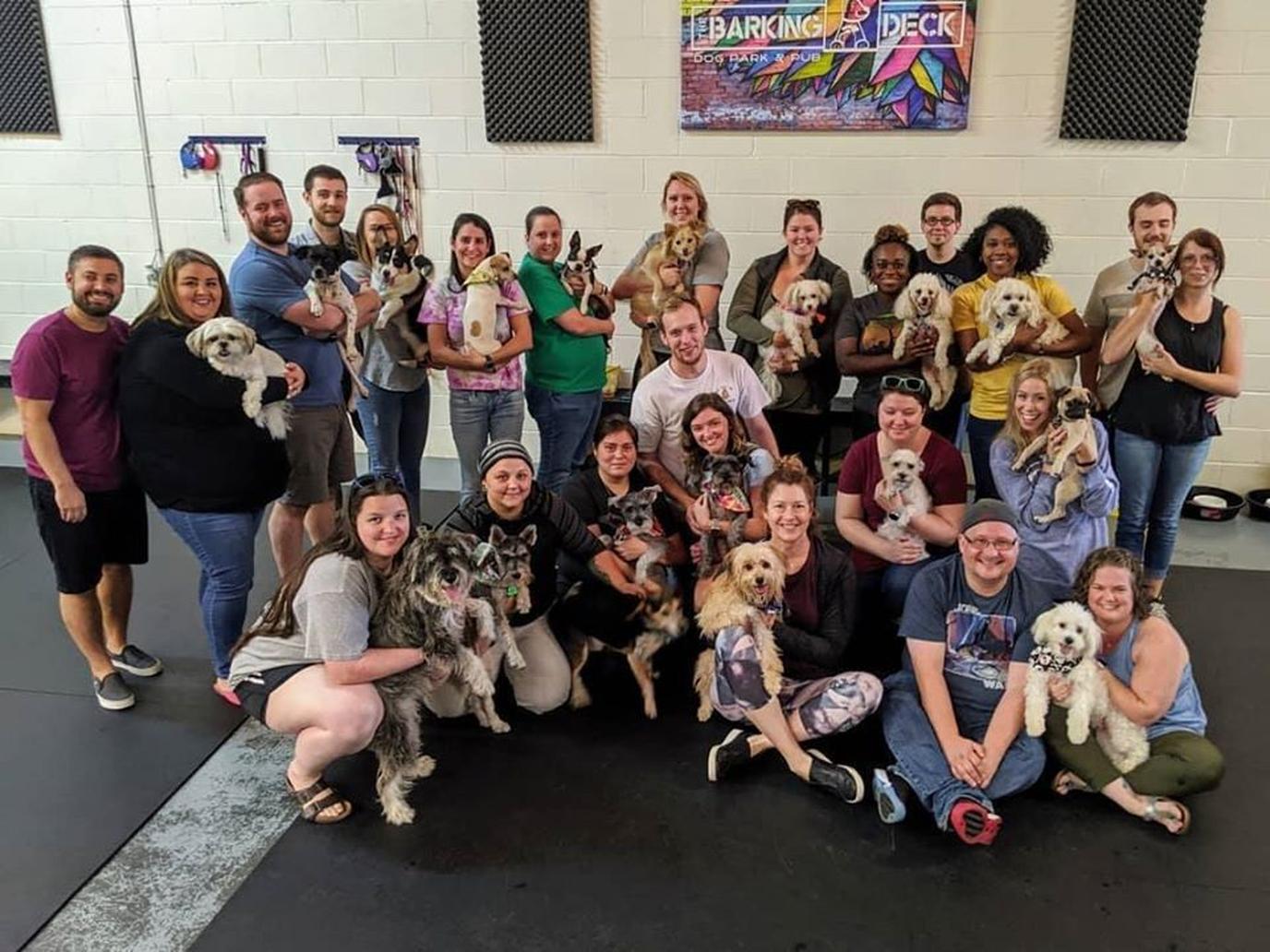 Small dogs on deck! – Photo by Facebook.com/thebarkingdeck
Pay a visit to The Barking Deck, the Piedmont Triad's first indoor dog park and pub. The air-conditioned interior keeps pups active for longer, whatever the temperature. Fido can bound freely in the main section or hang with his shorties in the small dog area. There's also a "Private Pawty Space" to rent for his next special day. While the tail-waggers are busy, humans can indulge in a local North Carolina cider or beer from the bar. Single entry is $7.
Stay close to the action at the park and pub with a pet-friendly room at Hyatt Place Greensboro, located just a few minutes away. Nightly rates start at $105.
7. Wet Noses Dry Paws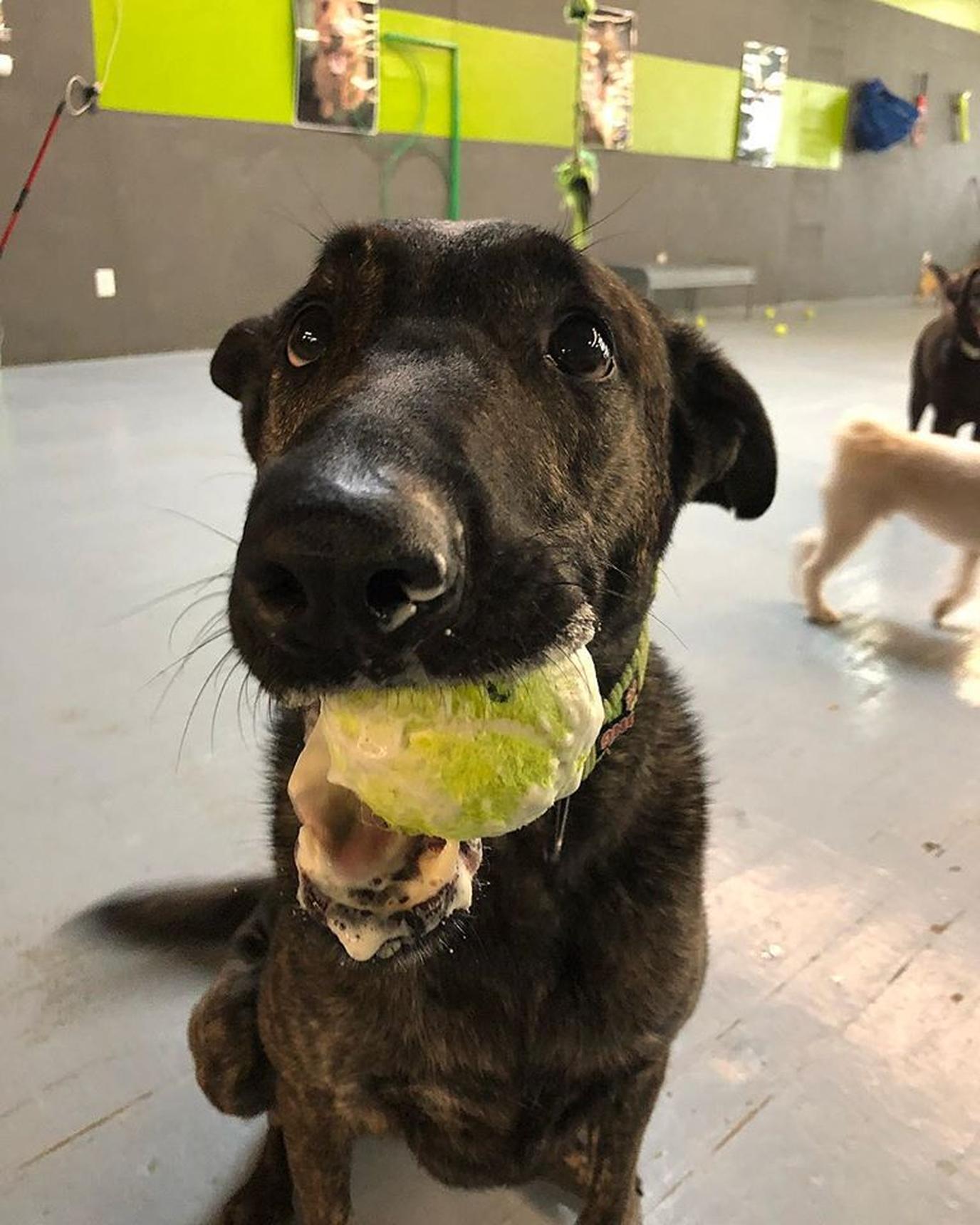 "Throw it again!" – Photo by Facebook.com/wetnosesdrypaws
Avoid the Washington winter at Wet Noses Dry Paws. Your pal can romp among the tires and agility equipment throughout this 6,000-square-foot space. While she socializes with fellow "paw-trons," enjoy a beer from the attached bar. The turfed potty area is also a nice alternative for pampered pooches who hate peeing outside in the rain. Single entry is $15.
Your tuckered out terrier can relax on the plush bed at Hotel Murano. Nightly rates start at $209.
8. Work & Woof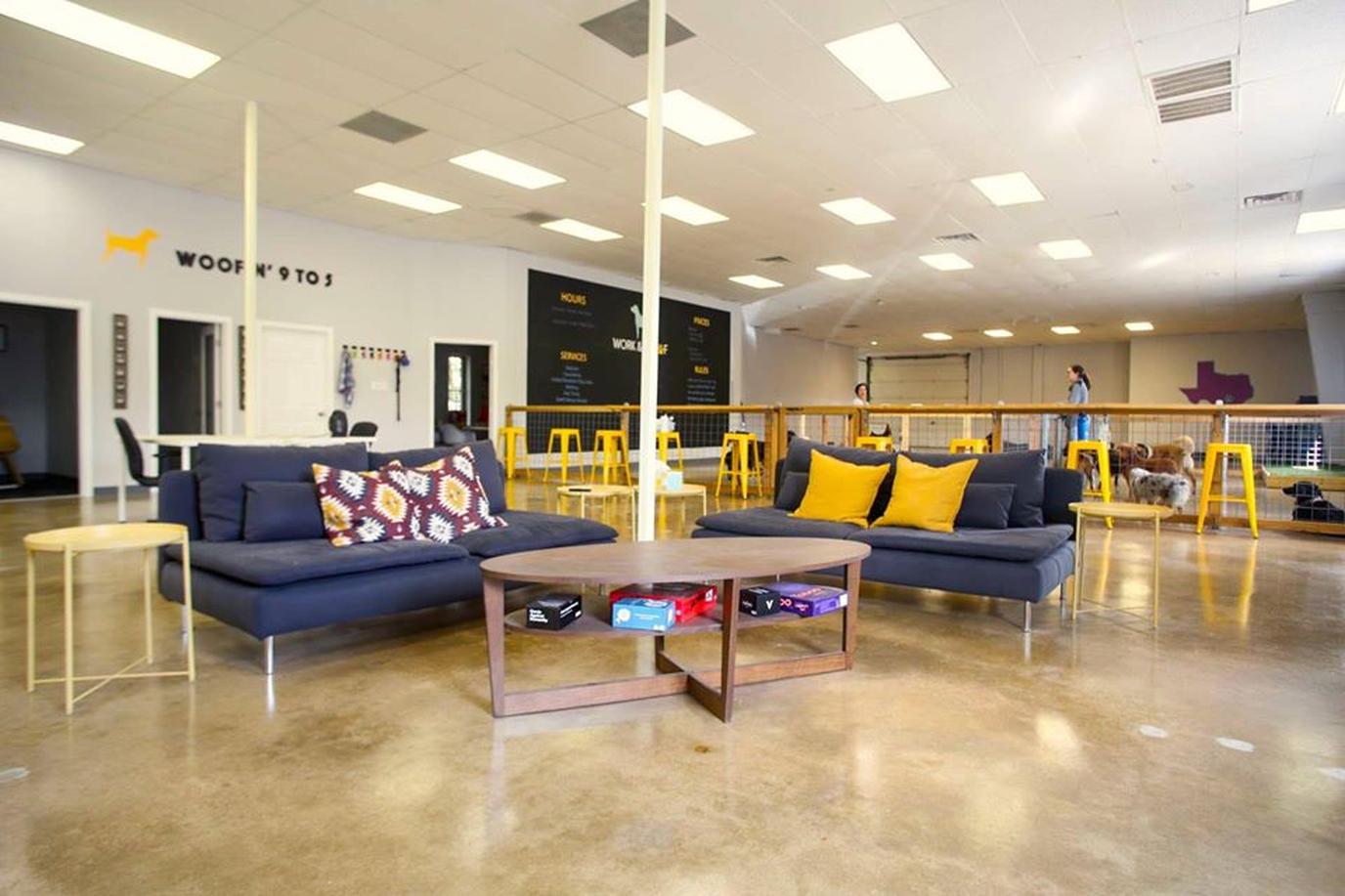 Work hard, play harder. – Photo by Facebook.com/WorkandWoofATX
Work & Woof combines the fun of an indoor park with the convenience of a coworking space. Even the best behaved animals can be distracting for remote workers. At Work & Woof, a trained professional watches over the dogs during the work day. The 4,000-square-foot interior space is equipped with beds, toys, balls and equipment to keep your furry colleague entertained from 9 to 5. Bring Fido (and your laptop) to this fresh concept that focuses on productivity. Day passes start at $30 for the workspace and day care, and $8 for the park only. Monthly passes are also available.
Visit one of Austin's other amazing dog parks during your trip to the Texas capital and spend the night at Omni Austin at Southpark Hotel. Nightly rates start at $149.
9. Gearhart Indoor Dog Park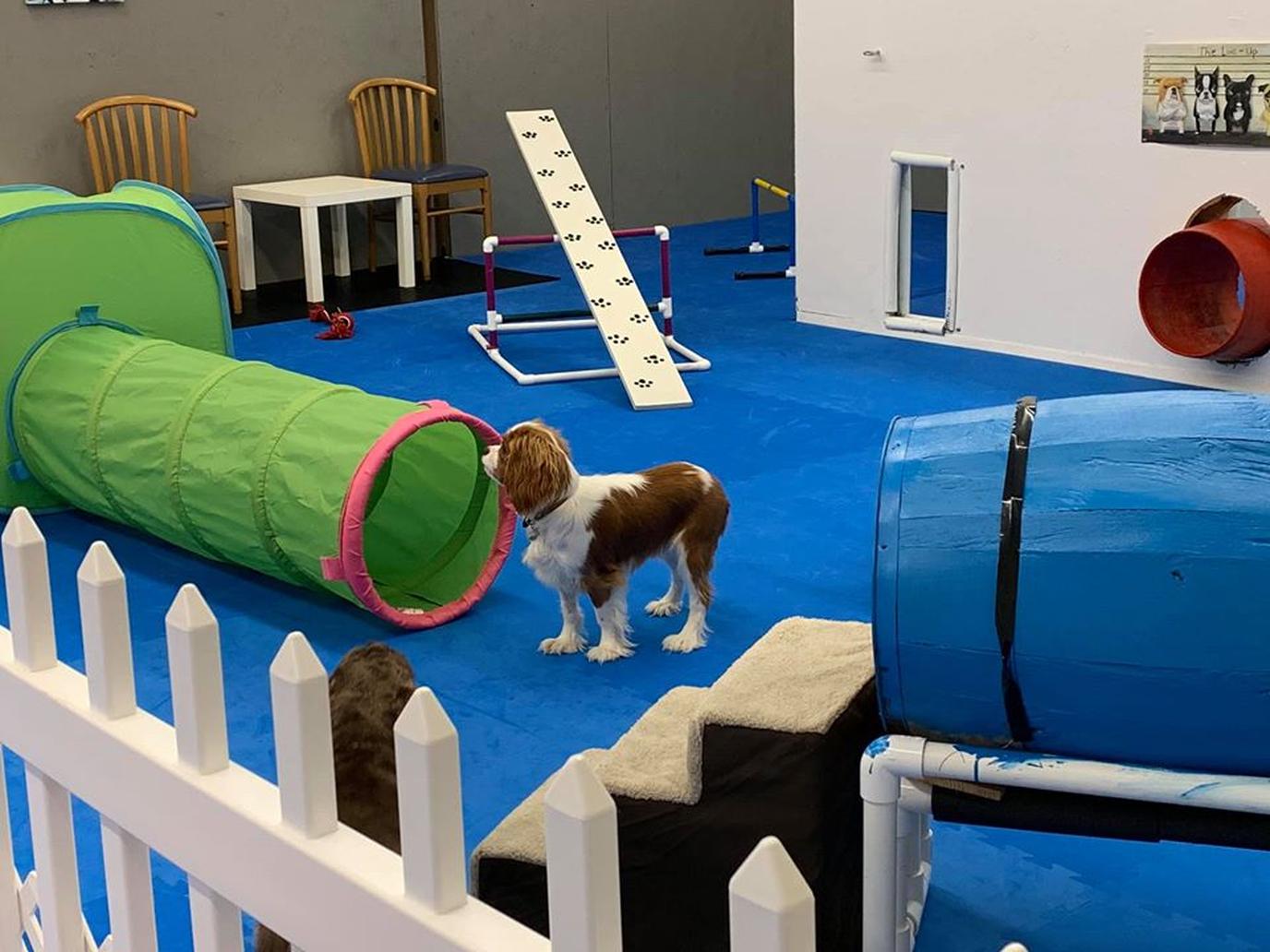 "Tunnel of fluff." – Photo by Facebook.com/GearhartIndoorDogPark
Your hound can stretch her legs and tackle numerous obstacles at Gearhart Indoor Dog Park, which is equipped with a seesaw, tunnels, hurdles and more. Dogs of all shapes and sizes are welcome, with separate sections for small and large canines. Monitors are on hand to make sure play is safe and fun for all "paw-ticipants," and you can reward your good girl with a treat from the supply store before you leave. Day passes are $7.
Gearhart is conveniently located near Seaside, OR. Stay at the Inn at Seaside and explore everything this West Coast resort city has to offer. Nightly rates start at $106.
10. JB's Indoor Dog Park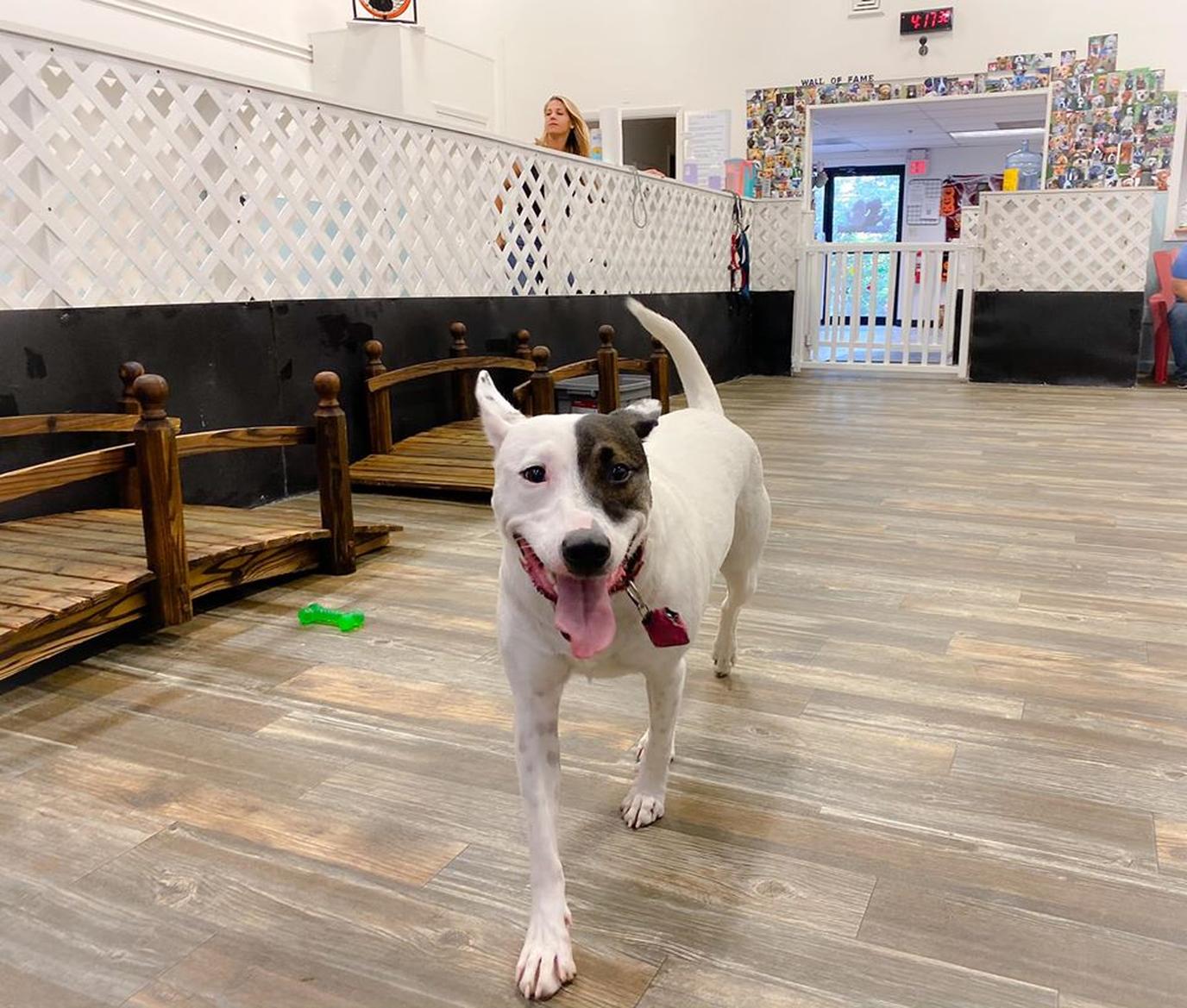 "Strutting my ruff!" – Photo by Facebook.com/jbsindoordogpark
JB's Indoor Dog Park is the perfect antidote to New England's winter weather. Bring your social pooch to this 3,000-square-foot haven, rain or shine. The climate-controlled play area is warm in the winter and cool in the summer. Single entry is $15. Check out a live stream of the antics here.
Fido can sit and stay at the Residence Inn by Marriott Boston Braintree, a comfy, pet-friendly hotel in nearby Braintree. Nightly rates start at $232.
11. That Dane Bar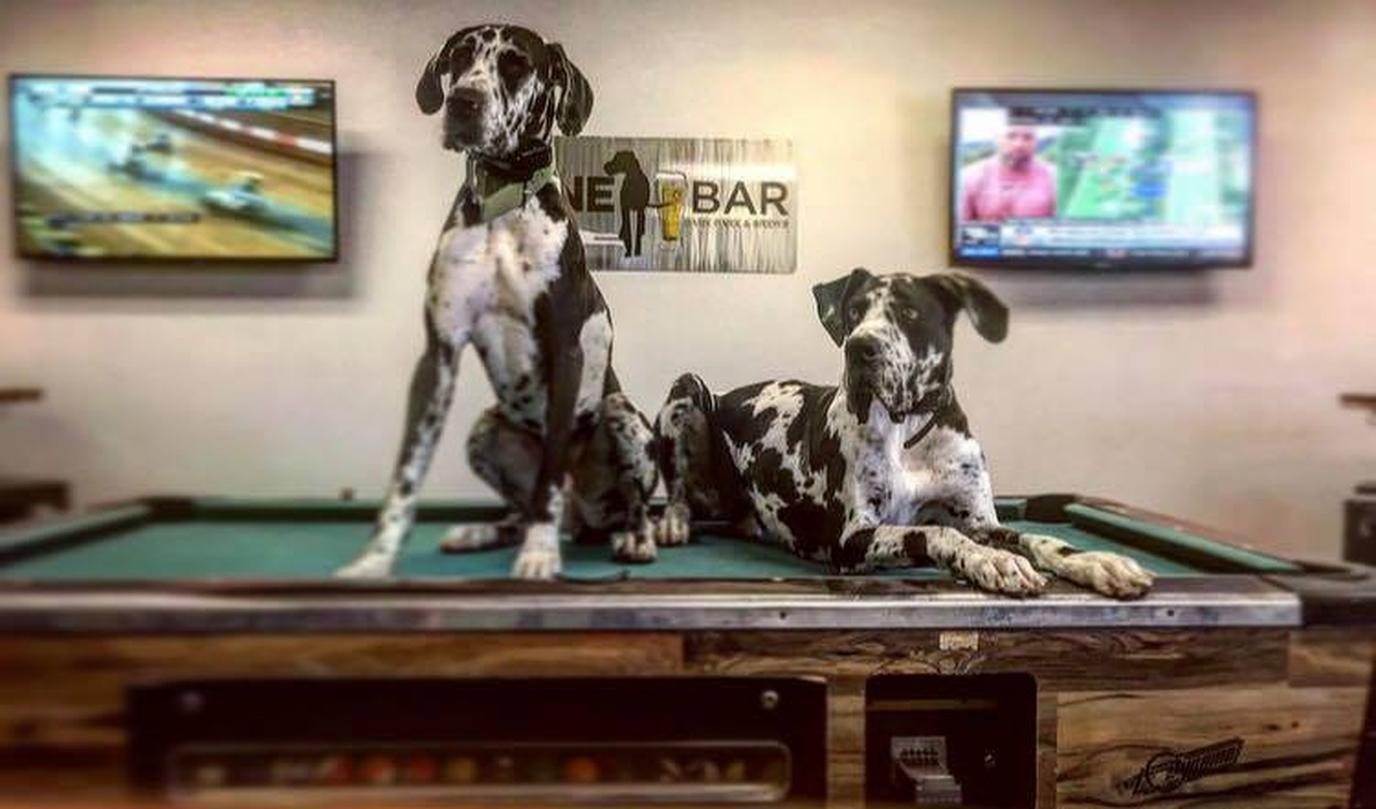 "This table is reserved." – Photo by That Dane Bar
Rogue the Great Dane and his business partner, Lisa, opened the doors of That Dane Bar in 2018. Pups can play in the ball pit and on the agility equipment at this 3,500-square-foot park, while humans enjoy a frosty glass of beer. Single entry is $10.
From the pool tables, head for the palm trees! Fido can enjoy tropical surroundings during his visit to Lake Havasu City at The Nautical Beachfront Resort. Nightly rates start at $155.
This post from BringFido originally appeared as Stay and Play at America's Finest Indoor Dog Parks.