Dogs and (most) humans love meat. The smoky aromas wafting through the air around barbecue joints bring out the carnivore in all of us. The award-winning pitmasters at these 10 eateries are worthy of pilgrimages and long wait times for a taste of their smoked meats. From Texas-style brisket to St. Louis-style ribs and everything in between, these guys know their 'cue. So, grab Fido's leash and set out on a culinary journey to the best dog-friendly BBQ restaurants in the country.
Franklin Barbecue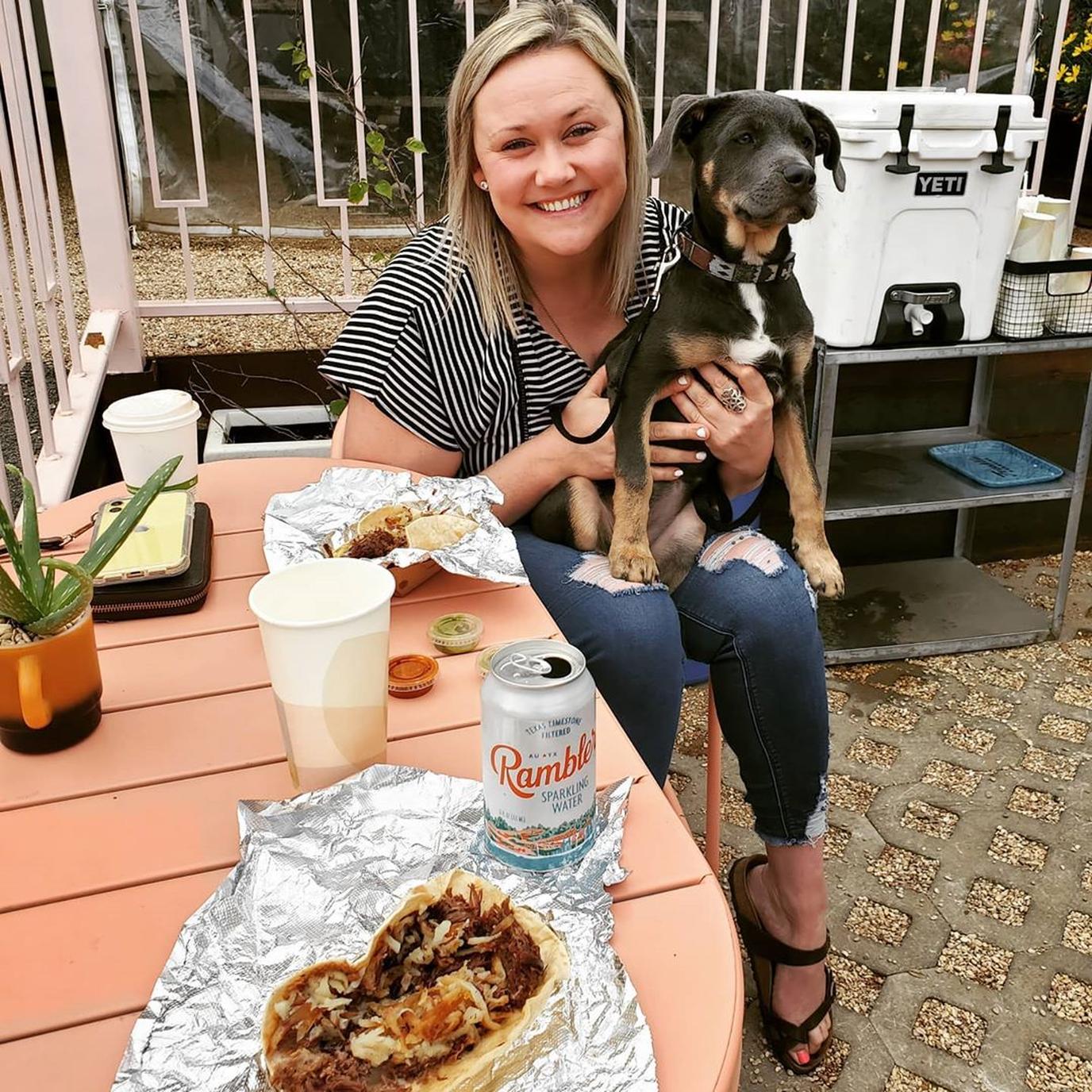 "Yo quiero brisket tacos!" – Photo by @cody.edgar
They say that the best things in life are worth the wait. Franklin Barbecue will put that theory to the test, with wait times of more than three hours for lunch. Arrive in the morning with water for your dog to drink while you queue up for James Beard award-winning pitmaster Aaron Frankin's brisket, ribs and sandwiches. A cortado and breakfast taco from Franklin's new Tacos & Coffee truck will help you pass the time.
Central BBQ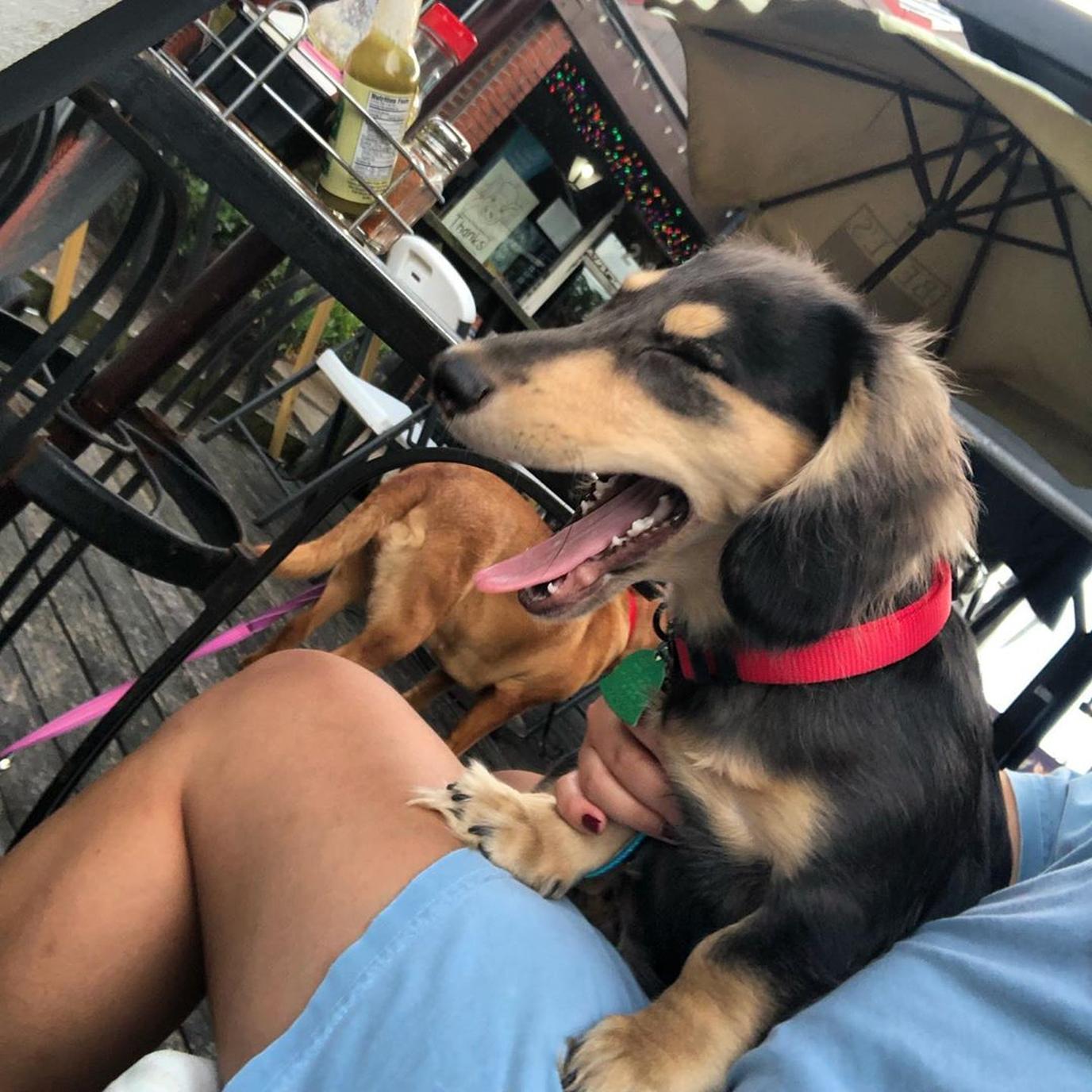 Hangry dogs leave happy at Central BBQ. – Photo by @wellerween
Everybody knows you can't visit Memphis without eating some of what many consider to be the world's best barbecue. The city is known for its 'cue that's slow-smoked in a pit and then either served with dry rub spices or wet with barbecue sauce. Grab a seat on the covered front deck at Central BBQ's original location in Midtown. Fido will be in hog heaven with all of the delicious smells and the thought that he might snag a fallen meaty tidbit. Start off with a local specialty – a heaping pile of nachos topped with pulled pork, barbecue sauce, two types of cheese, jalapeños and a dusting of dry rub seasoning. Then, choose between slabs of BBQ ribs, smoked sausage, and pulled pork, chicken, beef or turkey for your main course. Try to save room for the banana pudding!
Jones Bar-B-Q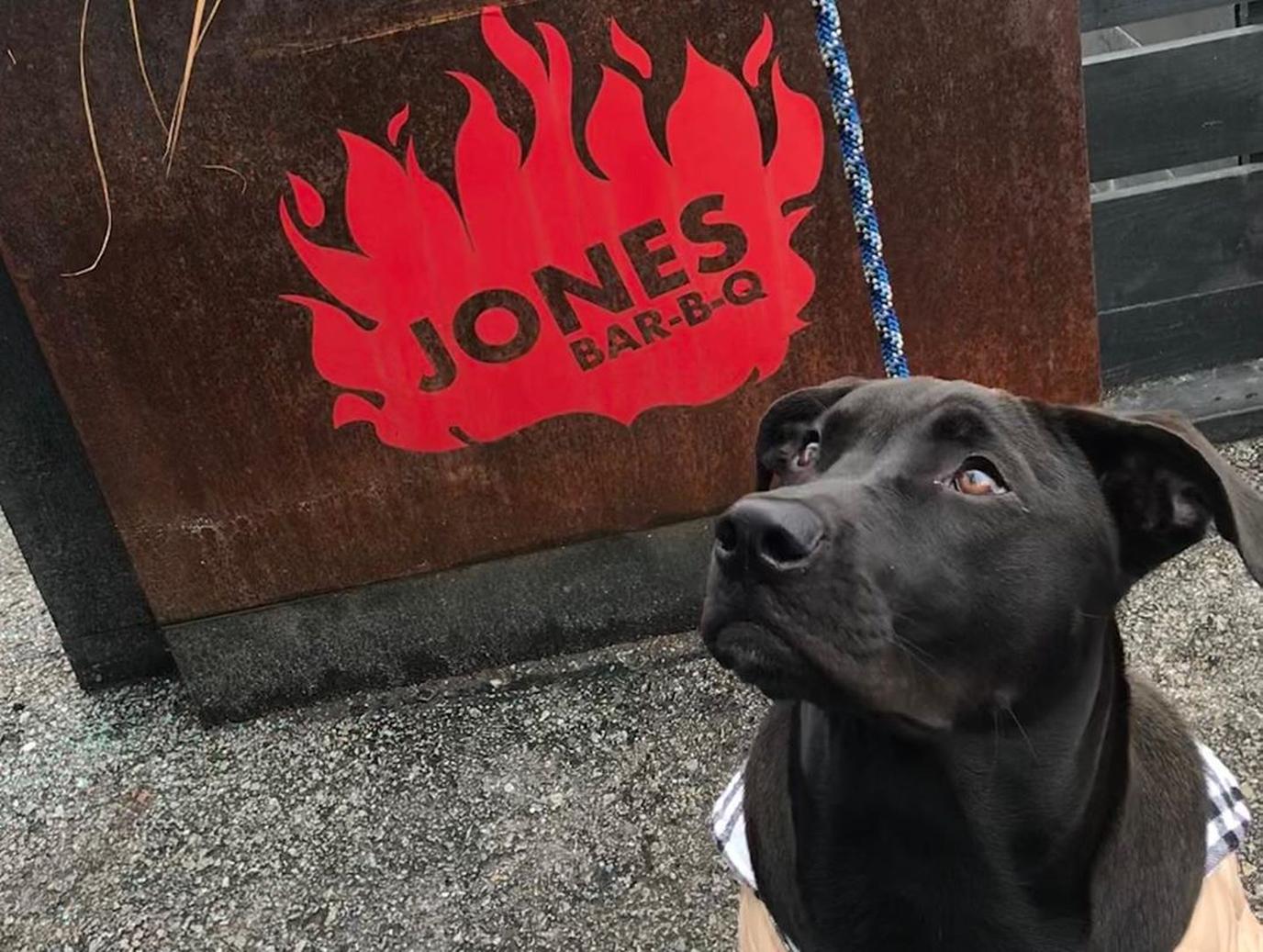 "Will sit for sausages." – Photo by @tilly_bo_millare
Since appearing on "Queer Eye", sisters Deborah "Shorty" and Mary "Little" Jones stay busy smoking sausages, rib tips, burnt ends and beef on the pit at Jones Bar-B-Q. The Jones sisters learned to barbecue from their father and still use only wood smoke and their secret recipe for sweet and tangy BBQ sauce. Bring your dog to sample Jones Bar-B-Q meats on the front patio and buy a bottle of sauce (if it's not sold out due to popular demand) to enjoy at home.
Lewis Barbecue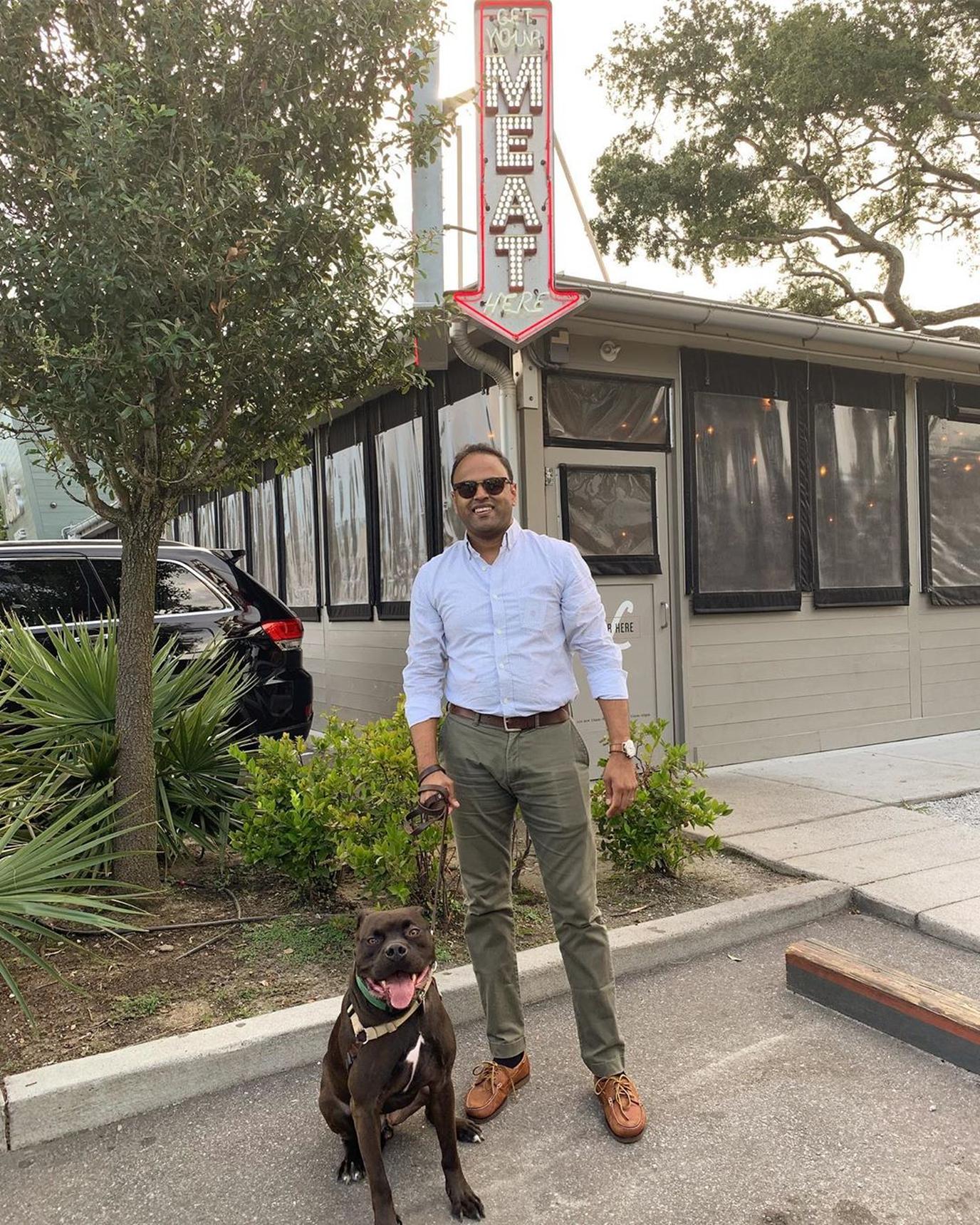 "Meat" here for delicious 'cue! – Photo by @am3r15h_p
In March 2015, pitmaster John Lewis packed up his smokers and left Austin — where he grew up and became a star with success of La Barbecue — to introduce the Holy City to the holy grail of Texas 'cue. Since 2016, he has gained a cult-like following at Lewis Barbecue in Charleston. Diners and their dogs wait for hours to get a taste of expertly smoked pork spareribs, beef ribs, "Texas hot guts" sausage, oxtail and his legendary beef brisket. Bring Fido to sit on the covered patio while you experience what all the fuss is about.
Little Miss BBQ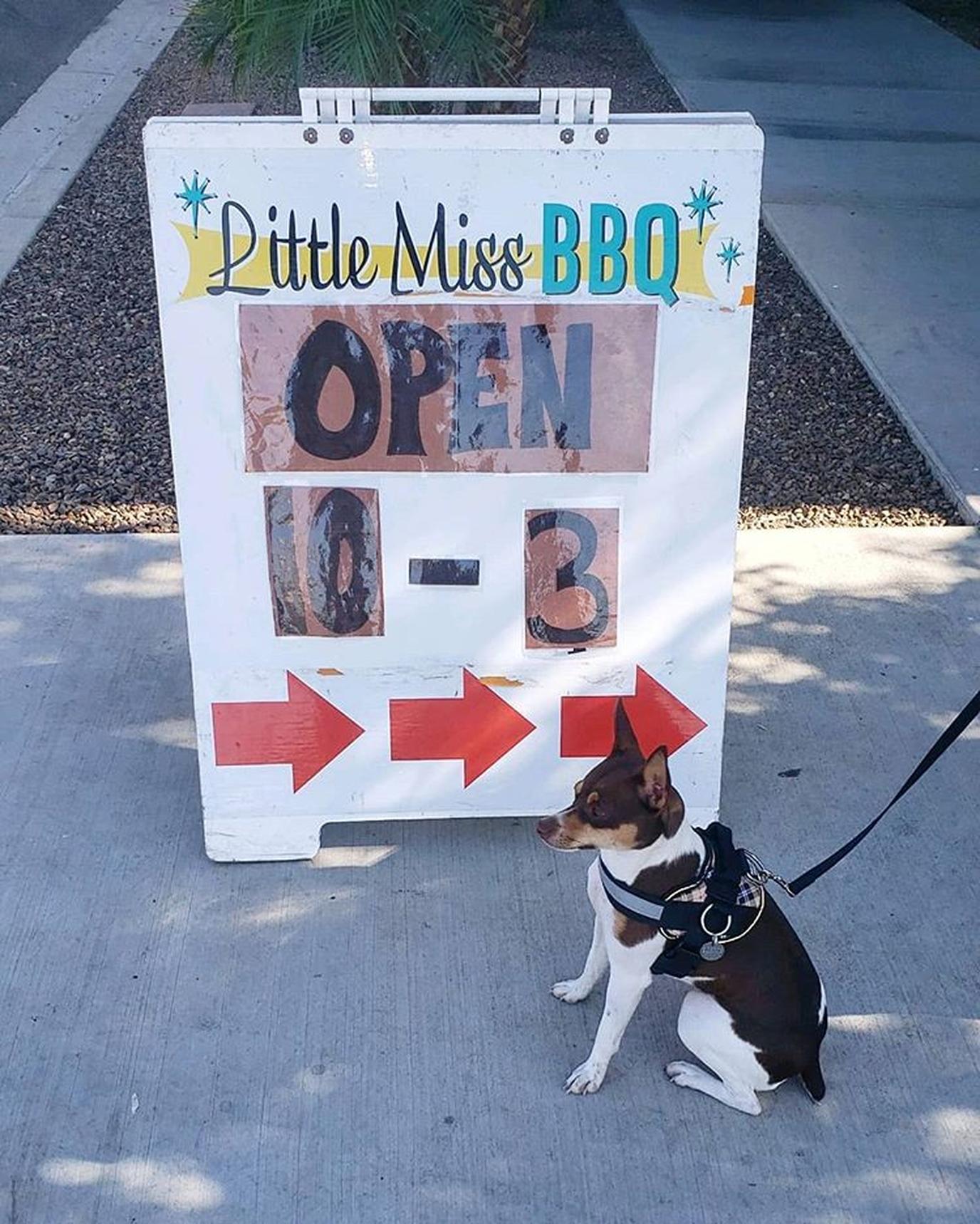 Steer Fido in the right direction for great BBQ. – Photo by @remyrosetheratterrier
Expect to wait in a Texas-sized line in the Arizona heat if you want to try Little Miss BBQ's smoked brisket. Smoky house-made sausages, pork spare ribs, beef short ribs, pulled pork and turkey breast round out the offerings. Pair your main course with sides of Ranch-style pinto beans and jalapeno-cheese grits and, for dessert, Bekke's Smoked Pecan Pie. Dig in at a dog-friendly picnic table outside and enjoy.
Rodney Scott's Whole Hog BBQ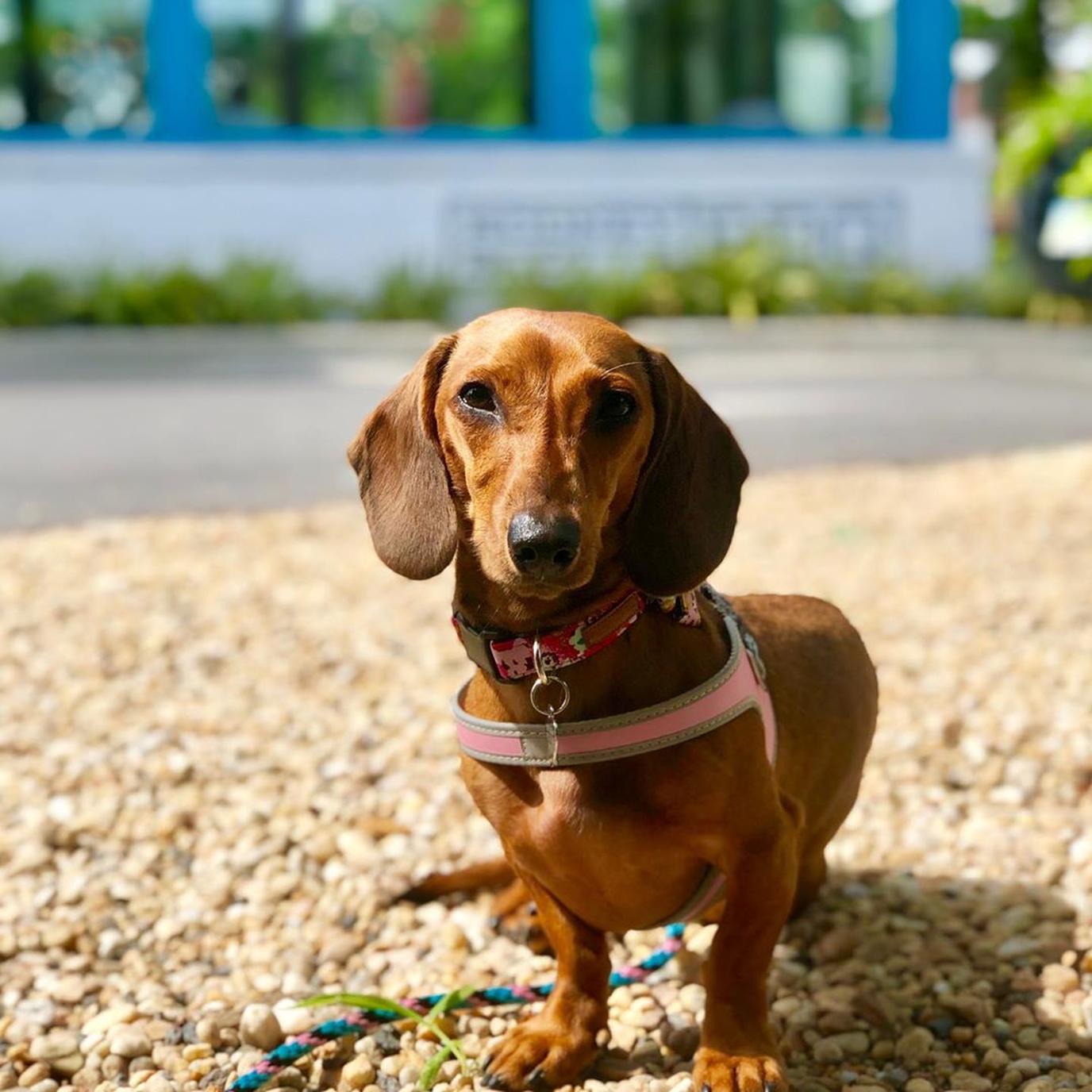 This is the pre-begging part of the program. – Photo by @teehighknow
Rodney Scott is considered the master pitmaster of whole-hog barbecue. You may have seen him on Anthony Bourdain's "Parts Unknown," "Top Chef," or "The Mind of a Chef" on TV. He won a coveted James Beard award in 2018 shortly after opening Rodney Scott's Whole Hog BBQ in Charleston, after years of fine-tuning his skills at his family's barbecue joint in nearby Hemingway. Carnivores on two legs and four can also flock to his second location in Birmingham. Sit at one of the outdoor tables with your pup and try to choose between traditional pulled pork doused with vinegar sauce, pork spareribs, fried catfish, and dry-rubbed chicken, turkey or steak smoked in the pit.
Puckett's Grocery & Restaurant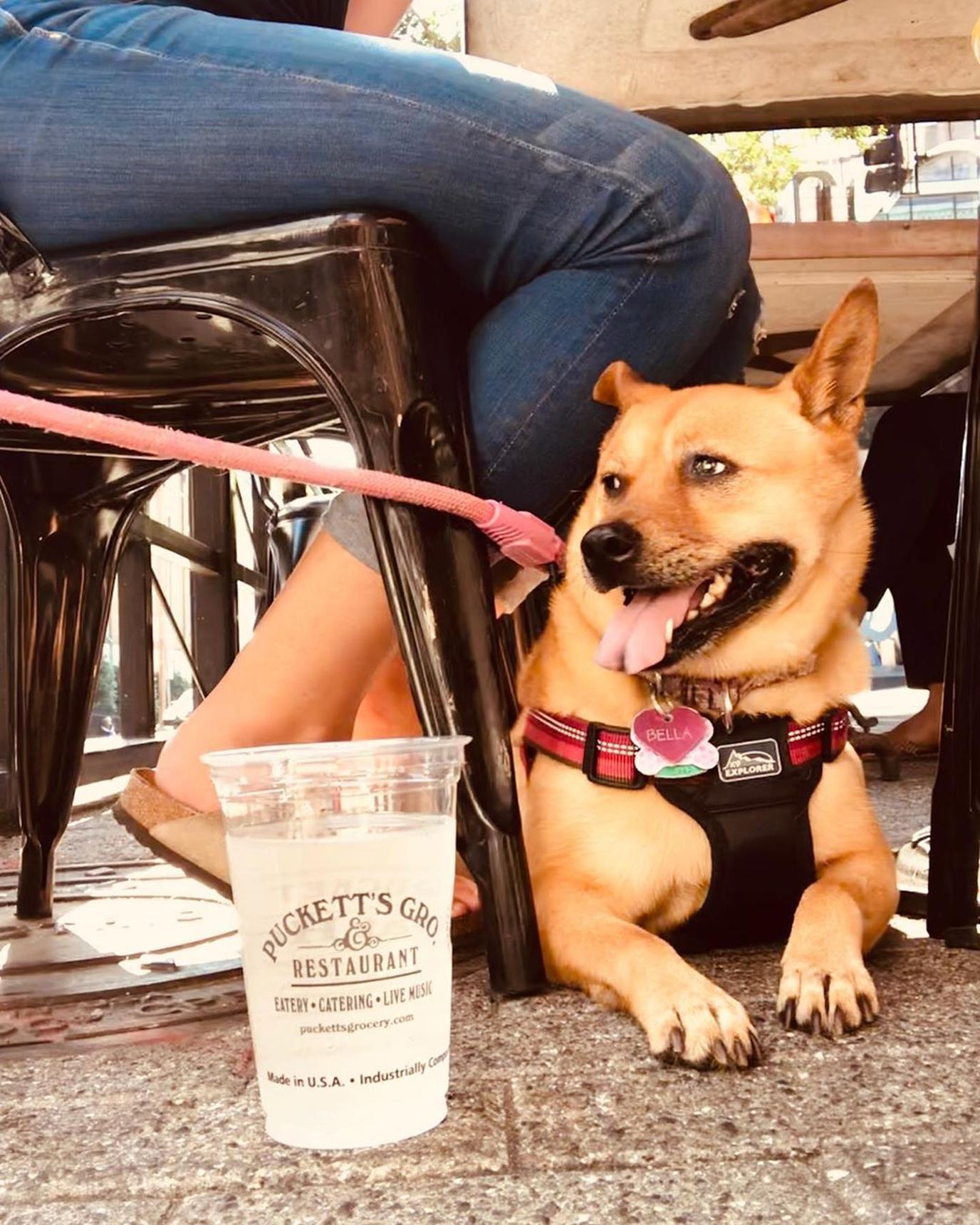 "The water's great, but where's the beef?" – Photo by @allicohen
Puckett's Grocery & Restaurant's southern hospitality roots go all the way back to the 1950s, when it was a grocery store in the village of Leiper's Fork, Tennessee. Six restaurants later, Puckett's has built a strong reputation by hosting live country music acts and serving Southern staples like its famous slow-smoked barbecue and meat-and-three specials. Feast on smoked brisket hash for breakfast, BBQ taco salad for lunch, or cherry wood-smoked baby back ribs for dinner on the pup-friendly patio.
Bogart's Smokehouse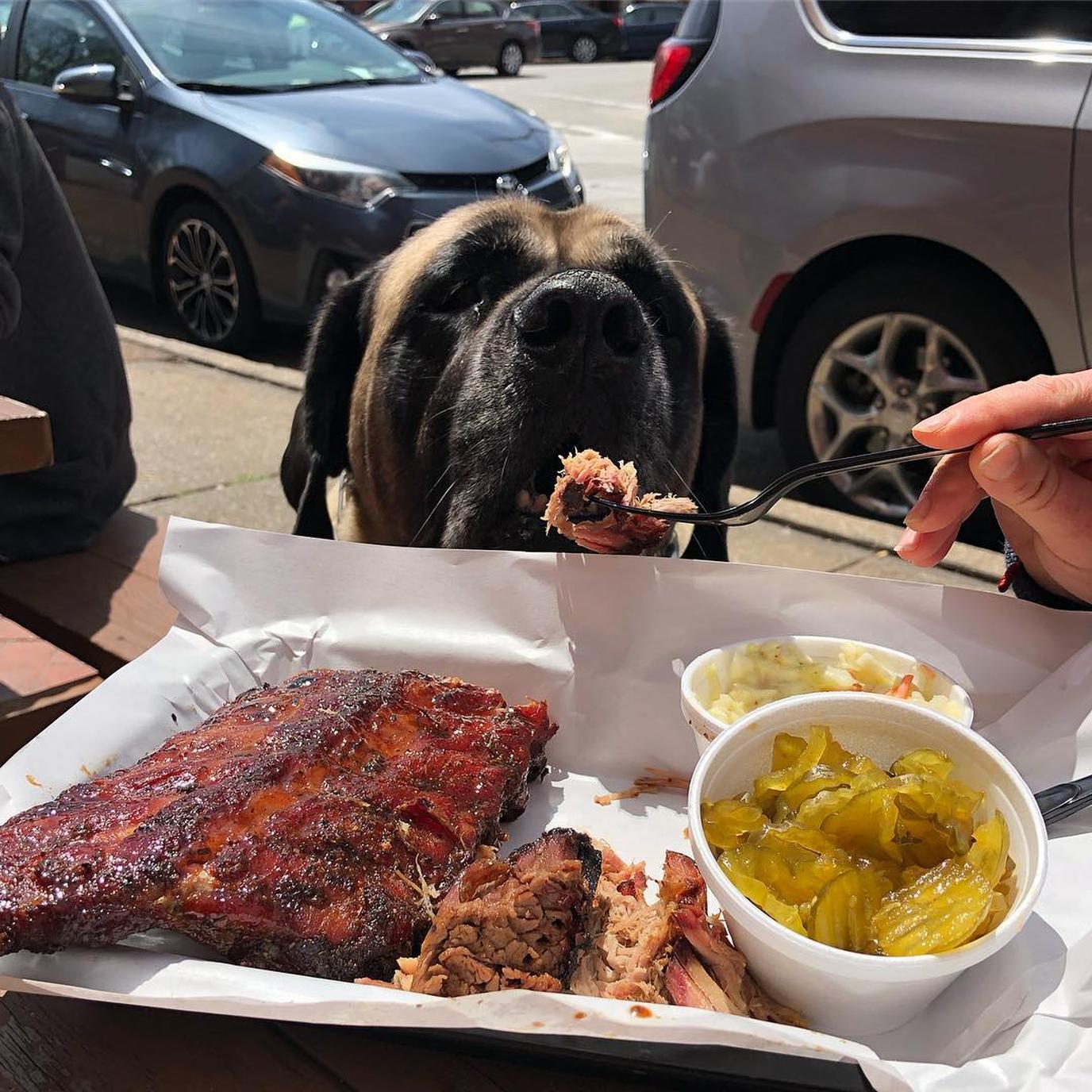 Life's too short to eat bad BBQ. – Photo by @morganmastiff
A relative newcomer to the St. Louis barbecue scene, Bogart's Smokehouse opened in 2011 in the historic Soulard neighborhood. Its mission is to create high-quality, delicious BBQ like its praised sister restaurants in the Pappy's Smokehouse family. Sit at one of the dog-friendly sidewalk picnic tables while you sample smoked tri-tip sirloin, pastrami and apricot glazed ribs. Bogart's chef uses a blowtorch to caramelize his signature ribs and a rotisserie-style Ole Hickory Pits smoker adds flavor to another popular menu item, Bogart's Pit Beans. Be sure to let Fido snag a leftover morsel!
ZZQ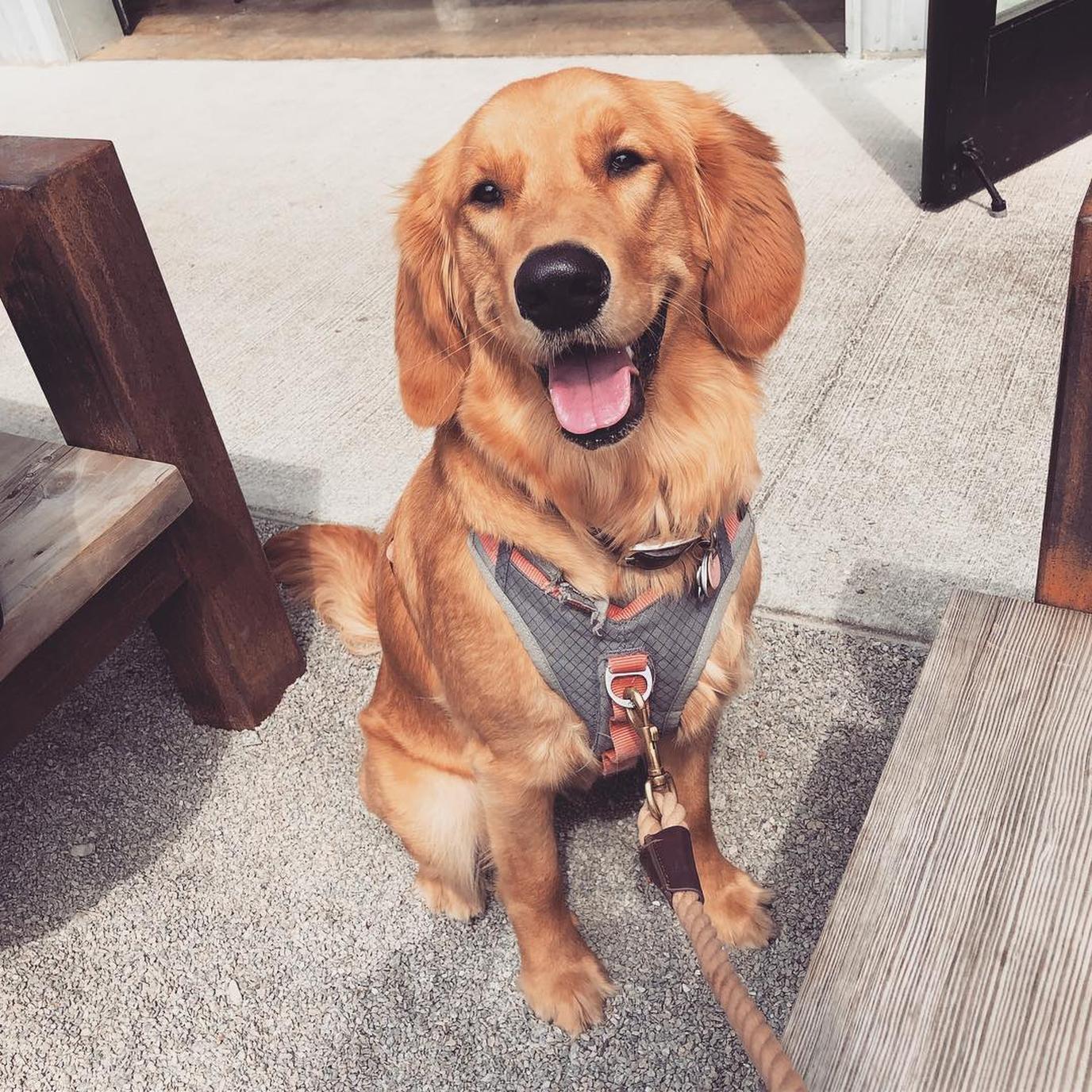 "Will be sweet for the meats." – Photo by @mavis_sheets
Get a taste of the Lone Star State in Richmond, Virginia at ZZQ. The owner and self-taught pitmaster is a native Texan who smokes his meat in three white-oak burning, 1,000-gallon offset pits. ZZQ's brisket rub deviates a bit from the standard pepper-and-salt seasoning with a few added herbs and spices, but it's the real deal. In addition to brisket, you can sample pulled pork shoulder, prime rib or pork spare ribs paired with sides like tomato pie and jalapeno mac-n-cheese at one of the dog-friendly tables. They open every day from 11 in the morning until they sell out (or 6 p.m., whichever comes first), so you may want to get there early.
4 Rivers Smokehouse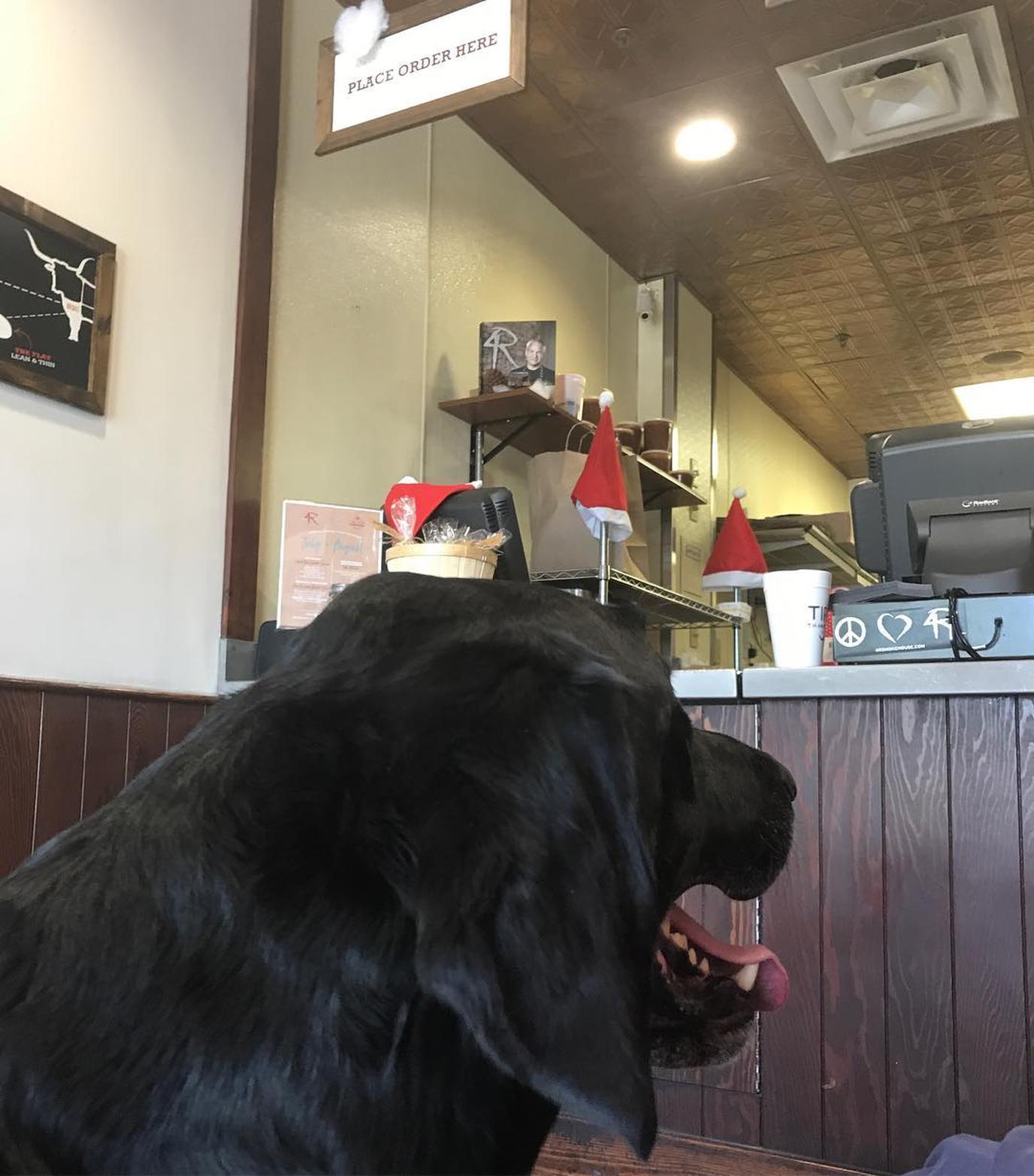 "I'll have one of each, please. It's for the human, of course." – Photo by @daisy_and_thor
Bring Fido to the original 4 Rivers Smokehouse location in Winter Park, the first restaurant in this Florida chain, for award-winning barbecue. Owner John Rivers combines the best barbecue recipes and techniques from all over the U.S,. including California-style tri-tip, Memphis-style pulled pork, Kansas City burnt ends, St. Louis-style ribs, and the restaurant's signature Texas Angus brisket. Order at the counter and enjoy your meal on the dog-friendly outdoor patio.
This post from BringFido originally appeared as The Best Dog-Friendly BBQ Restaurants.