The Great River Road runs shoulder-to-shoulder with America's second-longest river, The Mississippi. Spanning 3,000 miles through 10 states, this historic route gives visitors on two legs and four the chance to follow "Old Man River" as it traces its way down the Midwest. Take your time meandering through quaint river towns and exciting cities, stopping along the way to discover the best attractions the Central States have to offer you and your dog. Just follow the green wheel signs for the pet-friendly road trip of a lifetime!
Minnesota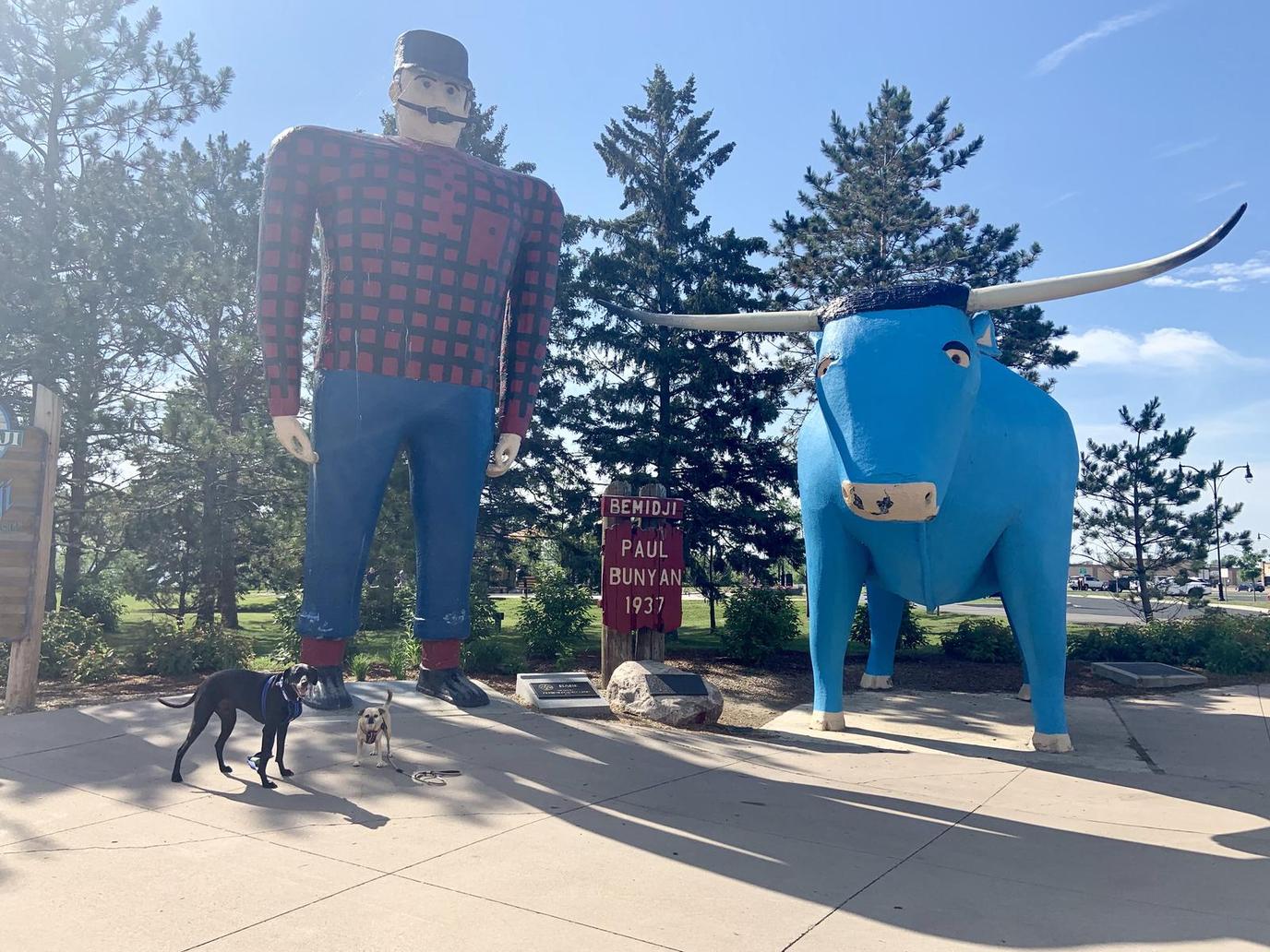 Ace and Roxy, meet Babe. – Photo by Melissa
Fido's epic journey begins in Itasca State Park, where he can visit the headwaters of the mighty Mississippi. Minnesota's oldest state park is home to more than 30 miles of pet-friendly trails. After an invigorating trek, make your way to the first city on the Mississippi, Bemidji. Stop by and meet this charming little city's most famous residents, Paul Bunyan and Babe the Blue Ox. Listed on the National Register of Historic Places, the statues were built in 1937 and make for a great photo op. Finish your first day on the road with dinner between two of the area's prettiest lakes on the patio at Sparkling Waters. This affordable health and wellness retreat invites you to discover the best version of yourself before continuing your journey.
"Did somebody say hike?"Photo by @Ecoblondewithadog
Wake up and follow the Great River Road from Bemidji past Cass, Winnibigoshish and Pokegama lakes to Grand Rapids, where you and Fido can "paws" for a pint at Klockow Brewing Company. Then, rejoin the National Scenic Byway and continue to Little Falls, which offers fantastic hiking opportunities at Charles A. Lindbergh State Park.
From here, bring the Minnesota leg of the trip to a close in the Twin Cities of Minneapolis and Saint Paul, a three-hour drive south from Grand Rapids. One spot that can't be missed is Fort Snelling State Park. Dogs are welcome to walk by your side as you learn about the fascinating history of this land. Fido can also watch out for wildlife including white-tailed deer, fox, turkeys and coyotes. Afterwards, head to downtown Saint Paul for dinner on the patio at Eagle Street Grill. Spend the night in a unique historic carriage house within walking distance of downtown.
Wisconsin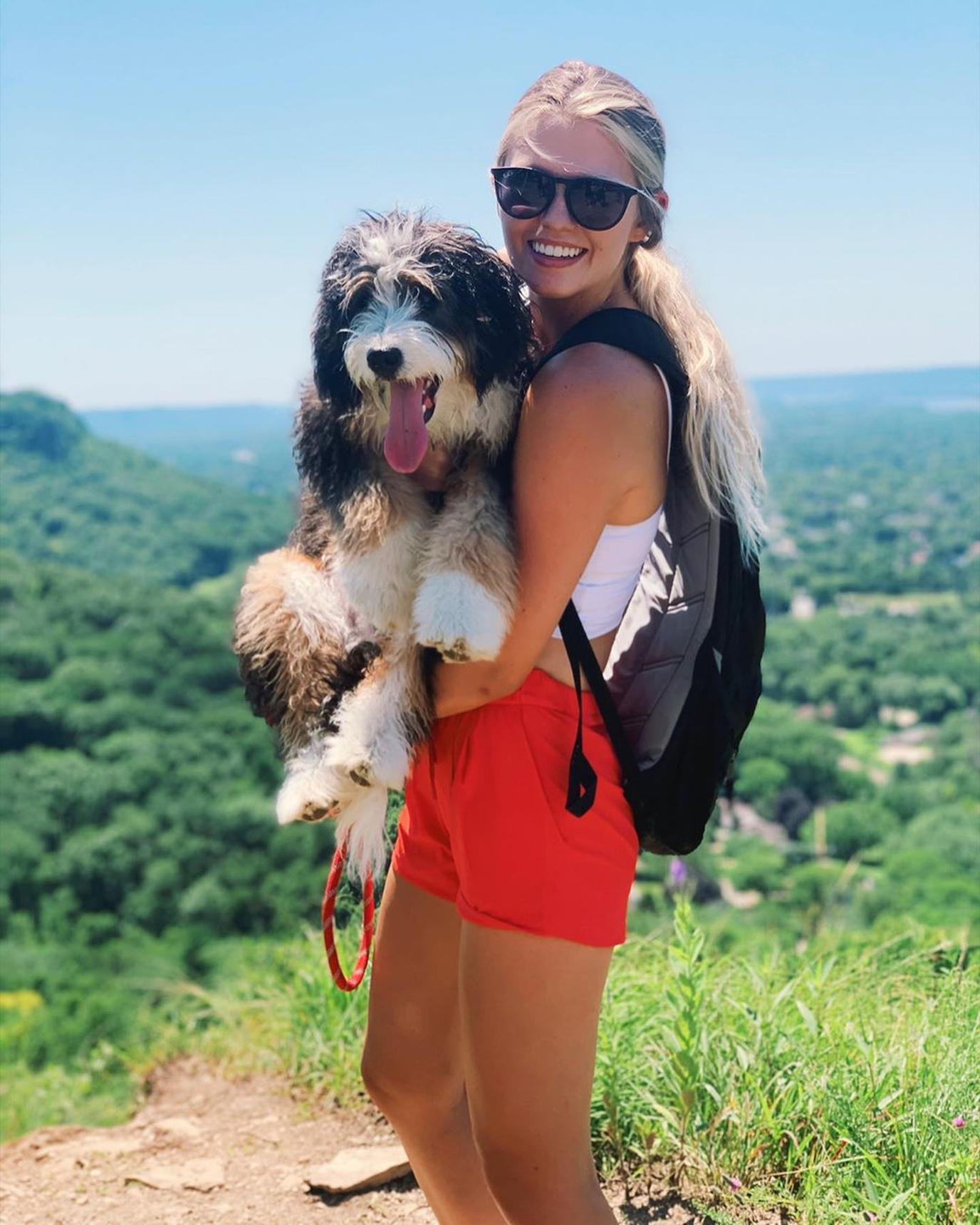 "Felt hot, might delete later." – Photo by @karissapeterson7
US-10 will take you out of Saint Paul and across the Wisconsin border in just 25 minutes. With 33 quaint river towns along its 250-mile stretch of the Mississippi River, it would be easy to spend the rest of Fido's vacation dipping in and out of antique shops, cozy cafes and independent stores in The Badger State. Enjoy the first few towns from the comfort of your car, before stopping for a bite next to the river in the gorgeous grounds of Harbor Bar in Hager City.
A half-hour drive from Hager City is Stockholm. Founded by Swedish immigrants in 1854 who named the new settlement after their homeland's capital, this cute village is full of character. Take a leisurely stroll downtown and check out the artsy items on display at Hugga Bugga and homegoods at StockHOME. Fido can get the scoop on pet-friendly amenities from Hugga Bugga's yellow Lab, Josie, and StockHOME's store dog, Tully. Before you make haste to your next place, grab a sweet treat for the road at Stockholm Pie & General Store.
"Zoom with a view!"Photo by @Blynne7
Leave the little towns behind and join US-61 S for a pretty 90-minute journey to your next destination, La Crosse. From here, you can hike or ride with your leashed pup along the road's little brother, Great River State Park Trail. This paved trail is 24 miles long and leads through backwaters, bluffs, hardwood forests, sand prairies and oak savannas. Afterwards, unleash Fido and play fetch next to the river at Houska Park Dog Park. Refuel like road trippers have for generations at Rudy's Drive In, which offers classic car-hop service and sweet treats for four-legged diners. Then, settle in for the night at this pet-friendly log cabin, which invites you to soak in the sunsets, hike through the woods and observe the local wildlife during your stay.
Iowa
"This view is almost as good as a bag of treats!" – Photo by @Einsteinandlori
The state of Iowa borders the Mississippi River on the opposite side of Wisconsin. The scenic overlooks and topography give The Hawkeye State unrivalled snapshots of the waterway for its 328-mile stretch. Start chapter three of the road trip by crossing the river before Rush Creek State Natural Area. From here, continue south until you reach Pikes Peak State Park in McGregor. The park is home to a variety of trails, one of which leads to a 500-foot bluff and a memorable view.
When Fido is finished posing for the gram, rejoin Great River Road. The next time you pull up with your pup, do it in Dubuque, Iowa's oldest city and one of the oldest settlements west of the Mississippi. Walk by the river and wave to the passing paddle boats on Mississippi River Walk. If you'd like to get a different perspective of the water and the surrounding area, climb aboard one of Fenelon Place Elevator Company's dog-friendly cars. Described as the world's shortest, steepest elevator ride, the view from the top is worth it. After Fido's ride of a lifetime, chill out with a beer and a bite at 7 Hills Brewing Company before calling it a day at this historic home. The fenced outdoor space will keep Fido happy while you enjoy the fire pit.
Illinois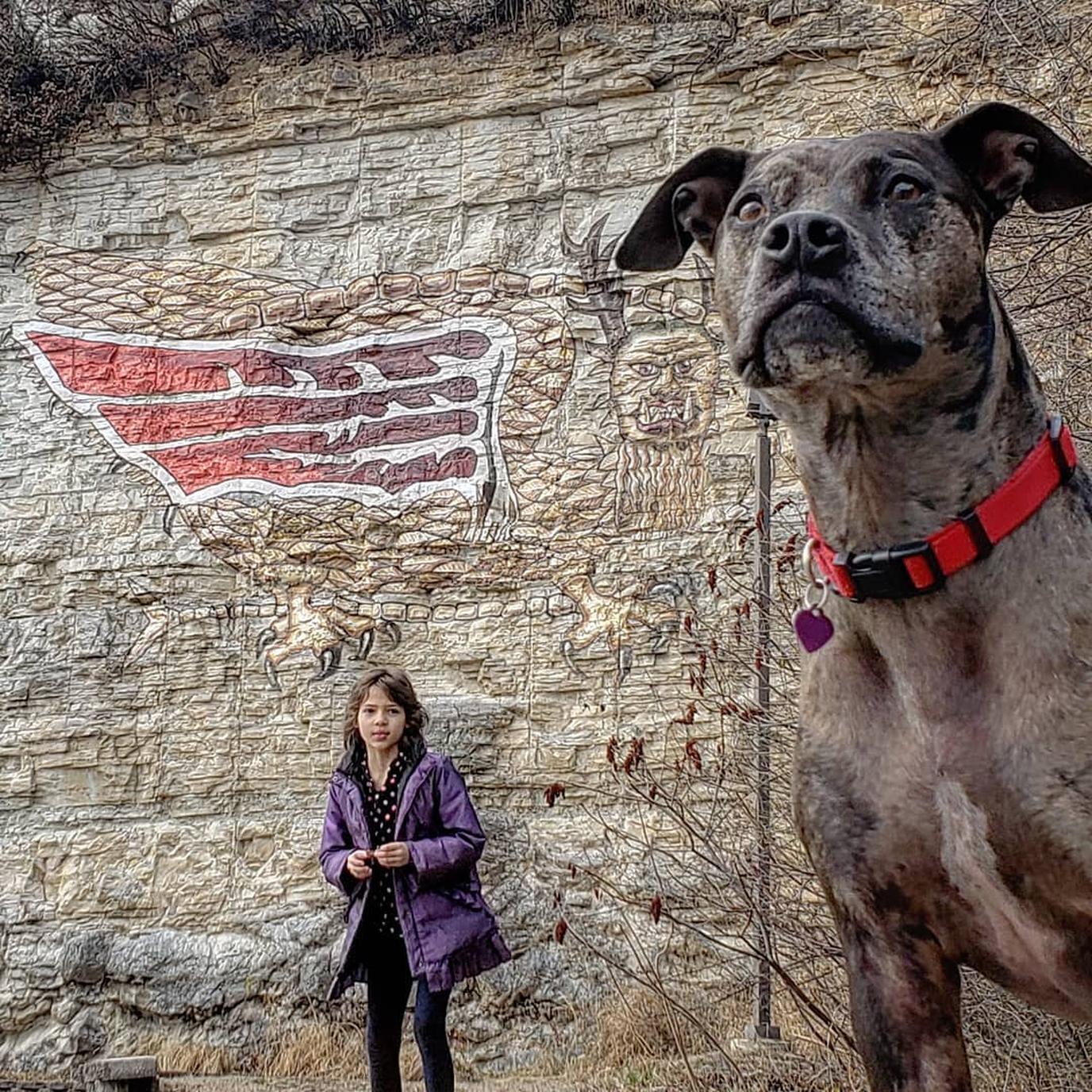 "This bird-dragon is my spirit animal." – Photo by @Herbariasoap
For 550 miles, Illinois will keep you entertained with stunning views and plenty to do. Hop back over the river on US-20 to Galena, a picturesque town known for its exquisite 19th-century architecture, including the home of Ulysses S. Grant. Stroll down Helluva Half Mile, a stretch of Main Street that's home to 125 independently owned stores. Serendipity of Galena and At Home in Galena are just a couple of the pet-friendly ones. Miss Kitty's The Grape Escape is also located on Main Street, one of those rare and beautiful establishments that welcome dogs to eat inside.
Make your way from Galena to Alton, another small town with a lot to offer. It's a five-hour drive, so you'll arrive just in time to enjoy the unique evening entertainment provided by drag cabaret acts at Bubby and Sissy's. All are welcome, including leashed pups. After the show, relax at this cozy home nearby. Wake up refreshed and ready to fly by the Piasa Bird. This Native American dragon is depicted in murals painted by Native Americans on bluffs above the Mississippi River. Before leaving Alton, explore interesting pet-friendly shops like It's Raining Zen and Party on Broadway, and pick up a souvenir from Illinois.
Missouri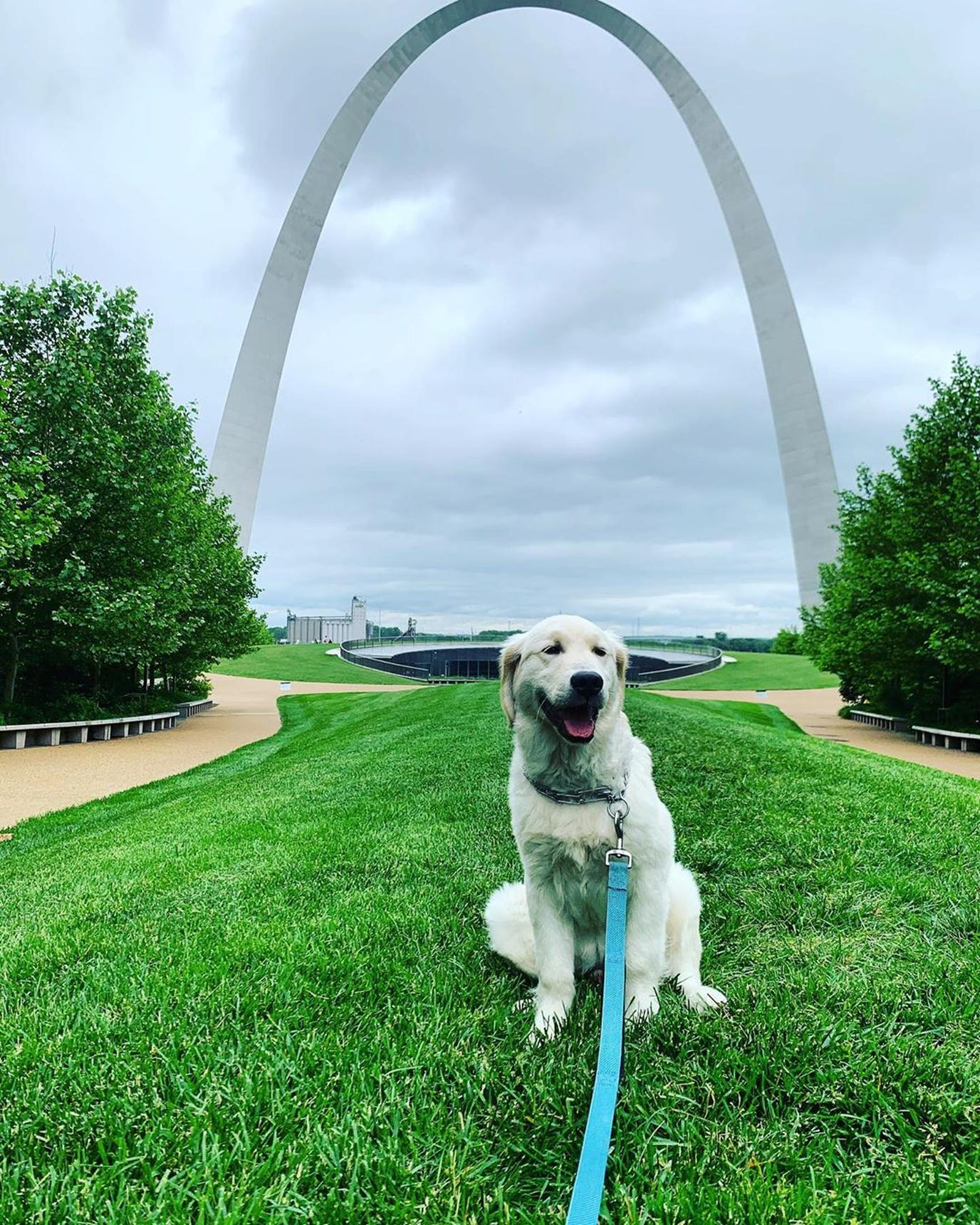 "I'm not jumping over that!" – Photo by @Thegoldenretrieverotis
Seasoned road trippers will remember St. Louis from our Route 66 pet-friendly road trip. The impressive Gateway Arch National Park is always worth a visit, whichever famous road you're traveling on. After a walk on the St. Louis Riverfront Trail, pig out at Bogart's Smokehouse, one of the best dog-friendly BBQ joints in the U.S. Sleep off the meal in a Little House which has everything you need, from a fenced yard to seriously unusual curb appeal.
The next day, drive south for two hours to reach your next destination, one of the most significant and somber of the trip. Trail of Tears State Park in Jackson reflects on a tragic chapter in American history, when nine Cherokee Indian groups were relocated to Oklahoma in 1838-1839. The park is also home to shaded picnic sites, dog-friendly hiking trails, and sweeping views of the Mississippi. It's one of the best places in the state for viewing migratory waterfowl. From here, continue for 20 minutes to reach Cape Girardeau, where you can break for lunch. Your hungry hound can join you on the patio of Smokehouse 61 and plead for scraps of pulled pork, ribs or brisket. On your way out of town, enjoy the view from Bill Emerson Memorial Bridge, one of the most picturesque crossings over "Old Blue."
Kentucky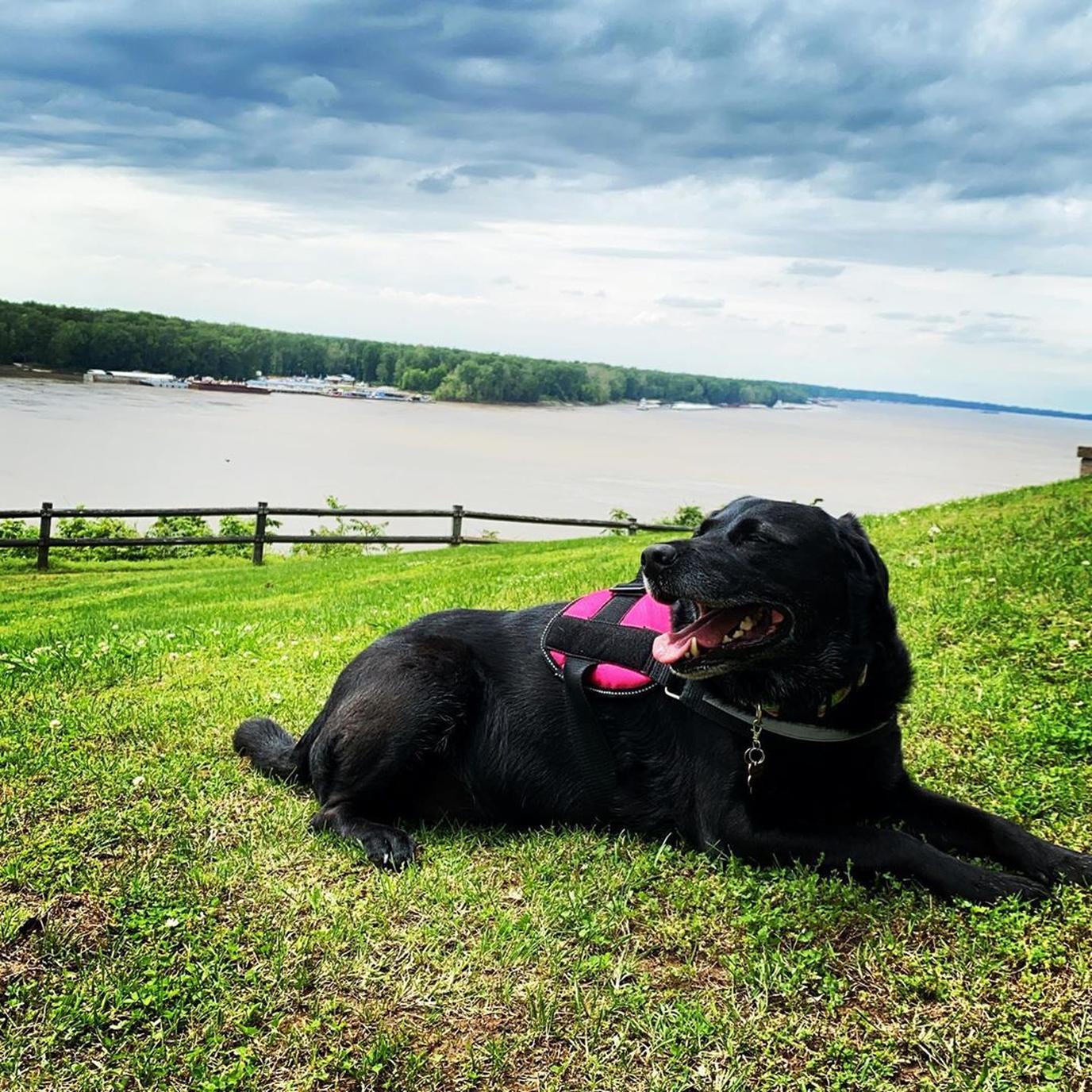 "I can see why they call it 'The Big Muddy.'" – Photo by @Taylorcrider18
It's time for you and your puppy to enter Kentucky, where the shortest section of the scenic road can be found. Enjoy a breath of fresh air at Columbus-Belmont State Park on The Civil War Trail, which is home to a Confederate fortification built during the Civil War. Rest up and recuperate at this nearby quiet country cottage.
Tennessee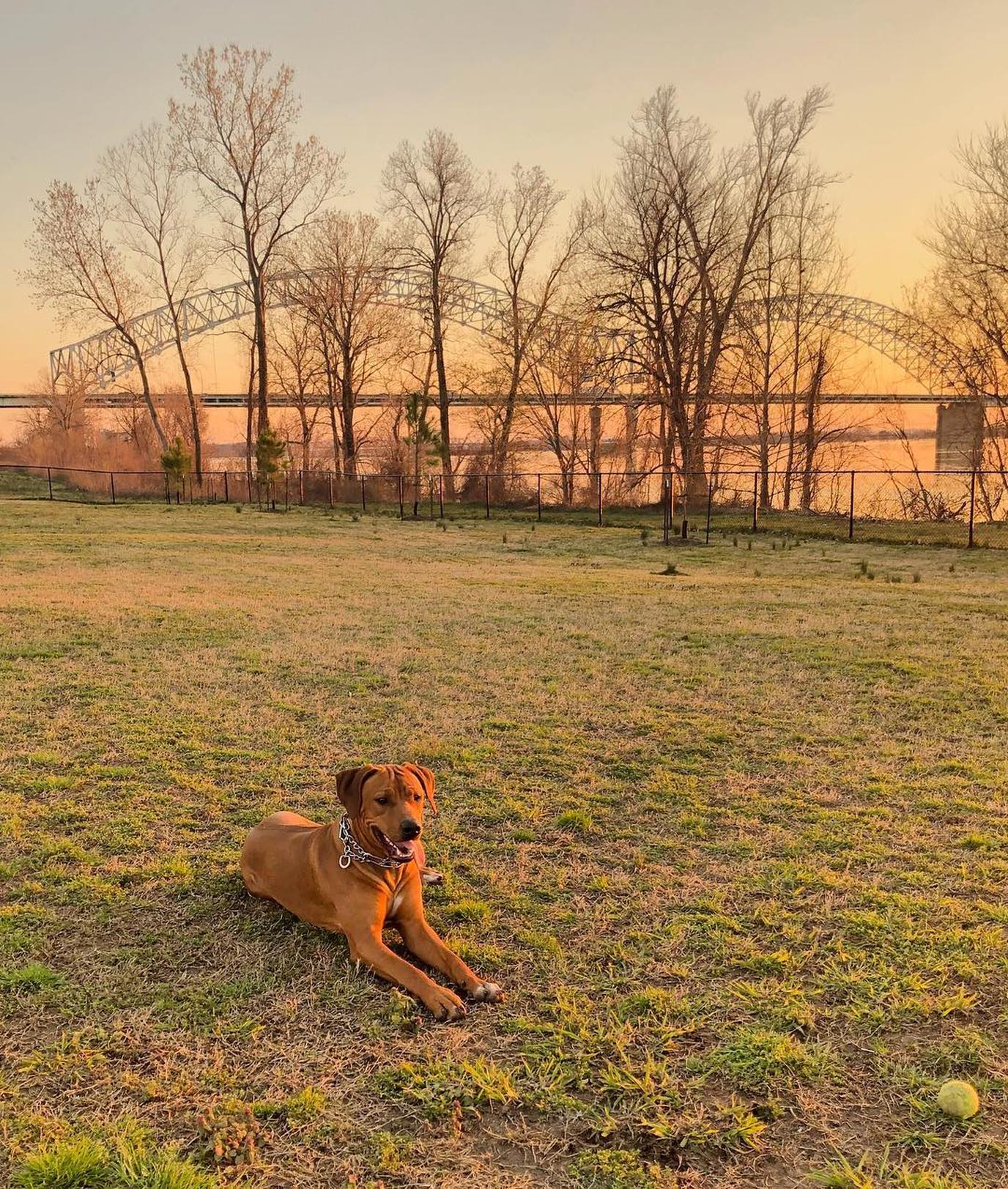 "Staying and waiting for the sunset!" – Photo by @Lionel_the_ridgeback
After your short sojourn into Kentucky, you'll find yourself in Tennessee. Reelfoot Lake State Park is located around an hour from Columbus in Tiptonville, and provides exceptional views across its eponymous 15,000-acre lake. Unlike other lakes on the Great River Road, this one is actually a flooded forest, which is why you'll see Cyprus Trees reaching out of the water.
From here, it's a two-hour drive to Memphis, the birthplace of rock 'n' roll. Fido can stretch his legs at one of the many dog parks in the city, including Mud Island, Memphis Dog Park and Overton Bark. Enjoy a leashed stroll with your Beagle down world-famous Beale Street. Then, head for a refreshing brew at Memphis Made Brewing Company. After sampling a flight of local craft beer, why not cruise into a drive-in theater! Dogs are welcome at Malco Summer Drive-In, where they show double bills every night throughout the season. After the credits roll, roll up to this artsy raised cabin, which offers two- and four-legged guests a memorable Memphis stay.
Arkansas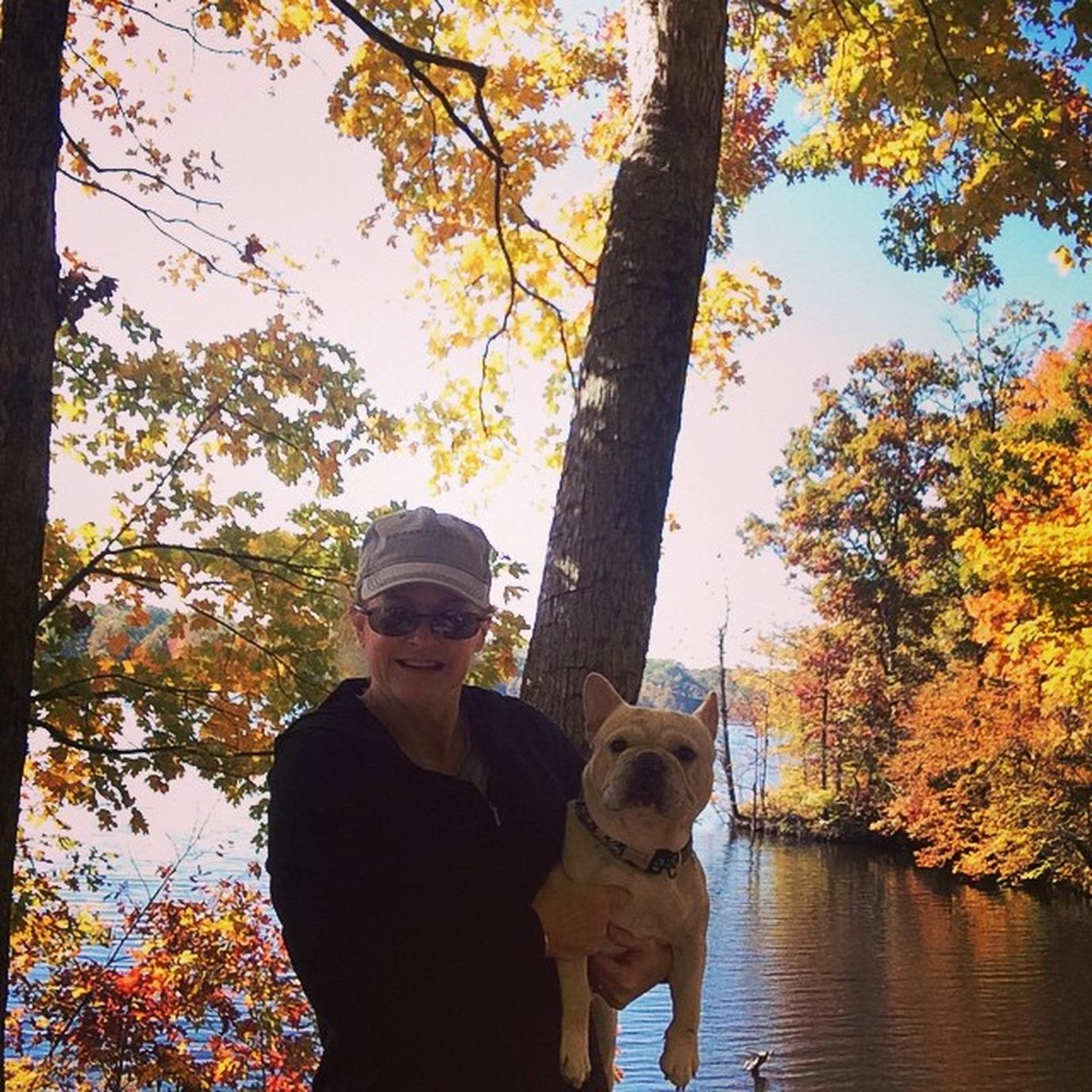 "Who's feeling blue?" – Photo by @wlewey
The Great River Road takes you from the home of rock 'n' roll to the land of the Delta Blues, West Helena. King Biscuit Time, the longest-running blues radio show in the country, has been recorded here since 1941. If Fido isn't impressed by the town's musical heritage, he'll still find enjoyment in the natural beauty of this area. Go for a trek together on the boardwalk of Mississippi River Park and enjoy views of the waterway.
Mississippi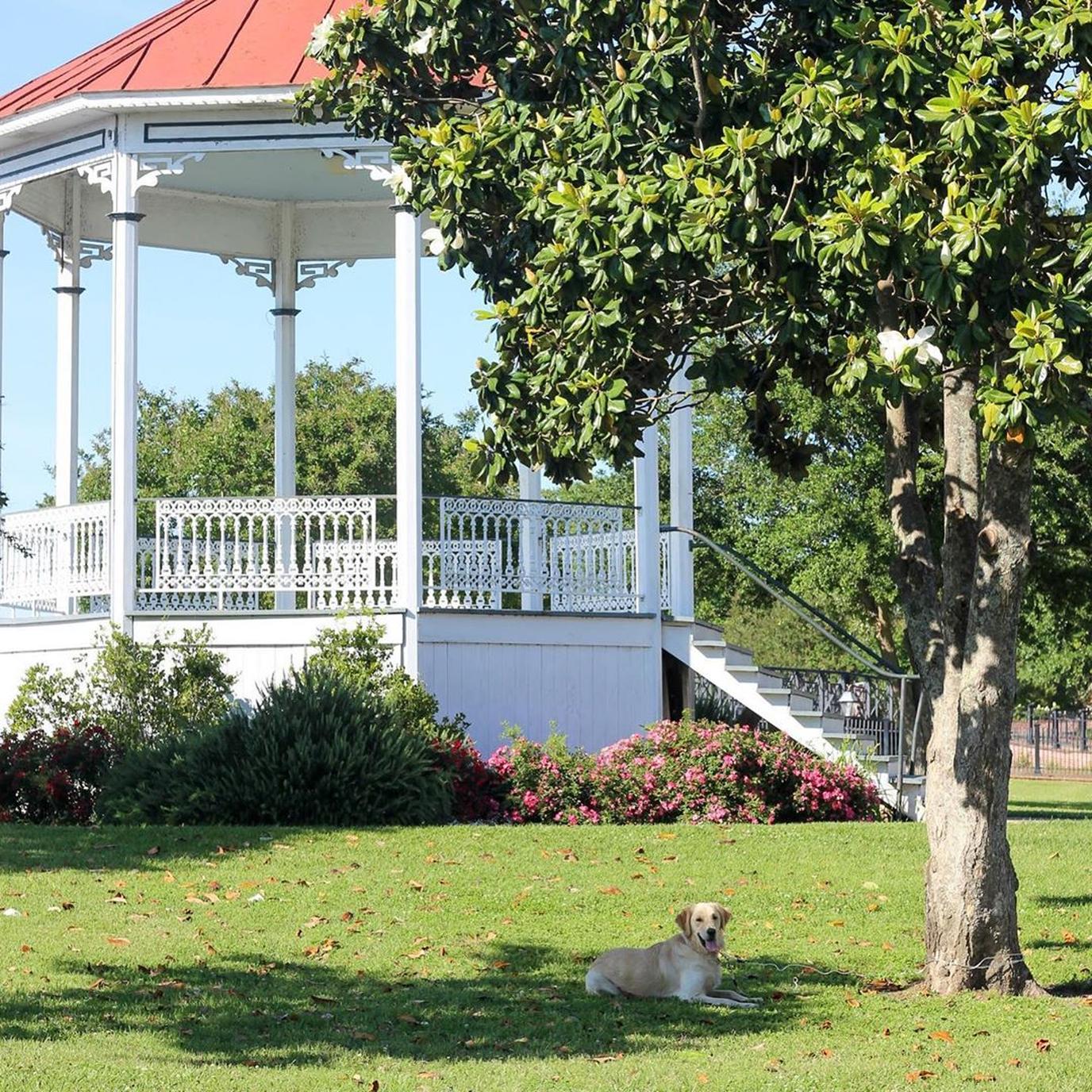 "Is there anything quite as satisfying as a shady spot?" – Photo by @Theloveshackpack
By the time you finish the three-hour journey from West Helena to Vicksburg, you'll be in Mississippi and ready for a hearty meal. Martins at Midtown is a local gem that serves made-from-scratch food. Sit out on the porch with your pooch and enjoy a cold beer with your fish tacos. With full bellies, you'll be able to appreciate the historical importance of this little town on the water. It's actually the site of the 1863 siege that helped give the Union control of the Mississippi River. Hang out at Riverfront Park with your pooch and check out the 32 pictorial murals on Levee Street.
Fido's last stop in Mississippi is Natchez, named after the tribe of Native Americans who inhabited this area from the 8th century. The current settlement is one of the oldest along the river, dating all the way back to 1716. With 13 National Historic Landmarks and over 1,000 buildings on the National Register of Historic Places, furry history buffs will love walking around downtown. Grab a bite on the porch at The Camp Restaurant before heading to Natchez State Park, where the largest bass in Mississippi history was caught. This "paw-triotic" 1885 cottage is just the place for your pooch to put his paws up before the last leg of the journey.
Louisiana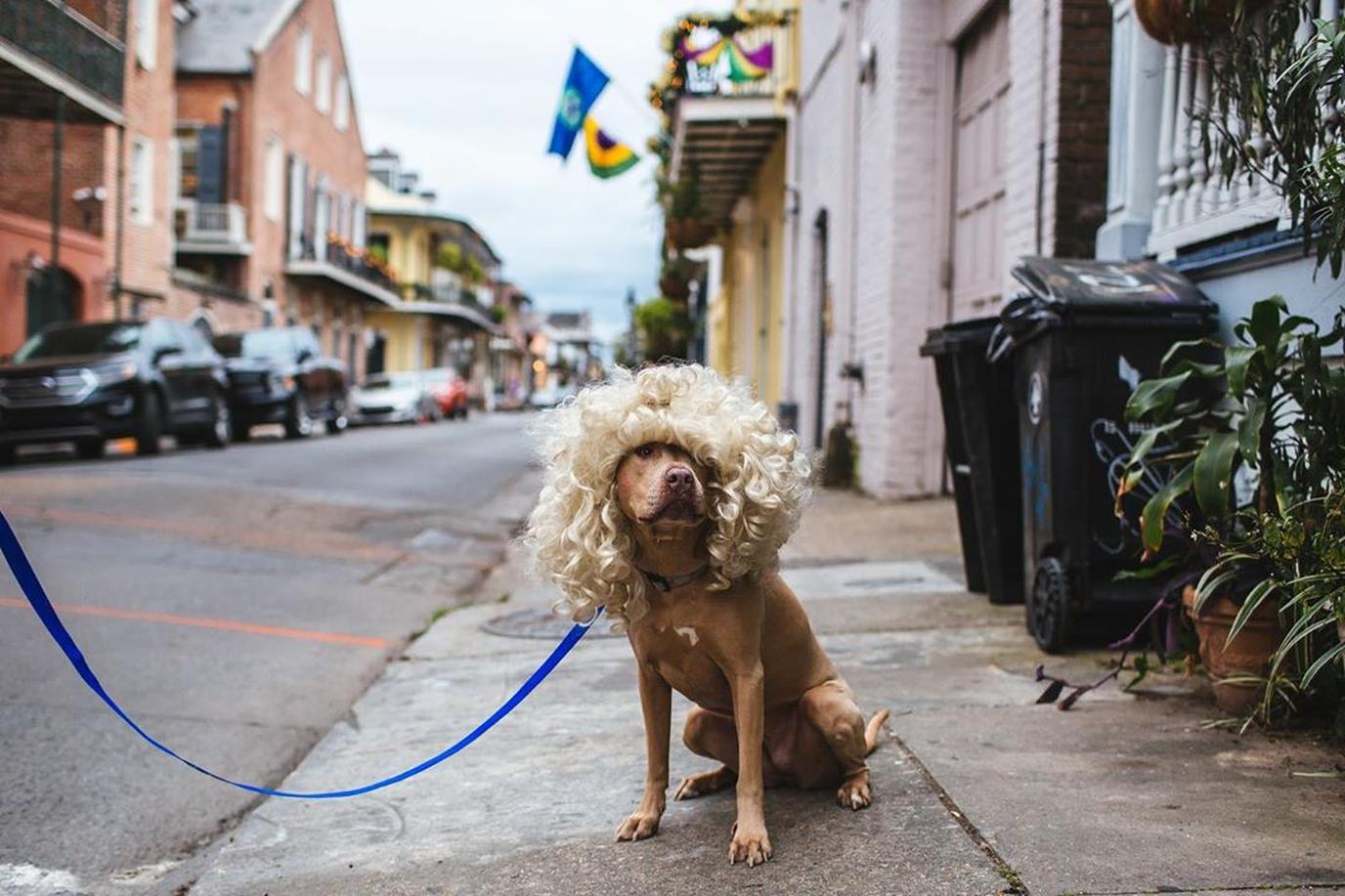 "It's like this place was made for me!" – Photo by @Petsofnola
It takes just over 90 minutes to reach Baton Rouge from Natchez. Louisiana's colorful capital is a must-visit on your way toward the Gulf Coast finale. Visit LSU AgCenter Botanic Gardens for 3 miles of walking trails through pretty gardens and an arboretum. For off-leash fun, pay a visit to the recently remodeled Forest Dog Park. By the time dinner time rolls around, where better to enjoy a feast with your beast than The Bulldog? The downtown patio is loved by four-legged tourists and locals alike. Spend the evening watching the world go by from the porch of this downtown home.
The last stop on your epic adventure is one of the funkiest pet-friendly cities in the country, New Orleans. Even if you're not in town for Mardi Gras or a reindog parade, you can still live it up and enjoy plenty of dog-friendly activities year-round. Introduce your pooch to the city with a walk through the historic French Quarter. For lunch, dine indoors with your canine at Lucy's Retired Surfers Bar before joining a Ghost City Tour of one of the most haunted destinations Fido will ever know. When you're ready to leave NOLA, drive south on the last stretch of Great River Road to Venice, and raise a glass at CrawGator Bar and Grill to a mission accomplished and another "paw-some" road trip together.
It's no easy feat to leave the Big Easy. Retrace your steps and recount your marvelous adventures in the Central States at this oasis in New Orleans.
This post from BringFido originally appeared as The Great River Road: A Pet-Friendly Road Trip.