When nature comes calling, there's nowhere Fido can visit more epic than America's vast and diverse national parks. The 419 national park sites across 50 states provide a unique adventure every time, but the list of must-visit destinations is very different if you're planning on traveling with your pooch. From off-grid stargazing spots near the Grand Canyon to a riverfront cabin in Shenandoah, the following pet-friendly vacation rentals invite you to stay a while near some of our favorite national parks in the U.S.
1. Olympic National Park, WA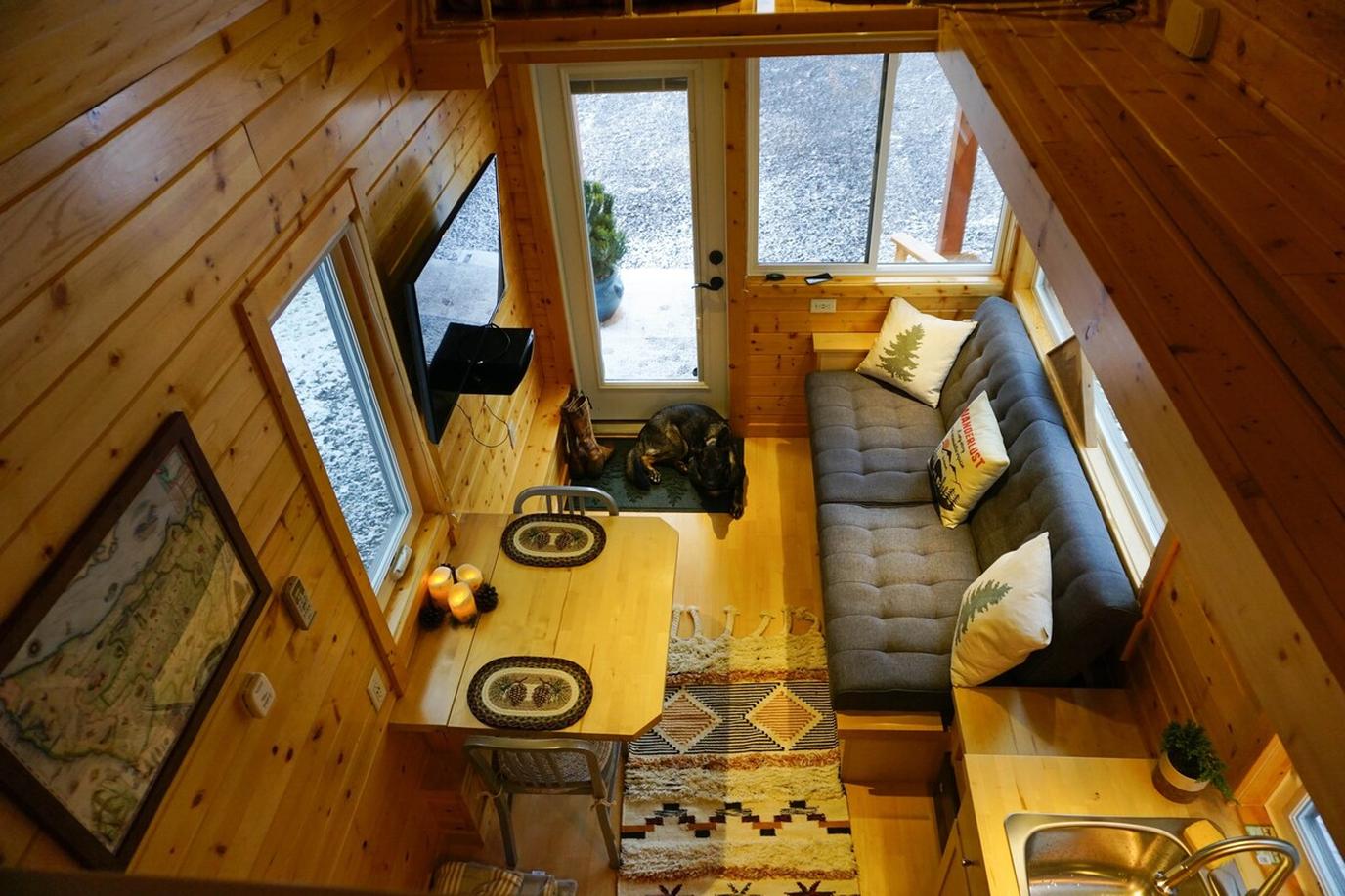 "If I lie here, we never have to go home!" – Photo by Airbnb
Hikers, climbers and backpackers alike flock to Olympic National Park to enjoy dramatic spectacles like Mt. Olympus and enchanting old-growth forests. Dogs are welcome on a number of trails throughout the park. If your pooch follows the rules and avoids disturbing plants and wildlife, he can even earn the prestigious title of Bark Ranger. Downsize with your Dalmation at this pretty private tiny house mountain getaway nestled among cedar woodland in nearby Sequim. This warm and cozy home is perfect for people who want to get a taste for living small with their best friend.
Nightly rates start at $125.
2. Acadia National Park, ME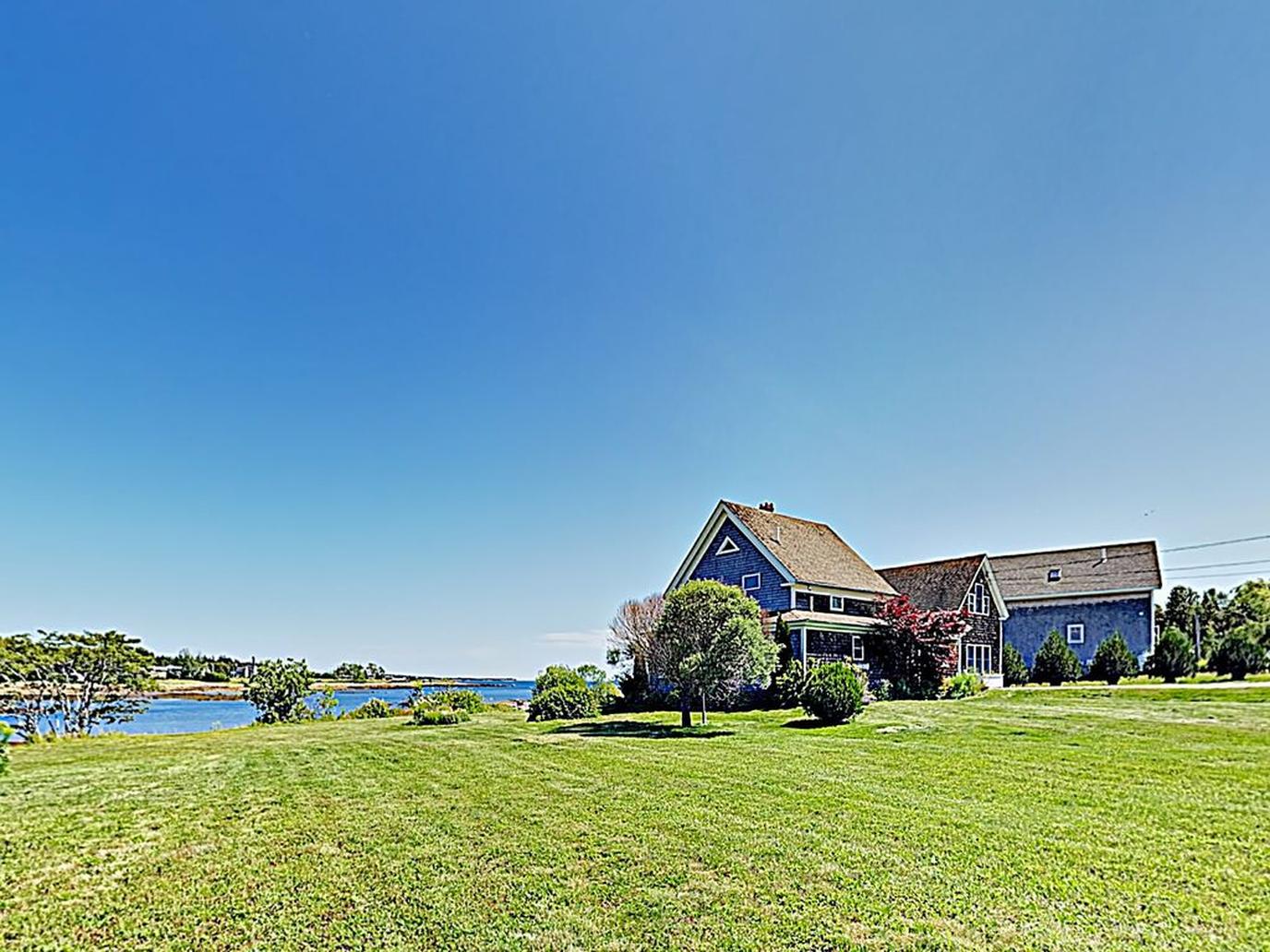 This looks like "paw-radise." – Photo by VRBO
Acadia National Park spans 65 square miles of quintessential Maine landscapes, including rocky beaches, piney woodland and towering mountains. This waterfront cottage is situated roughly 4 miles away from the park and Bar Harbor, the nearest town. The historic property was built in 1900 and provides a beautiful backdrop for a dip in the chilly water or an adventure across the luscious green fields. You can reach the trails of Acadia and pet-friendly amenities of the town on a short ferry ride from the cottage across the Mount Desert Narrows. When you're visiting the park, don't forget to try Sargent Mountain Loop, which runs alongside the water and is one of the best pet-friendly summer hikes in the country.
Nightly rates start at $266.35.
3. Yellowstone National Park, WY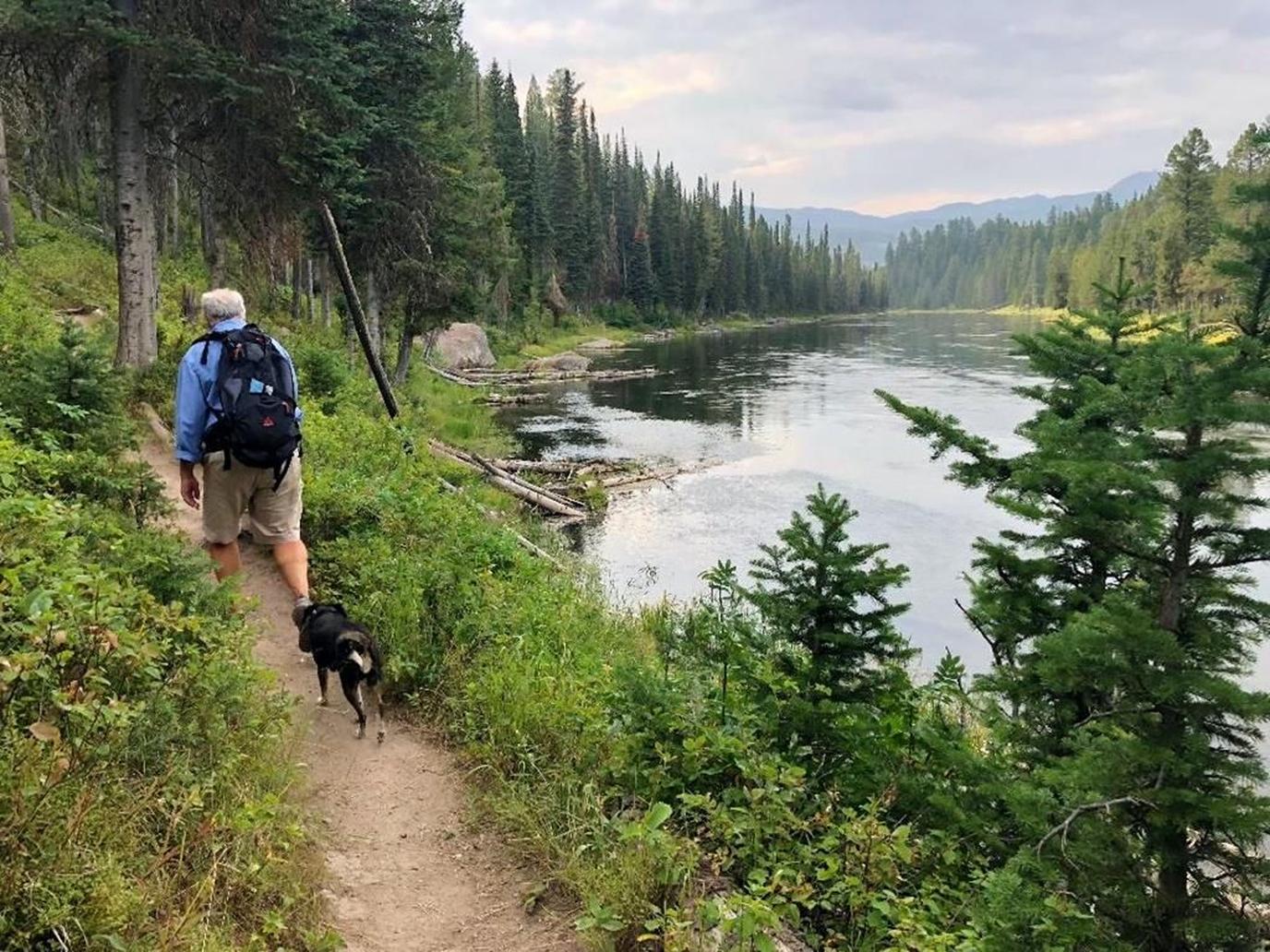 "Are you sure we're going the right way?" – Photo by VRBO
It might not be the most pet-friendly National Park on our list, there's no doubting the grandeur of Yellowstone National Park. Predominantly found in Wyoming, parts of the park are located in Montana and Idaho, too. Bring Fido to gaze from across the road at the world's most famous geyser, Old Faithful, and walk around developed sections. Located 8 miles from the entrance, Elk Crossing provides a beautiful basecamp for outdoor enthusiasts. Share an evening with your best bud on the back deck and enjoy the sun gradually setting over the mountains beyond.
Nightly rates start at $200.
4. Congaree National Park, SC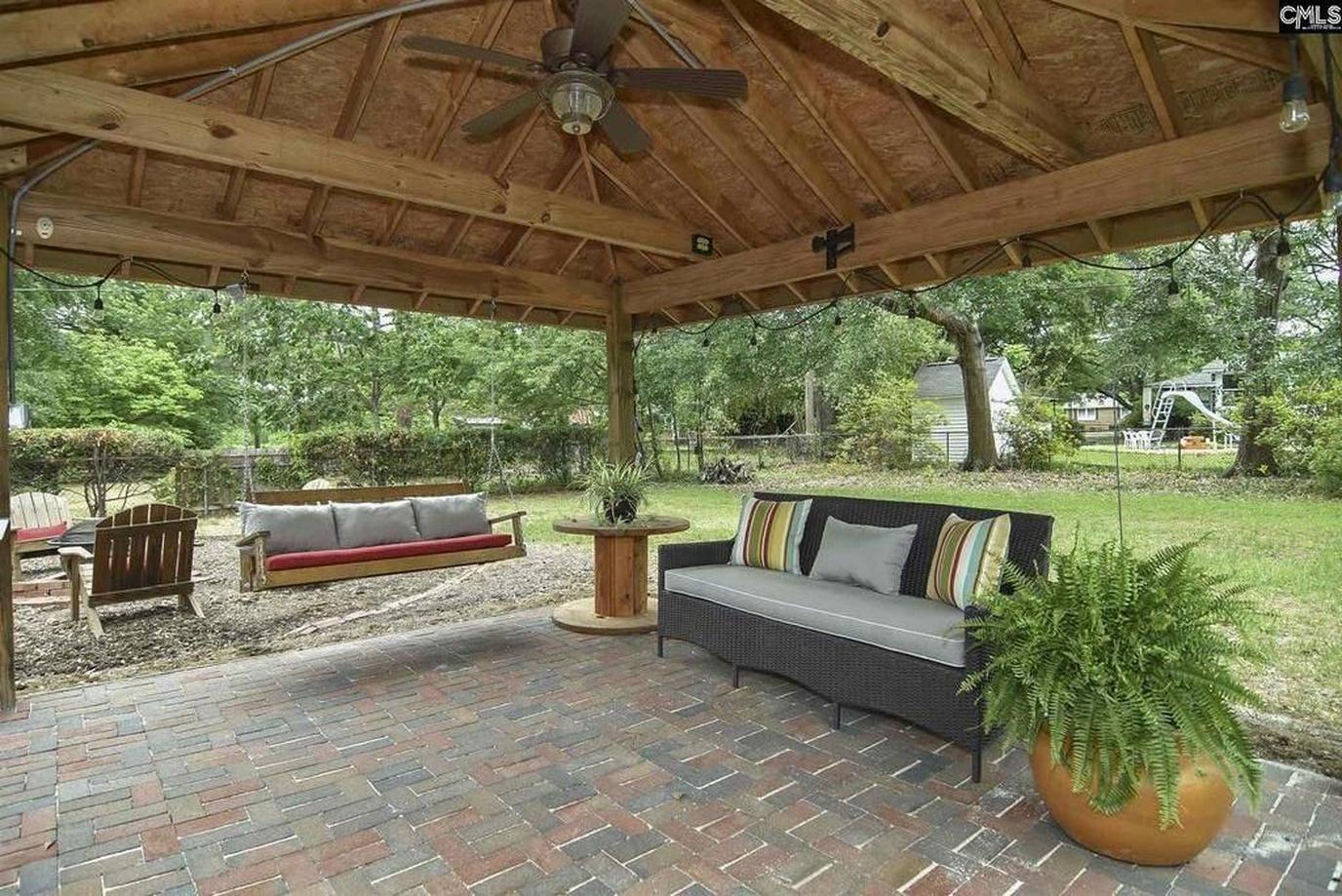 Fenced-in yard? Check! – Photo by VRBO
Congaree National Park isn't one of the most well known places on our list, but it's definitely one of the most pet-friendly. Leashed dogs are welcome on all trails and boardwalks, which vary from easy half-mile woodland wanders to more difficult trails up to 11 miles in length. After a day exploring the park's varied trails, relax and recuperate at this pristine gem, which is also minutes from downtown Columbia. The fenced backyard, comfortable outdoor lounge area and firepit are an inviting place to spend a relaxing evening.
Nightly rates start at $400.
5. Indiana Dunes National Park, IN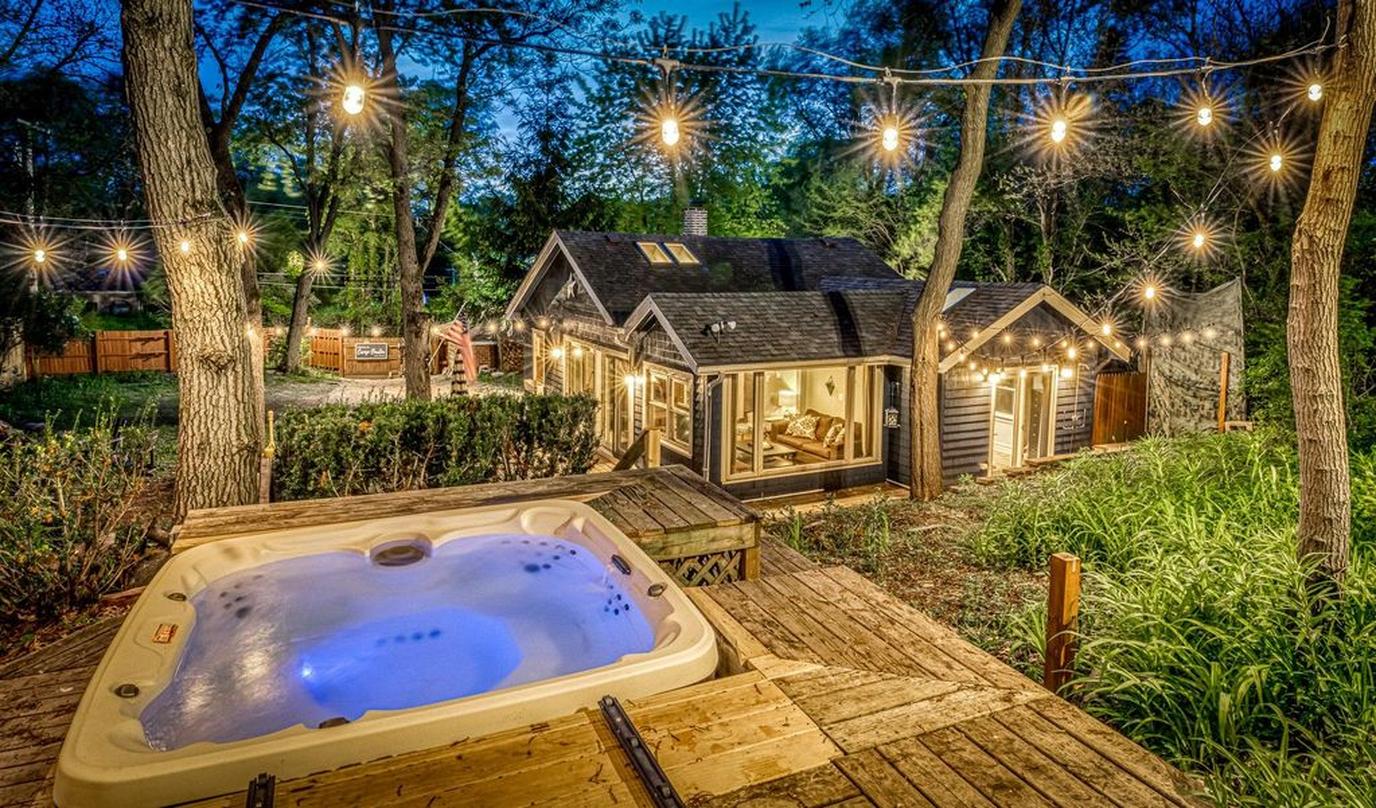 Smart home for your smart hound. – Photo by VRBO
Formerly classified as a national lakeshore, Indiana Dunes National Park provides a fantastic inland beach experience on the shores of one of the five Great Lakes, Lake Michigan. Spending all day at the beach can be tiring, so you want to be able to let your fur down at your home away from home in the evening. Camp Baxter invites Fido to roam off-leash in the fabulously well-maintained backyard, while you soak in the high-class hot tub that overlooks the property. The surrounding woodland area contains winding pet-friendly trails you can explore together, too.
Nightly rates start at $167.
6. San Juan Island National Historic Park, WA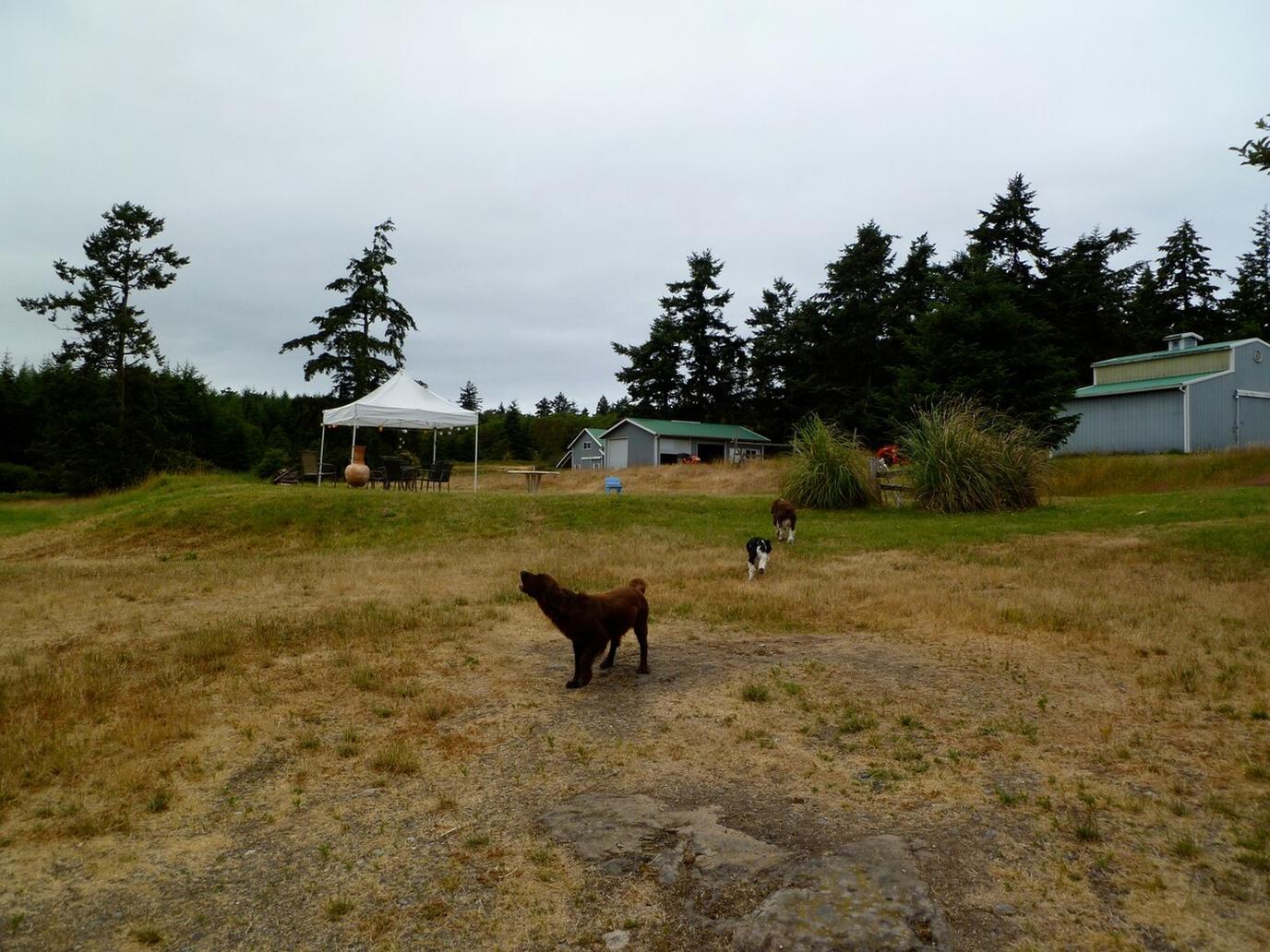 "I'm just telling the neighbors that we're gonna stay!" – Photo by Airbnb
San Juan Island National Historic Park invites four-legged visitors to sniff along all of the winding pet-friendly trails and oceanfront beaches across San Juan Island in Washington. History buffs will enjoy learning about the colorful saga that led to the divide between American and English camps on the island. Located between the two camps on 15-acre Yankee Creek Farm near Friday Harbor, this peaceful cottage overlooks a wetland, ideal for ornithologists who came to observe the many migrating seabirds in the area. Guests can also use the attached kennel during their stay.
Nightly rates start at $99.
7. Shenandoah National Park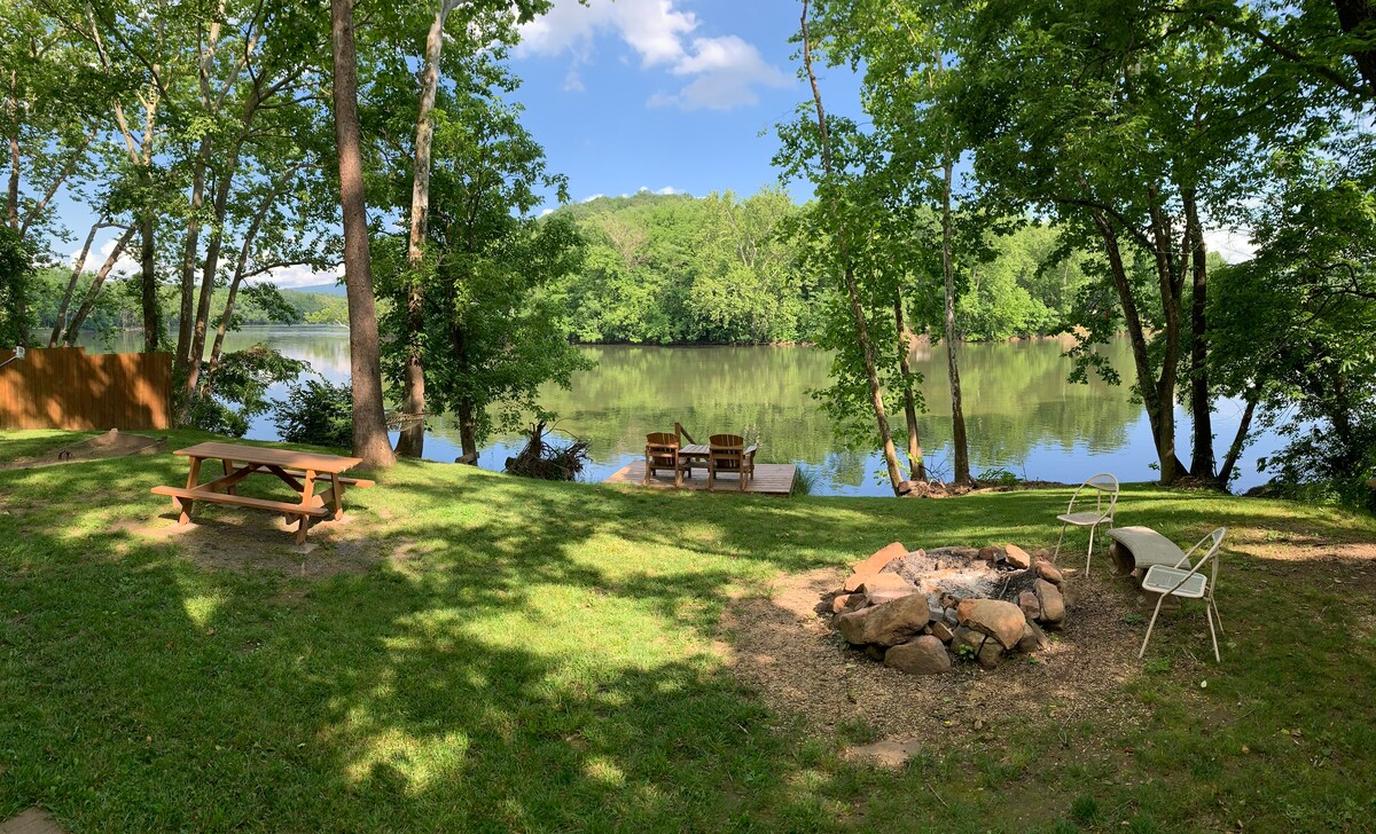 Last one in the water is making dinner, Fido! – Photo by Airbnb
Recognizable for its vast swathes of green forests, Shenandoah National Park extends along the Blue Ridge Mountains for 311 square miles. Whether you roll into the park on Skyline Drive or stride in on the Appalachian Trail, the sights you'll see when you arrive are worth the trip. Hiking all 480 miles of pet-friendly trails throughout the park will take some time. Fortunately, this Shenandoah riverfront cabin offers peace and tranquility just a short drive away in Luray. The unique A-frame is located on a quiet bend of the Shenandoah River that invites visitors to tube, paddle and kayak away from the crowds at Fido's own pace.
Nightly rates start at $160.
8. Grand Canyon National Park, AZ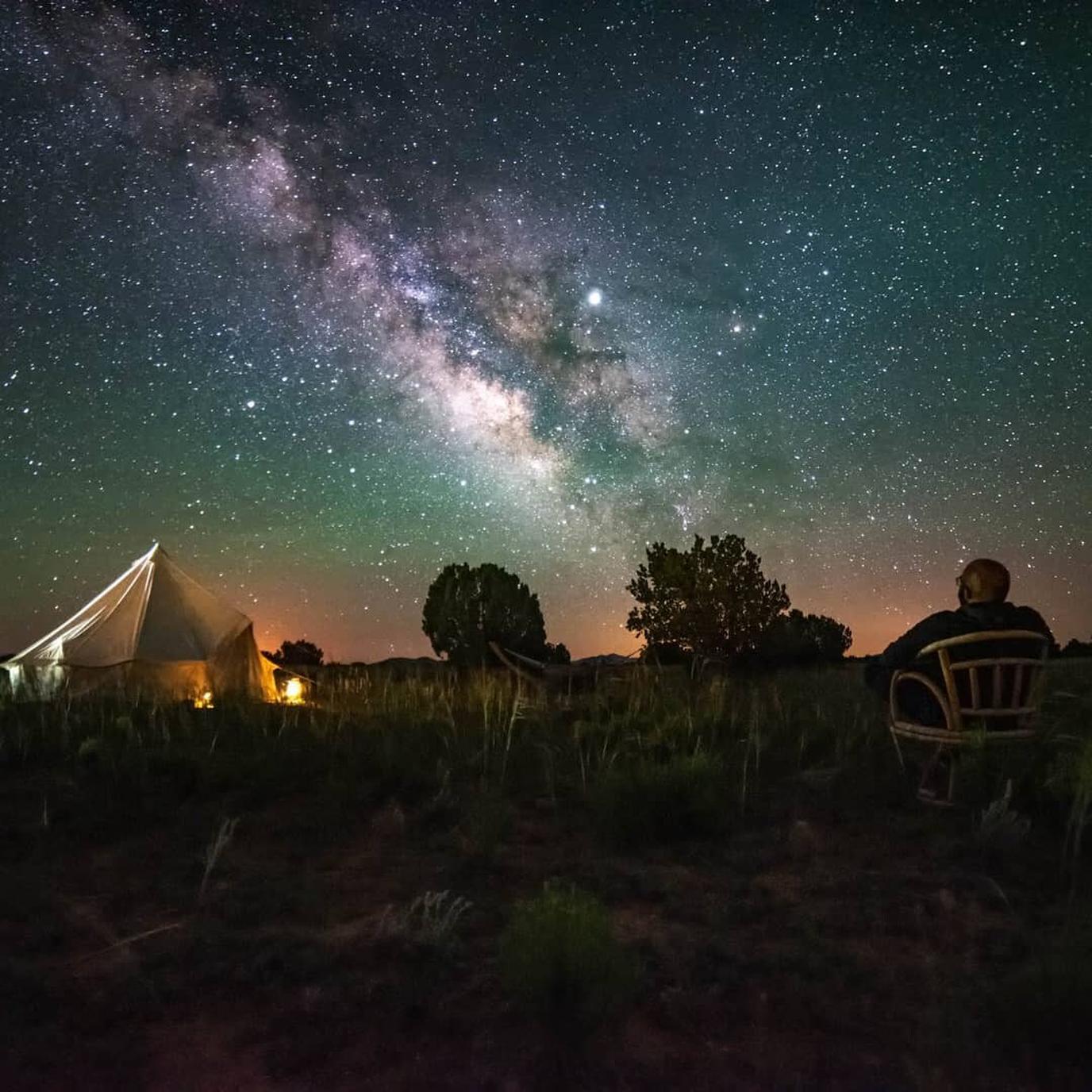 What's Fido's star sign? – Photo by Airbnb
Grand Canyon National Park is the big one. In fact, it's bigger than the entire state of Rhode Island, sprawling as far as the eye can see across 1,904 miles of red rock. Dogs are welcome to hang out on the trails above the rim, but aren't permitted below it. If you want to venture below the rim, you can leave Fido in the capable hands of Grand Canyon Kennel South Rim. The vast park is visible from space, so you'll definitely want to stick around for a while to experience as much of it as you can. Get a taste for the way Fido's "fur-fathers" would have seen the area with a stay at a Nomad's Pad. The Stargazer, The Dreamer, The Bohemian and The Grand Nomad all offer off-grid outdoor experiences with panoramic views and stunning star-scapes.
Nightly rates start at $149.
9. Great Sand Dunes National Park, CO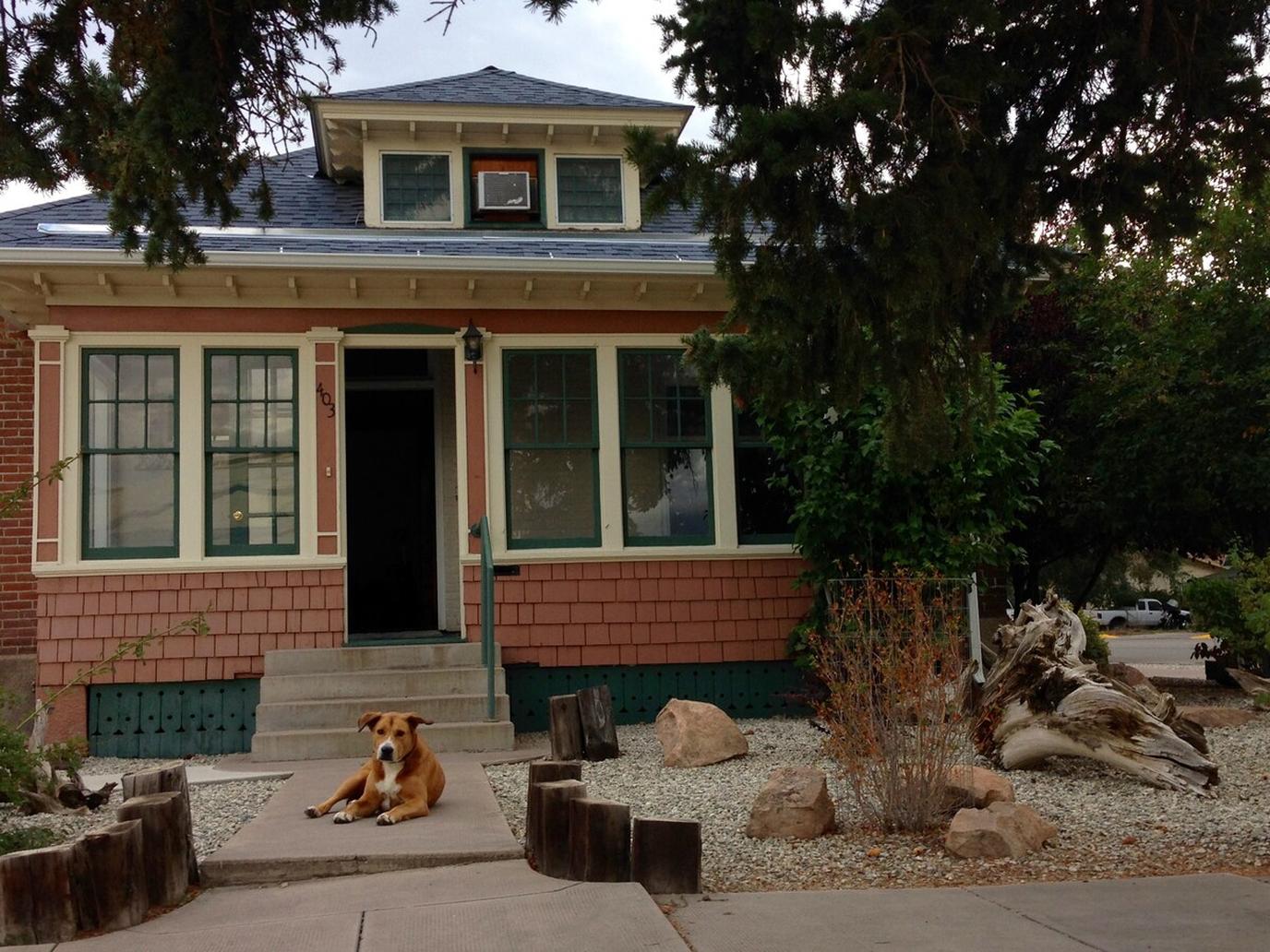 "I prefer the term 'greeter' to 'guard dog.'" – Photo by Airbnb
Digging dogs will love Great Sand Dunes National Park. The sandy park is home to a desertscape of impressive dunes, including the tallest in North America, Star Dune. Due to the intense heat under your pup's paw, it's recommended that you stride out early in the morning or in the evening to check out the towering mounds. When bedtime approaches, make your way back to a heart-filled home in Alamosa, a historic small town that was once a major hub for the Denver and Rio Grande Western Railroad. This comfy downtown property is near local amenities and just 40 minutes from the park.
Nightly rates start at $40.
10. Zion National Park, UT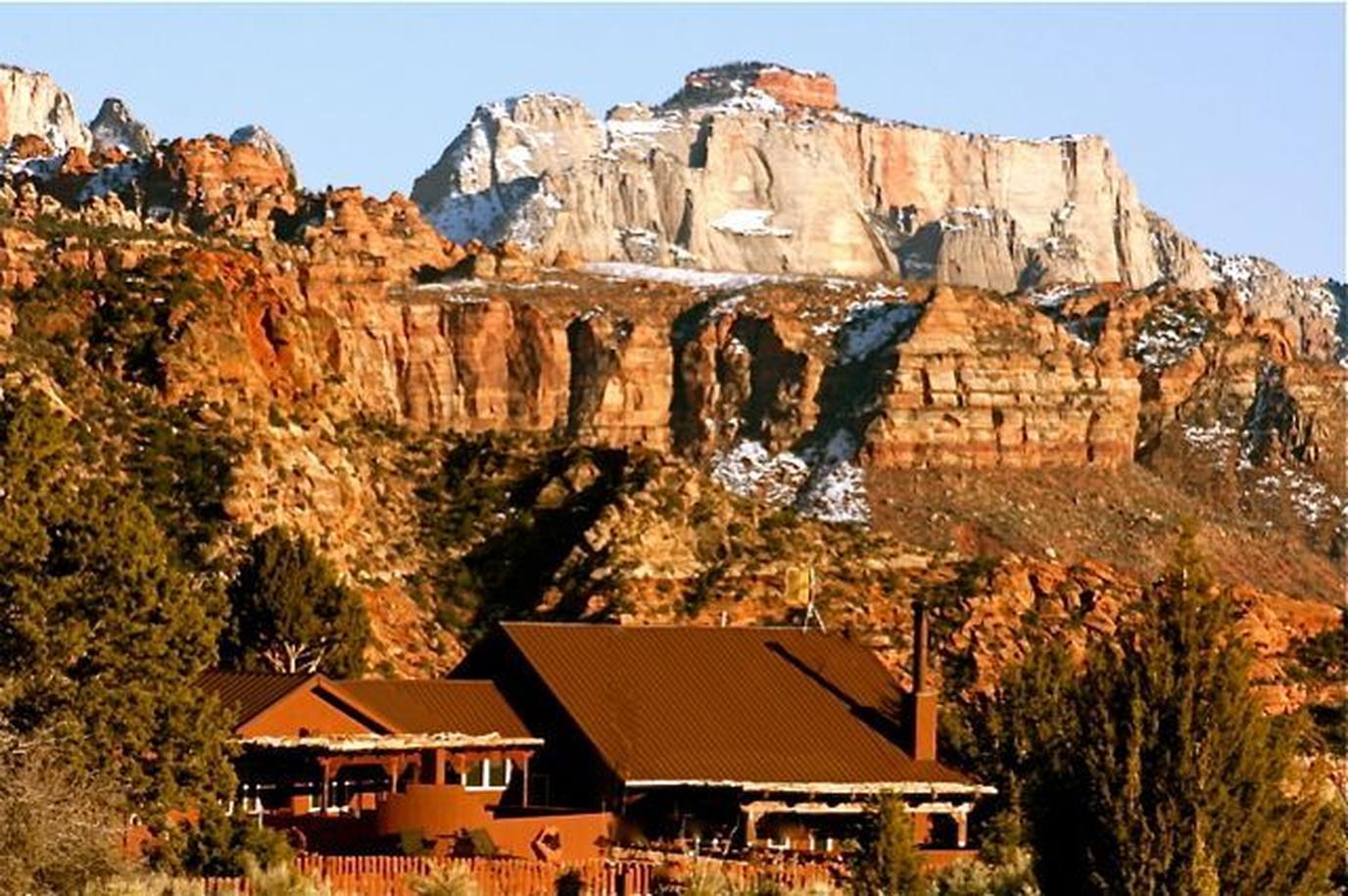 Where does the house start and the rock end? – Photo by VRBO
Zion National Park is a popular haunt for those escaping the hustle and bustle of Las Vegas and Salt Lake City. The astonishing red clay formations that form canyons around Virgin River are a feast for the eye. Dogs aren't allowed in many areas of the park but can take a walk on Pa'rus Trail, which will give them a taste of the awesome canyon landscape. Zionvilla is located within the boundaries of the park, so even when you head home for the day there's no need to leave behind the amazing rocky surroundings. The estate contains 10 acres to explore with your adventurous Alsatian.
Nightly rates start at $575.
This post from BringFido originally appeared as The "Grrreat Outdoors:" 10 Pet-Friendly Vacation Rentals Near National Parks.