The Ruff Guide to San Diego
San Diego is one of America's most pet-friendly cities because of its balmy (dare we say "pawfect?") weather, beautiful beaches where dogs can splash off leash, and relaxed SoCal vibe toward man's best friend. It's not only an ideal destination for a weekend getaway with your dog, but also home to the annual Imperial Beach Surf Dog Competition. So, pack your bags and your pup's coolest bandana and check out our Ruff Guide to dog-friendly San Diego!
Friday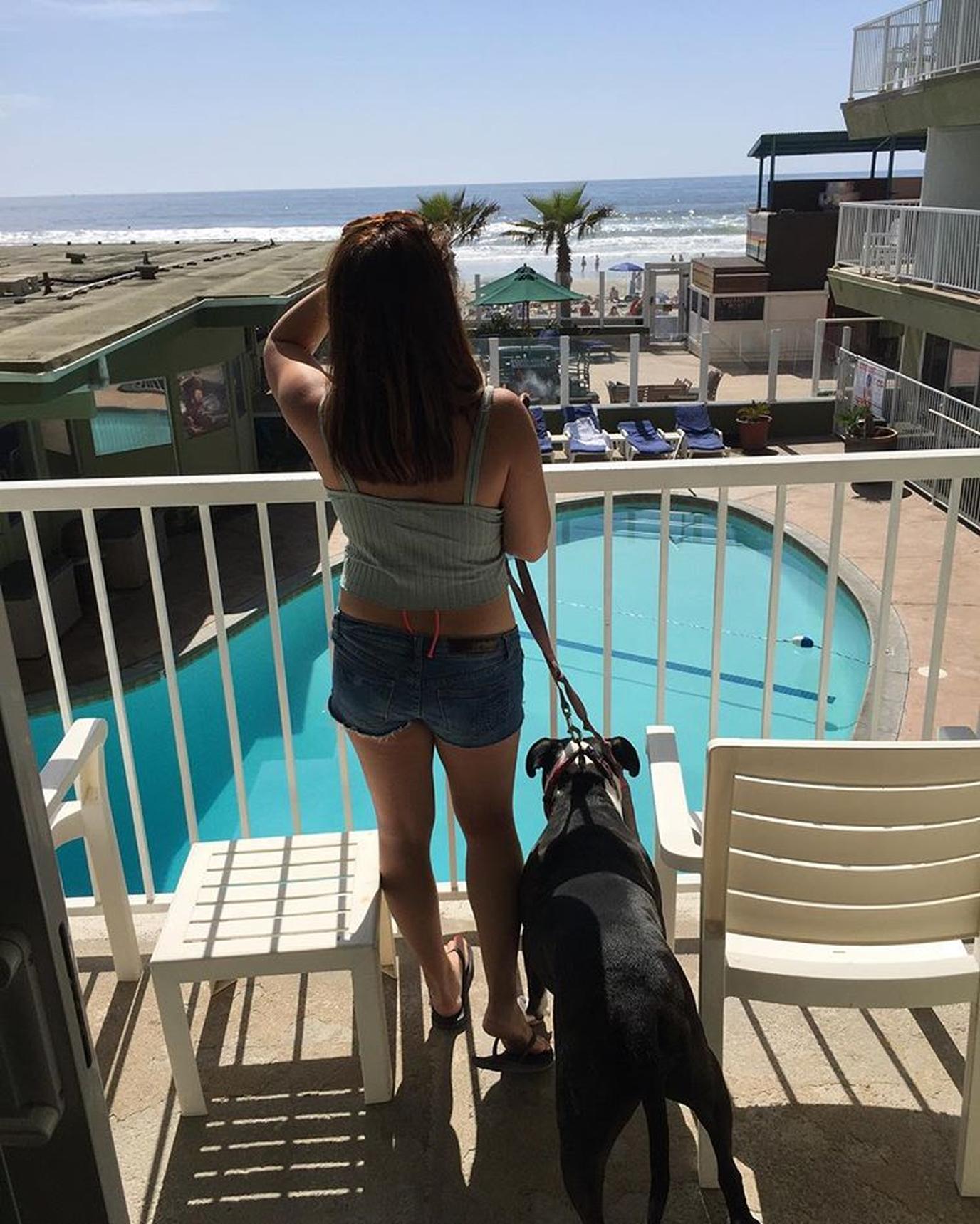 This ocean view is the "Pit's." – Photo by @ms_syrena
4 p.m. Surfer Beach Hotel
Bring Fido to the Surfer Beach Hotel for a great value stay on the beach. This affordable dog-friendly hotel is located on Pacific Beach, which allows dogs at different times during the year. Visiting canines will appreciate the complimentary dog treats at the front desk and the ample grassy pet relief area. From your room, you can walk to several restaurants with dog-friendly patios along the boardwalk. The pet fee won't break the bank either, since Surfer Beach Hotel welcomes two dogs up to 50 lbs for an additional fee of $50 per stay. Nightly rates start at $118.
Sh-sh-shake it off!Photo by @helly.hay
5 or 6 p.m. Pacific Beach
Take a leisurely stroll on Pacific Beach, where leashed pups are welcome starting at 4 or 6 p.m., depending on the time of year. This is a lively destination, with trendy hotel bars and cafes lining the boardwalk. Watch the surfers hang 10 and let Fido put his paws into the Pacific Ocean before dinner.
"What? I've had a ruff week!"Photo by @blanca_and_sandra
8 p.m. The Patio on Lamont Street
When it's time to chow down, San Diego offers an abundance of pet-friendly outdoor dining. BringFido lists more than 500 dog-friendly restaurants in the city, including The Patio on Lamont, which serves inspired California cuisine to two- and four-legged foodies in a laid-back setting. This Pacific Beach restaurant's open-air patio attracts lots of dogs, so reservations are a must. Upon arrival, Fido will receive a gourmet house-made dog biscuit and a fresh bowl of water. Start off with a Cheese and Charcuterie Board or Ahi Poke Wonton Tacos. For the main course, try the Brandt Beef Steak Frites or Seafood Cobb Salad, made with grilled shrimp, blue crab, avocado, bacon, hard-boiled eggs and tomato tossed in a poblano-dill dressing. Split the Twisted Elvis dessert with your furry friend. You'll both love the fresh banana bread and peanut butter mousse with brûléed banana, vanilla ice cream and Foster sauce.
Bring your Bully to the bar.Photo by @titothebulldogpup
10 p.m. The Dog
Spend the evening at The Dog, a Pacific Beach pool hall that allows dogs inside. This chill bar has an impressive selection of microbrews in addition to nightly drink specials, electronic darts and free pool. Bring some cash for the jukebox so you can spend the evening jamming out to your favorite tunes with your pup.
Saturday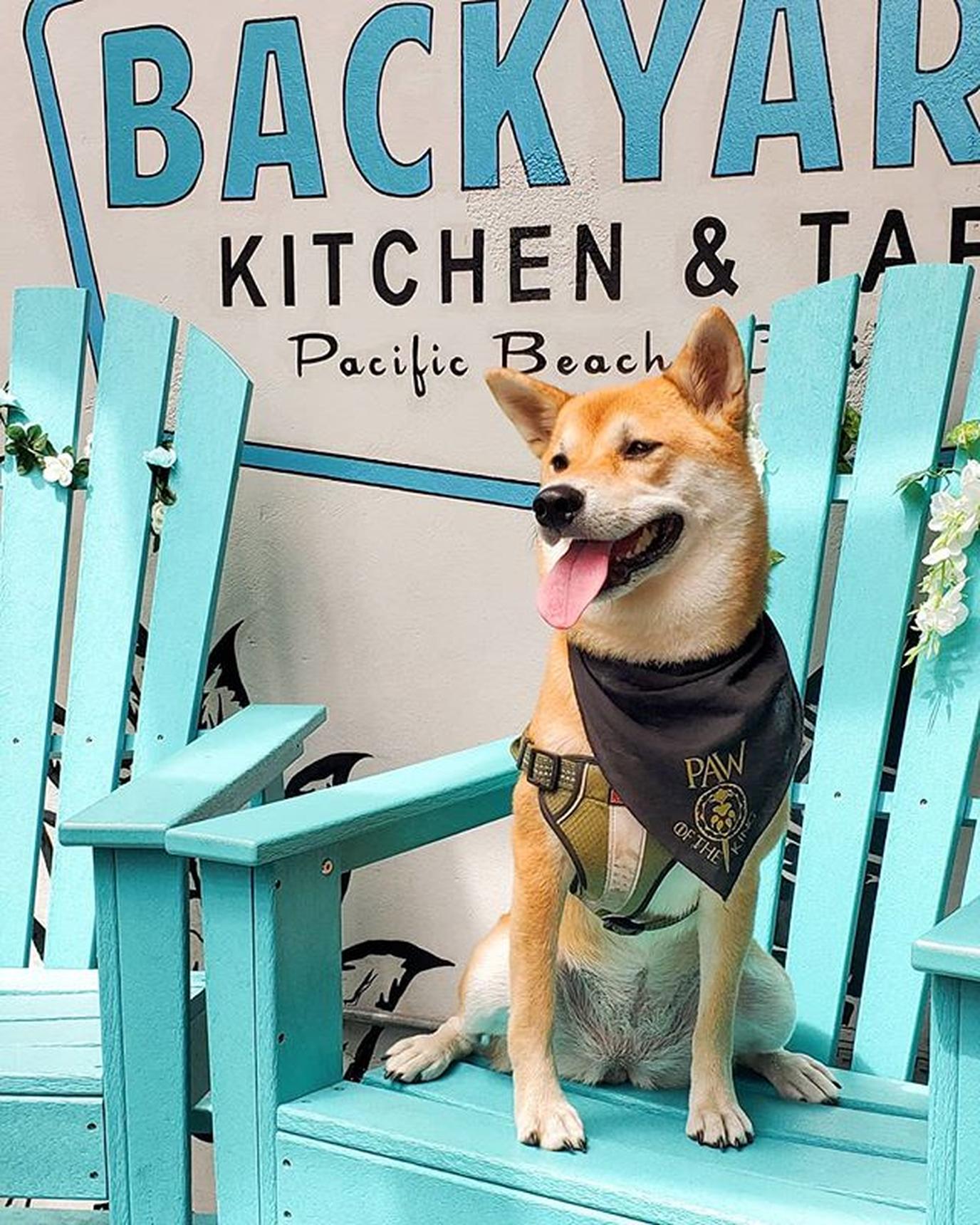 "Paws" for a photo op at Backyard Kitchen & Tap (and #bringfido)! – Photo by @kira.da.shiba
9 a.m. Backyard Kitchen & Tap
Treat your pooch to a tasty treat from the Doggie Menu at Backyard Kitchen & Tap. Fido can break the fast with plain yellow rice, a grilled burger patty or chicken breast with yellow rice, or homemade dog biscuits paired with the complimentary water bowl. While he chows down, enjoy a delicious brunch of avocado toast with ahi tuna, an acai bowl, chilaquiles, or beer-battered fried chicken and a buttermilk waffle smothered in sausage gravy. Wash it all down with an eye-opening Mexican Mocha or cappuccino, or try a mimosa flight or a bloody mary with candied bacon.
Row, row, row your dog.Photo by Melissa Halliburton
10 a.m. Aqua Adventures
Spend the morning on Mission Bay with your furry friend by renting a kayak or stand-up paddleboard from Aqua Adventures, one of our favorite dog-friendly SUP experiences. With a large variety of kayaks, canoes and SUPs to choose from, you'll find exactly what you need for an unforgettable day out on the water with your canine co-captain. Gorgeous views of the Coronado Bay Bridge and San Diego skyline await you. If your mutt is a novice at paddlesports, Aqua Adventures offers free clinics designed to introduce Fido to the water.
Chug with your Pug.Photo by @beerpugs
1 p.m. Pizza Port Ocean Beach
If you're into craft brews and designer pies, you'll want to check out Pizza Port Ocean Beach with your pooch. This laid-back brewpub has been serving its own beer alongside gourmet pizzas and salads since the 1980s. Sit on the patio with your pup and enjoy a pie made with a signature whole grain beer crust and topped with unique ingredients like clams, butternut squash and pomegranate seeds. Or, just stick to good old pepperoni and cheese. Decisions, decisions.
Sunbathe in the sand with man's best friend.Photo by Melissa Halliburton
2 p.m. The Original Dog Beach and Dog Beach Dog Wash
Spend the afternoon basking in the sun while Fido splashes in the ocean at The Original Dog Beach at the end of Ocean Beach. It's possibly the most "pupular" location in San Diego because canines can play off leash all the time, and ranks as one of our top 10 dog-friendly beaches on the West Coast. If your salty dog needs to be scrubbed and fluffed after swimming and rolling in the sand, head straight to Dog Beach Dog Wash. The affordable do-it-yourself scrub station is perfect for post-beach grooms!
Make "Sara Smile" when you order her the Howl & Oats.Photo by @itsgoodboycody
6 p.m. Sally's Fish House & Bar
Have supper with your pupper at Sally's Fish House & Bar, an ocean-to-table seafood restaurant with several outdoor tables and a grassy area on San Diego Bay. Sally's Dog Menu features tongue-wagging dishes, including Doggie Sliders (mini bacon cheeseburgers), Howl & Oats (a bowl of oatmeal topped with peanut butter, honey, banana yogurt chips and whipped cream), Surf and T'Arf (salmon, chicken, white rice and peas topped with bacon), and Sit, Stay, Roll (doggie sushi made with seared tuna, steamed broccoli and brown rice wrapped in seaweed). Fido will be in heaven while you dig into sustainable seafood dishes such as Skuna Bay Salmon, Seafood Paella and Grilled Halibut or classics like Prime Filet Mignon, Pan-Seared Farm Duck Breast and Colorado Lamb Chop.
Don't be a scaredy-cat with your dog on this tour.Photo by Facebook.com/sandiegoghosts
8 p.m. San Diego Ghosts
Tour the Gaslamp District and learn about its haunted history with San Diego Ghosts. Well-behaved, leashed dogs are welcome to join their owners on this walking trek through the neighborhood. Ticket prices for the hour-long tour are $19 for adults, $12 for children under 12, and free for children under 6 and dogs. The extended 1.5-hour tour costs an additional $5 per person.
"Pawty" in the Quartyard.Photo by @quartyardsd
10 p.m. Quartyard
Enjoy a night out on the town at Quartyard, a multipurpose space with an off-leash dog park and beer garden. Sample drinks from the full-service bar, snacks from food trucks, and listen to live music while Fido gets his groove on in the dog park.
Sunday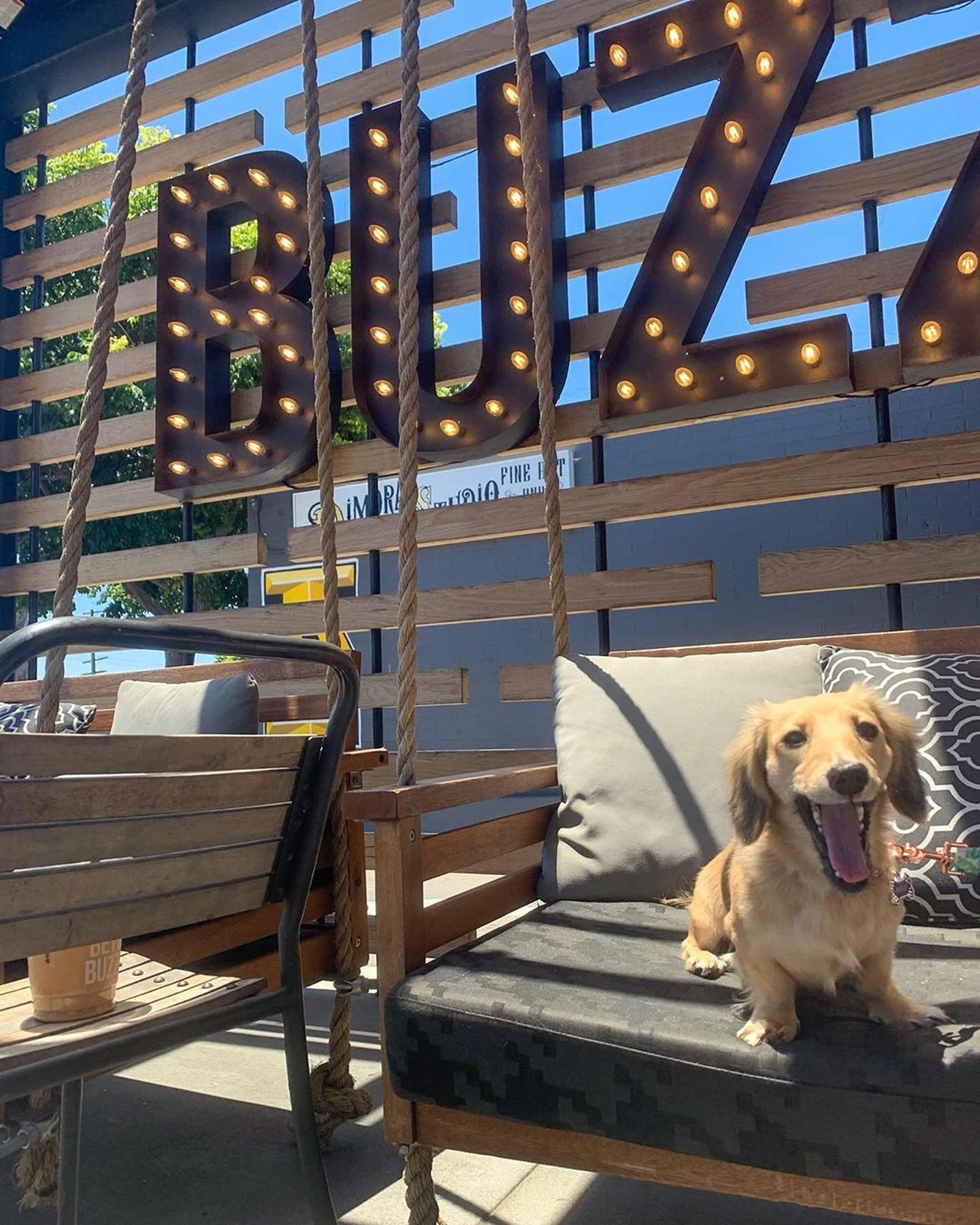 Swing your wiener dog around at Better Buzz. – Photo by @mollytheminidog
8 a.m. Better Buzz Coffee Pacific Beach West
Start off your day with a caffeine jolt at Better Buzz Coffee Pacific Beach West. Sit on the comfortable, sunny patio while you sip on a cold brew nitro coffee or Mango Redbull Smoothie. Spoil your dog with a puppuccino while you nosh on avocado toast, a scone or acai bowl.
"We will sits for treats."Photo by @daisy_n_dash
9 a.m. Noah's Natural Pet Market
If you are the owner of a "howlistic hound," stop by Noah's Natural Pet Market to stock up on all-natural treats for the journey home. Noah's also sells dog food, collars, leashes, supplements and toys. Buy your good boy a colorful new bandana or life jacket to remember his trip to sunny San Diego.
Sunday Funday at Fiesta Island.Photo by Michele Friszell Wells
10 a.m. Fiesta Island Off-Leash Dog Park
Soak up more of the San Diego sun before you leave the city at Fiesta Island Off-Leash Dog Park in nearby Mission Bay. Most of this large island is designated leash-free for pups. The park has several sandy dunes for Fido to play in, and the calm bay waters are perfect for dog-paddling. Be sure to bring drinking water and keep your dog under voice control at all times.
Ollie's beggin' for Buddy's Bowl.Photo by @fredsoldtown
1 p.m. Fred's Mexican Cafe in Old Town
Take a break for lunch at Fred's Mexican Cafe in Old Town. Dogs will love the tasty dog bowl filled with nibbles from the Food for Fido menu, like Snoopy's Scramble (scrambled eggs) or Cujo's Carne (sliced carne asada), all while you nosh on delicious California-style Mexican cuisine.
Snap a shot of your Schnauzer next to the sign.Photo by @jgalvan78
2 p.m. Old Town San Diego State Historic Park and Depart San Diego
Before traveling home, take an after-lunch walk through the past with your leashed perro at Old Town San Diego State Historic Park, and learn what life was like in the 1820s-1870s. Visitors will see the converging cultures of Mexico and the United States as they follow the city's transition from a Mexican pueblo to an American settlement. You'll depart the "Plymouth of the West" with a dog-tired Fido who will have sweet dreams of all the fun he had during his weekend in dog-friendly San Diego.
---
For more ideas on where to stay and play with your pup, check out our Ruff Guide to the United States. Packed with 365 dog-friendly destinations in all 50 states, it's got something for every two- and four-legged traveler!
This post from BringFido originally appeared as The Ruff Guide to San Diego.