The Ruff Guide to Washington, D.C.
Washington, D.C. extends a warm welcome to furry friends who want to go sightseeing at national monuments, gardens and historical landmarks. Bring Fido to the nation's capital for a getaway at a hotel that gives your pup the VIP treatment, and fill your vacation with fun dog-friendly activities and delicious al fresco meals. Before you pack your bags, check out this Ruff Guide to dog-friendly Washington, D.C. for a "pawsome" weekend itinerary for your trip!
Friday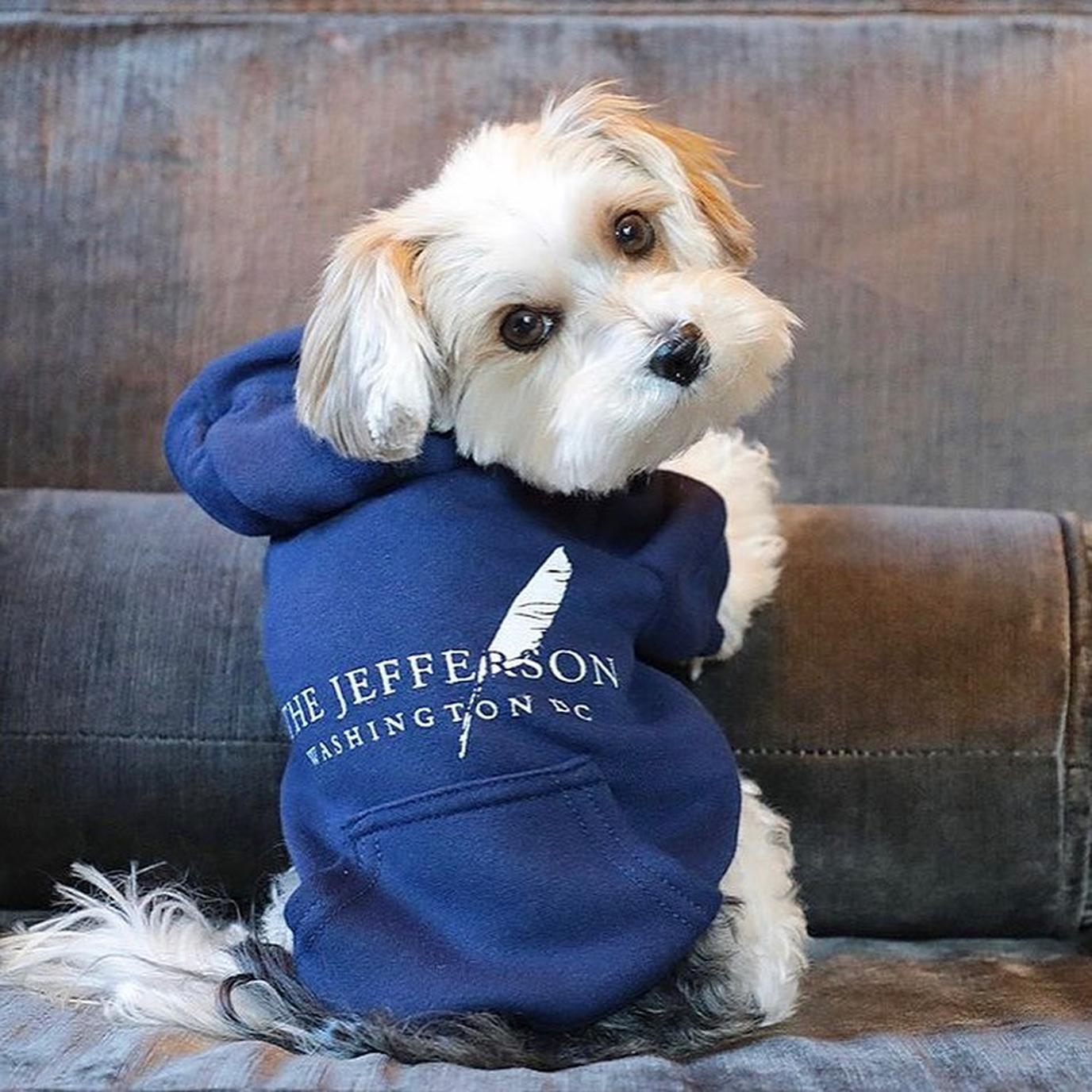 "My parents went to DC and all I got was this shirt. Oh wait, I got to go too!" – Photo by @thejeffersondc
3 p.m. The Jefferson
Check in at The Jefferson, an ideal location for you and your pup to rest during your stay in the capital. Lord Monticello (aka Monti), the hotel's chief canine officer, has retired to Tennessee, but it's clear that pooch pampering is still a priority at this dog-friendly hotel. Pet amenities include treats, beds, bowls, filtered water, walking maps and pet-sitting services. Humans can enjoy perks like luxurious European bedding, an on-site spa and fitness center, and complimentary shoe shine, newspaper, and muffins and coffee available every morning.
The Jefferson welcomes two dogs up to 50 lbs for an additional fee of $50 per pet, per stay. Nightly rates start at $340.
Stop and sniff the blossoms with your favorite Dood.Photo by @ashleyyalana
4 p.m. Tidal Basin Loop Trail and National Mall
Visiting our nation's capital with your dog is a great vacation any time of year, but sightseeing in DC is even more beautiful in the spring during the peak blooming season of the cherry blossom trees. Dogs are welcome on the Tidal Basin Loop Trail, a 2-mile loop on the National Mall that is the perfect place to view the iconic pink trees during the National Cherry Blossom Festival. Each year from late March through mid-April, this festival goes out of its way to welcome Fido with pet comfort services at the Tidal Basin Welcome Area and during events such as the Parade, Blossom Kite Festival and Petalpalooza.
Photo by iStock/Camrocker
Along the trail, you and your patriotic pup can view the Thomas Jefferson Memorial, Martin Luther King, Jr. Memorial, Lincoln Memorial and the Washington Monument. Don't miss a visit to the FDR Memorial, where there's a monument that pays tribute to the president's Scottish Terrier, Fala. Pets are allowed around the Tidal Basin and on the grounds of the memorials. Just make sure that Fido's leash is no longer than 6 feet. There is no fee to walk the trail, which is open daily from dawn to dusk.
"I can haz the steak?!"Photo by @pippythewhippy17
6 p.m. Art and Soul
Enjoy a gourmet dinner on the patio at Art and Soul, a dog-friendly restaurant that offers a Pooch Patio Menu. Treat your pup to a Bowser Beer and The Gravy Train (beef and rice smothered in savory gravy) while you enjoy creative contemporary Southern cuisine. Popular menu items include Crab Deviled Eggs, Shrimp and Grits, and Fried Amish Chicken Thighs with crème fraiche mashed potatoes, foie gras and chicken gravy. Save room for an espresso and the Pecan Sticky Bun Bread Pudding in a maple-bourbon crème anglaise. Fido gets his own sweet treat of a Peanut-Banana Pupsicle.
Photo by Adventure DC Tricycle Tours
8 p.m. Adventure DC Tricycle Tours
After dinner, sit back, relax and enjoy the view of the White House and Capitol from a pet-friendly pedicab with Adventure DC Tricycle Tours. Take the Short Monuments and Memorials Tour, a two-hour sightseeing journey where tour guides will stay with your dog while you look around inside the places where animals aren't permitted. The Short Monuments and Memorials Tour costs $297 for a group of up to four; other tours and pricing are also available.
Saturday
Breakfast with (wo)man's best friend. – Photo by @daniellealiice
9 a.m. Commissary
When the weather is nice out, the patio is packed with pups joining their owners at Commissary, a Logan Circle coffeehouse. The cafe serves a mean cuppa joe, along with bloody marys, mimosas and healthy smoothies. Break the fast with Avocado Toast topped with feta cheese and sprouts, a Classic Denver Omelet, the Pancake Platter, or Steak and Eggs. Make Fido's tail wag with an order of turkey sausage just for him!
"Don't forget to use #bringfido, Mom!"Photo by @argosadventures
10 a.m. Smithsonian Gardens
Take a lovely Saturday stroll through the Smithsonian Gardens, where your canine can burn off some calories and enjoy nature with you. This outdoor extension of the Smithsonian Museum contains vivid and colorful plants that are specially selected and designed to inspire visitors to engage with plants and gardens in their daily lives. The Smithsonian Gardens is a free attraction for two- and four-legged guests.
Bookmark this pet-friendly spot for great reads.Photo by Facebook.com/eastcitybookshop
12 p.m. East City Bookshop
Located in Capitol Hill, East City Bookshop is the ideal place to pick up a literary souvenir and connect with fellow book-loving dog owners. Peruse the stacks for works from past and present or shop for toys, art supplies and book-themed gifts with your pup by your side. The dog-friendly independent bookstore also has several cozy spots for curling up with your furry friend and a new favorite read.
Kiss your canine at lunchtime.Photo by @abbytbaum
1 p.m. The Wonderland Ballroom
Refuel at The Wonderland Ballroom, a venerable Columbia Heights hangout frequented by dog owners who sit at communal tables in the shaded beer garden. The bar is known for its pub grub and an impressive selection of craft brews. Munch on one of the varieties of hand-pattied burgers, footlong hot dogs, or the Nachos de Wonderland while Fido laps up DC's finest H2O.
Dog paddle in the District.Photo by @boatingindc
3 p.m. Boating in DC
Check out the District of Columbia from the Potomac or Anacostia River with your water dog when you go Boating in DC. This company rents dog-friendly stand up paddleboards, canoes and kayaks from several local marinas including the Ballpark Boathouse outside of Nationals Park. At this location, you can listen to a home run roar at Nationals Stadium or watch a Friday evening concert at Yards Park right from a canoe or kayak. Paddle past DC's historic Navy Yard and check out sites like the U.S. Capitol, U.S.S. Barry and Fort McNair. Rentals start at $20 an hour. Fido floats for free and doggy life jackets are available for no additional charge.
"Where's the toilet water?"Photo by @rhonethecavapoo
6 p.m. Logan Tavern
Dine on modern American fare on the pup-friendly patio at Logan Tavern, a popular Logan Circle restaurant. Start off with a tasty appetizer like the Crispy Bacon Brussels or Ginger Calamari. For the main course, try the Cauliflower Steak, Boneless Southern Fried Chicken, or Meatloaf with garlic mashed potatoes and veggies. Pair your meal with a refreshing Green Tea Mojito mocktail, pint of beer or glass of wine.
Fido takes a break in front of 1600 Pennsylvania Ave. Photo by edeanni@me.com
8 p.m. DC By Foot or DC Ghosts
Another active way to take in the US capital's sights with your non-partisan pooch is a private walking tour from DC By Foot. Tour options include the National Mall, Lincoln Assassination, Ghosts & Scandals, or White House at Night: Secrets, Scandals & Legends. DC By Foot's dog-friendly private tours must be booked in advance. Call for private tour pricing.
If you and Fido prefer the capital at its creepiest, take the pup-friendly DC Ghosts tour for spectral tales with a side serving of historical and political narrative. You'll love hearing accounts of fur-raising encounters with the spirits of presidents, first ladies, slaves and soldiers. The hour-long tour includes eight stops at locations of political and paranormal importance. Tickets are $19 for adults, $12 for kids under 12, $4 for kids under 6, and free for dogs.
I scream, you scream, we all scream for ice cream!Photo by @piper.the.golden.retriever
9:30 p.m. Ice Cream Jubilee
On vacation, there's always room for ice cream, right? Before retiring back to the hotel for the evening, stop for scoops for the whole family at Ice Cream Jubilee. The shop has several tasty and inventive flavors on offer (some of which include booze!). Be adventurous and try the Basil Goat Cheese or Cherries Jubilee, or just opt for a scoop of Fido's favorite: Bold Vanilla.
Sunday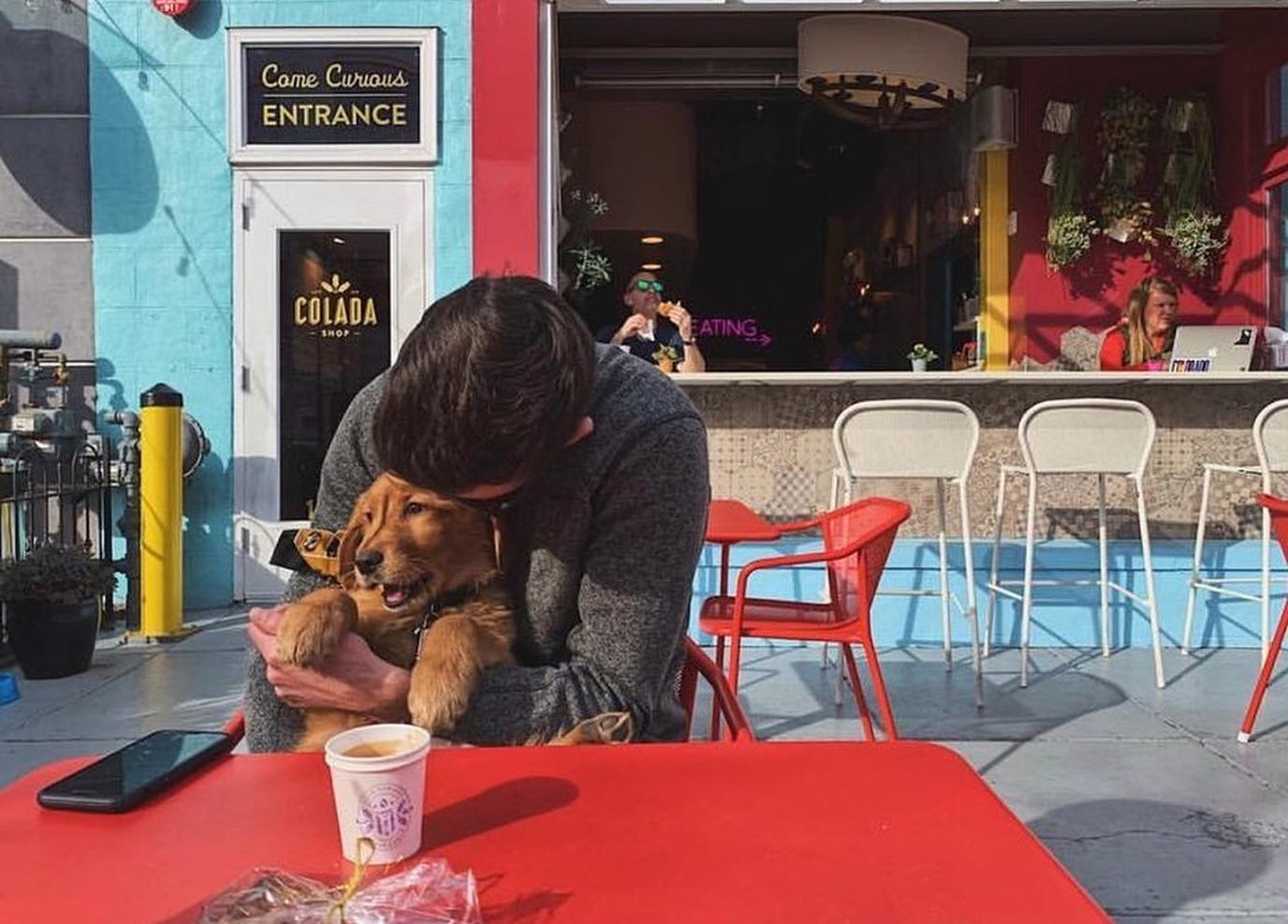 Breakfast besos. – Photo by @coladashop
8 a.m. Colada Shop
Start the day with a strong Café Cubano or Cortadito at Colada Shop. Pair your favorite caffeinated beverage with a Caribbean-style pastry filled with guava and cream cheese or a breakfast sandwich with eggs, mojo pork and Swiss cheese. Fido is welcome to join you and can chow down on peanut butter and guava cookies named after the owner's late pup, Apollo.
Enjoy the lush gardens at the National Arboretum.Photo by Melissa Hallliburton
9 a.m. The United States National Arboretum
Visit the United States National Arboretum, where leashed pets are welcome to join you as you explore 446 acres of gardens. Be sure to snap a pic (and #bringfido) next to the National Capitol Columns on permanent display! Pups aren't allowed on tram tours of the arboretum, but you can drive or walk with them through the grounds. Admission is free.
The patio is very "pupular" at Cafe Saint-Ex.Photo by @cafesaintex
12 p.m. Cafe Saint-Ex
Head to Cafe Saint-Ex's dog-friendly patio for a tasty last meal in the District of Columbia. Choose from brunch or lunch items like Biscuits and Sausage Gravy, Eggs Benedict, The O.B. Chicken Sandwich or Pad Thai Papaya Salad topped with your choice of steak, chicken or shrimp. Treat your hungry hound to an order of bacon to enjoy with his bowl of water and treats. If you decide to extend your stay, return on Monday when Cafe Saint-Ex hosts a weekly Yappy Hour if the weather is nice.
So "fur-esh" and so clean.Photo by Facebook.com/OldeTownePetResort
Olde Towne Pet Resort and Depart DC With A Fresh Fido
If you'd like to check out the dogs of the Smithsonian or visit another one of the city's famous museums where furry friends aren't welcome, take Fido to luxuriate at one of the three DC-area Olde Towne Pet Resort spa locations. Olde Towne even offers chauffeur service to pick up and drop off your pup for a nominal charge. Your handsome hound can splash around in a hydrotherapy workout in a heated lap pool, or stretch his joints in a "Pawlates" class. After working out, he can enjoy a relaxing blueberry facial, pawdicure or aromatherapy treatment. Senior and sports massages are also available to help improve your dog's circulation, repair soft tissue damage and soothe tired muscles after two days filled with walking adventures. Your pooch will be clean and rejuvenated during his trip home after his amazing getaway to Washington, D.C.
This post from BringFido originally appeared as The Ruff Guide to Washington, D.C..