When the temperatures rise, there's nothing better than cooling off with a refreshing swim. We've rounded up some of the best parks and beaches where your four-legged doggy paddler can join you for a dip. Beat the heat and get some exercise at these pet-friendly swimming holes across the U.S.!
James Island County Park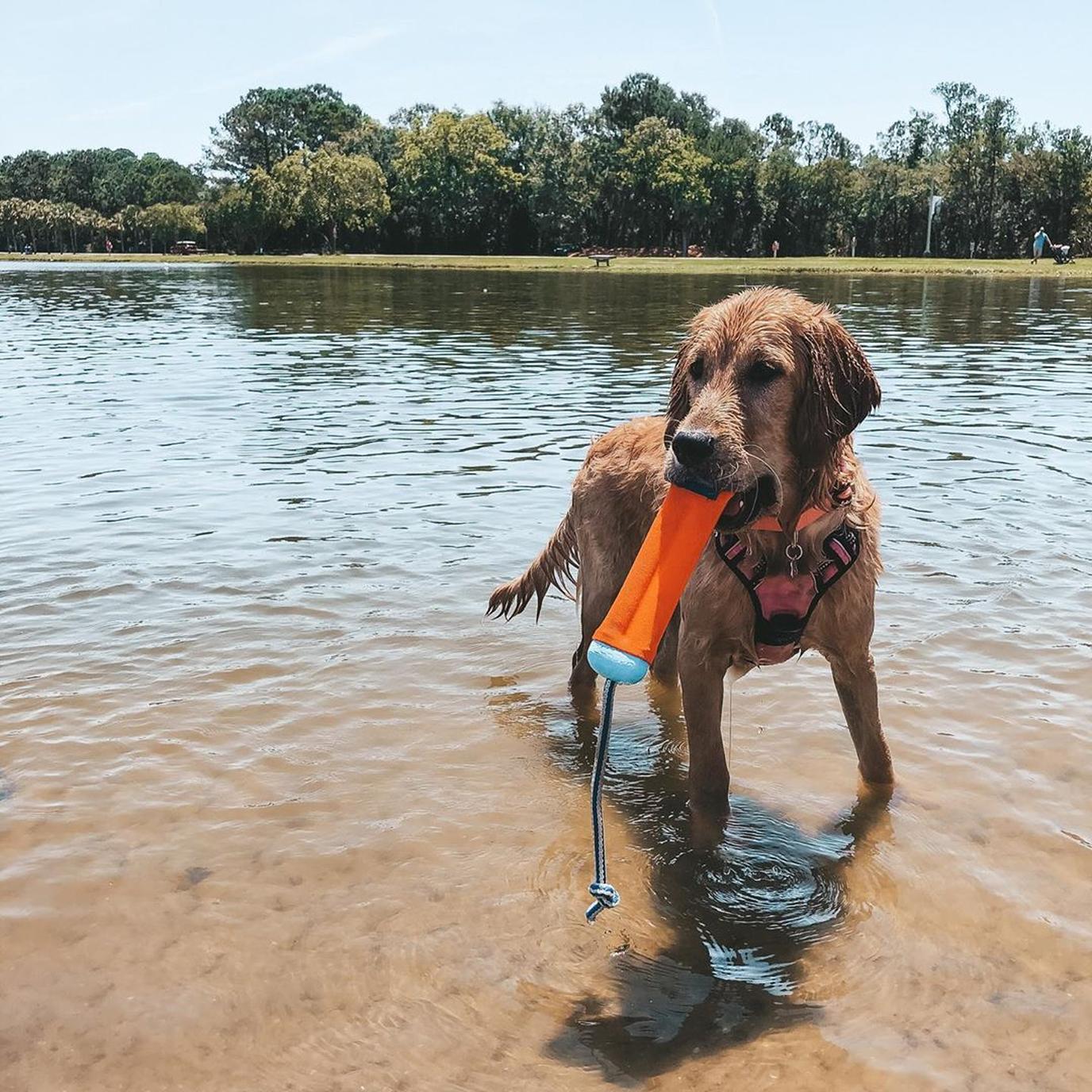 Don't stop retrievin', hold on to that feeling… – Photo by @Maddieethegolden
A visit to James Island County Park is a great way to spend a hot and humid Charleston day with your pup. Fido can cool off with a swim at the park's manmade dog beach by the lake, or run and play with new friends on 4 acres of open grassy space. Once your canine is dog-tired, clean him up at the dog wash station.
Stay with your pooch nearby at a Lowcountry ranch home on the marsh. The 3-bedroom rental has a view of Morris Island Lighthouse and a backyard perfect for pets. Best of all, it's located just 3 miles from dog-friendly Folly Beach (and 8 miles from historic downtown Charleston)!
Tanner Park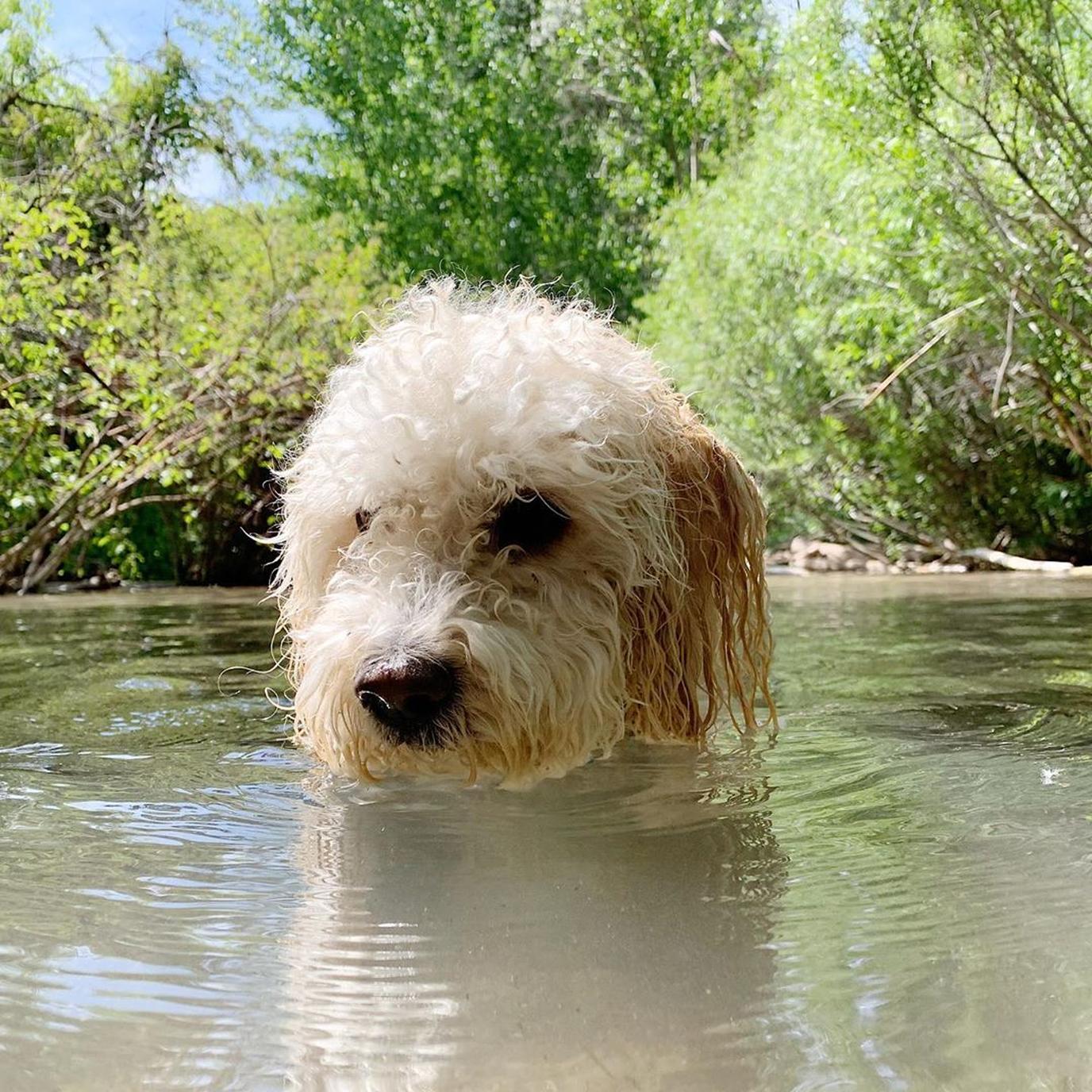 Learning how to doggie "poodle." – Photo by @Mochi_banks
Lauded by locals as one of Salt Lake City's best parks for dogs, Tanner Park offers a couple of cool swimming holes where pups can take a dip. The 10-acre park near Parley's Canyon has a river and several nature trails where furry friends can run and splash off-leash. Be sure to hike Parley's Historic Nature Park Trail Loop, a dog-friendly, 1.9-mile trail that cuts through Tanner Park and is suitable for all skill levels.
Plant your paws at this garden cottage located near downtown Salt Lake City and Liberty Park. The 1-bedroom rental features a lovely and private back deck with a gurgling fountain where you can enjoy your morning coffee or read a book.
Timber Creek Pooch Park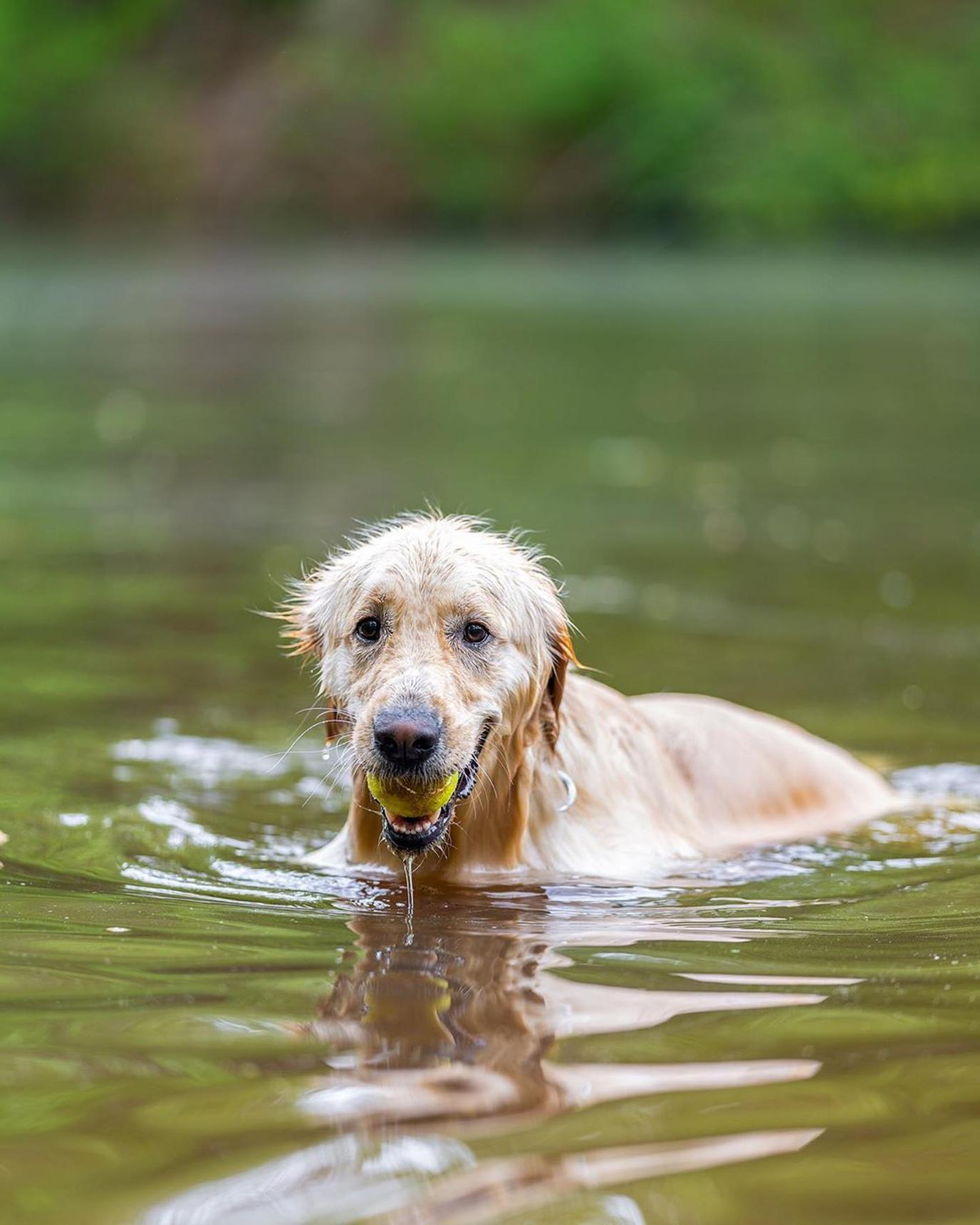 Fetch in the water > fetch on dry land. – Photo by @Rob.rawls
Timber Creek Pooch Park is a 9-acre fenced dog park for off-leash play and swimming located in a 128-acre wooded park in the Garden State. Your pooch can practice his doggy paddle in Big Timber Creek before strapping on her leash for a walk on one of the park's many trails.
Stay nearby in the City of Brotherly Love. Kimpton Hotel Palomar Philadelphia's 19 pet-friendly spa rooms or suites offer large jetted tubs for a pampered stay with your pooch. Located in Downtown Philadelphia's Rittenhouse Square, you'll be close to all the action when you feel like stepping out.
Norman F. Kruse Park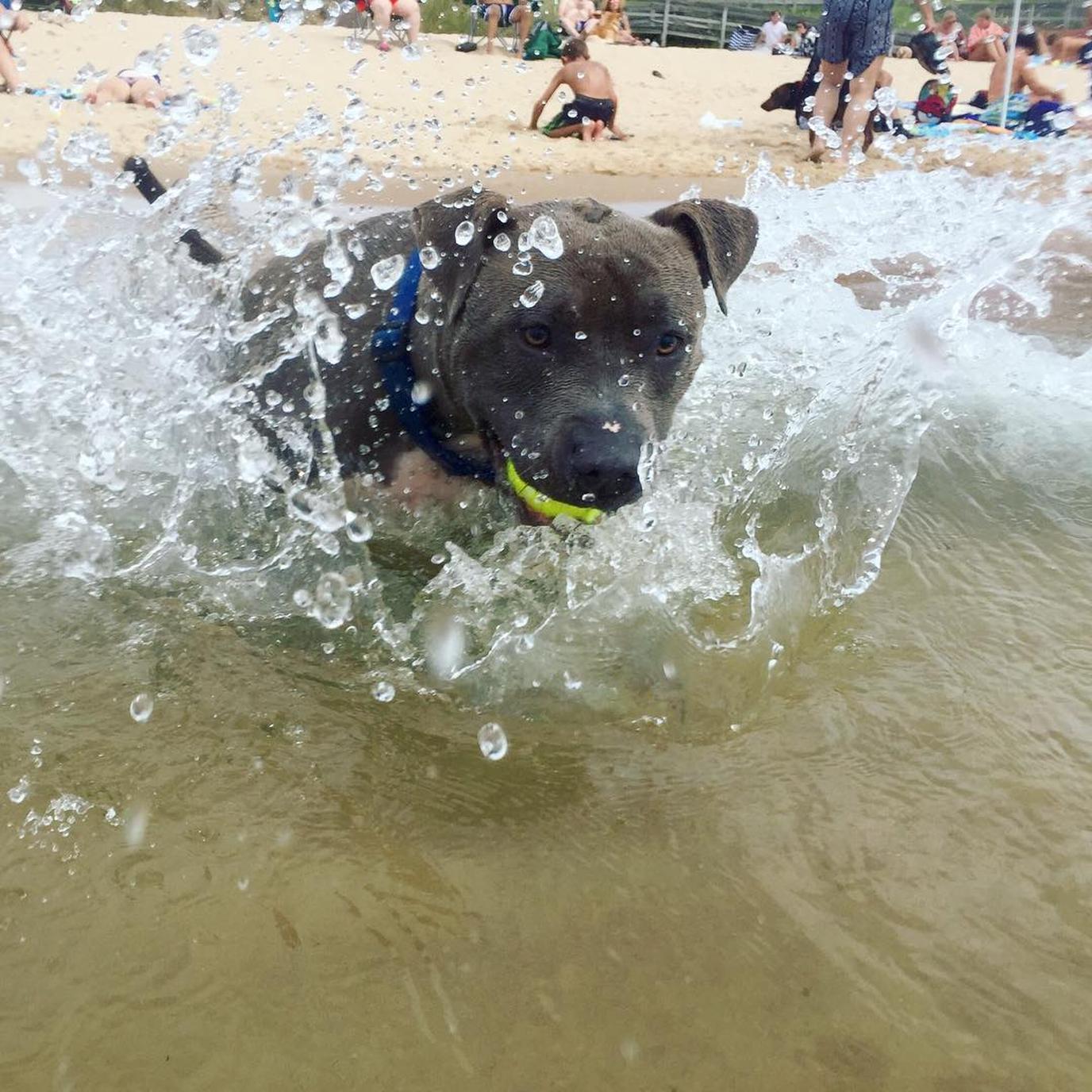 Splash zone. – Photo by @Sexologistmegan
Let Fido off his leash in the cool waters of Lake Michigan. Dogs need to be leashed while on the sand, but can swim free at Norman F. Kruse Park. The park can get crowded on the weekends, but luckily there's over 1 mile of beach to explore and find your spot!
Nearby accommodations include Savannah Sands Beach Cottage, a pet-friendly, vintage waterfront 2-bedroom cottage on Lake Michigan. Laze on one of the decks with your dog after a fun day of swimming.
Downs Memorial Park Dog Beach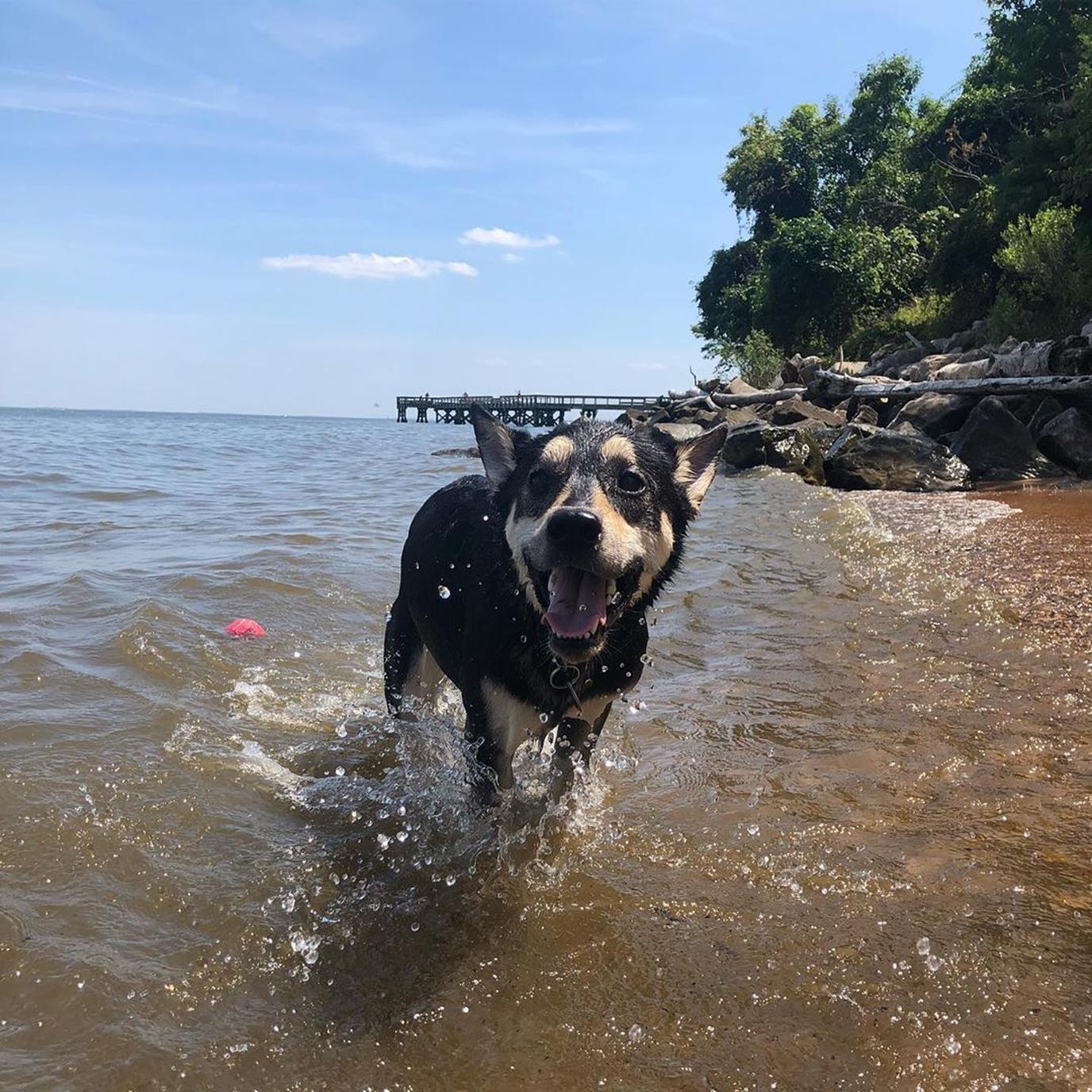 "Come on in, the water's fine." – Photo by @Aura_pup
Located off the perimeter trail in Downs Park, Downs Memorial Park Dog Beach is a great spot for new doggy paddlers to learn to swim or veteran canine swimmers to enjoy some time in the waters of Chesapeake Bay. Once she's done with her water fun, leash your pup up for a walk on more than 5 miles of paved and natural trails in the park.
The quaint Admiral Fell Inn in Baltimore is a charming spot to rest your head after hiking and splashing around the park. The bed-and-breakfast welcomes pets with no fees and is close to dining and attractions.
Stodder's Neck Dog Park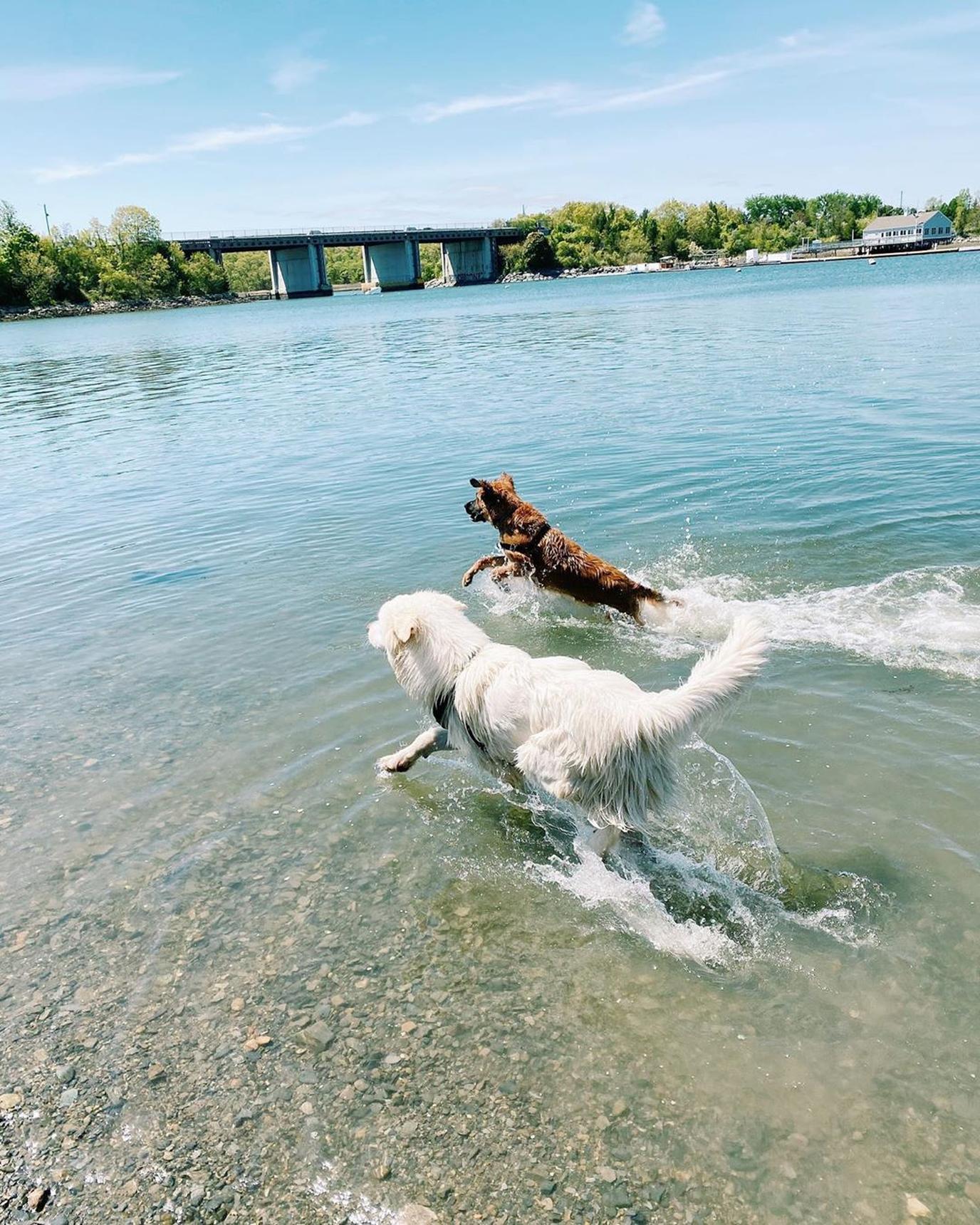 Best. Day. Ever. – Photo by @Piperthenotshepherdmix
Located on a peninsula at the mouth of Weymouth Back River, Stodder's Neck Dog Park is a "pawfect" swimming hole for your pup. Canines can splash and play in the crisp waters of the river, and then hike the harborside walking trails to be rewarded with amazing hilltop views. Dogs are allowed off-leash in designated areas of the park.
This oceanfront home in Nahant is a luxurious place to stay with Fido for a few nights. You'll have panoramic views of the ocean and coastline from every room's large windows. The pet-friendly rental even offers a large, grassy yard where you can play fetch with your furry friend.
Tubbs Hill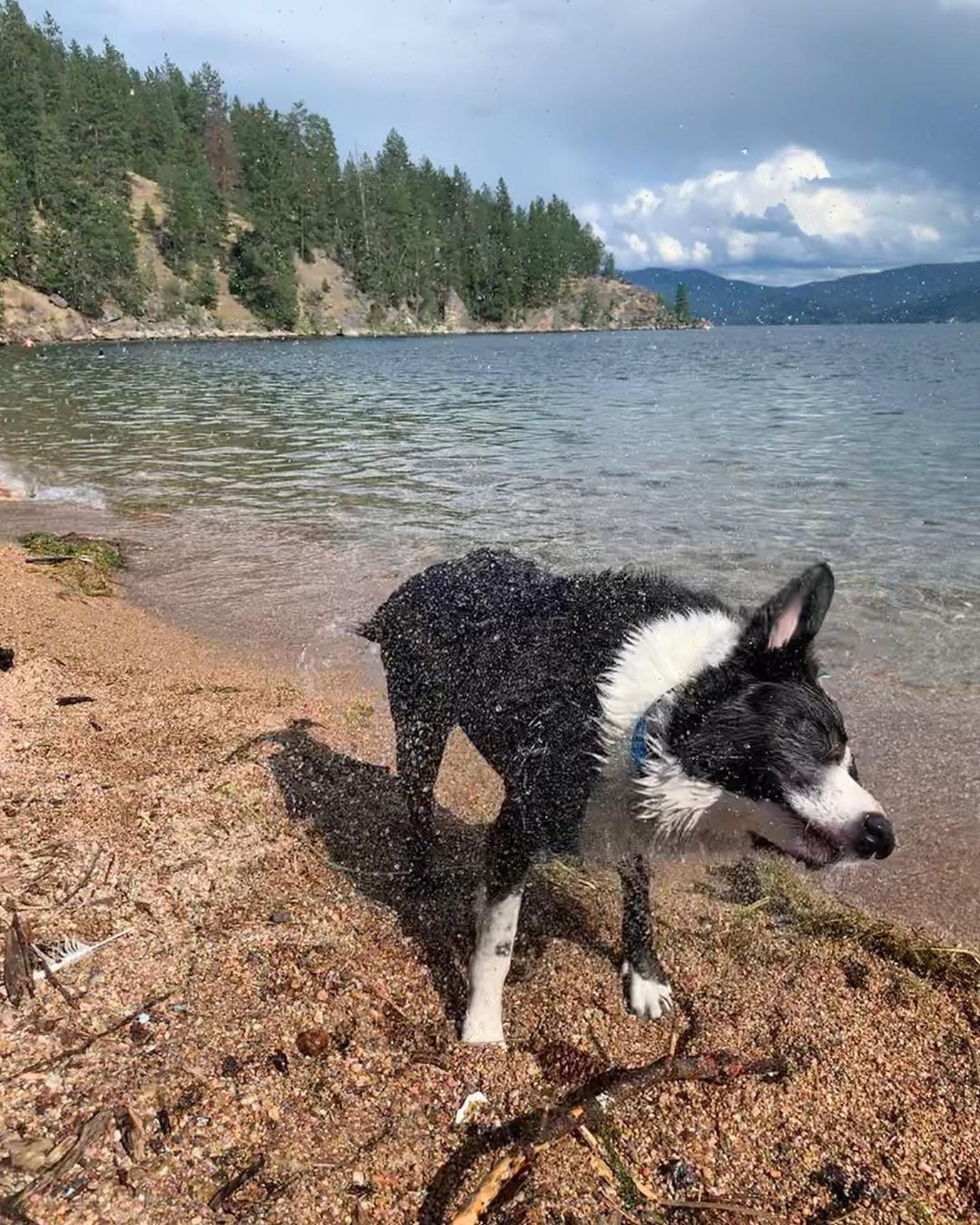 Sh- sh- shake it off! – Photo by @Adventureswitholidog
Enjoy Lake Coeur d'Alene by visiting Tubbs Hill for an afternoon swim. The park encompasses over 120 acres of trails, overlooks, caves and beaches along the lake. Let Fido take a dip before or after you explore the 2-mile interpretive loop trail that outlines the perimeter of Tubbs Hill. The walk takes you past historic points of interest and breathtaking scenery.
Book a dog-friendly room at The Roosevelt Inn and you'll be treated to a delicious breakfast in the morning. The inn also boasts an impressive antique collection and a nice lawn where Fido can play.
The Getaway at Glen Highland Farm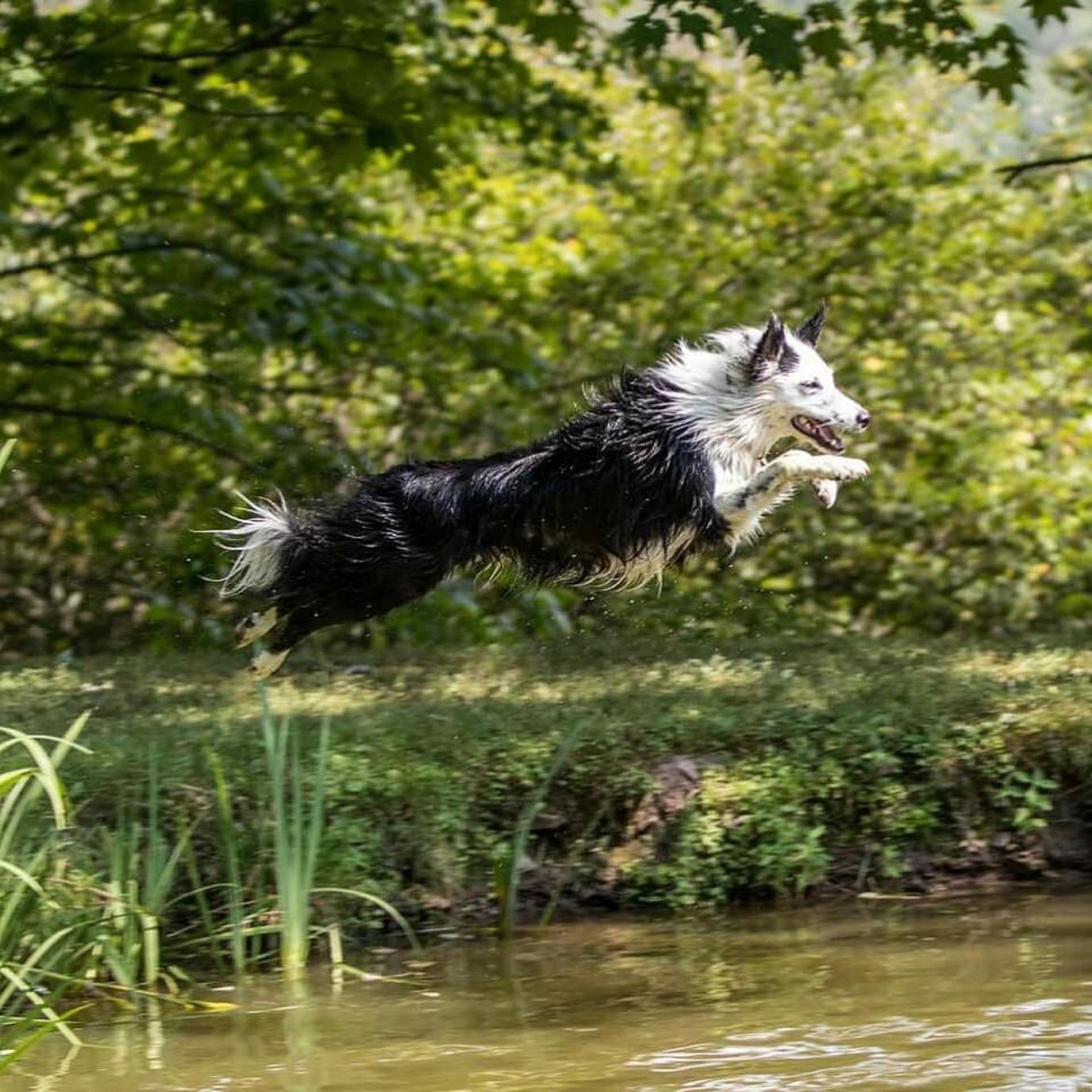 Dive into fun. – Photo by @Meb1203
The Getaway at Glen Highland Farm in Upstate New York is home to more than two dozen rescued Border Collies. Dogs are always welcome to play off-leash on the property's 175 acres of meadows, trails, forests, dog beaches and, of course, ponds and creeks.
After a full day of fun, retire in pet-friendly accommodations on the farm, which range from creekside tents to well-equipped cottages and cabins.
Beavers Bend State Park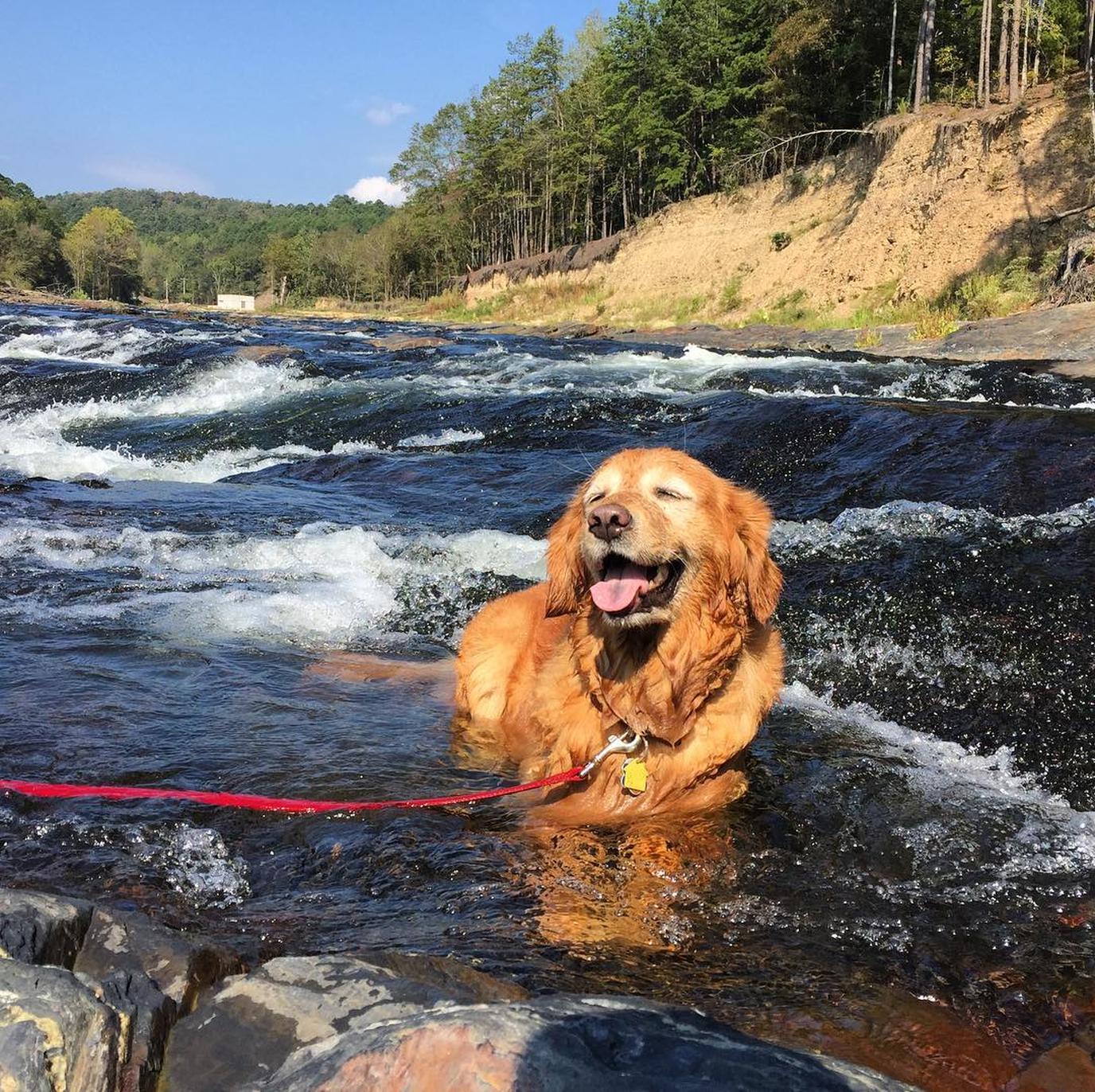 Aquaholic. – Photo by @Niathegoldenretriever
Water-loving hounds will want to visit Beavers Bend State Park because of its pristine lakes and rivers surrounded by towering pine trees. Pups can take a refreshing dip in Broken Bow Lake after hiking along one of the pet-friendly trails. For those looking to spend the night in the park, there are several dog-friendly cabin rentals.
For a unique stay, book the Redwood Cabin, a cozy, pet-friendly Airbnb located in Tiny Town RV Park. The 500-square-foot cabin packs in a full kitchen, king-size bed and queen-size pullout couch. Plus, you can roast marshmallows by the fire pit in the evening.
South Llano River State Park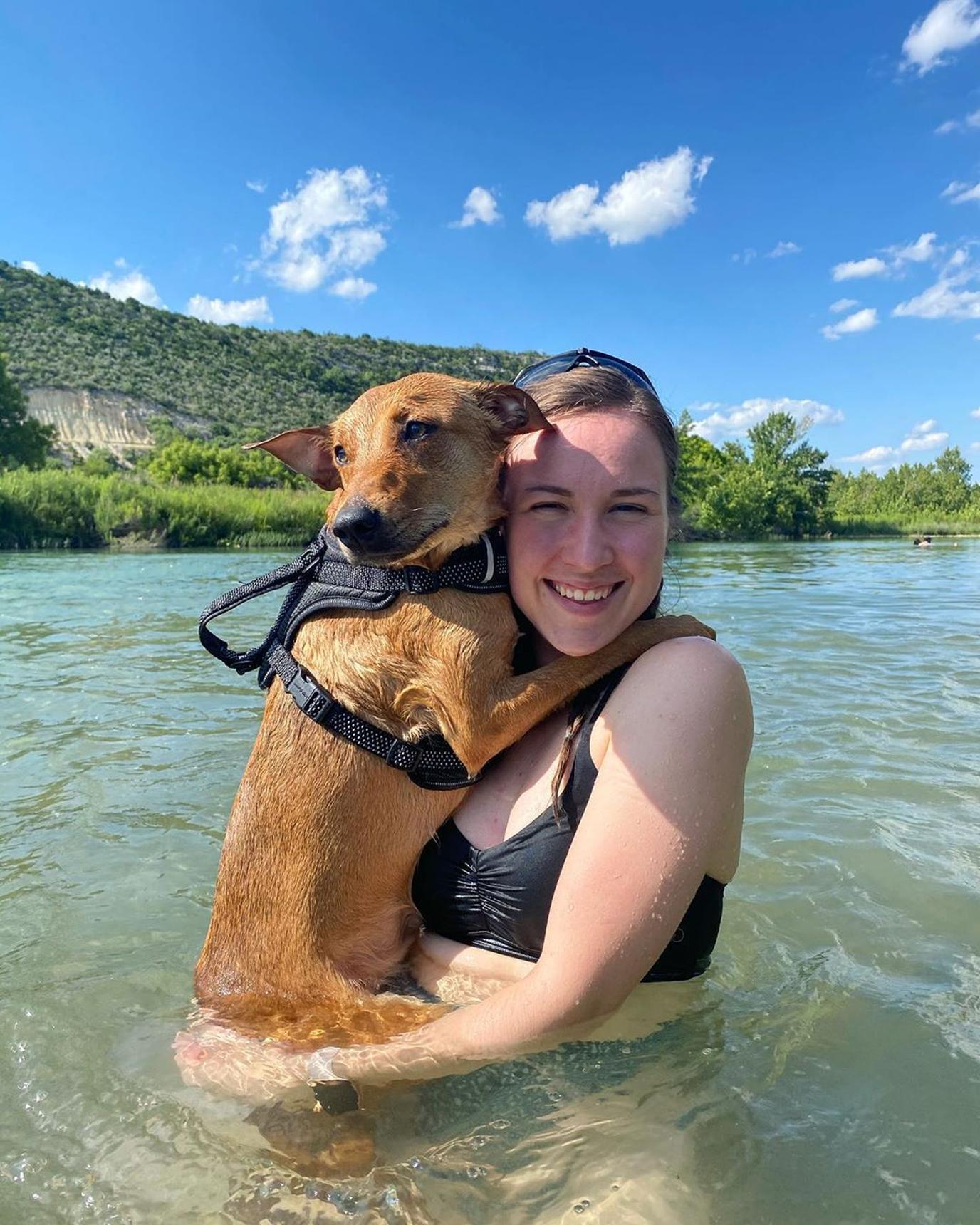 Just keep swimming. – Photo by @Camilla.gk
Bring Fido to the heart of Texas Hill Country at South Llano River State Park, where in addition to swimming, he can join you on the river in a kayak, canoe or on a tubing excursion. The state park also boasts 18 miles of multi-use trails to explore with your leashed pup.
Located on 6 acres just outside of Kerrville, White Chapel Cottage sleeps 4 to 6 and is perfect for weekend getaways. Your pup will love frolicking underneath the large oak trees on this picturesque property.
Smugglers' Notch State Park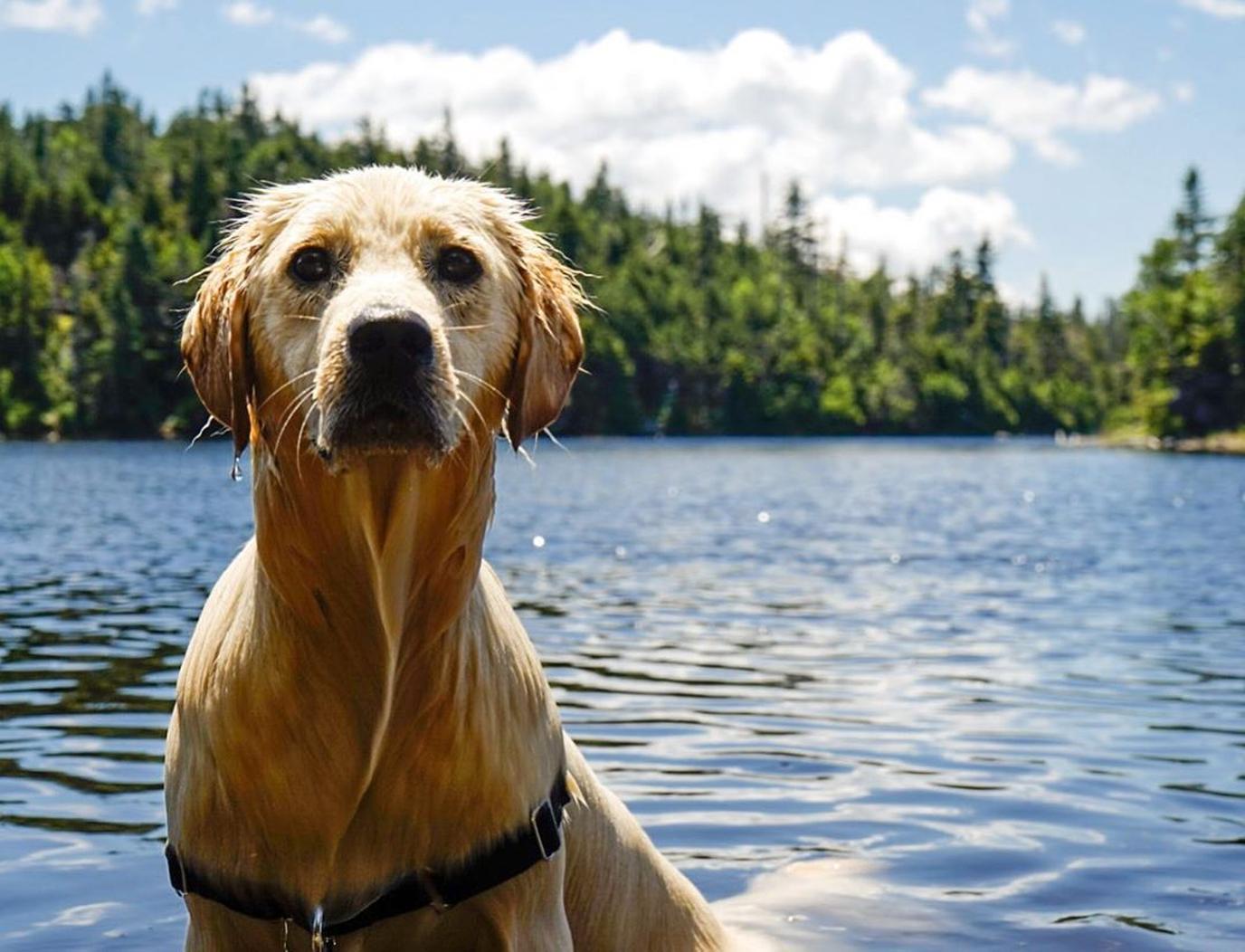 Skinny-dipping dog. – Photo by @Retriever_cali
Smugglers' Notch State Park is THE place to enjoy cool air on a hot summer day in Vermont's Green Mountains. After a quick 20-minute hike to Bingham Falls, Fido can wade in the swimming hole at the base of a 25-foot waterfall. The park also has ponds and streams where your pooch can practice his "beast" stroke.
Book a dog-friendly room at The Stowehof Hotel, which is surrounded by 26 acres and features mountain vistas. Explore the property with your pup and allow him to go for a swim in the on-site pond.
This post from BringFido originally appeared as Dog Paddle at These Pet-Friendly Swimming Holes.