It's that time of year when the leaves are changing, the days are shorter and cooler, and everything is pumpkin-spiced. From apple crisp to Thanksgiving turkey, the autumnal treats of the season are sure to have Fido's mouth watering. These 13 dog bakeries (a barker's dozen) are celebrating the flavors of fall with handcrafted doggy goodies.
River Dog Bakery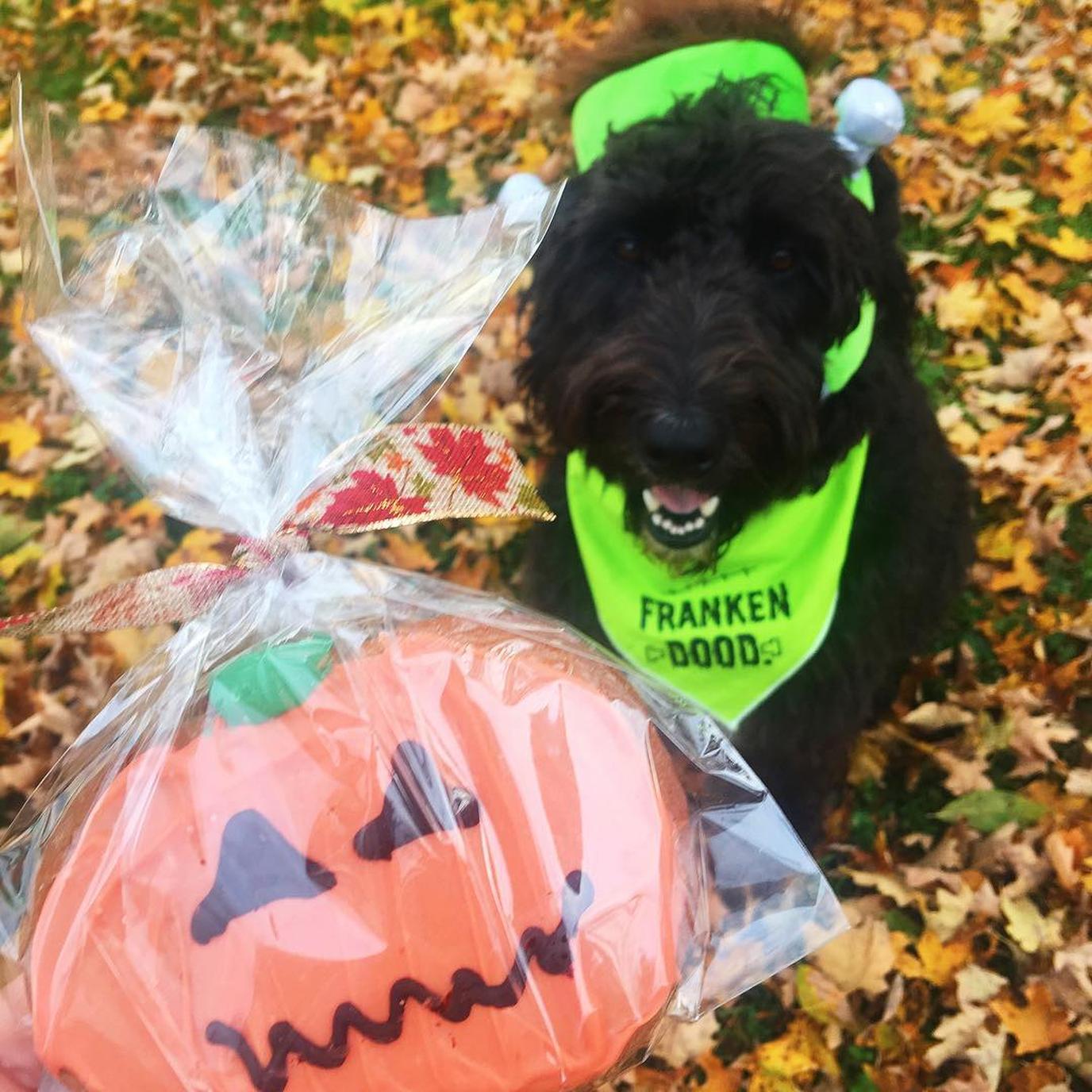 "Treat or treat! Am I doing that right?" – Photo by @fletcherdoodledoodle
River Dog Bakery is nestled in the heart of Knoxville, and it's about to hold a special place in Fido's heart, too. Pups come from near and far to sample the doggy-licious decorated cookies like the ever-popular Squirrel Chaser. Made from a secret River Dog Nibble recipe, the all-natural, gingerbread-like treat uses Tennessee sorghum, which is both easy to digest and very tasty. Each cookie is decorated with a special frosting recipe made from yogurt, resulting in a cute, healthy, and most importantly, yummy fall dog dessert.
In addition to its cookies, River Dog Bakery's seasonal specialties include TrailBarks made with pumpkin, granola and cranberry, Pumpkin Spice Doughnuts and the decadent and nutritious confection, Apple Maple BundtBarks. We strongly suggest you let your pooch top off his BundtBarks with Pumpkin Fido Freeze, the bakery's homemade doggy ice cream.
Fill your shopping bag and retire to your pet-friendly room at the comfy Crowne Plaza Knoxville Downtown University. You'll have to lock the baked goodies in the in-room safe to keep them away from your furry friend!
The Hungry Hound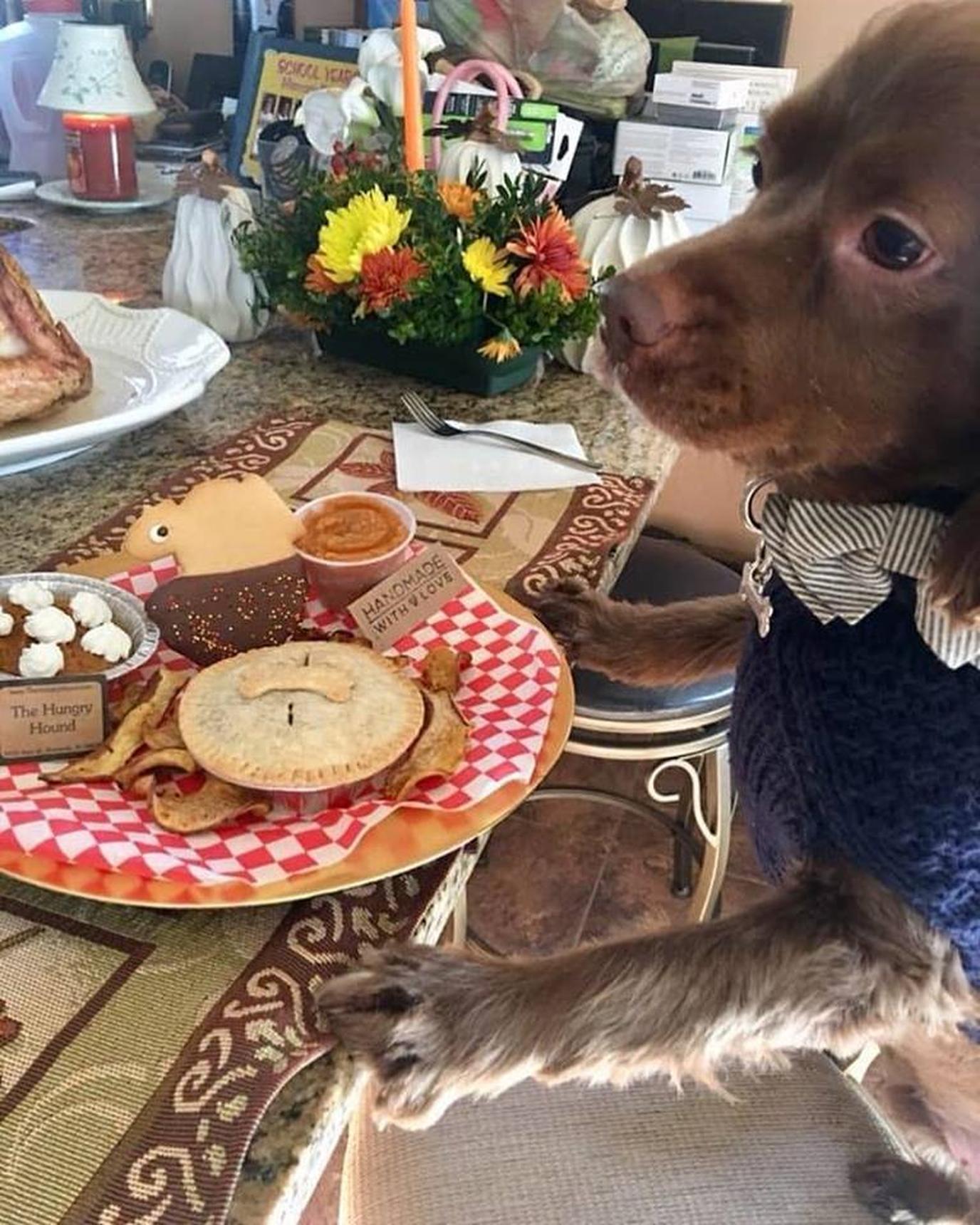 "I'm thankful for this food." – Photo by Facebook.com/thehungryhoundnj
Serving up doggone good homemade fresh dog treats, cookies and cakes, The Hungry Hound in Somerville, NJ is a local favorite throughout the year. But in autumn, it serves up a few extra-special somethings. Let Fido check out fall-flavored dog delights like Cinder's Cinnamon Stars, Gigi's Ginger Snaps and Peyton's Pumpkins, all made fresh in-store daily. The bakery also offers seasonal, made-from-scratch doggy ice cream.
Best of all, The Hungry Hound prepares a special Barksgiving Dinner for pups to enjoy on Thanksgiving Day. The ready-to-eat boxed feast includes turkey pot pie, sweet potato chips, mashed sweet potatoes, pup-kin pie and a decorated cookie. Dinners must be pre-ordered online and picked up in-store.
Stop by the 6,000-square-foot store, which also stocks toys and pet supplies. Keep the special treats going with a stay at this pet-friendly Airbnb, which is located in a 1776 farmhouse on a working horse farm. The charming one-bedroom space is bright and sunny with garden views and a private entrance.
The Seattle Barkery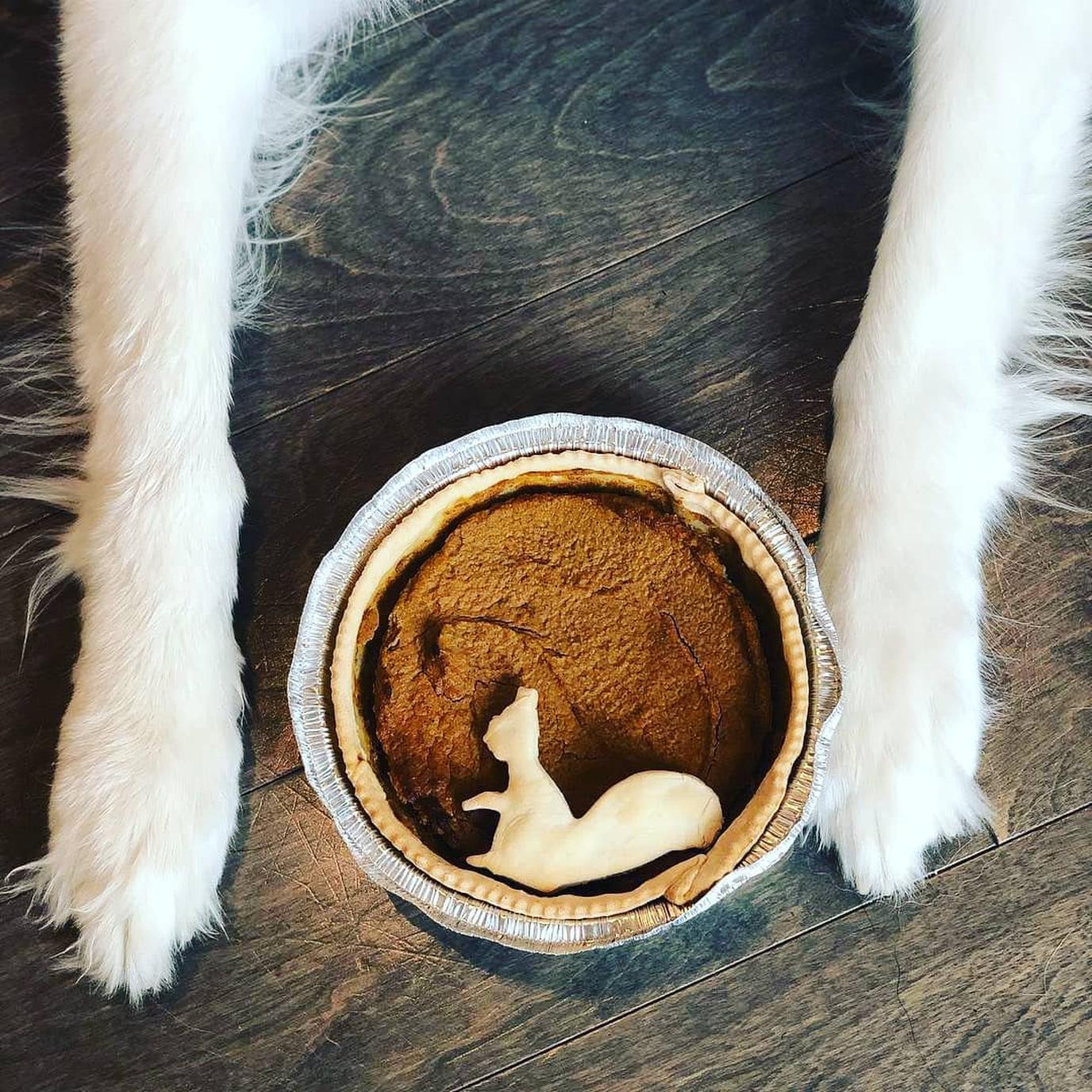 "Pumpkin and squirrel pie … my favorite!" – Photo by @chloeandcompany
Goodies from the Seattle Barkery Treat Bar are as delicious as they are adorable. Located inside Dogwood Play Park, this vintage-inspired dog bakery serves creative goodies baked fresh daily. In addition to year-round offerings like the Wagalong Cookie and P.B. Pretzels, its seasonal treats are adored by four-legged locals and visitors. Let Fido try a pumpkin or apple pie along with a serving of Dog Nog, and grab yourself a gourmet coffee to warm you up in the brisk Pacific Northwest fall.
You can also find the Barkery's fall flavors at Hammy, the "treat trailer" at the epic Warren G. Magnuson Park Off-Leash Dog Area, and at the Seattle Barkery food truck, which sets up at pup-ular local events like the Halloween Pet Parade at Volunteer Park.
After playing at the park and filling your bellies with treats, you and your pup can rest up at the convenient and classy Hotel Monaco Seattle, where you'll be within walking distance of many dog-friendly restaurants and activities in the Emerald City.
Three Dog Bakery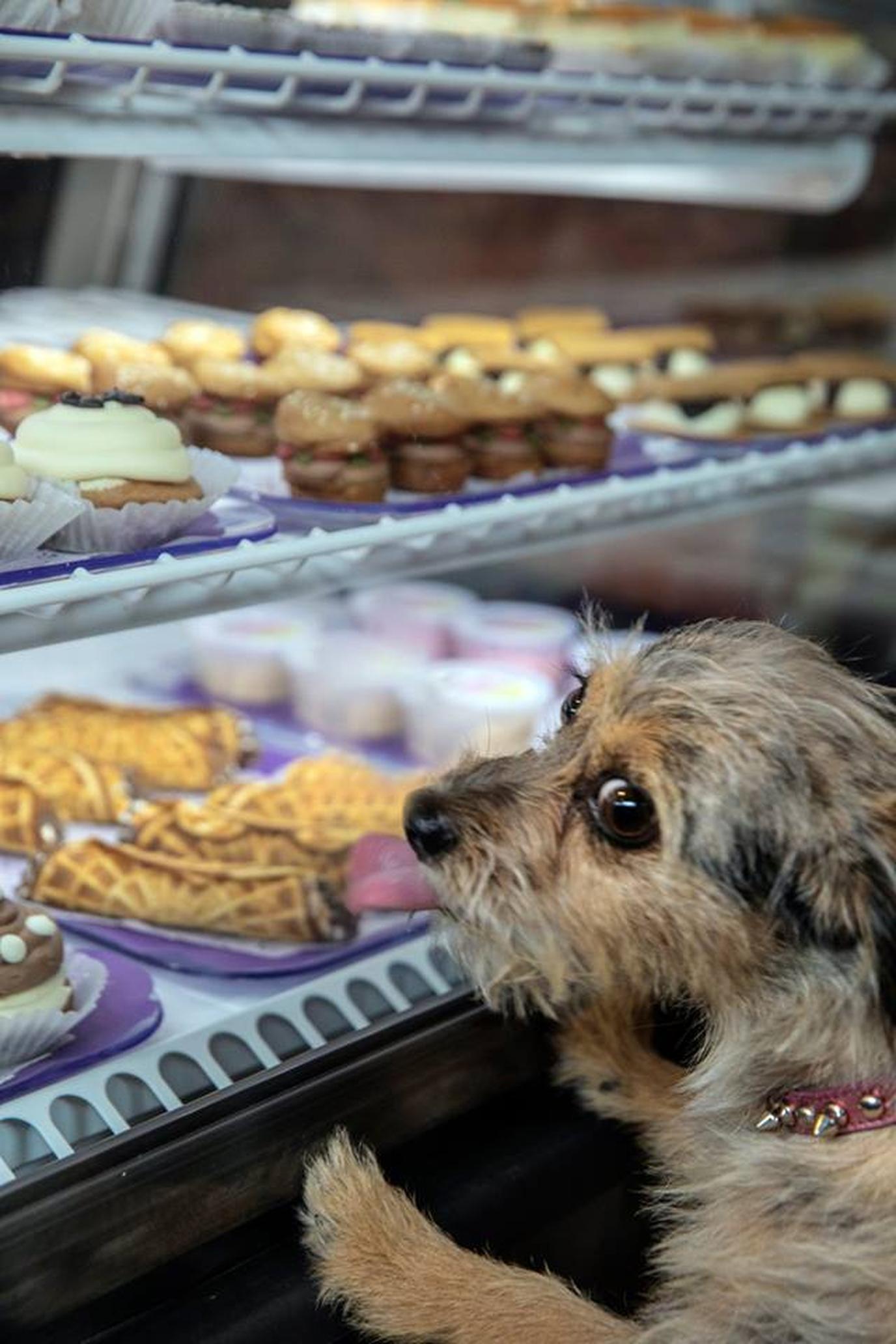 "How many licks does it take to get inside the pastry case?" – Photo by Facebook.com/ThreeDogNews
Three Dog Bakery's flagship store in Kansas City, MO is the perfect place to bring your pet for a special fall-flavored treat. Warm welcomes aren't the only thing to greet canine customers who come through the door. Returning to the pastry case this year are fall favorites like Candy Corn Cakes, Caramel Apple Pupcakes, Woofie Pies and Who's Barkin' for S'Mores. Additionally, Three Dog is rolling out the dough on a few new flavors including a Grain-Free Pupkin Spice Latte Pupcake and Pupkin Pie Slice Cookie.
Three Dog Bakery also sells packaged seasonal treats like Pup-Kin Pie Minis, Barktoberfest Minis and the brand new Cinnamon Roll Bites. In addition to its original store in Kansas City, these other Three Dog Bakery locations welcome Fido with free samples and belly rubs.
The fall months bring mild temperatures to midwestern Kansas City, and Missourians and their dogs flock to the outdoors. After stocking up at Three Dog Bakery, visit the famous Bar K Dog Bar, an awesome restaurant with an attached dog park, and let your pup play in the giant bowl of tennis balls. Afterwards, he can rest his paws at the Intercontinental Kansas City.
It's So Fluffy Bakery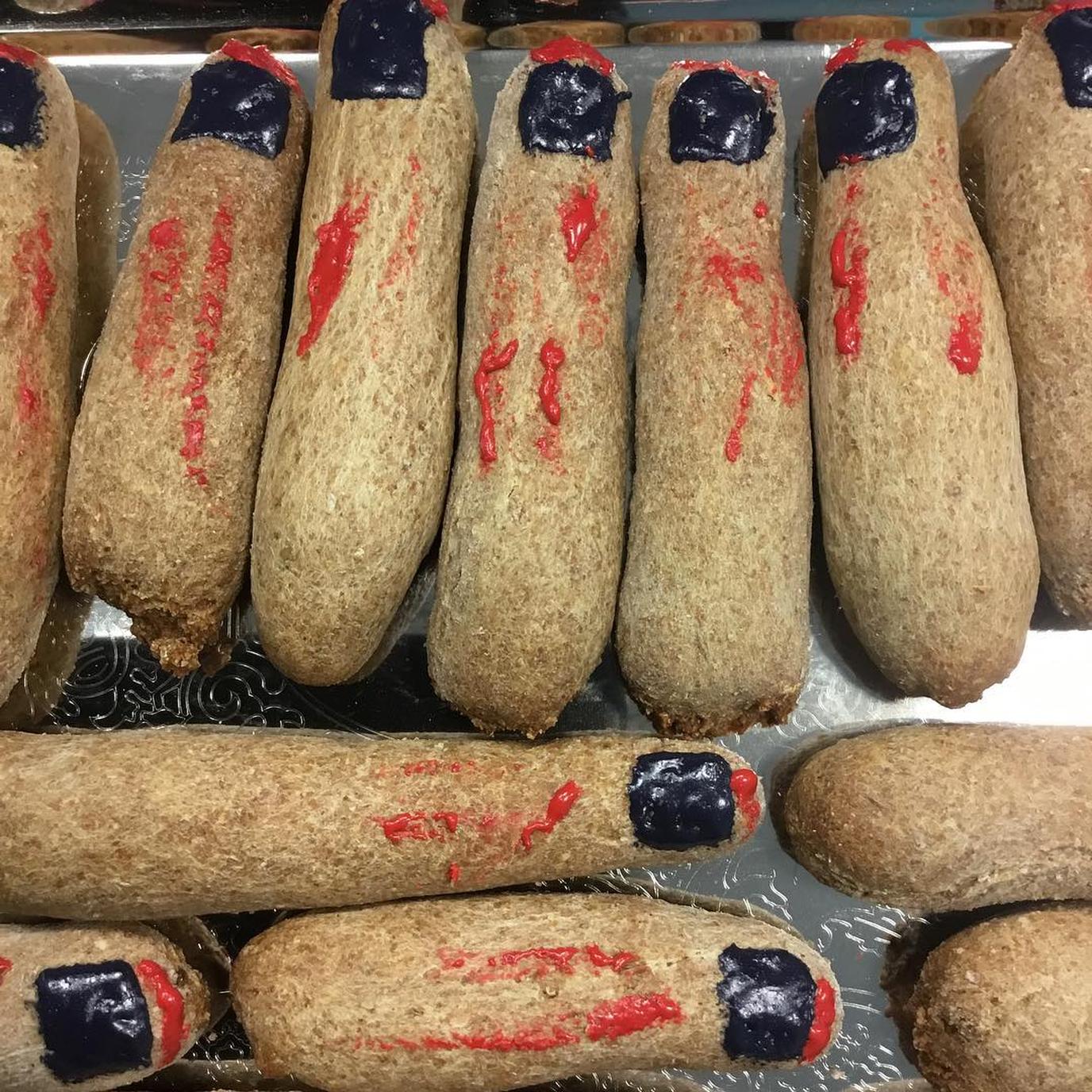 "Is that pastry case giving me the finger?" – Photo by @its_so_fluffy_pet_bakery
Located in the community of Bolingbrook outside of Chicago, It's So Fluffy Bakery is a local delight specializing in delicious and nutritious dog goodies made fresh daily in small batches. Its most pup-tastic bestsellers include the store-made pig ears and chicken feet treats. The shop can be found at The Promenade Bolingbrook, an outdoor shopping mall home to 26 pet-friendly stores, two pet relief stations and year-round pet-centric events.
The cooks at It's So Fluffy know good dogs deserve a fresh, healthy warm meal as the weather cools. On autumn weekends, bring Fido by for a serving of chicken or beef stew made fresh that day! Pumpkin Mutt-fins are also available, with a special deal of buy two, get the third free on the weekends. Throughout the season, the bakery's pastry case is full of the infamous Halloween blondies shaped like severed fingers, along with less creepy choices if the idea of watching your pup devour a bloody nub is a bit too extreme.
When you're ready to call it a day, walk across the road from the Promenade Bolingbrook to the pet-friendly Aloft Bolingbrook.
Le Marcel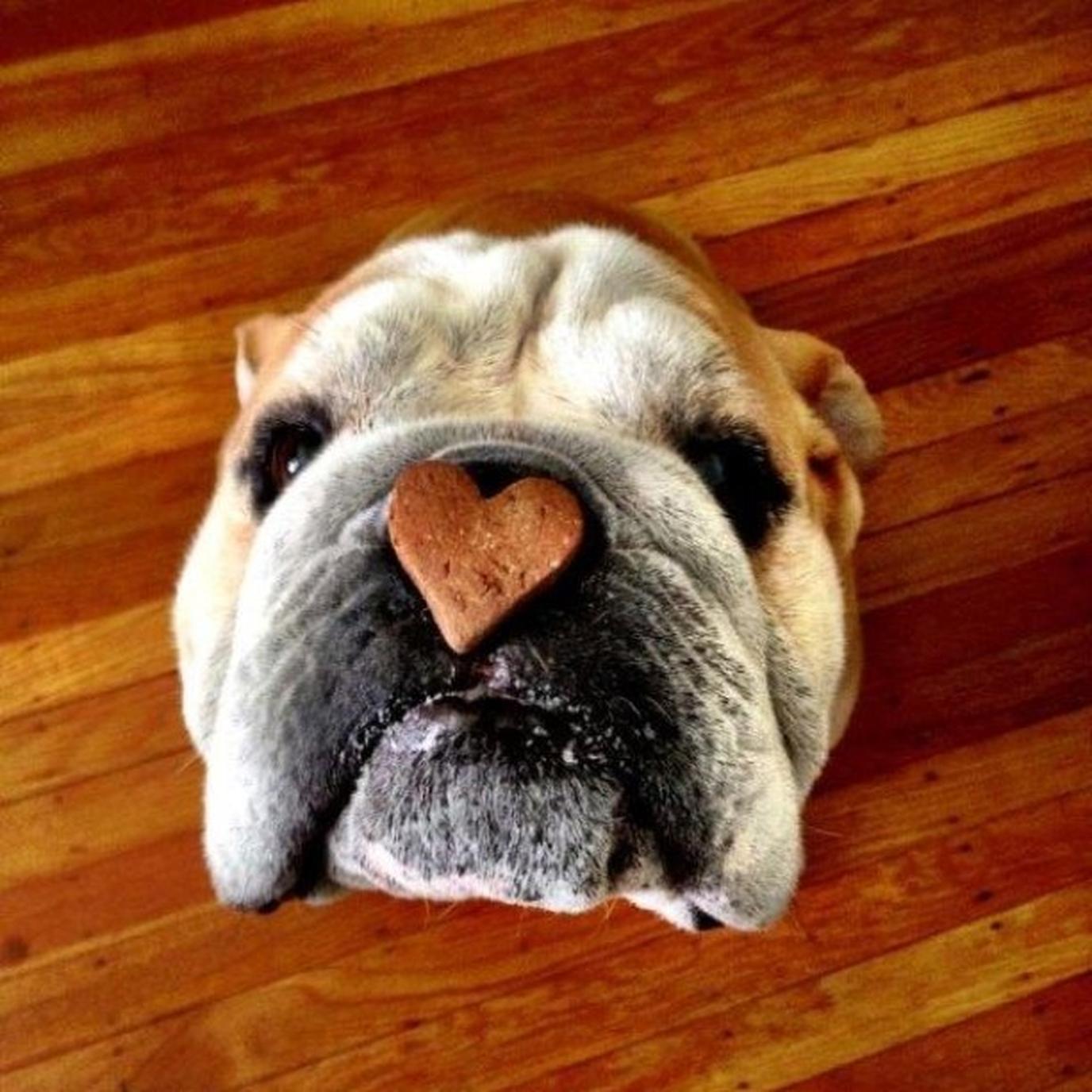 "I did it all for the cookie." – Photo by @le_marcel_dog_bakery
Le Marcel in San Francisco offers made-from-scratch, all-natural, hypoallergenic pooch pastries handmade with pride. Its regular offerings include carrot cakes and bonbons that you can watch being mixed, kneaded, shaped, baked and frosted right in the store before they are placed fresh in the pastry case.
When you walk into the bakery in the fall, you're likely to smell Pupkin Mutt-fins rising in the oven. Snag one for Fido while it's still warm! You can also place an order for a seasonal canine confection like a pup'kin cheesecake with honey-carob crust and pumpkin frosting. Let your thankful pooch enjoy his treat at Le Marcel's "Paw"tio, a beautiful outdoor space that can be reserved for parties of up to 15 two- and four-legged guests.
Make the most of your time in San Francisco with a stay at the Marines' Memorial Club & Hotel near historic Union Square, where you and your pooch will be welcomed by Beau, Bubba Jr. And Beulah, the three resident Bulldogs.
Woof Gang Bakery & Grooming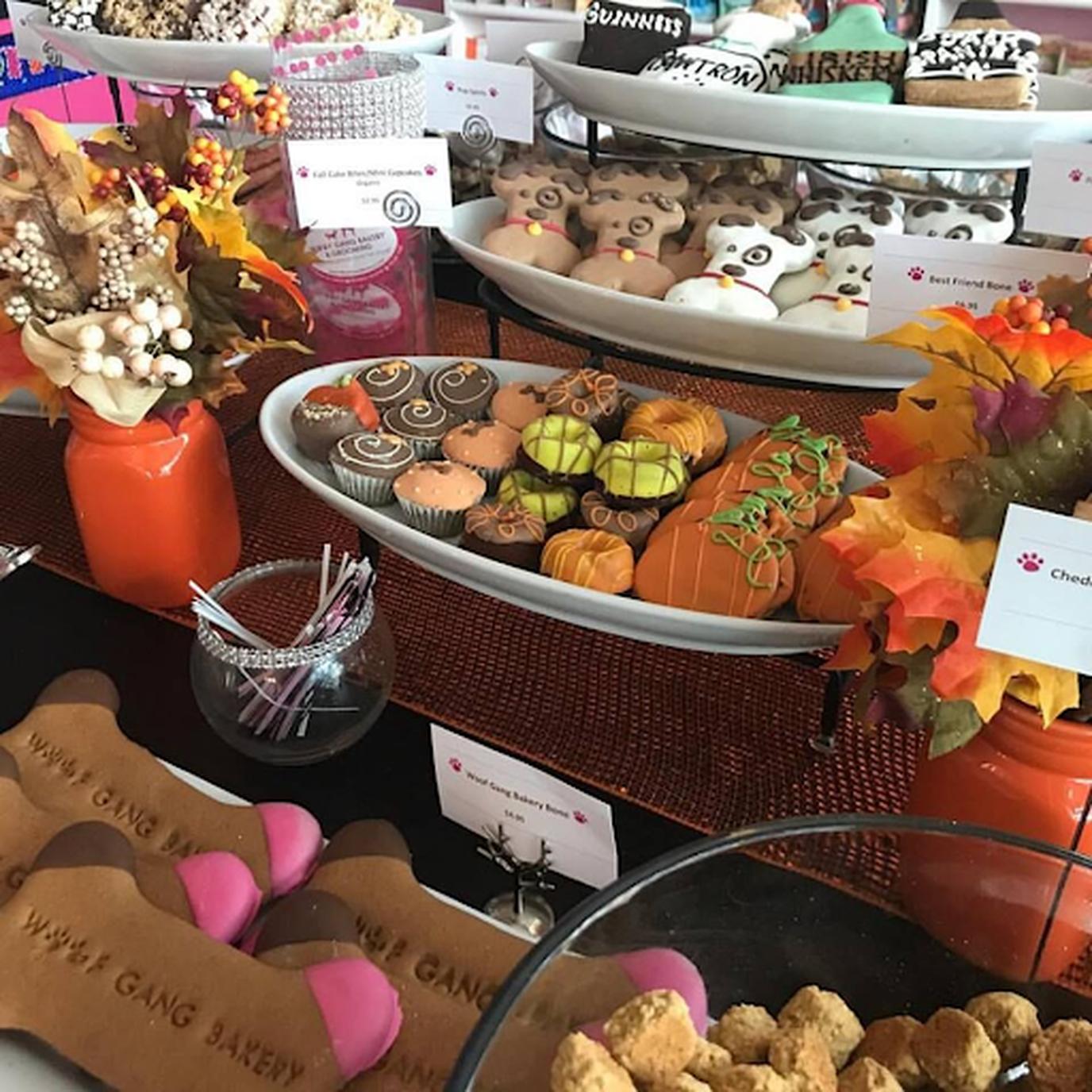 These dog cookies are almost too cute to eat. – Photo by Woof Gang Bakery & Grooming
From its flagship store in Palm Beach Gardens, Woof Gang Bakery & Grooming has expanded to 130 locations across the U.S. Bring Fido to one near you to sample one-of-a-kind treats for fall. Throughout the season, decorated canine cookies will include pumpkins, leaves, footballs, sugar skulls, ghosts, turkeys and bats. There will also be Halloween-themed doggie donuts and, as Thanksgiving approaches, puppy pilgrims. A customer favorite during the autumn months is the Woof Gang Bakery Pumpkin Softies, which are an in-store exclusive.
Each Woof Gang Bakery location is a neighborhood store offering individual gourmet treats, healthy pet foods, supplies and more. If you're visiting the original store in Palm Beach Gardens, you'll be a golf ball's throw away from the pet-friendly PGA National Resort & Spa.
Salty Paws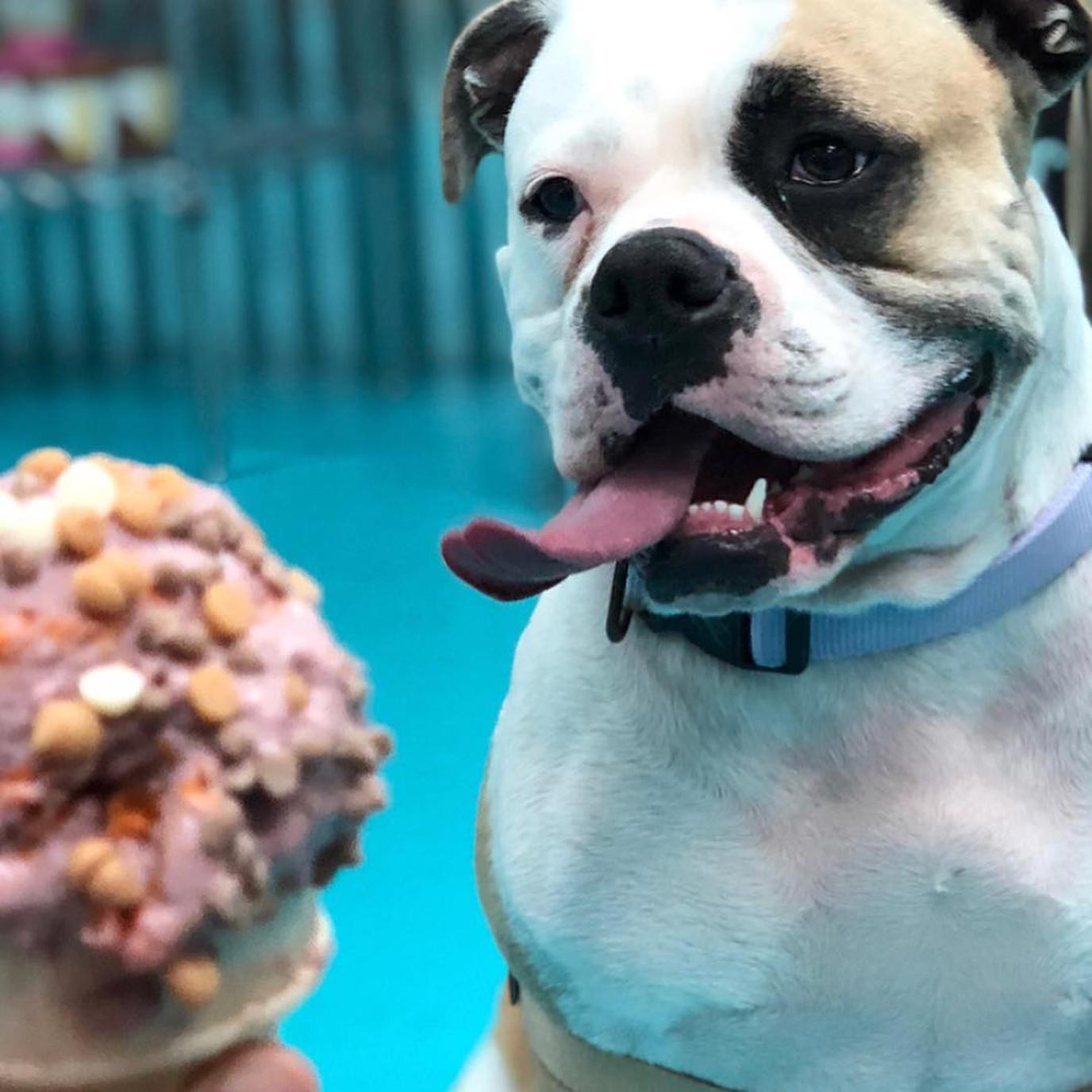 Never has a sit/stay been so hard. – Photo by @saltypawsrb
Salty Paws is unlike any of the other dog bakeries on our list. This ice cream parlor creates unique treats for pups by topping their homemade doggy ice cream with specialty baked goods and other toppings just for canines. On a summer day, Salty Paws is an ideal stop for a treat after a hot day at the beach. And when the temperature drops, the ice cream flavors and baked goods change with the seasons. Let Fido get his licks in with a scoop of pumpkin ice cream with dehydrated chicken or liver toppings, or a double scoop of maple bacon with a decorated cookie.
While visiting the seaside town of Rehoboth Beach, stay at the charming Homestead Bed & Breakfast, where four-legged guests receive treats, bowls, towels and a very warm welcome.
Polkadog Bakery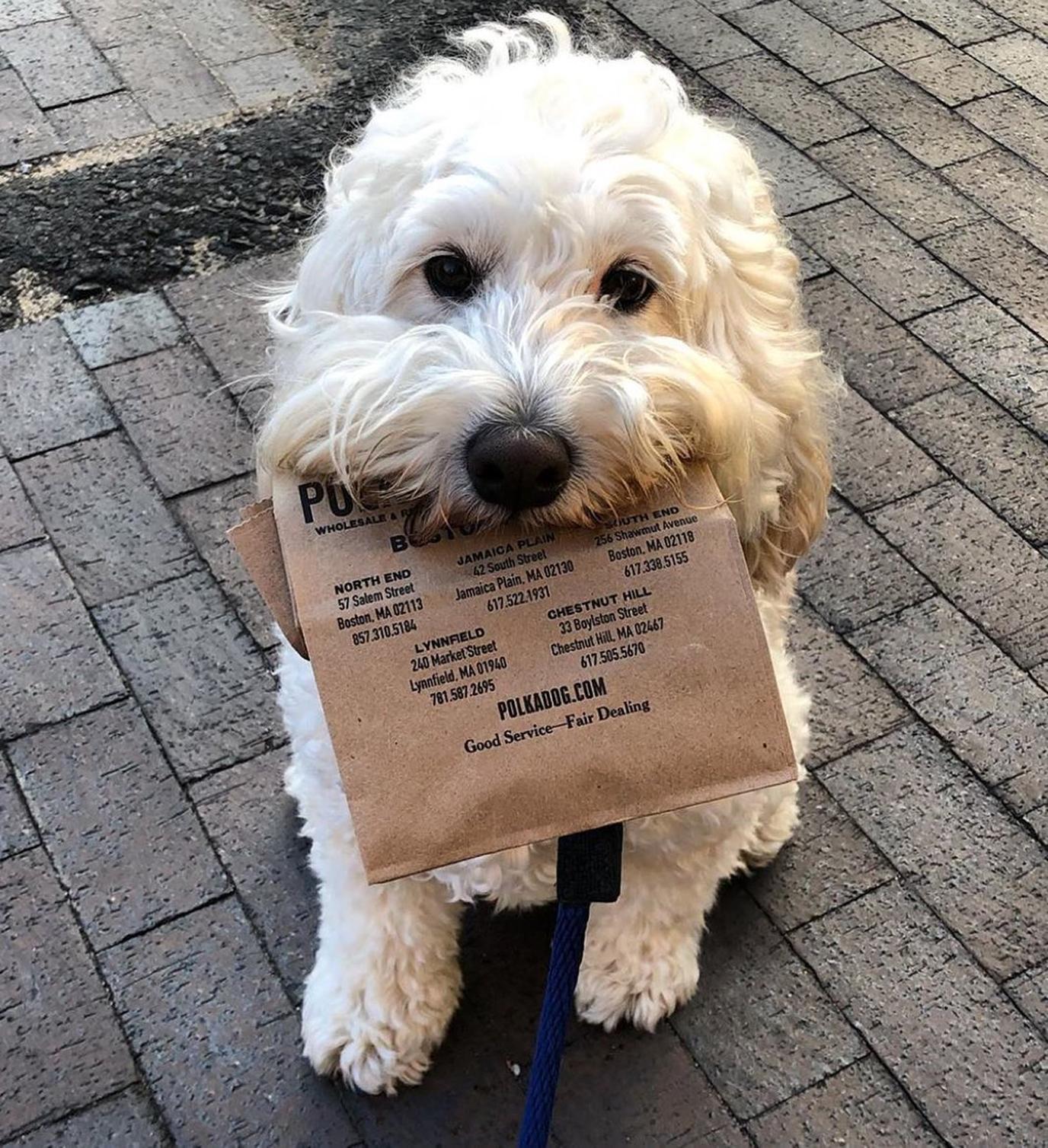 Taking bets on whether this bag makes it home still full. – Photo by @polkadogbakery
Polkadog Bakery is all about making fresh, healthy and delicious dog treats. Everything is baked daily from scratch and only in small batches. And its South Boston bakehouse uses locally sourced ingredients from neighborhood suppliers, so it can guarantee the highest quality goods for your good boy or girl.
Fall delicacies this year include Turkey and Cranberry Wonder Nuggets, which are soft, chewy all-natural dog treats made with USA-sourced dehydrated turkey and East Coast cranberries. While many seasonal treats are available online, the bakery's hand-cut holiday cookies are exclusively found in stores.
With six Polkadog locations around the Boston area, there's sure to be one near where you and Fido are staying, whether you're at the historic Liberty Hotel Boston in downtown or at a vacation rental in Jamaica Plain.
The Green Spot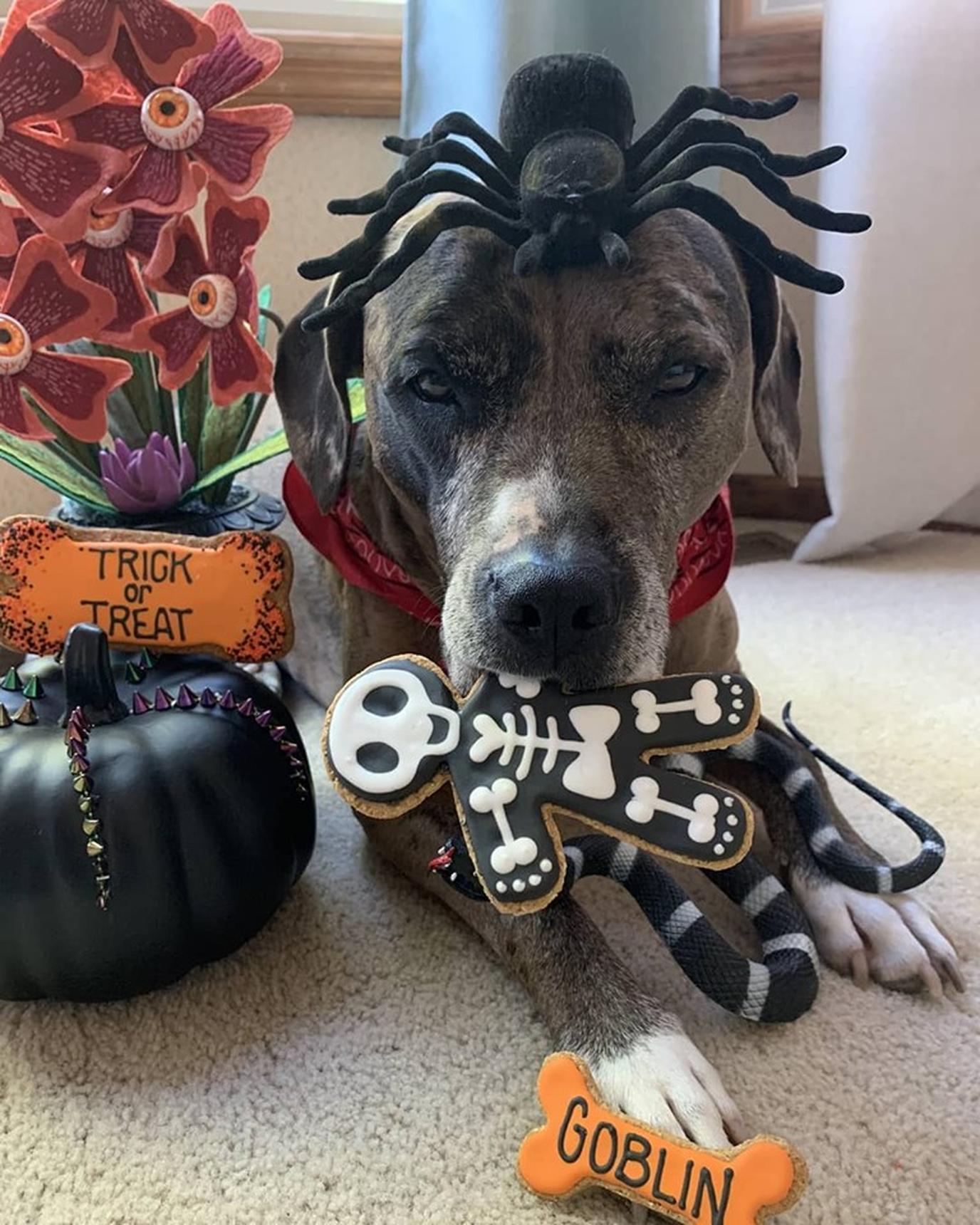 Spooky pooches love spooky cookies. – Photo by @BrixtixBakery
To call The Green Spot a pet supply store doesn't do it justice. This family-owned pet superstore is full of top-quality foods, treats, toys and goodies, along with grooming services and fully-equipped self-service dog wash areas. While the dog-friendly baked goods are not made in-house, they are sourced from local suppliers. The Green Spot's team members can tell you all about the ingredients in each treat, and where it comes from. In particular, look for the dog cookie masterpieces from Brixtix Bakery for Dogs, which are as beautiful as they are good for Fido. During the fall, the pastry case at The Green Spot is full of these seasonally decorated pieces of edible art. Let your canine cookie monster wash her tasty designer treat down with a PUP-kin latte.
While you're visiting Omaha with your pooch, book a stay at Element Omaha Midtown Crossing. You'll enjoy easy access to all the local urban hotspots and your pup will love the treats and water bowl that greet him in the lobby, along with the nearby Hanscom Park Dog Park.
WOOF! WOOF! Pet Boutique & Biscuit Bar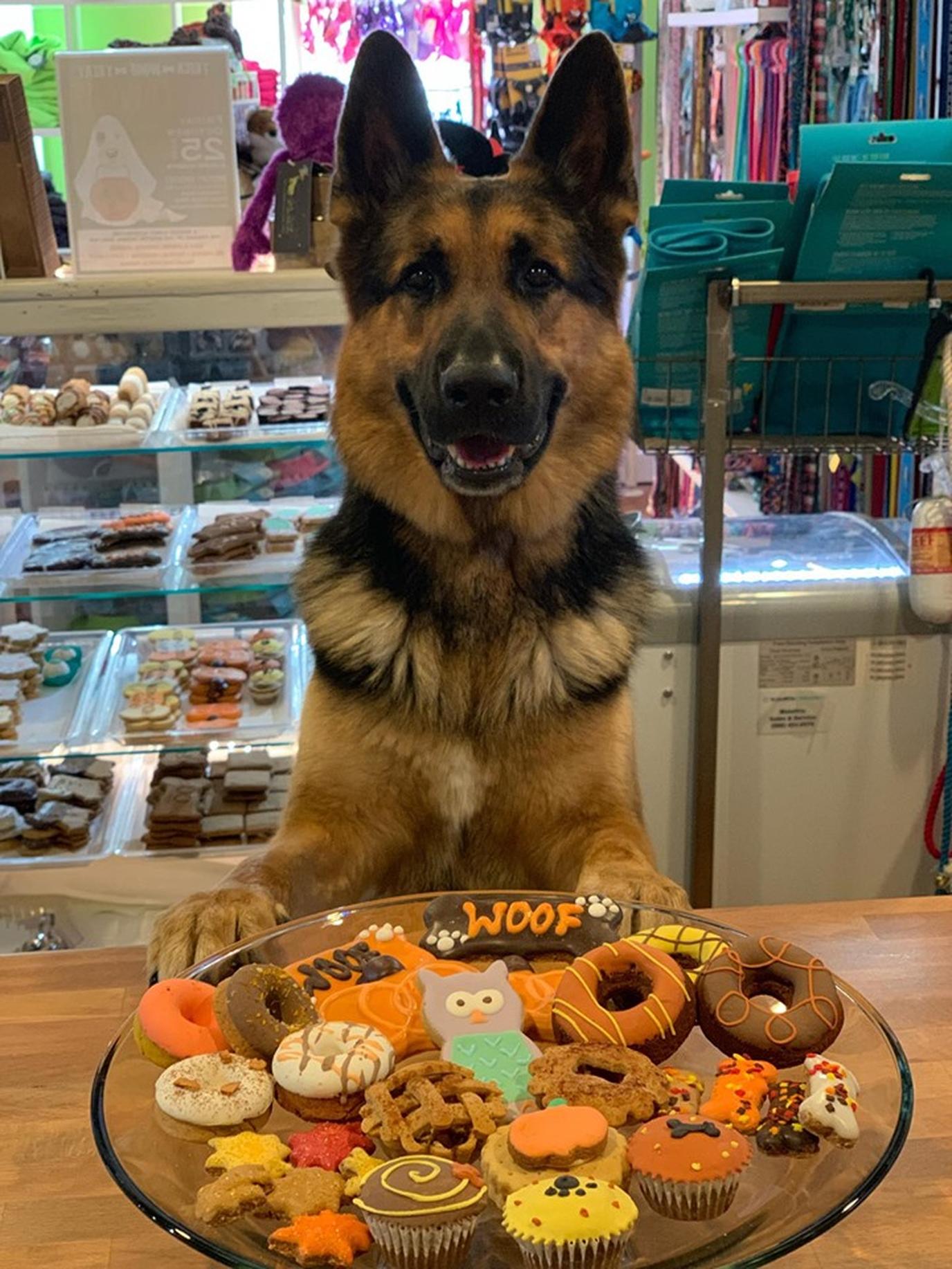 "Woof! Woof! Yum!" – Photo by WOOF! WOOF! Pet Boutique & Biscuit Bar
The 10-foot-long biscuit bar at WOOF! WOOF! Pet Boutique & Biscuit Bar in Bristol, RI stays stocked with eight varieties of freshly made wheat, corn and soy-free biscuits. Everyday flavors include bacon, cheddar, peanut butter and apple cinnamon. You can mix and match a to-go bag and pay by the ounce, so Fido gets to try whatever tickles his fancy.
During the fall, the bar is stocked with Cape Cod cranberry biscuits and pumpkin biscuits. Additional gourmet goodies will be coming to the bakery case throughout the season, including pumpkin brownie bites, fall cannoli and macarons, pumpkin donuts, apple and cherry pies, pumpkin sandwich treats and more. Stop by either of their locations in Bristol or New Bedford, or follow the Woof Wagon mobile boutique and treat truck to let your pooch indulge in her favorites.
Locals and regular visitors to Rhode Island will tell you that fall is the best season to spend a few days in the smallest state. Stay at the cozy and classic Beech Tree Inn & Cottage, where two- and four-legged guests are welcome.
Tail Waggins Dog Bakery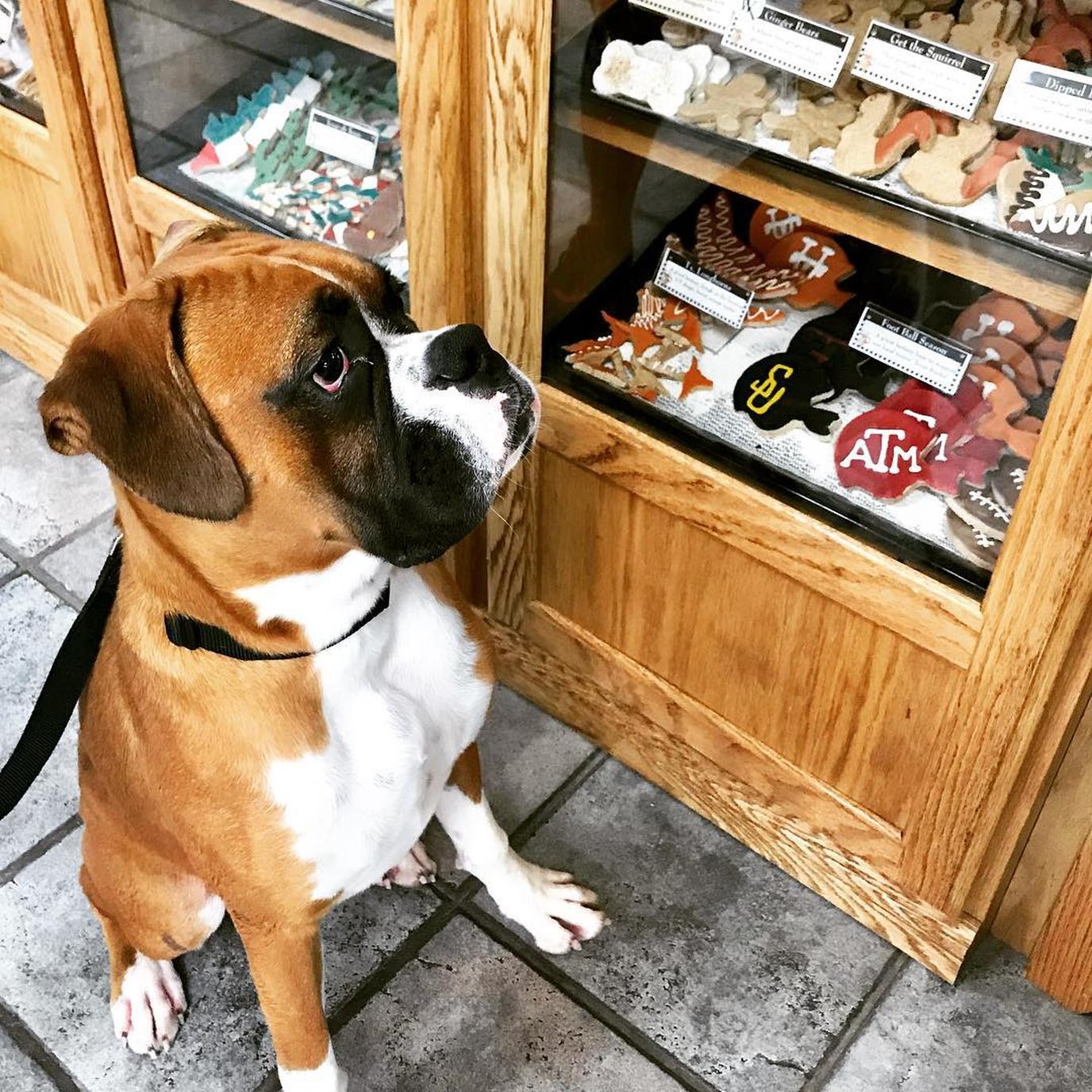 "If I'm really, really good, maybe she'll get me one of each." – Photo by @chenkotheboxer
Tail Waggins Dog Bakery has been serving up all-natural, wholesome fresh-baked dog biscuits since 2002. Its hand-decorated cookies are a wholesome, all-natural and preservative-free way to treat your beloved pup, and they're awfully cute, too. The bakers use only premium human-grade ingredients and then double-bake each batch for that extra crunchy texture dogs go crazy for.
In the fall, the Tail Waggins pastry case is filled with decorated sweets shaped like jack o' lanterns, ghosts and monsters for Halloween, and acorns, turkeys, pies and leaves in November. Football-themed cookies are also available throughout the season – go Aggies!
In addition to canine cookies, Tail Waggins has one of the most luxurious self-serve dog washes in the Austin metro area, which will come in handy after a visit to nearby Georgetown Bark Park. Get Fido spruced up before heading to your pet-friendly room at Candlewood Suites Georgetown.
The Pooch Pantry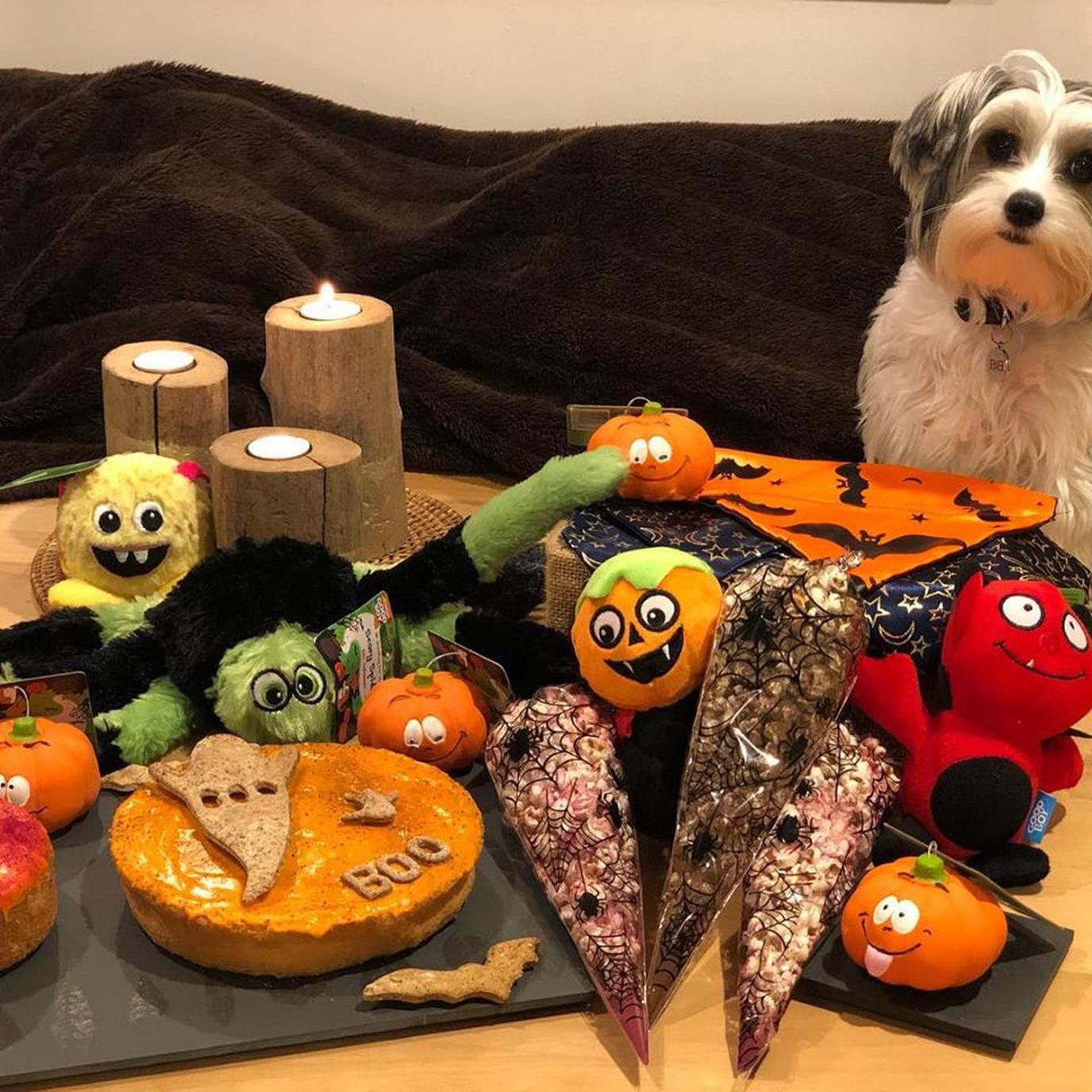 Scotland's cutest Howloween dog cookies. – Photo by Facebook.com/ThePoochPantry
Closing out our list, we head across the pond to The Pooch Pantry in Scotland. Since 2012, the humans at Pooch Pantry and their shop pups Marion, Minty, Treacle and Nutmeg have been creating fresh-baked treats in traditional flavors such as black pudding and haggis.
In the fall, you can pick up these healthy treats in the shapes of ghosts, bats and witches' hats for Halloween. Other seasonally stocked goodies include venison and wild rabbit terrine, campfire stew from Lily's Kitchen, and turkey and cranberry bones from Pooch's Dog Treats. The most popular dessert, however, is the Howloween cake, available by special order only.
The Pooch Pantry is located in Troon, South Ayrshire on the beautiful west coast of Scotland. Make the most of your time here with a comfortable stay at nearby Chalmers Bed & Breakfast, where dogs of any size are permitted for no additional fee.
This post from BringFido originally appeared as Treat Your Pup to A Barker's Dozen.