Warm Fido's Bones Around the Fire Pit at These Pet-Friendly Restaurants
Cold weather is creeping in and we're all looking for ways to escape the chill when we're out and about. Hibernation is for bears and Fido's new jacket isn't as warm as it looked on that Instagram dog. Thankfully, there's one sure-fire way to warm his soul (and body) as the temperature drops. Share a delicious meal in a cozy outdoor setting at one of these pet-friendly restaurants that boast a fire pit.
1. Moss Beach Distillery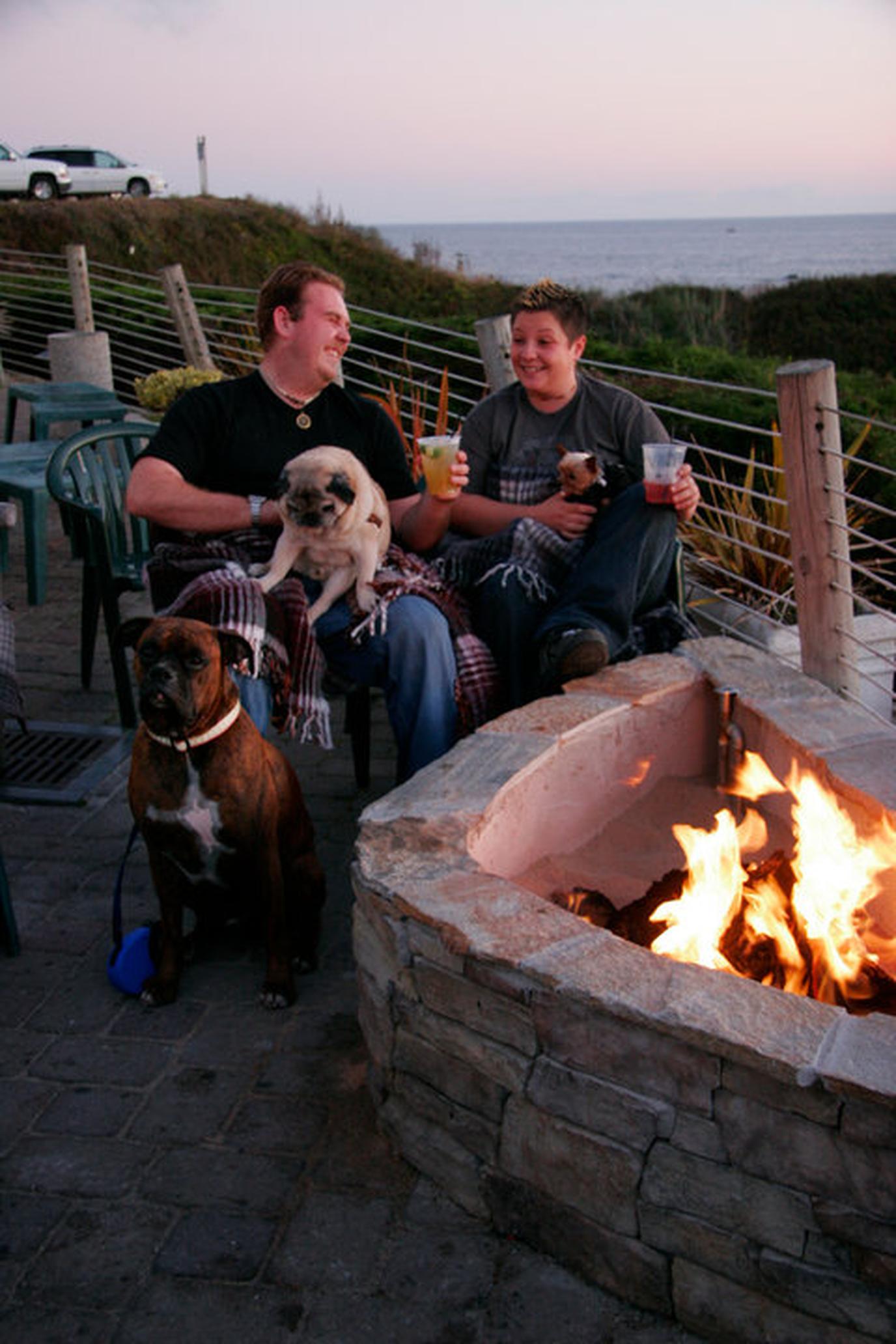 "This place is the pits!" – Photo by Facebook.com/mossbeachdistillery
The dog-friendly heated patio at Moss Beach Distillery is a great hangout when it's cold outside. If you're not toasty enough, shuffle closer to the roaring fire pit and grab a front row seat as the sun sets over the Pacific. Dogs can order something to eat from the menu catered just for them, including bacon slices, hot dogs and chicken breast.
After a night of merriment, rest your weary heads at The Inn at Mavericks. Every pet-friendly room on the property has a private, fenced-in patio.
2. Big Grove Brewery & Taproom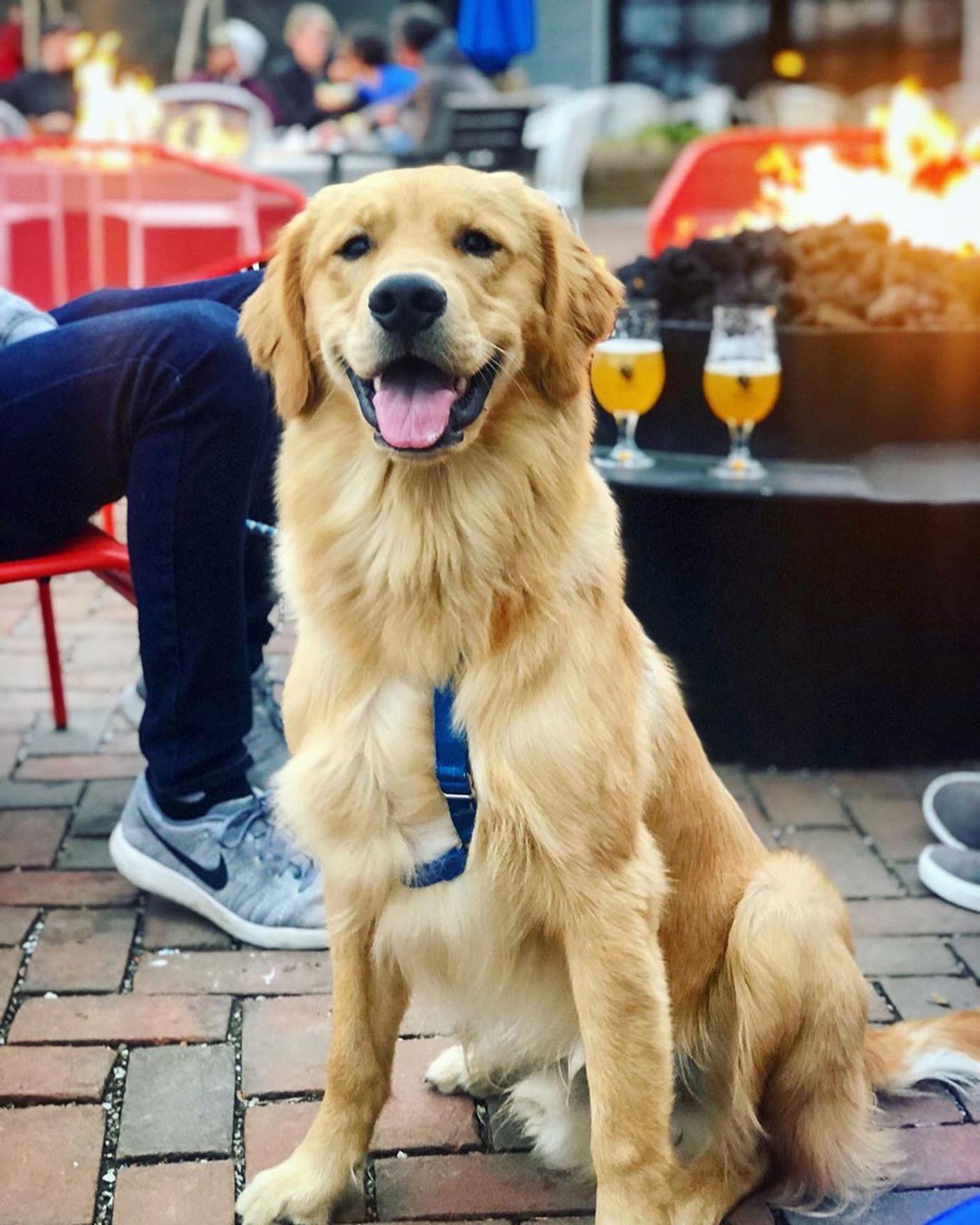 "I'm a fire starter!" – Photo by @dogsofbiggrove
The outdoor area at Big Grove Brewery & Taproom will keep you and your pooch entertained for hours. Fido can keep score during Ping-Pong and mingle with other members of the canine community between games. When the sun starts to set, huddle around one of the fire pits together and enjoy a bite to eat. The restaurant has its own Instagram devoted to Dogs of Big Grove, so don't forget to tag it along with #bringfido when you visit.
There's so much to see and do in Iowa City. Book a room at nearby Hotel Vetro and explore the area. Pay a visit to Thornberry Off-leash Dog Park, a huge, well-kept recreational area with three separate fenced-in areas and a pond.
3. YOLO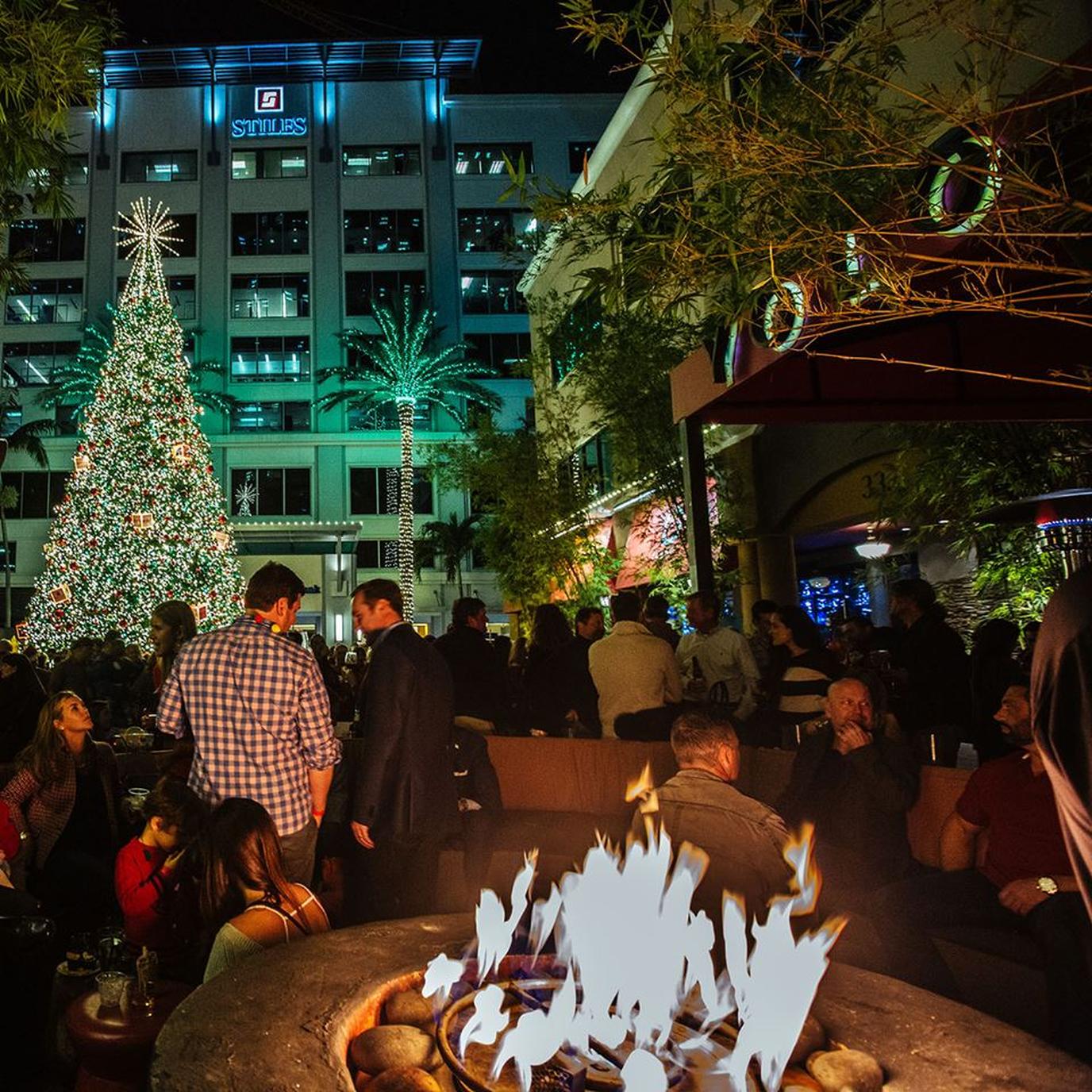 You only lick once? – Photo by Facebook.com/yolorestaurant
YOLO is a popular pet-friendly restaurant on Fort Lauderdale's hip Las Olas Boulevard. Nobody embodies the name more than Fido, who always reminds us to live life to the fullest. Spend an evening with your pup next to the glowing coals and sample contemporary American cuisine accompanied by a set from a local band. After all, you only live once.
Even when the weather cools, the beaches stay open in South Florida! Extend your stay in Fort Lauderdale at the pet-friendly Westin Beach Resort Fort Lauderdale.
4. Park Tavern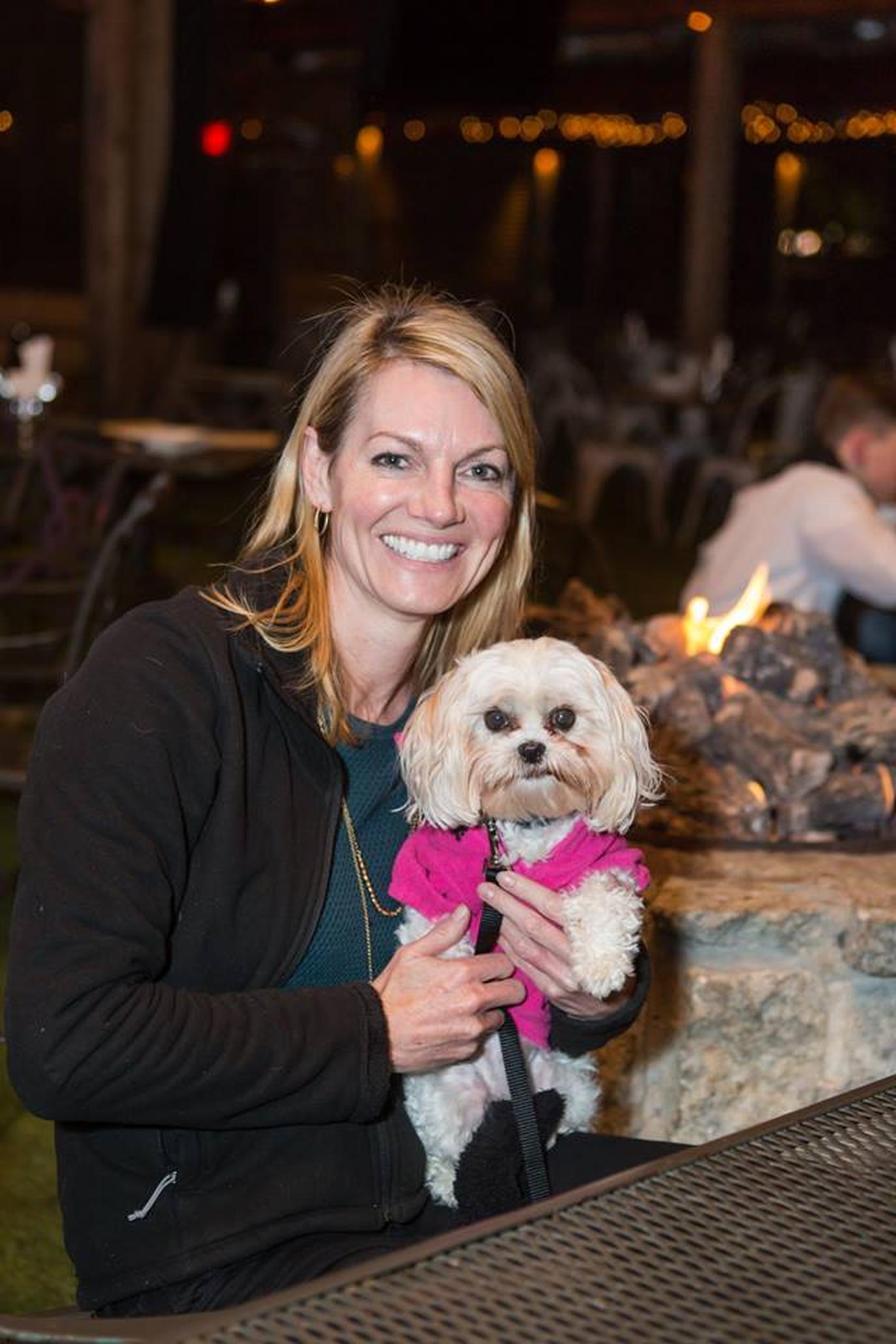 "They should rename this a fur-pit!" – Photo by Facebook.com/ParkTavern
Named one of Atlanta's best pet-friendly restaurants, Park Tavern has a whopping 50 outdoor tables overlooking the city's skyline. Visiting pooches should be able to snag a spot by the fire pit on a cold night after a long day of fetch at Piedmont Dog Park. Sample the creative cuisine from the eclectic menu and share a few tales around the fire.
Located within walking distance of the restaurant, Loews Atlanta Hotel provides treats, waste bags, bowls and a food mat at check-in.
5. Forge in the Forest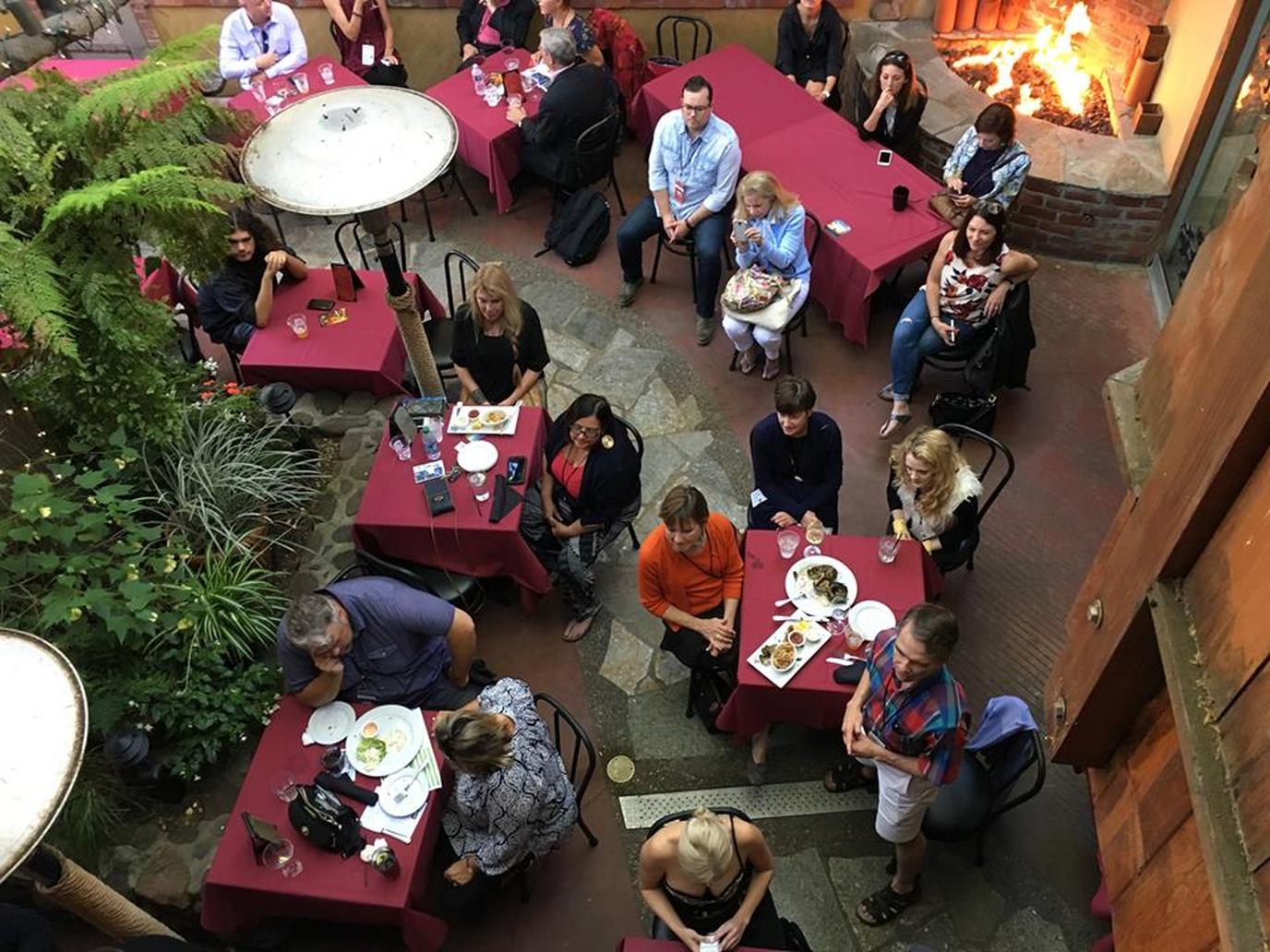 Now that's a paw-some patio! – Photo by Facebook.com/TheForgeCarmel
The firepits at Forge in the Forest burn year-round, inviting two- and four-legged diners to relax outside whatever the season. The outdoor area is also equipped with heat lamps and, of course, a blazing forge. Visitors can happily spend the whole evening outside, enjoying live jazz music and delicious Italian food. Fido will love the dog menu as well, which features items like kibble, chicken and steak.
Wander back to Svendsgaard's Inn after your meal. The hotel provides treats, beds and bowls, and its garden area is perfect for a late-night stroll.
6. The Roost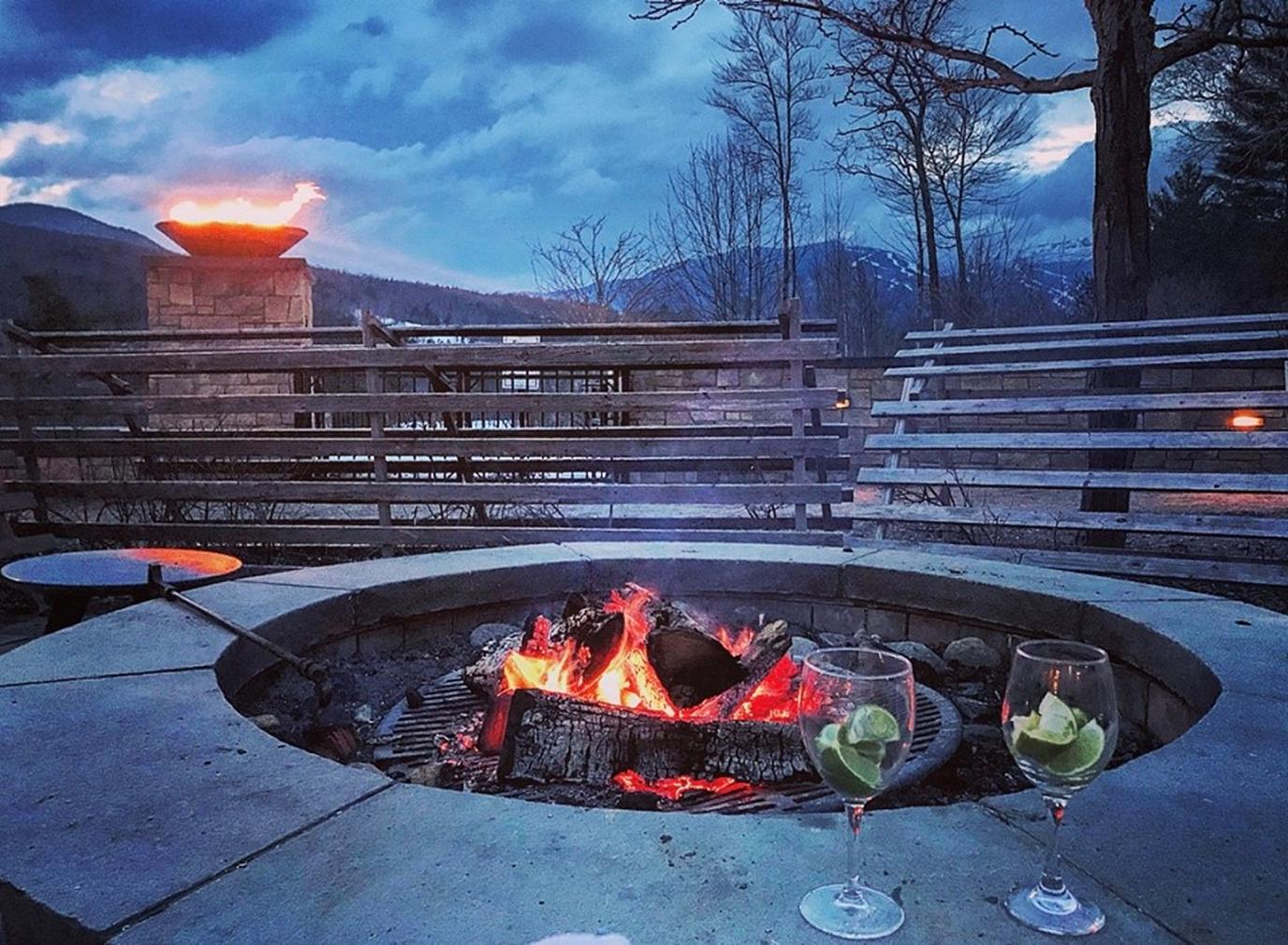 Save Fido a seat. – Photo by Facebook.com/TopnotchResort
Snuggle with your pup by a roaring fire on a wintry New England day at The Roost. Located in beautiful Stowe, VT, the restaurant features seven pet-friendly tables around an inviting fire pit. Sit back with a drink, grab a bite and take in the view. It's a serene setting that's particularly beautiful at dusk, when the sun is gently setting over the rolling green hills and the scenery is spectacular.
The Roost is located at Topnotch Resort. This canine haven not only provides treats and use of a bed and bowls at check-in, but you can even spoil your pampered pooch with an in-room doggy massage.
7. Catch 31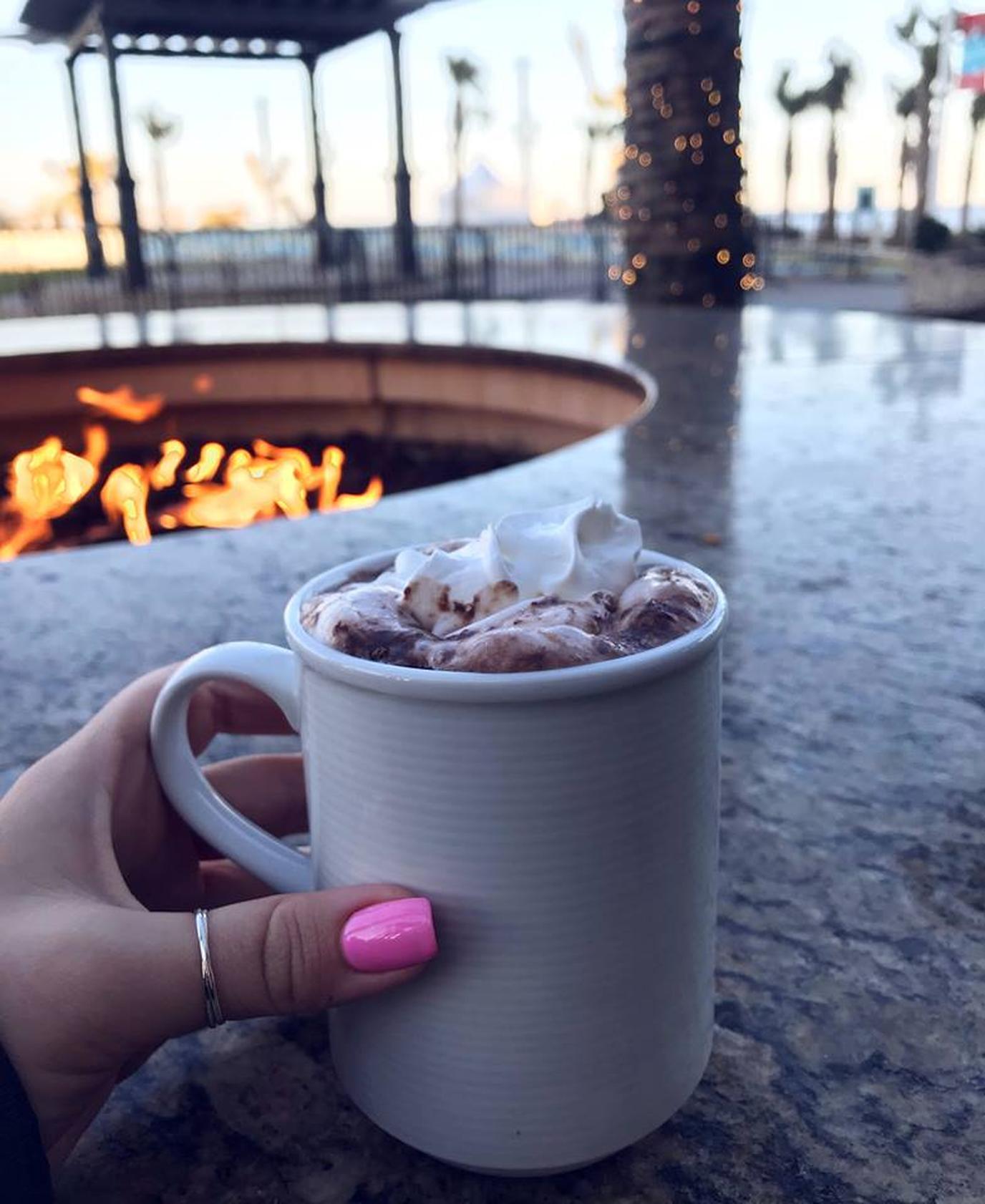 Have a cocoa with your canine. – Photo by Facebook.com/Catch31
The fire pit calls furry friends and their humans to Catch 31, where diners can feast on fresh seafood and farm-to-table fare. This popular fish house and bar is located on the Virginia Beach Boardwalk, which welcomes dogs for a walk at any time from Labor Day to Memorial Day. Furry friends are also allowed to stroll off-leash on the beach during the off-season.
Stay at the pet-friendly Hyatt House Virginia Beach Oceanfront and wake up to sweeping views of the Atlantic. Canine guests are welcomed with treats at check-in.
8. Sierra Nevada Brewing Co.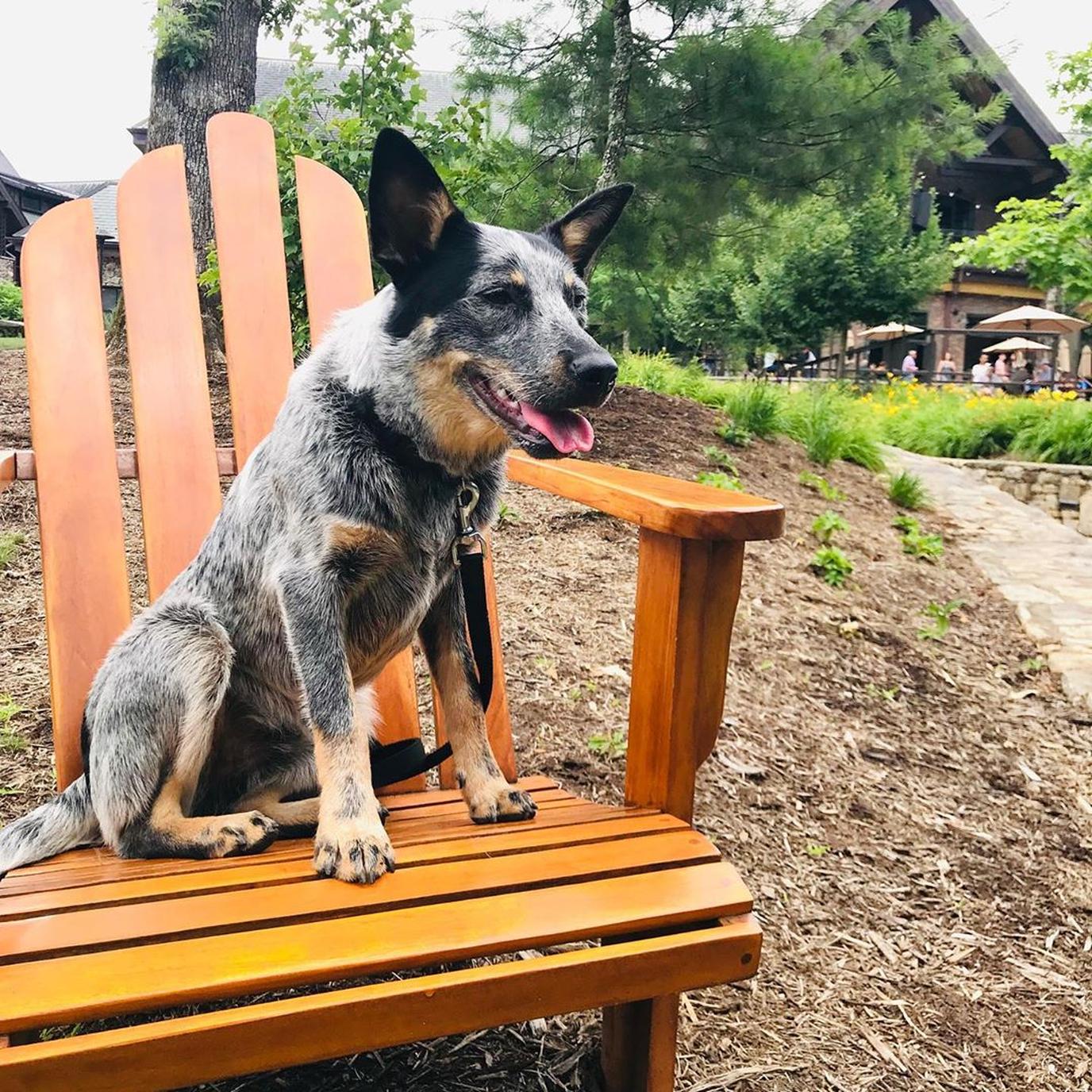 "It's nearly fire pit time." – Photo by @econosek9
Sierra Nevada Brewing Co. is usually packed full of paw-trons. Its awesome outdoor area is one of our favorite beer gardens. As if you needed any more reasons to enjoy a flight of freshly brewed beer in the expansive outdoor area, the giant fire pit will keep you warm while you listen to live music and hang out with your hound.
Sleep it off at the pet-friendly Hilton Asheville Biltmore Park, which is located near the brewery and the majestic Biltmore Estate.
9. Cannery Row Brewing Co.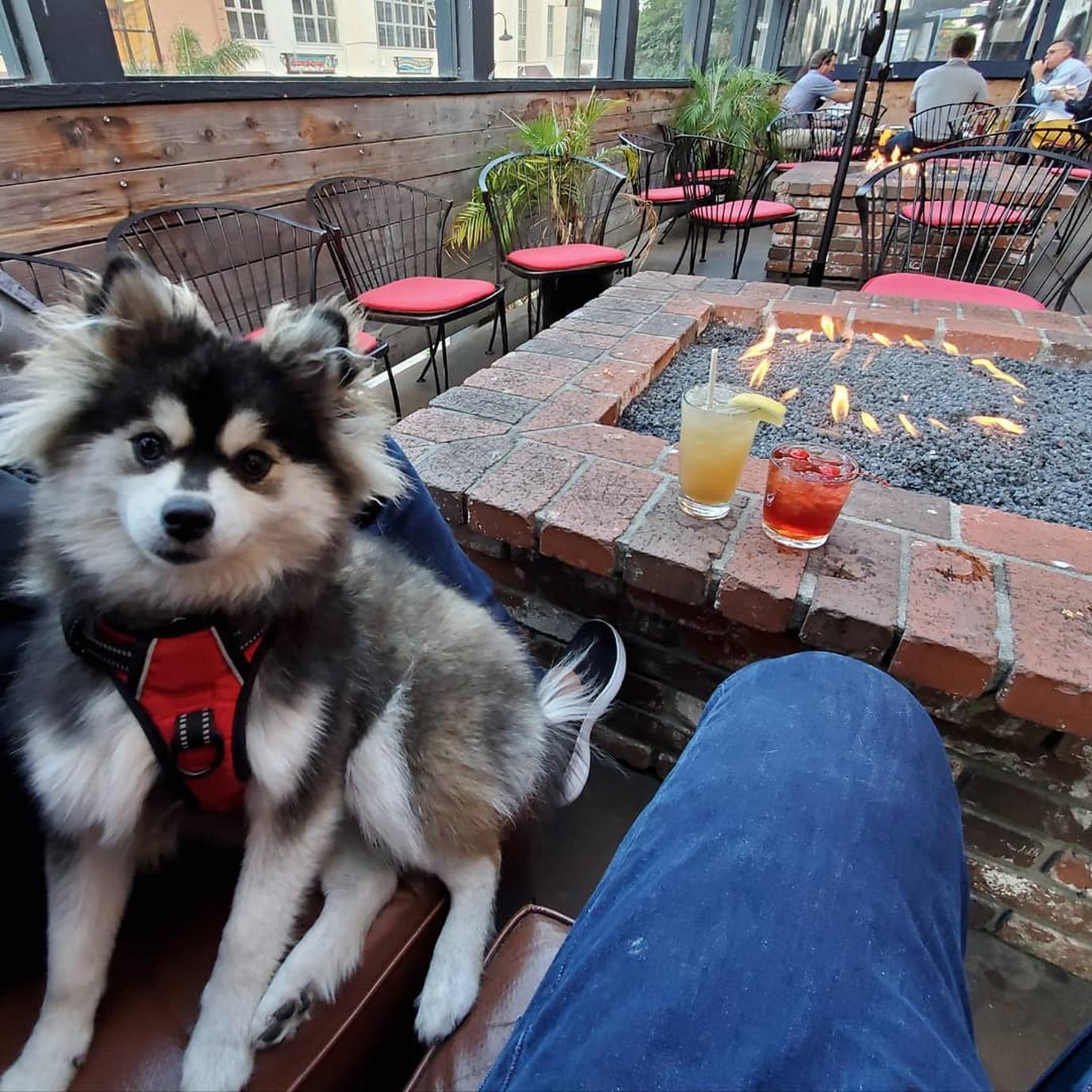 A toasty Pomsky. – Photo by @yukonthepomsky
The expansive patio and inviting ambiance set Cannery Row Brewing Co. apart from other restaurants in the Monterey area. Your dog can toast her tail by the snuggly fire pit, while you savor classic comfort food. They're so welcoming to dogs, the outdoor area is regularly slammed with four-legged patrons. Shy pups might want to sit this one out!
Spend the night at nearby Portola Hotel & Spa at Monterey Bay, where furry guests are provided with dog beds, food and water bowls, and treats.
10. Moonshine Patio Bar & Grill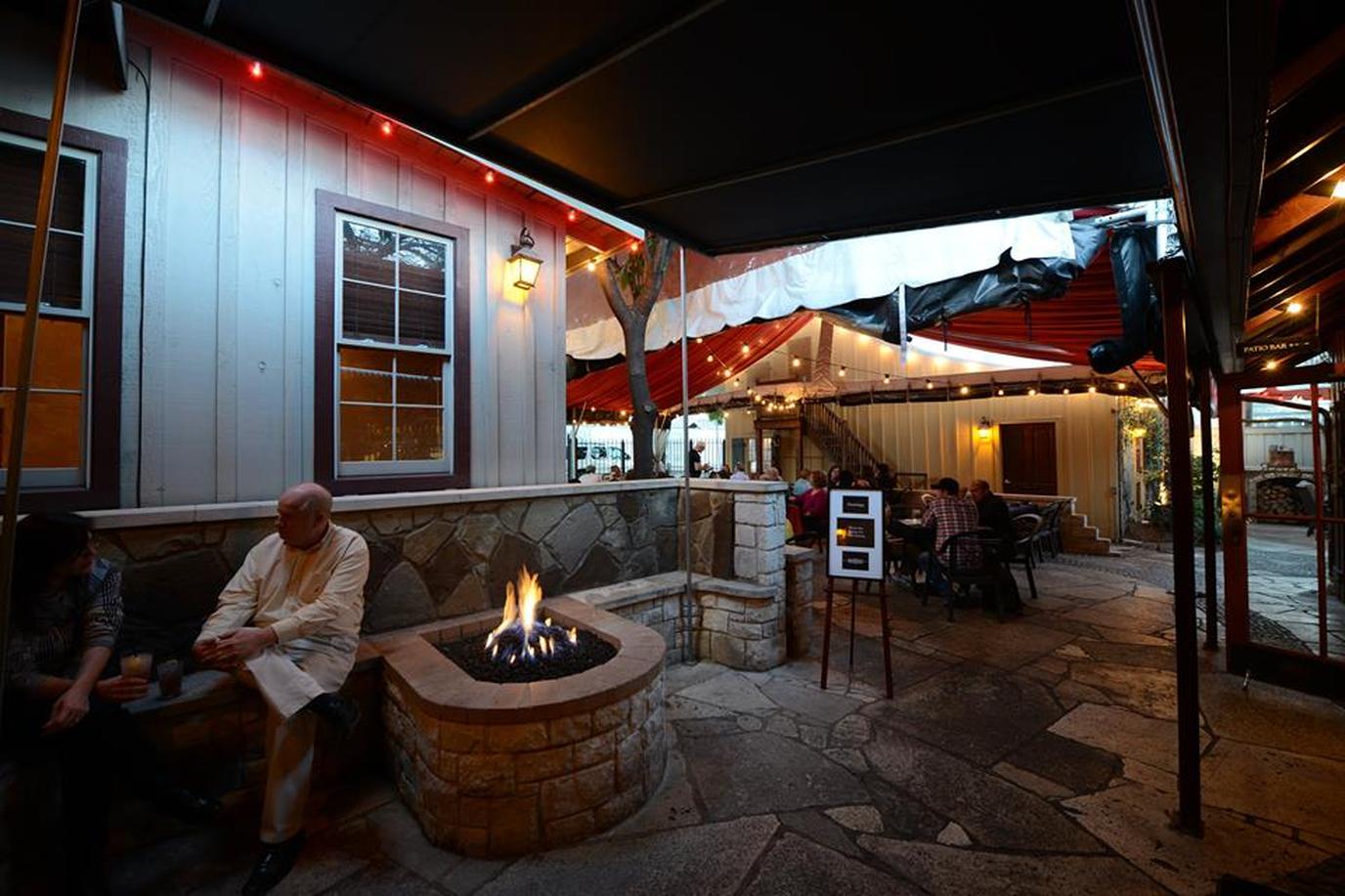 Get your Zen on next to this funky fire pit. – Photo by Facebook.com/moonshinegrill
Moonshine Patio Bar & Grill in downtown Austin summons dogs and owners who are searching for modern twists on southern classics, thirst-quenching libations and s'mores-worthy fire pits. Relax in the outdoor area of this historic building that once housed a mercantile, saloon and domino parlor.
This cute vacation rental with fenced yard is within walking distance of the bar.
This post from BringFido originally appeared as Warm Fido's Bones Around the Fire Pit at These Pet-Friendly Restaurants.