Surrounded by huge swathes of prairieland and with a population of less than 1000, Cottonwood, Idaho probably isn't on Fido's bucket list. That is, until he finds out it's the location of one of the coolest pet-friendly vacation rentals in the world. When it comes to pet travel, there's nowhere more on-brand than Dog Bark Park Inn B&B. Forget the old woman who lived in a shoe, how about the young pooch who stayed in a Beagle?
The Story of Sweet Willy and Toby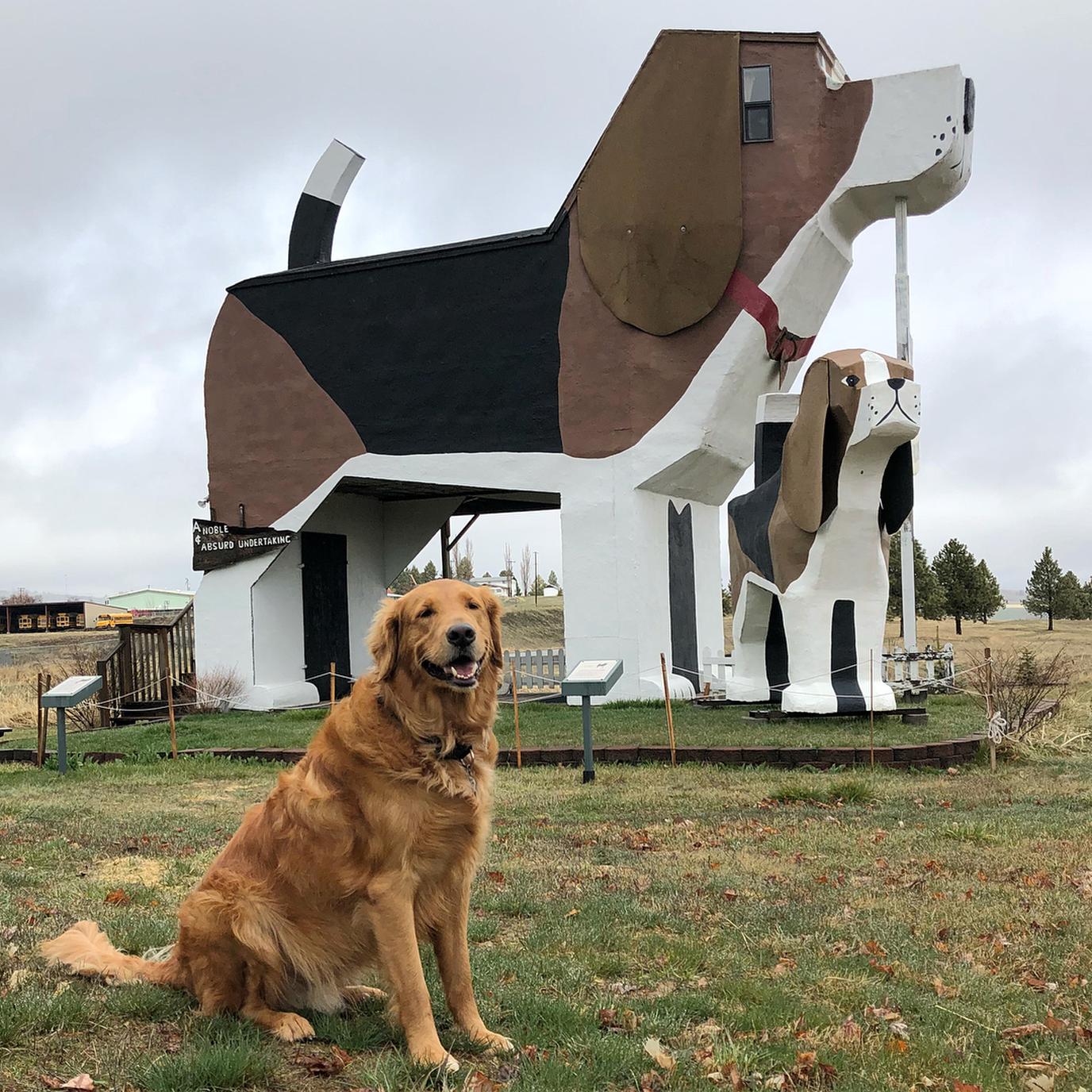 "With these two backing me up, nobody's stealing my treats!" – Photo by @finnbodey
The "tail" of this unique vacation rental began in 1995 with a chainsaw and a dream. This was the year that husband and wife duo Dennis Sullivan and Frances Conklin carved out a deal with QVC to sell their handmade wooden dog sculptures. Over the next couple of years, the artistic pair worked all day (and sometimes into the night) to fill orders and raise money toward their ultimate goal: creating a scaled-up version of their canine sculptures for people and pets to stay inside.
Artist and mastermind Dennis chilling with a guest.Photo by BringFido
In 2003, the dream became a reality when the first guests spent the night inside Sweet Willy, a 2-bedroom, 1-bathroom Beagle-shaped home with a deck overlooking the vast sky garden of Idaho. Dennis kept Sweet Willy company by carving Toby, a 12-foot Beagle statue that stands proudly beside him.
Spending a long weekend in the dog house is not always a bad thing, especially when it offers a glimpse into the past. During the heyday of the great American road trip, roadside oddities attracted tourists to quieter areas and brought prosperity to remote towns. Whether tourists were stopping for pictures with Paul Bunyan and Babe the Blue Ox on the Great River Road or staying inside a concrete wigwam on Route 66, these unusual attractions were an integral part of American vacations. One of Dog Bark Park Inn's aims is to bring novel stays back to the modern traveler.
Why Fido Will Love Dog Bark Park Inn B&B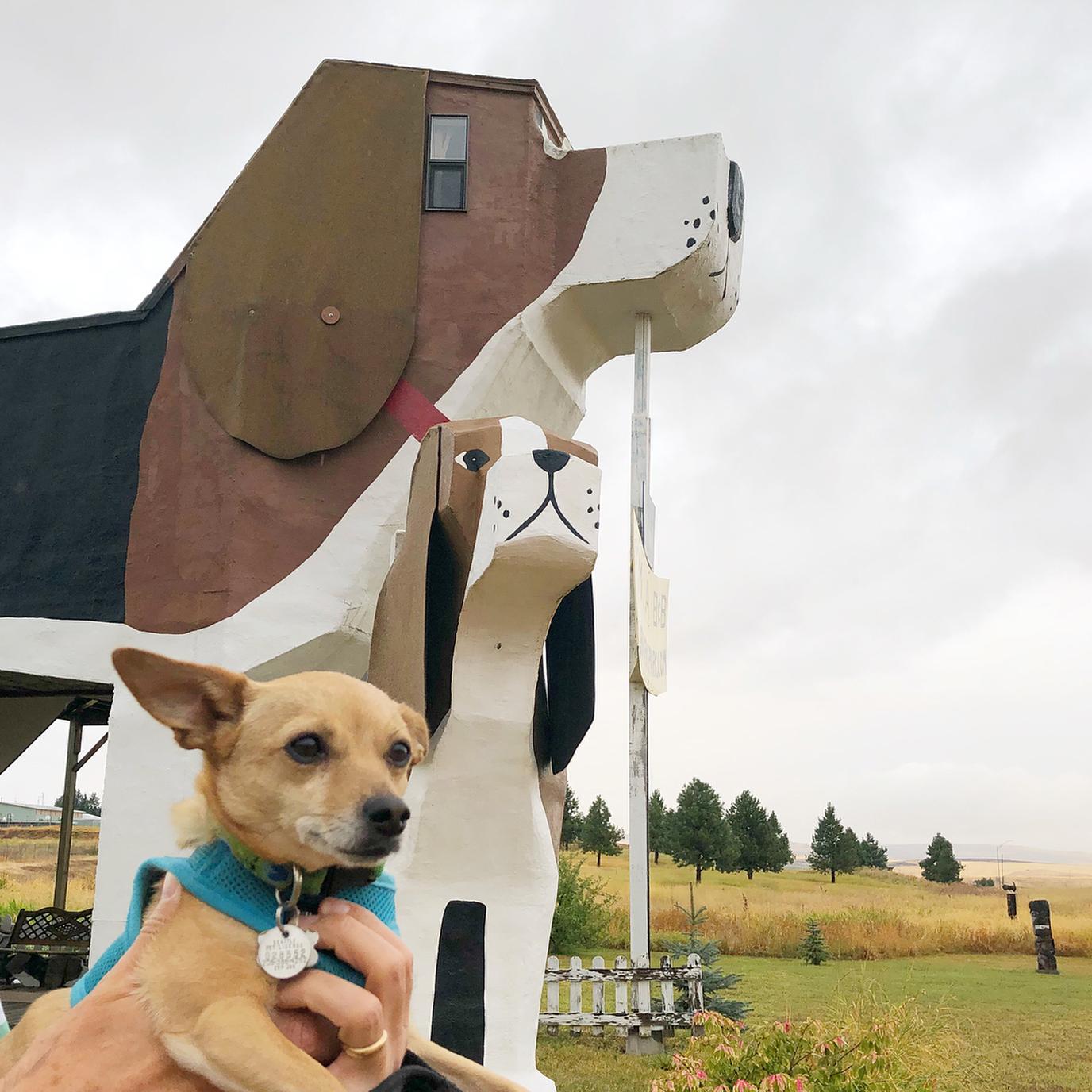 "Are you sure this isn't the large dog section of the park?" – Photo by @parker_zoe_dog
After your canine companion has gotten over the shock of seeing the world's largest beagles in a field, he can play fetch in the grass and join you for a tour of the grounds. The mountains in the distance and prairie land as far the eye can see make a wonderful backdrop for his afternoon walk.
I dream of dogs! Photo by Airbnb
Inside Sweet Willy, read Fido a bedtime story out of one of the many dog-centric books on display in the library. The doggy details continue through every nook and cranny. See if you can identify every breed in the headboard that has been carefully decorated with 26 individually carved hounds.
During the day, tell Sweet Willy to stay while you take your bite-sized bounder on a hike along Puffer Butte Trail. The moderate trek leads to epic views of mountains and towering pine forests.
The perfect souvenir. Photo by BringFido
Before you leave, make sure to visit  the on-site gift shop. Stocked entirely with carvings created by Dennis and Frances, you'll find dogs of all shapes and sizes to commemorate your trip to the area. After selecting the sculpture that most resembles your pooch, take a walk around the grounds one last time and let Fido say farewell to his two new best friends.
Learn more about the unique story of Dennis and Frances in Sweet Willy: A Noble and Absurd Undertaking.
Travel Tips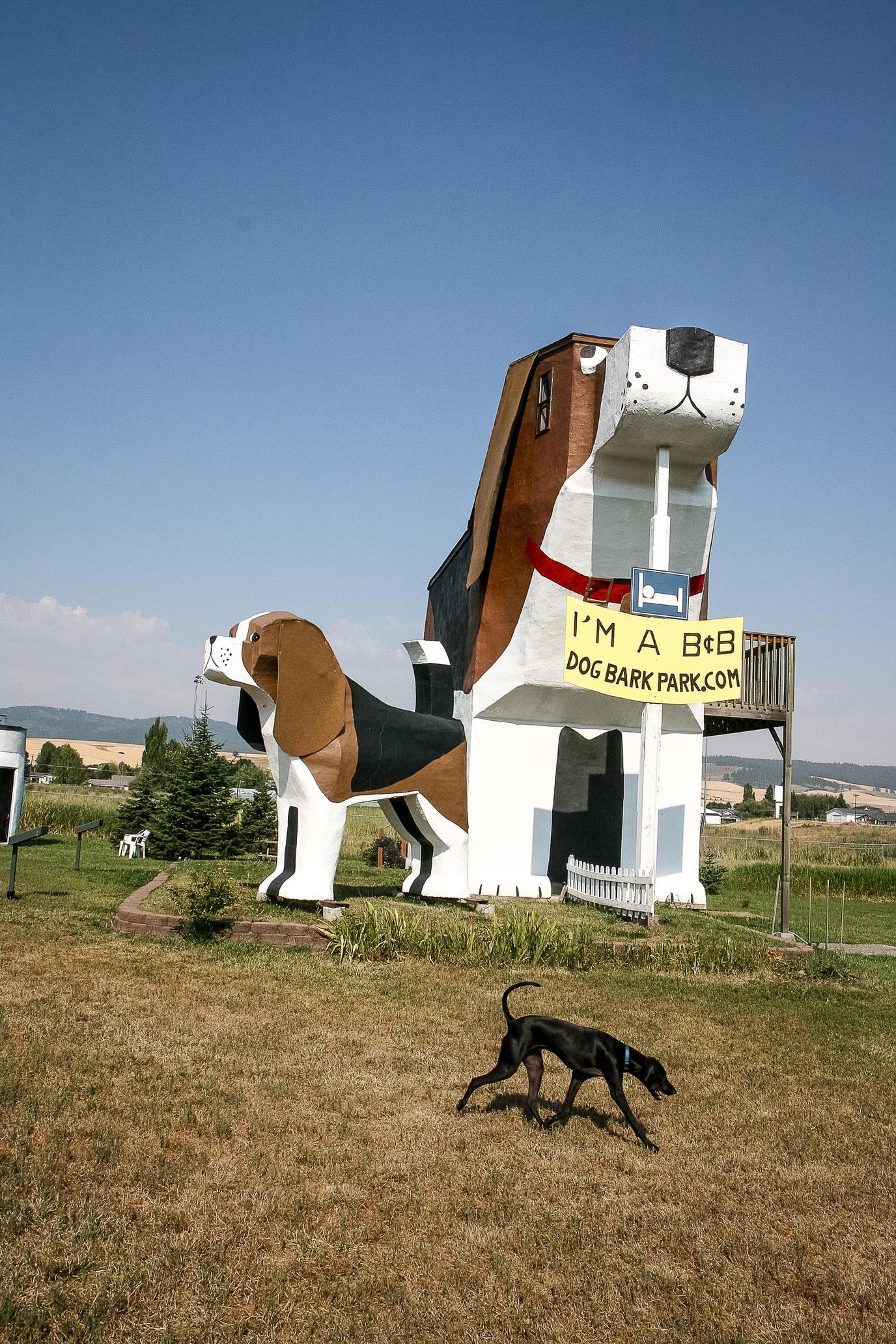 "If they're that big, where are Idaho's giant squirrels?" – Photo by BringFido
Responsible dogs who arrive with their well-behaved humans are welcome to stay with approval from hosts. They need to know details about your dog, including age, breed and temperament, before they give the okay. Furry guests are not permitted to be left in the room unattended and must be leashed during daylight hours due to other visitors exploring. The space is not fenced, so be careful when wandering together. The pet fee is $15 per dog, per stay.
This post from BringFido originally appeared as Why We're "Mutts" About Dog Bark Park Inn.