Traveling is one of the greatest experiences a person can have today, enjoying amazing sights and experiencing different cultures. Although, for us dog owners, traveling means leaving our pets behind. We understand how much your traveling experience would be so much better if you had your dog with you. So, for the people out there who can't stand the idea of leaving their pets behind on a vacation, this one's for you. Here are 4 of the best dog-friendly travel destinations.
Few things to keep in mind…
There are plenty of things to consider when you're thinking about traveling with a dog. Check our pet travel checklist for everything you need to know before traveling. We're talking about where would you like to go? Beaches, mountains, or forests, asking where to go is important so that you can consider how much your dog can physically do. When it comes to traveling with a dog, you're going to have to make some sacrifices on your travel plans. For example, highly populated cities might not be a good spot but open area parks can be great destinations. Another thing to consider is whether or not your dog is even fit for travel. Some dog breeds aren't even allowed to fly for medical reasons like snub-nosed dogs, since the high altitude can cause severe respiratory damage. Meanwhile, some dogs are just outright banned by airlines.
You should also consider your choice of accommodations because some hotels might not even allow pets, so just make sure the hotel you'll be staying at has no problem with letting your dog stay. You might also want to consider flexible options like Airbnbs for rural locations.
Banff National Park, Alberta
If you're in the mood for beautiful mountain peaks and lakes then Banff National Park might be for you. The park is located in Alberta's mountains along the border of British Columbia. Banff is the oldest national park in Canada, spanning 6,500 miles of glaciers, ice fields, and coniferous forests. When you take a trip to Banff you'll be met with a beautiful and very long journey. You'll see wonderful sights like bright blue lakes like Moraine and Peyto, the long scenic sights of Icefields Parkway, or the marvelous wonder of Cave and Basin National Historic Site.
If you're planning a trip to Banff keep in mind you might have to sit through long drives and hike up steep mountains. You'll also need to reserve lodging in advance or bring camping supplies because Banff is very popular and hotel reservations can be tough to get. Finally, as a popular spot, you can expect crowds of people. Regardless of its few downsides, Banff is a worthwhile place to visit with your dog if you're looking for an adventure in the great outdoors of Canada.
Acadia National Park, Maine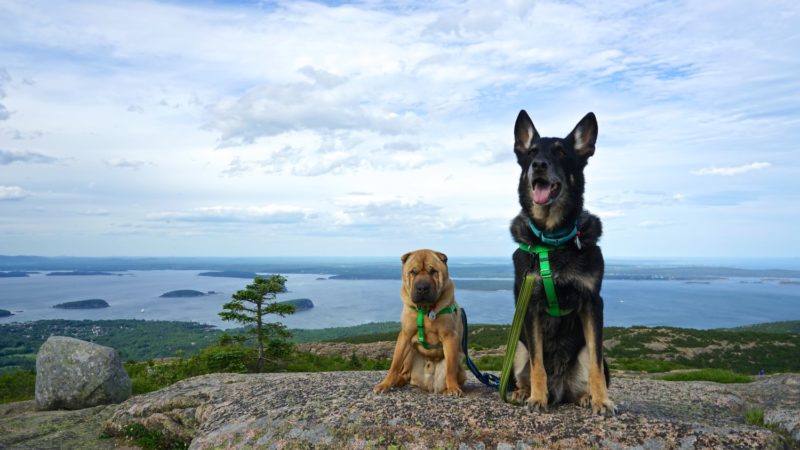 The Acadia National Park spans 49,000 acres of wilderness on Mt. Desert Island and several smaller islands around the area. Acadia is home to one of the most pet-friendly national parks in the United States with 120 miles of dog-friendly hiking trails. The Acadia National Park is a great place to visit for those who want to explore a wonderful seaside sight and a vibrant wilderness.
To begin your trip, you're going to need to make a stop at Bar Harbor, which acts as a sort of gateway for the rest of the park, but that doesn't mean it's a boring stop. Bar Harbor is full of shops, restaurants, bars, and other dog-friendly locations. Here you can enjoy great seafood fresh from the ocean, the beautiful Shore Path, and wonderful souvenirs for you and your dog to enjoy. You can even cross a gravel land bridge to Bar Island where you'll be able to see Bar Harbor in all of its glory on a lookout point.
Go swimming, hiking, or even camping with your dog in one of the many campsites across the park. Acadia National Park is a great place to visit and explore with your dog as long as your dog is physically capable of keeping up with you. Do keep in mind that the park is another popular site so expect it to be a little crowded.
Vienna, Austria
Sing (or howl) along with your furry friend as you take a stroll through the "City of Music". Vienna is one of the dog friendliest cities in the world and has some of the most advanced animal rights laws in the world. In Vienna, dogs are allowed to go almost anywhere; restaurants, public transport, you name it! They even have free poop bags that are easily accessible around the city.
Vienna is a relaxing trip with tons of beautiful dog-friendly parks you can visit like the Sigmund-Freud Park. Enjoy the superb flavors of food in some of the city's exceptional local restaurants. Go on long walks with your dog through the Danube canal and enjoy the tranquility of the Danube River. And if you're a beer drinker, you can't go to Vienna without experiencing the beer garden scene.
The best part about visiting the city is probably the fact that your dog will most likely enjoy socializing with other dogs in the park. The city is filled with beautiful sights, rich history, and good food, all of which you can experience with your dog together.
Bangkok, Thailand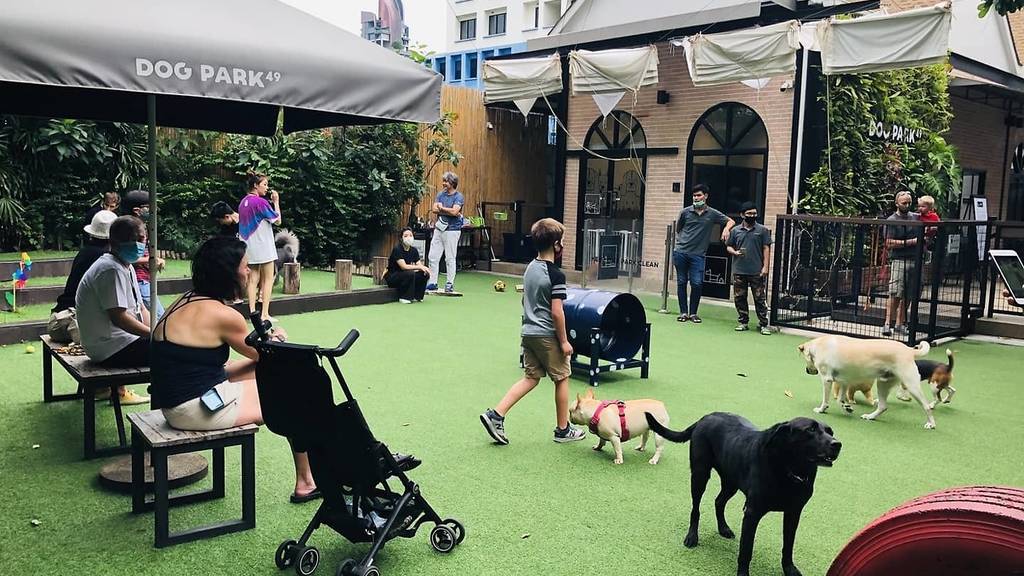 Thailand is one of the many countries around the world that are dog friendly. Despite the high population of street dogs, the country loves these tail-wagging little furballs, and more so in Bangkok. Bangkok has a ton of pet-friendly places for your dog dates. Enjoy delectable meals outside of restaurants in J Avenue, although it's on the pricier side. You can also go to The Commons, which is also a great spot for you and your dog to have a good meal.
You can try Dog Park 49, located in Sukhumvit 49. Here, you can expect your dog to be taken care of and give your doggo a chance to socialize with other furry friends. The park will even send you pictures and videos of your dog if you've decided to leave them in the dog park while you go elsewhere.
You can also visit Nong Bon Lake which is a free park with lush trees and dog-friendly trails. Regardless of where you go or how you plan your trip to Bangkok you and your dog are sure to have tons of fun. With its pet-loving culture and many open area spots to eat and socialize, Bangkok is one of the best places to visit when you're traveling with your dog.
Looking for a particular city to bring your dog to? Check out our dog travel destinations in San Francisco and New York City.